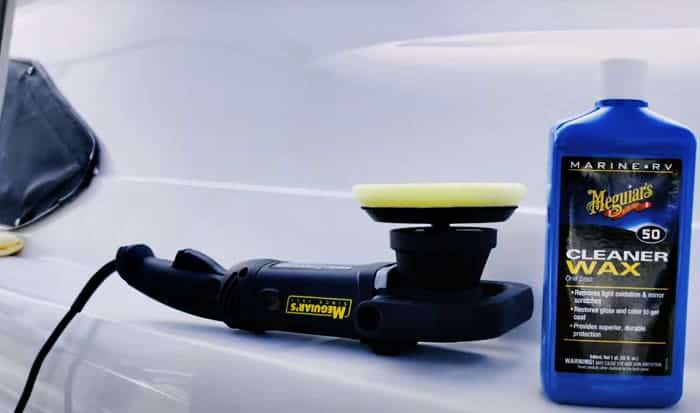 The difference between waxed and unwaxed boats is pretty obvious. Waxing your boat is more than gaining a high gloss shine but ensuring protection from direct sunlight, oxidation, fish blood, salt water, and other outdoor elements as well.
For this, you will need the best boat wax. You'll know that it's the one if it can deliver the following things:
Magnificent Result: Understandably, you expect magnificent results from a boat wax because you spend money, time, and effort on its application. Before purchasing, you have to check its ability. Is it a marine wax that can establish a protective layer or eliminate the present damages? You can avail waxes that take care of minor scratches, oxidation, and light marks. Regarding this matter, you can study your boat's appearance to assess what it needs. It will be easy to decide which boat wax to buy once you know your goals.
Long-lasting Finish: Apart from the result, a long-lasting finish is what you need to look for in a good boat wax. You don't want a wax that peels off after a few days. However, there are external factors that can affect the durability of the finish, such as the usage time of the boat and the climate of your location. If you're in an area that has extreme weather conditions and a lot of sunshine, you have to get wax for a boat that is formulated for said climate.
Convenient Application Method: Different boat waxes mean that application methods are not done in the same way. Straightforward application is typically done on small boats as you'll only use cloth. Other waxes require an electric polishing machine or mechanical buffer. Your preference is not only based on your boat's size and needs but also the time and amount of work that you can commit.
You don't need to look high and low for the most boat waxes as this review contains a list of excellent options. Just read on to choose one that has the qualities that you're looking for.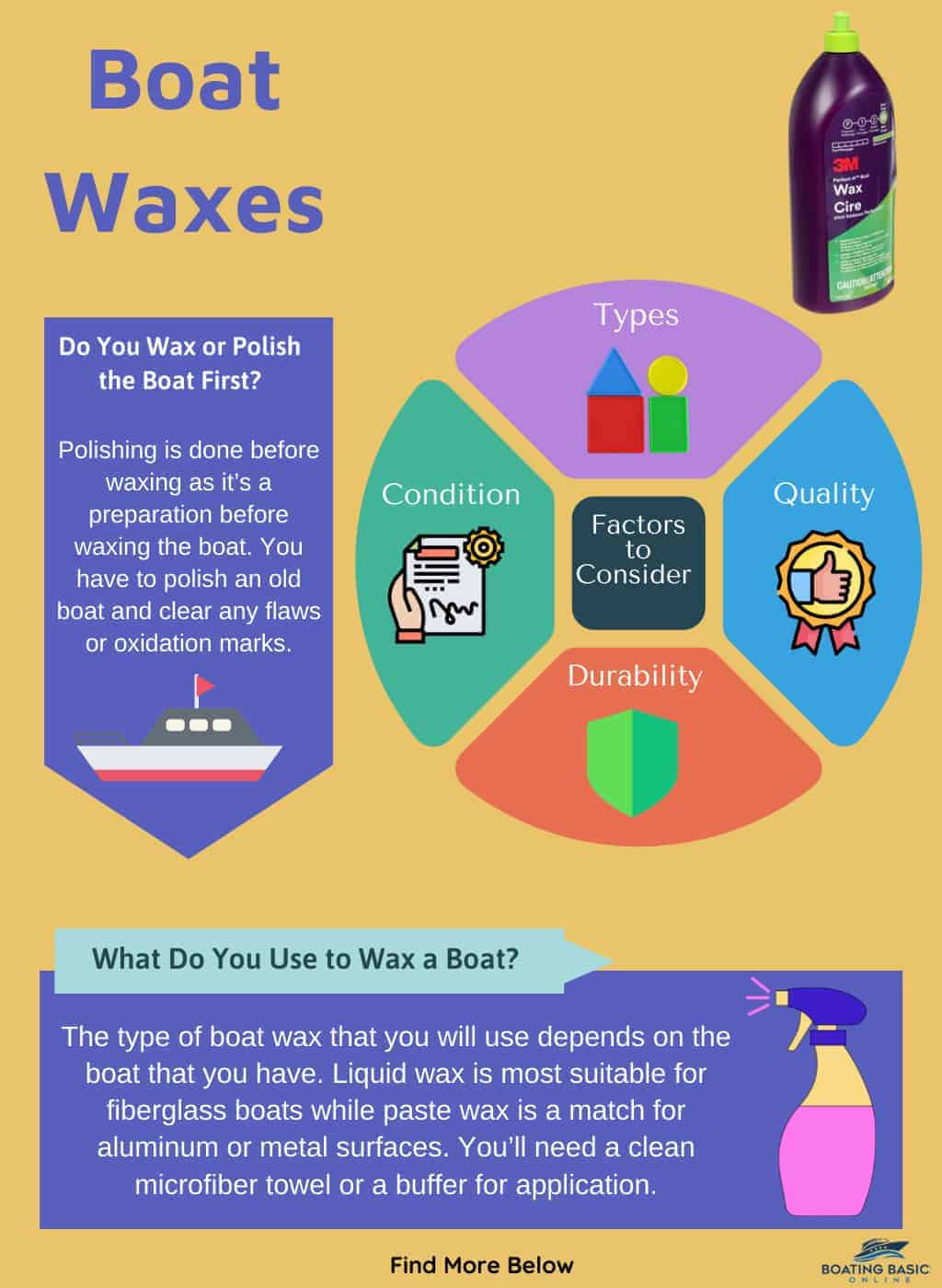 ---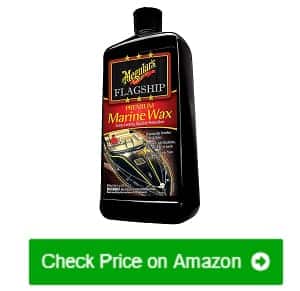 Meguiar's M6332
Gives a protective layer against sunlight
Reveals a terrific, glossy finish that enriches the color
Works as a cleaner wax to get rid of unwanted things
---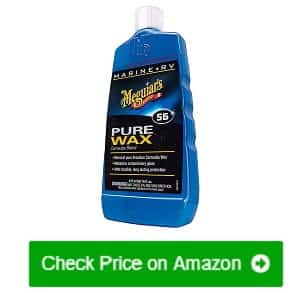 Meguiar's M5616
Super easy application
Creates a brand new look
Makes oxidation disappear
---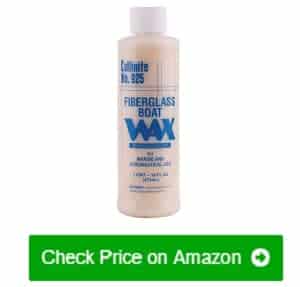 Collinite 855
Creates superior boat shine
A bit of this wax spreads well
Lasts for a long time
---
Best Boat Wax Reviews
1. Meguiar's M6332 Flagship Premium Marine Wax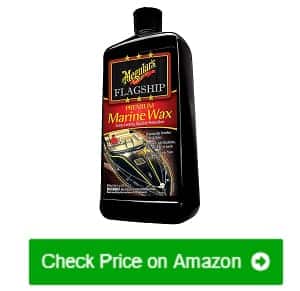 Based on the results that this product delivers, I can say that it's the best wax for gelcoat boats. UV rays and fading are the weaknesses of gel coat surfaces. So, I'm glad that this product provides a protective layer against sunlight and the wear and tear of outdoor use.
This can also be described as a cleaner wax. It removed the black marks on my boat that I thought would be permanent! I was able to clean up some tree sap spots too. Furthermore, it can cover minor scratches and streaks. After it gets rid of any unwanted stains, it reveals a terrific, glossy finish that enriches the color of painted surfaces.
Most boat owners who know about the wonder of Meguiar's wax prefer this as their final wax. I'm one of them. It can wipe off heavy oxidation that has accumulated for years as well as tough mildew. I discovered it when I fixed my dad's unused boat.
You may think that it takes a lot of effort to apply this wax since it provides wonderful results. But no! Application is easy peasy. The little amount of compound that I spread on the surface goes a long way.
If you want to erase oxidation, you should buffer the surface first. Then, you can apply this compound with a cloth. Others use an application pad, which is fine, while some use a polishing wheel with a microfiber bonnet. Just make sure you don't apply too much wax as it won't work out the way you want it to be.
What We Like
Gives a protective layer against sunlight and wear and tear of outdoor use
Works as a cleaner wax to get rid of unwanted things
Reveals a terrific, glossy finish that enriches the color
Can wipe off heavy oxidation and mildew formation that has accumulated for years
Easy application and can go a long way
What We Don't Like
Must not apply too much amount of wax or else, you won't like the result
This is the best wax for boats for me as it gives a high gloss finish that can cover flaws. Behind its excellent appearance, protection against sunlight and fading is established.
2. Meguiar's M5616 Marine Pure Wax, Carnauba Blend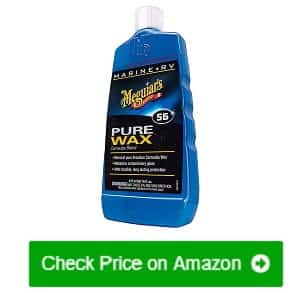 The durability of this Meguiar's boat wax is notable because it's specially formulated with Carnauba wax. My boat is exposed to direct sunlight all summer long and yet, the shiny surface is not easily deteriorated. It also proves to be tough in facing rain and snow. It can last for seasons before being put into storage, which proves its long lasting protection.
I was able to make light oxidation disappear by using it. The result is splendid as it gives off a deep shine on my boat's surface. It promises that your boat can look brand new again. I like how water just slides off since the coating that it creates is waterproof. You don't need to hire a professional to achieve the looks that you want for your boat.
Its amazing performance is also possible on cars and shower rooms.
The application can be done either by hand or with the help of a cloth or a mechanical buffer. Let it haze then wipe it off with a clean microfiber cloth. Waxing has never been easier!
Before applying, you have to clean the boat thoroughly. You must not skip this step as dull surfaces won't give you a shiny finish even though you work hard on waxing them. So, I bought a cleaner to help me with the job. I'm willing to follow these requirements as there's nothing to complain about the outcome.
What We Like
Can withstand any type of weather with its long lasting protection
Makes oxidation disappear
Gives a shiny surface and waterproof coating
Creates a brand new look
Super easy application
What We Don't Like
The boat needs to be cleaned thoroughly before wax application
This is an ideal fiberglass boat wax for its shiny effect and all-weather protection. The application is not bothersome, so I can't complain about anything.
3. Collinite 855 Fiberglass Boat Wax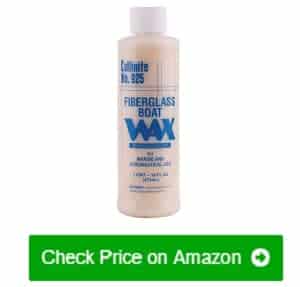 This is no doubt the best boat wax for fiberglass boats. You better make a wise decision just like what I did when I followed the recommendation of my fellow boater and bought this. You can get a lot from the high shine of its finish.
It's a boat wax that makes surfaces slick and slippery. Apart from the fact that my boat looks neat, it's astonishing to see the water spots glide every time I pull my boat out of the water. I like how water turns into beads over this wax. Yet, it still has a wet-like finish.
You can feel the presence of the wax and the solid shine that it creates. Hence, it's also great for gel coat surfaces. Some use this to improve the looks of their bathtubs and showers. As you can see, it lasts for a long time despite exposure to water.
To ensure that the hull is free from dirt, I used the cleaner from the same company. I've heard that some use dawn dish soap but I'm quite certain about my preference. It only took me 10 minutes to finish the application over my 23-foot boat. I applied this wax twice within the said time frame.
A bit of this wax spreads so well. I made my deck a little bit messy but it's nothing compared to its excellent, wet look finish! Anyway, I can clean it up with the help of a hose.
What We Like
Great for both fiberglass and gel coated boats
Creates superior boat shine
Makes the surface neat, slick, and slippery
Used on bathtubs and shower
Lasts for a long time
A bit of this wax spreads well
What We Don't Like
The application can get messy
The high gloss shine that you can achieve from using this wax is fantastic! It's worth every penny and effort. Hence, I'm confident enough to show off my boat.
4. 3M 09061 Scotchguard Marine Liquid Wax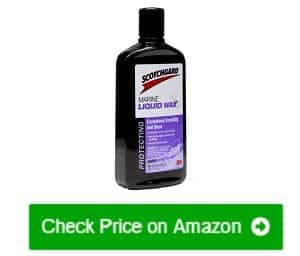 My boat is slick and shiny because of this liquid wax. I've tried several boat waxes and this one stands out. I'm impressed by how it brings out the luster of my boat's gel coat surface. I've read some boat wax reviews saying that it's great for fiberglass and topside paints. The UV protection of this wax is for real as it doesn't fade easily despite being exposed to sunlight most of the time.
Its ability as a cleaner wax makes me admire it more. I noticed from the very beginning that it can hide stains and minor scratches or scuffs. It's something that a mixture of water and soap can't do. Believe it or not, I also used this for my car due to its cleaning properties. By the same token, it's the ultimate item for restoring boats that of old models.
The previous marine waxes that I use leave a white, chalky residue on decals and corners. But that does not happen with this product. Therefore, it can't be denied that this marine boat wax promotes cleanliness. Thanks to it, cleaning is no longer a burden. Also, it's way better than the paste wax that is hard to remove.
Coating my 25-foot boat with this wax takes me half an hour. I only use cloth when applying and you can utilize cleaning pads as well. Wet sanding is necessary but since it's in liquid form, I can apply it with ease. The finish holds up well unlike cheap brands that require frequent waxing.
What We Like
Makes slick and shiny surface
Has UV protection
Great for fiberglass, topside paints, and cars
Can be a cleaner wax as it can hide stains and minor scuffs
Restores the look of boats that are even old models
Doesn't leave a white, chalky residue
What We Don't Like
Wet sanding is needed before application
The money and effort I spent on this boat wax and cleaner paid off as I was able to make my boat look shiny and slick.
5. Boat Bling QS – 0032 Premium High-Gloss Fast Wax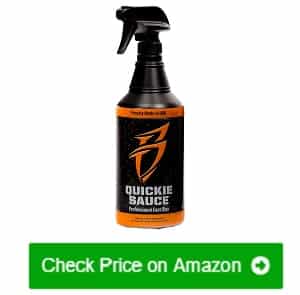 This product promotes high gloss on any boat's surface while also working as an excellent boat cleaner. Because of these effects, I learned that marine waxing is not only about aesthetics. I can remove mold, mildew, spider poop, and water stains. Even though the dirt has been on the surface for a long time, it will yield to this wax. With a little elbow grease, this spray bottle of boat wax is the best for boat detailing.
It's amazing how it cleans boats without any amount of bleach. The formula is akin to a traditional paste wax or spray on boat wax. It also has a protective layer, which my boat needs as I take long trips most of the time.
Applying this wax is one of the steps for winter storage. When the sailing season comes, I apply this wax under the sun. I have not encountered any issue so far and I'm fascinated that there are no watermarks. Therefore, I can conclude that it can withstand hot surfaces. Those who live in hot areas can benefit a lot from this wax.
My friend uses hard water on this and no water spots have emerged. A single squirt of this wax is enough for four trips of wiping down my 22-foot boat. The effect is a shiny surface that warms my heart.
Some hints of vinegary smell can be detected during application. But it's trivial and doesn't bother me at all.
What We Like
Works as a boat cleaner that's best for boat detailing
Protects outdoor use and direct sunlight
Doesn't tolerate water marks or spots
Can withstand hot surfaces
Delivers a shiny surface
What We Don't Like
With a hint of vinegary smell
I like how this spray bottle cleans and protects my boat all at the same time. It saves me from searching for a dependable boat cleaner. Since it's a boat cleaner wax, it's always in the procedures of boat detailing and winter storage.
6. 3M 36113 Perfect-It Boat Wax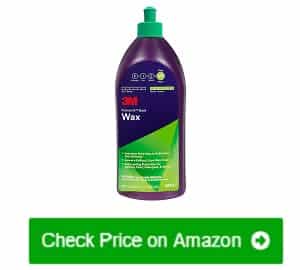 I was looking for the best marine wax for gelcoat for several boat wax reviews when I noticed that this one appears in every review. So, I gave it a try and I'm glad that it's effective.
My boat that sat in the lake for a long time accumulated high levels of lime. This compelled me to find a premium wax for gel coats. I did all the necessary cleaning steps before applying it.
How I wish that it gives a clear coat, not yellow. But I know the issue is more on my boat's side as it's 20 years old. It gives every gel coat surface the needed shine to look brand new. You can always depend on it to make old boats look better. Oxidation can be erased by this wax too.
If a boat or car is in good shape, there's no need for cutting and buffing. How cool is that! It's also gentle on your nose as it doesn't have any strong smell. With Carnauba wax in this product, it can also be used on cars. I know some people who use this to keep their shower floor and bathroom sink in good condition as well.
When the summer is gone, no discoloration can be seen on my boat. It's much better than ceramic-type wax spray based on how it works on old boats and provides protection.
What We Like
Premium wax for gel coats
Used to refurbish old boats
Can erase signs of oxidation
No need for cutting and buffing when used on boats in good shape
No strong smell
Doesn't cause discoloration after a season
What We Don't Like
Some may not like its yellow color
This is one of the best boat wax for gelcoats as it does spectacular work in giving life to the appearance of old boats. It also makes waxing boats in good shape more convenient and easier.
7. STAR BRITE One-Step Heavy Duty Cleaner Wax with PTEF
The amazing effects of this terrific fiberglass wax for boats leaves me speechless. To start talking about the benefits of this boat wax, it truly makes the boat move faster as the ads say. It's based on how it cleans up fiberglass and gel coat boats and gives a brilliant shine for a smooth surface.
This cleaner wax turns faded areas into a shiny surface. I was surprised to see how it cleaned the old paint and restored the finish of one of my boats. Moreover, it brings back the luster of the boat's paint and eliminates hazy parts. The color becomes even compared to its previous state.
All of my boats are well-cared because this product can remove light oxidation. Medium to heavy oxidation may need another waxing after ten days of the first application. I usually buff them, but with the shine given by this wax, I sometimes skip polishing.
My boat occasionally hits the rubber section on the trailer when I take it out of the water. I thought it's going to be an issue. But to my relief, wiping away the black marks and dirt was accomplished with less effort. Thus, it keeps the boat clean and slick without requiring me to work hard.
I recommended this to my neighbor and he kept thanking me. This wax gave a shiny finish to his UV that has not been waxed for several years. It just proves that it can be an effective car wax.
What We Like
Makes boat move faster
Gives a brilliant shine to fiberglass and gel coat boats
Restores shine of faded surfaces and areas affected with oxidation
Makes the paint color even and more intense
May skip polishing in some cases
Keeps boat clean and slick
What We Don't Like
A second application is needed for medium to heavy oxidation
I love how it can remove light oxidation straightforwardly. It doesn't only give a brilliant shine on my boats but also liberates me from putting a lot of effort and time into cleaning them.
8. 303 30213 Marine Quick Wax
Keeping my boat clean as well as protecting it from UV damage obliged me to buy this product. With Carnauba wax in its formula, I was able to make the surface of my boat gleaming and smooth! You can apply it on dry or wet surfaces. Furthermore, you can use it on fiberglass, plastic, and metal surfaces. As for me, it's best on a fiberglass gel coat boat.
Attaining the glossy finish that brushes off water is a piece of cake. Clean the boat properly before applying this product. Apply boat wax by spraying it like a mist that can spread well with the help of a cloth. Give it some time to dry then wipe it off.
I use an electric buffer to finish the waxing process quickly but surely. Before buffering, I make sure that it's dry and has turned into a haze. The outcome is splendid but you should be thoughtful on where to apply it because it's not recommended for areas that are walked on. On the brighter side, it doesn't tolerate water spots.
Due to its functionality, I use it in the sailing season and for winter storage. I rely on its protective properties all year round. It's also effective on stone kitchen countertops, cars, and other things.
What We Like
Provides UV protection
Leaves surface gleaming and smooth
Can be applied on wet or dry surfaces
Adheres on different surfaces
A single spray spreads well
Doesn't tolerate water spots
What We Don't Like
Not for areas that are walked on
Cheap waxes are nothing compared to this marine spray wax when it comes to creating a smooth, gleaming surface and shielding your boat from the sun.
9. Meguiar's M5916 Marine Quick Wax Clean and Protect
I never thought I could get a lot of compliments because of this affordable product. Who won't be astounded by its lasting, mirror shine? I think I'm lucky to meet the repairman that introduced me to this spray wax.
This wax does me a lot of favor. In all honesty, I don't deprive my boat of necessary cleaning and maintenance. The quick application of this wax suits me well since I never fail to keep my boat in good condition. So, I just need to use it in between detailing sessions. It's for those who don't have much time to use heavy boat wax products. Many boat owners use this as a quick spot wax.
Don't complicate its application by spreading it heavily. Just spray and wipe it thinly with a cloth to get the glossy shine that you wish for. It's super easy to use!
My fiberglass boat is well-maintained because of it. I can't ask for anything better. My dad used it to refurbish an old boat and the result is great. He also found out that it's great for fixing gel coats. Bug splatters and small, unwanted spots can be removed as well. These things can be done in summer and winter.
What We Like
Gives mirror shine on surfaces
Suitable for detailing sessions
An effective quick spot wax
Super easy to use
Can be used to refurbish old boats and fix gel coats
Removes bug splatters and small, unwanted spots
What We Don't Like
No good result if applied heavily
I sometimes can't believe how the surface turns glossy after I spray this wax. The best part is also not having to spend a lot of money since it's at the right price.
10. Star Brite Premium Restorer Wax
This is all I need as it's not only for removing light oxidation but heavy ones as well. Nothing is like it among the products that I used before. It's worth every penny as I was able to restore a 33-year old boat. I'm impressed that I don't need to use so much elbow grease just to get rid of the heavy oxidation.
However, wet sanding is essential to revive old boats into their former glory. You may have 1000 to 1500 sandpaper grit for scrubbing. However, application is not complicated as you have choices to use a cloth or buffer. It can restore the shiny appeal of the gel coat in no time.
The white ash-look of old boats will likely disappear. No wonder it's effective on colored boats. Nonetheless, you can also make white surfaces shine. You may not need rubbing and finishing compound if you apply two coatings.
I've witnessed how it can make minor scratches and mildew vanish. Aside from being a boat wax for scratches, it plays other roles like covering up flaws and protecting your boat from dirt and stain. UV damage doesn't threaten me when I go sailing in summer as my boat is protected by this wax.
Every bottle of this boat wax for oxidation goes a long way. I helped a friend to fix a 22-foot old boat. After we renewed it, we were both surprised that a quarter of the wax remained inside the bottle. Without a doubt, it's cost-efficient.
What We Like
Can remove light to heavy oxidation
Application is not complicated
Works on colored boats as well as white surfaces
Can get rid of minor scratches
Repels dirt, stain, and UV damage
Cost-efficient
What We Don't Like
May need two coatings in some cases
It's like having both boat wax and polish with this product. Restoration of old boats is its expertise so it's an indispensable item for most boaters.
11. 3M 3004.7792 Marine Clean and Shine Wax
It's the best wax that I've ever had because it gives me a gel coat shine as well as a deep wax finish. I like the waxed appearance of my boat every time I pull it out of the water. You may use it on topside paints, fiberglass, painted, aluminum, vinyl, and even cars. The application can be done on a dry or wet surface.
What pleases me about this product is the straightforward application. Spray the compound then wipe it off with a microfiber cloth. It's as easy as one-two-three. I must say that it's like polishing without putting in a lot of effort. It's my secret on how I keep the brand new look of my 6-year old boat that is 21 feet long. I usually can't finish the whole bottle as I only use ¾ of it.
I also don't need a boat buffer for every application. Just imagine the time and effort that you save! The shinier surface that it makes is noticeable even without buffing. Moreover, this wax is a dedicated cleaner. That's why I wish that it's available in a bigger size. I'm impressed by how it gets rid of compound dust, bird poop, marks, and spots.
Regular cleaning of my boat is not a hard task any more as I can wipe away dirt and black streaks that accidentally stick on my boat.
What We Like
Delivers gel coat shine and deep wax finish
Can be used on different materials and surfaces
Straightforward application and buffer is not needed
Saves time and effort when cleaning and waxing a boat
A dedicated cleaner and gets rid of unwanted things
Makes cleaning easier
What We Don't Like
Could have been much better if it's in a bigger size
No wax worked like this 3M marine ultra performance wax. It's a huge help in making and keeping my boat clean. The shiny, deep wax finish is a bonus!
12. Boater's EDGE BE1416 Cleaner Wax
This is an all-in-one boat compound and wax because it can clean, protect, and make boats shiny as you want them to be. I have read discussions in the hull truth and many boat owners have positive feedback about it. After seeing what it can do, I agree with them. It does a lot of things compared to other brands that are in the same price range.
Based on my experience in using this wax, it can face various challenges. For example, it can cover up fading parts, chalky haze, or light oxidation. Even the dents and scrapes are concealed. Therefore, a boat that has been through a long period of hard use can regain a cleaner and shinier appearance.
My boat's top, main cabin, hardtop, and restroom were improved because of this wax. Before the application, I scrubbed and washed them. I used a mechanical buffer but you can also do it manually with the help of clean microfiber cloth or polishing pads. Let it dry and turn into a haze before wiping. I noticed that it can't cut through heavy oxidation right away. A second application is needed.
Once it's settled on the surface, it's there to protect. It prevents the sun's UV rays from harming your boat. So, it frees me of any worry when I sail all summer long. It can also block oil-based stains and water.
What We Like
All-in-one; can protect, clean, and make boat shinier than ever
Can cover up light oxidation, scrapes, and dents
Used on different parts of the boat
Protects against UV rays
Blocks oil-based stain and water
What We Don't Like
A second application for heavy oxidation
What more do I need to ask from this wax? The answer is none. I don't need professional service to make my boat look better. Not to mention that it's protected with this wax.
Factors To Consider When Choosing Boat Wax
You'll have to get the right boat wax no matter what as you'll apply it on an expensive surface. Here are the things that you have to keep in mind before buying:
Type of Boat
Some boat waxes match several surfaces while some are intended for a specific purpose. Gel coats and fiberglass are common components of boats, and they look good when they're shiny. But there are also painted hulls that need a different wax.
There's also a boat wax for saltwater and it's usually used for metal surfaces. Thus, you have to know your boat to get the right wax for it.
The Condition of the Surface
Boaters use wax for boat detailing or fixing a surface. Therefore, it's also important to study the condition of your boat. For instance, you have to get boat wax that can eliminate signs of oxidation when a vessel has not been waxed for a long period. Surfaces should also be cleaned thoroughly before application.
Quality and Durability
As a responsible boat owner, you must buy quality products for your boat. So, broaden your perspective. When it comes to boat wax, you shouldn't only look after its shiny finish but also its durable protection. Some give a nice finish but wear off in a short time.
How Should You Prepare The Boat Before Waxing
Washing is done for maintenance and it's also a must before waxing your boat. If the need calls for it, you have to do some polishing to eliminate scratches or other kinds of imperfection. You'll need a boat buffer for this procedure too.
What Do You Use To Wax A Boat
The type of boat wax that you will use depends on the boat that you have. Liquid wax is most suitable for fiberglass boats while paste wax is a match for aluminum or metal surfaces. You'll need a clean microfiber towel or a buffer for application.
Do You Wax Or Polish The Boat First
Polishing is done before waxing as it's a preparation before waxing the boat. You have to polish an old boat and clear any flaws or oxidation marks.
Can You Use Car Wax on Boat
It seems that car wax can make the same finish as boat wax. If you look closely to check boat wax vs car wax, you'll find several differences. First, car wax can create a clear coat, which a boat wax can't. But the latter excels in its ability to diminish oxidation.
Conclusion
The best boat wax has a lot to offer. It's not only capable of giving your boat the glossy shine but also protection from the sun's UV rays and wear and tear. Study the condition of your boat before selecting a product. Once you know what your boat needs, you'll be able to pick the right boat wax.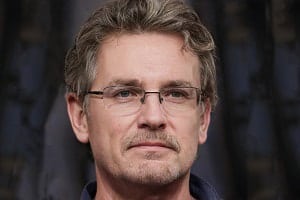 "I am James Harvey – founder of Boating Basics Online. It is established with the drive to help out first-time boaters, which are those desiring to explore their way through the water. So if you are new to boating, start from here with me. "