Comfort and relaxation should be ensured when going on boat rides. It's one of the ways to make a fun-filled and thrilling adventure. This can be done if you have comfortable boat seats. If you don't have them yet, you should go beyond price comparison to decide on one to purchase. Here are some important factors that you have to know to get the best boat seats for the money.
Comfort: The most comfortable boat seats are your main target for this hunt. They typically have high compression foam padding, which is not excessively firm and can cushion you in between. It's not too soft as well, so you won't sink into the seat. When mounting a comfortable boat seat in your vessel, the appropriate style shouldn't be ignored.
For instance, a marine bucket seat is what you need as high speed boat seats. It doesn't give you solid comfort but it allows you to do more sports, which is your goal of using this kind of craft.
Another thing to look at is whether you prefer a low or high back boat seat. In this aspect, your needs are the basis for your decision. A comfortable seat is something that can cater to your boating needs.
Material: The material is vital as boat seats are exposed to a harsh marine environment. They should be supported with aluminum or high-impact plastic frames. This part can make boat seats light but tough and extremely durable. Steel or aluminum hinges are also essential components. But they should be non-pinching so they can't hurt you.
The backing of these seats is typically composed of injection plastic, which strengthens the whole structure so the seats remain sturdy for a long time. These seats are also covered with marine-grade vinyl that is waterproof and weatherproof. Hence, you can comfortably sit on them any time you want no matter what the weather is. Vinyl is a material that is low maintenance so the boat seat cover will be easy to clean.
Installation: To install boat seats, most boaters would prefer easy-to-follow procedures. In most cases, compatibility with mounting options and pedestal is not an issue. Manufacturers usually provide the necessary pieces of boat seat mounting hardware.
Capacity: You also have to know if the seats can carry your weight. So, knowing its capacity is crucial. Generally, boat seats can bear 200 to 400 pounds of weight. The highest capacity is something that you can depend on. In addition, strive for products with high-impact construction.
These qualifications for the perfect boat seat can be seen in the following top picks. Read on to know their features, and you'll surely find one that's perfect for you.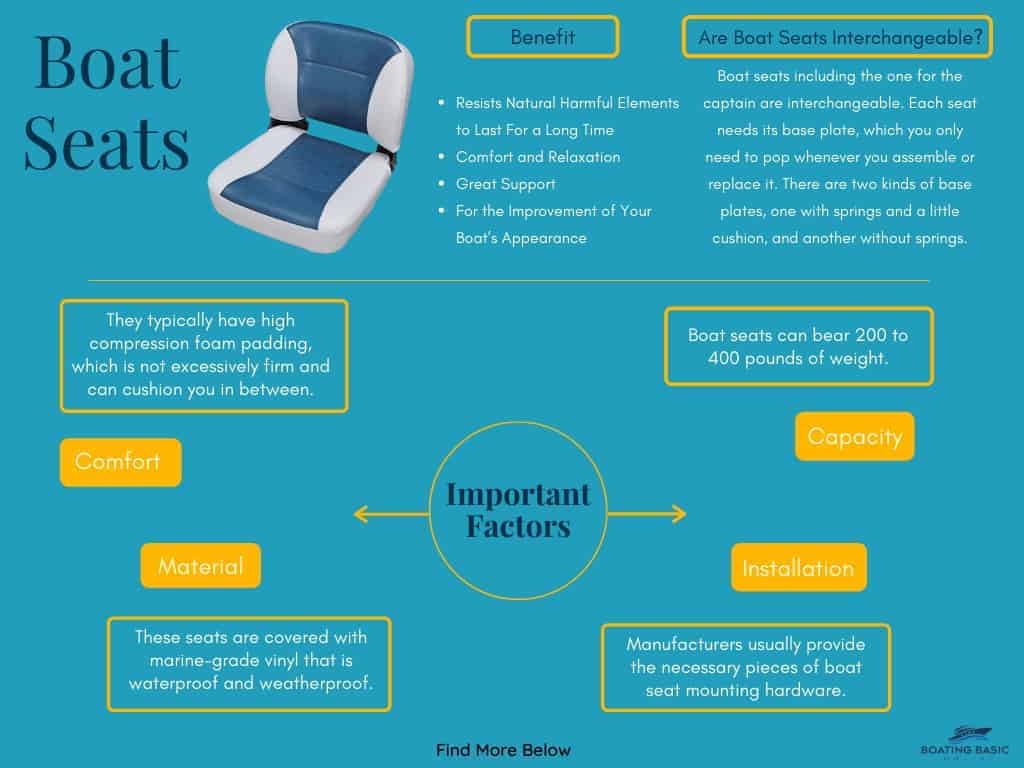 ---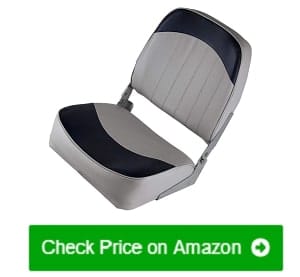 Wise Economy Back Seat
UV and mildew resistant
Affordable and comfortable
Simple and easy installation
---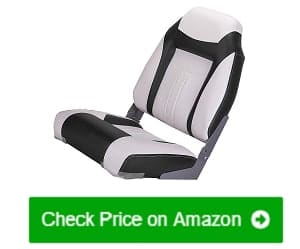 NORTHCAPTAIN S1 Boat Seat
Installation is a breeze
Saves space in your boat
Has cushion has the right firmness
---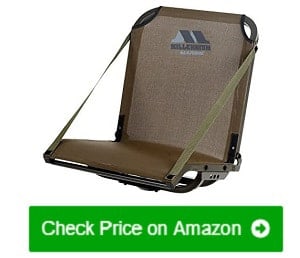 Millennium Marine Boat Seat
Swivels and flattens for storage
Lightweight and patented design
Can be in any temp and weather
---
Best Boat Seat Reviews
1. Wise Economy 8WD734PLS-660-Parent Low Back Seat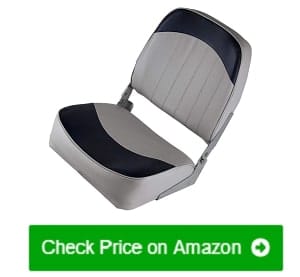 Comparison over expensive and cheap boat seats is not always the wisest thing to do when deciding what to purchase. This Wise Economy low back seat is an example that a product doesn't have to be expensive to be dependable.
It can be considered one of the most quality boat seats because of its components. Starting with a marine-grade plastic frame, which offers a generous 200-pound capacity. It has compression padding that's covered by an impressive embossed vinyl pattern. Moreover, it's UV and mildew resistant. The greatest thing that surprised me is the warranty that comes with it​​—5 years for the frame and 3 years for the upholstery.
Although this is an affordable boat seat, it's comfortable. It's not made of hard plastic, which I assumed at first. I like it on my small fishing boat as it's not too bulky. However, tall people may not be satisfied with its low back.
When it comes to installation, I was able to complete it in no time. It's simple and easy. The seat is pre-drilled and tapped as preparations for mounting. These holes can also allow you to connect it with a swivel. Necessary hardware is provided in every purchase as well.
What We Like
Works like a boat seat that costs double
With high-quality components
UV and mildew resistant
With warranty: 5 years for the frame and 3 years for the upholstery
Affordable and comfortable
Simple and easy installation
What We Don't Like
Some may not be satisfied with its low back
The decent price for a quality product is sometimes unbelievable! But I can prove that it can happen as this one serves its purpose so well. In addition, the warranty that it offers can please every buyer.
2. NORTHCAPTAIN S1 Deluxe High Back Folding Boat Seat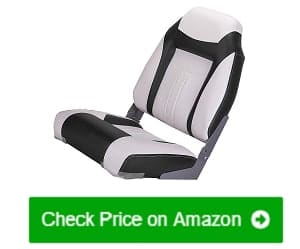 This is one of the best folding boat seats that you can come across. It provides promising comfort because of the ample room on each side as well as the depth of its front and back. That's why I can sit for hours when fishing without feeling exhausted at the end of the day. I even feel rested when I arrive home. The cushion is not too soft for those who often have backaches but is equipped with the right firmness.
So, it's understandable that it's much better than my previous fishing boat seat. The aluminum hinges are superb as I can flip them with ease. Folding a boat seat like this saves space in your boat when not in use. Although it flexes a bit, the injection molded plastic frame assures you of its sturdiness. I'm around 250 pounds and my buddy is 350 pounds but it holds up pretty well for both of us.
Despite sitting on it for a long time, the padding remains firm. Concerning durability, the seat is with a marine-grade vinyl cover and UV-resistant frame. All these wonderful features can be availed at a fair price!
I don't have issues fitting it into the holes of the previous seats. Installation is a breeze as you can attach it to any standard 4-bolts pedestal or swivel. You may find several folding boat seats but this one is the most ideal for a pontoon boat, bass boat, Jon boat, and ice shelter.
What We Like
Has cushion has the right firmness
Saves space in your boat
Sturdy and holds up pretty well when bearing weight
Installation is a breeze
I'm satisfied having this as a fishing chair for a boat. My bottom doesn't hurt and I feel rested after a long day at the lake. Hence, I can say that this is my source of comfort.
3. Millennium Marine B-100-GN Boat Seat, Green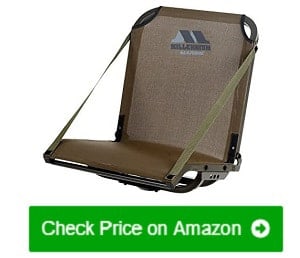 Among the Millennium boat seats, this is my favorite for so many reasons. It can be my all-day boat seat as it carries weight without budging or stretching. Even my 425 lbs fishing buddy can sit on it. You may think that lightweight boat seats like this can't bear such weight. It may be unbelievable but the patented design of the ComfortMax seat line is excellent and not to be doubted.
I believe this is the best fishing boat seat as it offers an off-the-chart level of comfort! I usually spend 9 to 10 hours fishing in the lake. Since I'm a tall guy, the high back of this seat accommodates me although it doesn't recline. Nothing disturbs me in those hours while I sit and wait for the fish to take my bait. I also like how it swivels and flattens out for storage.
Water splashes can't be avoided to get onto kayaks. Thankfully, this seat has webbing, so the water simply dissipates, and you won't feel that you're sitting on a wet chair. I'm happy that I don't have to sit on a swamp when fishing!
Since it dries quickly, it won't matter if you're in the middle of rain, snow, freezing temperature, heat, pressure water, and more. Although there are some rough moments, it hasn't given up on me. So, it should be taken as an essential for every fishing boat.
Its ability to survive any temperature and weather also demonstrates its superior durability. Additionally, a special material is chosen to make this product resistant against harsh sunlight and bad weather conditions.
What We Like
Carries weight without budging and stretching
Lightweight and with patented design
Swivels and flattens for storage
Has a webbing that makes the water dissipate
Can be in any temperature and weather
This is more than just a good boat seat and I would rather call it 'indestructible'. It stands out among other fishing boat seats due to its capacity, comfort, and quick-dry webbing!
4. Wise Deluxe 8WD588 High-back Seat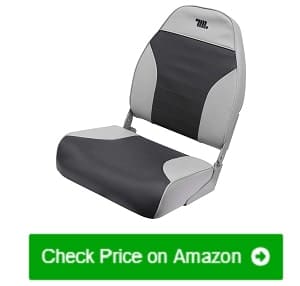 The contoured foam compression padding of this boat seat is more substantial than the ones that I had before. I didn't have regrets about getting this as a replacement seat. It created a brand new setting in my boat, and with its softness, I can always sit comfortably. Also, it's firm enough to prevent a user from sinking into his/her seat. Even though I sit on it for hours, I don't have any complaints as I can lean on it a bit.
I've mounted a couple of these on my bass boat. Two of them are on the cockpit and the same number on the pedestal. My friends and colleagues also bought this as they like how it looks. Well, I've told them that it's not all about aesthetics but this also serves well in terms of functionality.
A friend of mine used this seat for ice fishing and another one made it into a boat captains chair. There's a lot of positive feedback from the folks who use it. My colleague always has a great time when he goes fishing on weekends because he added it to his aluminum boat.
I can say that it's sturdy with its marine-grade plastic frame. Since it resists UV rays and mildew, I don't have to question its durability. There's even a three-year warranty for the upholstery, a proof of how well—made it is. The only thing that bothers me is the velcro closure that is found at the seat's back. It's a bit inconvenient on rainy days as it can absorb water but it's fine after drying.
What We Like
Comfortable thanks to compression padding
Can be replacement seat
Good aesthetics and functionality
Sturdy and durable
Has UV rays and mildew resistance
What We Don't Like
Velcro closure at the seat's back absorbs water
It's a flexible seat for boats and different activities. I couldn't ask for a better one as this is comfortable, attractive, and functional. It's well-made and I know it can commit to long-term service.
5. Leader Accessories New Low Back Folding Boat Seat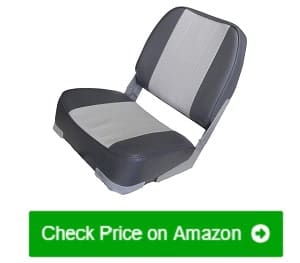 This new boat seat is a good deal. It might be smaller than a captain boat seat but it's surprisingly comfortable. I think it's because of its softness and design that aims to fit the user's body. Also, it doesn't get extremely hot to touch even if it's under the sun.
Some people use this as a fishing seat and they have a relaxing time sitting on it. Aside from the promise of comfort, this is an attractive and stylish marine boat seating. Hence, it can contribute a lot when you refurbish an old boat. It can fantastically improve the aesthetic appeal of your vessel.
The upholstery is of terrific quality as there's a vinyl cover around the plush padding. You can rely on its sturdiness since it has a plastic seat frame and aluminum hinges. My husband is a big guy and he sits on this every time we're on the waters. But we need to do some modifications on the base.
With my husband's towering height, this seat is placed over a cool storage base. Since I'm petite, the base is knee-length and I can see the view ahead of me with no problems. This is small compared to others, so it will surely fit small vessels. It's also foldable, thus, it won't get in your way if you have limited space.
What We Like
Comfortable with its softness and design for user's body
Doesn't get extremely hot
Attractive, stylish, and can be used in refurbishing an old boat
Has terrific upholstery
Sturdy as it can carry a big guy
Foldable and great on vessels that have limited space
What We Don't Like
A lot of work or modification for its base
I can say that it's superior to other foldable boat seats because it's more comfortable and attractive. You'll surely be in awe of how it can improve the appearance of an old boat.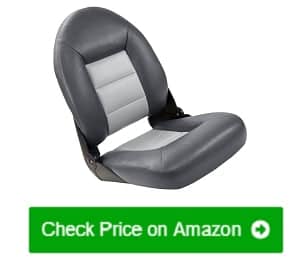 There are numerous high back boat seats out there but I'm thankful that I chose this one. It has lumbar support that brings more than exceptional comfort. I can sit higher with my back straight to reduce fatigue. I weigh 220 pounds and it doesn't budge even though I sit on it for several hours.
It also excels in terms of durability. Luring fish on boat seats is a fantasy but what this one can commit is long-term service. It's firm with marine-grade vinyl and a high-impact plastic frame. I'm glad that it has resistance against UV, stain, and abrasion as it's inevitable that my boat is exposed to sunlight and harsh conditions. Despite continuous use, I can testify that it hasn't succumbed to outdoor elements.
Apart from its attractive appearance, I like how I can fold it and lock it down. Hence, it won't get in my way when not needed. But the release mechanism is not for everyone to handle. It's a button-type lever that is almost similar to a pivot point. If not careful, it can pinch you. It only happened to me when I did it the first time. You only have to get used to it so you won't get hurt. Learning the right way is easy peasy anyway.
Installation and upkeep are straightforward as well. There's a bolt-hole pattern and hardware parts to assemble everything. Using a good boat cleaner and protector can make cleaning this boat seat a breeze.
What We Like
With lumbar support for exceptional comfort
Durable for long-term service
UV, stain, and abrasion-resistant
Has an attractive appearance
Locks up when folded
What We Don't Like
Need to learn the release mechanism to avoid getting hurt
I believe that this is included in the list of high-quality boat seats. For comfort and long-term service, I didn't think twice about buying this. It's worth every penny, I must say!
7. Leader Accessories New Plastic Shell Folding Boat Seat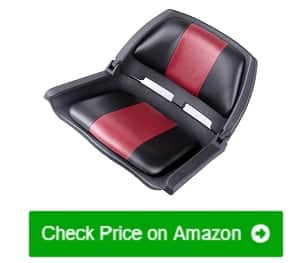 I like how well-built this is compared to other boat seats. It's a sturdy and stable bucket seat that makes me comfortable when sailing or fishing. The frame is a heavy-duty molded plastic shell with compression foam padding for comfort. I weigh 237 pounds and I don't have problems when constantly spinning on it. I have a couple of these Leader boat seats on my miniature pontoon and aqua cycle of my fishing boat.
I know that this renders a long-term service. So, I'm not reluctant to get it for my watercraft. Since this is a bucket-style seat, I stay in place despite the waves that otherwise would force me out of my seat. What's best is that I get to experience these wonderful features at just an affordable price.
I like the variety of color options. There are camouflage variants to choose from as well. Thus, it's ideal for Jon boats and other hunting vessels. As such, you can use this to create a new look when refurbishing a new boat.
Although I'm heavy, I don't need to add reinforcement on the base like plywood. Since it doesn't come with a swivel, I added a simple seat post that allows for spinning. It only requires a small job to turn into a swivel boat chair. When not in use, I can fold it down and secure it with its vinyl strap.
What We Like
Well-built, sturdy, and stable
Comfortable bucket seat with molded plastic shell and padding
Renders long-term service
Has an awesome surface area that can make you stay in place
Great color varieties
Foldable with vinyl strap
What We Don't Like
Doesn't come with a swivel
I must admit that I'm more bias towards bucket boat chairs. But this one has blown me away with its structure, quality, and price. I can't think of anything better than this.
8. Attwood 98395CAMO-P Folding Boat Seat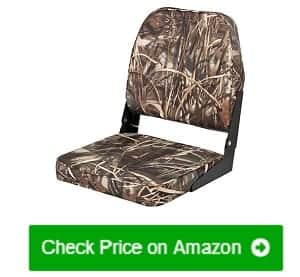 The deep color of this camo boat seat is impressive! It's not only a matter of aesthetics but also the support that the authenticity of this mossy oak offers for hunting adventures. This shade goes along with the camouflage paint that I applied on my Jon boat. Some people also add it to a deer stand or tree stand.
Hunting may take a lot of time and requires patience. I'm thankful for this as I can sit and wait without complaining. I think this is the most comfortable boat seat for me. The appearance is not only suitable for the marine environment but it also has the toughness and durability to withstand it. Although I sit on it for hours when hunting, it continues to serve me. Hence, I believe it will be my Jon boat chair in the long run.
Long-term service is due to its aluminum hinges and high impact plastic frame. Moreover, it's UV and mildew resistant. To my delight, it's an easy-to-clean vinyl boat seat that doesn't take much of my time to keep in good condition.
Since it's a standard boat seat, installation is a piece of cake with the provided hole-mounting pattern. Even a rookie can get it done. I have three of these in my Jon boat and one of them has a broken snap. It happened when I've been using them for several months. I think I have to be careful when folding it.
What We Like
Has a deep camouflage or mossy oak color
One of the most comfortable boat seats
Tough and durable with resistance to UV and mildew
Foldable boat seat with easy-to-clean vinyl cover
Piece of cake installation
What We Don't Like
Snaps might be broken if not careful when folding
This Attwood folding
boat seat fits my Jon boat
well due to its color and structure. It's durable, dependable, and I don't have to spend too much on it.
9. Moeller Marine ST2000-HD Boat Helm Seat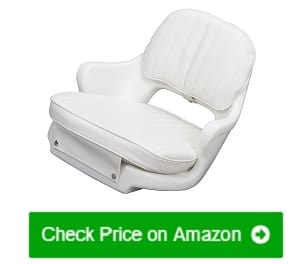 This doesn't only look good but feels good too. I can't deny that I was drawn to it because of its looks when I saw it in boat seats reviews. The cushion is marvelous and the back promotes an upright position. I can sit on it well over rough seas, and it's the reason why it's the most comfortable boat seat that I've ever had. My friend even changed her existing boat seat because she's envious of this one.
This is a quality boat seat with a sturdy plastic frame. Since it comes with a mounting plate, it's easy to set up. However, some vessels have different boat seat pedestal and they need to make some adjustments like adding boat seat suspension. In my case, I don't have to put in a lot of effort as it perfectly matches the pedestal on my boat.
Durability is great as well as it's been with me for a long time. I was able to put this to good use because the installation was done properly. It made me realize that it's why some people have complaints. You have to follow the instructions to install it correctly.
I'm tall and weigh 220 lbs but I can still sit comfortably on this chair. On the other hand, my brother finds it a little bit tight. We're the same height but I think he has wider hips.
What We Like
Looks good and makes you feel good too
Promises comfort as the back promotes an upright position
Lets you sit despite rough waters
Has quality, sturdy plastic frame
Durable when properly installed
What We Don't Like
Some may need to make adjustments when mounting
Some tall people won't fit in it
It's worthwhile to work on the boat seat pedestal because you can comfortably sit on it even when facing rough waters. As long as you've installed it properly, you can expect long-term service from it.
10. Seamander Captain Bucket Seat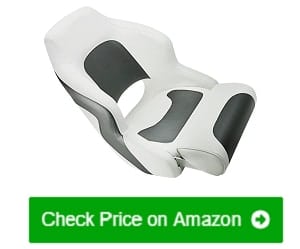 Among the marine boat seats that I have used before, this is the best boat seat due to its useful features. I fit just right when I sit on it as nothing can beat its high-density foam padding and outstanding back support. This bucket-style seat stands out from other low back boat seats due to its under-thigh support. Thus, I can easily push my butt forward when getting off it.
Since it snugs well, I've never been thrown out of the seat even when the boat goes at 60 mph. It won't let you go when you need to pass on rough waters. The appearance is stylish and it would be great to have it on your cabin or old boat. Try it and you'll find out that it's better among other options for captain boat seats.
The knee area is foldable and it minimizes hardships when standing at the controls. The bolster hinge flaps whenever I put it up and down. But it's no big deal as I can still get the most of the advantage from using it.
Believe it or not, it's been with me for two years now. Indeed, it's incredible and the best among boat seats for rough water. I don't know why but some boaters depend on this as a taller seat. In terms of installation, there are two, different bolt patterns to cater to various applications. Hence, it won't be too demanding to set up.
What We Like
Has a good fit and snugs well
With outstanding back and under-thigh support
Has stylish appearance and foldable knee area
Durable and can last for years
With different bolt patterns for installation
What We Don't Like
The bolster hinge flaps when the foldable part is moved
Boat owners who usually cross the rough waters will need this bucket seat. It can keep you in place. In terms of life span, it's an excellent boat seat as well.
11. XGEAR Deluxe Low Back Boat Seat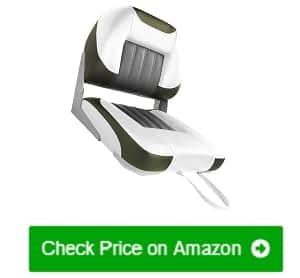 I was seeking new boat seats for my bass boat when I came across these low back boat seats that fit perfectly! Both the driver and passenger's seats are mounted through the backrest. This arrangement allows the bottom part to be lifted. Thereby, an angle was created for comfort. No wonder it's one of the ideal fishing seats in the market.
I think it has a hardy seat cover as it can withstand the sun, different kinds of weather, and years of heavy use. The paddings seem too firm during installation but when I started using these heavy duty boat seats, I realized it's the firmness that provides maximum comfort. To solidify its durability, there's an injection molded plastic frame with aluminum hinges.
I'm 220 lbs and this is capable of carrying my weight. It just shows how well-made it is being foldable and with incredible back stop. Tie-down straps that are not attached to the seat are also available. You can use them to secure the seat when folded.
Mounting hardware is included in every purchase. The installation will be accomplished in an instant if your boat's pedestal is with a 5×5 bolt pattern. If it's not, you have to make some modifications to install this seat. After installing it correctly, it makes your boat look awesome due to its aesthetic appeal and sharp looks. If you need new boat seats, you won't regret getting this.
What We Like
With angle and firmness for comfort
Capable of carrying hefty weight
Well-made and foldable
Comes with tie-down straps to secure folded seats and mounting hardware
What We Don't Like
Some modifications are needed when your boat's pedestal has a different bolt pattern
I wasn't able to find the best fishing boat seats like this one before. With comfort and durability, I'm satisfied with its consistent service. Hanging out in the water is like relaxing on my porch.
12. Seamander Marine Low Back Boat Seat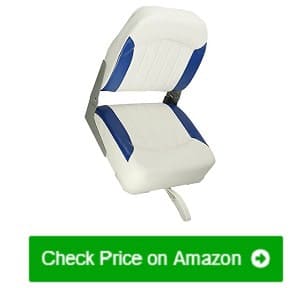 This may not look hardy but a 200-pound guy like me can sit and lean on it without any problem. The design and structure can bear hefty weight. It acquires toughness from a marine-grade, molded frame, aluminum hinges, durable padding, and fade-resistant seat cover. Hence, it's safe to say that it's a boat seat for a big guy like me.
It's well-made with great quality for the price. You can get two seats in a single purchase. The appearance is also great, and these vinyl seats don't deny you comfort as it has the right softness. The paddings are not only to make you feel comfy but they're heavy-duty and marine-grade.
Installation won't be complicated as these heavy-duty seats can be attached to a pedestal system or standard 4-bolt swivel. Four of these in my boat were set up without issues. They're not too heavy so you can transfer them to different pedestals with ease. I'm happy because these low back boat seats are not water-locked.
I can't complain about this product as it's much better than I expected considering the price range. The only thing that I have to correct is one of the button straps. It flipped backward, so it needs to be twisted over to snap. It's not a major issue as I can straighten it with my bare hands.
What We Like
With design and structure that can bear hefty weight
Has fade-resistant seat cover
Can be attached on a pedestal or swivel
Not too heavy so it's easy to transfer
What We Don't Like
A buttoned strap can flip backward
I'm a satisfied customer as I don't have to pay a huge price for these heavy-duty boat seats. I can sit comfortably without worrying that my weight will break the seat. The installation didn't give me a hard time, so I commend this product.
13. Tempress Probax Orthopedic Folding High Back Boat Seat
My rigorous search for fishing seats ended when I found this product. I'm not getting any younger so I need more than back support. I need something that can also please my shoulders, neck, and knees. Since this is designed through the expertise of spinal surgeons for lumbar support, I can get long-term upper body and back support, which most seats can't provide.
I don't have to suffer backaches or sore back as I can be in the right posture when sitting on it. Thanks to its high back and cushioned bottom, the battle and struggle of having discomfort when finishing has come to an end. Due to these advantages, nothing can stall me from fishing the whole day. Despite repetitive fishing motions and choppy water, I can sit still on it.
This boat is composed of UV-resistant materials, a heavy-duty marine vinyl cover, and a rugged polypropylene seat shell. These parts allow me to sit for a long period without falling apart. I can rely on it as it exceeds the standards of ABYC H-31 for boat seat structure, design, and way of installation.
Installation is pretty easy as it supports the standard mounting system. It's not only suitable for pedestal fishing seats but for helm seats, ice shelter, hunting blinds, and even mobility scooters. I only found one downside, which is the difficulty in finding and pushing the button to open it. Maybe, it's just me as I figured out the easy way later on.
What We Like
Provides long-term upper body and back support
With a high back and a cushioned bottom for prevention of backaches or sore back
Can sit still despite repetitive fishing motions and choppy water
Made of UV-resistant, marine-grade, and heavy-duty materials
Exceeds the standards of ABYC H-31
Easy installation that suits various locations
What We Don't Like
Difficulty in finding and pushing the button to open this seat
Fishing the whole day with this boat seat is like the old days. Due to its back and upper body support, I'm free from discomfort and aches. Most of the boat seats don't have the abilities that it has.
Factors To Consider When Choosing Boat Seats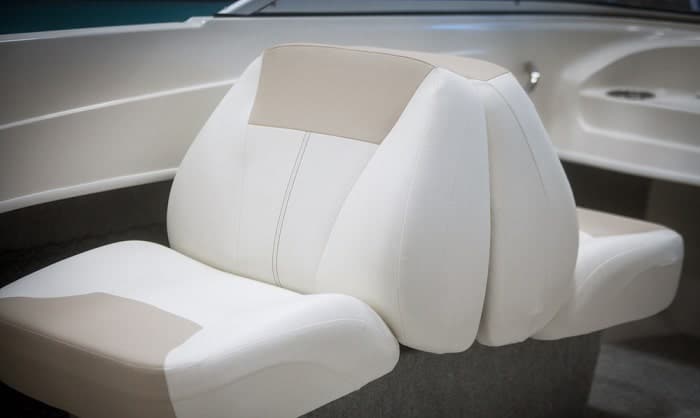 Different Types of Boat Seats
Fold-down seats with storage or compartment underneath are common. You may also have the swing back or swivel boat chair. This type of boat seat allows you to have lateral movements. There are also seats designed as captain boat seats. These have sophisticated features to provide the utmost comfort for the driver. Expect a higher price for these though.
Different boat seats are made to serve a specific purpose. You'll know that it's the best boat seat if it can give the following things:
Resists Natural Harmful Elements to Last For a Long Time
Quality boat seats like the ones featured in this review are capable of resisting natural harmful elements. Manufacturers use heavy-duty materials in producing them to prevent damages from mold, mildew, UV rays, and saltwater. Once a boat seat can resist the harmful environmental factors, you can enjoy sailing with it in the long run. You'll surely depend on it for a long time.
One way to be able to experience comfort and relaxation in your boat is by investing in a good boat seat. It's composed of premium materials like paddings to provide comfort.
You'll find boat seats that can snug on the natural body contour in exchange for support in the back and even the upper body. With these reliable seats, you don't have to endure back aches when sitting on your boat for hours. Most boat owners ignore the importance of support from a boat seat. Little did they know that it's important to maintain a good posture.
With the great support from your seat, you'll be able to enjoy every second in your boat as you're not bothered by anything. You can have a blast when sailing but you don't have to ignore the need to take care of your body.
For the Improvement of Your Boat's Appearance
A wide selection of boat seats is sold in the market. They're in various colors, designs, styles, and materials. You can find the most suitable one for your boat. Aside from providing comfort, they can work on your boat's appearance.
Are Boat Seats Interchangeable
Boat seats including the one for the captain are interchangeable. Each seat needs its base plate, which you only need to pop whenever you assemble or replace it. There are two kinds of base plates, one with springs and a little cushion, and another without springs.
How Do You Replace Boat Beats
Here are the steps to follow when replacing boat steps:
Remove the existing boat seats off the boat. Then, put the mounting plate first and you may need to drill some holes. If holes are necessary, supply the appropriate bolts and position the new boat seats in the designated place. To tighten it in place, you need bolts and screws.
The required procedures for installation are based on the type of seat that you have. Before you start, you need to be sure about the correct techniques. Instructions are usually provided by the manufacturers and they can be your reference to get started with boat seat replacement.
What Are Boat Seats Made Of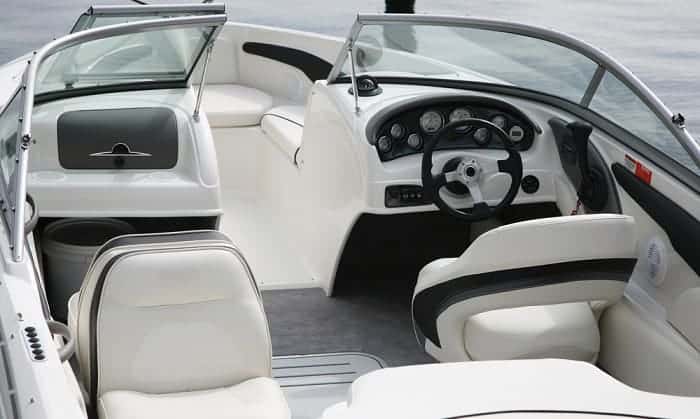 Most boat seats are made of vinyl, an extremely durable material that remains in good shape even when exposed to water for too long. Of course, it's waterproof. It's also capable of defying the wear and tear of frequent use. Due to its antimicrobial chemical contents, it's resistant to mold and mildew as well.
In addition, it has breathable linings. This implies that it can release moisture. Just ignore the myth that says it's not breathable in summer. Instead, put your trust on the vinyl seat cover that can withstand all seasons.
How Do I Cover Boat Seats
First, you have to remove the existing cover and set it aside. You need to make a template for the new vinyl cover that you will install. After cutting it, you can put the foam padding and seat base. You'll need a carpet stapler in the next step. Pull the vinyl tightly by leaning, and once it's in the proper place, staple it. Do it at every end to make neat and nice covers.
What Is The Difference Between Boat Seats And Boat Chairs
The difference between these two things is the installation method. Boat chairs are portable and you don't exactly install them. You work on mounting boat seats, so it's just reasonable that you're secure when you move around it or when your hands are on the steering wheel. You'll find foldable boat chairs that can be easily carried around when camping and fishing.
Are Wise Boat Seats Any Good
Wise boat seats are undoubtedly good products. To start with, a warranty is offered for the upholstery and frame. A manufacturer is sane enough to offer assurance to their customers if they trust the quality of their products. The makers of these seats develop innovative designs for comfort, durability, and aesthetics.
Installation of these boat seats becomes interesting too. You can mount it on a standard pedestal or transform it into a swivel chair. Due to its wonderful features, you can always choose them as boat seat replacements.
Conclusion
Numerous companies claim that they're the leading brands for boat seats. After reading this review, you know how to identify the best boat seats that can provide comfort and support. You'll also give importance to long-term usage. They typically have premium materials that don't give in to damaging environmental factors. Once you purchase them, you'll have no regrets as they return the value of every penny that you spent.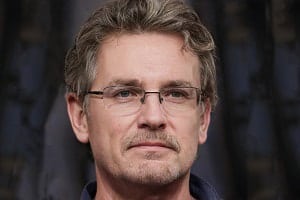 "I am James Harvey – founder of Boating Basics Online. It is established with the drive to help out first-time boaters, which are those desiring to explore their way through the water. So if you are new to boating, start from here with me. "