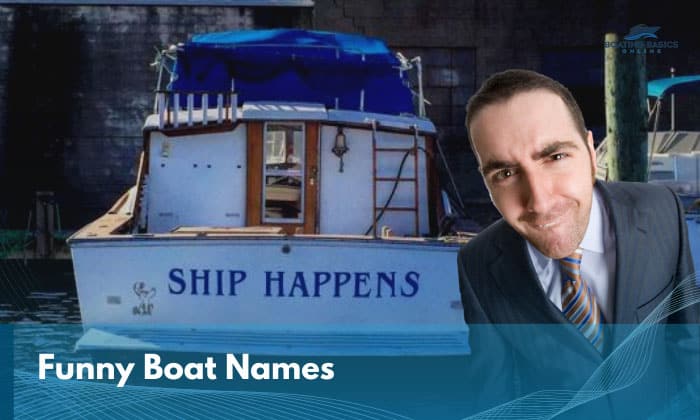 Whether you're a boater or not, you're undoubtedly not immune to the rib-tickling effects of reading funny boat names. There are entire forums, discussions, and subreddits dedicated to witty boat names. That should serve as enough proof of how far we've come in incorporating humor into boating culture.
Some of the best I've come across are "Usain Boat", "Cirrhosis of the River", "S.S.S.S.Stutter", "Unsinkable II", "Sea Señor", and "The Codfather". That's just the tip of the iceberg, though – and speaking of icebergs, "Titanic 2" has got a nice ring to it, too, right?
List of Best Funny Boat Names
Since we're talking about the funniest boat names, you can expect most of these names to apply to a host of different types of boats. Since we're considering the best, they can apply to your average pontoon or jon boat, cargo ship, yacht, or sailboat.
What matters is for our favorite people to collapse into fits of laughter once they read them – whether they're someone we pass by in the dock, out in the open waters, or just casually browsing the ever-expanding sea that's the Internet.
Without further ado, here are the funniest ship names I've come across and thought of.
Uh-Oh! (printed upside down so once the boat capsizes… you get the picture)
Aboat Time
Fishizzle
Ship Happens (arguably an all-time favorite among funny ship names)
Yactha Yachta Yactha
Wood Not, Wood Too (if you happen to have two twin boats)
Nacho Boat
Pier Pressure
Aquaholic
I Sheet You Knot
Tender Behind
Sayler (play on the band Slayer)
Seaman Stains
Seaward
Wasted Seamen
C-Word
Zombies Can't Swim
Knot for Sail
The African-American Pearl
Who's Shore Daddy?
Sea Plus Plus
A Loan at Last
High Maintenance
Buoy Oh Buoy
Money Pit
Bad Influence
Master Baiter
Knot 2 Bad
Error 404 Fish Not Found
There's more than a handful of funny boat names puns in that list, and they're really a mainstay in most online discussions – for all too obvious reasons. As Oscar Levant once put it, "A pun is the lowest form of humor—when you don't think of it first."
Funny Names for Ships
Many boat owners like to search for names just to pass the time while making their day a little brighter. On the other hand, gamers are pretty serious when it comes to looking for funny boat names for Sea of Thieves, to the point that they look for a funny boat names generator for it.
Well, I've definitely already generated quite a few that have had a few of my buddies go ROFL and LMAO in chat, such as the following. If you've been searching for funny boat names dirty for a while, a couple of these should be right up your alley.
Arrrrmazing Grace
Plank Spanker
Booty Hunter
Jolly Rogerer
Pillage People
Fish and Ships
Big Nauti
Moist Retreat
The Wet Spot
Seamen's Delight
Rum Runner
Dixie Normous
Maid of Plywood
Sexual Heeling
Reel Booty
Dirty Little Oars
Tipsea
Breaking Wind
Piece of Ship
Dave
Maidenless Voyager
Berth Control
The IRS
The Krusty Krab
Thar She Glows
Booty Call
Some Beach
Funny Names for Yachts
Being the darlings of the boating world doesn't make yachts exempt from gags and the occasional quip or two. Many like to target the vessels' luxurious, high-maintenance nature when coming up with funny yacht names such as:
Yacht-nomics
Luxury Tax
Rich Man's Regret
Costly Cruiser
Bank Breaker
Yachtzee
Money Buoy
Hilarious Names for Ships and Sailboats
If you're looking for funny names for ships and funny sailboat names, then look no further than this more exhaustive list. I've included a couple of redneck boat names as well as funny fishing boat names in this list for a smorgasbord of laughs.
This is the list for anyone searching for unique boat names you can share with your buddies over drinks, for lake parties in family gatherings, or, heck, if you're searching for fresh boat names ideas as well.
Dixie Dory
Moonshine Mariner
Mudskipper
Redneck Riviera
Hillbilly Houseboat
Swamp Surge
Bootlegger's Barge
Mast Appeal
Knot So Fast
Sailing by the Seat of Our Pants
Sail Law Vie
Nauti-gal
Mast-adon
Knotical Nonsense
Never Again III
Octopussy
Capital Puni$hment
Hot Ruddered Bum
Buoys in the Hood
Flaming Buoy
The Wreckcreation
Bilge Rat
HMS Sausge Roll
Giant Guppy
USS Party Boat
My Spent Allowance
After You
Tail Chaser
A-loan at Last
On the Rocks!
Grounds 4 Divorce
Buoy Toy
Slippery Slope
Hullabaloo
Knot Working
Sea Ya Later
Sea-cret Hideout
Boat Load of Trouble
Buoy Wonder
Dock Holiday
Lake-tastic
Tide Turner
The Graduate, The Drop Out
Skimpy Jumper
Atilla the Hull
Amy's Wine House
No Mas Dinero
Balls Deep
Stinky Fingers
Clam Dunk
Funny Gangster Boat Names
Let's wrap this list up with gangster boat names that fit boat owners who could really care less about what other people think. What's sure is that they can beat a couple of the funny boat names puns shared here with their Don Corleone-esque ruthless playfulness, with a sprinkle of gangsta rap.
The Don's Dinghy
Capo Dei Capi
Godfather of the Sea
La Cosa Nostra
B'Yachtch
Hypnotize Houseboat
Biggie Barge
S.S. G-Ride
Pimp My Ride Pontoon
Tha Doggfather Ferry
Nautorious B.I.G.
Notorious S.E.A.
Me & My Dinghy
The Boatfather
All Buoyz on Me
What Makes a Good Boat Name?
Make it your own as much as possible. Naturally, you're free to take the suggestions I've given here, but it's still infinitely better if you come up with something entirely original.
Most of the time, minimalism wins. You don't need to make your yacht as grandiose and ostentatious enough as it is. Just one, two, or three words will suffice – and make sure it's easy to see and pronounce!
Kick your alliterations and puns into high gear. If the list above proves anything, it's that it's a failproof way of brainstorming comical boat names.
It's always best to have a deeper meaning, especially one that relates on a personal level to you and your family. Once you read it, that meaning should flick through your mind, and you can unironically think that "this is what I live for" or "this is what home feels like".
No need to be utterly sentimental and serious, though.
As you decide, you should always be mindful of boat name character and placement requirements as per US Coast Guard guidelines.
Conclusion
What did you think of my funny boat names list? I hope they made your day a little brighter, at least. I won't be surprised if you find some of them silly or stupid – in the end, humor is subjective.
Still, we can't deny that reading a couple of these funny boat names can prove to be enough to earn a giggle or guffaw from any person caught unawares. Regardless of your purpose for searching for funny names for boats, I hope you've found them funny or useful – better if both, obviously.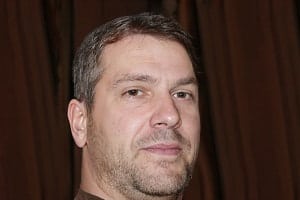 "My intention from the first day establishing Boating Basics Online is to provide as much help as possible for boaters who want to experience a first safe and convenient trip. So feel free to join us and share your beautiful journeys to the sea!"