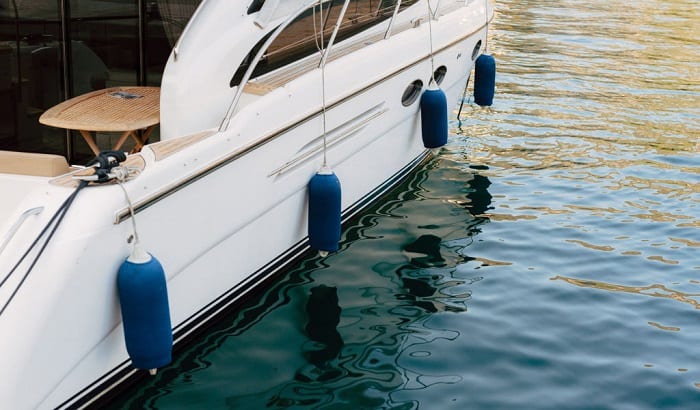 There are marine accessories that can help you avoid costly damages and repairs. Hence, the best boat fenders are a must for every boater or sailor. It's due to the chances of facing tough situations of docking and anchoring your boat. It would be best to have boat fenders or boat bumpers to protect it from accidental clashing against pilings, docks, and other vessels.
With boat dock fenders as shields, you have to find the tough and reliable ones. Here's a buying guide so you won't have a hard time searching.
To make sure that your marine boat fenders are suitable for your vessel, you have to determine the right size. It will be based on your boat length and weight, as well as the mooring area. You also have to consider the windy and choppy waters. You may need more fenders that are even larger when there are special cases like hurricane force winds.
Then, there's a rule of thumb when using cylindrical fenders. One inch of fender diameter is needed for every five feet length of a vessel. When it comes to round fenders, 2 inches of diameter are for every five feet length of a boat.
Number of Fenders that You Need
After you pick the right size and shape, you have to find out the number of necessary boating fenders. Based on the rules, you have to prepare one fender for every 10 feet length of your boat. Typically, you'll need three fenders or more to maximize protection
PVC and vinyl are the common materials used in making boat fender bumpers. It may come to your knowledge that vinyl is cheap, but the quality of marine-grade vinyl is good. With proper care, it can serve you for a long time. Wash it regularly to prevent thick formation.
Inflatable paddle boards are also made of PVC, known as more durable as it's tougher than vinyl. You can also find many inflatable boat fenders that you can inflate and deflate with ease.
The top-pick products in the following list have these exceptional qualities.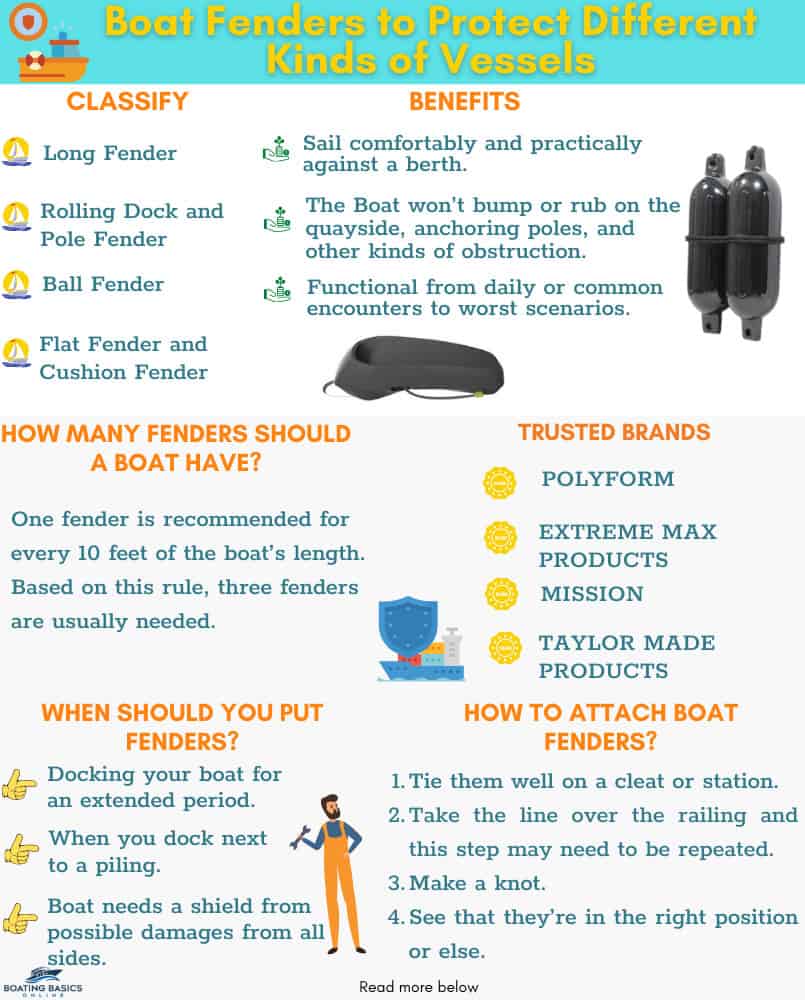 ---
Polyform 68323692 Boat Fenders
Can last for years
Available in various sizes
Holds up well
---
Extreme Max 3006.7384 Fender
UV resistance
Two-year limited warranty
Durable fenders
---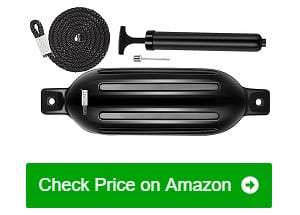 VIVOHOME Boat Fender
Can withstand heavy collusion
Holds up in harsh conditions
Durability and long-lasting
---
Top 12 Boat Fender Reviews
1. Polyform 68323692 G Series Boat Fenders
These G series boat fenders are made to last despite facing different water types and outdoor elements. They've been with me for over four years, but even the color hasn't changed a bit. It's a sign of toughness in facing the scorching heat of the sun. Moreover, they ride out the harsh conditions of a choppy river and frequent slamming of saltwater.
They're bumpers for boats that protect your vessel in so many ways, like keeping a boat at the dock. Since this is a good example of a soft vinyl fender, I don't worry about scratches when my boat is tied at the dock. Although my boat is thrown against jagged wood, metal, nails, and old rubber, possible damages are blocked.
It seems that these vinyl-ribbed marine boat fenders are made of tough rubber because they hold up well even if there's an impact. Surprisingly, they don't have inflation valves, but they're more effective than those with a needle valve. You'll only find a flat valve and a secondary head screw seal that never causes a leak. I usually put air in them once a year as they don't lose air easily even though they're sometimes beaten up.
In this aspect, I don't have a hard time deflating and inflating them. I also have to share the good news with my friends who have not found excellent marine fenders yet. It's a relevant thing to do as there are various sizes and one can surely find the right size for their vessels.
Using them is smooth sailing since they serve their purpose well. But they can give off a chemical smell if you just hang them in your garage. My friend told me about it. So far, I haven't experienced it as I'm out in the waters most of the time.
What We Like
Can last for years
Rides out choppy water, salt water, and harsh sunlight
Provide protection when docking and in so many ways
Holds up well even with an impact around
Doesn't need to be inflated and deflated often
Available in various sizes to suit everyone's needs
What We Don't Like
Has chemical smell if you just hang them in your garage
All I need is to pick the right size of G these Polyform boat fenders and add them on a boat to get peace of mind!
Docking and mooring
don't worry me anymore since I started using these small boat fenders.
2. Extreme Max 3006.7384 BoatTector Fender
When I opened the package, I was relieved to see that these large boat fenders come with ropes. They are thick and have the same durability as the fenders. These ropes are great for tie-up roles, especially if you don't have much space for your boat fender. I think they are in the right length so they match the application well.
There are reinforced molded eyelets that ensure strength and longevity. These are the features that secure my boat hull from possible scratches and damages. I appreciate that buyers offer a multi-pack as I use several of them for my boat slip. They also hold up well against a cement sea wall.
These bumpers for pontoons are tough enough to face harsh UV rays and resistant to harmful chemicals. It's just reasonable that the manufacturer is generous to offer a two-year limited warranty that proves its high quality. That's why my 20-foot pontoon is secured every time I leave it at any mooring or docking station.
One of the four bumpers was deflated when I received them. I thought it was damaged but fortunately, it only needs to be inflated. It's a blessing in disguise because I discovered how I could control the desired pressure. It comes with a needle-valve pump so I deflate or inflate them based on my needs. However, I bought a valve pump as a source of air.
What We Like
Durable fenders with thick ropes
With molded eyelets for strength and longevity
Boats are secured from scratches and damages
Has resistance against UV rays and harmful chemicals
Offers two-year limited warranty
Can be inflated and deflated based on one's needs
What We Don't Like
Some fenders come deflated
Separately buying a valve pump
This awesome pack of four boat fenders helps my pontoon to stay in place. It's made possible as I can inflate them properly. All in all, I like the quality and design.
3. VIVOHOME Vinyl Ribbed Marine Boat Fender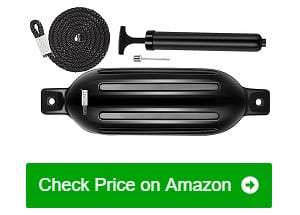 Purchasing this fender kit with four, heavy-duty large boat bumpers is one of the wisest decisions that I've ever made. It includes inflating needles, ropes, and a pump for inflation. I couldn't thank enough the guidance imparted by the boat fender reviews. Those praises and comments are not a bluff as these are made of quality materials for durability and long-term service.
When I started using these large boat fenders with my 60-foot boat and floating dock, I received a lot of compliments from my envious friends. They thought I bought the expensive brand. When I run into some friends, we tie our boats together before visiting a place. Nothing could be better than them as they hold all the vessels in place.
With the good size of these inflatable boat docking bumpers, even heavy collisions won't create damages. They won't allow your boat to hit hard on hard surfaces so my boat is protected all the time. As you would like it, they're robust enough with vertical molded ribs to dwell in marine conditions. You have all the liberty to hang it vertically or horizontally on sailboats, yachts, rowboats, and even docks.
Inflation is not a challenge but it is when it comes to deflation. It would usually take 10 minutes to maximize their size. But I wasn't able to do it with the free pump. Luckily, I have the electric air pump that makes inflation quickly done.
What We Like
Durability and can be used for years
Can hold together several boats in place
Can withstand heavy collusion
Keeps your boat protected all the time
Holds up in harsh marine conditions
Can be hung horizontally or vertically
What We Don't Like
The free pump can't quickly inflate the fenders
I'm glad that I don't have to spend a lot of money just to get reliable boat docking fenders. There's a lot to gain when using them as my friends also benefit when we put our boats together at the dock.
4. MISSION Boat Gear Sentry Boat Dock Fender Bumper
I never thought that flat boat fenders with great quality like this one are much better than a round fender that sometimes goes under the dock. Kudos to its strap system! It's effortless to use as I only need to push the top part for the right position and lock it in place. I feel relieved that I was spared from confusion when doing or adjusting the knots because I've never been a boy scout.
I can run the fender lines through the opening at the top part. It's super easy to disconnect the strap from the cleat. I feel much relief if I don't mess up with lines or ropes every time I tie fenders. You may even make a loop easily on higher locations. It's impressive that it never comes loose despite a lot of boat movements and waves.
Furthermore, you can place it on the dock post because it adheres well too. The hug contour makes it cling well on my boat. Thus, your vessel won't keep on bouncing as it's being held down. This is a flat fender that provides reliable protection for different kinds of vessels.
Sunlight can be harsh at times but there's no discoloration so I don't regret buying the white ones. The material is not only of high quality but environmentally friendly as well because there are no toxic chemicals. So, an unpleasant smell can't be detected. But you should know that it might not constantly stay in place when connected to a cleat that is way too low. It's what my fellow boater found out, but I didn't have issues with it.
What We Like
Easy-to-use strap system
Lets you avoid messing up with fender lines
Doesn't come loose despite a lot of boat movements and waves
Can be used on a dock post
Provides reliable protection for different kinds of vessel
Can withstand sunlight and discoloration
What We Don't Like
Doesn't constantly stay in place when connected to a cleat that is way too low
This MISSION boat fenders is a precise example of the advanced innovation of dock bumpers and fenders. You'll only waste money when buying the cheap type as it won't serve its purpose.
5. TAYLOR MADE PRODUCTS 31006 Freeboard Fender
Based on my application and experience, it's the top-rated boat fender for bass boats. Also, I can say that it's the ideal marine fender for low-riding style or low freeboard boats. The previous fenders tend to slip under the piers. This incident can harm the top or rub rail and gel coating of the vessel.
Because of its unique and curved design, it blocks scratches and gouges caused by choppy waters. It's a piece of cake to tie it on the cleat so you can make it sit high on the hull. With this set-up, the edges, rub rails and gunwales will always be protected. In connection with this function, your craft remains in its place. Contour fenders like this are trustworthy so you dock and leave your boat at peace!
It's way better than traditional fenders as it can absorb all the impact that's being thrown at it. The toughness of this fender is not only for withstanding waves but for the strong wind as well. I once left my boat docked on a windy lake and everything was fine. When it comes to its appearance, these black boat fenders won't look like a used boat fender that gets scuffed up and dirty.
It has a needle-nose inflation valve. It's durable with resistance against UV rays and saltwater. Thus, you can get long-term service from it. However, I met a boat owner who had an issue with the rope holes because he deals with bolt-on applications. The holes are a bit bigger so if you're in the same case as his, you have to get galvanized or stainless washer to make things work.
What We Like
Ideal for low-riding style or low freeboard boats
With unique and curve design to block scratches and gouges
Trustworthy in making your craft remain in place choppy water and strong wind
Absorb all the impact
Durable with resistance against UV rays and saltwater
What We Don't Like
Its rope holes may be too big for bolt-on application
Conventional things are not always the most effective and an example of this is this low freeboard boat fender. It assures me that the top part of my boat won't be damaged and it's like one of the transom fenders.
6. Extreme Max 3006.7228 BoatTector Contour Fender
An inflatable boat fender in the past didn't give me a good impression, so I settled for this. To my delight, I wasn't dismayed as it protects my jet boat in a variety of directions. The cleat of my boat seems oddly placed so the regular fenders can't provide utmost protection from docks and other boats.
It doesn't leave white smudges as other fenders do. I find the square flat design helpful in some places that round boat fenders can't work on. Although both of these fender types are light, this one is more functional for me. I'm just careful not to leave it behind as the wind can blow it away. Storage is easy compared to other types of fenders as it's flat and not bulky. I can even easily move it up and down the gunwale.
You'll get a pair of these contour fenders and two fender lines. The affordable price made me skeptical, but as I continued to use it, I was able to find out its superb quality. Not to mention that it's out there 24/7 most of the time. This fender is laminated with marine-grade material that constitutes its durability.
Additionally, it can withstand the harsh elements that exist in a marine environment. Hence, you can rely on its durability which is supported by a two-year replacement which I won't need to claim. They can resist tears, sunlight, and corrosion because of the grommets.
What We Like
Protects boats in a variety of directions
Doesn't leave white smudges
Easy storage as it's not bulky
Made with marine-grade material for durability
Comes with a two-year replacement
Resistance against tear, sunlight, and corrosion
What We Don't Like
Can be blown by the wind if left behind
This pair of flat fenders is all I need to keep my boat protected every time it's docked. Overall, I'm satisfied with it, including its price.
7. Hull Hugr HH-1CB Contour Fender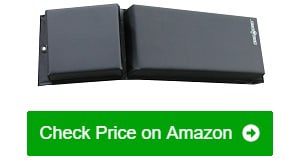 I'm grateful to this marine accessory as it protects my boat even in the worst docking or mooring conditions. Thus, I can say that it stands out among other contour fenders. Due to its function, this is perfect for small boats and low-profile vessels. It's just reasonable to choose this over bulky, round boat fenders.
I love how it doesn't roll or pop when deployed or stowed. The impressive part is that it molds to the hull shape very well. You may also use it with inflatable boat tubes and RIBs. It's guaranteed that it doesn't leave any marks. Some boat fender reviews state that the eyelets are flimsy but I can attest that they're well-built. Well, my brother wished that they were bigger as it's a tad smaller for his dock lines.
I have to admit that I used this in an abusive way. It hit the choppy docks against wood and concrete a dozen times. Eventually, it remains as it is so it's safe to conclude that it can bear a massive impact. Of course, it still clings on the boat after facing those things. It's also foldable for trouble-free storage.
I saw some people who use a couple of these as other boats are being tied up with their vessels. However, you must know that it's not for long-term use. I mean you don't have to let it stay in the water for too long even though it's composed of marine cover that is resistant to ripping. You can rely on its durability but it's ideal for short-term use like when I drop by at a restaurant or some places.
What We Like
Protects boats even in the worst docking or mooring conditions
Perfect for small boats and low-profile vessels
Molds to the hull shape and clings well despite impact
Foldable for trouble-free storage
With well-built eyelets
Can be used even boats are tied up together
What We Don't Like
Eyelets may be smaller for some lines
Only ideal for short-term docking
After I switch to this from fenders that are like anchor buoy or boat buoy, my boat is protected at all costs. It's functional and I owe it a lot.
8. Goplus 4-pack Ribbed Marine Boat Fender
These four pieces of inflatable boat fenders are an awesome replacement to their more expensive counterparts. They're larger than expected but in a good way. Therefore, it's a good value for money. I even bought another set as I need to have eight of them when another vessel is connected to my boat. I'm amazed at how they can stabilize more than one vessel in place, even on rough waters.
Also, you can tie them on a boat slip without dreading any unwanted events. It's great that you can either hang them horizontally or vertically. They are a good example of a vinyl ribbed marine boat fender. Due to the ribbed, striped design with curved sides, your boat is protected all the time since they prevent collisions from happening.
I got the blue ones and the color is the same as what is being shown in the photos. The strength of marine-grade vinyl makes it resistant to UV rays. I said so because discoloration didn't appear and the color remained the same.
The small disadvantage of its size lies on the storage as they would take up a lot of space. You may feel threatened to inflate them but let me tell you, it's an easy process that only takes a few minutes. I use a pump and needle to complete the job. This is not done too frequently because they can stay inflated for months. You can let them stay hanging on the guardrail of your boat or ship.
What We Like
Good value for the money
Can stabilize more than one vessel in place even on rough waters
Can be hung horizontally and vertically
Designed to prevent collisions
Resists UV-rays and discoloration
Easy to inflate despite its size
What We Don't Like
Take up a lot of storage space
These fenders exceeded my expectations! Since I witnessed its awesomeness, I no longer wonder that they're used on fishing boats, trailering boats, pontoons, and many more.
9. X-Haibei Pair of Boat Ball Fenders
These ball fenders can take up different roles, such as an anchor buoy, navigation buoy, mooring buoy, safety water buoy, and dock bumpers for boats. For me, they are the best marine fender as they prevent my boat from getting beat up when I dock it at the lake. They keep it away from smashing or hitting the dock and other boats. So, my boat won't be damaged while I'm away.
The free inflation needle is a great addition to the package. It makes it easy to do the pumping. But don't put too much air in it. It's a vital thing to note in the summer because the hot weather can cause expansion.
When it comes to durability, I salute these round fenders. I met someone who made them into punching bags after being filled with water. They didn't give in to punches that were thrown at them.
Their strength is resilient in a marine environment as well. The color doesn't change, even if it's like bleaching them out when being exposed to the sun at the lake for a long time. They can also withstand winds and waves and stop them from pushing the boat to the dock. A beach owner used these as markers to fend off powerboats away, and he's happy that they stay in their place.
I never thought that they could be more rugged than cylindrical fenders. You can deploy them with a rope 20 yards away and they'll be fine. It's also cool that deflation doesn't give me a hard time.
What We Like
Can take different roles as a mooring buoy, anchor buoy, and bumper
Prevents boat from getting beat up
With workable, free inflation needle
Durable and resilient in the marine environment
Stays in place after deployment
No hard time during deflation
What We Don't Like
Shouldn't be filled with too much air, especially when the weather is hot
You won't be in trouble with a rolling fender if you use these, as they stay in place all the time. They have reliable buoyancy to make your boat stay in place and free from harm.
10. VINGLI 4-pack Ribbed Boat Fender
Just the looks of these boat fenders will tell you that they function marvelously. The soft, pliable, black rope for hanging them is also included. They have proper thickness and are not easily punctured.
Judging by the looks, they are made of high-quality PVC reinforced with eyelets and sidewall. Moreover, the ribs boost anti-collision ability so my boat is protected whenever I leave it at the dock. These can be considered soft boat fenders that hinder collision. However, they're hardy in facing outdoor elements. I use all four ribbed fenders on my pontoon. But they can be small sailboat fenders as well.
They're durable as I use them on weekends all year round. It happens because of their resistance to harsh sunlight and fastness. No corrosion also occurs even if they're exposed to the sun and water for an extended time. So, there's no difference in buying expensive ones as they work the way that I want. Additionally, there's a one-warranty that proves their quality.
Blowing these fenders is a trivial task for me after using the compressor instead of the provided pump. Deflation is also effortless. However, there's more work on keeping them tidy. I think it's with the coating but they look beautiful and shiny after a bit of cleaning. It's fine with me as I always spare some time for the maintenance of my marine accessories. They look old and dull when not cleaned.
What We Like
Soft pliable, black rope for hanging the fenders
Made of high-quality material with ribs and softness for the anti-collision ability
Durable despite frequent use
Hardy and resistant against sunlight, corrosion, and water exposure
One-year warranty to prove their quality
Effortless inflation and deflation
What We Don't Like
Better to use a compressor than the provided pump
May look old and dull when not cleaned
I'm content with the quality, function, and price of these fenders. Buying a pack is worth it as I'm assured of the safety of my boat despite long-term exposure to water and other elements.
11. attwood 93553P2 SoftSide Boat Fender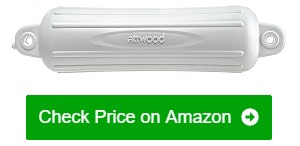 I never found a boat bumper that was as cost-effective as this one. Still, it can protect my boat from collisions to docks and other vessels. I'm grateful for its functionality because my boat is an expensive investment that shouldn't be damaged shortly.
The product description doesn't lie as they're made of lightweight, sturdy material. Touch them and you'll feel the softness. This doesn't mean weakness, but instead, it's the reason why they can protect your boat from impact and force. These boat fenders are made for marine use because they have resistance against sunlight.
It suits my needs since my boat is prone to long exposure to sunlight as I love sailing in summer. Also, I dock it at a lake that sometimes gets rough. Even though it happens, my boat doesn't crash on the dock. So, it makes sailing life easier and more convenient!
You may also notice their oval shape and ribbed sides which can stop them from rolling against any surface. Thus, based on my observation, this confirms the lifetime guarantee against splitting, chalking, deflating, crushing, and marring based on my observation. As you can imagine, they won't have direct contact with the hull. They remain in their original form despite using them often.
These size boat fenders are favorable for storage as they fit in the boat's compartment. I only needed to separately purchase the lines which are not included in the package.
What We Like
Cost-effective boat fenders
Lightweight and soft with sturdy materials to prevent collisions
Resistance against sunlight
Doesn't roll on the surface or hull
Lifetime guarantee against splitting, chalking, deflating, crushing, and marring
Has size for easy storage
What We Don't Like
Lines are not included in the package
Contrary to my expectations, I can get boat fenders that don't cost a lot. These are effective in protecting my boat even when the water gets rough.
12. Shoreline Marine Ribbed Inflatable Fender
This ribbed bump fender is great in protecting my boat's wrap-around edge rail. What the best boat fender reviews say is true. You should know that it's a good example of a vinyl fender that is dedicated to protecting any vessel in different sizes and designs.
Once you add them to your boats, you won't be scared of scraping, bumping, and even massive collisions. They can establish a reasonable distance to keep your boat away from the dock or other vessels. In my case, I would adjust the height to keep up with the changes in the water level of the lake. Another factor that brings change is rain which is fine with this fender.
It's strong and durable enough to face other elements such as storms, direct sunlight, heavy impact, and scratches. Consequently, this one promises long-term usage due to its promising durability. Just make sure you pump it with adequate air and keep it at 1.5 PSI.
You can inflate it within seconds as long as you have the right tool. Exhausting is the same process, so you can fold it for storage. A couple of these fenders for wakeboard boats and yachts are effective. Indeed, this is the travel fender that you can depend on. I can attest to its durability as I tested it many times when used on a permanent dock. It doesn't come with lines so I have to buy some.
What We Like
Protects vessel in different sizes and designs
Keeps a good distance from other boats and docks to prevent any damages
Strong and durable in facing various elements
For long-term use as travel fenders
Can inflate and deflate with ease
Enjoy sailing as you don't have to worry about your boat's safety when docking. I get my money's worth from its long-term service.
Factors To Consider When Choosing Boat Fenders
Types of Boat Fenders
This is the most typical fender and others may call it a walking fender. Handling it is easy and you can place it vertically or horizontally from cleats, railings, or lifelines. However, the boat size has something to do with the positioning. Some have a center rope tube which gave birth to the term 'center hole cylindrical fenders'. Others have molded eyelets to make them stay in place.
Rolling Dock and Pole Fender
You may also call this a file fender and it's ideal for those who want to save some space. Expect to see various versions of this.
Ball fenders are usually made of PVC with a single eyelet. It needs to be inflated with air to achieve a spherical shape which promotes an incredible point of impact shield. You can depend on its constant rolling for the point of contact. It's the type of fender you need when passing along narrow spaces and going in and out of locks.
It has a versatility that applies when pointing out an anchor location and floating a transient line. Hence, its other name is standby fender.
Flat Fender and Cushion Fender
This is acknowledged as a multi-purpose fender with sterling storability and low potential for slippage. It's filled with foam and may be covered with nylon coating. You may see them on locks, cranes, and slipways. It's lightweight so the wind can easily blow it and don't forget to set it aside when not in use.
Benefits of Owning Boat Fenders
Besides protecting your boat, there are other perks that you can gain from boat fenders.
Fenders and boards are some of the reasons that you can sail comfortably and practically against a berth.
You're assured that your boat won't bump or rub on the quayside, anchoring poles, and other kinds of obstruction. Impacts are also deterred.
Sailors depend on their assistance in various mooring conditions. They're functional from daily or common encounters to worst scenarios like berthing with hurricane-force winds.
How Many Fenders Should A Boat Have
Generally, one fender is recommended for every 10 feet of the boat's length. Based on this rule, three fenders are usually needed. But most boat fenders come in pairs so boaters would just put one on each side of the boat. They observed placing every fender in the middle of the craft's length.
Furthermore, your boat's weight, size, and condition affect the exact number of fenders you need. Thus, you may add more than the recommended quantity but you have to weigh the space that they can take up for storage.
When Should You Put Fenders On Your Boat
Several circumstances require you to put a fender on your boat and they are as follow:
Docking your boat for an extended period needs fenders to prevent the growth of barnacles and algae. When they're attached to your boat, a solid water clearance is ensured to stop any unwanted formation.
When you dock next to a piling, you have to add cylindrical fenders horizontally.
Your boat needs a shield from possible damages from all sides. Mainly, you need fenders to not get close to the dock and thereon, prevent damages. You'll also need protection from rafted, drifting, crowded anchorages as well as something in between with other boats.
How Much Weight Can A Boat Fender Float
The buoyancy of the boat fender will depend on where you place it. You may calculate by associating the volume of the fender, which can be in liters. Then, subtract the weight that originated from the displacement. This weight can barely tolerate the tendency of going underwater.
Some factors can interfere with the fender's weight to float. Here they are:
A fender that weighs 1 liter can displace 2 lbs of land weight
A fender that weighs 2 liters can displace enough seawater and balance 4.4 lbs land weight
The craft also contributes to its buoyancy
How Do You Attach Boat Fenders
Attaching boat fenders on a vessel should be done above the waterline. So, their bottoms will just skim the surface of the water. Tie them well on a cleat or station. It's best not to put them on a lifeline as they can't bear stress. Take the line as you go over the railing and this step may need to be repeated.
Learning to make a knot is vital to connect the fenders to your boat successfully. See to it that they're in the right position or else, they won't bring the effects that you expect from them.
What Is The Difference Between Boat Bumpers And Boat Fenders
Bumpers and fenders have a similar job but with different approaches. You'll see bumpers on different kinds of docks and their exact location varies. On the other hand, fenders are deemed protectors of boats because they prevent damages caused by impact or rubbing on the dock or other vessels. Hence, they're attached to vessels but the round can be bumpers too.
Conclusion
After reading this review, you may feel happy as you've found not only affordable but the best boat fenders. They assure you of your boat's safety when it's docked or there are other crafts around you. Also, you get to take advantage of their service in the long run. So, they're worth every penny! Your boat is not only secured but you'll have an enjoyable sailing trip.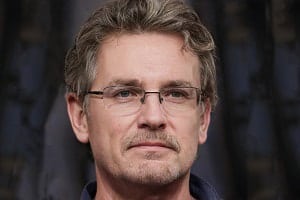 "I am James Harvey – founder of Boating Basics Online. It is established with the drive to help out first-time boaters, which are those desiring to explore their way through the water. So if you are new to boating, start from here with me. "