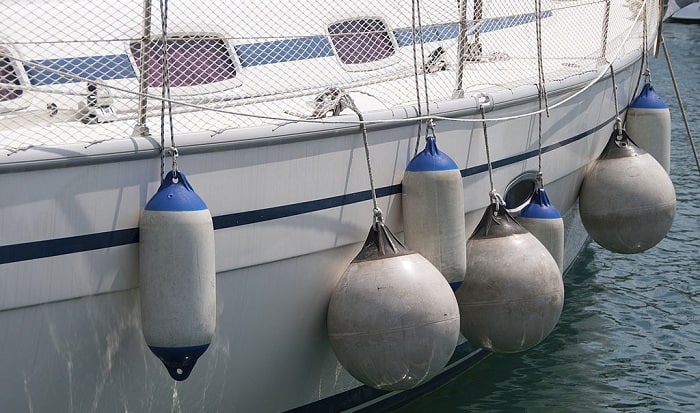 Pontoon boat owners may enjoy and relax every time they sail. However, they need to protect and maintain the craft from outdoor threats like accidental collisions and bad weather conditions. When docking, damages can occur from rubbing other vessels and the dock. Pontoon fendering or utilizing dock bumpers is the solution for these.
By recognizing this need, you're a pontoon boat owner who's eager to get the best pontoon bumpers. To guide you in correctly purchasing them, here are the features you have to take note of.
Appropriate size and quantity
It may be too late to find out that the pontoon dock bumpers you bought are a misfit. You'll have regrets realizing that you wasted time and resources. Thus, be mindful of the rule that there should be an inch of the bumper for every five feet of the boat length.
Besides doing the math to determine the size, you have to obtain the right quantity or number of pontoon boat bumpers. It's recommended to have at least three dock fenders or bumpers. You should at least stay with this count as the effectiveness won't take place if you have fewer.
The top-rated pontoon fenders and bumpers should serve you in the long run. You would know that they last for a long time based on their materials and components. PVC and marine-grade vinyl are the ideal ones. They can withstand the beating of outdoor elements, such as harsh UV rays, corrosion, and water.
Easy Installation and Usage
Other boat owners may be in haste when installing pontoon fender bumpers. Consequently, the process becomes difficult and you'll have to face a messy result. To exempt yourself from experiencing this, you can look for the type that is easy to install and use at the same time.
An array of dock edge pontoon fenders or bumpers are available in the market. But the following list is filled with excellent products. So, read on to know the pros and cons of each and find the perfect match for you.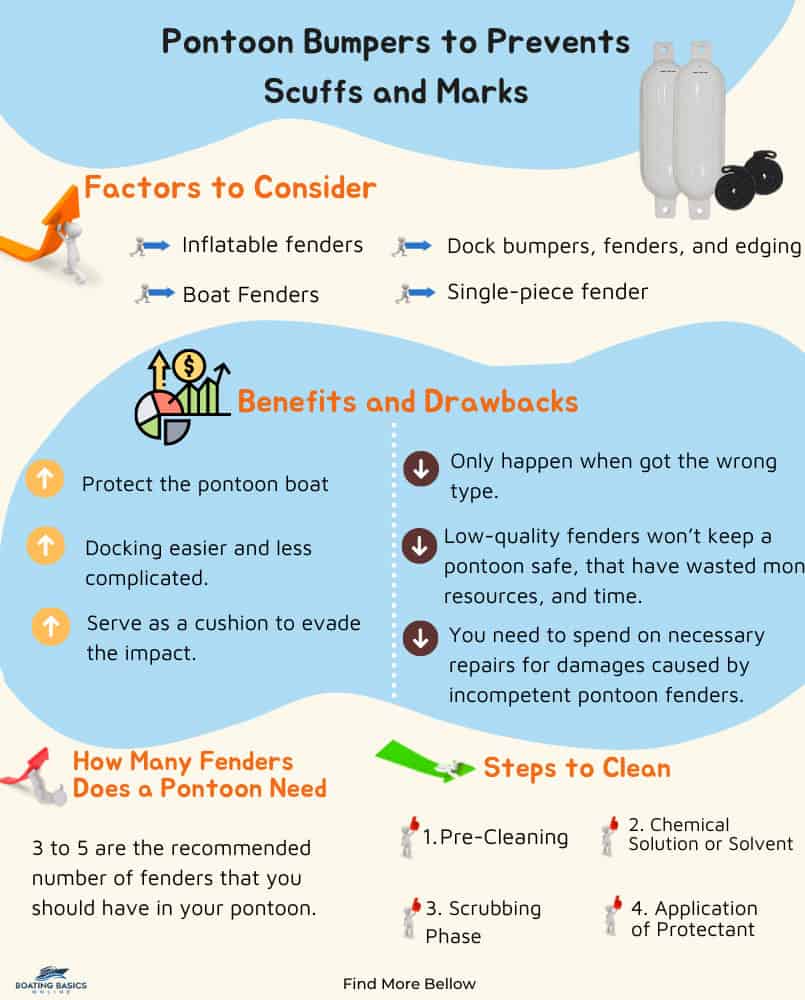 ---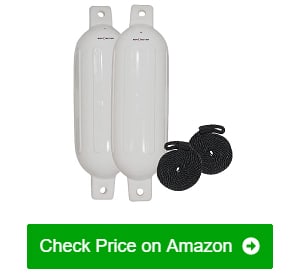 Extreme Max 3006.7201 Fender
Good quality sewn lines
Long enough for tall docks
Two-year limited warranty
---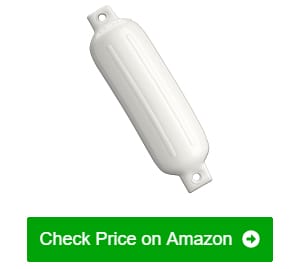 Polyform 5117533 Boat Fenders
Can't mare gel coating
Pre-inflated and doesn't leak
Stay tough despite a lot of beating
---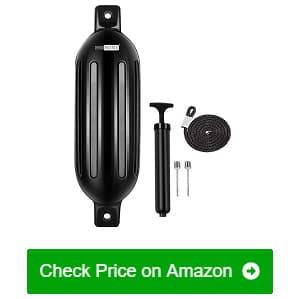 VIVOHOME Boat Fender
Can last for years
Includes lines with sturdy loop
Effortless to inflate and deflate
---
Top 7 Pontoon Bumper Reviews
1. Extreme Max 3006.7201 BoatTector Fender Value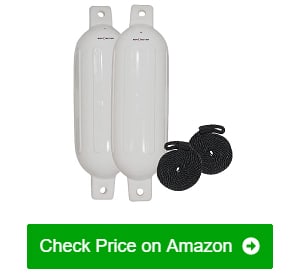 This pair of fenders for pontoon boats has a favorable price for its quality. I'm not a pro in picking boat accessories but they fit well with my black pontoon. With color selections, they're not boring; I even picked the vibrant orange. They have the right amount of thickness that promises protection. I'm surprised that they secured my pontoon boat when it was docked up to a ski boat with prevailing waves.
My pontoon is protected on a busy lake and during windy days. The full length of these fenders is long enough for tall docks. The boat won't be knocking on the dock despite the forces around it. You may also use them for small vessels like I did. They work splendidly as dock edge boat savers!
You won't only get a pair of pontoon corner bumpers but also good quality fender lines in a single purchase. They are akin to sewn rope with an adequate length for tying. Also, these pontoon boat fenders are not made of plastic. They're inflatable so I can get the right firmness to make them functional.
They have faced a storm and it's one proof of their durability. The manufacturer is confident to give a two-year limited warranty because they're of high quality. You can also see it from its sturdy eyelets. I've seen how resistant they are to UV and chemicals as well. That's why they continuously serve me despite the impact of outdoor elements.
I don't have a serious complaint about these boat bumpers. It's just the stitched loop where the company's logo is attached can't close all the way. But it's not a big deal since only an inch is needed when putting them higher on the gunwale of small boats. They're still more functional than Dock Edge pontoon fenders.
What We Like
Protects pontoon on busy lakes, windy days, and storm
Long enough for tall docks
Can be used for small vessels
With good quality sewn lines
Inflatable to control the firmness
Durable with a two-year limited warranty
What We Don't Like
The stitched loop with the logo can't close all the way
I'll be happy even if I only get the cylindrical fenders for an affordable price. But I'm also glad about the lines as they protect my pontoon when docked. Two thumbs up for the Boattector inflatable fender value!
2. Polyform 5117533 G Series Boat Fenders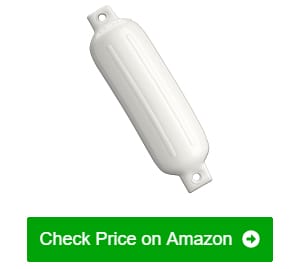 I never thought that these boat fenders for pontoons would be the permanent source of protection on the dock edges. At first, I bought a pair as the color selection and various sizes are indulging. Seeing the wonderful effects, I bought more and the oldest ones have been serving me for four years.
They have received a lot of beating and are always exposed to the harsh conditions of the choppy river near my house. Summer comes and they can't avoid the sunlight. But still, their colors haven't faded. I sometimes use them in a saltwater environment and they don't budge either. They're not made of hard vinyl that can mar the gel coating of your boat.
These colorful bumpers are originally made for recreational trailered boats. As they have endured the tests of outdoor elements, I can say that they're durable. They come pre-inflated and with the flat head screw seal so you won't have to worry about leakage. There's also a valve for you to inflate and deflate them. Favorably, I can apply the pressure that I prefer. It's so easy to revive their firmness!
It could have been more convenient for the user if an inflator is included in the package. A bit of increase in the price is fine with me. Nevertheless, I am satisfied because the size and weight that I bought are appropriate for the application. I have them in my pontoon as I sometimes use them with floating anchor lines when fishing.
What We Like
A permanent source of protection when docking
Stay tough despite a lot of beating
The color doesn't fade despite long exposure to sunlight
Don't budge in a saltwater environment
Can't mare gel coating
Pre-inflated and doesn't leak
What We Don't Like
Could have been convenient if it comes with an inflator
I get what I pay for with these fenders that have been useful when docking. They can last for years so I'm very pleased. Moreover, it's a bonus that I haven't encountered any problems when using them.
3. VIVOHOME Vinyl Ribbed Marine Boat Fender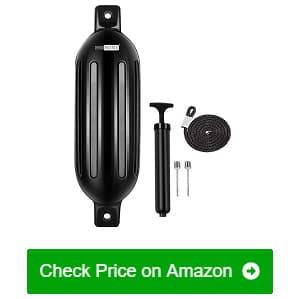 These pontoon front bumpers work as advertised. Thus, they're perfect for our needs. The most amazing part is that they don't cost much but work similarly to an expensive pontoon bumper. At an affordable price, lines with the proper sturdy loop are available for every purchase.
Since they're made of marine-grade PVC, they can last for years. In my experience, they weren't harmed despite 24/7 residence in the water for an entire season. Aside from protecting my pontoon, I use some of them for a large boat placed at the end of the slip. As you can imagine, they are beaten up badly. They've also shown UV resistance when used all summer long.
Their ability to withstand marine conditions is credited to their awesome buffer effect. Despite the heavy collision, boats and docks remain unharmed. In addition, the ribbed design and reinforced eyelets do the job. These are also features that block tearing and puncture so they can serve you in the long run even if they permanently stay outdoors.
They are inflatable bumpers that are effortless to inflate and deflate. A free pump is included in the package but I passed on using it. My electric pump works better and faster. With my years of use, they haven't bothered me with loss of air.
Aside from being the pontoon boat front bumper in my dock, these are incredible fenders when I sail.
When docking
to meet my fellow boaters, five or six vessels can be tied with my pontoon. Its ability to hold more than one boat is simply outstanding!
What We Like
Works similarly with expensive bumpers
Includes lines with sturdy loop
Can last for years
Not harmed despite 24/7 residence in the water and UV exposure
With awesome buffer effect even with heavy collision
Effortless to inflate and deflate
What We Don't Like
Other pump works better than the free one
Fair price and high-quality materials are the reasons why I like these bumpers a lot. I don't have to worry about them despite their exposure to outdoor elements.
4. Leader Accessories Ribbed Twin Eyes Boat Fender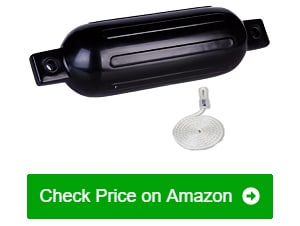 The highlight of buying these UV-resistant vinyl fenders is their excellent value. They're designed to last long as shown in their thickness and firmness. Furthermore, the ribbed texture fortifies the protection they can provide for my pontoon. Apart from these amazing pontoon dock bumpers, attachments, nylon ropes, and a pump are included. The rope's length is more than enough for small boats.
I admire the length and the width as they're proportional. These features give me the idea of its durability apart from its high-quality material. Hence, I don't wonder why a return or money-back guarantee is available. A full refund can even be granted given that they're newly bought. I don't need them as I continue to use these fenders for over a year now.
Although water level changes, they stay in place to protect my pontoon when docked or during docking. I'm pleased that the sides of my pontoon are protected when I return or launch on the slip. They're ideal for calm waters and overnight tie-ups. I can install them in a matter of a few minutes. Also, they can be installed vertically and horizontally with their strong eyelets.
I thought that there's no needle for pumping but fortunately, I didn't throw the box. I checked the inside and saw two pieces of needles. During inflation, I like how I can adjust the hardness based on the needed application. Even though they're not rubbery or soft, they are effective side fenders! They don't leave scuffs on my pontoon too.
What We Like
Have thickness and firmness for long-lasting service and durability
With attachments, nylon ropes, a pump, and needles
Offers return and money-back guarantee
Stay in place even with water level changes
Protects the pontoon's sides whether installed vertically and horizontally
Doesn't leave scuff on pontoons
What We Don't Like
Needles are not easily found in the package
The sturdiness of these pontoon boat dock bumpers ensures the safety of my pontoon. When docking, leaving the slip, and sailing, I'm protected all the time.
5. Better Boat Store Boat Fenders Bumpers for Dock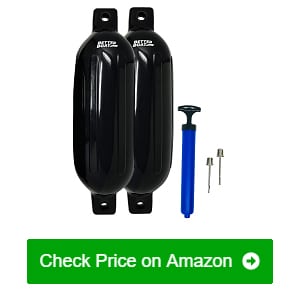 I believe that these are heavy-duty pontoon bumper guards. Since they're made of excellent material, I can rely on them for my pontoon's safety when docking. Thanks to the ribbed design that allows air to pass through the ridges, contact to the pontoon is limited. Thus, scuffs and marks are prevented. Also, they help my pontoon relax and be ready to be tied at the dock.
This is one thing that I'm thankful for as I can loosen up as well. These pontoon fenders protect my pontoon by unanticipated movements that can cause damage. Every penny is worth spending on them due to the superior protection they can provide. So, it's reasonable to call them pontoon boat bumper guards.
I have two sets of these corner bumpers. Every single purchase has a manual pump and needles. I'm glad that inflating is so easy but I didn't use the free pump. Alternatively, I utilized the electric pump and I think a bike pump is fine too. They remain inflated in a decent period to provide protection and can be deflated for convenient storage.
Moreover, there are deep-set, molded eyelets that can accommodate various sizes of lines. Since the eyelets are sturdy, the lines won't rip them apart. Better Boat is known for its quality products. So, I also get their lines. These products prove that this company is dedicated to please its customers.
What We Like
Heavy-duty as they're made of excellent materials
Prevents scuffs and marks
Makes the pontoon relaxed to prepare for docking
Provides superior protection
Inflating is so easy
Molded eyelets for various line sizes
What We Don't Like
Better use an electric or bike pump rather than the manual pump
Wrapping up the day means a pontoon boat safely docked with these pontoon corner bumpers. They function as expected because of their quality components. Thanks to them, I'm more confident when docking my pontoon.
6. Mophorn Boat Fenders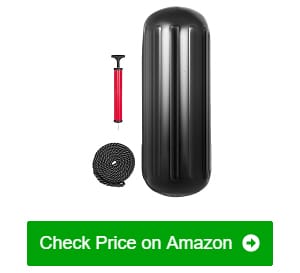 These pontoon bumper hangers are glossy black, which produces a classy appearance. In my years of boating experience, this is one of the worthy investments I have for my pontoon boat. They come with lines that are long enough for me to insert them on rail hangers for a vertical position. But you also have the choice to set them horizontally. Some connect them with ridge hooks as a side fender.
The manufacturer is generous enough to provide lengthy ropes which may be too much for some applications but they're just right for my needs. There are many wonderful features including the wide diameter on their contoured shape. This part protrudes past most of the dock posts. Hence, it restrains my pontoon from touching the dock. With helpful features, they're much better than a Dockmate dock bumper fender.
Ribs are also seen on their bodies for strength and resistance to puncture or tears. To withstand the marine environment, they are resistant to UV as well. They are inflatable pontoon boat corner bumpers and side bumpers. Inflating them becomes easier with an electric pump rather than the inflation pump included in the package. But I can manage to do it alone.
With great advantage, there's gas tightness so I've never seen them deflated while in use. They're handy even when waves are present at the docking station. Immense collisions won't take place even with hard surfaces around the slip or marina. They can also be dependable anchor buoys. Apart from pontoon boats, they can protect sailboats, canoes, and other medium-sized vessels.
What We Like
Glossy black appearance
With lengthy ropes for hanging vertically and horizontally
With a wide diameter that past most dock posts for protection
Rib design to resist puncture and tearing
Resists UV rays and remains tough in a marine environment
Can be a dependable anchor buoy
What We Don't Like
The lines may be too long for some applications
The free pump is not too efficient
Once you have connected these with pontoon boat bumper holders, protection is guaranteed. They make docking uncomplicated, so any sailing adventure is focused on having fun.
7. Gowintech Inflatable Marine Boat Fender Bumpers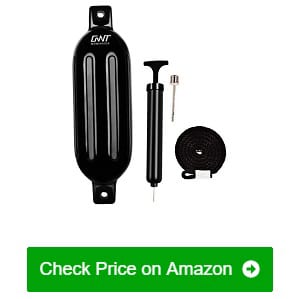 Saving my pontoon boat from collisions and damages is done fantastically by this pontoon boat fender. Not all pontoon bumpers and fenders can do it excellently as it does. When I saw it for the first time, I'm pleased with its thickness, size, and overall appearance. As this doesn't cease to serve me and my pontoon, this is the top-tier pontoon bumper in my opinion!
I bought two sets after my teenage son lost the round fenders that we had. But I must say that I'm thankful for the incident because I was able to find a better option. Due to its strength and durability, a set of four is enough to be stationed in my dock. They make my pontoon boat secured from the dock, other vessels, and other kinds of obstacles.
All the necessary fender accessories when using dock bumpers for pontoon boats are found in every set. There's a 23-inch rope for each fender. It's a sufficient length to make a knot. A hand pump and inflating needles are also provided.
However, these were deflated when they arrived. It's not a big deal as all four of them can be inflated in less than 10 minutes. You may need to use a bike pump or electric pump for the first time. Note that the free hand pump only functions to top off every bumper.
With the oval shape and ribbed body, these won't roll against the pontoon like contour fenders. Moreover, I can't see any sign of mildew with continuous use. They also look neat when attached to a boat.
What We Like
Saves pontoon from collisions and damages from docks, other vessels, and other obstacles
With reliable strength and durability
Includes ropes, a hand pump, and inflating needles
Doesn't tolerate the formation of mildew
Look neat when attached to a boat
What We Don't Like
The freehand pump is only for topping off the fender
I like how this toon fender provides security when I sail and dock. Aside from being careful, I need an exceptional and tough dock bumper and fender like this.
Factors to Consider When Choosing Pontoon Bumpers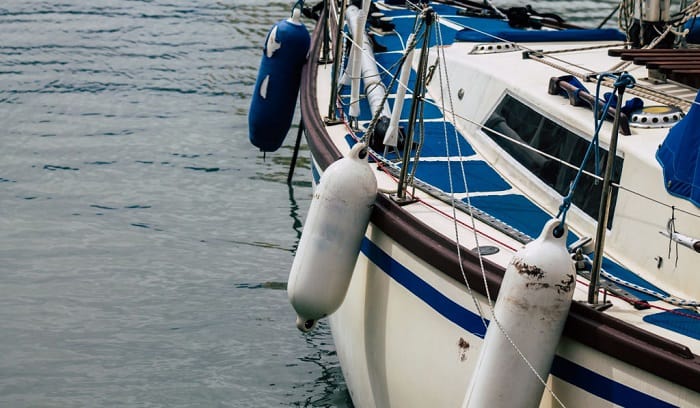 There's a wide selection of corner fenders and dock bumpers for pontoons. They are in various sizes, shapes, materials, and designs. Their unique characteristics lead to specification of a certain type. Know more about them.
These fenders are composed of PVC and vinyl which are typically UV-resistant and marine-grade. As inflatables, they need air before usage. You may also find rubber bumpers for pontoon boats that you need to inflate. They can be hung as side fenders and corner fenders.
Dock bumpers, fenders, and edging
You need to place these bumpers on the dock for an extra layer of protection for your pontoon boat. Some vary in terms of shapes, sizes, and types but can serve a common purpose: shielding your pontoon from impact and contact with other vessels. These factors may lead to collisions and damages.
Instead of mounting fenders on the dock, you do it on the boat. Having them on your pontoon protects you if ever you clash with another craft. The hull of other boats is also kept safe. Therefore, it just makes sense to state that they promote the safety of all the vessels that are in the waters.
This one fender is the opposite of inflatables. It may also be referred to as transom fenders and fence saver fenders. One of the innovative designs can be found in flat fenders. A good example of this type is the Akua pontoon boat fender. Due to the attachment that is done on the sides, it's mainly recognized as a side fender.
Benefits and Drawbacks
Excellent bumpers and fenders offer a lot of benefits. Apart from protecting your pontoon boat, you'll find docking easier and less complicated. It's common knowledge that docking is not a simple thing to do. Advice from experienced boaters can help you practice docking smoothly and effectively if you pair it with bumpers.
This fact is also related to the safety of your pontoon boat. Both fenders and bumpers can hinder the damages and scratches that may be brought by accidental bumps. They serve as a cushion to evade the impact that may arise from the dock, other vessels, or other obstacles.
In cases where vessels are tied all together, the waves or current cause them to bump to each other. Even though it happens, no unwanted things will occur as the fenders protect all of them.
Drawbacks in using pontoon boat fenders only happen when you got the wrong type. They'll end up as liabilities and disadvantages instead of as protectors. Low-quality fenders and bumpers won't keep your pontoon safe. Disappointment sinks in when you realize that you have wasted money, resources, and time. Also, you need to spend on necessary repairs for damages caused by incompetent pontoon fenders.
How Many Fenders Does a Pontoon Need
How many bumpers for a pontoon boat? Every pontoon owner wants to know the answer for this question. Three to five are the recommended number of fenders that you should have in your pontoon. All of them must be the same size and suitable for the pontoon boat length. When you collect five of them, you can gain extra protection.
How to Attach Boat Fenders on a Pontoon
Ropes and straps are the items for mounting the bumpers. As an example, front pontoon bumpers are usually hung from the rail hangers with the rope. It's a similar method when hanging inflatables. On the other hand, other fenders are placed on the pontoon deck through the integral strap. Be aware that inflatables tend to move among other types of fenders.
How to Clean Pontoon Bumpers
Whether you have the expensive Bennington pontoon bumpers or the affordable effective ones, you still need to clean them. You can do it by collecting the necessary tools first, such as a cleaner, bucket, scrubbing brush, tent pegs, and pressure washer.
It will be hard to clean the bumpers if they're still floating in the water. So, take them out of it every time you do the cleaning and maintenance. The pre-cleaning process involves scrubbing and soap water. You can keep on scrubbing but if you find it hard to remove the mildew and unwanted debris, a power washer can help.
There will be times that stubborn dirt will remain on the surface after pre-cleaning. You can proceed to the application of safe, suitable chemicals. When using the power washer, you have to be mindful of the pressure level. If not careful, you may only create a hole on them rather than getting them cleaned.
The stubborn dirt and stain need more scrubbing. Use an abrasive sponge that has a texture of sandpaper for this step. But avoid using excessive abrasion as it can create further damage. Scrub gently until you get rid of the dirt and stain. It's also fine to use a brush with hard bristles.
Chemical Solution or Solvent
Regardless of thorough scrubbing, some sticky dirt and mildew stay behind. An effective cleaner or solvent will make things easier for you. Choose one that doesn't leave any sticky residue that can only be removed by sanding. It's acceptable to use a cleanser and let it sit on the bumpers for some time as you observe the effects. It's wise to choose specially formulated cleaners that ensure safety.
The effects of hard rubbing are similar to the abrasive cleaner so be a smart buyer. You may also consider buying the one with a formulation that is safe for the environment and marine life. When cleaning the bumpers, you don't have to bring pollution to the waters.
Application of Protectant
Bear in mind that you remove the protective covering when bumpers and fenders go through cleaning and scrubbing. Some may not have this cover but it's still best to add it. You'll need a waxing product or vinyl coating for creating a protective layer. This prolongs the nice surface and good performance.
Conclusion
You won't worry too much when docking your pontoon. This review is filled with the best pontoon bumpers and tips on how to take care of them. You now also know the necessary accessories to start using them. All in all, your safety and those around you are guaranteed. Using them is also a way to improve your docking skills. Then, you'll have a high chance of avoiding accidents that can incur costly repair expenses.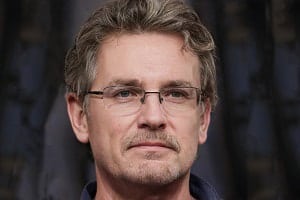 "I am James Harvey – founder of Boating Basics Online. It is established with the drive to help out first-time boaters, which are those desiring to explore their way through the water. So if you are new to boating, start from here with me. "