Searching for the best boat buffers and polishers sounds tricky among popular variants and products provided in the market. Using a buffer eliminates blemishes on your boat while maintaining a lasting sheen with less effort than doing it manually. Waxing and polishing your boat with bare hands is no longer the best option to maintain them.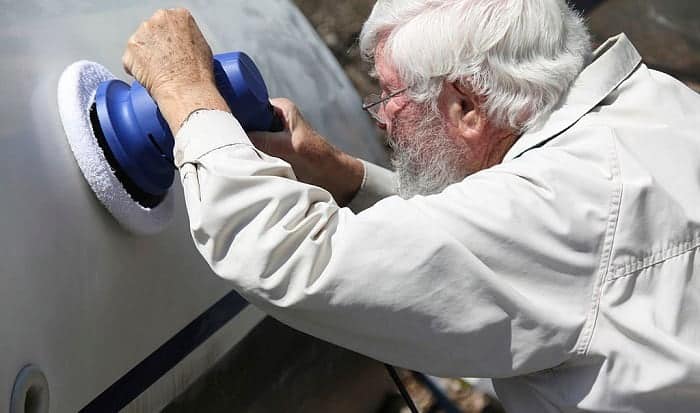 Securing the best buffer to wax a boat helps you do away with the tedious manual application. In case these are new to you, please consider the value of these buffers to your needs. These top-rated boat buffer reviews will tell you all you need to know about these boat buffers.
You better check each boat buffers review below for the choice buffers of most boat owners. We aim to make your life great with these best boat polishers and buffers. Carefully consider each review to help you decide on the right buffer that matches your needs.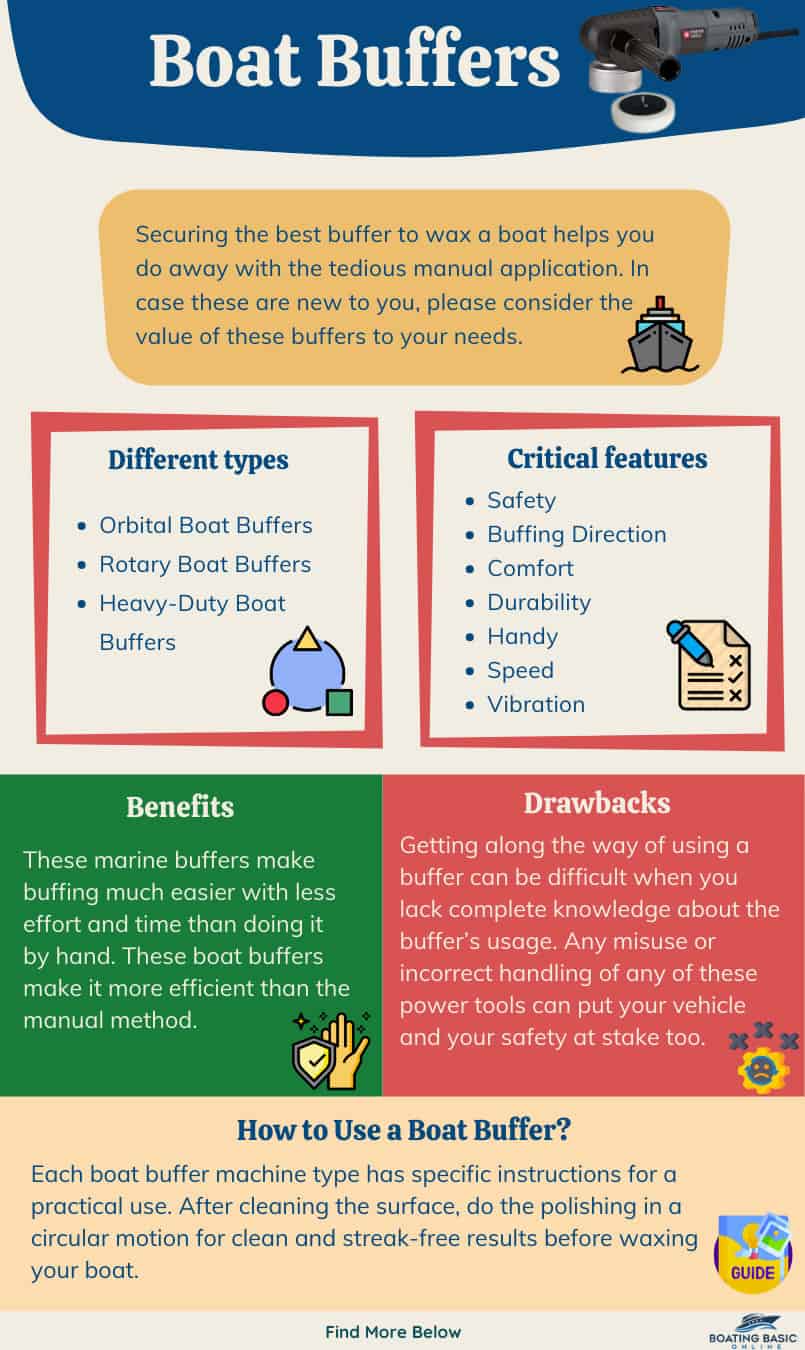 ---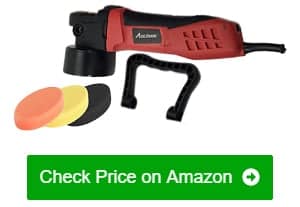 Avid Power MEP127 Buffer Polisher
Good speed control
Random orbit and dual action
Effectively removes blemishes
---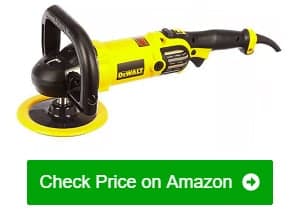 DEWALT DWP849X Buffer and Polisher
Multi-options bale
Powerful and advanced buffer
Features variable speed control
---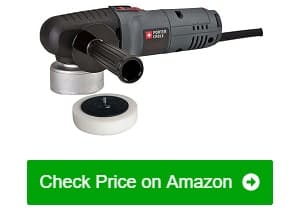 Porter-Cable 7424XP Speed Polisher
Small and compact
3-year warranty
Electronic variable-speed control
---
Best Boat Buffer Reviews
1. Avid Power MEP127 Dual Action Buffer Polisher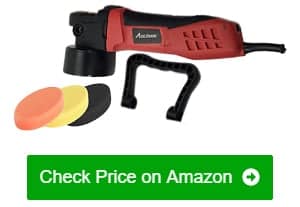 Another bestseller, the Avid Power 6-inch dual action buffer polisher, has a random orbital waxer with variable speed features. It also has 3-pieces foam pads for car and boat compounding, polishing and waxing. This is a high-performing and easy to use marine buffer polisher that effectively removes blemishes from painted surfaces.
I love using its 6-speed control dial as it allows me to match the polisher's speed for different materials and applications. You can use it easily with good control under load or no load speed at about 1500 to 6800 opm. It is a great dual action polisher for a fair price you would want to buy for a wax buffer.
This unit is a solidly built powerful tool compared to its counterpart brands in the market. Use this kit with caution especially its 6-inch metal backing plate which is easy to hook and loop 7-inch pads. Moreover, you should check and change pads before they fall apart while rotating so the metal backing has no chance of touching the surface.
Also, I would not recommend this machine for use with sanding discs as it is not suitably designed nor mixing it. Any loose particle of sanding disc will damage any polishing if it is hooked on this random orbital polisher. Hence, it is better to buy a separate sander tool for a safer quality use of your automotive or marine vehicle surfaces.
What We Like
High-performing and easy to use dual action polishing machine
Random orbit and dual action polisher for a fair price
Good speed control when in use under load or at no load speed
Effectively removes blemishes from painted surfaces
What We Don't Like
Not designed for sanding discs, requiring a separate sander tool
Make this your ideal choice for a high-performance buffer polisher. Easy to use a professional polisher to reproduce a great sheen for your boat and car.
2. DEWALT DWP849X Buffer and Polisher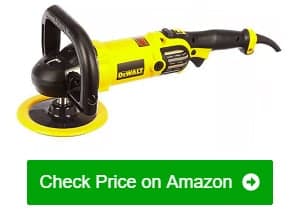 The first on our review is Dewalt dwp849x boat buffer and polisher, a bestseller with multi-speed options, and a soft-easy start. An advanced boat buffing kit with 7-inch/ 9-inch length allows comfortable and easy grip for various operations. This Dewalt boat buffer has a 12.0-Amp and all ball-bearing motor structure for durability and maximum performance.
I can easily vary its speed from 3500 to 500 rpm, or longer run-times for a final mirror finish. This Dewalt boat buffer has a variable speed trigger for easy control under load or at a maximum speed setting. A Dewalt boat buffer also comes with multi-options bale and side handles for comfortable gripping and multi-angle use which I am fond of.
Its heat-treated and precision-cut steel gears provide smooth usage and have external brush caps for easy servicing. This eliminates wool ingestion and increases tool-life-span while reducing the cost of repairs.
Regarding warranty, it is guaranteed with a 90-day money-back assurance and a one-year free service agreement. This Dewalt dwp849x comes with a 3 year tool-life warranty that even lasts longer as I've experienced for over 3 years now.
I've been using this Dewalt boat buffer since then to polish and wax all my vehicles. I suggest that newbie users keep practicing how to use it and prevent screwing something difficult to fix. I don't recommend using this Dewalt boat buffer without actually practicing on things needing no repair especially if you are a beginner.
What We Like
Powerful and advanced buffer for maximum performance and variety of applications
Guaranteed with a 90-day money-back, 1-year free service and 3-year warranty
Multi-options bale and side handles for comfortable grip
Features variable speed control
What We Don't Like
Not suitable for beginners or new users
Secure this light-weight buffer and polisher tool to benefit for a variety of uses and best results. A Dewalt boat buffer is an advanced product that is comparable to any brand in the market for maximum performance.
3. Porter-Cable 7424XP Variable Speed Polisher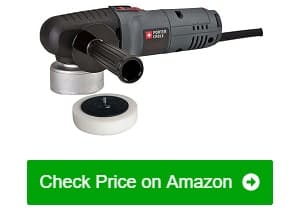 Another bestseller, this 6-inch Porter-Cable gray-colored variable speed polisher is ideal for polishing and sanding car and boat surfaces. This random orbit tool comes with a 4.5 amp motor capable of protecting it from high-overloads. A reasonably-priced tool with a variable speed control, running 2,500 to 6,800 opm or orbits per minute.
I have used this Porter-Cable 7424xp in multiple applications accepting spindle accessories with 5/16 to 24 threads with no issues. I believed with its durability, compact-built, and powerful motor, it is suitable for industrial projects. On the other hand, it is a lightweight and powerful sanding tool weighing 5.5 pounds. Its 6-inch polishing pad provides a haze-free counter-balance action.
This Porter-Cable 7424xp is the best among Porter-Cable orbital buffers that are backed by a 3-year limited warranty for faulty materials or workmanship. It also comes with a one-year free service for maintenance and free replacement of worn parts caused by normal use. This handy polisher includes a polishing pad, side handle, wrench and operating instructions for sanding marine and industrial surfaces.
This boat polishing kit is bare-tool and has no backing plate/ pad, which requires you to spend some money on it. Having this 5 pound tool would be a great starting point when you are truly a beginner. Use the extra weight of the polisher and not manually use your hand in applying the pressure.
What We Like
Electronic variable-speed control
Small, compact and swirl-free tool with 5.5 pounds weight
Backed with a 3-year warranty and guaranteed 1-year free maintenance service
Can be used in multiple applications
What We Don't Like
No backing-plate or pad requiring a separate purchase
Head out to the store and start using this Porter-Cable 7424xp for your boat and cars. This boat polishing kit is all you need for maximum performance.
4. Makita 9237CX3 Polisher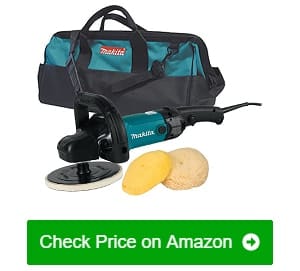 This bestselling Makita 7″ polisher is a favorite fiberglass buffer among boat owners to polish and wax their fiberglass boats. It is built with a variable speed dial and trigger so users can easily adjust to match speed to any material or application. It's a 10-ampere motor that runs from 600 to 3,000 rpm for great power, durability and speed performance.
This polisher has a constant speed control that maintains consistent speed motion even under load, making the best finish. Its lock-on button, loop handle and foam pad are ideal for continuous operation and tool bag to store the kit. I am fond of its pad alignment/ centering sleeve, and all these features which I would recommend without hesitations.
The brand's rubberized loop handle and gear cover provide comfortable use and protection for delicate surfaces. It comes with wire mesh intake covers on both sides for cooling and protects the motor system from wool fiber damage. I love its externally accessible brushes for an easy servicing and improved cord guard for more flexibility and longer lifespan.
Overall, though this product is a bit pricey than its counterpart brands in the market, it trades quality value over money. Plus, its 3-prong plug ensures my safety against the possible accumulation of static electricity that provides for its convenient control.
What We Like
Variable speed dial and trigger that allows easy speed's control
Improved cooling and intake covers for protection and longer lifespan
Provides easy servicing with its externally accessible brushes
Lock-on button and rubberized handle for a comfortable use
What We Don't Like
A bit pricey than its counterpart brands
Get this makita boat buffer for its combined powerful performance features in one buffing machine. This is a quality value favored by most boat owners you seldom find in a polisher-sander kit.
5. K I M O. Cordless Car Buffer Polisher Kit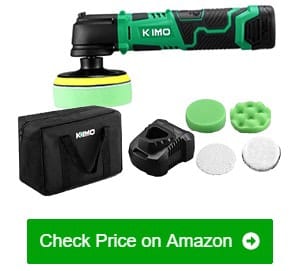 A widely-used brand, the K I M O. 12-volt 4-inches cordless car buffer polisher is handy with one 2.0-Ah lithium ion battery. The complete kit comprises a fast charger, 5-variable speed, a 4-inch replaceable paste tray, 4 polishing pads and a carrying bag. Anyone can use this cordless buffer polisher effortlessly, giving more free movement and less laborious. The brand made this extremely light-weight tool weighing only 1.71 pounds, reducing hands fatigue during long work hours.
This one features an all-copper motor for stable operations, lighter, cooler, and efficient performance producing up to 3000 rpm. A powerful and best boat polisher that is ideal for all users. Highly mobile, enough for a professional and safe for newbies with variable-speed buttons for efficient control.
This polisher is handy to operate user-friendly power tools and fit for DIY or commercial use. Moreover, it is easy to hook and loop design for quick replacement of foam pads within seconds for various materials. When installed with sanding discs (provide it separately), it works best as a grinder for metal and non-metallic materials.
This small buffer tool uses lithium-ion batteries providing a lighter power supply. What I'm not fond of is its battery to complete a job. Getting a second battery for spare is essential when you have KIMO tools using the same battery pack.
What We Like
Extremely lightweight power tool for newbie or professional users
Provides compact and ergonomic grip that is handy to use as a DIY power tool
Cordless polisher that uses lithium-ion battery
Ergonomic handle is resistant to automotive, marine and aviation chemicals
What We Don't Like
Need a second battery for spare
Secure this cordless polisher for an effortless makeover of your car, boat and home furnishings. Getting this boat polisher kit would benefit you for longer applications.
6. Shurhold 3101 Dual Action Random Orbital Kit
The Shurhold 3101 dual action polisher kit has random orbital features that works best with cars and marine vehicles. The starter kit packs 16-oz pro polish wax and sealant, a 6.5-inch foam pad, a microfiber towel, and a carrying bag. The brand's dual action motion allows a high-gloss finish that professionals achieve using the traditional rotary buffers and polishers.
Its 6-inch oscillating head greatly results in the same finesse as the best buffer polisher for boats under harsh environments. I liked how this random orbital buffer has made my old boat look new without any burn and swirl. Furthermore, it comes with a 20-feet power cord for easy test ground fault and movement around your work area
Any user can easily operate its powerful 4.2 amp motor giving back original sheen to your car or boat. A reasonably priced brand assures users like you with 100% customer service and support to satisfy all your purchases. You can adjust its variable 6-speed dial control to a slow or very fast application with up to 6500 OPM.
Also, it is ergonomically designed with a rubberized body and comfortable handle for non-slip grip while using it. One thing I don't like though is its power switch that is difficult to access for easy grip. Overall, it works quite well except for the power switch if lowered a bit for easy thumb access and grip.
What We Like
Easy to operate starter kit for any beginner
Ergonomic design with a rubberized body and comfortable handle
Reasonable priced with 100% customer service to satisfy all purchases
Works best with cars and marine vehicles
What We Don't Like
Power switch is a bit higher for an easy thumb access and grip
Secure this buffer machine that helps you finish with professional quality results. Moreover, you can achieve high-gloss finish with this boat buffer machine for any detailing jobs.
7. WEN 10PMC Waxer and Polisher
The WEN 10PMC waxer and polisher with carrying case and extra bonnets is among our boat buffer polisher reviews. This random orbital waxer works great for all types of surfaces. Particularly, this polisher effectively eliminates grimes from car or marine vehicles, leaving nothing but a clean and reflective sheen.
A high-performance 120-volts/ 0.75-Amp permanent magnet motor drives 3200 opm for demanding applications like countertops and home surfaces. Furthermore, it has high-impact insulated housing that provides durability and longer lifespan. I love its dual-handle grips that help increase the accuracy and control of its random orbital features for blemish-free results.
Weighs 9-pounds making it easy to apply pressure to the work surface than manually applying pressure with your hands. It will help, plus using this buffer tool properly and at the correct angle, for best spin results. Let the random orbital motion to buff the surface otherwise, it will transmit the vibrations into your arms.
Having said that, use this polisher and the 6 bonnets in applying wax to your vehicles efficiently. Moreover, it has a convenient carrying case along with the six polishing bonnets and a washing mitt. The only downside is it is not getting any better in removing the wax off my vehicles. Overall, I would rebuy this brand at a reasonably affordable price worth investing my money.
What We Like
Great for applying wax to work surfaces of cars and boats
The kit is packed with 6 bonnets, a washing mitt and a carrying case
A great buy for a reasonably priced waxer kit
Dual-handle grip to control its random orbital motion for best results
What We Don't Like
Ineffective in removing the wax off your boat or car surfaces
Make this best orbital polisher your great buy for your boat and car maintenance. Give your boat or car what it deserves with this polisher.
8. Ginour-TOPVORK Dual-Action Polisher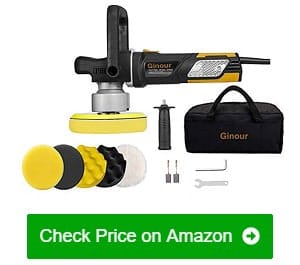 This bestselling 6-inch variable speed polisher brand comes with a 900-watt pure copper-motor that produces up to 6400 rpm. It includes a packing bag, auxiliary handles, allen wrench, 2 pieces carbon brush and 5 pieces 6-inch easy-to-change foam discs. The polisher head is built with all aluminum material to protect it against corrosion and provide added durability.
This is a high-quality tool providing a dual action and swirl-free polishing/ sanding effect, reducing the damage of machine tracks and burn marks. You can adjust the 6-variable speed with a carefully mounted electronic dial to easily and quickly match to different operations. Also, the rear rubber handle is ergonomically made to further improve comfort, effective grip and heat dissipation.
I like using its adjustable auxiliary handle (D-handle and side handle) for an effective control and comfort angle. These handles are easy to mount, small and comfortable for quick dismount reducing fatigue and improving long-term operations efficiency. Its self-lock button is great for easy on/off play, allowing it to maintain constant power and steady operation speed.
An ergonomic polisher with accessories for higher operational requirements includes 5 pieces foam discs for various purposes. You can choose the appropriate disc according to different applications and materials. However, you have to provide sandpaper to remove scratches before doing these polishing tasks.
What We Like
Durable and corrosion-resistant all-aluminum polisher head
Compact size dual action random-orbit polisher with 6-variable speed control
Adjustable auxiliary handles for quick change, ease of use and operational comfort
Self-lock button for easy on/off switch play
What We Don't Like
Provide a sandpaper to remove scratches before polishing work surfaces
This best boat polishing machine is a need to complete your kit. Getting this power tool is your best buy for a lower price than other boat buffers for sale in the market.
9. Black & Decker WP900 Random Orbit Polisher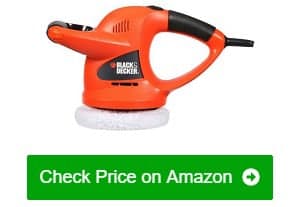 This lightweight power tool, the Black & Decker polisher and waxer is a random orbit type with 4,400 opm. Such a power tool with a 120-volts motor provides effective waxing, buffing and polishing to deliver a professional uniform results. Making it a high-powered orbital boat buffer to work for small equipment, motorcycles, trucks, cars, boats and more.
Easy to move around with this sleek random orbit tool and with a dual-handle for increased stability and comfortable hold. I've been using this tool to help me effectively polish, wax and buff my vehicles. It did work great, leaving a uniform finish. Using this tool weighing 2.05 pounds allows more work and I enjoy operating it without any hand cramps.
The polisher comes with a cord at 10-foot long for easy, hassle-free, flexibility and maneuverability, especially for big projects. It packs a 1-piece foam applicator and 2-pieces polishing bonnets for easy and effective waxing and polishing applications. Though it has a limited 2-year warranty and a shorter lifespan compared to other brands in the market. But this Black Decker 6 inch is still worth investing your money at a fairly low price.
You can even use it not only as buffers for boats but for body massaging too. Yes, I am using it for self-massage after heavy work for good blood circulation on my body and limbs.
What We Like
Effective to polish, wax and buff surfaces for uniform finish
Double handle design increases stability and reduces fatigue
10-foot cord for added flexibility and maneuverability in big projects.
Includes foam applicator for easy waxing and polishing applications
What We Don't Like
Limited warranty and short lifespan compared to other brand
Head out to your nearest store or order via online to get this boat polishing into your doorstep. A value adding tool for your demanding projects.
10. Torq BUF503X TORQX Random Polisher Kit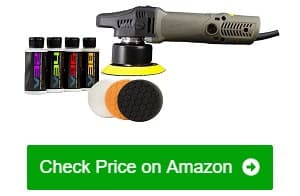 This Torq random polisher kit packs with pads, polishes and compounds about 9 items in total. This is the machine for all beginners, enthusiasts, or professional detailers who look for a lightweight and powerful tool.
Using this tool makes it convenient to switch plates in various sizes and change pads for the best finishing results. I can handle several functions for waxing, cleaning, scrubbing, and polishing most surfaces I used without issues. It is designed with a 700-watts or 120-volts power to render 2800 to 7800 rpm power band for any detailing process.
I like how this tool helps me make my boat surfaces free from scratches, swirl marks and rusts. Reasonably affordable for a heavy-duty built with ergonomic design and dynamic performance features. It's quick to operate for newbies and professional users with its easy-to-use functions. I am fond of how well-balanced, compact and lightweight this machine is made for a one hand carry or lift.
Compared with other brands I've used for waxing a boat with a buffer, this one produces no loud sound and vibration that can annoy me when using it. However, the position of its speed button is prone for accidentally touching or changing speed. Getting familiar with it is what I've learned shortly to avoid this downside from the first time I used it.
What We Like
Features easy-to-use functions and dynamic performance
Heavy-duty construction developed for professionals and enthusiasts
Effective polisher and remover for scratches and defects from painted vehicles
Streamlined control design for maximum detailing
What We Don't Like
Susceptible to accidental shift or change speed
This product is an affordable boat buffer for your boat or car surfaces. Any users like you would surely love using this great product that can do all buffing jobs for you.
11. Vonhaus Rotary Polisher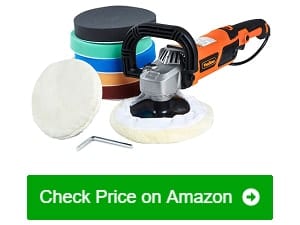 The last bestseller in our boat buffer review, the Vonhaus 7-Inch 10-Amp rotary polisher has 6-variable speeds and accessory kit. It comes with a complete set of 7 pieces polish/ buff/ smooth/ finish pads for cars and boats providing high-precision results. This polisher works best for multi-surfaces like aluminum, wood, metal, tiles and plastics. Moreover, it is an ideal tool for various applications requiring a slow soft-start speed for uniform performance.
I've used this compact buffer in my recent larger projects and it still works without any issue until now. A lightweight buffer weighs 7.36 pounds, so I can use it effortlessly to buff and polish my car, motorcycle and boat. Its 6-speed powerful motor produces a 600-3000 rpm power band ideal for various usages. I love how the safety-trigger-lock works to control speed and have it less-laborious during long applications.
A versatile tool for maximum control and comfort with its D-type and side handles for left or right-handed users. Believe me, it is not easy to find a robust speed buffer/ sander with a fairly reasonable price like this. So, I highly recommend you own one to claim its powerful functions to serve your needs.
This power-tool is best used for automobiles and marine vehicles helping how to wax a boat with a buffer effectively. A caution though, follow recommended speed setting when using it for vehicle surfaces. Please do not exceed the speed setting to avoid damages to your vehicle.
What We Like
Versatile handles for total control and maximum comfort
Safety-trigger-lock function for 6-variable speed settings
Designed to work best in multi-surface operations and materials
Complete kit of easy-to-use accessory sets with buffer pads
What We Don't Like
Do not exceed speed setting when using it for vehicle surfaces
A compact polisher that you will love using as your best choice. Get this for a multi-surface use, including your boat, car, motorbike,kitchen and bathroom tiles.
12. Meterk Dual-Action Random Orbital Buffer Polisher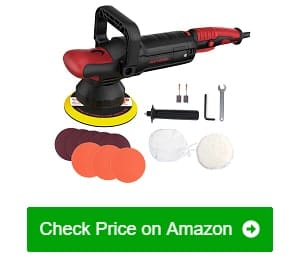 Finding a suitable tool for your boating is not an easy task. This Mertek 6-inch dual-action random orbital buffer polisher for cars and boats is what you expect for different applications. It comes with a soft start 10-Amp motor with a 6-inch base, 6-variable speed power band and safety-lock-switch features. The kit also includes a U-shaped handle for ease of car polishing, waxing, buffing and sanding jobs.
The buffer allows multiple holding methods to polish multiple-surfaces with easy maneuver and less-fatigue. I like this best buffer to wax a boat or car that I am frequently using almost everyday. A buffer with a dual-action 1200-watts powerful motor produces a little noise and steady speed to eliminate wear formation.
The 7.73-pounds polisher is a robust go-to-power tool among quality brands like a harbor freight buffer. A versatile kit for easy, effortless use with various surfaces. I am also fond of the polisher's 6-variable speed control that I can switch easily on different applications. I love how it becomes compatible with a beginner and experienced user when in use for various surfaces.
The only dismay I have is the lack of relevant information or materials for basic instructions on how to mount its accessories. A reasonable instruction is great to accompany the items. So far this is a great buy for a decent buffer with lots of accessories and features worth the money I spent.
What We Like
Fit for use by beginners and experienced or professional users
More uniform results and prevents excessive wear formation
Versatile polishing kit for easy, effortless and robust tool for different surfaces
Multiple ergonomic holding methods for easy maneuver and less fatigue
What We Don't Like
Lack of relevant information or instructional material to accompany the kit.
Get this tool to match the demanding applications with a versatile and more comfortable long-term use. Make this a great buy to augment your must go-to-power tool regiment.
13. TACKLIFE PPGJ01A Buffer Polisher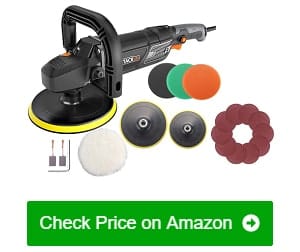 Another high-rated product, the Tacklife 7-inch/ 6-inch 12.5Amp variable speed polisher comes with a digital screen and LCD indication. This black and orange boat polisher buffer has 6-variable speeds for easy control with a digital screen for precise applications. Its safety-lock-switch keeps one speed as long as you need it, instead of continually pressing it, making it less laborious.
I am amazed using its digital screen indication and has helped me with a precision 6-variable speed dial control. This advanced polisher has a power-off memory function that keeps the same speed as long as you need it. Which you don't need to set the speed every time you switch the power especially for continuous applications.
The power tool has a 12.5-Amp/1500-watts motor built with all ball-bearing assembly for long life and maximum performance. Ergonomically designed, it has detachable handles allowing convenient, safe and user-friendly operations. I've been using it for over a year and I'd never experience any hand cramps in any applications. The unit might be the best buffer for boat detailing that helped me speed up every polishing that I've never imagined.
I recommend getting this advanced polisher with rich features for your car and boat polishing. However, the cord is quite short for a safe and flexible movement. Overall, the best tool with freebies for an awesome price you would not find from its brand counterparts.
What We Like
Powerful 12.5-Amp/ 1500 watts motor for strong and great results
Digital screen indication for precise speed dial control
Power-off memory function for easy power setting
Detachable handles ergonomically designed for convenient and safe use
What We Don't Like
Cord can be longer for easy and safe movement
Get this advanced polisher, buffer and sander to help you keep a blemish-free car and boat surfaces. You will believe how it reproduces an original sheen for your boat and car.
Factors To Consider When Choosing Boat Buffers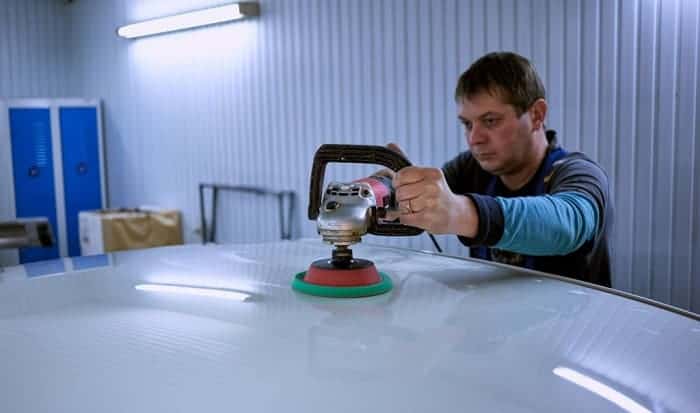 Please view these key factors of the top-rated boat buffer products to aid your right decision.
The different types of boat buffers
Orbital boat buffers eliminate light scratches with their backing plate and polishing pads rotating on an axis. They provide a vibration rather than a spin resembling a sanding machine with variable speed using foam and microfiber pads. These tools are top-rated easy-to-use boat buffers because of their precision and uniform finish that beginners can do well.
Rotary boat buffers are more solid, advanced and robust removers of deep scratches with similarities to an ordinary angle grinder. Practice and master their usage to deal with any difficulty operating them as they spin powerfully and faster. They have various features you can take advantage of like dual-action motion, variable speed control, and multiple hook-to-loop pads.
You may not find any specified information on heavy-duty boat buffers, but looking at their key upgrades would tell you otherwise. Heavy-duty buffers powerfully combine both orbital and rotary key functions for more powerful and superior multi-surface operations. As long as you are willing to invest in a heavy-duty tool that will do all the job for you.
Benefits and drawbacks of boat buffers
Know the benefits and downsides in using boat buffers which are essential before you decide on buying any of them. Using these boat buffers is also the smartest way to polish and maintain your boat visibility and overall condition.
These marine buffers make buffing much easier with less effort and time than doing it by hand. These boat buffers make it more efficient than the manual method. You can get a smooth operation and mirror-shining finish using the right polishing machine, pads and compound. Completing everything within a limited time, will leave you no muscle tense, cramp and reduce hand fatigue.
Drawbacks of boat buffers
Getting along the way of using a buffer can be difficult when you lack complete knowledge about the buffer's usage. You should know about the parts, functions, and techniques of handling each brand to avoid damaging to your vehicles. Learning the right techniques would get the most out of the tools' key features, longer lifespan, practical use and serviceability. Any misuse or incorrect handling of any of these power tools can put your vehicle and your safety at stake too.
Buyers guide for choosing the best boat buffer
Take note of these critical features to use your best boat buffing machine effectively:
Safety – Keep safety in mind at all times and as you decide to buy or use a buffer. Pay attention to the instructional materials and do your research through online resources and tutorial videos. Take note of specific safety tips for each of your boat buffers and polishers.
Buffing Direction – Always consider buffing your marine vessel from the transom to the bow. It provides direction to the buffer and avoids polishing it with the edges of the pad for a flat finish.
Comfort – When your buffer moves unusually fast, it is a discomfort affecting your grip that will eventually get sore or cramps. Get the units with a soft rubberized grip and correct position for a top grip, or a palm rest.
Durability – The durability feature of a boat buffer machine is vital information to know before your purchase. It should be of high-quality to avoid making replacements in shortened lifespans.
Handy – A lightweight buffer is ideal and comfortable to take around the whole boat. Using a heavy one would increase your fatigue in a short time especially in big projects.
Speed – Synchronize your speed with your movements while using the buffer for maximum mobility, flexibility, ease focus, safety and quality finish.
Vibration – Get a buffer that creates minimal vibration as it causes discomfort and incorrect results when already excessive.
How Do I Make My Boat Shine Again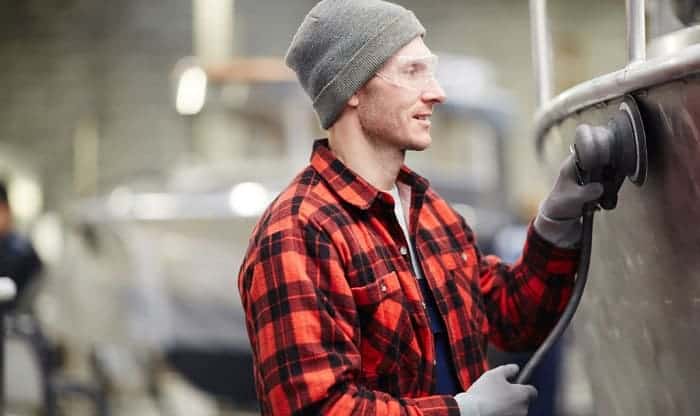 Apply a polish to a small area of your boat at a time, buff the compound with a circular motion using your buffer until the surface becomes glassy. Apply wax with an applicator and waxing pads attached to your buffer plate to protect the surface. Some power polisher kits include complete accessories, pads and wax solutions ready to hook and loop for immediate use. Polish and wax your boat surface to maintain its original shining look or make it shine even better.
How To Use A Boat Buffer
Each boat buffer machine type has specific instructions for a practical use. Place your boat on a flat surface first and complete all your needed preparations and materials. Ensure everything is in place and no accident is waiting to happen and become a mess. After cleaning the surface, do the polishing in a circular motion for clean and streak-free results before waxing your boat.
Work one area-at-a-time or a division of two square-feet for in-between breaks and checks until all areas appear mirror shine.
If you plan on cleaning and maintaining your boat, then definitely check out my reviews on the perfect boat wash I have used before. Also here is a list of the top-rated rubbing compound for boats if you need.
When Should I Buff My Boat
Anytime you want to polish, wax and buff your boat is possible. When or how often you buff your boat than not depends on how frequently you use or store it. It's a good idea though to polish, wax and buff it at least twice a year. It is also great to buff your boat as part of your regular preventive maintenance schedules. You can also combine it with cleaning and interior detailing to prevent hazing, fading, and other types of weather damage.
Is There A Difference Between A Buffer And A Polisher
You can either call it polisher or buffer as both serve two purposes. When you polish your boat, you are removing flaws or blemishes while improving the coating of your boat surface when you buff it. They have the same meaning, to clean and make changes over a painted or metallic surface. So, no, there is no difference between the two, you can do both using a boat buffer.
How Many Coats Of Wax Or Polish Is Needed
It is an easy on and off situation on the kind of wax and surface you will do the application. The amount of wax coating also depends on the polish you use whether it needs a single or multiple coats. Either way, it will make the shine deeper and it depends on the season too. We use double coat wax to my boat in winter and 1 coat in my car for the entire season.
Conclusion
We bet you have saved some time searching your best boat buffing tool that is worth the quality and money. Choosing the best buffing tool among competitive models and top-brands in the market is difficult and takes some time. These top-brands are used by different boat owners with varying needs, which our review streamlined in this list.
Selecting the best boat buffer of your choice depends on your knowledge of the tool's usage. How you prefer to use it requires you to know its features, functions and quality specifications. That is what we aim for your best buy while ensuring maximum functionality of the tool for a longer lifespan.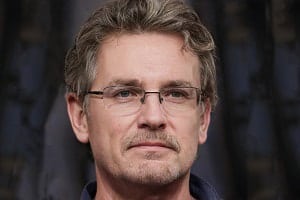 "I am James Harvey – founder of Boating Basics Online. It is established with the drive to help out first-time boaters, which are those desiring to explore their way through the water. So if you are new to boating, start from here with me. "