First impressions always last, and that goes for boats as well as people. The way your boat appears, smells, and performs reflects who you are as a boat owner. A challenging task you need to integrate into your regular routine is taking care of your boat. To do this effectively, you will need the best boat wash.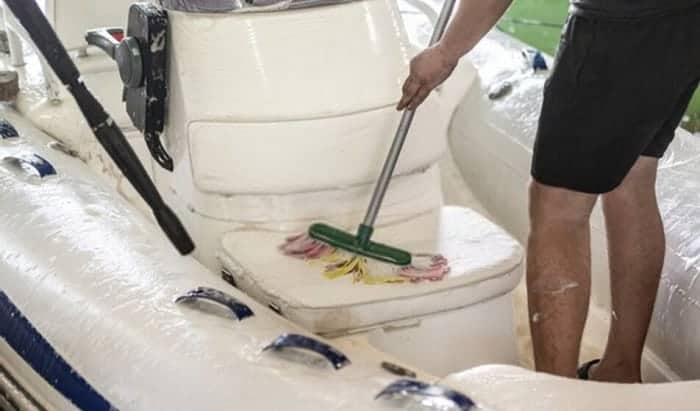 Read on to find the most boat wash soap in the market to ease your marine experience. There is also a guide towards the end to provide you with practical tips in choosing among these bestsellers for your boat cleaning. Let these trusted boat wash reviews give your boat a brand new appearance.
---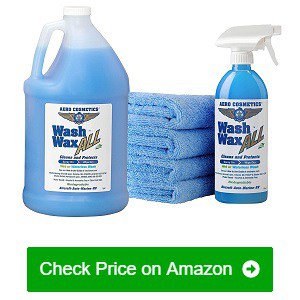 Aero Cosmetics 777GK
Non-stick UV-protective coating
Safe formula
High-quality cleaner
---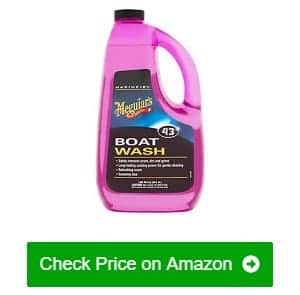 MEGUIAR'S M4364
Contains rich conditioners
Biodegradable cleaner
Economy-size non-streaking formula
---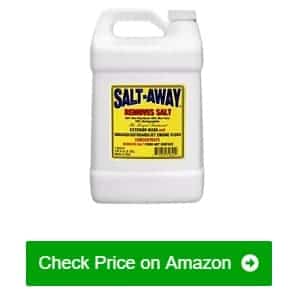 SALT-AWAY Products SA128
Water-based components
Safely removes salt deposits
Helps extend life span
---
Best Boat Wash Reviews
1. Aero Cosmetics 777GK Wash Wax Kit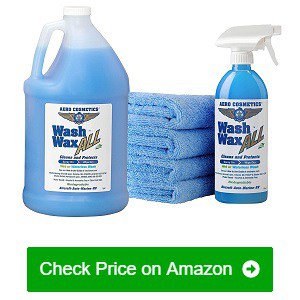 The wet or waterless wash wax kit is best for cars, aircrafts, marine and RV surfaces. It is a guaranteed aircraft-grade spray and wipe-dry product that you can use anywhere and anytime. It comes as a 144-fluid ounces kit including a 16-fluid ounce spray-bottle and4 microfiber soft aero towels.
This biodegradable wash is best for gentle waterless treatments, anti-static, and non-stick UV-protective clear coating on exterior surfaces. It is a high-quality boat cleaner that works for waxes, sealants, ceramic coatings, as well as painted surfaces.
I like this water-based solution because it helps me conserve water. Apart from my vehicles' surfaces, it is also safe for the environment. The product has an alcohol and ammonia-free formula, so it can be used to spray, clean, and protect surfaces regardless of whether they are wet or dry.
I would suggest leaving it for about 5 minutes for the best results concerning waterless dirt removal. I also tried spraying the solution to the microfiber for a follow-through wipe on the soaked surface and it worked well. You can use a dry microfiber towel to wipe it before the fluid gets dry for best finish. I've been using it for years, and I can say with confidence that it's hassle-free.
One downside, however, is that it can quickly dry on its own. It is better to limit its application to a smaller area at one time. Then, wipe it promptly to clean, and dry the fluids to prevent streaks on the surface. Also, do not use it on pedals, stairs, or floors as it can become slippery, leading to accidents.
What We Like
Best for aircraft, auto, marine and RV surfaces
Safe water based, and alcohol & ammonia-free formula
Gentle waterless treatment, anti-static and non-stick UV-protective coating
High-quality cleaner and protectant for all surfaces
What We Don't Like
Limits cleaning and drying coverage to smaller areas one at a time
This is a quick means for you to maintain the exterior surfaces of your boat. In fact, you can improve and restore the original sheen of any of your vehicles with this product!
2. MEGUIAR'S M4364 Marine RV Boat Wash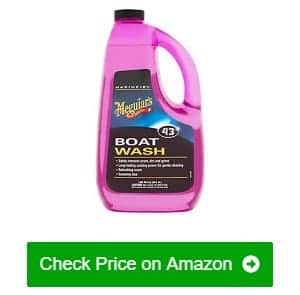 The first on our review is Meguiar's M4364 marine/RV boat wash with an economy pack of 64-fluid ounces formula. You'd surely love its beige color and handy container bottle measuring 3.2×10.2×5.4 inches for easy maneuverability. I've been using this marine wash for about 5 years now without worrying about finding other products for my boat's maintenance.
If you follow its directions closely, you will be able to use it for an efficient mixing and preservation of wax protectant even on larger surfaces. Meguiar's boat wash is a biodegradable solution that includes rich conditioners and a refreshing scent for convenient washing. I love this item's non-streaking formula, which provides a sparkling finish for all my vehicles.
The best thing about this product is that it also has long-lasting sudsing or foaming actions that gently clean, wash, and safely remove scum, grime, and dirt. You do not even have to continuously stir-up the foaming in the bucket with the hose like you would have to with other washes. Moreover, this wash is really safe in that it does not strip away wax protection from your boat's surface.
I would suggest wearing protective gears to handle this product and applying it in while you are under a cool shade. Also, be sure to always read the instructions on the label for safe use. Otherwise, you will find yourself with skin and eye irritations while boat washing. Trust me, your boat deserves the top-notch cleaning that Meguiar's M4364 marine boat wash offers.
What We Like
Contains rich conditioners for a refreshing scent and dazzling finish
A gentle cleaner with long-lasting sudsing action
A biodegradable cleaner that safely removes dirt, grime and scum
Economy-size non-streaking formula for more washes
What We Don't Like
Mishandling or using it without protective gears may irritate eyes and skin
Secure this Meguiar's M4364 marine/ RV boat wash with an efficient formula, a refreshing scent, and a shiny finish.
3. SALT-AWAY Products SA128 Cleanser Concentrate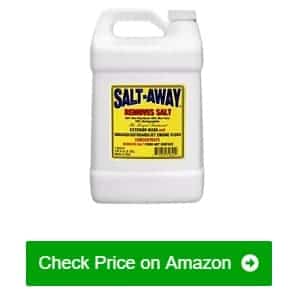 Another bestseller, the Salt-Away Products cleanser concentrate is a motor flush packed in a 1-gallon bottle made in the USA. It has a 100% biodegradable formula that is water-based and serves as a good salt remover for inboard, outboard, jet, and watercraft motor surfaces. With repeated use of this product, you can effectively break down and remove old salt and rust buildup.
The product delivers exactly what it promises on the product description. Words can't even fully describe the wonders that its cleaning capability achieves with my closed motor-engine boat inclusive of a water-cooled exhaust manifold. I like how it doubles the life of my manifolds despite my area's saline level. It's amazing in that aspect alone, but it's also helpful in keeping my boat's shine for years.
Your worry for product safety ends with this. You can even use this product on surfaces exposed to salt. The best wash, however, is on aluminum, fiberglass, metal, rubber, plastic, glass, chrome, and painted surfaces. It keeps any wax coatings while also protecting surfaces from rust formation.
Though it costs a bit more than its counterparts, I highly recommend using this solution. I've used this kit as part of my boat cleaning products for years, which effectively removes excess old salt. I've even used it on an aluminum pontoon boat without encountering any issues! I would certainly buy this concentrated formula again. I can easily get this at the stores near me.
What We Like
Water-based, biodegradable, and non-hazardous components
Effective in breaking down and removing old salt and rust buildup
Safely removes salt deposits without stripping the wax on any surfaces
Helps extend life span of boat exteriors and exhaust manifolds
What We Don't Like
A bit pricey when compared to other brands
Get this product to help you solve cleaning problems, eliminate excessive salt buildups in your boat while also protecting its coating.
4. MEGUIAR'S M4232 Flagship Premium Wash-and-Wax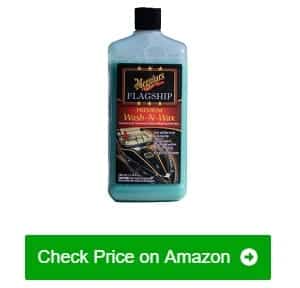 Another bestseller, MEGUIAR'S wash-n-wax comes in a 32-ounce packaging as a flagship premium boat wash. With an exclusively blending technology for synthetic polymers and carnauba wax, it's incredibly effective in removing fresh contaminants while adding layers of wax protectants to boat exterior surfaces.
Best for use on fiberglass, metal, gel coat, glass, vinyl, clear plastics, canvas, and many more marine exterior surfaces, this is an amazingly versatile product.
It has a biodegradable and safe solution that effectively deals with hard spots as well as tougher and non-skid areas without requiring extra scrubbing. I like how this M4232 model disperses salt & dirt deposits, bird droppings, and water scums on my watercrafts.
It is, without a doubt, one of the best boat wash and wax products in the market. I've been using it for about 10 years, and it has never disappointed me in preventing salt corrosions and ultraviolet damage on the exterior of my boat.
I chose this non-detergent marine RV wash to mix with freshwater and gently clean my boat surfaces. Needless to say, it is the best boat soap and wax in the sense that it takes only one quick step for a bright sheen of any boat.
Even though it is promoted as a non-toxic product, I would still suggest that you wear protective gears and strictly follow directions for use. Mishandling and using the boat wash without proper gears can irritate your eyes and skin. Also, note that it is best to apply in a cool, shady place.
What We Like
Wash and wax in one quick easy step for a bright finish
Removes fresh contaminants while adding layers of wax protection
Exclusively blended technology for best boat wash results
Requires no extra efforts of scrubbing tougher, non-skid and hard spot areas
What We Don't Like
Possible eye and skin irritant if mishandled and used without protective gears
Make a wise choice by getting this premium marine wash to brighten your boat surfaces. Enjoy the convenience it offers in an otherwise tedious cleaning task.
5. Star Brite 080416P Boat Wash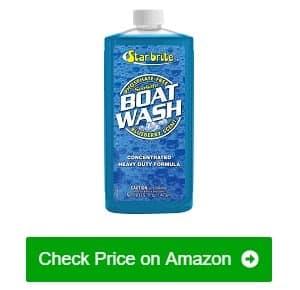 From the top-rated brand Starbrite, this 16-ounce boat wash leaves boat surfaces, including decks, cabin, hulls, chrome rails, and fittings with a bright finish and refreshing blueberry scent. It is manufactured in the U.S and contains gentle, biodegradable agents, making it the best option for washing boats, trailers, tow vehicles, and personal watercrafts.
This is a seasafe boat wash containing phosphate-free agents that keeps wax protection on your boat's surfaces, and an economical product featuring concentrated heavy-duty formula that works for any boat surface, like vinyl, fiberglass, and seat upholsteries. However, you should make sure that you always rinse it well after application as it needs to be wiped dry at all times.
I suggest using this Starbrite boat wash to enjoy a refreshing blueberry scent on your boat exteriors. Blended with special cleaning components, it can remove tar, gas stains, scum lines, smudge, and fish blood from boat exteriors. You can use this efficient boat cleaner to cover the entire boat surface with only a few cap-fulls to mix into a bucket of freshwater.
Except for its downside in that it is unfit to remove tough stains and needs more than one washing, I like using it to wash my boat because it leaves no soapy residues, streaks, and water spots. This cleaner has held an unwavering position on my list of the
top-rated boat wash and wax
products for several years now. Finding one that is affordable and performs as excellently as this in the market is difficult nowadays.
What We Like
Seasafe boat wash that is phosphate-free
Concentrated heavy-duty formula with a blueberry scent
Great and affordable wash for boat, trailers and towing vehicles
Gentle boat wash leaving no streak and water spots.
What We Don't Like
Unfit to deal with tough stains needing more than one washing and cleaning
This boat wash is a gentle cleaner for fresh contaminants. Simply follow its directions for proper use and add some ounces for a great soapy mix that delivers the best finish.
6. TR Industries SWS-128 Seapower Marine Boat Soap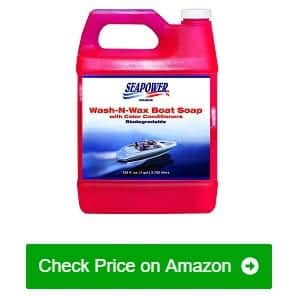 This Seapower marine boat soap by TR Industries comes in a 1-gallon plastic bottle containing a biodegradable solution. It is a highly-concentrated formula that is environment-friendly and effective in lifting dirt, streaks, stains, spots, and salt buildup. In addition, it protects the surface of aluminum, fiberglass, rubber, poly, and metal finish with its 3-dimensional components and color conditioners.
The good thing about this product, when used to wash your boat regularly, is that it makes cleaning effortless. I believe it is fitting for any boat as long as you follow its directions for use. I felt great seeing my boat clean and neat using this solution in a foam gun. It works well and leaves a very refreshing scent after application.
For several years, I only used this 11.9-pounds product for my boat exteriors. I tend to pair it with a soft-bristle brush, microfiber milts, and a 5-gallon bucket for ease of use. I applied it in a cool shade and it worked splendidly in mixing and scrubbing my boat. I like how it only takes a few ounces to make my boat's surfaces spotless.
One minor issue, however, is that it can leak from the plastic bottle. But, this is not a big deal if you remember to handle it carefully by always twisting the cap on tightly and storing it in an upright position at a stable location, and sealing it to prevent leaks. I will definitely buy this specially-formulated boat soap again for its long-lasting cleaning and shining capabilities.
What We Like
Highly-concentrated, biodegradable and environmentally-friendly boat wash
Specially formulated 3-dimensional product with color conditioners
Viscous boat soap that a little amount can go for multiple use and can last long
Refreshing scent after every application
What We Don't Like
Bottle leaks needing to secure the cap is tight and sealed
Maintain your boat exteriors with this boat wash for a brand-new finish. It grants hassle-free cleaning and protects your boat with a bright sheen.
7. Star Brite 089732PW Sea Safe Boat Wash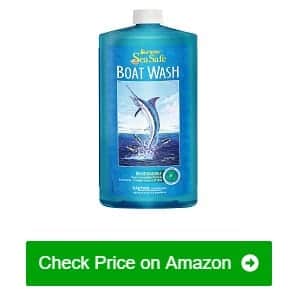 This 31-ounce StarBrite boat wash is a powerful concentrated formula that is economical to use. It is a biodegradable and non-phosphate solution, so it is safe to users, the environment, and surfaces.
Proven to easily remove fresh dirt, grime, stains, oil/grease, and salt build ups without removing wax or polish, this product doesn't require hard scrubbing and can clean an entire 25-feet boat with just 3 caps of the solution! As such, it conserves water with its low sudsing action.
You can use this all-purpose cleaner for fiberglass, glass, metal, painted, plastic, rubber, wood, and vinyl surfaces. Apply with microfibers, cloth, sponge, and a medium-bristle brush and follow directions for best use. Rinse the washed area well with freshwater, wipe and allow it to dry. With this, you don['t even have to do a final wipe down except for areas with hard water or water with harsh chemicals.
One minor aspect that I dislike about this soap is its weak functionality in removing tough yellowing stains on a boat's exteriors. I would have to repeat the application, add more ounces of the product, and scrub vigorously to get rid of the tough stains. It may even require more than one cleaning.
Nevertheless, I like this pH-balanced boat wash product for its ease of use in terms of mixing with a bucket of freshwater. I've been using this to quickly wash my personal watercrafts and trailer for years. I cannot thank its eco-friendly surfactants, which easily washes contaminants away, enough.
What We Like
Requires no hard scrubbing for fresh dirt, grime, stains, grease and fish blood
Best for use and safe on all surfaces
Super-concentrated, biodegradable and phosphate-free formula
Economical solution that cleans a 25-feet boat with a few ounces of it
What We Don't Like
Weak for tough stains requiring repetitive or more application
Consider using this boat wash to clean the exteriors of your water crafts with a nice finish. Get it to work on the exteriors of your boat with a little of its solution.
8. Better Boat Premium Grade Boat Soap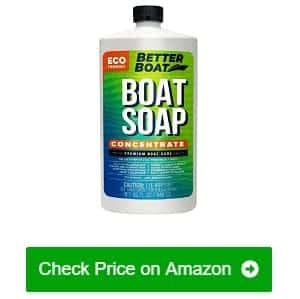 This premium grade boat soap concentrate by Better Boat is a marine-quality formula for all surfaces. It takes away dirt and grime from surfaces exposed to fresh and saltwater, in addition to sludges or mud on boat surfaces. It's safe on aluminum, fiberglass, paint, and vinyl boat interiors and exteriors including seat upholstery to disperse salt spray.
I like this all-purpose cleaner because it lasts for several uses with its full 32-ounces bottle. In addition, I am fond of the way it works when used with Better Boat cleaning tools. Using a deck brush, foam gun or sponge set for this powerful concentrate quickly turns surfaces into a residue-free finish. I suggest having this USA-made, 100% biodegradable, and eco-friendly solution in your marine kit.
Regularly brush or wipe using this boat soap while contaminants are fresh or mildly staining your boat or car. I enjoyed it for years without any issues harming animals, waterways, or plants. It comes with a good price and purchase refund guarantee for your satisfaction. Use it to spend more time boating and less time cleaning!
However, it has one downside that gets me off a bit – the lack of refreshing scent. Although this may not be the deal-breaker, I personally prefer products that emit a distinct smell to give me the relief of finishing cleaning duty. Nonetheless, I will buy this product again as it excels in every other aspect, especially with a reasonable price that other brands don't have.
What We Like
All-surface and all-purpose product that is safe for boat interiors and exteriors
100% biodegradable and eco-friendly boat wash solution that is made in the USA
Quick and powerful results when used with Better Boat cleaning tools.
Exceptional product satisfaction guarantee with a full refund policy
What We Don't Like
Lacks refreshing scent after each application.
Complete your
marine maintenance supplies kit
with this boat soap to enjoy better results. Its excellent quality, comfort of use, and customer service guarantee your satisfaction.
9. Camco 40922 Marine Armada Carnauba Wash & Wax
This Camco Armada carnauba wash and wax cleans, protects, and shines your boat in one easy step. It is the premium-grade cleaner you've been looking for! Packing 31-ounces of purple-colored concentrated formula with 100% carnauba wax in a bottle, it offers effortless cleaning and a refreshing scent to finish. Its purple color helps track scrubbing coverage on light-colored surfaces. I am amazed by its odorants that kill stinky fish smell as well.
Safe on metal, fiberglass, and painted boat surfaces as a toxic-free cleaner that is friendly to living organisms and the environment. This is highly favored by boaters because of its proven results. It leaves boat surfaces, including travel trailers, with a mirror-like finish.
I love how this marine cleaner works in removing marine buildups and taking away dirt to optimize my boat's appearance and life span. Its functionality makes it a good choice for any boat owners in need of a boat wash.
This is the best cleaner I've got with great sudsing action to easily disperse black marks on my marine RV. Except for one grey area – don't expect this gentle wash and wax cleaner to get rid of stubborn stains. It will require a few extra ounces along with rigorous and repeated scrubbing to achieve the best results.
What We Like
An economical cleaner, protectant and polisher in one easy step
Toxic-free, biodegradable and safe formula for multi-surfaces
A premium-grade formula with 100% carnauba wax that extends boat's life span
Concentrated product that is gentle on all surfaces
What We Don't Like
Ineffective to get rid of stubborn stains without a few extra ounces, effort and time
Your best choice for a marine cleaner with 100% carnauba wax is this economical product that maximizes your boat's performance, sheen, and life span.
10. Woody Wax Ultra Pine Wash and Wax Boat Soap
A bestseller, this Woody Wax ultra pine boat soap is a powerful gel packed in a 34-ounces plastic bottle. It offers great value for a little solution as it lasts for several cleaning of molds and mildews. This product even makes it easy to clean the fish box, deck, floors and other exteriors of a boat. It also does a great job in taking care of stinky smells on plastic, fiberglass, and metal surfaces or floors.
Get this marine cleaner to remove black marks and enjoy a great wax finish on your boat. For years it aided me in eliminating fish blood and mud, thanks to its high wash quality. It is so useful on my boat, and even on my truck compared to other cleaners that I've gone through.
The product utilizes an active powerful cleaning and wax formulation that is safe for any boat. It is really great at dealing with dirt, grime, and scum while preventing damage to the wax layers of the treated surfaces, unlike other cleaning products that are mostly too tough and rips out gel coating or wax layers on the surface.
I also love that this concentrated boat wash allows me to use only a few ounces for several applications. Its long-lasting suds help remove marine and road dirt, as well as stains on my boat exteriors completely. However, you would need to completely rinse or wash it out with a lot of water to prevent soap residues.
What We Like
Long-lasting sudsing action that cuts through but gently cleans surfaces
Economical for use with a few ounces for good number of applications
Safe, Non-toxic, biodegradable, and eco-friendly wash and wax cleaner
Budget-friendly for a concentrated wash and wax gel formula
What We Don't Like
Vigorous rinsing of its lasting suds with more water to prevent soap residues
This product is budget-friendly, safe, and eco-friendly, so you will certainly not regret buying it. Having this toxic-free and biodegradable cleaner handy will ease you in handling rigorous cleaning duties.
11. Gold Eagle 30586 Marine Boat Wash with UV Protectant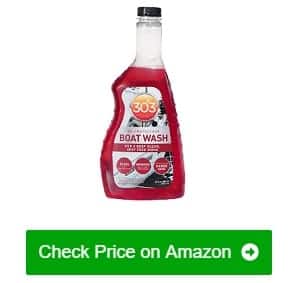 From a top-rated brand, 303's boat wash with UV protectant provides a deep clean, spot-free, and shiny finish. It has an ultra-concentrated, pH-neutral, and 100% biodegradable wash formula that provides 30-day UV protection while removing dirt, salt, grime, and stains. It is safe for the environment and waterways and maintains anyboat's sheen.
I suggest using a foam gun to wash off dirt and contaminants quickly and easily. I like how it cleans boat surfaces without stripping any wax leaving a mirror-like finish. It prevents cracking, fading, and discoloration that other brands miss to address. It helps keep your boat looking great and lasting long. I think it's a solid choice for responsible boaters.
It is specifically designed as an ultra-concentrated formula that lasts even after several applications for fiberglass, painted surfaces, and gel-coats. Thanks to this USA-made premium-grade marine wash providing a great brand new sheen. Plus, it's reasonably priced for a product originating from a premium-quality brand.
I love how it makes great foam with a few ounces to disperse marks, molds, and mildews from my boat. One thing I'm concerned about, however, is its poor efficacy in disinfecting the washed area to prevent fungal formation. It causes a chance for mold and mildew to recur on washed areas of the boat.
What We Like
Tailored PH-neutral boat wash for gel-coats, paint and fiberglass surfaces
Protect surfaces from UV damage, dirt, salt, grime and stain accumulation
Eco-friendly, 100% biodegradable and safe for waterways and marine life
Economical ultra-concentrated formula that last for several application
What We Don't Like
Unable to disinfect the washed area causing molds and mildew to recur
This is an economical boat wash brand you will surely love to apply on your boat. Grab a bottle of this specialized protectant and cleaner to optimize your boat quickly and easily.
12. 3M 09035 Perfect-It Boat Wash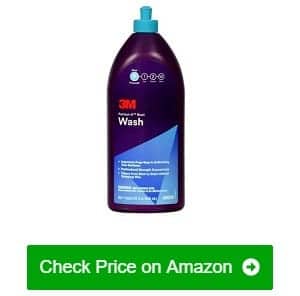 This 3M perfect-it boat wash is packed in a 1-quart plastic bottle for a dozen washes and gel-coating polish. Boaters choose this with high-grade sudsing action to remove even the most stubborn marine debris and buildups. It works great in taking off contaminants while also protecting a layer of wax finish on the surface.
Get every surface of your boat washed, cleaned, and shined with this concentrated finishing solution. I've used it with a pressurized foam gun and it washed away debris or contaminants easily. But, I would not encourage it to be used that way as it can reduce the sudsing action. Instead, you should follow the directions printed on its packaging for proper use and a desirable finish.
Overall, I am amazed by its professional-grade compounds to economically clean all areas including non-skid sections of my boat. I had an ounce of its formula easily mixed with a gallon of fresh water. It effectively dissolved stubborn dirt, stains, grime, and marine buildups like algae from my RV exteriors.
Though this product is a little more expensive than its counterparts, I still recommend it. It is a great marine cleaner that helped me wash my boat safely and it is a much better alternative to using detergents. For years I only bought marine washes with an authentic 3M mark. I will definitely buy this boat wash model again.
What We Like
Professional-grade concentrate for most surfaces of your boat
Effective sudsing formula for an easy removal of marine debris and buildups
Provides both preparation and refinishing steps for best gel coats on surfaces
Economical formula for dozens of washes while protecting wax finish
What We Don't Like
A bit expensive compared to its counterpart brands
I highly suggest that you invest in an effective boat wash like this one from 3M, which has been proven and tested for its worth. Feel great with this cleaning product that can last for several washes.
13. YachtGUARD Marine Wash & Wax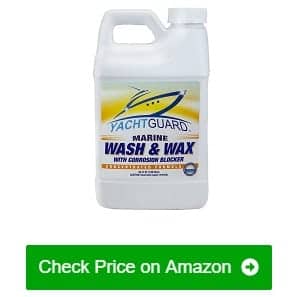 Quickly clean your boat with this superb YachtGuard's marine wash and wax concentrated-formula in a 64-ounce bottle. It is a biodegradable boat wash containing corrosion blockers which are tough on dirt but safe for the environment.
This is a versatile product that is made in the USA with superior cleaning and rinsing formulation. Needless to say, it is one of the best boat wash and wax items in the market.
A specially-formulated boat cleaner that has premium-grade ingredients for use on fiberglass, isinglass, gelcoat, non-skid decks, and more. This boat cleaner also protects delicate or fragile finishes, clear-coat surfaces with a super glossy and mirror-like shine.
Indeed, it is a total boat cleaner with neutral acidity components that has no harsh chemicals and is phosphate-free. I like its corrosion inhibitors, which makes it suitable on aluminum, metal, and other surfaces of my marine vehicles.
A safe, economical, and total action formula for cleaning, washing, protecting, rinsing and polishing multi-surfaces – what more can you ask for? It is so efficient that a few ounces of the product can make a gallon of warm freshwater.
I am in my second year now enjoying its benefits on my boats, cars, and other personal watercrafts. Just one thing, though, it's a bit pricey. To make use of every drop of this multi-surface cleaner, I suggest reading and following directions for efficient use. It's for the safe and best outcome too.
What We Like
Made in the USA with superior cleaning and rinsing actions
Neutral pH component with no harsh chemicals and phosphate free
Multi-surface and total action cleaner leaving streak-free and spot-free surfaces
Eco-friendly, toxic-free and biodegradable concentrated solution
What We Don't Like
Pricey product needing conservative use to maximize every ounce of the product
Efficiency comes with quality investment for longer and multiple usages. Consider this multi-surface solution with a total action formula your best buy.
14. Mothers 91532 Marine Wash and Wax
This bestseller, the Mothers marine wash and wax is a concentrated formula that comes in a 32-ounces container bottle. It is a biodegradable and environment-friendly boat soap product that works best for boat and RV exteriors. Providing a hassle-free rinsing and bright glossy sheen while also applying wax protection to the surface's finish.
I've stirred and mixed in a bucket of freshwater to easily dip a medium-bristle brush. Scrubbing it on my boat exteriors leaves the surfaces with a blemish-free shine. The product even works well to clean normal dirts and oil stains from my cars, boat trailer, and trucks. I suggest that you always follow its directions for use to get the best results.
I have never encountered any adverse effects on the wax finish of my vehicles while using this wash. Undoubtedly, it is a strong cleaner. I'm also amazed that it did no harm to my hands after washing my vehicles. I recommend using it but always ensure that you tighten its cap carefully and store it upright to avoid leaks.
One drawback is that it has lower suds contrary to what the label says. You will have to mix more amounts into a bucket while continuously putting the hose of freshwater to stir-up foaming. It may not be the best marine soap but it is better than most of the products that I've come across in the market. Overall, I loved how it quickly gets rid of dirt, grime, salt spray, and water scum.
What We Like
Safe for use without harming hands and wax finish on vehicle surfaces
Formulated to quickly and easily remove dirt, salt spray, grime, and scum
Biodegradable and environmentally-friendly concentrated formula
Provides hassle-free rinsing for a bright glossy finish
What We Don't Like
Low sudsing action needing more amount of the product
Use this for quick and easy cleaning on your busy days. This product is worth the money and time you spend.
15. H&H OPW2 OrPine Boat Soap and Wax
This OrPine boat soap and wax contains 32-ounce of strong concentrated formulation with superior wash and wax actions, providing a clean and protective glossy wax coating on all your watercraft exteriors. An ounce of this intense formula can mix around three gallons of water to wash an average-sized boat.
This amazingly cleans and waxes my boat's cabin, fishbox, fishing poles, and cars. It has a biodegradable formula that is safe for the environment but works excellently on eliminating fish smell and mildew odors.
It works great on fiberglass, woods, metals, plastics, and painted surfaces. According to many other OrPine boat soap reviews, this product cleans while also protecting cowls, windows, and enclosures from water spots.
I applied it on my boat's outboards and can easily rinse as well as shine without any issues. From experience, I suggest wetting the surface before using a soft-bristle brush to apply it and thoroughly scrubbing with clean rags.
It effectively removes saltwater deposits and shields the tuna towers, outriggers, bow rails, and metal surfaces of my boat. I will definitely buy this OrPine boat wash again for its effective cleaning and lasting boat sheen.
However, I do not like that it's weak in getting rid of stubborn molds and mildews. I've been washing my boats with this brand for years and it always takes me more time to completely remove molds and mildews. Nonetheless, it compensates by giving a great fresh pine scent and wax finish.
What We Like
Efficient product that can mix a single ounce with around 3 gallons of water
Fit for use on fiberglass, woods, metals, plastics and painted surfaces
Strong concentrated formula with a fresh pine scent and best finish with wax
Effectively cleans and washes boat's exteriors leaving no water spots
What We Don't Like
Weak and takes long to remove mildew and mold buildups
You should certainly consider adding this strong boat soap with wax to your marine toolkit. Most boaters highly recommend it for ease of cleaning.
16. DITEC Marine Boat Soap
This DITEC marine boat soap that comes in a 1-quart plastic bottle is a high-performance and streak-free boat wash concentrate. A boat soap with easy rinse formula for everyday cleaning, removal of tough grime, grease and dirt.
Using this advanced formulation lifts dirt for a mirror-like clean surface. What's more, it is an eco-safe clean-in-purpose brand made in the USA that you can discharge into rivers and waterways.
I like this versatile marine boat soap that is a fit for all surfaces especially those with gel-coating. It is a low-cost and highly-concentrated marine wash I've used for years that is safe on plastic, painted, glass, and wood surfaces. Indeed a cost-efficient and effective cleaner that provides superior results in removing dirt, soot, grease, and grime.
This product has readily biodegradable and environment-friendly ingredients that pose no harm to human and marine life. I highly suggest using this as it is free from nitrates, phosphate, and other harsh chemicals and optical brighteners. In the 1 year I've been using it, I did not have to worry about it causing any harm. This multi-surface cleaner truly optimized my boat appearance and lifespan.
This is a well-known marine care product with a gallon that can make more washes of about 32 gallons mixture. Except for its single downside with a lofty price tag, this marine cleaner is a great buy as it works well for most surfaces on your boat.
What We Like
USA-made advance solution with easy rinse formula for everyday cleaning
High-performance concentrate boat wash for a streak-free surface
Eco-safe and clean-in-purpose boat wash that can be released to waterways
Exceptionally cost-efficient marine boat soap
What We Don't Like
High price compared to its counterpart brands
Get this ready-to-use, highly-concentrated formula for the best cleaning results and boating experience. You can use this multi-surface solution to maximize your boat washing job.
Factors To Consider When Choosing Boat Wash
Securing a superior boat wash is tedious but essential to care for your boat. Reach the wisest decision with these key buyer guide factors to step-up your choice of the optimum boat wash products. Take time to understand these practical steps that you can use to wash, clean, polish, protect, and maintain your boat.
How does a boat wash work?
You have to know the type of surface materials that you are going to wash on any section of your boat. Do this to prioritize where to clean first and come to next. Check the best marine wash for each boat surface and exteriors, which are listed in this review. Be sure to check what kind of stains or marks you are about to wash to utilize the right product.
The easiest tasks can be done by all-purpose boat washes, which deals with surface or new dirt and contaminants. While the difficulty hangs on old penetrating stains like grease and grime. These need powerful concentrated cleaners. As for new and old salt accumulation, choose specifically designed salt-away cleaners.
Essentially, know your marine environment factors for effective results. Another often overlooked factor is the scent that accompanies each cleaner. The ones with pine and blueberry odorants, among others, works wonder in removing nasty smells. Lastly, read the label or contact your sellers to understand how each product works.
The different types of boat washes
The primary types of boat wash formulations are liquid and concentrated. The liquid boat washes have easier and quicker steps for prompt applications on stained surfaces. The concentrated washes need to be mixed with freshwater, but users will have to strictly follow directions. The most preferred type by boaters or boat owners are the concentrated formula as they can last for several washes.
There are also two types of boat wash efficacy, which are the plain boat soap and the wash & wax soap. Both remove all kinds of stains, but the wash & wax soap protects and shines the gel coats and surface finish. Some products have surfactant and protectants to provide layers of resistant coatings for stains and marine deposits as well.
Benefits and drawbacks of using a boat wash
Boat owners have always affirmed the importance of a boat wash in keeping their boat's shape and performance. Although there are a few disadvantages, the advantages that boat washes offer are superior. Here are the benefits and drawbacks for you to consider before buying.
Boat washes excellently wash, clean, and protect without damaging the boat's surfaces. Their specific and specialized formulation that includes surfactant, protectant, and cleaner features ensure subsequent shiny surfaces and longer life spans. It is even easier and quicker to apply in one one application, which would, in turn, save time, money, and effort.
The best feature you will benefit from is the fact that you don't have to spend more money for boat wax. Toxic-free and biodegradable products reduce repairs and allow you to not worry about indirectly causing any harm for others and the marine environment.
It's true that there are boat cleaners that contain harmful chemicals which can pose threats to human health and the environment. Those are heavy-duty boat washes with toxic and caustic substances.
Choose only the best biodegradable and toxic-free cleaners and avoid using non-biodegradable boat washes as well as detergents. They effectively cut through the toughest of stubborn stains but will harm your boat. In the end, all that's left would be a dull appearance that degrades your boat's performance and life span.
Care and Maintenance
Taking care of your boat does not only optimize its appearance but ensures both safety and longer lifespan. Though it's not that easy as it goes beyond cleaning and washing, it can grant you the best mileage.
Make it a habit to inspect your boat and do it regularly to spot issues early for cleaning and washing. Get expert advice annually for rigorous maintenance requirements to help you prevent unexpected breakdowns and repairs as well.
How Do You Wash Your Boat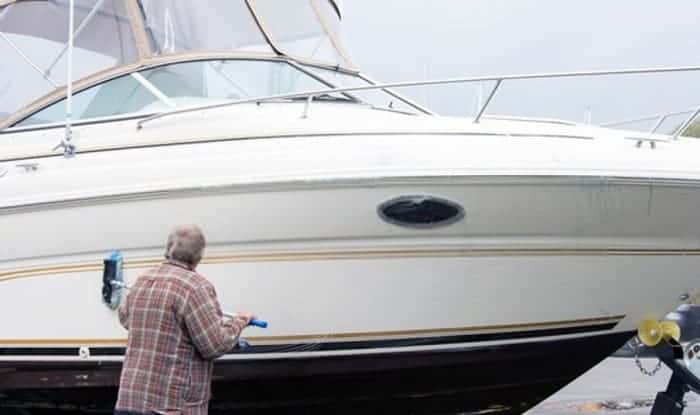 Wash your boat before and after every boating trip to keep it clean and avoid corrosion or rust formation. Clean and wash your boat whenever you can using marine cleaning products to protect its exterior surfaces and original sheen. It is highly recommended that you keep your boat washed as part of a preventive maintenance procedure and as a regular routine.
Use compatible tools like brush, microfibers, foam, and sponge to remove stains, molds, deposits, and mildew from boat surfaces. Be sure to wipe dry all of your boat's exteriors and interior parts, including upholstery, canopy, and cowlings.
How Often Should You Wash Your Boat
You can wash your boat after each trip, or regularly every 2 to 3 months. It is better, however, to check for more in-depth advice from online marine or boating communities, such as the hull truth forum site, which offers up-to-date insights by expert boaters and professionals.
Can I Use Dishwashing Soap Or Detergent As An Alternative For Boat Wash
You need to use the best boat wash to get rid of dirt, stains, and spots on your boat. Hence, products like dishwashing liquid or detergent are no good. They are not strong enough as alternatives for boat wash and they are not safe because they can strip wax and marine materials off your boat surfaces. Plus, they aren't friendly for human and marine life.
Can I Use Car Wash Soap On My Boat
You can only use a pinch of any car wash soap to clean your boat, like the plentiful mount you can use with marine boat soap that uniquely protects the boat's surface while lifting the toughest marine stains. So, instead of using a car wash soap, you should choose to use one of the products mentioned above!
You can also search for similar features from trusted sites or sellers not mentioned here. Like the Thetford boat wash by Wolf's Marine that takes out the toughest dirt, dried-on bugs, and bird droppings. Use only wash soap that is safe on both cars and boats to avoid harming any metallic paints and decals.
Can I Use Dawn To Wash My Boat
You can use Dawn products, such as a mild, ivory dishwashing soap, or commercial detergents for a marine wash. Dawn products are effective grease and oil spill removers and can prevent damage from occurring on the gel coat of your boat surfaces.
Conclusion
Keep your boat at its optimum condition by investing time and effort in choosing the best marine wash. By now, I suppose you've gained enough insights on the benefits and drawbacks of using boat wash, as well as critical factors of consideration.
Understanding these boating essentials is your responsibility as a boat owner. Rest assured that these best boat wash reviews show you the easy way of making your best choice.
Harmonizing proper washing, cleaning, rinsing, protection, and brilliant shine are key to a lasting boat care for your watercrafts. Select from these top-picks of boat wash and marine care products to satisfy your boat maintenance needs.
Just remember, even though it can be tough to remove stubborn stains, your cleaning duty will be eased significantly if you have a handy boat wash!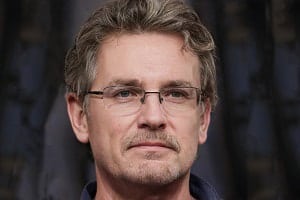 "I am James Harvey – founder of Boating Basics Online. It is established with the drive to help out first-time boaters, which are those desiring to explore their way through the water. So if you are new to boating, start from here with me. "