Using a homemade cleaning solution like vinegar and freshwater with a bit of soap is good for any boat. However, this method takes more time and effort to effectively remove undesirable stains, residues, and deposits from an aluminum boat. Homemade solutions may not be the best aluminum boat cleaner and can harm your aluminum boat's coating.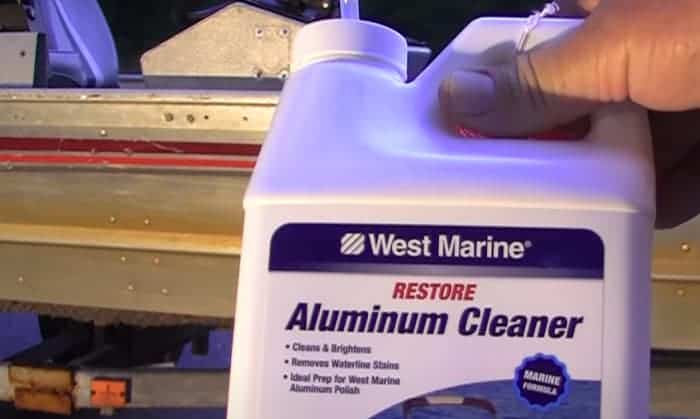 Instead, I recommend that you opt for the best aluminum pontoon cleaner in the market. Use the independent reviews below to help you choose the best cleaner for aluminum boats. We lined up products with the best way to clean aluminum boats for your consideration. Read on!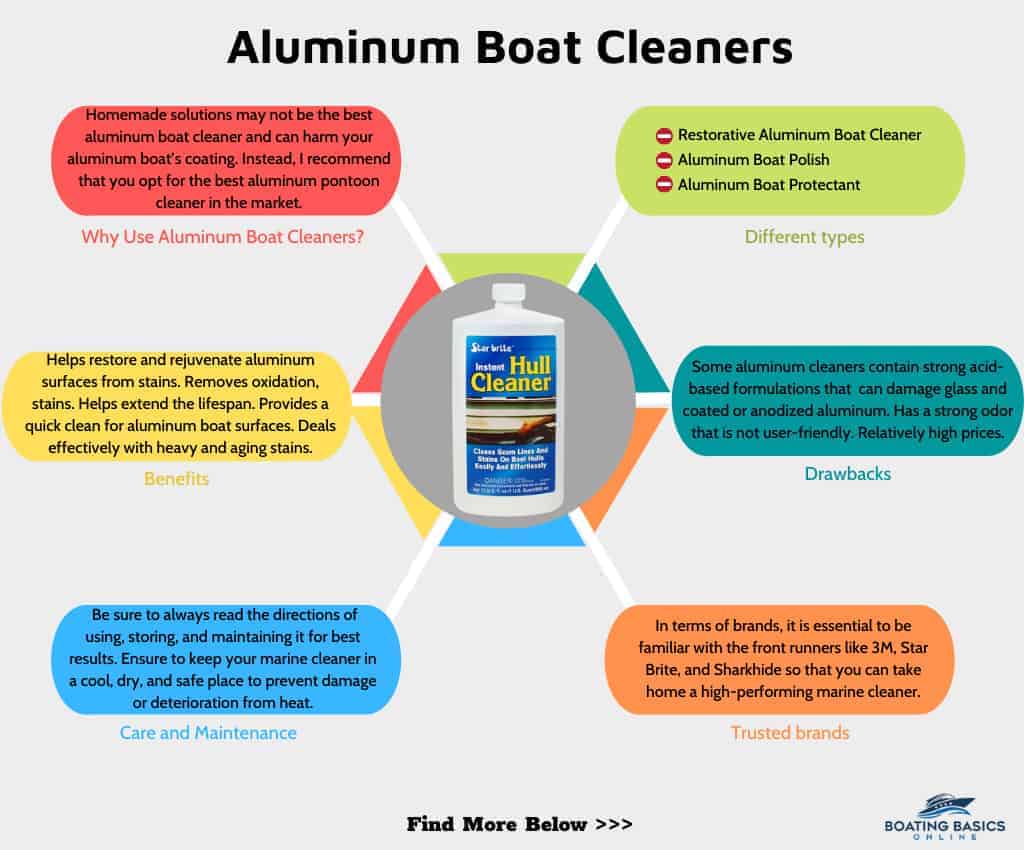 ---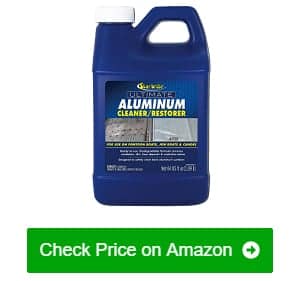 STAR BRITE 87764 Aluminum Cleaner
Unique foaming action
Biodegradable cleaner
Designed for aluminum surfaces
---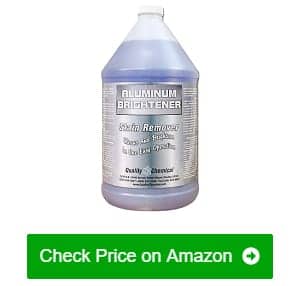 Quality Chemical Aluminum Cleaner
Safe for use
Restores aluminum surfaces
Quick to clean and brighten surfaces
---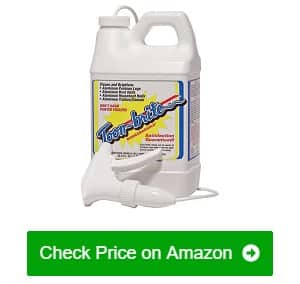 Toon-Brite B1000 Aluminum Cleaner
Safe for painted
Environment-friendly
Best to remove lighter deposits
---
Best Aluminum Boat Cleaner Reviews
1. STAR BRITE 87764 Ultimate Aluminum Cleaner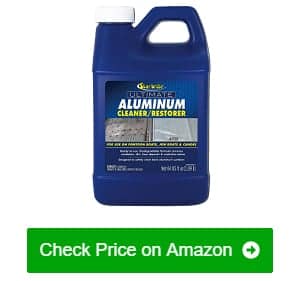 The first on our review is this Star Brite aluminum cleaner and restorer in a 64-ounce sprayer. It is designed to clean and restore stained aluminum surfaces on pontoons, kayaks, canoes, and Jon boats with 100% customer satisfaction guaranteed. With a safe and biodegradable formula that provides hassle-free results, this USA-made cleaner effectively deals with even the most stubborn marine deposits on boats.
The product has sulphuric acid that eliminates dirt, oxidation, lime deposits, and waterline scums or stains. Such sulphuric elements chemically react with the aluminum surface to form a white haze which makes it easy to scrub off stains and leave a spotless finish.
However, you have to ensure that you do not overspray and that your spays are uniform. Otherwise, there can be uneven foaming which leaves drip marks or spillage on the surfaces that you are not supposed to clean.
Nonetheless, this is not a big problem as long as you take measures to be careful. You should also use protective gears, store it away from the reach of children, and mix it with household bleach or chemicals to avoid any harm.
I also tried spraying it from the bottom and up which had a great restoration effect on my boat. Overall, I am fond of its unique foaming action that provides excellent cleaning for my boat surfaces.
What We Like
Designed for aluminum surfaces like pontoon, kayaks, canoes, and Jon boats
Best to get rid of dirt, oxidation, lime deposits, and waterline scums or stains
Unique foaming action for ultimate performance, uniformity, and safety
Ready to use USA-made biodegradable cleaner in a 64-ounce bottle with a sprayer
What We Don't Like
Uneven foaming spray or overspray leaving drip marks or spills
Get one of these brands and follow directions for use, and safe handling to avoid harm or incidents. Use this Starbrite aluminum cleaner on your aluminum boat for quick application and a brilliant finish.
2. Quality Chemical Aluminum Cleaner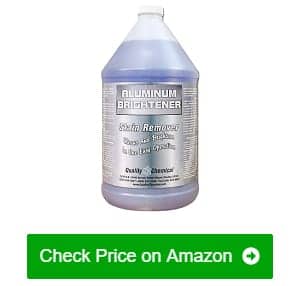 Another top-rated product made in the USA by Quality Chemical, this is an aluminum cleaner, brightener, and restorer all in a 1-gallon bottle. This features a highly-concentrated formula that quickly and safely cleans and brightens stained aluminum and metal surfaces. Its non-fuming action, acid, and extra-wetting elements will make you fond of its ability to deal with the toughest stains.
This cleaner restores the aluminum surfaces of your boats, trailers, and RVs from oxidation, carbon/salt corrosion, and stubborn stains in one easy application. You can apply the product on aluminum trailers, trucks,,, and even prepare aluminum boats for easy painting. I liked using this brand on most raw aluminum surfaces and exteriors of my parts and machineries.
This product helped me remove thick and nasty marine build ups that were sitting in the exteriors and bottom of my boat for years. I did one spray to remove most buildups and got a mirror-like finish after several more applications. Another plus is that it has strong corrosion inhibitors that prevents most aluminum boat surfaces from rust formation.
However, one downside is that its acid-based formula can cause damage when used on glass, anodized or polished aluminum, and coated surfaces. This is also the reason why I carefully use it only on raw aluminum surfaces. Despite this minor drawback, I will continue ordering new ones from this brand because its cleaning benefits outweigh the disadvantages.
What We Like
Quick to clean and brighten stained aluminum and metal surfaces on boats, trailers, and RVs
Restores aluminum surfaces from oxidation, stains, discoloration and salt corrosion.
Highly concentrated USA-made cleaner and brightener for one easy application
Safe for use on machinery, parts, trucks, or trailers and pontoons.
What We Don't Like
An acid-based formula that is unfit on glass, polished aluminum, and coated surfaces
Grab this aluminum cleaner and brightener to clean, restore, and brighten your boat in one easy use. But, don't try to use it on glass, coated parts, and polished aluminum materials.
3. Toon-Brite B1000 Aluminum Cleaner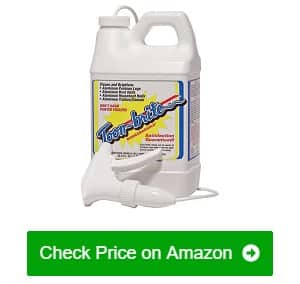 Another bestseller, this Toon-Brite aluminum cleaner is packed in a 64-ounce or ½-gallon bottle to make a one-gallon mixture. This highly-concentrated cleaner is designed for the do-it-yourself boaters with a convenient spray-on formula and a 3-finger trigger sprayer. It is one of the aluminum pontoon cleaners that stands out in removing water scums or stains, algae, lime, oxidation, dirt, and other lighter deposits.
All you have to do is spray on the area that needs cleaning, then rinse it away for a shiny finish. Its quick-to-use sprayer makes the solution easy to apply and rinse off after each application. You only need a little amount of this aluminum cleaner to clean even the most stubborn stains. Otherwise, you can dilute the cleaner, by mixing with freshwater, for lighter cleaning jobs.
The product's biodegradable surfactants make it environmentally friendly and pose no harm to painted surfaces like those on trailers. As such, you can use it to clean the exteriors of other vehicles beside your boat. I've actually been using it for my aluminum boat, trailer, and other small vehicles for a few years now. Since then, I no longer have to search for different boat aluminum cleaners.
One drawback, however, is its ineffectiveness of removing heavy stains while also taking more amount of the product and several applications. In addition, this cleaner is not recommended to be used on hot days because it can leave streaks on the contact surfaces. Not considering these cons, you can expect great results when pairing it with Toon Brite's best aluminum boat polish.
What We Like
Environment-friendly, and biodegradable surfactants
Safe for painted aluminum boat surfaces
Includes a 3-finger trigger sprayer that is quick to use for easy spray and rinse off
Best to remove lighter deposits like water scum or stains, algae, lime, oxidation, and dirt.
What We Don't Like
Requires more product and repeated applications to remove heavy stains
Enjoy the benefits of this spray-on aluminum cleaner on your aluminum boat on any day you prefer to navigate. I highly recommend that you use this product to have a safe application and streak-free finish.
4. Sharkhide Aluminum Cleaner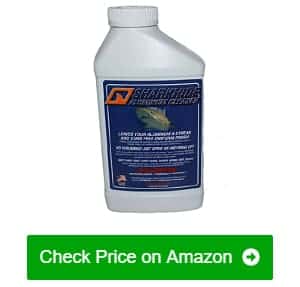 This Sharkhide aluminum cleaner is a strong concentrate in a 32-ounce bottle that you can directly spray for the best results. It is a USA-made certified product with a relatively high NFPA health rating in addition to low flammability and reactivity levels. I think it can safely work for bunks, carpets, paints, rubber, vinyl decals, wiring, and any other aluminum boat exteriors.
It helped me in restoring and polishing an aluminum boat I bought from a friend. The boat is used for decades of fishing but just in one application with minimal scrubbing, the oxidation and stains are gone. I recommend using this real and serious cleaning product I've used for years. Although it is not designed to be the cheapest blend, it is the best among its counterparts on the market.
You can use the product in full-strength or dilute it in freshwater to effortlessly deal with years of streaks and stains. This is an aluminum cleaner and polish that needs no scrubbing or brushing but still manages to leave a brilliant shine. It makes aluminum surfaces fast and easy to spray and clean. I tried leaving it on heavy stains for a few minutes, and saw that it uniformly cleans with an off-white finish after thorough rinsing!
I suggest using protective gears like gloves and goggles to prevent any potential harm. It's a corrosive solution, so you need to avoid using it on glass and coated or anodized aluminum materials. Also, you should always follow its instructions for guaranteed safety. Generally, it's easy to spray on and quick to apply, which is one of the aspects that I like the most about it!
What We Like
Formulated as the best blend and not the cheapest on the market
Leaves you aluminum boat surface with a stain-free and streak-free finish
Easy to spray, and rinse off without scrubbing or brushing on aluminum surfaces
Certified USA-made cleaner with a high NFPA health rating
What We Don't Like
Avoid contact of this corrosive product with the glass and coated aluminum surfaces
It will offer you a strong, effective, and
efficient cleaning solution
. But, you must make that you do not use it on coated or anodized aluminum surfaces.
5. 3M Marine 09020 Aluminum Restorer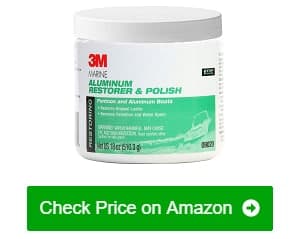 Boaters love this marine aluminum restorer and polish that is packed in an 18-ounce bottle. This marine cleaner brightens and restores the original shine and color of bare, painted, and brushed aluminum. I like how well it works for pontoons and aluminum fishing boats under the sun and in both freshwater and saltwater environments.
In my case, it effectively removed heavy oxidation, chalking, and water spots on painted aluminum surfaces of my boat. While at the same time restoring my painted aluminum to its original luster and color. It also works well in cleaning other exteriors of my boat.
This is a highly-concentrated solution that can irritate your skin and eyes, and pose more serious consequences to human health. Hence, you need to carefully follow its instructions for proper handling and usage. So, when you use this product make sure to wear gloves, a face mask, and goggles. Also, always ensure that it is stored away from the reach of children.
I highly recommend this best aluminum boat cleaner and polish to any aluminum boat owners who want to restore and brighten marine hardware, trims, or boat hull surfaces. I am absolutely in love with how just a little amount of this can go a long way for applications on bare aluminum surfaces. I would not, however, recommend using it on anodized, coated, galvanized, or matte aluminum. Nevertheless, I'll continue using this double-action product for its excellent performance, saving me time and money.
What We Like
USA-made marine aluminum restorer and polish that is best for pontoon and aluminum fishing boats
Highly concentrated with double-action formula that restores and polishes aluminum surfaces
Effective performance in removing heavy oxidation and chalking on bare and painted aluminum
Efficient solution with a little amount that can go for longer applications
What We Don't Like
Not recommended for coated, galvanized, anodized and matte aluminum
Get this best cleaner for painted aluminum boat and pontoon for the best restoration and polishing results. It is without a doubt the best double-action formula for a highly concentrated solution that is worth your time and money.
6. Star Brite Instant Hull Cleaner
Another top-rated product from Star Brite, this instant hull cleaner is packed in a 32-ounce bottle. It cleans on contact with stains and water scum lines quickly and easily. You can spray or wipe the cleaner on your boat's surface effortlessly, unlike other cleaners that need intense scrubbing or brushing.
Start cleaning your boat with this efficient and reasonably priced aluminum hull cleaner. It works great even with fiberglass, metal, and painted aluminum boat surfaces. I like using this marine-grade and strong oxalic acid-based cleaner in preparing my boat's exterior and hull surfaces for polishing. Its oxalic and ethylene glycol monobutyl ether formulation cause no harm to surfaces compared to other phosphoric or hydrochloric acid-based cleaners in the market.
I always use chemical-resistant gears when applying them either with a sprayer or a sponge. I would not recommend using this if you have health issues and always keep it away from childrens' reach. It can damage or irritate the eyes, skin and pose threat to the overall human health when swallowed or inhaled.
This instant aluminum boat hull cleaner is formulated to remove rust stains or leaf stains from fiberglass or painted surfaces. It penetrates and dissolves marine growth and build ups like rust, fish blood, and scum line. You can do more cleaning with this reasonably priced cleaner.
What We Like
Designed to work on contact to remove grime, and yellowing or waterline stains
Safe and easy to use with no harmful acid elements
Best for use on fiberglass, metal, and painted aluminum contact surfaces
Dissolves marine growth and buildups like rust, fish blood, and scum line
What We Don't Like
Can damage or irritate the eyes, skin and harmful to human health
Start cleaning stains and marks on your boat right away with this efficient and reasonably priced cleaner. This can even work when in contact with fiberglass, metal, and painted aluminum boat surfaces!
7. Bio-Kleen M00109 Aluminum Cleaner
The Bio-Kleen Aluma-Kleen aluminum cleaner comes in A 1-gallon package that is designed for cleaning pontoons and aluminum boats. It effectively removes marine build ups, nasty deposits, scum lines, and algae on surfaces despite the mildness of its formulation.
This product can assure you of safe applications that do not pose threats to your health and the environment. I am amazed by how it can easily clean minimal oxidation, stains, discoloration, and even prevent corrosion from boat exteriors.
I've also used it in cleaning the running boards, rims, and floor on my trucks and other vehicles without any issues. For heavy stains, numerous oxidation, and build ups, however, this product is not that good and would not cut through. Another way is to leave the cleaner for an hour or two for it to penetrate through the surface. Either way, it will work wonders in removing stubborn stains or oxidation.
If you're not satisfied, I suggest that you opt for a stronger cleaner from my other aluminum boat cleaner reviews. Keep in mind that this mild product will not be effective in polishing and restoring surface colors as well as coating or luster. But, if you are only intending to treat mild stains, this product will match your quick cleaning tasks.
You will no longer have to worry that your painted aluminum surfaces may chip off or become fainter if you use this product with a mild formula. This mild cleaner will allow you to clean aluminum boats and RVs without a headache. You just have to follow the correct steps for application. Overall, I am sure that you will love this biodegradable, non-aerosol, and ozone-safe cleaner as much as I do.
What We Like
Designed for cleaning pontoons, aluminum, and metal boats
Removes oxidation, stains, discoloration, and marine buildups from boat surfaces
Clean rims and running boards on trucks and vehicles
It is biodegradable, non-aerosol, and ozone-safe cleaner
What We Don't Like
Not that effective to polish and restore surface colors and luster
Consider getting this product for your regular and after a boat ride cleaning. You do not have to worry about harming the surfaces that you intend to clean, yourself, or the environment, if you choose to use.
8. JJV'S BEST ALU100-G Aluminum Cleaner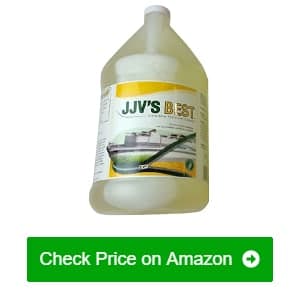 The JJV'S Best aluminum pontoon cleaner is packed in a 1-gallon container and is a specially formulated marine-grade product. It is designed to be an innovative cleaner that washes and polishes the looks of pontoon tubes from all angles.
Unlike most aluminum pontoon cleaners that contain acids, this cleaner is safe for users and the environment. This product will surely be helpful and appealing to you if you are conscious of how your purchase affects the environment.
I am fond of how this acid-free product strips away dirt and grime from bare aluminum boats and pontoons. It takes away oxidation and stains without the use of caustic chemicals that is good for users sensitive to acids. It may lack the strength to deal with heavy stains, but it's worth using for its hassle-free applications and reasonable price tag. If you are looking for a cleaner that provides a quick wash, then this product is ideal for you.
Many seasoned boaters recommend this acid-free, non-abrasive, non-toxic, and green cleaner to polish aluminum surfaces from dull to a new brilliant sheen. You can quickly and easily spray it on and rinse it off from contact surfaces. You will never have to spend time and effort in scrubbing or brushing. One drawback, however, is that it is not recommended for use on polished, coated, anodized, painted, or matte aluminum.
Always follow complete directions for safe applications when buying and using marine cleaners. This means that you have to wear protective gear like gloves, face masks, and goggles when using this highly economical cleaner. It is better to be safe by having precautions for an injury-free use of this cleaner.
What We Like
Specially formulated marine-grade cleaner for pontoon tubes or boats
Safe, acid-free, non-abrasive, toxic-free, and environmentally-friendly cleaner
Easy spray on and rinse off solution needing no scrubbing or brushing
Effective for use on bare aluminum surfaces only
What We Don't Like
Not fit for coated, anodized, polished, painted, or matte aluminum surfaces
Add this innovative product to your kit of aluminum boat hull cleaning supplies. Aside from doing your part to protect the environment, you will surely benefit from its economical formulation.
9. Flitz LQ 04587 Polish and Cleaner
This Flitz multi-purpose polish and cleaner liquid is a 16-ounce economical, USDA-authorized non-toxic product that is best for use on aluminum boats. It easily restores your vehicle's headlight and removes rust stains. This is the best USA-made and eco-friendly liquid polish that safely cleans, polishes, and protects metal, fiberglass, plastic, and painted surfaces.
The cleaner can also work well for jewelry, sterling silver, brass, silver plate, copper, chrome, bronze, nickel, and stainless steel. It can exceptionally clean and polish bare aluminum, solid gold, anodized aluminum, magnesium, pewter, platinum, and factory hot gun bluing. Moreover, it is great for Corian, eisenglass, fiberglass, Formica, granite, glass, plexiglass, and plastic contact surfaces. You will be glad to find that this cleaner can help remove rust, water stains, oxidation, tarnish, heat discoloration, and fingerprints on boat surfaces.
I like applying this cleaner while outdoors with a thin layer of liquid polish for a quick cleaning session. I used a Flitz microfiber and a clean towel to buff the area and prevent the liquid from drying out. Its small packaging, however, limits its use for small applications and makes it unfit for continuous cleaning.
You can also safely use this non-abrasive, non-flammable, residue-free, non-dry, and acid/ solvent-free cleaner in the kitchen and bathroom without issues. In fact, apart from cleaning my boat, I am using it safely at home for my food preparation surfaces in the kitchen.
It received many favorable aluminum pontoon cleaner ratings from boaters and maritime professionals for its maximum safety and high-performance features. I love its legendary shine and unsurpassed ability to clean, polish, and protect contact surfaces.
What We Like
USDA-authorized non-toxic product
Developed in Germany with German ingredients and proudly made in the USA
Industrial strength cleaning power
Eco-friendly and economical liquid polish
What We Don't Like
Small packaging that limits the extent of use and unfit for continuous cleaning tasks
Use this cleaner to work on your boat and you will realize that you will never have to look for another cleaner. I highly recommend this multi-purpose product for any boaters. You will surely appreciate its role in easing your boating life.
10. Bosh Chemical Aluma Bright Aluminum Cleaner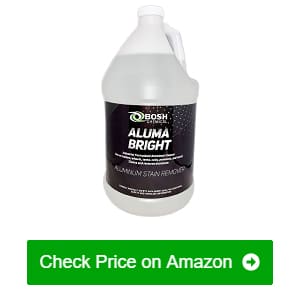 The Aluma Bright aluminum cleaner and brightener, which comes in a 1-gallon concentrate bottle, is an industrial formulated stain remover. It is the best 3-in-1 solution designed as a cleaner, brightener, and restorer for wheels, coils, tanks, pontoons, aluminum fishing boats, etc. The cleaner is made in the USA with a 100% money-back guarantee that gives users peace of mind. Use only on bare aluminum and not on coated or polished aluminum surfaces.
This product is highly concentrated and has a non-fuming detergent action. You can dilute this cleaner with freshwater to make 2 gallons of mixture for wider applications. For heavy stains, don't dilute, but just transfer it into a spray bottle for easy applications. Spray it on the surface area then rinse it using a power washer.
The cleaner is designed to provide the fastest and easiest way of cleaning the toughest stains on your boat surfaces. Be sure to try the cleaning mixture on a small area first for testing purposes, and use a pump sprayer to easily apply the solution and for best results on applied areas. Allow the solution to foam for at least a minute then rinse it off thoroughly with a power washer.
Though this product brightens applied surfaces, it can not leave a polished look, which is a downside of this cleaner. Nonetheless, the cleaner can remove oxidation, stains, build ups, carbon, exhaust smoke, grease/oils, and road salt from aluminum boat surfaces.
This marine cleaner is recommended for commercial, institutional, and industrial applications. Always consult the product safety data sheet for safety and handling instructions upon buying and before applying this cleaner.
What We Like
The product is USA-made with a full money-back guarantee
Remove stains, carbon, road salt, oxidation, and petroleum deposits from aluminum surfaces
The best product to clean and restore aluminum surfaces
Easy to apply with a pump sprayer on pontoons and aluminum fishing boats
What We Don't Like
Unable to leave a polished look on aluminum boat surfaces
Know your marine cleaner first before using it for your desired application. Consider this marine cleaning product as your best-guaranteed choice.
11. Duragloss 552 Marine Aluminum Cleaner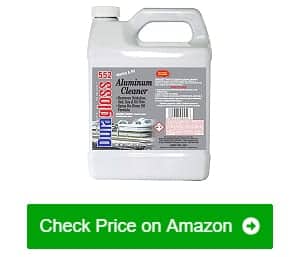 The Duragloss marine and RV aluminum cleaner in a 1-gallon bottle is one of the top-rated brands in this review. I am amazed by its strong formula that is non-abrasive and causes no harm to my aluminum boat. It targets oxidized and stained aluminum boats and pontoons to brighten without damaging the metal. The cleaner can take care of many surfaces like copper, stainless steel, brass, and chrome.
I like that I can spray it easily without the need to prepare mixture ratios for my stained boat. The solution cleans and polishes my pontoon, aluminum boat, and their metal surfaces to protect luster without requiring any scrubbing. All that I had to do was allow a few minutes for the solution to penetrate the surface and break the stain or oxidation. I finished my cleaning task with no brushing, just simply rinsing it with clean water!
I use the cleaner for my pontoons' protection against thick layers of dirt and marine deposits for several years. Since then, I never have dullness or discoloration on the aluminum surfaces of my boats. I love how it wipes off heavy oxidation and stubborn spots or stains from my aluminum boat.
Except for its downside, which is the fact that it is unfit to use on highly coated or polished aluminum surfaces, it is a good product because it makes applications extremely simple and effortless. Once you spray it on the stained surface, it penetrates and loosens the stains. Even aging or stubborn stains and heavy oxidation can't escape with a second application of this cleaner.
What We Like
Best for use on aluminum boats, pontoons, and metal surfaces like brass, copper, stainless steel, and chrome
Easy to use by spraying without the need to mix with water and rinsing it
Brightens aluminum with no more dullness and discoloration
Penetrates and loosens thick dirt, stubborn stains or spots, and heavy oxidation
What We Don't Like
Not fit to use for polished or coated aluminum surfaces
This boat cleaner is amazing, so I highly recommend that you give it a try. Grab one now to see how it effortlessly brightens your aluminum and metal surfaces.
12. Sharkhide Aluminum Pontoon Boat Cleaner
Another amazing product from Sharkhide, this aluminum pontoon boat cleaner, and protectant is designed to provide a streak/stain-free finish. The product kit comes with 2 aluminum cleaners (1-quart per bottle) and a 1-quart aluminum protectant for most aluminum applications. It effectively restores pontoons, RVs and aluminum boats, vehicles, carpeted bunks, paints, and decals.
The product can deliver a clean, uniform, blemish-free, and off-white surface that lasts for years when applied to dry aluminum. This is possible because the kit has a highly concentrated solution with blends of acid-based, cleaning agents, and protectants.
It works for heavy and repetitive applications, and you can easily dilute with water to vary its intensity and results. You'll be pleased that a little amount is enough for several applications anywhere on your boat or vehicle.
The cleaner works best using an adjustable sprayer nozzle to produce a uniform mist. You won't have to brush or scrub, just let the solution work for a few minutes on the surface, then wipe it with foam and rinse it off. In most cases, you may need to spray several coats, but ultimately, this amazing marine cleaner will help you quickly complete your cleaning duties.
The only drawback that I have noticed with this product is that you must have on rubber gloves to avoid burning your skin because this is an acid-based cleaner. You should always follow complete directions for safe use to avoid any incidents as well. Except for its single drawback, this aluminum cleaner is a good option to include in your kit of marine cleaning supplies.
What We Like
Amazing cleaner and protectant kit for most aluminum
Easy to spray on and rinse off without scrubbing or brushing
Best for use on pontoons, aluminum boats, vehicles, and watercrafts
Reasonably priced aluminum cleaner and protectant kit
What We Don't Like
Wear a pair of gloves to avoid burning your skin with this acid-based cleaner
This is indeed a useful and amazing product that you can use for your RVs and aluminum boats. You can rely on this for efficient cleaning and protection of your boat's metal surfaces.
13. Better Boat Premium Metal Polish
This Better Boat's premium metal polish is a marine-grade cleaner that exceptionally polishes aluminum, metal, chrome, and stainless steel surfaces. The product is a high-quality USA-made cleaner that works well for boats and cars. I like how it removes tough corrosion, oxidation, and rust from the metal surfaces of my vehicles and home appliances.
It even restores the luster of my blemished boat surfaces like those on the cleats, ladders, and rails. This is a great marine cleaner that works solidly on both the interior and exterior of my boat as well as home hardware.
I'm completely amazed by how this cleaner made the dull and discolored aluminum and marine metals on my boat look brand new. I highly commend this product for its exceptional cleaning, polish, and restoration performance that I haven't been able to find in other brands.
I'm so glad that I got this all-around marine and home cleaner. Indeed, Better Boat did not disappoint. I love this metal polish that even works exceptionally in leaving a gleaming finish on my truck's and car's chrome bumpers. It is so handy that I can bring it anywhere without worrying about it being a heavier hand-lift.
I will definitely order again before this Better Boat product runs out. But, honestly, I wish bigger packaging was available. Even though this 8-ounces bottle is sufficient to clean for a smaller section of my boat or home metal hardware, its small packaging limits my continuous and larger application needs.
What We Like
USA-made polish that provides a mirror-like finish for chrome & other metals
Handy and small packaging that can be used anywhere on a boat, car or home
Removes tough stains, oxidation, corrosion, and rust on surfaces
Effectively restores aluminum, stainless steel, chrome, and marine hardware
What We Don't Like
Small packaging that limits continuous and larger application coverage
Make use of this all-around marine-grade cleaner for all your boat, vehicle, and home metal hardware. Don't wait any longer to experience its exceptional cleaning, restoration, and polishing performance!
14. Alumi-Brite CQ-255 Aluminum Cleaner
Another bestseller, the Alumi-Brite aluminum concentrated acid-based cleaner and brightener is packed in a 1-gallon container for frequent boat washes. This is the best boat cleaner that keeps pace with frequent boaters like me. I live by the sea so I take my boat out whenever the weather permits. As such, I rely on a versatile cleaner that can work its magic frequently.
This cleaner ensures that my boat is free from dirt, salt, and marine deposits. Even though boat washing is challenging when you live on the coast, it doesn't feel that way because I have the assistance of this reliable and versatile aluminum cleaner.
Its acid-based solution can penetrate through the surface and dissolve oxidation, grime, stain, and marine deposits. Plus, thanks to a strong industrial formula, it can easily blast through aluminum and metal surfaces.
I love how its brighteners take care of the dullness or discoloration that is common on aluminum and metals. It works well on other metals like copper, silver, and brass too. It can be handy to keep on my pontoon and trailer as it can be used on running boards, splash guards, headlights, and aluminum wheels as well. The cleaner restores luster on my boat's surfaces and quickly removes road, salt deposits, and fuel stains.
It is an unmatched product except for one downside – it is unfit for polished or coated aluminum and metals. Other than that, the rest of its features are the key factors that complete an irreplaceable boat cleaner. It's been a reliable companion for years on my pontoon tube and other watercrafts.
What We Like
Penetrates surfaces and dissolves oxidation, stains, and unwanted deposits
Restores luster on brass, copper, silver, and aluminum metals
Industrial formula with acid-based cleaning elements that do not harm the surface
Takes care of dullness and discoloration
What We Don't Like
Not recommended for polished or coated aluminum and metals
Clean your boat surfaces from oxidation, grime, and stains effortlessly with this flexible cleaner. This is the best cleaner that you can have to clean your boat as frequently as you like.
15. TotalBoat TB-ABEW Aluminum Boat Etch Wash
This top-rated brand, the TotalBoat aluminum boat wash features a unique etching treatment formula that is manufactured by Jamestown Distributors. It is a ready-to-use and easy spray-on solution to prepare surfaces for best primer and finish coats on aluminum boats.
Using this boat wash improves finish adhesion on the surface of aluminum or metal boats, vehicles, and other metal exteriors. I like having this essential formula that is compatible with bare aluminum or metal boat surfaces.
This boat wash specifically works best for aluminum boats, pontoon, fishing, and other marine watercraft except for those with ferrous metals. One drawback I don't like, however, is that it is not recommended for fiberglass and wood boat surfaces. Hence, I need to use another cleaner and polish for the wood and fiberglass surfaces of my boat.
I like using both of its available 1-quart and 1-gallon bottles that are flexible for good maneuverability. You can also use the cleaner's etching treatment on stainless or galvanized steel for the best application and finish.
The etching treatment greatly helps with proper adhesion of primers and gel coating on the boat's exteriors. I love its non-flammable and chromate-free formulation that works with several finishing coats as well.
This product offers relief protection to my aluminum boat against chip-off or peel-off issues. You will have a worry-free boating experience as it can protect your boat from the damaging effects of fresh and saltwater. Its thin coats can be applied through single spraying or brushing.
What We Like
Easy and ready-to-use remover for oxidation, stains, and corrosion
Improves finish adhesion on bare aluminum and metal surfaces
Provides clean etching treatment of aluminum surfaces for proper adhesion
Best for use on aluminum, pontoon, fishing, and other metal boat surfaces
What We Don't Like
Unfit for use on fiberglass and wood surfaces
Overall, I'd be glad to see you getting and enjoying this versatile boat wash. This great cleaner works on your boat and land vehicle's aluminum and metal surfaces.
Factors To Consider When Buying An Aluminum Boat Cleaner
Buying these best aluminum boat cleaners can save you time and effort. Accomplish and simplify your purchasing task by knowing the features, types, and factors that these top-rated cleaners need to have. Versatile cleaners like those that are reasonably priced should also be checked.
Primarily you need to check for the size of packaging or formulation, and the number of applications for each cleaner. For formulation, make sure that you check for the power/strength. This should help you come to the right choice, saving time and money. Also, take a look at the health and environmental implications, brand, as well as price information as these are useful to your selection process.
In terms of brands, it is essential to be familiar with the front runners like 3M, Star Brite, and Sharkhide so that you can take home a high-performing marine cleaner.
The different types of aluminum boat cleaners
To choose the right cleaner for your aluminum boat, you should also be aware of the type of stain or contaminant that you are intending to treat and the boat surface.
Restorative Aluminum Boat Cleaner
Basically, it has either a non-acid or acid-based cleaning formulation designed to clean and restore aluminum surfaces. You need the restorative type to deal with dullness, discoloration, and old or worn-out looks affected by external factors. It can polish off coatings that cause a dull appearance and allow the original luster to resurface.
This type tends to have strong ingredients which require users to wear protective gear. Also, it should be used in a cool and dry place.
This aluminum boat polish type provides a gleaming and mirror-like finish. Boaters consider this as a mild cleaner, unlike the restorative type. It can effectively wipe away mild dirt and stain, which enhances the aluminum appearance without causing any damage.
For some brands of cleaners, this type can be found either in a restorative or polish form. This type deals more with the treatment of the surface and proper adhesion of the coating to last for several years. Protectant cleaning product ensures surfaces have no chip-off or peel-off issues, which, in turn, prevents the occurrence of stains or contaminants.
Benefits and drawbacks of using aluminum boat cleaners
There are benefits and drawbacks to using aluminum boat cleaners that you need to weigh.
Benefits:
Helps restore and rejuvenate aluminum surfaces from stains, discoloration, and aging signs
Removes oxidation, stains, and marine build ups on aluminum surfaces effectively and quickly while also completely eliminating dirt, grease/oil, and salt deposits
Helps extend the lifespan of aluminum surfaces with a protective coating and shiner finish
Provides a quick clean for aluminum boat surfaces
Specially-formulated concentrate formula that deals effectively with heavy and aging stains while leaving a streak-free and hassle-free finish
Drawbacks:
Some aluminum cleaners contain strong acid-based formulations that can damage glass and coated or anodized aluminum. You can also easily notice its potent smell that is unfriendly to users
High price if quality goes first in choosing the best aluminum boat cleaner
Limited packaging that is inadequate for continuous or larger cleaning tasks
Care and Maintenance
When you use top-rated and only marine-grade cleaners that were lined up here, you are doing it right. Be sure to always read the directions of using, storing, and maintaining it for best results. Always check all surfaces of your boat and the best tools to apply your cleaner for a lasting brilliant shine as well.
Ensure to keep your marine cleaner in a cool, dry, and safe place to prevent damage or deterioration from heat. Avoid using it on hot days and keep it away from children, people with health conditions, waterways, and aqua life.
How To Clean Aluminum Boats
The boat cleaners here can help you clean your aluminum boats correctly, just follow the instructions on its label. Use only a marine-grade cleaner to remove any unwanted stains or deposits from your boat surfaces. You can do it using either a sprayer with an adjustable nozzle or scrubbing pad for the best cleaning operation. Every time you are cleaning your aluminum boat, check that you can deal with it easily and effortlessly.
How Do You Remove Corrosion From Aluminum Boat
Treat any spots and remove contaminants and salt deposits using the best cleaner in this review. Such steps prevent corrosion on metal or aluminum surfaces but will do no harm to the cleaned area. Rather than reacting or removing the contaminant, it's always good to be proactive and observant at all times. Doing a regular cleaning removes not only corrosion but all other unwanted deposits or build ups.
Can I Use Vinegar To Clean My Boat
The most accessible method is cleaning aluminum boat with vinegar and it sounds good for practical reasons. However, you need to know the nature of a vinegar concoction well to prevent damaging your aluminum boat.
Conclusion
Choose the safest and most aluminum boat cleaner of your choice to clean and maintain your aluminum boat surfaces. Select among these variants of popular brands available in the market.
We have listed the best aluminum boat cleaners to help you keep your aluminum boat look new and oxidation-free. We have also highlighted factors for you to consider and have put together buying guidelines to help you make an informed buying decision. Well, you have it now, the choice is yours to get the best cleaner and not a homemade aluminum boat cleaner.
Always keep your aluminum boat surfaces cleaned, protected, and polished each season of the year with these aluminum boats and pontoon cleaner reviews. Hopefully, you get to achieve the best stain, marine build up, and oxidation removal results!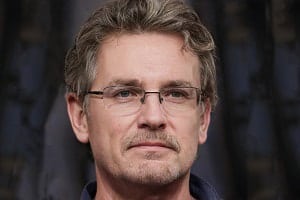 "I am James Harvey – founder of Boating Basics Online. It is established with the drive to help out first-time boaters, which are those desiring to explore their way through the water. So if you are new to boating, start from here with me. "