We all come to a point in our lives when we need to know more about a certain company for various reasons. Perhaps, you want to know who makes MB boats because you wish to learn more about its history, are interested in investing, or have a legal issue to settle.
Here's your answer: MB sport boats are designed by none other than the watersports boat manufacturer, MB Sports. MB is owned by Mike Brendel, whose initials the company derives its name and logo from.
A Little Background on MB Sports
MB stands for Mike Brendel, who built it from the foundations that were, more or less, already laid by his father, Irv Brendel. I'm going to assume that's what people mean when they search for "MB father meaning" online.
Mike officially founded the company in 1993. His first MB ski boat, named Kermit, was built within this very same year with the help of his father and trusted partners.
Having been started as a family business, MP Sports definitely had and takes pride in its humble beginnings. The father-son duo held it together during those initial years and led to its subsequent massive growth near the start of the 2000s.
This ground-breaking growth was heralded by the release of the 1999 B52 MB wakeboard boat, which pretty much pioneered the new and better way people can enjoy themselves when wakeboarding.
Even now, the company strives to develop its creations further, with Mike and his entire family still at the helm. And, people who own MB boats (and love their vessels), especially in California, where the company is based, can attest to the value of money and quality of the models.
If you want a bit of deeper dive into its history, I suggest you watch this video:
Different Models of MB Boats
Despite the relative longevity of the company, its catalog is still not that extensive. At present, there are only two boat lines available: the original B52 and the Tomcat.
Based on its solid standing in the wakeboarding community, it's safe to say that the company adopts a quality-over-quantity approach. Not a lot of companies actually live by their commitment to innovation and quality, and that's obviously what made MB Sports into the "big boat brand" that it is today.
That is only proven by its models as listed here:
1. B52 Series
Every boat in this series has been praised for several important wakeboarding qualities mentioned below.
01
B52 23 ALPHA
This model is consistently praised for its ride performance and, more importantly, unique wave-making abilities. It's also a beginner-friendly boat overall.
02
B52 23 CLASSIC
The vessel can persistently create incredible surfing waves, making it reliable and cost-effective. It's also easy to get the hang of its surf and ballast system.
03
B52 21 CLASSIC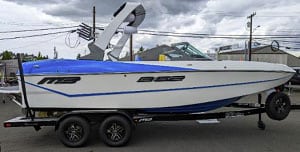 It may be the cheapest of the three, but it's just as reliable and comes with plenty of helpful features like GPS cruise control, built-in trailer hooks, pull-up cleats, and a stellar interior, among others. Plus, the model is pretty beginner-friendly as well.
2. Tomcat Series
If you thought MB boats B52 were great, wait till you try out a higher-end Tomcat. It's not for nothing that these boats are included in the brand's premier line. The average Tomcat M3 boat price may be expensive, but you're guaranteed to get what you pay for.
01
F24 TOMCAT ALPHA
The F24 Alpha is a 16-seater that comes with all the necessities. It's powered by a monster 510 HP motor that guarantees equally powerful wakes to hit the sweet spot for more experienced riders.
02
TOMCAT F22 CLASSIC and ALPHA
To describe these boats as "sweet" would be a severe understatement. It's not just how sick they look (as described by wake enthusiasts) but how they are almost always on their own pedestal compared to the wakeboarding experience provided by other boats – top-tier or otherwise.
03
TOMCAT F21 CLASSIC
This may be the cheaper of the Tomcat bunch, but it still has all the accessories, power, and well-loved ballast system all MB boats are known for.
The company has thousands of dealers in the US. You can go directly to their website to search for MB boat dealers near your area. On their homepage, you can also look for MB boat parts and other MB boat apparel.
Pros and Cons of MB Boats
Pros
Delivers great value for money
Solid reputation
Outstanding wakeboarding experience with almost all models
Generous with features and accessories
Highly customizable
Even though they're top-quality, the average MB boats price still puts these boats in the mid-range to budget-friendly level compared to most wakeboard boats.
Cons
Still more expensive than other brands
Maintenance costs
Limited dealers outside the US
How Much Do MB Boats Cost?
The standard MB boat price range (MSRP) for the latest models listed above is as follows:
B52 Series – $145,415 to $173,750
Tomcat Series – $145,415 to $185,415
As the ranges prove, the MB B52 cost is still close to any Tomcat's price, despite the latter being considered as higher-end. In case you're wondering about the MB 352 boat price, it's actually the same as the MB B52; however, the "B" is stylized in such a way that some people would mistake it for the number "3."
If you want to compare prices more or gain access to older and used models, head over to sites like Boat Trader.
Conclusion
To summarize the answer to "Who makes MB boats?" It's none other than the person it got its name from, Mike Brendel, and his immediate family. They've been manufacturing and developing sports wakeboarding boats for decades now.
The mileage and experience are clearly evident in the craftsmanship and innovation of their latest creations. The generally positive feedback they receive speaks for themselves.
Related: Manufacturer, history and FAQs about other boat brands: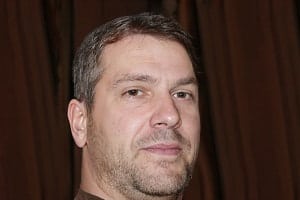 "My intention from the first day establishing Boating Basics Online is to provide as much help as possible for boaters who want to experience a first safe and convenient trip. So feel free to join us and share your beautiful journeys to the sea!"