When the weather is fine outside, it's irresistible to go out and sail with your bass boat. Comfort and convenience contribute a lot to a thrilling water adventure. So boaters are very particular in choosing accessories and gear. An example of this is the search for the best bass boat seats.
There's more to expect from the right bass boat seats aside from comfort. They should be able to counter rugged weather conditions and harmful elements in the surrounding. Investing in a product that can beat those unwanted things is worth every penny. You get to make your bass boat look great while you don't get tired from hours of sitting.
In this review, you will find the bass boat seats that can meet your needs and boating requirements. Get to know the amazing features of these products and you can easily find the one that suits you.
---
Wise 8WD588 Seat
Sturdy and long-lasting
Plastic covering
UV resistance
---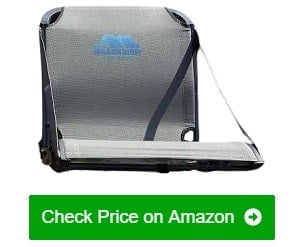 Millennium SS-SMS-1006565
Sturdy and durable
Convenient to use
Foldable
---
NORTHCAPTAIN T1 Seat
Superior quality materials
Easy installation
Sturdy and durability
---
Best Bass Boat Seat Reviews
1. Wise 8WD588 Deluxe High-Back Seat
Either you need to add a seat or replacement bass boat seats, this is the perfect product. It's comfortable and flexible so it can meet your demands. The design and the looks are great too. It has a reliable sturdiness, so you can expect it to last. I bought a couple of these for my boats and I'm satisfied.
I always sit on it during meals onboard and of course, when I get tired from fishing and swimming. The feel of the high-back design is so comfy and soothing. I don't ever slouch as the foam padding remains firm. It stays consistent as there's plastic around to keep out moisture.
This high-back seat is available in three single hues, which are green, gray, and white. Moreover, for those who do not like the monochromatic vibe on their bass boat, there are 3 pairs of color combinations too. The best part for me is the cover as it's composed of vinyl. Hence, it is no doubt that it has an ability to inhibit mildew and harsh UV rays.
Regarding maintenance, waxing is a part of it since it can protect against outdoor elements so I made the application. I also rub saltwater grease on the metal parts and snaps to prevent rusting.
To arrange and set up this seat in the way I want it, some things need to be attached. I added half-inch-thick plywood at its back as a support base but somehow, it remains flexible.
What We Like
Comfortable and flexible to meet the buyer's demands
Sturdy and can last long
Has a comfy high-back design with firm foam padding
Plastic covering for the padding to keep out moisture
Available in single hues and various pairs of color combination
Covered by vinyl that inhibits mildew and UV
What We Don't Like
Adding plywood for support base at the back
The high back of this seat is spectacular. It lets me relax on my boat when I need to take a break and this experience will be for the long term.
2. Millennium SS-SMS-1006565 Marine Boat Seat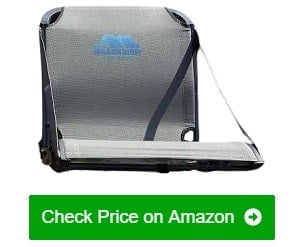 When you need something to sit on for a long time as you fish, you should add this boat seat to your bass boat. With its high back and lumbar support, you'll surely be in comfort all day. Especially when staying under the sun, I can't complain about anything because it doesn't get blisteringly hot.
Whether it's sunny or rainy, nothing can stop you from using this seat. It has resistance to the damages brought by natural elements. Feel free to use it any time of the day. When you go fishing in the early morning, it does not store dew. It doesn't accumulate water during a downpour so you can always find a dry seat.
The breathable, tight, and cool fabric of this seat makes everything convenient for you in any temperature and weather. Not all the bass boat seat skins can do this thing.
This boat seat is a bass boat pedestal seat based on its design for greater visibility even placed underway. It goes well with anglers for fishing and casting too. The seat frame is outstanding as it's crafted out of durable aluminum. But I think people with wider back and larger behind won't be able to fit themselves in this seat.
Though it is lightweight, it doesn't downplay its sturdiness. It can bear weight up to 400 pounds and even if it carries something the whole day. On the other hand, this boat seat comes with a folding feature. Hence, you can fold it flat so it won't get on your way inside the boat when not in use.
What We Like
Has high back and lumbar support for all-day comfort
Doesn't get blistering hot
Convenient to use in any weather and temperature
A lightweight pedestal seat but sturdy and durable
Can be folded when not in use
What We Don't Like
Not for people with wider back and larger behind
As long as I use this boat seat, I don't have to worry about any foam padding that can be soaking wet when there's rain. Furthermore, it doesn't get hot too so it stands above other bass boat fishing seats.
3. NORTHCAPTAIN T1 Deluxe Low Back Folding Boat Seat
I was looking for bass boat replacement seats and this NORTHCAPTAIN seat caught my attention because of its looks. They didn't disappoint me since they look the same in their tangible form and are well-made with superior quality materials.
You can get one or two seats. I bought a couple and they look good on my 14-foot boat and sportsman travel trailer. They don't stick up and block the inside space of the trailer. When you have them on your boat, you don't need to skip trailering.
They look fantastic when flush-mounted so they can give your vessel a new look when you're refurbishing. Furthermore, more space can be gained due to its low-back design and its folding ability. Hence, fishing and boating are much more comfortable.
When installing it with a pedestal mount, it's in a high position and there will be some cosmetic issues. Thus, it would be best for you to calculate different aspects of position before adding the seats to your boat. Stainless steel screws are included so mounting the seat is super easy.
The sturdiness and durability of these low-back seats are just what you need when you're sailing. They're covered with marine-grade vinyl and supported by UV-resistant polypropylene. Therefore, you can be assured that these seats are protected well. Unfortunately, aside from exposure to sunlight, the seats are sometimes uncovered under the rain. Still, they remain in good condition for long-lasting use.
What We Like
Well-made with superior quality materials
Looks fantastic when flush-mounted
Has a low-back design for comfortable fishing and boating
Free stainless steel screws for easy installation
Sturdy and durability even exposed to sun and rain
What We Don't Like
Some cosmetic issues when mounted on the pedestal
The low-back design of these seats allows you to avoid discomfort when fishing for a long time. Moreover, the durability is excellent, so its relevance to marine use is unquestionable.
4. DeckMate Bass Boat Seats
I added these bass boat bench seats to my 1999 bass boat and they look great with carpet on the side. I admire how well-constructed this product is and the design allows me to separate the two 22-inch long bucket seats, so I think it's cool.
A step or buddy seat can be obtained from the middle part of the bench. Just fold it to be assisted by a hold-down strap. I thought this was one of the 64-inch bass boat seats, but its total length is only 61 inches. However, it's not a problem at all because it works well for me.
There are five color options and each has two tones. I wasn't dismayed to see what I ordered as it has the exact color description. I selected the combination of charcoal and gray. It looks awesome and well-made. The plastic frames are way better than wood and the hardware is stainless.
But I needed to clean the base of the back seat due to some exposed staples. It's not a big issue as it doesn't take much time. There's no doubt that this boat seat is made to last because of the three-year full replacement warranty.
I feel good whenever I sit on it while I breathe the sea breeze and stare at the blue water. Thus, it's a provider of comfort and relaxation when I'm sailing. You would know just by touching it as you can feel the softness of its molded foam cushions. The cover is marine-grade vinyl so it can outlast the wear and tear of outdoor exposure.
What We Like
With bucket seats that can be separated and middle seat that can be a step or buddy step
With plastic frames and stainless hardware
Has the three-year full replacement warranty
Has molded foam cushions for comfort and relaxation
Covered with marine-grade vinyl in five color options
What We Don't Like
Exposed staples on the back seat that need to be removed
This product is one of the bass boat seat sets that you'll as it doesn't fail to give comfort. Though it may look like Ranger bass boat seats, I think it's much better.
5. attwood 98391GNMX Padded Boat Seat
When looking for bass boat seats for sale, the padded ones are more appealing to me for the sake of comfort. I can sit on it for hours and even without a catch, I won't feel grumpy. That is why in this reviewing article, I want you to take a look at the padded boat seat from attwood.
It has thick padding for comfort. Plus, a good back seat that has a molded frame with a hinged backrest is added for support. These parts make me feel at ease without my ass and back getting hurt. Moreover, its camouflage cushion exterior doesn't fade easily. Thus, this seat can serve me in the long run.
The construction is arranged to withstand the effects of the marine environment. It's a vital role of a boat seat as it's exposed to various weather conditions. Moreover, it meets the B standards of the ABYC code. Thus, this product is a present not only on my bass boat but with other watercraft too.
This seat is compact and lightweight so it's not hard to transport. And in case the seat is not in use, you don't need to remove it. All you have to do is just flip the seat and it snaps back to its place.
Regarding installation, this seat comes with screws. They are used for mounting so you can attach them to the proper area. However, you still need a swivel and a riser to line up the holes to connect it with the boat's surface. It's a job that doesn't take much effort and time. The result is splendid as you can be comfortable sitting and waiting for a catch.
What We Like
Has thick padding and a hinged backrest for comfort
Its camouflage exterior doesn't fade easily
The construction can withstand different kinds of weather
Meets the B standards of ABYC code
Can flip to snap back to its place
What We Don't Like
Needs a swivel and a riser to line up the holes during installation
When looking for the most comfortable bass boat seats, choose this one as it serves you right. It's made for long-term sitting so nothing can ruin your day on the waters.
6. DeckMate Compact Bass Boat Seats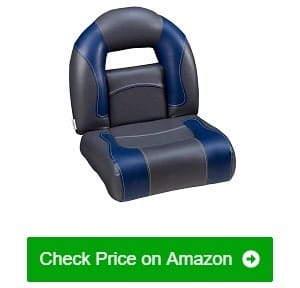 These are great, compact bass boat seats because they perfectly fit my boat. They're much better than the ones I had before. Unlike the previous ones, the back of these seats is not too small. I also like the appearance, which improves the aesthetics of my boat. Three pairs of colors are available for you to choose from.
These bullet bass boat seats won't look good on my boat if the construction is not well-made. It's a two-piece design with bottom cushion hinges for easy mounting. You can get the appropriate size for your bass boat and you'll be amazed at how well it fits. However, a friend of mine had to make some adjustments for a driver seat by a quarter inch. With proper installation, these seats stay in place even though the boat is facing rough waters.
I feel good and comfortable when sitting on this seat. It has a dependable cover made of marine-grade vinyl strengthened by SunStop UV-treated marine thread in terms of durability. It's significant features as seats on the bass boat should be disclosed to various weather conditions. In my case, I usually stay on the water for hours but this product remains in good shape.
A plastic frame supports these seats, and the stainless steel hardware comes for free. A quality product would usually give their customers assurance. With these DeckMate boat seats, a 3-year full replacement warranty is offered to the buyers. Based on its present state, I don't need it so far.
What We Like
Has a large back
Comes with various color for improving the boat's aesthetics
Has well-made construction to fit well on bass boats
Comfortable seats even the boat is facing rough waters
Durable despite frequent exposure to different kinds of weather
Has 3-year full replacement warranty
What We Don't Like
Some boaters may need to make some adjustments in moving the seat during installation
I can sail and tour around for hours with this comfortable seat. It also contributes to the improvement of my boat's appearance.
7. Tempress ProBax Orthopedic Limited Edition Boat Seat
Upon knowing that this boat seat is created by spinal surgeons and experts of the ergonomic seat, I bought it right away. Due to this fact, there's no question about the comfort that it brings. It promises long-term upper body and back support. Moreover, it helps me work on my posture and it's a way to cure backaches.
The seat is not only molded and corrosion-proof. It's heavy-duty too with stainless steel hinge pins to ensure its stability. The presence of these parts is for the user's safety. Moreover, the well-built construction is made of high-quality materials. Specifically, the seat is covered by heavy-duty and marine-grade vinyl, making it not prone to easy staining and accumulation of molds and mildew.
In addition, the polypropylene seat shell is rugged enough to resist UV rays. Thus, you can go fishing anytime you want. Regarding coloring, this unit comes with multiple color choices. So feel free to choose a fit one to contribute to the refurbishing of your bass boat.
There are other ways to use it like helm seats, hunting blinds, ice shelters, and even mobility scooters. When it comes to its functions, it's what you need for long sitting when fishing, repetitive fishing motions, and in the presence of water chop. It even exceeds the standards of ABYC H-31.
Installation went easy for me and I was excited to try it out. At first, I couldn't find the locking mechanism but I was able to figure it out. Mounting it won't give you a hard time as it has universal options. You may also have it on a pedestal fishing seat. So there will be an option that works best for you.
What We Like
Brings comfort and support the upper body and back
The molded, heavy-duty seat and hinge pins ensure the safety of the user
For long sitting and repetitive fishing motions
Well-built construction to resist molds, mildew, and UV rays
With universal mounting options
What We Don't Like
Can't immediately find the locking mechanism
Comfort and safety are not the only things that you can gain from this seat. Having a better posture and alleviating back aches are other benefits that you can get. So, it's one of a kind!
8. Wise Pro Casting Deck Seat
Since I started using this seat, I don't want other products. It's on the front seat of my Bass Tracker Pro 190. You may also have it as a replacement for your pedestal seat. It can be placed wherever you like. Some may like it in areas that can let them reach the anchor and front troller. I love how affordable it is, so not all cheap bass boat seats will disappoint you.
When you're someone like me who doesn't like a seat that gets too hot, you should pick this one. It suits me because I usually go out with my boat on a sunny day. The white color is great so it doesn't absorb heat. But you can pick what you like from the other 7 color options.
Even though this seat is a bit small, it still works well. I can guarantee you that you do not need to worry if it's suitable for you or not. Moreover, thanks to its sizes, my movements are not restrained.
The body is made of a high-impact plastic molded frame and firm high compression foam padding. However, please take note that it's not really a comfy seat. The padding is rather relatively thinner. Still, it's comfortable so my boating trip is all about fun. It also gives better visibility when placed in a front seat.
In terms of installation, there are built-in screw holes so the only thing I did is attack the plate. If you prefer to have it on a pedestal seat, it will be fine as it can be mounted to all 4-bolt pedestal systems based on BIA standards.
What We Like
Doesn't get too hot
Doesn't restrain movements as the size suits everyone
Comfortable because of foam padding and molded frame
Easy installation because of built-in screw
Can be mounted to all 4-bolt pedestal system
What We Don't Like
Not really a comfy seat as its padding is relatively thinner
I can get a lot of benefits since it doesn't get too hot and restrain my movements.
9. Leader Accessories New Plastic Shell Folding Boat Seat
The looks of this folding boat seat are quite deceiving. It might look cute, but it's strong and stable. I know it has a long service life based on its sturdiness. That's how the heavy-duty molded plastic shell works together with other parts.
Although it's the tough kind, I feel comfortable sitting on it even for many hours. This seat remains firm all the time because of the compression foam padding. Sitting on it is relaxing for me which is why I always go boating on the river with this boat seat.
I'm heavy but don't worry, this seat may not crack when I lean on it. I'm 240 pounds and it doesn't give up on my weight. With the addition of a swivel, I sometimes spin on it.
Aside from adding it to my bass boat, I also place it on my old fishing boats. The result is satisfactory as this folding seat helps to improve their appearance. Moreover, the ten color options are stunning in different ways and you can find something that you like for sure.
Installation can be accomplished by 5" x 5" mounting bolts and screws which are provided. It's a pretty straightforward process. However, some people feel that it's a bit low. In my case, it's fine with me even though I'm a big guy.
What We Like
Strong and stable with a heavy-duty plastic shell for bearing weight
Comfortable due to the compression foam padding that stays firm
Compatible even with old models of boats
Can improve a boat's appearance
Straightforward installation together with free hardware
What We Don't Like
Some users think it's a bit low
I have great confidence on this boat seat in carrying heavy individuals like me. Due to its strength and stability, it can serve me in the long term.
10. DeckMate Compact Folding Fishing Seat
I didn't expect that I could get a high-quality boat seat at an affordable price. It's even better than the expensive bass fishing seats based on its incredible construction. The appearance of my boat improved after I got rid of the used bass boat seats. There are three pairs of color options and you have the liberty to choose the one that suits your boat.
I like the remarkable softness of the foam and marine vinyl covering. Thus, I can sit back and relax while waiting for a catch. I prefer this one to those boat seats with thick foam. In addition, the back part arches a bit, it simply means that it has lumbar support to allow users to have the ideal sitting position. Therefore, this seat is perfect for those who have a bad back like me.
Even though it's compact, it can do wonderful things for me. I weigh 140 pounds and it can accommodate me well. But this seat is only for individuals of average weight. Nonetheless, the plastic frame that has stainless steel hardware is still dependable in this aspect. The things that you need for mounting, like screws and grommets, are included in every purchase.
Upon learning that its manufacturer offers a 6-year full replacement warranty for the upholstery, I know it will be on my bass boat for a long time.
What We Like
High-quality boat seat at a reasonable price
The back part arches a bit for lumbar support
Compact and not bulky
Hardware included in every purchase
Offers 6-year full replacement warranty for the upholstery
What We Don't Like
Only suitable for individuals in average weight
To sum up, this boat seat definitely has a spot on my purchasing list. As for me, comfortable boat seats are the ones that provide lumbar support. So no matter how long you're in a sitting position, you won't feel discomfort.
11. Leader Accessories New Low Back Folding Boat Seat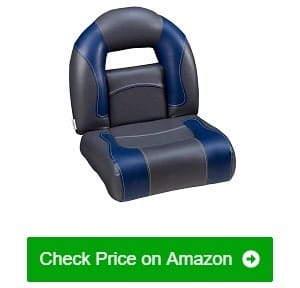 This product is used in different ways aside from being boat seats for bass boats. It can be on land vehicles and pony training carts. The comfort that it offers is simply irresistible. It has more foam and cushion for greater support than the ones that I've used before.
Just the sight of the thick seat and back cushion tells me the incredible comfort I can experience. I can go fishing for hours and even the whole day without feeling fatigued. Hence, it partly constitutes the fun that I experience on the waters. Of course, the seats are a bit stiff when used for the first time. But don't worry, as it reveals its softness after using it a few times. From this time forth, you'll feel comfortable all the time.
The body of this seat is composed of a compression foam cushion and marine-grade vinyl upholstery. Thus, it can withstand even the harsh outdoor elements for a long period. So I can say that it's designed for years of service. Also, it has a molded plastic frame and aluminum alloy hinges. These parts make this seat foldable. Hence, I can close it down before I dock to keep dirt and dust away from it.
Another thing that I like about this low-back seat is that I can freely move while I'm sitting. There is ease and comfort in my movements. When it comes to installation, free hardware is included in every purchase. Last but not least, six color combinations are available to suit everyone's taste.
What We Like
Has a thick cushion and back cushion for incredible comfort
Can sit on it for hours without feeling fatigued
Withstands harsh outdoor elements to serve for years
Foldable after use
Comes with free hardware and six color combinations are available
What We Don't Like
A bit stiff on first-time use
These bass boat seats are super comfortable without restraining my movements. I think its folding ability is an advantage for keeping it away from damaging elements when not in use.
12. DeckMate Pro Angler Boat Seats
Buying this boat seat is worth every penny as it delivers ultimate comfort. It's all because of the cushion with front bolsters. Hence, I don't mind sitting on it the whole day. I added three of these on my bass boat, which looks spectacular now. In addition, all five color options look awesome!
It has a 6-year warranty for upholstery and frames which means it's a reliable product. The exterior side is composed of vinyl and SunStop thread that doesn't easily break. These parts don't allow the seat to give in to UV rays and other outdoor elements. So the surface does not fade quickly and the seat's beauty can be long-lasting. Mold and mildew won't form on it too.
The plastic frame and the heavy-duty, powder-coated hinges are reliable too. There's no need to search for the essential things for installation because stainless steel hardware comes with it. The bolts and hinges allow you to mount it whether on a platform or pedestal.
I sometimes can't believe that it's affordable even though it looks good and offers comfort. What I noticed is that it lumps in the front. This part makes it hard to close your legs when sitting. As a man, I don't see this as a problem as I feel fine sitting with legs apart. But I think it will be a problem with my wife and other women to sit with closed legs.
What We Like
Delivers ultimate comfort
Makes boats look spectacular
Can resist UV rays, molds, mildew, and other outdoor elements
Comes with stainless steel hardware
Can be installed on the platform or pedestal
What We Don't Like
Lumps in the front so sitting on it means legs apart
I'm happy with this boat seat as it's comfortable. You can either place it on a platform or pedestal, it will still look amazing.
Factors To Consider When Choosing Bass Boat Seats
Durability
Bass boat seats are exposed to a rugged environment. So you have to look for durable ones that are not easily damaged by the harmful elements from the surrounding. Buy something that remains tough despite the harsh UV rays and not prone to mold and mildew formation. Once the boat seats have these qualities, you can expect a long life span.
Type of Boat Seat
The present market offers various types of boat seats. There are different designs too. You may find one that is mainly designed for the captain's seat. Others are created as swing back, swivel chairs, and fold-down plastic seats. You may think that it can be confusing because of so many options. But when you're sure of your preference, it will lead to the purchase that satisfies you.
Materials
Materials should be carefully selected when it comes to comfortable and sturdy seats. It's a critical step to ensure that they can endure the extreme climate and different weather conditions.
Furthermore, the seat's frames and hinges should be made of aluminum, steel, or sturdy plastic. Some are lightweight but they're still hardy. The materials will also tell you if the product will last or not.
Comfort
Learn more about the boat seats so you can tell if they'll make you feel comfortable. It would be best if you also considered the idea that some products may be relaxed for others but it's the total opposite for you. If you need back support, then get a high-back seat. A swivel boat chair is the best choice if you want freedom with lateral movements.
Weight Capacity
Most boat chairs have a weight capacity of 250 pounds. Better prefer the one with the higher capacity if you're a heavy adult. It's also for your safety and a way to avoid damaging the frame and flattening the foam.
Easy Installation
Every buyer doesn't want to have a hard time during installation. The good news is that modern and upgraded boat seats are convenient to assemble. Since the process is straightforward, you don't need to spend more on hiring someone to do it for you. Checking the size of the seat if it matches your platform or pedestal is an essential step in this matter. You must get something that you can use with no trouble.
Dimension
Get the dimensions of your boat before installation. It's a crucial step especially if you've decided to add the seats on a tight spot. Thus, always take note of the height, depth of the seat, and width.
What Is The Best Bass Boat Seat
A bass boat seat has a similar appearance to standard benches. The difference is that the former is engineered to resist a harsh environment. The seat's frame is generally composed of durable materials for long-lasting and reliable performance. They are usually lightweight but still, they're heavy-duty.
Bass boat seats need to be mounted with the appropriate hardware. Proper assembly is also important. Most of them are compatible with standard swivel and pedestal systems. Easy installation is common among different brands for convenience.
Boaters get bass boat seats mainly for sitting when boating and fishing. To fulfill the different demands of users, some are created as swiveled, folded, or with special features. You may also find the static models. Some prevent backaches and strain for complete enjoyment when boating.
How Do You Replace Bass Boat Seats
You may think that adding new upholstery is easier and cheaper. But you ought to know that bass boat seat replacement is cost-efficient. The second option, which is a replacement, is way better for obvious reasons. It can be done in a short time with the help of a drill and bit. Replacements are done with the bench style and pedestal.
Bench Seat
Remove the screws that hold the old seats by using a bit. If you find that the seat base is still in a good state, use a drill to take off the hinge screws found on the lid. Measure the bench's dimensions or the lid. It will also base on the replacements that you've selected. But make sure it has the size that fits your bass boat. Installation of new seats is accomplished together with matching screws.
Pedestal Seat
Remove the tie that binds the pedestal seat to the boat's surface by utilizing a crescent wrench. You can take the old seat away and keep the hardware. Of course, the seat should be fine with the dimensions of the pedestal. See to it that the holes correctly line up in the middle of the seat base and pedestal.
Put the new seat and the bolts will lock it in its place. Tighten the bolts with the help of a crescent wrench.
Are Bass Boat Seats Waterproof
If you have bass boat seats with exterior vinyl covering, they can be waterproof. Vinyl is known to last for years because it can resist water, so cleaning this material is easy.
How To Care And Maintain
Just like other things, bass boat seats need to be cleaned regularly. It must be done if you wish to maintain their pleasant appearance and quality. Any kind of mold, stain, and dirt can ruin their surface.
Cleaning starts with mixing a little bit of dishwashing soap with warm water. A soft sponge will help you clean every inch of the seats. Then you can rinse them and let them dry. Avoid using ammonia-based products, bleach, and Windex as they can destroy the stitches and color of the cover.
Vinyl or superior quality marine fabric needs twice or thrice conditioning in a year to maintain its supple appearance. Cracking can be prevented too. You also have the option of using a boat cover to not encourage peeling.
In the case of hinges and pedestals, they need lubrication. This procedure is for the smooth movements of boat seats. It's usually done after long-term storage to prep them up before using.
Conclusion
The products in this review may have made you realize that there are several choices of bass boat seat. Since you've learned a lot from various items, you now can invest in the best bass boat seats for you and your boat. After you properly install them in your boat, you'll have a wonderful time for sure when hanging out for hours in your boat.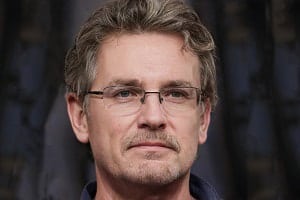 "I am James Harvey – founder of Boating Basics Online. It is established with the drive to help out first-time boaters, which are those desiring to explore their way through the water. So if you are new to boating, start from here with me. "