In plenty of air-conditioning setups on boats, the entire cooling unit is only as good as the pump that keeps it running optimally. If we're considering the best marine AC pump, we can readily assume as much. After all, these contraptions can supply enough water volume to one or more air-conditioning systems on their own.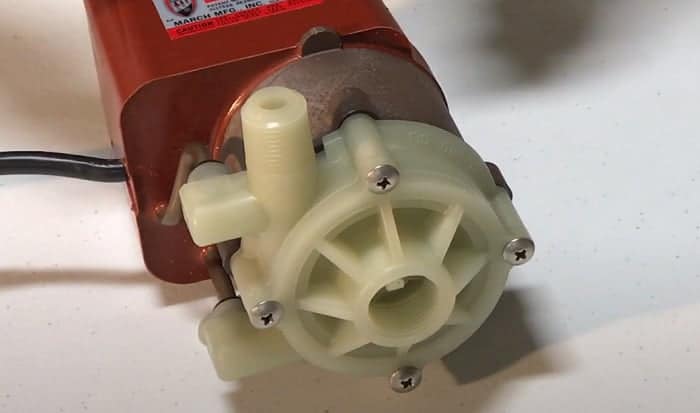 Nonetheless, what separates the best from the rest exactly? Well, like most standout tools and gadgets in the marine world, they should be as hardy as they are reliable. We can't have units that end up compromising safety and performance by going down like a lead balloon when performing and handling the usual rugged marine environment.
Indeed, design trumps everything else in this arena. Based on my experience with the products in this review, I've deemed them to be cream of the crop in that area. I think many boaters would say the same.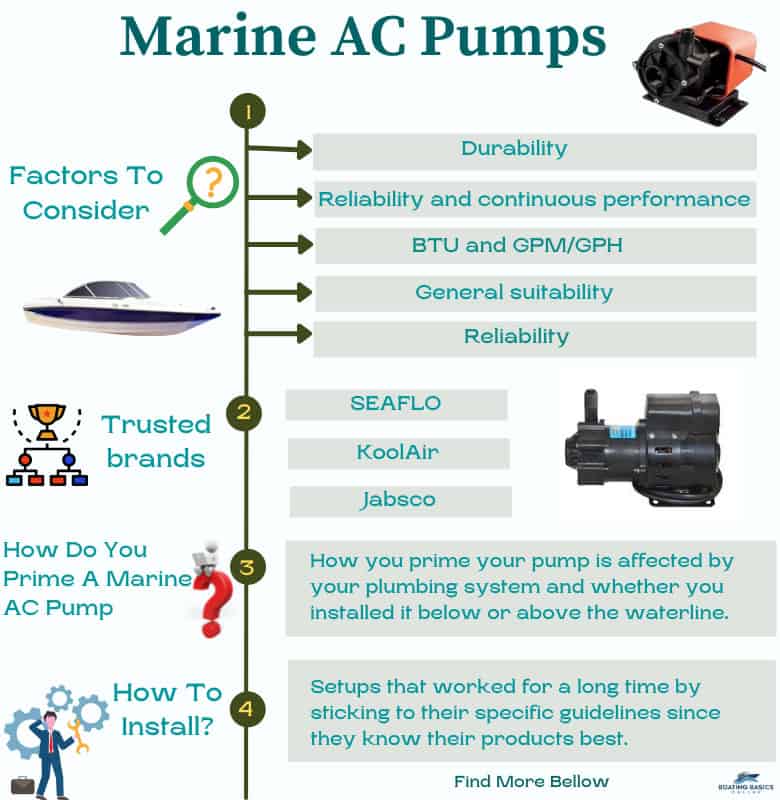 ---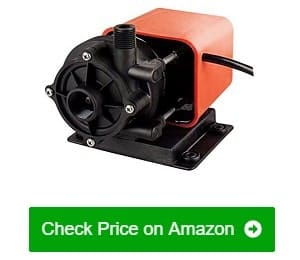 SEAFLO Marine AC Pump
Quiet
Self-cooling
Easy to install
---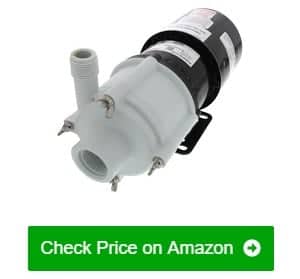 Little Giant Magnetic Drive Pump
One-year warranty
Steady performance
Heavy-duty construction
---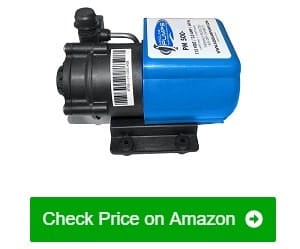 KoolAir Pump Marine AC Pump
Powerful and steady flow rate
Virtually silent operation
Doesn't overheat easily
---
Best Marine AC Pump Reviews
1. SEAFLO Marine AC Pump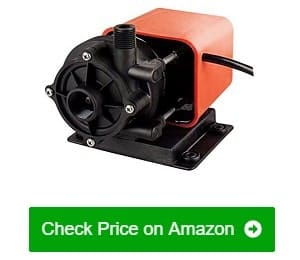 This marine air conditioning water pump fits the bill for most of the AC brands found in today's active watercrafts. It's surprisingly quiet, easy to install, and has all the proper reinforcements to ensure continuous performance over time.
I was drawn to this pump's claim that it works with multiple AC units, Dometic included. That, plus the fact that it can support one or more systems with high BTU. It has a superior overall flow rate of 8.5 GPM compared to my previous unit, and that should give you a good idea about this pump's above-average capacity.
It's sufficient for the two Dometic units I have in my 42′ Hylas. Moreover, it's quite convenient thanks to its self-cooling feature. It claims to be able to cool itself using the water it circulates and based on the time I've used it, I think it works because it hasn't had an instance when it overheated. After I installed it, I took it on a 4-day fishing trip to the Keys, and I immediately saw a difference in the noiseless operation and cooling performance.
Regarding installation, it is not a hassle or time-consuming. I used it to replace the weaker Dometic pump that came with the original AC systems. It's compatible with the previous fittings and mount, saving me loads of time setting those up. For the rest, I relied on the relatively detailed instructions.
Naturally, I installed it below the waterline because it's not a self-priming centrifugal pump. I say it's got all the protection, like the epoxy-coated motor with graphite bearings, to repel corrosion and damage. That alone justifies its lofty price tag, but I can't comment on the overall durability because I've only used it for less than a year.
What We Like
Adequately reinforced
Above-average capacity
Easy to install
Self-cooling
Quiet
What We Don't Like
More expensive than most units
Based on its combination of perks, I believe this product exhibits the ideal qualities of a non-self-priming AC pump.
2. Little Giant 581503 Magnetic Drive Pump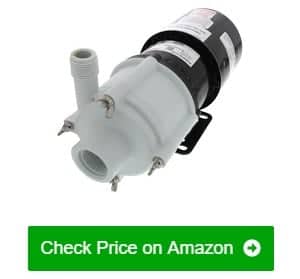 This Little Giant pump exemplifies consistency in performance and top-notch durability.
I liked the sheer heavy-duty build of this pump and immediately thought it would last a long time the first time I saw it. True enough, after close to 3 years of powering two AC systems, it's still sturdy. I think the brand didn't skimp on the thermal protection and used superior plastic and even ceramic for certain parts.
I had an HVAC company install it in my boat's engine room, so I can't comment about its ease of installation. I made sure to have it set up below the waterline, though, and the discharge on top and intake hose inclined upward to lessen the need to prime. This arrangement resulted in the steady performance that I've enjoyed over the years and continue to do so up to now.
It may not have the usual perks of pumps specifically designed for marine use, like run dry support and protection. Even so, this product proves it can get the job done without them. There have been no pump-related issues in the two units over that span of time, so I'm more than willing to underline this pump's reliability.
Obviously, I love the cheaper price tag. Additionally, it comes with a one-year comprehensive warranty. I'd make it a point to run it more carefully, though, because of its limitations.
What We Like
Heavy-duty construction
Steady performance
More affordable than most
One-year warranty
This pump proves you don't always have to lean on purpose-built marine AC pumps to get a reliable solution. It also shows that, with the right setup, even general-purpose, budget pumps can be a perfect addition to your marine AC system.
3. KoolAir Pump PM500 Marine AC Pump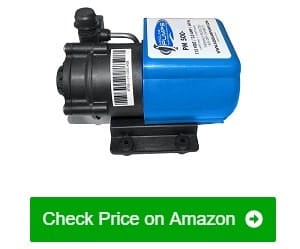 Properly installed, this submersible pump, which can supply an abundant, steady stream of raw water for high-BTU AC systems, delivers good value for money.
What can I say? I like the power and budget-friendliness of this brand's pumps. This one has twice the GPM of the SEAFLO above, but it's fully submersible as well. The epoxy coating feels sufficient, not as substantial as the other brand's but still enough to meet my relatively high durability standards. It's still good so far. I've used it for over a year of intermittent cruising and fishing!
I installed this as a replacement for the previous March marine AC pump of my 45′ sailboat. It's a direct replacement, so I didn't have to worry about the fittings and mount. Everything took no more than 40 minutes since it was a perfect fit for my plumbing setup.
I've yet to experience any overheating with it, so that's a good sign that the run dry protection works properly. I still have a lingering doubt with regards to its longevity, though. The materials used by the brand don't feel satisfactory enough. Nonetheless, I may well be proven wrong considering that mine has lasted for a year already.
What We Like
Powerful and steady flow rate
Virtually silent operation
Doesn't overheat easily
Adequate protection against water damage
There are hidden gems among marine air conditioning pumps. This is one of them.
4. SEAFLO SFCPA1-G250-01 Marine AC Pump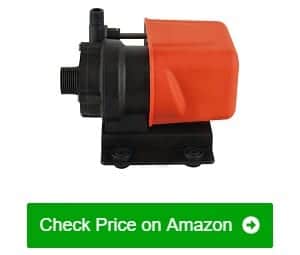 Like a key that fits a lock perfectly, this SEAFLO marine AC pump can precisely deliver just the right amount of water for most ACs – no more, no less.
I got this installed in my boat's 12,000 Cruiser AC because I like relatively high GPM, considering the units it is designed for. It provides just enough for my AC to get the kind of long-term cooling I'm looking for. I'd be lying if I said I wasn't attracted to the trademark SEAFLO 4-year warranty as well, which complements their adaptability to different marine AC brands.
The warranty says a lot about the durability of this product. The brand didn't hold back in making it as sturdy as possible, with moisture and run-dry protection in mind. I can say they work because I've been using this unit for more than 2 years now.
Although it is not self-priming, I was able to set it up in such a way that the plumbing directs the water to go up and the air seamlessly passes through the pump. Obviously, this requires installing the latter below the waterline. I don't have to prime it constantly thanks to its generous epoxy coating.
It did take an entire day for me to get an optimal setup, though. I struggled a bit with mounting, and additional plumbing took a few more hours. Nevertheless, in the end, it was all worth it considering the close to harmonic setup I get to enjoy.
What We Like
Efficient and adaptable
Great run dry and moisture protection
Four-year warranty
Doesn't need to be primed regularly when installed below the waterline
What We Don't Like
A little complicated to install
This product is another clear proof of why this brand is always recommended among users looking for marine air conditioner raw water pumps.
5. Jabsco 436979 Centrifugal Pump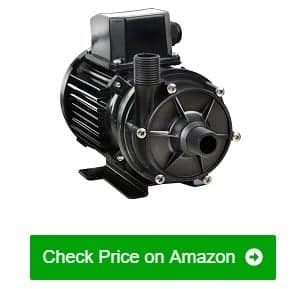 Fluid and reliable, this Jabsco pump fulfills a lot of purposes but I can safely say that it's most fitting for anyone who wants a safe option and solid pump for heavy-duty boat air conditioners.
I always take into account plumbing loss when installing a pump. On the Webasto 16,000 BTU air conditioner on my mid-sized yacht, the plumbing is less than optimal so I had to do with a more powerful, all-purpose pump. This one is a nice fit for a high-BTU AC.
After all, in my current setup, the real GPH is probably halved to 396 GPH. That's still as close as possible to the recommended GPH of 400. I think that's the case since my AC has been running without hitches for close to three years, making this one of the oldest pumps that I'm still using.
That should also prove the pump's run dry protection since I haven't encountered any thermal failure yet. I can attest that it doesn't overheat easily with the numerous times that I've kept it running for a long time. Also, it's just as quiet as the KoolAir product I reviewed before it.
I'm not so sure about the energy-efficient claim, but I'm leaning towards believing the brand on this. I tested the AMP and can confirm that it's close to the 0.95 that's outlined in the product description. If you're meticulous with your boat's power consumption, then this flexible solution with a good flow rate may be the answer to your prayers.
For all its advantages, I'm willing to buy it again. Nonetheless, it could use a price dip as it's not exactly a standout compared to other high-quality pumps' performance.
What We Like
Powerful and reliable
Proven durability
Remarkably quiet
Likely energy efficient
What We Don't Like
Costs a lot more than other marine AC pumps with the same benefits
Jabsco's reliability shines in this particular pump. It's probably because I attained close to a perfect setup that I'm enjoying such long-term benefits from it, but still, this is undoubtedly a well-designed pump.
6. March LC-3CP-MD PML500 Marine AC Pump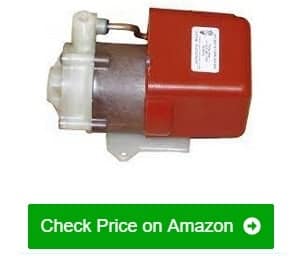 Care for a pump that's built to last and won't let you down? If I were you, I'd choose this in a heartbeat.
I want to make it clear beforehand that I'm a little biased toward March pumps because I have experienced first-hand their sheer durability. I used this for close to 8 years before I had to replace it because I started having a hard time getting it primed and starting it up. Still, that's 8 years of uninterrupted cooling on my favorite sailboat, even in blazing Florida summers, so I definitely got my money's worth with this beast of a pump.
I don't recall ever getting inconsistent streams from this marine air conditioning pump, which tells you all you need to know about its quality. Considering the money I paid to get this as a replacement to a previous pump that only lasted for a year, I got way more than my money's worth. Also, did I mention that it's powerful? It can continuously run my boat's 24,000 BTU AC with only some mild heating.
I remember not having to struggle with the installation, even though I was a greenhorn back then. I got the information I needed from the handbook. It can be installed either in an open-air or submerged setup. I opted for the latter, giving me the highly satisfactory experience I'm now relaying to you.
Overall, this pump is a steal for the price, durability, and pleasantly surprising power. It's efficient and doesn't cost a lot. I can't think of anything to criticize at all, except perhaps the now limited availability of it. In fact, that's the only reason why I haven't purchased a new one.
What We Like
Outstanding durability
Uninterrupted flow rate
Easy to install
Efficient and powerful
Excellent value for money
If longevity is the main criterion, this one takes first place. It's just as well that it doesn't leave you hanging in terms of performance.
7. KoolAir Pump SPM1000-230 Marine AC Pump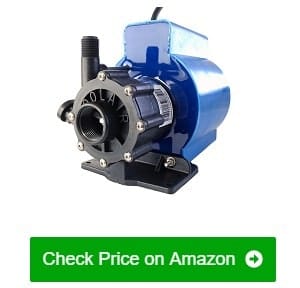 This is one of the more solidly built KoolAir marine AC pumps that appeared in the market so I feel it deserves a spot here. You can expect to get the same power and reliability but more confidence in the overall construction once this is fully submerged.
With the optimal plumbing setup, I'm willing to bet this pump can power two over 16,000 BTU units, a single 32,000 BTU unit, or probably more. My setup involves two 20,000 and 16,000 BTU ACs on my 45' yacht, and it's not even struggling at all. I did make sure there's as little head pressure in the total run as possible, though.
Overall, I'm glad that I don't have to buy two pumps just to handle those heavy workload thanks to this pump. Did I mention that it's very quiet, too? Almost whisper quiet, to be exact, serving almost like an antithesis to the power it exudes.
The build feels more substantial, and the epoxy coating, to me, feels thicker and more generous in this pump. It has run dry and added thermal protection. I wish I can say outright that it's tried and tested to be durable, but it's only been in use for less than a year.
Nonetheless, with the comfort I'm enjoying, I'd buy this again in a heartbeat and won't hesitate to say that this is probably the best KoolAir option in this list as far as essential qualities go. Incidentally, I've been meaning to buy a second copy of this marine AC circulation pump for months now. However, there seems to be a shortage of supply.
What We Like
Trademark KoolAir power
Superb capacity
Quiet
Excellent construction
On the whole, I consider this pump highly noteworthy, equal even, to my favorite March AC pump. I can name a handful of other brands that would quickly pale in comparison to what this one can bring to the table.
8. March LC3CPMD115 Seawater Marine AC Pump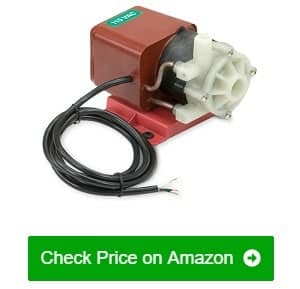 I could not name a more solid and safe option for any boater who's still lost as to what marine circulation pump should run his or her watercraft.
This is a tried and tested pump that has been in commission in our family yacht for more than 10 years. It's my dad's vessel, and this is still the same pump that's been helping to keep it cool for more than a decade. I think that paints a clear enough picture of how tough this hardy boat contraption is.
We've used this on Dometic and West Marine air conditioning systems installed on the said vessel. It's fluid in that regard, which is why this is often my ready recommendation to people who aren't too familiar with marine air conditioner pumps yet.
Make no mistake, there are a lot of other pumps that could easily beat it in terms of power. Even if that's the case, I can confidently state that it outlasts many of them, including the newer ones in the market. With a good total run and plumbing, this pump has powered the yacht's sole 20,000 BTU AC for so long now, way too long that it's probably high time to retire it.
My dad was the one who installed this on his vessel, replacing the worn-out original he used for at least 5 years. A friend assisted in the plumbing, which I wholeheartedly praised since it never suffered major hitches.
I think it's well worth the price for the relatively consistent comfort we enjoyed over the years while fishing and sailing. In a way, it deserves as much compliments for making fond memories fonder.
What We Like
Applicable for most marine AC brands
Topnotch longevity
Proven reliability for a long time
Great value for money
What We Don't Like
Not as powerful as today's newer models
There's a good reason why a lot of old salts don't look beyond this brand for their AC pump purposes. You'll know why if you try this out.
9. SEAFLO Water Pressure Pump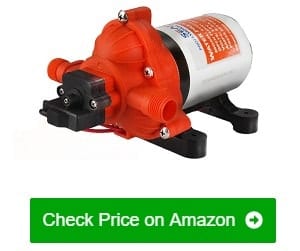 This pump, for its cheap price tag yet huge positive feedback, refutes the ready notion that high-quality pumps almost always need hefty investments.
Now, I get it, it's not exactly a high-capacity pump. At most, it will only be able to handle low BTU air conditioners considering its 3.3 GPM capacity.
However, if you're only powering a low to mid-capacity AC system then this lightweight product fits the bill perfectly. But, you'd have to be extra mindful of the plumbing. I kept the run as short as possible, and all I can say is that I'm nothing short of amazed that it has not shown signs of difficulty functioning as a Dometic marine AC pump for my 5,000 BTU system.
Installation was a piece of cake. I more than welcome the self-priming feature. I installed it above the waterline in an area in the engine room where I can keep it from getting wet as much as possible.
Keep it dry and it will continue to do wonders, at least, I can say as much for the first year of use. It can also run dry so I'm not too worried about interruptions or overheating. With my relatively short run and low-capacity AC setup, it has not shown any notable issues. Still, I don't mind buying a second unit as a backup.
The overall durability earns my checkmark but I'm not a fan of the plastic parts. It's mostly plastic but feels sturdy enough and is corrosion-resistant. I trust the air-tight and marine-grade protection, but I'm not sure whether the bearings can withstand rusting.
What We Like
Reliable for light-duty air conditioners
Self-priming
Run dry support
Very affordable
What We Don't Like
Limited to light-duty setups
Low-quality materials in some parts
This pump breaks the norm, toughens the competition, and sets new standards for marine AC pumps. It delivers uncompromising quality for its price. Need I explain more why it has made it to this list?
10. KoolAir Pump PM1000-115 Marine AC Pump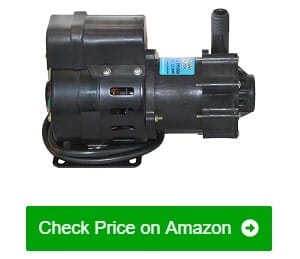 This portable, powerful, and efficient marine air conditioning sea water pump can exceed your expectations despite its limitations. As long as you install it properly, it delivers consistent results.
The specs of this marine air conditioner water pump relative to its affordable cost caught my eye roughly a year ago. I was a little strapped for cash back then but had to install a new pump on our old family sailboat. It needs to be installed correctly for you to make the most out of it.
Installation was straightforward and beginner-friendly. I followed the instructions on the detailed handbook that came with it, and it took me two hours at most to set it up. It needs to be punted above the waterline and should not be exposed to moisture as much as possible.
It may not be self-priming, but it's not much of a hassle to prime with the right suction. You'll be able to enjoy remarkable GPM and AC performance as long as you have the correct setup. Incidentally, I also like the run protection, which adds to the motor's longevity.
Speaking about durability, while the motor might be strong and the pump as a whole is excellent, I'm not too sure about the durability of the former. I'm a little iffy about hosing it to cool it down since it could damage the electrical marine AC pump parts. That being said, I'm glad it doesn't overheat even with continuous use on the boat's 16,000 BTU and 12,000 BTU air conditioners. It's additionally rather noisy but to a tolerable extent.
What We Like
Affordable yet delivers a strong performance consistently
Run dry protection
Easy to install
Rarely overheats
What We Don't Like
Appears flimsy because of the non-submersible electric motor
Noisy
High-end performance with a low-end price sums up this marine air conditioner pump.
Factors To Consider When Choosing Marine AC Pump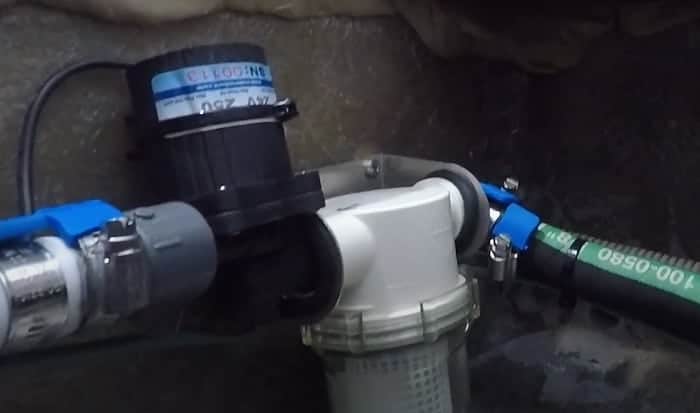 Based on my experience, you need to prioritize the durability of the boat air conditioner water pump as much as possible. The motor should not overheat even when working continuously or encountering any damage due to moisture, especially if it's submersible.
If it purports to be fully submersible, it should have the necessary protection like epoxy coatings and materials that keep thermal issues from arising. Great if it has self-cooling capabilities. Tough, high-quality marine-grade plastic should suffice. Better if it's made of ceramic and stainless steel but you'd have to be prepared to shell out more money for them.
Besides durability, you need to remember these other essential factors:
Reliability and continuous performance
This is not so much a feature as a criterion you should always stick to. Admittedly, this encompasses how you install the pump and your overall setup. That being said, features like run dry support and protection are neat to have since they ensure continuous performance.
Self-priming marine AC pumps, though rare, make it easier to use the pump over time because you don't have to prime them yourself. Typically, they're found in units with an impeller design, which can deliver the necessary pressure to erase the need for manual priming.
If it's not self-priming, the pump should at least guarantee that it can be installed below the waterline and can deliver uninterrupted flow as much as possible.
The air conditioner's BTU, or British Thermal Unit, should be in accordance with the pump's flow rate as represented by GPM (gallons per minute) or GPH (gallons per hour). Otherwise, you might end up with a pump that is too weak to supply the water volume that your AC needs.
This is why it's actually recommended to aim for as much flow rate as possible since we also have to take into consideration plumbing, gravity, and total run. More than likely, you won't actually attain the exact flow rate that the product claims as these factors will affect it. Some setups might even halve the original flow rate.
Experts recommend 1 gallon per minute for every 4,000 BTUs. You should double-check that any marine AC water pump replacements you intend to buy fits with your system in that regard.
What Is The Best Marine AC Pump
March seawater circulation pumps, to me, remain the gold standard for durability, reliability, and general suitability for marine application. SEAFLO brims with ready quality, backed by extensive 4-year warranties, while KoolAir attracts with its power and bargain-basement prices.
Sure, I may have said that I favor certain products over others. Nevertheless, I'm confident that these 10 products will get the work done as long as you help them deliver their full potential by properly setting them up with the correct ACs.
How Do You Prime A Marine AC Pump
How you prime your pump is affected by your plumbing system and whether you installed it below or above the waterline. Some setups make priming easier than others. Installing the pump below the waterline makes priming effortless and at times even unnecessary.
As for a general way of priming a marine pump, you need to make sure air and water won't build up. Some boaters simply open the strainer partially to get rid of the excess air and water, while others use a hose or suction for the job.
How To Install A Marine AC Pump
Whether you're installing a marine ac water pump above or below the waterline, you need to make sure you do it in a way that you won't have hitches, such as losing prime, exposure to moisture if it's not submersible, etc.
I've already shared my tips above about how I usually achieve this. I've mentioned how I keep my runs as short as possible so as to make the most of the pump's capacity too.
The best advice I can give here is to simply follow the manufacturer's instructions and recommendations. I've already had a handful of setups that worked for a long time by sticking to their specific guidelines since they know their products best.
Conclusion
You don't have to aim for the perfect marriage of durability, pump type, plumbing, and GPH, but I highly encourage you to take the time and effort to strive for that. The best marine AC pump deserves no less than that, I believe. Besides, you also can refer to boat's pumps such as freshwater pumps or air pumps to pump for your boat. What could be a better reward for your efforts than optimal cooling aboard your vessel for a long time?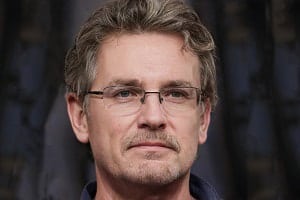 "I am James Harvey – founder of Boating Basics Online. It is established with the drive to help out first-time boaters, which are those desiring to explore their way through the water. So if you are new to boating, start from here with me. "