The good thing about inflatables is that they can be deflated to be folded for storage. This means that you can put them in safekeeping while not in use and they won't be exposed to outdoor elements.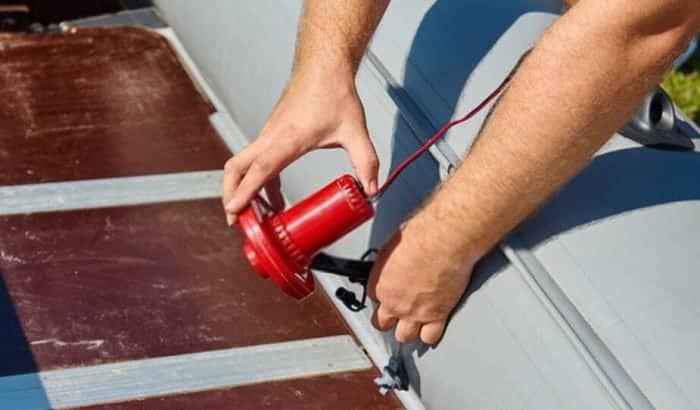 But, there's another side of the story. You can't just immediately hit the water with inflatable boats. Inflating this type of vessel can be a challenge if you don't have the right tools. Thus, the search for the best air pump for inflatable boats is important. Preparing your inflatables will be quick and easy with it.
This article will save you time from going through a long list of options. Are you thinking of manual pumps, hand pumps, and foot pumps? Go through the following products to know more about the most effective air pump.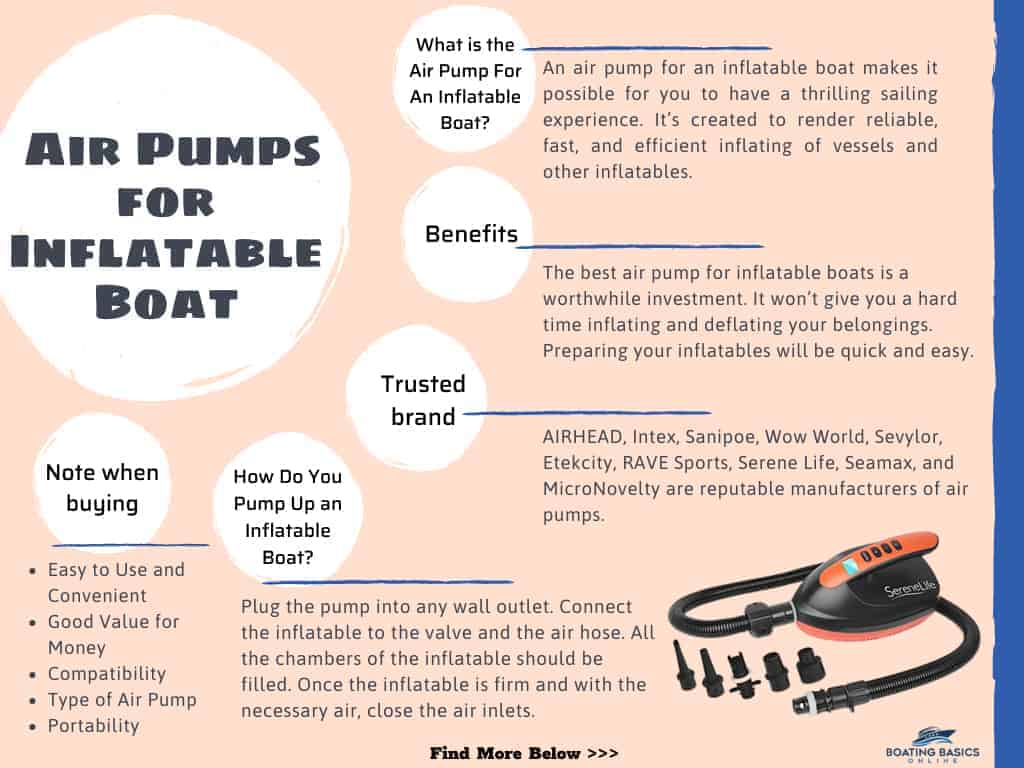 ---
AIRHEAD AHP-12H
Made of quality materials
Small
Filling a single inflatable boat quickly
---
Intex Quick-fill Air Pump Series
Powered by batteries and electric
Produces numerous airflow
3 Different nozzles to match any valves
---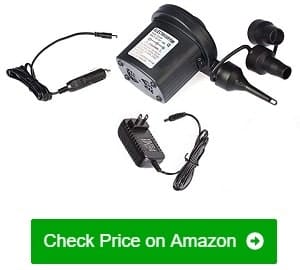 Sanipoe Electric Air Pump
Thin and long nozzle
Takes only a few minutes to inflate
Doesn't give off a weird smell or loud sounds
---
Best Air Pump For Inflatable Boat Reviews
1. AIRHEAD AHP-12H Air Pump
When I unboxed this product, I was hesitant to use it because it appears too small. However, when I gave it a try, I found that it performed excellently. It only took 5 minutes after I turned on its toggle switch to inflate my new Sportsstuff Grandstand, and only two minutes to fill up a queen-size mattress. I also used it for my son's toys.
Most importantly, this inflatable air pump made a huge difference to our boating experience! Using it a couple of times a day is not a problem. I noticed that a bit of water was sucked through it but it didn't stop working. Its size is an advantage as it is conveniently portable to bring along on trips.
There are three size fittings that you can choose from. I also like the power cord that I received with the 12V plug-in air pump itself. The product description says that it is 5-foot long. I'm glad I have gotten a 10-foot cord. You need to plug it into a 12V cigarette plug before connecting it to the power source.
This is a solid 12 volt air pump for inflatable boats that is made of quality materials. Hence, I don't need to worry about it not lasting for a long time. The only drawback that I've noticed with it is that it can be loud when in use. But, given that it completes its job in just a few minutes, the noise also dies down quickly.
What We Like
Only takes 5 minutes to fill a single inflatable boat
Doesn't stop working even though a bit water went inside it
Small so it won't take up much space when brought along on trips
Has a long power cord
Made of quality materials for lasting durability
I'm amazed at how each inflatable boat is ready to go in a matter of five minutes with this pump. My patience is not tested while all I can think about is having fun at the beach.
2. Intex Quick-fill Air Pump Series
Getting the inflatables ready for the water doesn't need to be time-consuming. This is what this air pump guarantees. What impressed me the most is the airflow from it. The amount is twice what other air pumps offer, so I get things done quickly. I use it to fill kayaks back to back as well as rafts, toys, balls, and beds. It works to deflate things too.
There are six models to please every buyer. I chose the high-flow wall plug. It works with the standard 110-120v wall outlet. The airflow is incredible as it achieves the necessary inflation that I need in just a few minutes. 1100L per minute is the maximum airflow that you can avail of from this product. It also comes with three different nozzles to match any valve types. You'll be glad to find that the valves can be changed in the middle of the inflating process!
But this inflatable boat air pump is almost as loud as a vacuum. I'm guessing it is because of the strong air pressure. It's not a big deal for me as it only takes a short time to prepare my inflatable. What matters more is its efficacy, which has been proven and tested.
Despite its small size, this item does its job well. It's lightweight so you can take it with you anywhere you want. Furthermore, there's a compartment for 6 cell batteries. Thus, I can use it even without an outlet.
What We Like
Produces airflow that's twice as the other air pumps
Inflates and deflates
Gives the necessary inflation in a minute or three
With three different nozzles to match any valves
Changing of the valve can be made in the middle of inflating process
Can be both powered by batteries and electric
In my opinion, this is the best air pump for inflatables because of its massive airflow. I don't need to spend a lot of time and be stressed when preparing to sail.
3. Sanipoe Electric Air Pump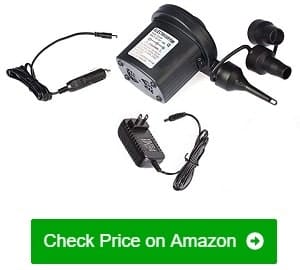 What I love about this item is its very thin and long nozzle. With this part, inflation is done properly. I think this electric pump for inflatable kayaks and inflatable SUPs perfectly does what it's supposed to do. You may also use it on mattresses and inflatable pools.
I like that I can also use it for deflation. I don't have a hard time using it because it has three nozzles, which allows it to be linked with multiple devices regardless of whether they have regular-sized or jumbo openings. Although it can be a bit of a hassle when the thin plastic is in between these nozzles and can get in your way, you can easily adjust it, like I did, to prevent any interventions.
Unlike other air pumps, this electric pump for inflatables is almost similar to a turbine blower as it doesn't give off a weird smell or cause loud, unwanted sounds. It doesn't make you feel uncomfortable even though there's a lot of air coming from it. Also, only a few minutes are needed to complete its job.
DC12V or 110V US plug can be attached to a power source. Hence, it's possible to connect it with a standard household power supply and car cigarettes. You should know that it's CE-certified. Its quality is proven by the 30-day full money-back guarantee, 180-day replacement, and lifetime customer service.
What We Like
Thin and long nozzle to properly inflate or deflate
Three nozzles so it can be linked with multiple devices
Doesn't give off a weird smell or loud sounds
Takes only a few minutes to inflate a boat or other things
Can be connected to a standard household power supply or a car
30-day full money-back guarantee, 180-day replacement, and lifetime customer service
What We Don't Like
The plastic between the nozzles might get in your way when using this pump
It's a good inflatable option due to its three different nozzles. I also feel more comfortable using it compared to the previous ones that I've owned.
4. Airhead AHP-12HP High Pressure Air Pump
I prefer this kind of air pump due to its alligator clips. For me, it's much better than the cigarette lighter version. I can hook it with a boat, car, or truck battery, and use it everywhere and anytime. This is an especially handy feature when power outlets are unavailable. Without a doubt, it promises convenience.
Using this equipment makes filling up my 9.5-foot Achilles inflatable easy. It's the perfect air pump for towables and floats. The red valve makes inflating quicker without increasing tendencies of overfilling. Whereas the pressure relief valve keeps this 12V air pump from exceeding 1.4 psi. What's even better about this is that it doesn't cease to work even with multiple inflation. You won't be able to find these features in ordinary foot pumps.
Also, this air pump functions for deflation. You'll find several attachments tethered to a hose. Thus, it's versatile in filling many water toys at the same time. There's no doubt that this is efficient because it does the filling quickly. But it's not the right equipment for whitewater rafts and inflatable paddle boards that need more pressure. Based on my experience, it can keep up with 2 to 2.5 psi.
I've been using this air pump for two seasons and there's nothing to complain about. Multiple adapters make it easy for everyone. I believe that I can use it in the long run as well. There's even a 90-day warranty.
What We Like
With alligator clips, so you can hook it with a battery
No tendencies of overfilling due to pressure relief valve
Efficient and quick in filling up inflatables
Continues to work with multiple inflation and deflation
Comes with multiple adapters
With 90-day warranty
What We Don't Like
Not for vessels that require more pressure
It's a workhorse for inflating and deflating. Just make sure a battery is available so you can use it anywhere and anytime you want.
5. WOW Air Pumps for Inflatables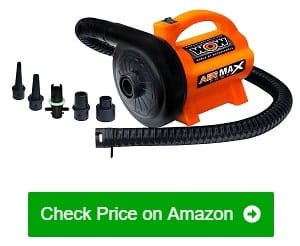 A universal pump like this is the best air pump for inflatables. I'm astonished at how it blows and sucks air as if I pay for it every second! It excels among the other air pumps that I previously used as it can pump almost up to 3.0 psi. Despite how powerful it is, it remains quiet while working. It has a capacity that is far better than the cigarette lighter type.
Five universal valve adapters make it possible to connect this pump with various things. A long, flexible accordion hose makes inflation and deflation work properly. To operate this pump, a 12-foot AC power cord and 120V plug are needed. If you intend to connect it with a battery, you will need an inverter.
In just a matter of two minutes, I can set up my inflatable and be ready to traverse the water. With its power, you can use it with large inflatables like towable tubes, lounges, airbeds, and more.
I like how it inflates the tube that I used in pulling people at the back of the boat. There's no soft spot so I can say that the tube is filled with air. Since I have it, I don't need a hand pump. It's well-made with a one-year warranty as well. I don't have problems using and keeping the attachments.
What We Like
A universal pump with the five-valve adapters
Powerful but remain quiet while working
With a long, flexible accordion hose to make it work properly
Only takes a few minutes to inflate large inflatables without any soft spots
Well-made with easy to use and keep attachments
With a one-year warranty
What We Don't Like
Needs an inverter to connect with a battery
Hand pumps are not necessary when blowing a large inflatable if you have this product. It's an excellent working monster and it's all that I can ask for!
6. Sevylor 2000014066 SUP and Water Sport Electric Pump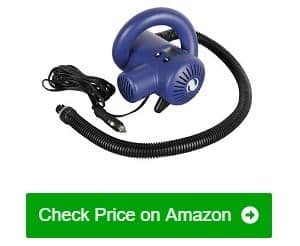 Looking for the right air pump for my inflatable SUP with a rate of up to 25 psi is a meticulous process. I don't think it's justifiable to spend more on a manual air pump for inflatables. So, this electric pump supports my thoughts and point of view. Although it's stated that it inflates up to 15 psi, my SUP was filled.
I like the accompanying 15-foot cord as it's sufficient enough to reach the outlet. It's a convenient electric pump that you can conveniently place in your boat and car. Despite its small size, inflating SUPs is much easier with this pump compared to hand pumps.
Amazingly, there's an adjustable auto shut-off for cruise control. It means that it automatically stops when the selected pressure is achieved.
There are some critical reviews about the hose for high pressures. If you spared some time reading the instructions, you won't have the same reaction as the others. I did it so I realized that there are different models of SUPs. It's based on the design. In my case, I took the O ring or the water from my hand pump then used it to secure this pump to my SUP.
It's worth it to sort things out by yourself as inflating SUP then becomes trouble-free. There are adapters and a hose dedicated to things that need low air pressure as well.
What We Like
Has a 15-foot long cord
Can be conveniently placed in boats and cars because of its small size
With adjustable auto shut-off
Inflating SUPs becomes trouble-free
With two hoses and adapters.
What We Don't Like
Need to work on a connecting hose for high pressure
This is the best pump for inflatable boats with a favorable price but makes inflating SUPs so much easier. I'm happy with it so every water adventure becomes exciting.
7. Airhead AHP-120 Kwik Tek Air Pump Canister
Rather than spending an hour with a hand or foot pump, this air pump makes it quicker to inflate my towables. It's also great for air mattresses, beach toys, and pools. The hose for inflation can be transferred to the other side to suck the air from inflatables before I leave the beach.
On a typical day, I use this 12-volt canister-style pump to inflate 6 tubes, 2 inflatable rowboats, and 3 long lounger floats. I can fill up my 14-foot dinghy as well. I'm impressed that it doesn't give up easily when used for multiple things. Simply because it has a 330 liter per minute air fill rate.
There are three universal valve styles for various inflatables and a handle to make it convenient to use. I don't worry about disconnection even though I use it for many things. Since the accordion-style hose fits well with the pump and valve fittings, the connection won't be interrupted.
The 10-foot power cord is
great for in-home AC power
. However, you would need a 12V DC inverter if you intend to use it outdoors like when you go camping with a car. As long as there's electricity, this is surely the best
air pump for inflatable boat
. It doesn't get hot quickly and it is not too noisy.
What We Like
Quickly fills up inflatables
Doesn't give up easily when used for multiple inflatables
Has three universal valve fittings
Comes with a handle for convenience
No interruption when using due to the accordion-style hose
Doesn't get hot quickly and not too noisy
What We Don't Like
An inverter is needed when used outdoors for a long time
This air pump never fails to serve me even though I have several things to inflate. It has a great value as it serves its purpose excellently.
8. Etekcity EAP1-RC Air Pump for Inflatables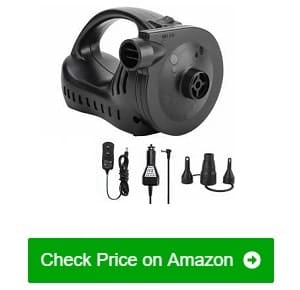 I'm happy to have found this product as I prefer a rechargeable air pump for inflatables. It's small but quite powerful. I once filled 4 tubes and 4 full-sized mattresses with this pump. After inflating several items, the battery can still work to deflate them all. Hence, it's one of the essentials when I go camping at the beach.
My friend liked it too and since she would use it on a few things once a week, recharging is only done once a month. There are three different nozzles, so it can be in various applications. It can also handle inflatable kayaks but it needs to be administered twice. Nonetheless, inflation and deflation finish in a short time.
100-240V AC and 12V DC adapters are included. The AC cord is 5.3 feet while the one for DC is 4.6 feet. You can charge it on the wall outlet at home. By using a DC cigarette plug, charging outdoors is possible. But, take note that you can't turn it on while charging.
You'll find different attachments for various vaults so charging won't be interrupted. I also love how lightweight it is so it's convenient to take and carry around. It's quiet so it's not annoying to use too.
What We Like
Small and lightweight but powerful rechargeable air pump
With three, different nozzles to be in various applications
Inflation and deflation finish in a short time
With two cords for charging on the wall outlet and outdoors
Has different attachment for various vaults for uninterrupted charging
Quiet while being used
What We Don't Like
Doesn't turn on when being charged
This is the best 12V air pump for inflatables because it's rechargeable. I don't have to worry about experiencing inconvenience when it comes to a power source either.
9. RAVE Sports 2344 R04600 High-Pressure Inflator/Deflator
No one would refuse to have a high pressure pump like this one. I'm glad to have it as I can inflate and deflate inflatables in no time. The high pressure coming from this item can also be utilized for cleaning. For instance, the jet line on my jet ski was clogged with water and I used this pump's nozzle. To my surprise, it effortlessly expelled a huge clump of grass.
This air pump does a lot of favor for a water enthusiast like me. I no longer hate preparing things before setting off for the lake. It would only take me 5 to 10 minutes to fill a large tube for four people. If I don't have it, I need half an hour to get the tube ready.
You can either plug its 14-foot power cord into an outlet or quickly hook it up with a car's battery. It has a 24-inch reinforced air hose that works well with any of the four standard adapters and one Halkey Roberts adapter. Since this is an excellent product, I don't need any help from a hand pump.
I'm in awe of how it doesn't overheat even after blowing large inflatables. So the loud noises that it emits are not a big deal for me. It also doesn't need to take a break for 30 minutes before operating again.
What We Like
Inflates and deflates in no time
Can be used for cleaning clogged lines
Power can be gained through an outlet or battery
Comes with four standard adapters and one Halkey Roberts adapter
No need for a hand pump when inflating large inflatables
Doesn't overheat
I'm sure it is one of the sought-after air pumps due to its high volume of pressure. I highly recommend it to anyone who doesn't want to spend time and effort in manually blowing a large tube or board.
10. Airhead AHP-120HP Hi Pressure Air Pump
I bought this for my 6-person raft and I wasn't dismayed. It inflates the raft into a nice and firm form in a span of 10 to 15 minutes. A few minutes more is needed in blowing bigger rafts and towables. But, in short, it's an incredible, little workhorse that can also deflate items. It's mighty with its air volume of 460 liters per minute.
This electric pump for inflatable boats and reinforced backyard items has a 10-foot long power cord. This feature together with the air hose makes this pump easy to use. A carry handle is present for additional convenience. There are seven universal adapters so this pump will suit the common valves on inflatable vessels and towables.
It can push down the air without any chance of getting stuck. Furthermore, it has a pressure release valve also known as the red-colored regulator which prevents over-inflation from happening on stuff that needs little air like pool toys. Additionally, I don't worry about disconnection when going through the process because of its accordion-style hose.
Just twist the nozzle tight enough and line it up properly for fending off leakages. When it's time for deflation, make sure that you don't do it against the raft as it blows out hot or warm air.
What We Like
Only take a few minutes to inflate and deflate inflatables
Can blow bigger rafts and towables
Easy to use with a long cord, air hose, and carry handle
With seven universal adapters to suit common valves
Prevents bogging down, over-inflation, and disconnection
What We Don't Like
Blows out hot or warm air during deflation
I've used several air pumps for inflatable boats and this is one of my favorites. It's effective and easy to use so I don't need to look for a better option.
11. SereneLife SLPUMP50 Electric Air Pump Compressor
I just became a fanatic of paddle boards so this pump is a blessing to me! I use it to inflate and deflateSUPs, kayaks, and inflatable toys in less than 10 minutes. I think it's much better than the high pressure air pump for inflatable boats because of the built-in 12V LI-ION, 6000 mAh rechargeable battery.
Since this is a rechargeable inflatable boat pump, I can use it whenever and wherever I want. You can use it whether it's plugged or unplugged. After unplugging, press the power button for three seconds to activate it. I marveled at how fast it charges. The battery life is also great as I can consecutively pump two boards.
What made this air pump a notch higher than its counterparts is its LCD digital display, which allows me to easily operate it. I can adjust the PSI air pressure setting so over-inflating won't happen. A LED flashlight is also available on the pump's body for when it gets dark.
This item is a space saver because it has accessible housing. Although the compartment for the cord and 3.3-foot air hose is quite small, there is a carry handle for users to carry the pump and attachments conveniently. From assembling to disassembling, everything is a breeze with this air compressor.
What We Like
Inflates and deflates inflatables in less than 10 minutes
Rechargeable battery to be used everywhere
Can be used whether plugged and unplugged
Great life battery
LCD digital display to adjust air pressure setting and avoid over-inflating
Space saver and easy to use
What We Don't Like
The compartment for the cord and hose is quite small
I don't mind spending on a portable, fast, and quiet air pump like this. Since it's rechargeable, it is always handy.
12. Intex 66631E Quick-Fill AC/DC Electric Air Pump
My new friend from the UK recommended this product. It has a design that's made for indoor and outdoor use. I can plug it on a wall outlet or connect it to my car's battery. A single purchase gives you a 12V outlet plug and a travel plug with a cigarette lighter.
At home, I use it to blow air mattresses that become hard enough for sleeping, which only takes 2 to 3 minutes. It's also on my boat to inflate floaties and tubes. You can choose to use it to blow rafts and larger air beds as well. Since most vessels have electric supplies like mine, I use a lighter adapter with this pump.
I can say with confidence that the nozzle attachment is reliable and you don't have to worry about losing it. There are three options for the nozzle to make this electric air pump for inflatable boats suitable for most valves. Both inflating and deflating can be done using this tool.
I like that this is a lightweight, portable 12V electric air pump for inflatable boats. Its size is not a hindrance to producing enough air pressure. I've been using it for a year and it has since delivered consistent performance. I must say that it's essential for camping near the lake, river, or beach. Since it's practical to use, even a kid can handle it, a minor drawback is that it can sometimes be loud.
What We Like
Can be used indoors or outdoors
Has a 12V outlet plug and a travel plug
Inflates and deflates water inflatable items and mattresses
Has a reliable nozzle
Three options of nozzles to choose from
Can last for a long time
Since you have the choice to connect this to an outlet or a battery, it can be utilized anywhere. You'll surely have fun when tubing with the whole family!
13. Seamax Double Stage Electric Air Pump
I own an older version of the Seamax air pump and this new model is far superior to the former. Although it's super lightweight, it's a game-changer. Investing in this electric air pump for inflatables is one of the wisest decisions that I've ever made.
It's fine with me that it takes around 20 minutes to reach 15 psi then it shuts off automatically. I like how it adequately fills my 15-foot SUP. I can sit back, relax, and watch it inflate. This can also be used for paddleboards and inflatable boats.
My SUP has two valves and this air pump is way better than two hand pumps. There's no need to put an effort in rolling my SUP as it deflates inflatables too. Unfortunately, it's not suitable for large inflatables.
I've been using it for two years and the air hose remains durable thanks to its marine-grade nylon and ABS components. To make it work, you can use a 9-foot DC power cord. When I'm outdoors, I use a cigarette lighter to connect it to my car.
There are pump cooling systems and sand filters to minimize issues when using. An outtake chamber is also present to cut down noise and improve efficiency. You can check all of the features when using it on its LCD. Additionally, I find the audible indicator helpful because I am able to know the status of the process in real-time.
What We Like
Superior lightweight but with superior performance when inflating and deflating
Shuts off automatically when it reaches 15 psi
Durable and can serve for years
Powered by either wall outlet or battery
With parts that prevent issues when in usage
Has LCD and audible indicator for reminders
What We Don't Like
Not suitable for large inflatables
I like how this air pump can properly pump and deflate my SUP. It has been with me for years and I haven't had a single problem with it.
14. SereneLife SLPUMP25 Electric Air Pump Compressor
This air compressor is a life changer for owners of inflatable SUP like me. My kids usually gather around and impatiently ask when the boards are ready. When that happens, I have to spend a lot of time under the dry heat with a manual pump. Luckily, this air pump came to the rescue!
There are three washers on this pump to accommodate various valve configurations. Hence, the washers fit my SUPs and I don't have problems using this pump. However, based on my experience, you need to be a bit more handy in linking it with Leafield C7/D7 valves, which are the ones that are usually found on SUPs.
The included button controls and LCD make it easy to operate. Pressure setting can be adjusted so that you'll get the necessary psi and prevent over-inflating from occurring.
For more convenience, there's a rechargeable 4000mAh lithium battery. I can charge it for 8 hours then use it outdoors later on. A wireless air pump like this is always handy to have.
It is thoughtfully designed to be a space saver. Although the hose is lengthy, it's flexible and easy to assemble and disassemble. So, it's not bulky to place inside of your storage. It also won't give you headaches when you take it on trips.
What We Like
Three washers to accommodate various valve configurations
Modifications can be done with the valve
LCD and button controls so you can easily operate it
Adjustable pressure setting
Rechargeable so it can be used outdoors and on trips
Easy to assemble and disassemble to become a space saver
What We Don't Like
Only with the Halkey-Roberts valve so some modifications are needed for some SUPs
If you are seeking, this product will definitely give it to you. Trips and water activities will be fully enjoyed!
15. MicroNovelty GIGA Pump Portable Air Pump
This mini air pump is terrific as it does me a lot of favor. It's popular among hikers for lightweight backpacking. But, I don't see anything wrong if a boater like me uses it. In short, it's efficient and convenient. It saves energy and time compared to a manual or foot air pump.
The motor of this air pump is hardy and it performs better than others. What I do is I charge it at home a day before heading to the river or lake. I sometimes charge it in my car through USB and it still lasts for a decent period.
Once the 3600 mAh is fully charged, I can inflate and deflate my river rafts. You can depend on it to blow sleeping pads, pool floats, swim rings, and more. I owe it to this air pump for having a fun-filled weekend every time I go on a backcountry trip.
There are four options of nozzles and you'll surely find one that fits the inflatable you have at hand. The quality is superb as it's made of IPX4 waterproof vacuum packaging. Even if it gets into the water, it won't be easily destroyed.
I had to spend a bit of time searching for it last time when I was out because it was buried inside my bag. To avoid this from happening, it could have had a gear clip or a hand strap. This would offer additional convenience and would make sure that users don't misplace it.
What We Like
An efficient air pump and convenient to use
Saves energy and time to inflate and deflate
Charges through USB so there's a lot of possible power source
Has a great battery life
With four nozzles to get what you need
Waterproof so it won't be easily destroyed by water
What We Don't Like
A gear clip or hand strap to avoid misplacing this mini air pump
I like that this has a long-life battery and waterproof body. It's suitable for outdoor use like when you're rafting and canoeing.
Factors To Consider When Choosing

Air Pump For An Inflatable Boat
It's crucial to invest in a good air pump so inflating is done properly. No one will be happy after getting a defective product. Put some thoughts in your decision before buying something from a local store or a reputable website. Here are some considerations to buy the right product.
Easy to Use and Convenient
You should check even the tiniest details to ensure that there will be no hassle when using the air pump that you've chosen. For example, you determine if the length of the hose is long enough. It's important to know the distance from the hose to the adapter and the inflatable too.
Good Value for Money
The price of air pumps vary. If you're thorough with researching like reading reviews, you'll be lucky to find one that suits your budget and is incredibly effective. A premium quality pump guarantees long-term service – just consider it a worthy investment. My advice is to not compromise a pump's reliability because you want to save some bucks.
Compatibility
Universal valve fitting is one of the wonderful features of an air pump. It allows the user to attach it to any kind of inflatable. Another side to look at is the inflation mode. High volume air pump for inflatable boats is suitable for items that need high pressure like a vast floating island. Some pumps have a hose that is reserved for inflatables requiring less air pressure.
Type of Air Pump
Due to some advancements, electrical pumps are more capable than their predecessors. There are also battery operated air pumps for inflatable boats that can be used wirelessly for convenience.
Portability
Air pumps are in demand most of the time. A portable type is easy to carry around and store. You'll have enough space for it in your boat or trunk. Thus, it can be beside you and available whenever you need it.
What Is The Air Pump For An Inflatable Boat
An air pump for an inflatable boat makes it possible for you to have a thrilling sailing experience. It's created to render reliable, fast, and efficient inflating of vessels and other inflatables. Moreover, it can be used for balls, swim rings, pools, and more. You can also depend on it in times of emergency.
Who Makes The Best Air Pump For An Inflatable Boat
Aside from models and style, the brands also matter when buying the best air pump for inflatable boats. AIRHEAD, Intex, Sanipoe, Wow World, Sevylor, Etekcity, RAVE Sports, Serene Life, Seamax, and MicroNovelty are reputable manufacturers of air pumps. These companies have proven their ability to create high-quality marine items.
How Do You Pump Up An Inflatable Boat
Here are the steps for the easiest method when pumping an inflatable boat:
Plug the pump into any wall outlet. This step may be unnecessary if you're using a wireless one. If that is the case, you will have to make sure that the battery is fully charged.
Connect the inflatable to the valve and the air hose. Look at the attachment closely to ensure that air will not leak and the pump will properly turn on.
All the chambers of the inflatable should be filled. Be familiar with the multiple chambers of your inflatable boat so you can confirm that every part received air.
Once the inflatable is firm and with the necessary air, close the air inlets.
Conclusion
Nowadays, there are many air pumps available in the market. The best air pump for inflatable boats is a worthwhile investment. It won't give you a hard time inflating and deflating your belongings. Reading this whole review should help you earn the special features of a top-notch product. By now, you might even already have a particular purchase in mind.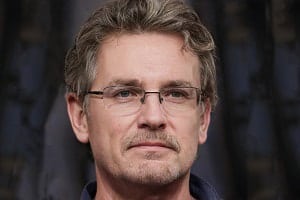 "I am James Harvey – founder of Boating Basics Online. It is established with the drive to help out first-time boaters, which are those desiring to explore their way through the water. So if you are new to boating, start from here with me. "