Water is essential when boating. From showers to sinks, you need water for a more comfortable life aboard. To ensure that there is always a quick and consistent supply, the best marine freshwater pump is a must-have.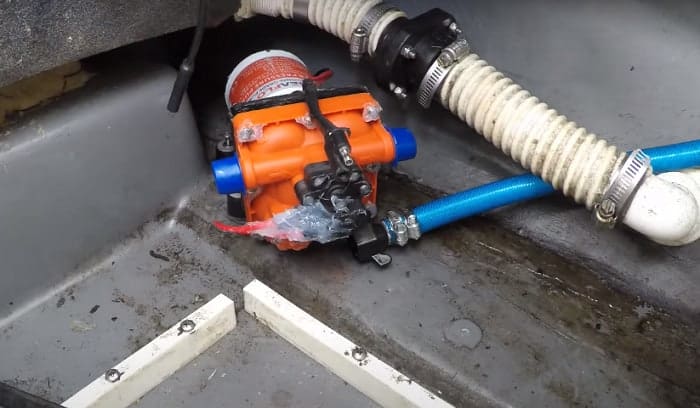 However, choosing a fresh water pump is overwhelming. There are many variables to take into account, from capacity to noise. You must think about its ease of installation and use as well as its price. If you are looking for a freshwater pump for a boat, continue reading to find some of the top products and their impressive features.
---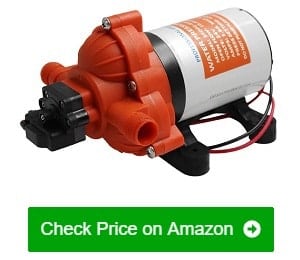 SEAFLO 123ABC Pump
Easy installation
Generates minimal noise
Automatically starts and stops
---
IEIK Water Pump
Easy to access
Impressive technical specs
Ideal even for compact spaces
---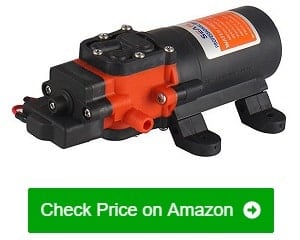 SEAFLO Sea-2834
Good choice for small boats
Comes with a rubber mount
Has protection against ignition
---
Best Marine Freshwater Pump Reviews
1. SEAFLO 123ABC Self-Priming Pump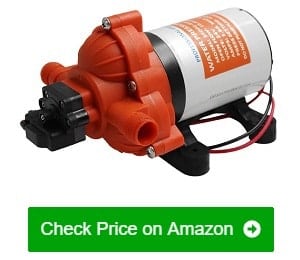 This on-demand and general-duty pump is a great option for small boats, supplying water up to two fixtures. It is ideal for moderate-pressure and high-flow environments. It has a self-priming feature up to six vertical feet and delivers a flow rate of up to 3 GPM.
One of its most notable features is the three-chamber diaphragm, which is powered by a reliable motor. This means that the flow of the water remains consistent even when the pressure isn't high.
I love this marine freshwater pump because of its easy installation. Even for first-timers, the assembly is a breeze. It comes with detailed instructions from the manufacturer. Wiring is simple and it requires only minor adjustments when fitting the pipe.
This isn't one of those pumps that run continuously. To protect the motor, the unit stops working once it is too hot. It has thermal overload protection to prevent damage from running even when the motor is exhausted. Once it has cooled down, the pump automatically restarts.
Noise is a common problem in many freshwater pumps. But, this pump generates minimal sound even when it is operating. It has a decibel rating similar to an air-conditioning unit, so it isn't annoying at all. The base has semi-rigid rubber feet, which is effective for noise reduction.
However, one of the minor issues is that the inlet/outlet is not compatible with a regular garden hose connector. It requires a different adapter.
What We Like
The three-chamber diaphragm ensures consistent water flow
Easy installation even for novices
Automatically starts and stops to protect the motor
Generates minimal noise when operating
What We Don't Like
Does not accept a conventional garden hose adapter
This freshwater pump is one of my favorites because of its three-chamber diaphragm, easy installation, and thermal overload protection.
2. IEIK Water Pump
If you are looking for an affordable 12-volt marine water pump, this is a great option. Despite being an economical model, it delivers decent performance. It has pretty impressive specs too. This pump has a pressure rating of 60 watts, a water flow of 1.35 GPM, and a pressure of 116 PSI.
The pump comes with a standard.5 FIP thread, which is compatible with a conventional garden hose. As such, I don't have to buy complicated connectors, which makes it economical. The hose is easily accessible from hardware stores. It is already inclusive of clamps and brass fittings as well.
Another good thing about this pump is its construction. It has rubber on its base, which minimizes any vibrations. Also, this prevents excessive movements of the motor when it is running to prevent premature wear.
I love how compact and portable this pump is. It is a great option for small boats as it won't consume a lot of space. Despite being a tiny pump, its functions are not compromised.
Nonetheless, a problem with this water pump is that it is prone to leaking. The connection between the motor and the diaphragm is not secure, which makes water drip. To add, it has a 60-watt motor, which produces loud noises. However, this pump's 30 and 45-watt versions are much quieter.
What We Like
A great choice for budget-conscious buyers
Has impressive technical specs despite being affordable
Uses standard hoses that are easy to access
Ideal even for compact spaces
What We Don't Like
Prone to leaking
Makes a loud noise
All in all, I highly recommend this small and affordable marine water pump that is compatible with a standard hose, packs impressive specs, and produces minimal vibrations.
3. SEAFLO Sea-2834 Freshwater Pump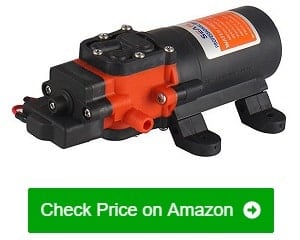 This 12-volt freshwater pump is an incredible choice if you have a small boat. It has a pressure rating of 35 PSI and a flow rate of 1.2 GPM. The specs aren't as high as its more powerful counterparts, but that should not be an issue as it is not designed to power water systems in large vessels.
Many pumps with inferior construction suffer from ignition problems and overheating. That isn't the case with this model. It has built-in features for thermal protection, which protects the motor from getting too hot. The self-priming motor automatically turns on and off when I open or close the tap, preventing it from overworking.
When a water pump runs, vibration is a problem. Excessive movements can damage the motor. This model, however, has a rubber mount to inhibit damage that the trembles might cause. It is effective for noise reduction as well.
What I love about this pump is that it does not drain my battery quickly. Thanks to its low power draw, it is energy-efficient even when operating at its peak. Another good thing about this freshwater marine pump is its versatility. It is not just for boats and RVs. It delivers superior performance even for agricultural applications.
But, you will have to watch out for the injection mold and barb connections. They have weak construction, and the side seam makes them prone to leaking.
What We Like
A good choice for small boats
Has protection against ignition and thermal overload
Comes with a rubber mount to minimize damage from vibrations
Professional-grade construction handles multiple applications
What We Don't Like
Weak injection molds and barb connections
To sum it up, this pump is commendable because it has a self-priming motor, thermal overload protection, and low power draw.
4. Uniclife Uniclife-UL204-1 Water Pump
Before anything else, this isn't your conventional boat freshwater pump. Instead, this is a pump that is more commonly used in aquariums and aquaponics. It allows proper circulation to keep the water clean and fresh.
One of the most innovative features of this pump is its smart controller. I can choose from 99 speeds, depending on what my specific application requires. There is a ten-minute pause, which comes in handy for feeding. Plus, it has a memory function, so it automatically remembers the previous setting when it restarts.
With multiple protective features, I am confident that this pump is safe to use. For instance, it does not run when there is no water, eliminating strain on the motor. The pump also has protection from being stuck. Moreover, it is completely submersible. The low voltage is a good safety feature as well.
Its shaft construction is also remarkable. It is made of ceramic, so it isn't easily prone to wear. This composition extends its service life compared to models with propellers that are made of weaker materials.
It is commendable because of its three-phase six-pole motor. It significantly reduces energy consumption, making the pump up to 65% more energy-efficient than many of its competitors.
If there is one thing that I am wary of, is its plastic body, which seems fragile compared to other pumps with more solid construction.
What We Like
Easy to operate using the smart controller
Has multiple layers of protection
Comes with a long-lasting ceramic shaft
Energy-efficient three-phase six-pole motor
What We Don't Like
Has a fragile plastic body
I highly recommend this powerful water pump that has a smart controller, multiple features for protection, a ceramic shaft, and a plastic body.
5. SICCE SIC104 Syncra Silent 1.0 Multipurpose Pump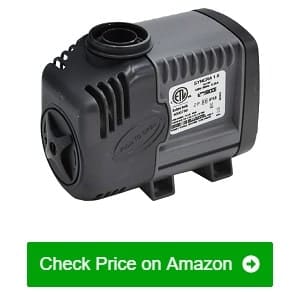 One thing that I love about this pump is its versatility. It is not just for aquariums and water fountains. It works for other submersible applications that need a high-performance pump. I can use it well in both fresh and saltwater settings.
With a convenient flow regulator, it is a breeze to customize the functions of the pump depending on what a specific application requires. It has a knob on the side for controlling the water, which is adjustable up to 215 GPH.
The manufacturer designed this pump with the needs of users in mind. So, maintenance is effortless as I can do so without using any tools. I can pull the pump apart by hand when it is time for cleaning and easily remove any dirt and debris that clog the system.
Aside from the pump, it is inclusive of stepped hoses. It speeds up the assembly the moment it is unboxed. Aside from that, this pump boasts amazing construction that guarantees longevity. One of the reasons for this is its long-lasting shaft, which is made of 316 stainless steel.
If there's one drawback to this pump, it would be that it is loud and vibrates a lot. It makes it sound like there is a loose part inside. Even if it has suction cups, it still moves when it runs, especially when it is on the highest setting.
What We Like
Versatile applications beyond aquariums
Includes stepped hoses for quick assembly
Adjustable flow rate for different applications
Easy maintenance without requiring any tool
What We Don't Like
Generates a lot of noise and vibration
From its customizable flow rate to its tool-free maintenance, this is another extraordinary water pump that is certainly worth considering.
6. SHURFLO 4.15E+81 Aqua King II 4.0 Freshwater Pump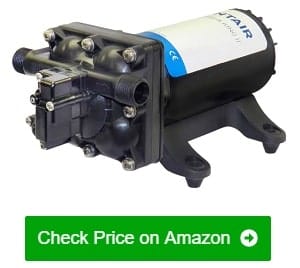 Built for boats with multiple fixtures, this pump provides pressure just like you are at home. You can use two taps at the same time without worrying that the flow rate is affected. It has a power of 10 amps and a capacity of 4 GPM, so you can expect reliable performance.
With its built-in mechanical bypass, it adjusts the flow of the water depending on what the situation requires. I don't need to use an accumulator tank. This feature also allows operating with minimal cycling even in low-flow conditions.
The durability of this pump is equally commendable. It has an electro-coated shell that protects the motor from external elements, such as dirt and dust. There are O-rings that seal the connections to avoid water and moisture penetration. Even the wires are fully sealed to minimize damage.
The ignition and thermal protection are crucial for extending the lifespan of this marine pump. These features prevent the motor from overheating, even if it is operating at its peak capacity.
Another compelling reason to choose this marine pump is the three-year warranty that accompanies it. It shows how confident the manufacturer is about the workmanship of their product.
The biggest drawback of this 12-volt boat water pump is its cost. It is one of the most expensive on my list. Nonetheless, judging from its features, I can confidently say that it is worth every dollar.
What We Like
Comes with a three-year warranty
Has a built-in mechanical bypass to regulate the flow of water
The durable shell protects the motor from damage
Prevents the motor from overheating
What We Don't Like
Not for people on a budget
Even when running two taps, this Shurflo marine fresh water pump guarantees that the pressure of the water remains high. It also has a durable shell and thermal protection to extend the life of the motor.
7. Amarine Made 21 Series Fresh Water Pump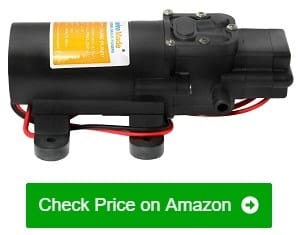 This is a high-quality automatic water pump with a pressure rating of 35 PSI. Additionally, it has a low current draw, making it extremely efficient. Even if the pump is running for a long time, I am not concerned that it will drain my boat's battery.
Aside from its efficiency, it is also a quiet marine freshwater pump. The motor won't be a disturbance even as it runs. Beyond being quiet, it has minimal vibrations. I attribute this to the rubber mounts that absorb shock and prevent too much movement of the pump.
Like many of the top options for freshwater pumps for boats, it comes with a self-priming motor. This allows it to run dry without the risk of destroying its engine. There is no potential damage even when it is above the liquid that it is supposed to pump.
When pumps run continuously at their peak capacity, they overheat because there is too much strain on the motor, increasing the chances of breakdowns. Good thing, this product comes with a built-in thermal protector.
The quick installation of the pump is a plus. No experience is necessary to assemble the unit quickly as it includes a detailed manual for guidance.
If you need a powerful marine pump, this isn't for you. The water output is only 1.2 GPM, which is considerably lower than most of the products in this guide.
What We Like
Has a low current draw for energy efficiency
The motor runs quietly
Equipped with a self-priming motor that can run dry
Built-in thermal protection to avoid excessive heat
What We Don't Like
Generates low water output
To conclude, this amazing water pump has thermal protection, silent operation, and self-priming capability.
8. JEREPET Aquarium Water Pump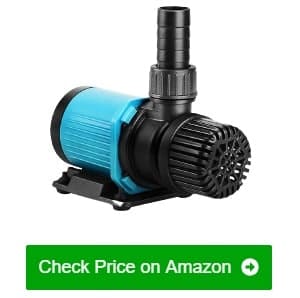 For quick and easy maintenance of water in your aquarium, it is hard to go wrong with this pump. It is powerful, offering an output of up to 800 GPH. Despite this, it is economical and energy-efficient, running at only 28 watts. This is a great way to save battery!
Many aquarium pumps are too loud, which can be annoying. That won't be the case with this model. It has a noise output of only 30 dBa, similar to whispering. It is almost impossible to notice that the motor is running, unlike others that can be too annoying.
The durable motor is a plus. One thing that makes this possible is the automatic shut-off feature. Once there are blockages or the pump is running dry, it will immediately stop. This will prevent putting too much strain on the motor before it breaks down. The magnetic motor has a steel shaft and favorable anti-corrosion properties.
It comes with an external controller, which makes it convenient to operate the pump and customize its functions. I can pick from six speeds, adjusting the flow rate from 30 to 100%. It also has flashing indicator lights for ease of monitoring. The display shows error messages for a quick diagnosis when there is a problem.
The biggest con of this pump is that it is from an unpopular manufacturer. Some people might equate its lack of popularity to poor quality.
What We Like
Has a high-performance but energy-efficient motor
Low noise output of less than 30 dBa
Automatic shut-off prolongs motor life
Comes with a convenient external controller
What We Don't Like
No strong brand recognition
With customizable functions through the external controller, low-noise output, and energy-efficient motor, this is a noteworthy pump.
9. OMMO Freshwater Pump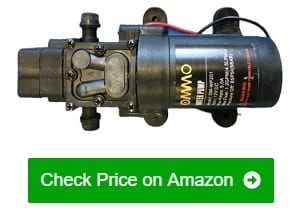 From water taps in boats to motor homes, this is an outstanding pump. It has an exclusive design that ensures smooth and consistent flows of water in various environments. Besides, this pump has a power consumption of 36 watts, which makes it energy-efficient.
With a double-sealed body, it resists external elements that can speed up wear. It has good protection from dust and moisture to shield the motor and internal components. It inhibits corrosion and other potential damages resulting from high temperatures as well.
The automatic diaphragm cut-off is another good feature. It immediately stops pumping water after reaching the maximum pressure of 85 PSI, and once the pressure is back to normal, it restarts. This feature effectively prevents the motor from overheating.
This pump is also equipped with a self-priming feature. I can mount it above a water tank without problems, like the water back flowing into the pump.
I am also a fan of how this pump isn't too noisy. It has a rating of 70 decibels, which is almost equivalent to a regular conversation. If this is still too loud for you, a good solution is to place a box on the diaphragm for noise reduction.
Take note that this pump has no on-off switch. The only way to stop it from pumping water is to disconnect it from the battery.
What We Like
Has an exclusive design for smooth water flow
Low wattage for energy-efficient operation
Double-sealed body makes the pump durable
Automatically stops when pressure is more than what it can handle
What We Don't Like
Does not come with an on-off switch
Wrapping up, this marine pump has an exclusive double-sealed design, minimal power consumption, and an automatic self-priming feature.
10. Amarine Made Freshwater Pump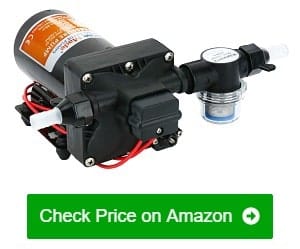 Pumping water onboard does not have to be difficult. This pump ensures that you can easily access freshwater at different parts of the boat. It has a 12-volt motor that delivers a pressure of 55 PSI and a flow rate of 5 GPM. The best thing is that, since it has a low power draw, it is energy-efficient. It won't quickly drain my battery as well.
The versatility of this pump is another impressive feature. The threaded connections will accept different fittings. Simply put, it is compatible with various connections on any outlet, so there's no need to buy a special adapter.
With a bypass, this pump is quieter than many of its counterparts. It is responsible for the reduction of vibration, and as a result, eliminates excessive noise. It stays quiet even when operating at its peak. The bypass also lessens the wear on pipes.
When pumps run dry, they are easily susceptible to damage. If it operates without liquid, it is vulnerable to strain, which can damage the motor and shorten its lifespan. Good thing, this model has a self-priming feature to prevent damage.
While I have yet to test how long the pump will last, I have been reading complaints about its durability. For example, some people are saying that it lasted only a few months. Issues like electrical shorts can shorten its functional life.
What We Like
Requires minimal power for efficient operations
Threaded fittings accommodate multiple connectors
Comes with a bypass that reduces noise and pipe wear
Has a self-priming feature
What We Don't Like
Durability can be an issue
From its self-priming capability to energy-efficient operations, there are plenty of reasons why this is an incredible marine water pump.
11. Camptemp Freshwater Pump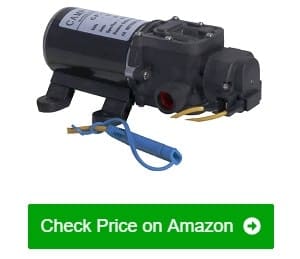 This 12-volt marine freshwater pump with output of 1.6 GPM, can be used for water taps and outdoor showers. It runs continuously for 60 to 90 minutes. After reaching its peak, the motor automatically turns off and cools down for 15 to 20 minutes before starting again. This intermittent pumping is a great way to minimize overheating.
While it is an affordable pump, it does not compromise durability. It has sealed switches, which inhibit the penetration of moisture and water, thereby, protecting the internal components. To add, it has electro coating to prevent corrosion. This means that even with constant water exposure, the parts of the pump won't easily rust.
A common problem in many inferior pumps is that they are noisy. Luckily, this model has a whisper-quiet operation. I can hardly notice that it is pumping water on my taps. More so, it does not vibrate a lot thanks to its soft rubber mount.
Even if it is your first time using a pump, you will not be overwhelmed. It is built with the needs of users in mind. There are no complications from the installation to operation. Even the maintenance won't require too much on your end.
However, for buyers who consult online reviews before purchasing, this model is quite disappointing because there are not a lot of insights available. Thus, there's no easy way to learn from the real-life experiences of others.
What We Like
Automatically cools down after continuous operation
Sealed switches to prevent water penetration
No excessive noise and vibrations
Easy to install and use
What We Don't Like
Minimal reviews are available online
From its durable sealed construction to its user-friendly design, many things make this marine pump noteworthy.
12. Jabsco Q401J-115S-3A Marine Freshwater Pump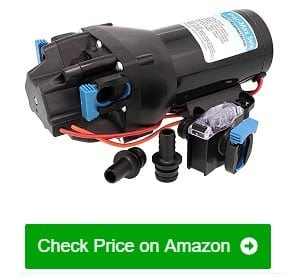 Regardless of small or large applications, this Jabsco freshwater pump has your needs covered. It has a water output of 4 GPM, making it capable even in demanding applications. With its flow rate, it simultaneously powers four outlets.
This pump will withstand many years of use without showing a decline in terms of functionality. The motor comes with a full enclosure to inhibit water intrusion. The shell is powder-coated for corrosion protection. Moreover, its co-molded diaphragm helps in minimizing wear.
Installing and maintaining this model won't be a headache. It has quick-connect fittings that will simplify the assembly. Even for long-term storage, the winterization of the pump does not have to be complicated.
It has an integrated bypass valve, which is the one responsible for the smooth flow of water from the source to the taps. It reduces switch cycling while allowing a quiet and efficient operation.
With a sealed pressure switch, I can use the pump on demand. This means that I can turn it on or off manually when necessary.
The price of this pump is one thing that might make you hesitant in choosing this product. Nonetheless, the cost is justifiable because of its innovative features and incredible performance.
What We Like
Has a high output that serves four outlets at the same time
Heavy-duty construction for long serviceability
Quick-connect fittings allow easy installation and maintenance
The sealed switch allows on-demand operation
An integrated bypass allows smooth flow of water
What We Don't Like
One of the most expensive pumps on my list
Despite being expensive, this Jabsco fresh water pump is worth considering as it delivers high output, comes with a durable motor, and allows easy maintenance. Any boaters will come to appreciate it.
Factor to Consider When Choosing Marine Freshwater Pump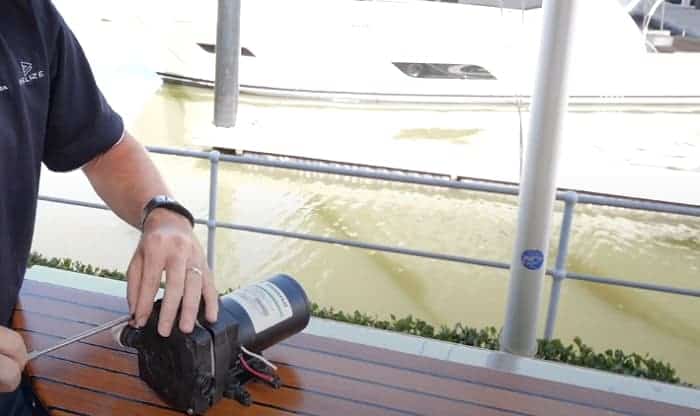 A marine pump supplies a consistent flow of water on the boat, making sure that there is enough pressure to reach the tap from the source. It transports the water from a lower level to a higher level, such as a faucet, shower, or dishwasher. Without the pump, the water will not move out of the tank.
The system starts by pressurizing water in the head of a pump. As the shaft rotates, it pushes the water to the diaphragm. The diaphragm will press and release more water as the water comes out of the tap. When you turn off the faucet, the pump stops working, preventing water from moving continuously.
Types Of Marine Freshwater Pumps
Freshwater marine pumps are available in two main types – manual and electric. Manual pumps will require muscle work as you need to manually push it for water to travel to the hose. On the other hand, electric pumps are more convenient, quick, and user-friendly. It has a motor that powers the movement of the water.
Benefits And Drawbacks Of Marine Freshwater Pumps
The biggest benefit of using a freshwater marine pump is that it provides a steady supply of water. It ensures the right pressure depending on the flow rate of the tank. By using a pressurized system, it quickly moves the water from the source, dispensing it onto the tap. They are compact and energy-efficient.
It is hard to think of any drawback of a freshwater pump, except maybe for the cost. Nevertheless, many are affordable, including most of the models in this guide.
Buyer's Guide
If you have no idea of what to pick, here are some of the most important considerations:
Voltage: The products above all have 12 volts, which are ideal for small to medium boats. For larger boats and heavy-duty applications, 24-volt pumps are more suitable.
Flow Rate: Expressed as GPM or gallon per minute, it describes the ideal output of the pump. At the very least, the pump should have 1 GPM. For more demanding users, 2 to 3 GPM is a good choice.
Pressure Rating: Another important technical spec, it indicates the resistance that the pump can hold. It will generally range from 20 to 60 PSI depending on the chosen model.
Noise: Noise is inevitable when a pump is working. Nonetheless, some are quieter than others. I recommend looking for a model with a low decibel rating.
Vibration: Aside from noise, excessive vibration is one more thing that makes pumps annoying. Some products have vibration dampeners, such as rubber on the base.
Run-Dry Feature: Pumps are susceptible to damage when they run dry. When there is no fluid, the components are more prone to wear. With a run-dry technology, the pump detects the absence of water and automatically shuts off.
Thermal Protection: This is another feature that prolongs the life of the motor. It shuts the motor the moment that it reaches its peak capacity. It cools down before it starts pumping water again.
Energy Efficiency: Even if a pump is small, some models are quite power-hungry. Especially if you will connect it to a battery, pick a pump that has a low power draw.
Ease of Use: From installing the pump to its operation, it must be user-friendly. The unit should come with an instruction manual and automatic features.
Care And Maintenance
Like other parts of a boat, freshwater pumps accumulate dirt over time, especially if it is not used. To maintain its peak performance, below are some of the best things to do:
Regularly check the pumps for damage, including dents and cracks. Fix the problem before it worsens.
Tighten all the connections. Use O-rings and other seals to secure the pump to a hose or pipe. This will prevent leaks.
Flush the water before using the pump after winterization or long-term storage. This will ensure a cleaner water supply to the outlets.
Use an in-line filter or strainer on the pump. It removes debris that can get in the water, especially if it is for drinking.
Who Makes the Best Marine Freshwater Pump?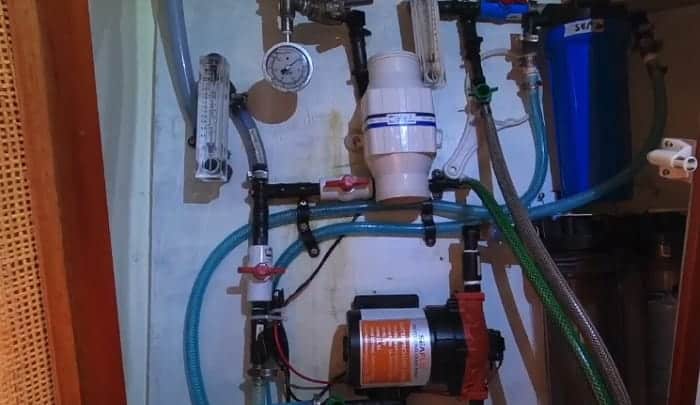 SEAFLO, Amarine Made, Jabsco, and West Marine fresh water pump are some of the top options. They are amongst the most reliable global brands with a diverse selection of water pumps that will surely suit your needs.
How Does a Freshwater Pump Work on a Boat?
This will depend on the specific type of pump that you have. Most models have a switch that allows the pump to pressurize. As you open the faucet, the pump switches on, allowing water to run through the hose or pipe. It sustains the pressure to keep a steady flow rate. Once the spigot is closed, the pump turns off, inhibiting the movement of the water as well.
How to Prime a Freshwater Pump on a Boat?
If the water pump has been off for a long time, it loses pressure and will not work accordingly. For the pump to work again, priming is a must. Here's how you can do it:
Prepare the pump by turning off the power supply.
Inspect for any damage, which can compromise performance and safety.
Open the relief valve and check to see if there is any pressure.
Connect a hose to the pump.
Turn on the water supply until it reaches the tank.
Let the pump run for about a minute. If water does not flow smoothly, clean the pump and remove any blockage. Dirt and debris can accumulate over time, which will restrict water.
How Do You Clean a Freshwater Tank on a Boat?
The first thing that you have to do is to remove the water in the tank. Add bleach, vinegar, or any other cleaner suitable for the material of the tank. Pour water and let the cleaning solution sit for at least 24 hours. Drain water from the tank and fill it with freshwater once it is clean.
Conclusion
Water is a necessity and not a luxury in boats. From dishwashing to showering to drinking, it is crucial to have access to water. The best marine freshwater pump will make such possible. It ensures the availability of water onboard while maintaining high pressure. The right pump transports freshwater from the source to the outlets in no time!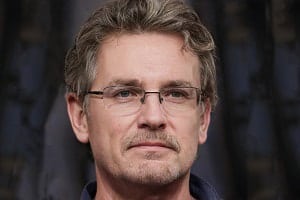 "I am James Harvey – founder of Boating Basics Online. It is established with the drive to help out first-time boaters, which are those desiring to explore their way through the water. So if you are new to boating, start from here with me. "