You'll find various types of marine hoses that you can put on board. But you have to select the one that matches your washdown system. Some are suitable for freshwater but not for saltwater. There are hoses too that are specially made for cold weather.
Learn how to tell them apart and get the best boat washdown hose for a specific application. When you use the inappropriate hose, it will give consequences like a bothersome mess or the water flow is constricted at times. Also, make sure that you get a sturdy one with high quality to withstand the marine environment.
Spare some time reading this review to contemplate the pros and cons of the top pick marine hoses. Then you can find the suitable one that can provide your needs.
---
HoseCoil HS1500HP
Has plenty of lengths
Flexible
No leaks
---
Seachoice 79691
Flexible, lightweight
Durable construction
Medium rate of water flow
---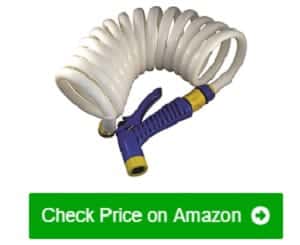 Marpac 7 – 0422
No leaking issue
2-year warranty
Stretch up to 17 to 18 feet more
List of Top-Rated Boat Washdown Hose Reviews
1. HoseCoil HS1500HP Garden Hose
I bought it because I followed the recommendation of those people who used it for years. It's the right decision as experts know the best marine accessories. I go fishing around 30 times a year but this hose still looks brand new as I wash it with fresh water after use. There's no leaking issue and I can wash things on my boat with no problems whether under the sun or in the rain.
This is a regular coiled washdown hose that works wonderfully with saltwater. It is 25-foot long but can stretch up to 17 to 18 feet more. Tension can be felt once you exceed the said length. On the other hand, it curls back smoothly because of the strain relief added to its design. You won't worry about kinking when pulled in the maximum length.
The manufacturer offers a 2-year warranty and a 90-day no-hassle return policy. But I don't wonder about these much, thanks to the amazing, high-performance polyether used in making this product. This is accompanied by an adjustable sprayer head for stream or sprinkle and brass fittings.
It retains its coil shape so there's no need to wind it repeatedly. I was in awe to see that it's only 17 inches when not stretched. Unfortunately, you need to pay attention while using since the recommended usage for this hose is only 150 PSI which means that you can't connect it with a pressure washer.
What We Like
Can still look brand new even exposed to sun, rain, and saltwater
No leaking issue
Can stretch up to 17 to 18 feet more
Retains its coil shape
With a 2-year warranty and 90-day no-hassle return policy
Comes with an adjustable sprayer and brass fittings
What We Don't Like
Not recommended to use for pressure washer
Since this hose can return to its coil shape, washing onboard doesn't have kinking problems. I like the adjustable sprayer too as I can have the stream of water or just sprinkle.
2. Seachoice 79691 Coiled Washdown Hose
Fishing excites me in so many ways but it also comes with a drawback: the cleaning part. However, I find it manageable after this hose from Seachoice was added to the raw water washdown system in my Grady White. It makes washing the blood and scales off the deck a menial task. Cleaning up in an early phase prevents dried mess from developing, so I won't have a hard time later on.
I have all praises for its 25-foot length with half an inch diameter. Holding it for a long time is not straining as it's a lightweight, brewery washdown hose. Although it has plenty of lengths, it remains flexible as it reaches my boat's console. The water flow is excellent and I've never experienced the need to wait for the water to come out. Moreover, it holds up well without leaks.
After using, this hose just coils right back and ticks under the gunnel. I don't have to deal with tangles in this part. Hence, I think it has a cool system! With the ability of this hose to stretch and firmly coil up, it's ideal for limited space.
As an experienced boater, I can say that it's rigid, along with the brass hose fittings and a spray nozzle on every purchase. The parts of this hose can last for a long time but at some point, I may need to replace the nozzle.
What We Like
Makes washing off dirt and mess a menial task
Has plenty of lengths but lightweight
Flexible and stretches well
With excellent water flow and no leaks
Ideal for limited space as it firmly coils back
Rigid with brass hose fittings and spray nozzle
What We Don't Like
May need to replace the nozzle at some point
This raw water washdown hose works excellently! It exceeds my expectations as there's no struggle when cleaning onboard. Now, nothing can ruin the wonderful moments that I make from my fishing adventures.
3. Marpac 7 – 0422 New Boat Washdown Hose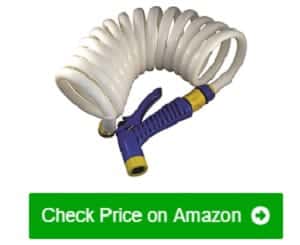 I like everything about this saltwater washdown hose including its affordable price. It has a superb construction which consists of corrosion-resistant material, stainless steel spring, and solid brass fittings. I couldn't believe my eyes when I received this item as it looks expensive.
Not only that it has a nice appearance but with great performance too. I have this hose at my rear deck and I save some space because of its coil design. Therefore, it's mostly favorable for those who have limited boat space. It has a non-kink design to spare you from any problem. Instead, you focus more on cleaning or washing off the dirt. In addition, it's also indicated as safe for drinking water.
There's no complication when connecting the hose adaptor to the water source. I can remove it and put it on quickly! The nozzle is awesome too because when I slightly squeeze it, water comes out like a shower. Squeezing it further will give you a stream of water. I also find it cool as I can save water. I just use the shower-like water flow when getting rid of a small amount of dirt.
You'll also have the liberty to change the nozzle into the regular, wand type, or any other. To do so, you have to fit the quick-connect first. But you must be aware of its 40 psi capacity and be mindful of where you attach it. Based on this information, you can't pair it with a pressure washer.
What We Like
Corrosion-resistant construction for saltwater use
Affordable but looks expensive
Space saver due to its coil and non-kink design
Easy to put on and remove from the water source
Can have shower or stream water flow
Possibility of changing the nozzle
I like this boat washdown hose as it keeps things clean in my boat. There's no difference between cleaning at home and in my boat because of it.
4. Plastair PUWE615B9-M-11S-AMZ SpringHose
This medium-duty washdown hose is relatively affordable and to my surprise, it surpasses my expectations. I found out how resilient it is towards saltwater environments even when used in all seasons. After using it the entire summer, I can attest that it doesn't easily get damaged under the sun. It works well with the washdown pump I have in my boat and there's nothing to complain about.
I bought the one that coils up at 12 feet and with a total length of 25 feet. In my case, this is more than what I need. There are two other sizes which are 50 feet and 70 feet. You'll surely find something that accommodates your needs because of these options.
Another thing that impresses me about this product is its ability to withstand 300 psi. I'd like to say that it's much better than those expandable hoses. Be aware that it's tightly wound up, so you have to be careful when you take the hose over 5 feet away.
Needs to replace the washer with a rubbery one
This is made of vinyl, with a brass boat washdown hose connector that can resist rust and easily make attachments to the water source. However, the washer that comes with it doesn't fit well. I resolved the issue by replacing it with a rubbery one that I took from a garden hose. On the side of the nozzle, it works well without giving me any trouble.
What We Like
Resilient towards the saltwater environment
Can be used in all season including summer as it can withstand intense heat
In three sizes
Withstands 300 psi
Made of vinyl and brass connectors to resist rust
Easy to attach to the water source
There are several magnificent qualities that you can find in this hose. It has a big contribution to how my washdown pump works splendidly!
5. Triumph Stream Marine Boat Water Hose
Finding this hose set me free from putting up with big, stiff hoses. I feel comfortable using this hose with a length of 25 feet and a medium rate of water flow. It's what I need for washing stuff in my boat. I like how flexible, lightweight, and easy to maneuver it is! It helps me to preserve water in my boat.
The part that impressed me the most about this product is its durable construction. The triple latex construction is what makes it tough without getting twisted or kinked. Just based on this fact, I believe that the service that it renders will be for the long term.
Brass fittings are a great addition as no rust, cracks, and leaks appear even with continuous use. It fascinates me that it can still work despite cold weather. Thus, there's no excuse for not cleaning up when the temperature drops. I appreciate the freebies which are a spray nozzle and a storage bag. At some point, it's unbelievable how lightweight it is. The whole hose can fit right on my palm when I have to store it after using it.
It's expected that some boaters like me prefer this kind of hose for the sake of saving up some space. It has a dormant size of 8 feet and I can let it sit in a 1-foot corner. Anticipate feeling resistance if it reaches 25 feet. To conclude, it's not for those who need a longer hose when sailing.
What We Like
Has a medium rate of water flow
Flexible, lightweight, and easy to maneuver
Has durable construction for long term service
Doesn't get twisted or kinked
With brass fittings and spray nozzle
Helps to save up some space
What We Don't Like
Not for those who need longer hose when sailing
Cleaning dishes and other things on board is done with no trouble because of this flexible hose. I have no regrets about purchasing it, instead, I'm grateful!
6. WhiteCap Blue Coiled Hose
As a recreational fisherman, I don't regret adding this to my boat's pump system. The compact size of this marine washdown hose and nozzle as well as its low price lured me in buying this product. It's almost a year since I bought it and I want to say that I made the right decision.
This hose has a classy blue color and appeal. Nonetheless, it's not solely about aesthetics but you can expect more from it. Polyurethane is the material picked by WhiteCap, a dedicated company who makes marine accessories and gear for decades. They know that it's suitable for marine use. So you can find this coiled hose in most personal crafts like mine.
Leaking is not an issue with this item as it can give you the regular water flow. Since the nozzle is already attached to it, I don't have to spend time figuring out the assembly. I just worked on connecting it to the washdown system. Male and female fittings are also available and they helped me accomplish the necessary process.
The 15 feet length of this coiled hose fits my small boat. It allows me to reach the areas that I want to clean. To my delight, it doesn't take a lot of space when in storage. Due to its compactness, it won't cause an accident. It's no longer debatable that it's for small vessels but it may not be long enough for larger ones.
What We Like
Has a classy blue color and appeal
Made of polyurethane to keep up with marine use
Compact for easy storage
Perfect for small boats
No leaking with regular water flow
The nozzle is already attached to the hose
What We Don't Like
It may not be long enough for larger vessels
This classy-looking and compact hose suits my small boat well. It works well together with the washdown system to maintain the cleanliness of my boat and things in it.
7. Camco 41983 Coil Hose
I salute the operational function of this coil hose. It's just perfect for the washdown system in my boat as it's specially made for marine use. Thus, exposure to both freshwater and saltwater is fine.
I like the slide thumb control so I can easily move the nozzle to adjust the stream. This part is durable and not prone to breakage. Handling it promises comfort too.
Coil design is always advantageous like this hose. It has strain relief to diminish kinking. The best part is that it coils back to its compact form for uncomplicated storage. You won't just see it lying around and creating disorder. Additionally, its brass fittings are great due to their durability and resistance to rust.
This washdown coil hose and its hardware are made to last for years. That's why there's a one-year limited warranty offered by its manufacturer. I can attest to its durability as I've been using it for several months and no issues came up.
This hose has a 20-foot length which is just what I need onboard to wash the catch of the day and some things. I prefer the ability of its nozzle in dispensing water even though the maximum pressure is relatively lower than the others. Some boaters may not be content with this. Considering my needs, high pressure of water flow is not that necessary.
What We Like
Has a great operational function
Made for marine use so it's fine for freshwater and saltwater exposure
Its nozzle has a slide thumb control to adjust the water stream
Coils back to its compact form without kinking
With durable brass fittings that can resist rust
Made to last for years with a one-year limited warranty
What We Don't Like
Its maximum pressure is relatively lower than its counterparts
I feel comfortable handling this coil hose. Thereby, I have fun cleaning things in my boat. Its service can be enjoyed for a long time due to its durability.
8. T-H Marine WDH-15W-B-DP Wash Down Hose
Excellent products are all about quality. A good example is this wash-down hose. Since I added it to my boat's washdown system, it's easy for me to keep my deck neat and clear. Using it is trouble-free as no kinking happens.
This fantastic hose is made of polyurethane, a material with great resistance against UV rays, salt, and chemicals. Due to this feature, I don't have to doubt its suitability for marine use. It suits the washdown system and you may also use it for drinking water. This 15-foot hose serves me well as this length is more than enough for its purpose.
Every purchase is a complete set as it comes with a spray nozzle that you can adjust and non-corrosive hose fittings. The screw-out cover and storage tube also comes for free. It makes buyers like me happy as I don't have to spend more to buy the needed parts separately. This is an awesome boat washdown hose kit!
When I started using this hose, I came to learn that cleaning is fun. It has this effect as the process becomes easier than before. I think the other reason is the outcome, such as a clean deck and dirt-free marine accessories after washing them.
It's a great product and when I bought one for my parents who like fishing with their small boat, it was out of stock. All in all, it's the only downside that I can say about it. I still need to wait for some time before I can buy it.
What We Like
Made of material that is resistant to UV rays, salt, and chemicals
Suitable for marine use
Can be used for drinking water
Complete with nozzle and hose fittings
With free screw-out cover and storage tube
Makes cleaning fun and effective
What We Don't Like
Out of stock most of the time
I like how this hose assists me in cleaning my boat and some marine accessories. Who won't be happy to see the squeaky clean deck and marine gear?
9. SEAFLO SFHW2-060-01 Washdown System
I've been using this for a while now and I can say that it's much better than the previous hose. Since it's entirely made of top-quality plastic, it has the resistance against corrosion. It has a solid form and it's conducive for marine use. I like it a lot as it fits its purpose well.
Another advantage of plastic is being more versatile. So don't be surprised to see three adapters in various sizes. They're all threaded female and the fittings are for an inch, ¾ inch, and a half-inch. Attaching and disconnecting are trouble-free as well. An adjustable sprayer is included in the package to complete the set-up.
Furthermore, an adaptor is also available to foster convenience and ease of use. That's why the connection is even possible despite irregular fittings. Washing some things and gear in my boat is pretty easy due to its spray nozzle. Then, cleaning can be done efficiently. It has an adjustable tip, contoured grip, and bronze fittings. Hence, I have nothing to complain about as I feel comfortable using it.
This 20-foot wash-down hose for boats is solid plastic with UV protection. Its toughness doesn't hinder me from using it under the sun. With its proven reliability, the manufacturer is confident enough to offer a 4-year warranty. It also returns to its original, compact form for neat and safe storage. Of course, it won't occupy much space. Others who need longer hoses may not be content with this.
What We Like
Has a solid form which makes it conducive for marine use
Made of top quality plastic to fight corrosion and harsh sunlight
Offers a 4-year warranty
Returns to compact form after use to save some space
Matches various adapters for trouble-free attaching and disconnecting
With an adaptor and spray nozzle for comfort and to use it easily and conveniently
What We Don't Like
A bit short for boaters who need a longer hose
What I like the most about this hose is the comfort, ease, and convenience that it offers. I don't have problems handling it as I can wash things properly.
10. Empire Faucets Heavy Duty Water Hose
This is indeed a heavy-duty hose dedicated to indoor and outdoor use. Even though it's mainly for RVs and motorhomes, it's more than ideal as a washdown hose. It's the thickest and the most robust hose that I've ever had in my boat.
The product description is correct and void of bluffing. It's sturdy with synthetic resin construction, metal threads, and brass fittings which strengthens its longevity. Its appearance reminds me of the blue West Marine washdown hose.
The convenience of using this product starts with a straightforward attachment. It also means that detaching is easy too. Hence, there's no need to spend a lot of time executing these procedures. I've purchased the nozzle that I prefer and installation didn't stress me out as well. The next thing I know is that the washdown system in my vessel is ready to be used for cleaning.
The 15-foot length of this hose is adequate for my needs. I can wash away the dirt on the floor even when I'm sailing. It's better to immediately clean some filthy areas rather than letting them dry on the surface. After use, this coils back to its original form for orderly storage.
Nothing is perfect just like this is a heavy-duty hose. You should know that it's not recommended for hot water and pressure washer. With this knowledge, you'll be able to take care of it and let it serve you for a long period.
What We Like
Thick, robust, and heavy-duty
With synthetic resin construction and metal and brass hardware for longevity
Straightforward attachment and easy installation of the nozzle
Can wash away dirt well
Coils back for orderly storage
What We Don't Like
Not recommended for hot water and pressure washer
Just by looking at this hose, I can tell that it's built to last. Nevertheless, its strength is not only contained in its appearance but in its function too. Washing away dirt is done with no delay!
Buyer's Guide
A washdown hose is different from a hose for boat docks. Here's a list of important factors before you purchase a washdown hose.
Safety concerns
Some regular hoses contain heavy metals and other harmful chemicals. In this aspect, you have to look for a portable hose that won't pose a risk to your health. You may also try finding the ones that are FDA-certified particularly the white water hoses. They observe the safety standards.
Length
Aside from the types of washdown hose, the length varies too. If you don't know the exact length of hose that you need, bear in mind that you can stretch it. You may also get an extended option.
Kink-free design
Kinking is what most users worry about. Therefore, it's great to have a hose with a kink-free design to relieve you from dealing with tangles.
Flexibility
It's also a significant factor for some occasions that the hose passes through corners and narrow curves. Know as well that a rigid hose may restrict water flow. Moreover, a flexible hose is easy for the user to handle.
Fittings
Fittings have a big part for the hose to function. Thereby, you have to check its quality to ensure there will be no leaks and corrosion.
What Is Boat Washdown Hose
The best boat washdown hose is a marine hose used with washdown pump application of freshwater or saltwater. Its presence adheres to the United States Coast Guard specifications or standards. It is coupled with brass fittings or couplings which can withstand corrosion and the harsh marine environment.
Manufacturers used materials like vinyl, polyurethane, latex, and EVA to guarantee durability. If a washdown hose is tough and flexible, you can clean your boat and some things on board with ease. No need to break your back to keep everything tidy.
Boat Washdown Hose VS. Garden Hose: Which One Is Better
A boat washdown hose is specifically made of marine-grade material to withstand UV rays, salt water, and other harmful elements. Some are designed to have a compact form for easy storage. But they can stretch to reach some areas in your boat.
On the other hand, a garden hose with an excellent quality can expand up to three times its original size. It doesn't kink, tangle, or twist. As you can see, it has the essential abilities for onboard use. Thus, it's safe to say that it can be used as a boat washdown hose. But not all garden hoses are made of marine-grade material, unlike boat washdown hose.
To conclude, a boat washdown hose is not always better than a garden hose. Once a garden hose is made of durable material, it can be connected to your boat's water system. It would be much better to have a compact form for trouble-free storage and flexibility to not interrupt the water flow.
Conclusion
Cleaning your boat or some objects in it doesn't need to be done after you dock. Doing it later results in dried stains which can be pesky. So having the best boat washdown hose on board will allow you to take care of dirt and filth even when you're on the waters. Since it's reliable, no mishaps will occur.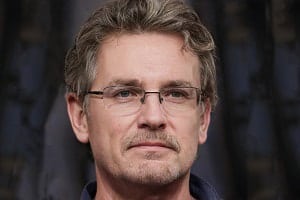 "I am James Harvey – founder of Boating Basics Online. It is established with the drive to help out first-time boaters, which are those desiring to explore their way through the water. So if you are new to boating, start from here with me. "