A boat is a pricey investment just like your house. Therefore, it's natural that you give it the same amount of attention. Equivalent to furnishing your house is getting the right and quality accessories for your boat, of which includes the best marine water heater.
Warm or hot water is essential when sailing as you utilize it for showering and washing up. Just make sure that you get the right heater size so that you can optimize the usage and performance. Unlike residential heaters, marine water heaters don't consume a lot of energy.
There are numerous marine hot water heaters that you can find. You can avoid confusion by reading this comprehensive review so you'll be oriented with the important features. Consequently, you can select the most suitable for your boat.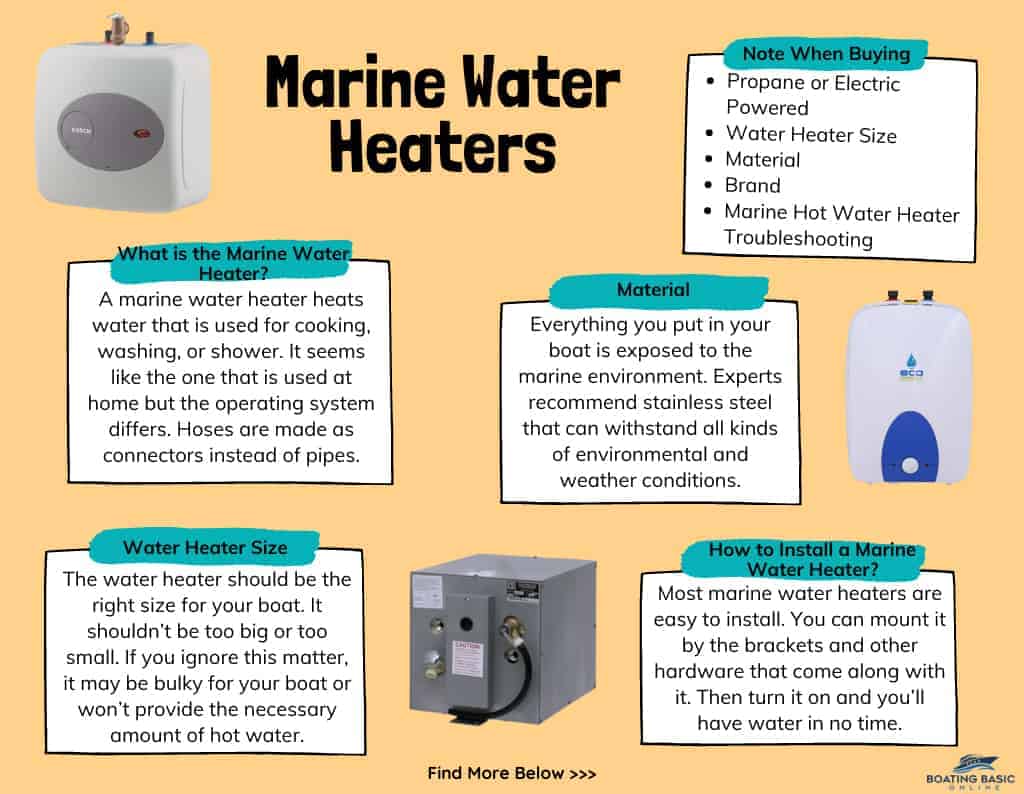 ---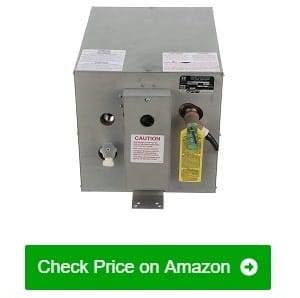 Whale Premium
Works with solar power
Provides hot water in 5 minutes
Easy installation
---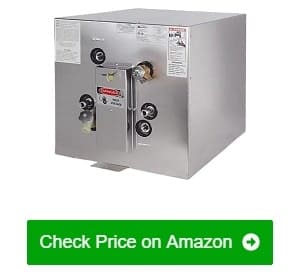 Kuuma 11G 120V
Doubles the supply of hot water
Has good-quality parts
High-quality construction
---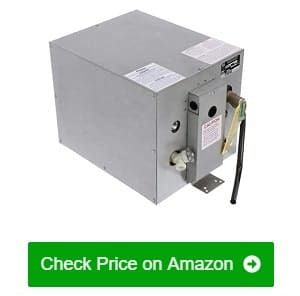 Whale Premium Water Heater
Durable
Easy installation
Has 2-year warranty
---
Best Marine Water Heater Reviews
1. Whale Premium Water Heater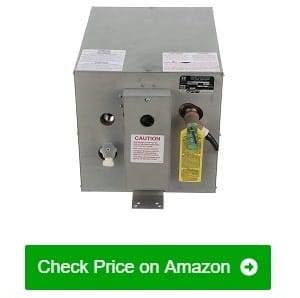 You'll find this product from Whale which is a part of Attwood in several marine water heater reviews due to its dependability. It's an efficient hot water supplier in my sailboat. I sometimes use solar power to make it work.
When it's time to take a shower, I only need to wait for 5 minutes to get warm water. That's why I call it an instant heater! Aside from quickly turning water hot, it can supply you with plenty of it. To prevent water from becoming scalding hot, I added an automatic thermostatic mixing valve to the outlet.
The installation is easy as I mounted it horizontally. It's like doing plug and play as everything is a match. No tiresome process is required before reaping benefits from this 6-gallon heater that only requires 120V. It's a relatively compact water heater. Thus, you don't need a lot of space for it.
I also admire the composition of this water heater. It has all the right to present itself as premium because it's framed with a marine galvanized steel case and is welded to hold-down brackets in the inner section. These parts manifest their durability. Other reliable components of this heater are a double-walled heat exchanger and pressure relief valve for a consistent supply of hot water.
What We Like
Works with solar power
Provides hot water in 5 minutes
Produces plenty of water supply
Easy installation or horizontal mounting
Compact so it take up a lot of space
Durable because of its premium components
What We Don't Like
Adding automatic thermostatic mixing valve to the outlet so that water won't be scalding hot
This sailboat water heater is reliable in delivering hot water. It warms water in just a few minutes so you won't have to wait too long.
2. Kuuma 11G 120V Front Exchanger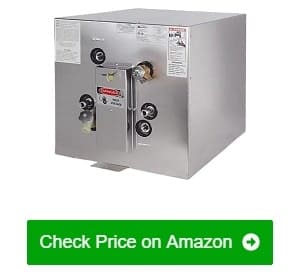 Due to this quick marine water heater, the supply of hot water in my boat doubled. It's lightweight with fiberglass sheets for insulation. This design allows me to remove the case to minimize the space that it occupies.
I was happy that I am able to connect it to the freshwater cooling system of the boat's engine. Water heating can be done with 110V AC when the engine is not running. However, it's recommended to fill and cap the pipe with antifreeze when you let it run with AC.
You'll find black, white, and green wires that have good quality. If you have the same wires in your boat, it's easy to connect them. Installation is manageable in my case. I figured out what to do after I saw the parts. It has a nice recirculation system that works in producing hot and cold water.
I've never run out of hot water in my boat since I started using this item. Whenever I'm sailing, I can always shave, bathe, or wash my hair. Its durability is supported by high-quality construction. Based on my observation, it has the same looks and functions when it was newly bought although I've been using it for over a year.
What We Like
Doubles the supply of hot water
Lightweight and space saver by removing the case
Can be connected to the freshwater cooling system of the boat's engine
Has good quality parts
Has a recirculation system for hot and cold water
Durable due to its high-quality construction
What We Don't Like
Needs antifreeze in the pipes when connected to 110V AC
One of my concerns about my boat is the supply of hot water. This Kuuma water heater saves me from worrying about it.
3. Whale Premium Water Heater Capacity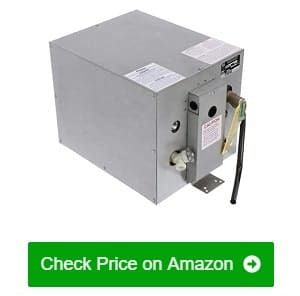 With the 11 gallon capacity of this water heater, I have enough hot water onboard whenever I need it. I think that Whale is a part of Attwood company as the two-year warranty card is addressed to the latter.
It's a great replacement for my previous heater even though it's a tad bit larger. Luckily, the plates can be flattened against the case to make some room. This results in decreasing the depth. Although it's another task, installation is fairly easy. Screwing down plates and horizontal mounting is not that difficult.
Operating this heater starts with 120 volts or 220 volts. It's flexible when connecting to power sources as it has extra ports. Thus, there are options for you to plug it into the engine coolant or run off the heat engine. The second alternative works even though the boat is underway and it functions without the help of a generator.
Turning the water hot would take less than 45 minutes. It's worth the wait as you'll have plenty of it. I like the marine galvanized steel case as it promises durability as well as the fact that its ignition is well-protected. It has a rugged construction with parts that are covered to prevent harm or accident. With these features, I know that it can be used for a long time.
What We Like
Provide enough supply of hot water onboard
Has 2-year warranty
Fairly easy installation
Has extra ports for different power sources
Durable due to rugged construction
Ignition is protection to prevent harm and accident
What We Don't Like
Has plates that may be a tad bit larger than the designated place
Water turns hot after 45 minutes
After properly installing this equipment, I get to enjoy hot water when taking a shower. I can relax in my boat after a long day. Hence, I can be in a cozy ambiance even far away from home.
4. Kuuma Water Heater Rear Heat Exchanger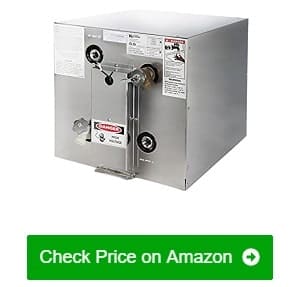 Since the exterior shell of this is composed of marine-grade aluminum, it can last for several years. As I've used it for a year with no issues, it's much better than the other one. I didn't have to make adjustments as its measurement is similar to my previous water heater.
This has a 6-gallon capacity that never fails to provide the necessary amount of hot water. Thanks to its large diameter and 1,500W heating element! There are other features that I like about it. A high-temperature limiter is present and it has an automatic reset. Also, the circuitry is ignition protected for safe operation.
The heat exchange barbs are found at the back while the fittings and connections are in the front. Installation is relatively easy so I didn't have to spend a lot of time when going through all the steps. This heater can start working through AC power or engine heat when your vessel is underway.
Some users weren't satisfied with the amount of water that it produces. But I'm assuming this is because they forgot to independently cap off the heat exchanger with anti-freeze. It's a requirement especially if you're operating this heater with 120 power volts. In addition, there's an outlet for cold water.
What We Like
Composed of marine-grade aluminum to last for several years
Provides enough hot water due to 1,500W heating element
With temperature limiter and automatic reset feature
The circuitry is ignition protected for safety
Relatively easy installation
Works with AC power and engine heat
What We Don't Like
Capping off the heat exchanger with anti-freeze so it can supply the needed amount of hot water
This marine hot water heat exchanger doesn't only provide a sufficient amount of hot water. There are also great functions like limiting the temperature, automatic reset, and safe operation.
5. Bosch 7738004996 Electric Water Heater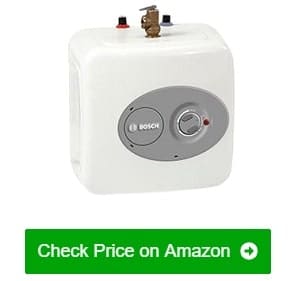 Although this is a mini-tank water heater, it has a number of great features. First and foremost, it's capable of giving off instant hot water as it can maintain the high temperature. It fascinates me because I don't need to wait for even a single minute. The warmth is good enough for my outdoor showers. I also use it when washing dishes.
It stands out when it comes to the quantity of hot water. Five to seven gallons can be obtained at 98 degrees Fahrenheit.
Be aware that it may be too hot at first and may likely be so for the first gallon. Despite this minor drawback, it can serve two sinks without compromising performance. Also, the recovery rate is fast. With these abilities, I can say that it's perfect for heating water from distant faucets.
Since this is tankless, the mounting options are not limited. You may place it on the wall, shelf, or floor. In any way you do it, it will always be easy because of its size. The same reason helps me avoid wasting water as I only get what I need. Just like any other RV marine electric tankless water heater, this saves energy as you only heat the water when necessary.
This is truly an amazing product just like the warranty that every user can avail. It's six years on the unit and two years for the parts.
What We Like
Gives hot water in an instant even for two faucets at the same time
Can provide five to seven gallons of hot water
With a fast recovery rate
Mounting options are not a limited and easy installation
Separate warranties for the unit and the parts
Makes you save water and energy
What We Don't Like
The first gallon of water may be too hot
I look up to the person who created the concept of this tankless water heater. There are many benefits that I can get from it aside from getting hot water in an instant.
6. Ecosmart ECO MINI Electric Heater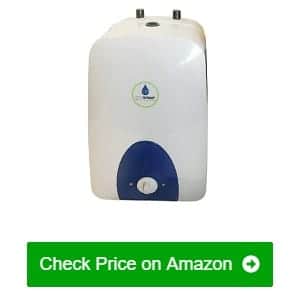 I read some marine hot water heater reviews which convinced me to buy this item. The efficacy of this equipment is not only for household use but onboard as well. Eventually, I wasn't disappointed. I only need to count seconds to have hot water. Moreover, the performance remains incredible even with a distant faucet.
When onboard, I need hot water to complete menial tasks and quick washing. As such, this heater is a reliable companion. Even my boat bidet with a sprayer became functional because enough supply of warm water came out of it. What's even better is that this mini tank can give you both hot and warm water.
I like that it's compact and lightweight with a sleek design and a temperature display. The size of this tank reminds me of a toaster oven. It has pretty good insulation so no energy is wasted. Plug it into a 110-volt outlet and it will start working.
As for the installation, it's not particularly hard. It's just that the instruction is missing. Some hardware parts are needed to finish the setup and make the water heater work properly. What you need to focus on is getting a secure connection by adding 1/2" x 1/2" FIP to MIP brass couplers. Four to five wraps of Teflon tape will prevent leaks.
What We Like
Heats water in a matter of seconds
Works on a distant faucet
Gives water instantly so perfect for quick washing and simple tasks
Can provide both hot and warm water
Compact and lightweight with a sleek design and a temperature display
Has good insulation to not waste energy
What We Don't Like
Need to add couplers and tape to secure the connection
When you want hot and warm water onboard, this one is the best provider. You will also be satisfied with the volume and quantity that it delivers in a matter of seconds.
7. Kuuma 120V 6 Gallon Water Heater
Water heaters made by Kuuma are known for their durability. They are made of aluminum to ensure that you can use them for many years. So, I didn't think too hard before buying this one. My hunch was right as it turned out to be the perfect replacement for the previous heater in my 1985 O'Day 28 sailboat. I'm enthralled by how it perfectly fits into the cockpit locker due to its side mount feature.
Hot water when cruising the vast sea can be both a necessity and a luxury. Thus, I was prompted to get this heater with great abilities. There are two ways to heat water due to its dual-loop feature. It can be done through the boat's engine and shore power. When the vessel is underway, you can connect it to AC power. You may even use raw power heating.
It also promotes safe operation, especially for gasoline-powered boats. The credit goes to the circuitry that is ignition protected. There's a limit to high temperatures and an automatic reset. Hence, you won't be surprised with scalding hot water. Quick recovery is another wonderful ability from its 1,500W heating element.
Installation is uncomplicated as the plumbing is in order. The electrical connection is found in the front so I just work on a single side. Before I started hooking it up, I bought the necessary hardware. I only received the heater and pressure relief valve.
What We Like
Durable and lasts for many years
Suits old model vessels
Works with different power sources
Promotes safety operation
Quick recovery of hot water
Uncomplicated installation
What We Don't Like
Separately buying the necessary hardware
This is a good provider of hot water, not only for the way it delivers but also for safety precautions from some of its parts. I like the trouble-free installation in my boat's locker.
8. Whale F700 Water Heater
The need to have a huge supply of hot water made me buy this product. You can get 6 gallons or 23 liters from it. It has a thermostat that regulates the electric heating element while it can also produce cold water if you need it.
When heating water, it can reach a temperature of 140 degrees Fahrenheit. But with the temperature-pressure relief valve, the water can't get too hot. A bilge pump is also added to stop electricity sparks. Since it can dispense both hot and cold water, its design includes waste management.
You can rely on its durability as the inner tank is composed of aluminum and the exterior is of marine-grade stainless steel. These materials guarantee long-term service and strength to face the rigors of the marine environment. That's why the manufacturer has the confidence to give a two-year warranty to all users.
The double-walled construction is also great as it protects the freshwater supply from contamination. Thus, I don't worry too much about the water that I keep in my boat.
It's convenient to just focus on the same area when working on the tank since the fittings and heat exchanger barbs are all situated in the front. Therefore, both the installation and marine hot water heater troubleshooting are easy. Hold-down brackets complete the horizontal mounting of this heater and it's done with no troubles.
This unit requires 120V to work. You can expect heat retention for 10 hours and 8 minutes with temperatures from 140 degrees to 104 degrees Fahrenheit. So, the very first water release can be too hot.
What We Like
Contains a huge supply of hot or cold water
Has parts for safe operation, waste management, and prevention of contamination
Durable for long-term service
Has a two-year warranty
Easy installation and troubleshooting
Hot water retention for 10 hours
What We Don't Like
Very first water release is too hot
I love how I have a constant supply of hot water with this heater. It can be cold out there on the vast body of water so I need it most of the time.
9. Bosch ES8 Tronic 3000 T Water Heater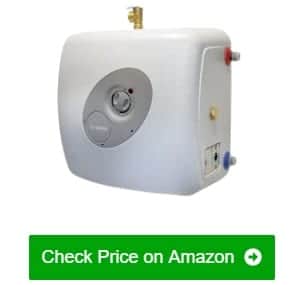 I like this product very much as it's an effective marine tankless water heater. In just 35 minutes, the entire tank of 7 gallons is filled with hot water! Using it gives me so much ease and convenience. I don't have to turn it on again and again as the water stays hot.
Installation is super easy since it's substantially hardwired. I think everyone can do it with no difficulty at all. It can also produce cold water. You may mount it horizontally and vertically. But make sure to prepare enough space for it as it's not exactly mini. Still, you have the freedom to put it on the wall or the floor.
I mounted it with PEX and once it's done, hot water came out in just 9 seconds. Thus, it's right to say that it heats up quickly. The temperature that it handles ranges from 65 to 145 degrees Fahrenheit. I can customize the temperature of hot water as there's a thermostat swing.
This water heater is energy-efficient as it doesn't need to keep on operating and constantly use power. Moreover, it only needs 120V rather than 220V. This allows me to take long showers onboard. Even though the faucet goes a long way from the tank, the flow of hot water is not interrupted.
What We Like
Can make 7 gallons of hot water
Easy and convenient to use
Super easy installation
Heats up quickly and fast
With a thermostat swing to customize the temperature
Energy-efficient even though the faucet is far from the tank
What We Don't Like
Prepare enough space before installation as it's not mini
I don't have to look for a better tankless water heater as this one is perfect for fulfilling my needs. Enough supply of hot water in this tank allows me to take hot showers onboard.
10. Whale 68954 Seaward Hot Water Heater
I bought this water heater to make sure that I always have hot water in my boat. Its 11-gallon capacity caught my attention among several other options in the market. It's a product of the latest technology so it's capable of bearing 1,500W.
It has a robust construction to withstand harsh marine environments and corrosion. So, I can rely on it in rendering the same performance through time. It simply means unrivaled durability. I can't help but be astonished by its double-wall heat exchangers and integrated pressure relief valve. Both of these parts guarantee the security of water inside it and the preservation of heat.
Safety operation is also expected from this tank because of its protected ignition. The last thing that I want is to have a piece of equipment that acts up in my boat while sailing. Thankfully, this water heater gives me peace of mind. There's a safety control to stop the build-up of unsafe temperatures as well.
Naturally, it is a large tank due to its capacity. The installation will not be laborious if you get help from someone. My friends helped me to horizontally mount it with hold-down brackets that are welded to the inner tank. Even a big guy like me can't carry it alone.
What We Like
Has a large capacity to not run out of hot water
Has a robust construction for durability
With parts that keep and preserve hot water
Safely operates with ignition protected and safety control
What We Don't Like
Needs to be installed by two people as this is a large tank
I like this large water heater as well as its robust construction. I think there's nothing like it in the market.
11. Suburban 52747A Water Heater
I don't go for a tankless water heater if I want more pressure and very hot water. The things that I'm looking for are provided by a hardy tank like this one. Since I sail for a couple of days, it serves me well in providing hot water that I use for showers and washing dishes. This is also an RV marine water heater as it's mostly used by those who permanently live in RVs.
I was able to double up my hot water supply from 6 to 12 gallons. This tank can be powered by propane and 120 volts of electricity. Although it's big, I've noticed that it consumes less propane and it's quieter too. Due to the adequate supply of hot water, there's no interruption when taking a shower as long as the power source doesn't cease to work.
Before mounting this heater, I flushed it first to ensure that the inside is clean. I did some minor adjustments to the plumbing and it didn't trouble me at all. It doesn't take much time and effort to complete the installation. After the assembly, give the cold tap water 15 minutes to turn hot.
It has a steel glass line with node rod protection. Because of these parts, I didn't have to be bothered with leaks that require fixing. I'm happy that it's sturdy enough to counter damages.
What We Like
With a capacity of 12 gallons which means doubling up your hot water supply
Can be powered by propane or electricity
Consumes less propane and operates quietly
Easy installation to produce hot water in 15 minutes
Not prone to leaks
What We Don't Like
Some minor adjustments on plumbing
I find what I need in this large tank. It doesn't give me a hard time with delays or interruption of hot water supply and leaks.
12. Whale Seaward ZXC-F600Wcwe Water Heater
When I go sailing, I see to it that I dock my boat before sunset. But, I sometimes spend the night on the waters and return home the next day. Hence, this 6-gallon water heater is just right for my needs. It can be operated by 120 volt AC or engine coolant heat exchange.
To have constant availability of hot water, there's a thermostat that regulates the heating temperature at 140 degrees Fahrenheit. You may also get cold water from it because of its 1/2-inch NPT.
The inner tank is made of aluminum while the exterior is of marine galvanized steel. With these premium materials, I know that this tank will be with me for a long time. Durability of a water heater is important for me so I have the assurance that it can take care of my boat's water supply.
Set it up by horizontal mounting and hold-down brackets that are already attached to the inner tank. I did it with ease by myself. You will have to thoroughly check the fittings and heat exchanger parts to avoid any issue. Fortunately, it's uncomplicated as they are all placed in the front of the tank.
Some parts are added to make this water heater work well and safely. It has a large 3/4 inches drain valve and a temperature-pressure relief valve. These valves can stop unwanted gas from damaging the tank and limit the unsafe rising of temperature.
What We Like
Can be run by electricity or a boat's engine
Has a thermostat that regulates water temperature
Durable as it's made of premium materials
Easy mounting or installation
With valves for safety operations
What We Don't Like
Thorough checking of the fittings during installation
I'm grateful to this tank for providing me the hot water supply that I need when I'm sailing. It gives me so much comfort so I can say that this is a valuable item in my boat.
Factors To Consider When Choosing Marine Water Heaters
Before buying a water heater, there are two main things that you have to consider. Of course, the size of the heater should match your boat's size so you have enough space for it. The next thing you have to think about is the number of people onboard. Hold your horses as you can't just buy a 12V marine water heater if you have a lot of people cruising with you! There are other aspects that you have to ponder as well.
Propane or Electric Powered
Most of the water vessels these days have an electrical system. So, getting an electric-powered water heater is not troublesome. You should know that the heater will always be running without limitations if it's run by electricity.
When it comes to a propane-powered heater, it has a quick recovery rate even when the temperature is low. You'll also save on running costs. Some think that electric-powered ones tend to last longer. Nevertheless, propane-powered heaters can keep up.
On the brighter side, you'll find exceptional water heaters that can be powered by both propane and electricity. So, at any time, you can switch to the power source that suits you best.
Water Heater Size
The water heater should be the right size for your boat. It shouldn't be too big or too small. If you ignore this matter, it may be bulky for your boat or won't provide the necessary amount of hot water. If you don't have ample space for it, go for the tankless type as it's compact.
Material
Everything you put in your boat is exposed to the marine environment. In this matter, you should consider your boating routine and preference. Experts recommend stainless steel that can withstand all kinds of environmental and weather conditions.
Brand
A brand is appealing if it becomes popular due to the satisfaction that it gives buyers. So, settle for a company that has a good reputation and you won't be disappointed with the quality of their products.
Marine Hot Water Heater Troubleshooting
Be concerned about troubleshooting as it's important to get the heater fixed in case something goes wrong. Research the product to see if you can handle the necessary troubleshooting steps.
What Is The Marine Water Heater
A marine water heater heats water that is used for cooking, washing, or shower. It seems like the one that is used at home but the operating system differs. Hoses are made as connectors instead of pipes.
There are two ways to heat a marine water heater. You can let it run by AC power or marine engine heat. This equipment only needs minimal power as any excess can disrupt ignition. It usually comes as a built-in but selections are in various sizes, patterns, and durability.
Who Makes The Best Marine Water Heater
Companies become competitive these days. Thus, it's not only the popular ones that excel in making quality products. Aside from the commonly known Superstor marine water heater and Isotemp water heater, Whale, Kuuma, Bosch, Ecosmart, and Suburban are trustworthy brands in terms of creating marine water heaters.
How To Install A Marine Water Heater
Most marine water heaters are easy to install. You can follow the steps in the instructional manual but in some instances, you may not need it at all.
You can mount it by the brackets and other hardware that come along with it. Then turn it on and you'll have water in no time.
Which Water Heater Is Better Rheem Or AO Smith
Rheem and AO Smith are known as makers of quality water heaters. The former also specializes in crafting air conditioning and air cooling systems while the latter only focuses on water heaters. AO Smith has better customer service than Rheem, which is the primary difference between them.
Conclusion
After reading this review, you know the importance and value of the best marine water heater. It's an investment with a load of benefits. Hot water is a necessity but it can be luxurious when you're cruising with your boat. It can make a huge difference in your sailing experience due to the immense comfort that it brings.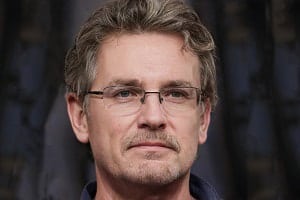 "I am James Harvey – founder of Boating Basics Online. It is established with the drive to help out first-time boaters, which are those desiring to explore their way through the water. So if you are new to boating, start from here with me. "