Hard water can cause unpleasant side effects like headaches, and you may be pushed to the point of exhaustion when having to deal with them. But, nowadays, you can rely on the best marine water softener for help. These units can filter minerals and keep your pipes away from damage. They can also be installed on RVs and mobile homes.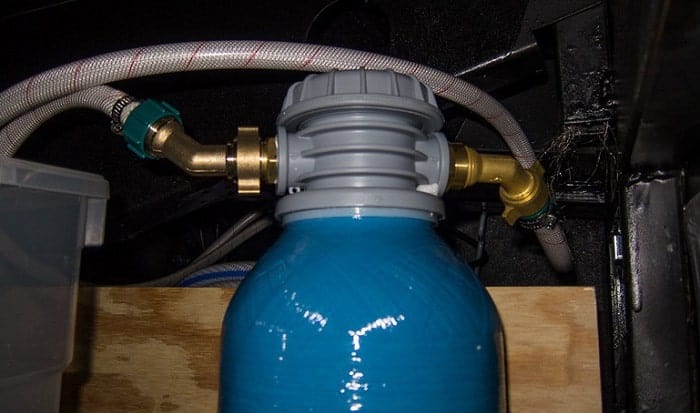 The best way to avoid the adverse effects of hard water is by building a water softener system in your boat. Check the following water softeners and their features to pick the most suitable one for yourself. In my opinion, these are the ones that excel among other brands in the market.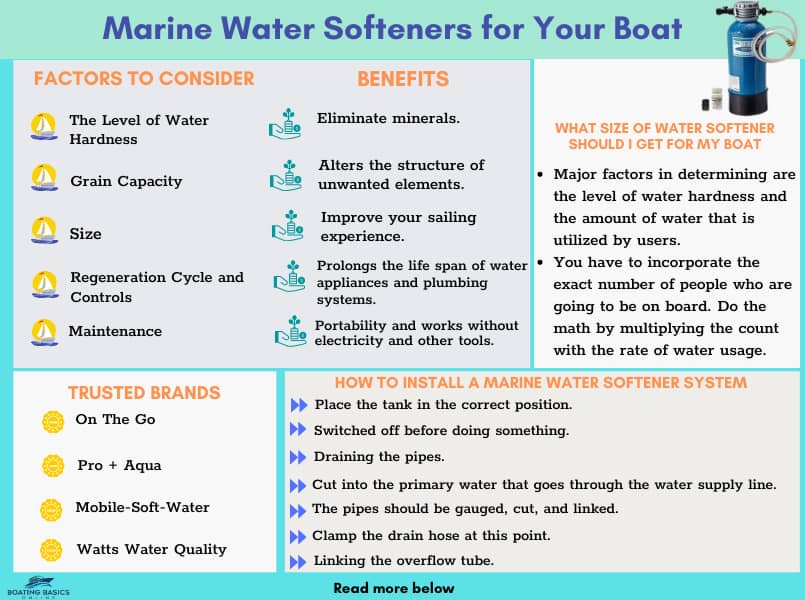 ---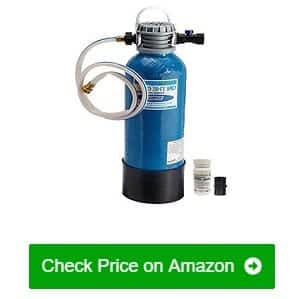 On The Go Portable Water Softener
Wide opening
Only takes half an hour
Compact with a handle
---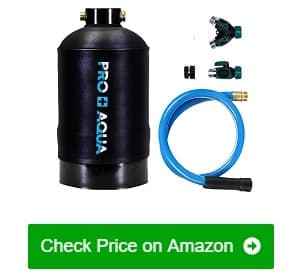 PRO+AQUA FBA-WS-P-16
High-grade material
Give you 2,000 gallons of water
Straightforward installation
---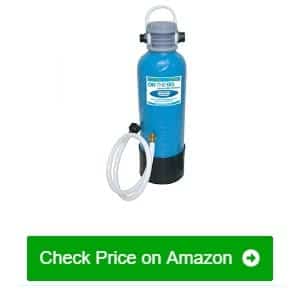 On The Go OTG3NTP3M
Easy to carry
Long-lasting
Easy to assemble
---
Best Marine Water Softener Reviews
1. On The Go Portable Water Softener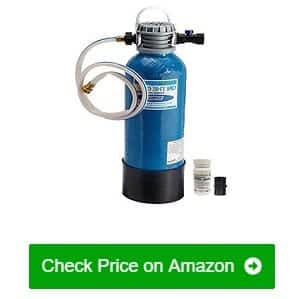 The hardness of the water in my area is at a staggering 250 ppm. Knowing my situation, a friend recommended this to me after using it herself on an RV. I'm glad that I listened to her as the water in my boat is now at 0 ppm. This portable water softener gives me peace of mind because the water is safe for everyone and void of any nasty smell.
Soap lathers well, so doing the dishes and washing the appliances isn't difficult. The water doesn't dry up my hands and my skin even feels soft. It's indeed one of the most wonderful investments that I've made for my boat.
Two boxes of salt were used for regenerating the water in this water softener. There's a wide opening to ensure that pouring the salt won't be messy. After half an hour, I tested the water and 0 ppm showed up as the result!
A regular garden hose will let you connect this equipment to your onboard water source. It can purify water up to 1,600 gallons within 40 days without needing any tool or electricity.
Some users may find this heavy but it's fine with me. There is a handle on the top that makes it easy to carry. It's also compact so it won't be difficult to find a place for it. You may put it inside the storage or side locker. Moreover, you won't need to worry about potential leakages because it's made of premium quality materials.
What We Like
Eliminates water hardness as well as unwanted smell
Wide opening for pouring the salt intended for water regenerating
Only takes half an hour to soften the water
Purifies 1,600 gallons of water within 40 days without tools or electricity
Compact with a handle for carrying
Clean water is a necessity. Thus, I always feel wary without having a supply of it available onboard. Thanks to this water softener, I am no longer deprived of the essentials to clean and wash when I'm sailing.
2. PRO+AQUA FBA-WS-P-16 Water Softener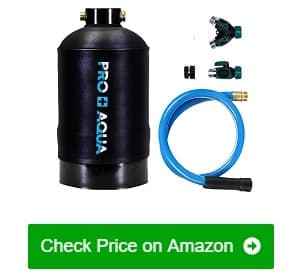 The water in my boat has excellent quality because of this water softener. It's like the one from my home faucet. I thanked the boat captain that recommended this product to me. Water is not a problem when I sail or fish for a couple of days.
It says on the description that it can soften 2,000 gallons of water within 40 days. Thus, it's more than enough for the weekly supply that I need in my boat. It can serve you for four to five weeks before the next water regeneration. But then again, this depends on the usage and the hardness of the water that you have.
This portable water softener is made of high-grade material and covered with a durable fiberglass wrap to consistently provide softened water. I used two boxes of water to get rid of hardness. I know others who have bought a regenerating kit to make things easier.
I saw some user's comments about needing connectors or other hardware for installation in a few other marine water softener reviews. But, in my experience, everything was quite straightforward. I guess the manufacturer has improved this product in the later versions. Thus, everyone can now easily install it with the standard garden hose without requiring other tools.
The water softener system in my boat has become effective since I started using this product. I say so as there's a lot of suds whenever I do the washing.
What We Like
Creates excellent water quality
Can give you 2,000 gallons of water for four or five weeks
Made of high-grade material and wrapped with durable fiberglass
Straightforward installation due to accurate description
What We Don't Like
Some use a regenerating kit from a separate purchase
I like the structure of this water softener the most as it maintains the excellent water quality in my boat. I fully enjoy the days I spend on the waters.
3. On The Go OTG3NTP3M Water Softener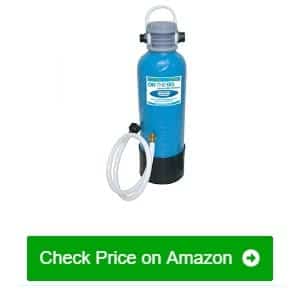 I purchased this water softener because I can't handle the larger one. To my delight, it has a rope handle for me to carry it with ease. Hence, it's designed for travel and it means that it won't be a burden to put it inside a boat. Every adult can carry it without feeling discomfort.
It has an amazing ability to soften water with even the highest level of hardness. I marveled at how it takes 425 ppm down to zero! It will always help you from severe cases of water hardness. No signs of metallic color or smell can be detected once your water softener system is set up with this portable softener.
Depending on the hardness of the water, the regeneration with table salt can last up to 2 weeks. It bears 8,000 grains to give you 320 gallons to 600 gallons of treated water.
It's like a complete set as it comes with necessary items like a cradle base, test strips, 4-foot drinking hose, and a lot more. Since it has everything that you need, it's easy to assemble without needing to buy other parts.
It's also easy to flush and rinse as long as you follow the manufacturer's instructions. The black flush adapter is a great assistant in this regard. I like that the inlet hose can move around 360 degrees. I've had a good experience with this tank for over a year now. Unfortunately, you will need a bigger size if you want something that regenerates after a month or so.
What We Like
Easy to carry and designed for travel
Softening water with a high level of hardness
Gets rid of metallic color and smell
Has everything you need to set up a water softener system
Easy to assemble
Can be used for the long term
What We Don't Like
Not for individuals who prefer regenerating hard water monthly
This water softener will impress you with how it can purify extremely hard water. I sometimes think it works like magic.
4. Mobile-Soft-Water Portable Unit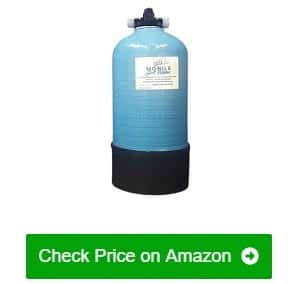 I never thought I could find an affordable but efficient water softener like this one. Since I set it up in my Lazzara yacht, dishwashing, doing the laundry, taking the shower, and boat washing are done with no trouble.
What attracted me in buying this product is the fact that it's NSF61 approved in terms of water connections and being lead-free. I didn't think twice about getting it.
Water regeneration needs to be done every 40 to 45 days for my girlfriend and I in our yacht. With some essential steps, you can get drinking water from this tank. In my case, I added a diverter valve to convert soft water to tap water. A neighbor that I know uses potassium chloride which is more expensive than salt but I haven't tried it myself.
I like the look and quality of this item. With the provision of a one-year limited warranty, I know it's dependable. I have the black one and I place it indoors. I don't have problems with it since it's not exposed to direct sunlight. But, if you do not intend to keep it indoors, you should know that it gets warm easily.
My water softener system stays in the allotted space inside my yacht because of this equipment. There's no need to transfer this tank to another area. Due to its weight, it might be inconvenient and heavy for some to carry it from time to time.
What We Like
Produces water good for cleaning and washing
NSF61 approved water connections and lead-free
Water regenerating can be done every 40 to 45 days
Can make tap or drinking water by using a diverter valve or potassium chloride
With a one-year limited warranty
What We Don't Like
Gets warm easily when exposed to direct sunlight
Might be heavy for some to carry
This product makes me feel at home when I'm sailing with my yacht. Therefore, I can say that it's a superior yacht soft water maker.
5. Watts Water M7002 Water Softener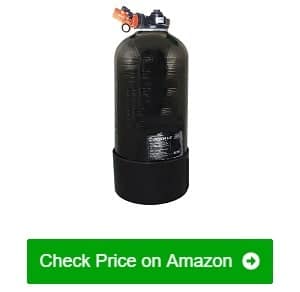 Although this is small and portable, it's a great water softener. I can say that it works just as great as the expensive units. Unlike the previous ones that I had, I don't have to repeat the necessary procedures such as flushing and changing the settings. That's why I'm satisfied with this product.
You can't blame me if it's a permanent item in my fishing boat and yacht. It takes on;y 20 minutes to work its way in the water. I even used it to soften water within the 700 ppm range. It is, without a doubt, fantastic, even when treating water with a high level of water hardness.
Recharging or regeneration with this softener is simple. I tip it on its sides to release every drop of the remaining water. Next, I let the air get in it and pour a cup of salt. I let it sit for 5 minutes then connect the port. Some people have a problem with the Y valve. But, I managed to avoid it by reducing water pressure.
I only need to regenerate after a month and a half. It sometimes goes for only a month. It all depends on the hardness of the water. But what is already fixed is the cleanliness of the shower, sink, cleaner, and washer. Moreover, the water doesn't have an unpleasant taste. So, I use it when brushing my teeth as well.
What We Like
Small and portable that works like an expensive softener
Doesn't need to repeat necessary procedures
Can soften even the water with the range of 700 ppm
A simple way of regenerating water
Can serve you more than a month
Maintains cleanliness and used when brushing teeth
What We Don't Like
Water pressure should be reduced to prevent issues with the Y valve
A water softener doesn't have to be expensive in order to effectively lower water hardness. This is an example and it can even get rid of the high level of minerals. I no longer need to spend a lot of time cleaning my cabin.
6. On The Go OTG3NTP1DS Water Softener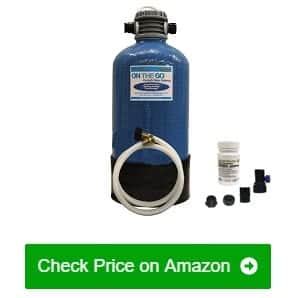 You'll see the difference like night and day when you start using this water softener. The test strip shows zero which means that it has eliminated the hardness of the water up to 489 ppm. You can choose between the standard size with 8,000 grain and double standard with 16,000 grain.
Soap and shower gel lather well. I don't need to thoroughly clean the faucet and shower as the water doesn't leave any stain or residue. The water also comes out with no odor and bad taste. I've been using it for over a year now and I think it will continue to stand by me in the long run.
Due to the good construction of this equipment and with the help of common table salt water regeneration is uncomplicated. Moreover, additional items are available in every purchase. Therefore, I don't need to buy extra parts for constructing a water softener system in my boat. Assembling went smoothly as well but I replaced the hose with a better one.
This is the ideal water softener for people who sail for a long time in their vessels or those who permanently stay in RVs or mobile homes. As for me, I still use it even though I only stay in my fishing boat for a day or two. I think that it's good to have soft water all the time, especially in the winter.
What We Like
Can quickly eliminate water hardness up to 489 ppm
Soap lathers well without leaving any stain and residue
No odor and bad taste water
For the long run
Uncomplicated assembling and regeneration
Ideal for those who sail for a long time
Using this water softener allows me to have a massive supply of soft water in my boat. I sometimes stay on my docked boat to take a shower and wash dishes.
7. Mobile-Soft-Water Water Softener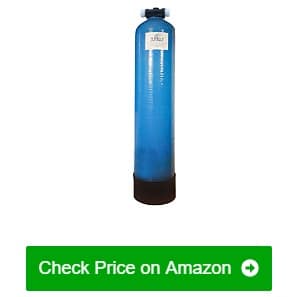 I want to have a continuous supply of soft water in my boat. I'm glad that I came across this product as it's the ideal type. It suits my preference of not removing my softener as it's designed to stay in a certain place.
This tank has an excellent way of treating hard water. It produces 8 gallons of soft water per minute. Furthermore, it can easily achieve 0% water hardness. You can get up to 3,000 gallons in a single regeneration. This amount of soft water can last 5 to 6 weeks for me. But, it's important to note that cases will vary from user to user.
Minerals will be excreted even in solid form with a cartridge filter that comes with the package. The said filter can also be used as a salt chamber. In general, installation is a piece of cake but I find it challenging to handle the bottom stand or collar.
No wonder there's a one-year limited warranty offered for this product – it's construction is superb! Just by looking at it, I can tell that it's composed of quality materials. Fiberglass reinforced plastic pressure is used to make this softener. It was designed to accommodate 150 psi operating pressure.
What We Like
Can stay in a certain area for a continuous supply of soft water
Gives up to 3,000 gallons in a single regeneration
With cartridge filter to filter minerals in solid form and can be used as a salt chamber
Easy installation
Offers one-year limited warranty
Composed of quality fiberglass that can accommodate 150 psi operating pressure
What We Don't Like
Challenging to handle bottom stand or collar
Thanks to this water softener I won't find myself without soft water when traversing the water. Even though my boat is docked, I don't hesitate to wash or do dishes in my cabin.
8. Mobile-Soft-Water Portable Softener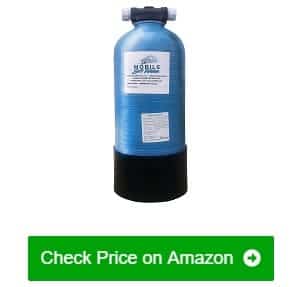 Some circumstances occur when using hard water that's filled with various unnecessary minerals and tannins. My wife and I were tired of cleaning the strainers under the faucet inside our cabin before we had this tank. We sail a lot with our 37-foot cruiser in spring, summer, and fall. It's necessary to keep the water spots down as we also shower in our boat.
Having this portable water softener makes me feel at ease. It filters out minerals efficiently. So, I don't need to regularly soak the showerhead anymore. What astonished me is that the water tastes so good. Hence, there's a bonus in utilizing this as I don't need to buy bottled water.
Another reason to love this product is that it's one of the few complete portable water softener systems available in the market. I think it's super easy to set up as it includes all of the necessary things. Nevertheless, you have to double-check the tightness of the fittings to prevent leakage.
I added it to my boat in the summer and we still have soft water until fall. Of course, it depends on your consumption and water hardness. It can serve you for weeks based on its rate of treating water which is 5 gallons per minute. With continuous use, it can give a total of 1,280 gallons.
What We Like
Filters out minerals, tannins, and spots efficiently
Capable of producing drinking water with no bad taste
Complete water softener system as it includes necessary things
Can provide soft water for weeks
What We Don't Like
Double-checking the tightness of the fittings
This water softener works as I expected. I don't have to spend more time cleaning since the minerals are filtered out. Taking showers and washing in our cruiser are trouble-free.
Factors To Consider When Choosing Marine Water Softener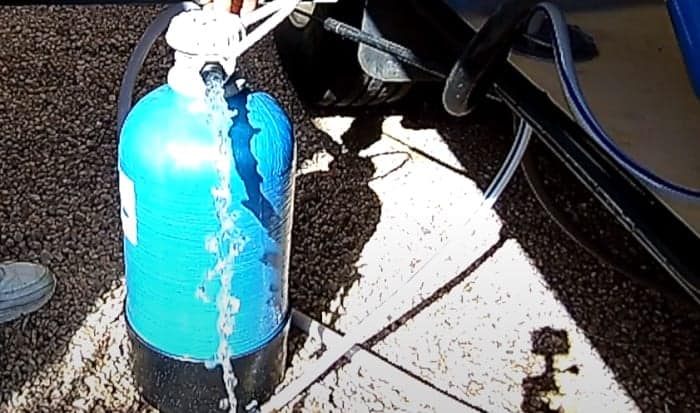 Before making a purchase, you should consider several factors to ensure that the chosen softener is the best one for your needs. You should also get a better understanding of how marine water softener works.
The Level of Water Hardness
It's wise to test the hardness of the water before checking the available water softeners in the market. You should start by buying a test kit first. From there, you can garner important details to select the official, ideal softener.
Many water softeners are sold in the market and they have different abilities in addressing the level of water hardness. You have to get the one that can surely give you clean and soft water. When the level is exceptionally high, you need a tank with a high-end filtration system. It's best for you to buy a model that can accordingly handle the situation.
Grain Capacity
You might have noticed that the grain capacity is stated in all of the water softeners mentioned in this review. It denotes the maximum grains of water hardness that the tank can extinguish before the next regeneration.
In this part, you need to know the hardness of the water that you use to match it with the necessary grain capacity. You also have to consider the number of individuals who'll be served by the softener.
Common sense dictates that a higher grain capacity is required for water with higher levels of hardness and a higher number of consumers. For instance, 10,000 to 15,000 is adequate for 3 people. If you usually invite guests to join you in sailing, it will be safe to choose this capacity. Don't settle for a smaller one unless you're inclined to be alone in your watercraft.
Size
There are two ways to determine the right size for your needs. You have to base it on the softener's size and grain capacity. However, the physical size won't matter in some cases. As long as the tank can support everyone on board, it's the ideal one. To explain further, it should be able to supply an adequate amount of soft water to everyone.
The physical size is the main consideration when you need it for on-the-go use. You will naturally prefer the portable type. The weight should also be considered. Furthermore, the needed space to fit in the container should not be ignored.
Regeneration Cycle and Controls
Sodium ions replace the minerals in hard water. This process is facilitated by ion exchange water softeners. Hard water ions are attracted to the resin beads of the softener. They bind to each other to bring out soft water. As time passes, hard water ions envelop the resin bed. This works until the softener is no longer as effective, and you will need to remedy it by regeneration.
Since the process is laid out, it's easy to figure out that the softener with the higher grain capacity will need regeneration after a longer period. The tank with lower capacity would require it in a shorter time.
Regeneration is also referred to as backwash. It's a procedure that deluges the resin bed with salt. Most portable water softeners for boats require this process. See to it that the tank can finish it in a short time so you won't wait too long to have soft water
The salt-type softener is proven to be reliable. But there are other types such as magnetic units and electronic systems. A stainless steel water softener is also worth considering.
Maintenance
Every owner of a water softener should be committed to maintenance. It's also for your sake to keep the softener at its optimum performance. Be aware of the frequency of maintaining the tank, and be attentive to the requirement of the softener model that you have.
Different types require different cleaning intervals. Some may need daily cleaning. In the case of a salt-type softener, for instance, you need to manually and regularly replace salt pallets.
What Is The Marine Water Softener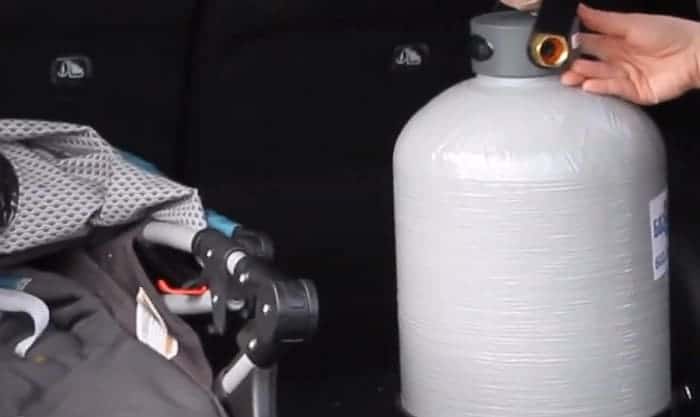 A marine water softener can treat hard water that you use in your water vessel. What it mainly does is eliminate minerals. It alters the structure of these unwanted elements so they won't stay in the water. Boaters who regularly engage in outdoor adventures should buy this.
It's a smart move to invest in this equipment. Water is a basic need so it sustains life. Soft water onboard will improve your sailing experience.
With this marine equipment, you can have soft water even if you're in the middle of the sea or a long stream of a river. There will be no issues as the water is safe to use.
Another advantage of using this item is being cost-efficient. It prolongs the life span of water appliances and plumbing systems inside your vessel. No mineral build-ups will force you to pay for hefty repairs or replacements. You won't be using a huge amount of soap and detergent as they both lather well with soft water. Hence, cleaning will no longer be burdensome.
Portability is always expected from a marine water softener. So, it can easily be taken anywhere and doesn't take up a lot of space. What's great about it is that it works without electricity and other tools. Thus, it's safe to say that it's similar to DIY.
A regular garden hose is used to connect the softener and the hard water. Some come as pre-assembled. Nonetheless, setting up or assembling is a breeze. Manually adding salt won't interrupt the continuous supply of soft water. It usually takes only a few minutes.
Two types of water softeners can be used onboard. The first one is the traditional type that has resin beads for sifting the minerals out of the water. It obtains its filtering capacity with the help of saltwater. The second one is salt-free and is instead associated with electronic, magnet, filter, or coating.
Who Makes The Best Marine Water Softener
You may only be familiar with Yacht Mate water softener, Wet Spot water softener, West Marine water softener, and Watermark water softener. Manufacturers that go by the names of On The Go, Pro+Aqua, Mobile-Soft-Water, and Watts Water Quality also stand out in creating incredible marine water softeners.
It's worth every penny when buying from these companies. They're dedicated to providing outstanding marine equipment. Therefore, you can depend on them when it comes to quality and efficacy.
What Size Of Water Softener Should I Get For My Boat
The major factors in determining the right size of water softener for your boat are the level of water hardness and the amount of water that is utilized by users.
Water hardness refers to the presence of magnesium, calcium, and other minerals. You can find out by using a test kit. If the level of water hardness is high, you have to get a large tank so that you won't need to constantly regenerate.
You have to incorporate the exact number of people who are going to be on board. Do the math by multiplying the count with the rate of water usage.
How To Install A Marine Water Softener System
Here are the steps to complete the installation of a marine water softener system:
Place the tank in the correct position. The inlet should be connected with the water supply while the outlet follows the direction of the hot water appliances.
The water supply should be switched off before doing something.
Next is draining the pipes.
You can now cut into the primary water that goes through the water supply line.
The pipes should be gauged, cut, and linked.
You need to clamp the drain hose at this point.
The last step is linking the overflow tube.
Conclusion
Water nourishes the human body so it's one of the important things that you need to add to your boat. When cruising a long or vast body of water, the best marine water softener will treat the water and make it safe to use. This means that your enjoyment won't be interrupted by any adverse effects of hard water. It's something that the products featured in this review can provide. Besides, you also can refer to boat's pumps such as freshwater pump or macerator pump to pump water for your water softener.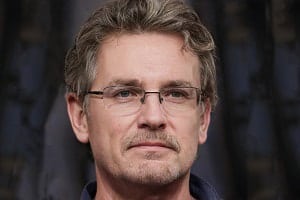 "I am James Harvey – founder of Boating Basics Online. It is established with the drive to help out first-time boaters, which are those desiring to explore their way through the water. So if you are new to boating, start from here with me. "