When you set out on your boat, it's always a good thing to know that everything aboard is in good working condition, including having everything be held down in place properly. Carpets coming loose while on a boating trip is not only inconvenient, it can also be dangerous—any mishap when out at sea can be an issue.
Because you don't want to get swept by the rug under your feet, It is vital to choose the best marine carpet glue. However, getting into the details can be quite a mess.
That's why we set out to compile a list of the best marine carpet adhesives available in the market today.
---
ROBERTS 6700 Carpet Adhesive
Easy to handle
Emits no strong smell
Environment-friendly adhesive
---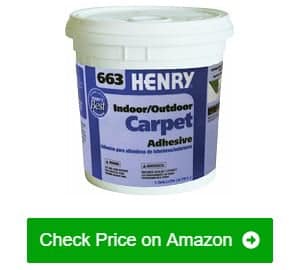 Henry, W.W. Co. #663 Carpet Adhesive
Suitable for beginners
Waterproof when dried
Can cover roughly 90 to 108 sq ft
---
RecPro RP-128 Marine Glue
Easy application
Offers a strong bond once dry
Water-based and solvent-free glue
---
Best Marine Carpet Glue Reviews
1. ROBERTS 6700 Carpet Adhesive
The Roberts 6700 Carpet Adhesive is an environment-friendly and solvent-free adhesive that features an antimicrobial protection system to inhibit mold and mildew growth. Besides, this agent has a 60-minute working time, making it a viable choice of glue even for amateurs.
It is mainly recommended for surfaces such as concrete, marine-grade plywood, and asphalt. While it also works with aluminum and fiberglass, it is crucial to make sure that the surfaces of these are cleaned and roughened to promote bonding. This one is not very good for other metal surfaces, though.
Since it is a water-based boat carpet glue, there is no problem using it for marine rubber-backed carpets. The odor is also not very strong like typical glues, but we should still maintain ample ventilation.
Other types of carpets it can work include propylene-backed and rough-backed ones, although it does not work well with vinyl.
Perhaps a tradeoff of being a water-based adhesive, it is pretty sensitive to water and moisture while drying. So while it doesn't take too much time, 24 to 48 hours curing time, we should give dryness of the area much consideration to prevent ruining the glue.
Being easy to handle, as I mentioned before, is another excellent quality of this glue. A good point to remember when using this glue though is to keep the coat thin, as a thin layer is enough to make the bond strong. This way, you can also cover more ground with it.
What We Like
Environment-friendly adhesive,
Emits no strong smell like other glues
Easy to handle even for amateurs due to long working time (60 mins)
Water-based glue compatible with rubber backing
Ideal for concrete, marine-grade plywood, and asphalt
Works well con cleaned and polished aluminum and fiberglass
What We Don't Like
Sensitive to water and moisture while drying
This boat carpet adhesive by Roberts is a solid choice for many applications and is something even amateurs can use well. Being water-based and having less odor makes it a somewhat low-risk choice for boat carpet glue.
2. Henry, W.W. Co. #663 Carpet Adhesive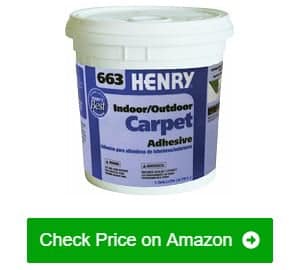 The Henry W.W. Co #663 Carpet Adhesive is a waterproof carpet glue that works well both as an indoor and outdoor carpet glue. In addition, it is compatible with a good number of surfaces such as concrete, asphalt, and marine-grade plywood. It can also act as a marine carpet glue for fiberglass and other surfaces that have been painted, stained, or coated.
While it is not recommended to use with metal surfaces, it can still work with roughened aluminum. However, this adhesive requires a long drying time, needing around a week to dry. Despite long drying times, the glue holds up to extreme weather, even through winter.
The glue itself is thick enough that it would not work with a sprayer. It sets quickly, but drying is a different matter. Working with wood and having hot weather lets it dry more quickly.
Since it is slow to dry, it would be a good choice for people looking for something easier to work with, as it affords you ample time for adjusting placement. It is also easy to clean up with mineral spirits.
A little of this solution can go a long way as one gallon can cover roughly 90 to 108 square feet, making it a valuable purchase in the long term.
What We Like
Allows a lot of time for adjustment, suitable for beginners
Ideal for concrete, asphalt, and marine-grade plywood
Compatible with painted, stained, or coated surfaces
Waterproof when completely dried
Can cover roughly 90 to 108 square feet, offering great value
The value that compatibility to fiberglass adds to this Henry W.W. Co Carpet Adhesive is very impressive. Add to the fact that it handles very well; if it dried within a more reasonable time frame, it would have been perfect.
3. RecPro RP-128 Marine Grade On Floor Glue
This Roll On Floor Glue by RecPro is a marine-grade and water-based adhesive that offers an alternative method of application. Since this glue is free of solvent, it promotes ultimately safe use.
This glue can be applied using a roller. While a trowel is still usable, using a roller is not always available as an option, making this a sensible choice for people looking for effortless applications.
The glue itself is of a thin consistency, which makes it usable with a roller. As for cleaning, make sure to clean it up as soon as you can, if necessary. It won't be easy to get off once it starts to dry.
It is recommended for use mainly with vinyl, thermoplastic polyolefin, and coin flooring. But it can also work with fiberglass, PVC board flooring, and plywood.
It seems to work best with marine vinyl and also excellent for gluing carpet to wood. While not recommended for aluminum, applying lacquer thinner to the aluminum surface can make it workable.
Drying time is a bit below average, requiring around at least two days of drying time. However, this could be a good thing, as it would at least provide time for cleaning since it can be difficult to clean after drying, as mentioned earlier.
What We Like
Able to apply using a roller as an alternative to trowel
Has a thin consistency for easy application
Works on marine vinyl, TPO, and coin flooring
Ideal for aluminum, lacquer, fiberglass, PVC board flooring, and plywood
Offers a strong bond once dry
A water-based and solvent-free glue for safe use
What We Don't Like
Thin and runny glue presents a different challenge in applying
This RecPro marine-grade glue is an excellent option for people looking for something to use a roller. Its compatibility with coin flooring gives it excellent value, mainly since it works with many roll-on floor solutions too.
4. Polymat 777 Marine Upholstery Glue
The Polymat 777 Marine Upholstery Glue features a spray-on application. Aside from using a trowel and roller, spray bottles are popular due to their quick and breezy application.
This marine carpet spray adhesive is easy to use. While the glue itself is still thick, it sprays out at consistent amounts along a vertical spray line, making it easy to apply evenly. This is a professional-grade adhesive, so if you are careful when using and applying it, the result would be excellent.
Notably, the glue provides a strong bond that is heavy-duty. It formula bonds quickly for us to shorten our preparation time before heading to the ocean. It is so strong that it can bond objects to a vertical surface with ease.
More importantly, the glue has high resistance to heat, oil, and salt; and is especially effective when used on fabric materials. I found that it is also effective when used on surfaces such as stainless steel, galvanized steel, and wood.
Personally, my biggest concern is the nozzle may also clog a bit when stored for a long time. Kerosene would be effective in removing it, which helps with the cleanup. However, I still prefer having gloves on hand, and I advise anyone to do the same.
What We Like
Easy spray-on application with pretty thick adhesives for an even layer
Professional-grade glue for excellent result
A strong bond for vertical placement
Provides high resistance to heat, oil, and salt
The glue dries quickly, making us wait much shorter
Excellent with fabrics, stainless steel, galvanized steel, and wood
What We Don't Like
The spray nozzle can clog after stored for a while
This adhesive from Polymat is a professional solution that is easy to work with. We should just make sure to have gloves ready to avoid a sticky situation.
5. Value Carpets Marine-Grade Boat Carpet Adhesive
This marine-grade boat and outdoor carpet adhesive by Value Carpets uses a water-based and non-flammable formula that makes it environment-safe.
This glue ensures breeze to use and apply, being that it allows enough time for adjusting placement on desired surfaces.
This glue has a somewhat runny consistency and is slightly low tack due to it being water-based. However, it is easy to apply using a trowel and covers a pretty good area of around up to 115 sq ft for a gallon. It is not a bad mileage for a gallon of carpet adhesive.
As for compatible surfaces, it works well on wood, fiberglass, aluminum, and steel. I am also pleased to see that it works well on marine-grade plywood and treated plywood, all of which are known to be difficult to glue due to the change in their surface properties during treatment.
This glue also works well with sealed plywood, such as those with oil-based coatings. As an additional note, fiberglass coating is very popular as a surface coating since it is easy to find glue that works well with it, this particular adhesive included. Its incompatibility with vinyl concerns, though, since it doesn't work well.
What We Like
Environment-safe water-based formula that is non-flammable
Affords a lot of time for carpet placement
Covers an area of around up to 115 sq ft for a gallon
Works with tricky surfaces such as treated plywood and fiberglass coating
What We Don't Like
Does not work with some materials at all
Overall, this carpet adhesive by Value Carpets is a glue that gets the job done. In addition, it can handle some surfaces that are tough to shop for.
6. Advanced Adhesive Technologies Carpet Adhesive
The AAT-390 G Carpet adhesive by Advanced Adhesive Technologies is another water-based glue we have on this list. What makes it stand out is that it delivers a robust and water-resistant bond compared to other water-based adhesives.
This waterproof carpet adhesive works well with many materials as expected of water-based glues, including rubber-backing and felt backing carpets. Furthermore, it can also handle treated plywood and aluminum parts on the boat, making the glue a versatile product.
Once it completely dries, we are left with a strong bond that is highly water-resistant. Such an adhesive ensures long-lasting use without the requirement for new application anytime soon. Thus, it helps to inhibit mold and moisture from attacking the carpet.
Other perks of this product must be its non-flammable and solvent-free formula. Due to these features, the glue is safe for us and the environments around us. Thus, we can confidently apply it without worry about the negative impact on nature. As an additional note, this glue has a working temperature range of 65-90F.
The glue itself is somewhat thin and runny. In other words, it can stick better than other thin water-based glues, but such tackiness is still limited. As a result, it would be hard to place materials on vertical surfaces.
What We Like
Delivers a strong bond once fully cured
Highly water-resistant marine adhesive
Works with rubber-backing and felt backing carpets
Can handle treated plywood and aluminum surfaces
Offers good characteristics of both water-based and solvent-based adhesives
What We Don't Like
Somewhat thin, thus not ideal for glueing carpets on vertical surfaces
This carpet adhesive is capable of delivering a strong bond along with environment-friendly qualities. This is quite a surprising water-based adhesive that can give boaters the best of both worlds.
7. Roberts 3095-1 Marine Carpet glue
Roberts is a well-known brand that delivers a wide variety of adhesive products. And their 3095-1 Glue is a specialized adhesive for marine carpets.
In detail, the glue is formulated to work with most carpet backings, including polypropylene, urethane foam, and polyurethane laminate. Furthermore, it bonds well with concrete, APA-rated plywood, and vinyl composition tile. Hence, this wide-ranging product is applicable in many situations, from our household to boats and ships.
This adhesive is solvent-free and environmentally friendly. But instead of a water-based formula, it uses a latex base. As a result, it is high tack and grabs firmly, something that would be expected of a commercial-grade glue. The glue also prevents the growth of mold and mildew.
Working with this adhesive might be somewhat of a challenge, though, as it only has 20 minutes of open time and 40 minutes of working time. Enough for experienced people, but beginners are better off using something that is not professional grade in the first place. Also, its curing time is around 24 to 48 hours.
Cleanup is easy if it hasn't dried yet, and soapy water is enough to do the trick. As for the smell, it's not too strong, and it does eventually fade.
What We Like
Ideal for most backings: polypropylene, urethane foam & polyurethane laminate
Bonds well with concrete, APA-rated plywood, and vinyl composition tile
A solvent-free and environmentally friendly product
A high-tack glue that adhere firmly to the surface
Prevents the growth of mold and mildew
Allows easy cleaning with soapy water and quick application with no strong smell
What We Don't Like
40 minutes of working time makes it a bit tricky for first-timers to apply correctly
Here we are given a specialized marine carpet glue that would serve its specific functions very well.
8. BoatCarpetCentral Boat Carpet Glue
The BoatCarpetCentral Boat Carpet Glue is a solid choice for people looking for something easy to work with. It is water-based, solvent-free, and has a crisp and professional-looking finish. In addition, it is easy to apply on different surfaces and stays neat through the installation process.
This glue is made easy to apply and works well with either a trowel, a roller, or even a paintbrush. Take note that we have to give this product 5 minutes to set up after applying it to the desired surface. It will change color, but that's what is supposed to happen. Once the setup time is over, we can lay down the carpet without much trouble.
Materials that work well with this glue include marine plywood, particleboard, aluminum, fiberglass, and concrete. Unfortunately, it doesn't work for gluing carpet to wood, probably my biggest gripe about this adhesive. It does not work with any wood, including treated wood.
Alternatively, you can coat the wood to make it workable, and polyurethane would be a fine choice. Since it is water-based, there is also no risk of it eating away at rubber carpet backing. Fiberglass is also a typical coating to use.
It has a pretty fast drying time of around 24 hours. But its working temperature is at least 60 degrees, and going below that would considerably lengthen the drying time. When applying the glue at around 50 degrees, the glue needed around two days to dry, which is still fast drying compared to other water-based adhesives.
What We Like
Leaves a professional-looking finish
Works in marine plywood, particleboard, aluminum, fiberglass, and concrete
Easy to apply with trowel, roller, or paintbrush
Fast drying time even when going a little below the recommended temperature
Water-based and solvent-free for safe use
What We Don't Like
Requires coating the wood for the glue to work on its surface
Overall, this adhesive is an excellent choice for any DIY project, including marine carpet installation.
9. Loctite 2267077 Professional Spray Adhesive
This Professional Performance Spray Adhesive by Loctite is our second marine carpet spray adhesive on this list. Like the Polymat 777, it is a professional-grade adhesive that comes with the convenience of a spray application container. However, this glue is effective on a different set of materials.
This adhesive offers a permanent and robust bond covering various surfaces such as wood and metal, even acrylic and PVC, and others. It is a versatile product ideal for indoor and outdoor uses, as the glue can stand up to harsh weather conditions. So, other than redoing my boat floor, I utilized this one for craft making and redecorating some parts of my house.
Being professional-grade, it offers a bond that is water-resistant and heavy-duty. Such an adhesive makes sure that the carpet can stick well for a long while without moisture intrusion.
In detail, the glue itself sprays thick, stringy, and is web-like. It starts to dry quickly, around 10 minutes and achieves complete cure after about 24 hours. Due to the convenient and stable nozzle, the application can be easier than expected.
Beyond that, it has quite a strong smell, so users should be mindful of their surroundings and use it only in a well-ventilated area.
What We Like
Spray application as an alternative to trowel use
Offers a permanent and robust bond
Covers various surfaces: wood and metal, even acrylic and PVC
Stands up to both indoor and outdoor uses
Allows fast drying time and complete cure without bleeding
What We Don't Like
Has a quite strong fume, thus requiring to be applied in a ventilated area
This professional-grade spray adhesive is effective on a different set of materials than our other spray solution on this list.
10. G-Floor Marine & Outdoor Adhesive
The G-Floor Marine & Outdoor Adhesive is a marine carpet glue explicitly formulated for G-Floor flooring solutions.
This adhesive is water-based, thus allowing safe application for users. The good news is application is also easy as it also works with rollers. Thus, boaters can choose a convenient way to adhere their carpets to the boat floor. This adhesive provides a quick bond within 1 hour. After dried and healed, it will leave a permanent and high-strength adhesion.
Notably, this product covers a wide range of flooring options, including coin flooring and other types of roll-out floorings. It is also ideal for installing carpet squares. Such wide-ranging products that every boater needs!
Furthermore, it can withstand UV rays, making it applicable for outdoor uses. That means we are free of worry about the glue cracking and drying too soon when exposed to UV radiation.
One glaring limitation it has is that it is exclusive for use with wood surfaces. It does still handle a good variety of flooring materials but can work with only one type of surface stings, especially since it comes at a rather steep price.
What We Like
Water-based, thus allowing safe applying for users
Works with rollers for easier wide area application
Forms a quick bond in 1 hour
Leave a permanent and high-strength adhesion
Water-resistant and UV resistant for long-lasting adhesion
What We Don't Like
Limited to wood surfaces only
Costs a bit more than competing products
All in all, this Marine & Outdoor Adhesive is an excellent choice not just for G-Floor products, but to glue carpet to wood as well.
11. Dap 00442 Weldwood Carpet Adhesive
The DAP weldwood all-weather carpet adhesive is a solvent-based adhesive that provides strong and durable bonds. It is designed especially for use with both carpet and artificial turf. In addition, it is weatherproof, so it holds well against rain, snow, ice, and freezing.
One of the best things about this outdoor marine carpet adhesive is its operating temperature range of 45 to 100 degrees. Temperatures of at least 60 degrees F are common, so I was quite impressed. Being workable at 20 degrees lower can make a world of difference.
Additionally, this glue works for treated wood as well. All you have to do is make sure that the wood is clean and dry before applying. It also works on a bunch of other surfaces such as wood, asphalt, concrete, and even new aluminum.
It doesn't work well on viny, though, and while it may still stick, it's easy for the edges to come loose.
The glue itself is sticky, tacks well, and is easy to apply using a trowel. This product is recommended to use in small areas to afford yourself the time necessary to apply it correctly. It also adheres and solidifies quickly.
On the other hand, as it dries quickly, it may be difficult to handle for someone without a lot of experience working glue, and it can be messy getting caught on surrounding objects due to being stringy.
What We Like
Wide range of working temperature, 45 to 100 degrees F
Works on treated wood, asphalt, concrete, and even new aluminum
High-tack and quick-drying formula
Has a strong permanent bond
Weatherproof; holds up against rain, snow, ice, and freezing
What We Don't Like
Does not work well with vinyl
Does not allow a lot of time to work due to quick dry quality
This adhesive by DAP is an excellent choice, even at a professional level. Although it would be a good idea to make sure we can handle the short handle time, the result is of professional quality.
What To Know Before Buying Marine Carpet Glue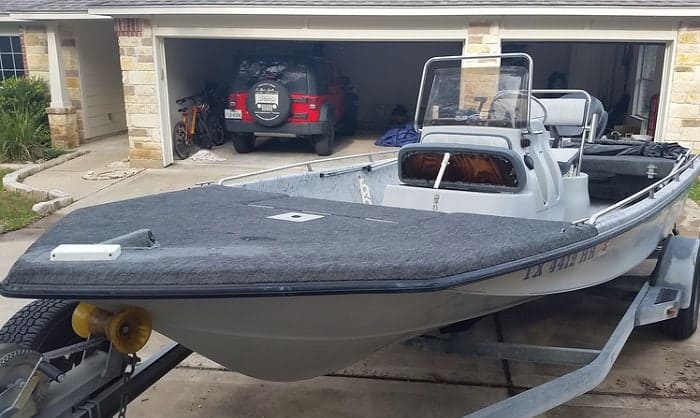 Here, we will delve into a bit more detail about what you need to consider when choosing the best marine carpet glue for your needs.
First, let us cover some of the most important considerations when getting our hands into the glue of the situation.
Tack refers to how something sticks to a surface after applying light pressure. High tack means it sticks well but also means you might not be able to readjust its position. Low tack means it is not very sticky, which makes it harder to hold in place, but you will have a lot of time adjusting placement.
Backing refers to the underside of your carpet, which is what ends up being in contact with your rug glue. Depending on the material of your carpet backing, you may need a different adhesive. The best glue for carpet to wood is not necessarily the best glue for marine carpet to aluminum.
The type of surface is also necessary to note down. In the same way that we have to make sure the glue we use sticks to the backing, the surface type also needs to be considered.
The Different Types of Marine Carpet Glue
The two types of marine carpet glue are solvent-based marine carpet glue and water-based marine carpet glue. Which one is best for you depends on the material you are working with; this refers specifically to your carpet backing material and the type of surface you will be placing it on.
Solvent-based marine carpet glue is usually more viscous, which makes it easy to apply evenly. It is also generally quick to dry and may also have a broader range of applications due to its viscosity. However, not all solvent-based adhesives are vicious; there are varying degrees to the consistency of different glues.
Benefits:
They can also fill in gaps on rough surfaces, which makes it easy to even out carpet applications for such situations. Solvent-based adhesives usually have a stronger bond and tend to last longer or are permanent.
Drawbacks:
Solvent-based glues are not recommended for specific materials such as rubber. They usually end up corroding rubber, some right away and others over time. Solvent-based ones also usually have a strong smell. Professional or Industrial-grade one may also have hazardous fumes that can be dangerous when inhaled.
Water-based marine carpet glue uses a water-based formula that allows it to bond materials together while being solvent-free. As a result, they are considered environment-safe as they are not considered hazardous materials. These are usually thinner and less dense.
Benefits:
Aside from being environmentally safe, water-based adhesives are usually easier to handle for beginners because they do not tack as much. While having less tack is not always good, it can be beneficial to the less experienced since you will have more time to adjust placing your carpet.
If the glue is thin, it may also be possible to apply using a brush or a roller, but that depends on the glue itself and not its viscosity.
Drawbacks:
Because they are less viscous and do not tack much, water-based glues may be more challenging to place and secure. In addition, the stickiness of glue allows you to fix your carpet to a certain extent, but this may not happen with water-based adhesives. They can also be harder to apply evenly and control.
Also, water-based glues usually have weaker bonds than solvent-based ones, though there are exceptions, and we do have water-based ones that offer excellent bond quality.
Additional Note
Water-based adhesives are sensitive to water and moisture. While this is true, it also applies to solvent-based adhesives but possibly to a lesser degree. However, the glue getting wet while drying can ruin any glue, so it's best just to keep them dry.
Who Makes The Best Marine Carpet Glue
There is no one best marine carpet glue maker, but below are some carpet glue makers whose products are included in our list.
DAP is an International repair and construction company whose roots can be traced back to 1865, and whose products are offered worldwide. They offer a very wide range of sealants and adhesives, along with other construction tools and solutions such as glazing, plasters, and repair patches.
Roberts has a wide range of carpet glue offerings, along with many other floor tools and solutions. Established in 1938, they have been in the flooring business for a long time and are known worldwide as a leader and innovator of floor-related products.
Henry W.W. Co is one of the most well-known flooring solutions companies in the world today. Established in 1933 as a roof solutions manufacturer, they expanded to become one of the largest adhesives manufacturers in the 1950s and maintained their hold of the market.
Loctite is a German company founded in 1956. They offer adhesives, sealants, and surface treatments, in addition to other industrial chemicals. They have expanded globally to become a leading producer of household and construction materials and tools in addition to adhesive solutions.
These companies are manufacturers of some best-rated products, also offer a wide range of adhesives. They have upheld a good reputation for a long time, so it should be worth your while to check them out first if you're looking for someplace to start with your marine carpet glue needs.
How Do You Glue Down Carpet On A Boat
Different types of marine carpet glue have different specifications on how to use them properly, and it is always recommended to refer to these instructions. Here, we will cover some general steps to get you started.
Before proceeding, it is recommended to do a small test using a small piece of carpet. This is to ensure that your carpet material will properly stick to your desired surface using the glue you have on hand. By doing so, you'll know if something is amiss and avoid a situation where you have to do everything all over again.
First up, pre-cut your carpet to the sizes you need. Next, it's advisable to spread them out under the sun for a few hours to make them easier to handle and cut. Next, make sure that the surface you'll be gluing them to is free from loose material or dried glue. These can keep your carpet from attaching correctly and may cause uneven patches.
The next step is to place the carpet pieces and clamp them down on one side (left side). You then fold up the unclamped side to reveal the carpet backing, which you will then apply with glue using a trowel. It will turn out better if you wait for the glue to become tacky before placing the glue-covered side onto the floor surface. Finish the left side first, then do the right.
Try to keep the glue coat even, and make sure to press down on the carpet once it has been placed. Most marine carpet glues recommend working at temperatures of no lower than 60 degrees F. Cooler temperatures tend to make it harder to work the glue and may make it take longer for them to dry.
After gluing everything down, make sure to run over the whole carpet surface to make sure that everything is even. Also, check for excess glue along the edges. Different types of glue may call for different ways of cleaning up, but mineral spirits are common to use. Some glue can be cleaned with soapy water, but only if you clean it immediately.
Another point to consider is the temperature and weather. Most marine carpet glues have a working temperature of at least 60 degrees. It differs for each, but going below that temperature usually means needing more time for drying.
It is also vital to ensure that your glue stays dry while curing. Any amount of moisture can cause problems for your project, and if it gets wet, you will probably have to redo everything as the glue may no longer be able to dry no matter how much heat you apply or how much time passes.
Can I Change The Position Of The Carpet After Applying Glue
It depends on the glue, but the tackier the glue you're using, the less likely you'll be able to readjust. There are also professional-grade glues, some of which are on our list, that would not give you the liberty for readjustment. That's why it's always better to prepare as much as you can.
However, if you don't want to run the risk of having improperly placed carpet, it may be a good idea to choose a glue that is low tack and would afford you ample time to set and adjust your carpet.
If you do end up with a badly placed carpet, cleaning up to prepare for redoing the job can be a handful. Any glue residue will have to be removed from the floor surface, and there's a chance that the failed attempt could ruin your carpet.
Considering everything, It may be in your best interest to consider it impossible to change the carpet position after applying glue, especially if you use professional-grade adhesives or ones that give a permanent bond.
Is Carpet Glue Waterproof
Not all Carpet Glue is waterproof, but marine carpet glue is always water-resistant to a certain degree. It is also expected to hold up to moisture. However, you should not expect marine carpet glue to handle being submerged in water for long periods and still be fine.
Another point to note, while marine carpet glue is water-resistant, this does not apply to the drying or curing phase. Therefore, all glue should be kept away from water while it is still drying, and if it does get wet, don't expect it to still be able to dry. You can end up waiting weeks or even months, and it may still not dry. At that point, it may be inevitable to redo the whole thing.
Does It Stick To Treated Plywood Or Wood
Treated wood can be tricky to glue because the preservatives that are usually used to treat it may cause the glue to be less effective or not effective at all. There are some types of marine carpet glue that work well with treated wood or plywood; you will just have to check. Fortunately, we have some of them on this list.
It is also important to note that there are numerous types of treated wood as well. Not all treated wood types are the same. Each one has a different set of considerations.
As an alternative, you may use a sort of coating over the treated wood before applying glue. Fiberglass is a good choice, because of the rough finish you get. Other options include polyurethane and epoxy.
As mentioned earlier, though, it's always a good idea to do a small test if you are unsure. Testing goes a long way and keeps you from wasting more than just time and money.
Can I Use Gorilla Glue On The Carpet
Yes, Gorilla Glue can be used for marine carpet applications. It is also water-resistant and is well known to be helpful in construction applications.
However, marine carpet adhesives are specially designed to withstand marine boating conditions, unlike Gorilla Glue which is known to break down under constant UV ray exposure.
Additionally, gorilla glue may not be a good choice depending on the backing of your carpet. Some backing material, such as fabric, may end up absorbing Gorilla Glue.
For practical reasons, Gorilla Glue may not be the best choice as marine carpet glue. Although if you are using it for areas away from the sun, and especially if it is for treated wood or plywood, Gorilla Glue might be a good choice since it is a polyurethane glue.
As a final note; every type of glue has its use, whether Gorilla Glue, marine carpet glue, or any other glue. You have to be aware of what you are using it for.
Conclusion
This concludes our buying guide for the best marine carpet glue available on the market. Hopefully, the information we compiled was able to help you choose the best glue for boat carpet that fits your needs.
Boat projects can be time-consuming but remember to take your time and always to keep safety first. The point of a good marine carpet glue is to keep your carpets safe and secure, and it would not endanger yourself because of them.
Good luck with your boat carpet project, and may your boat trip be as secure as the best marine glue.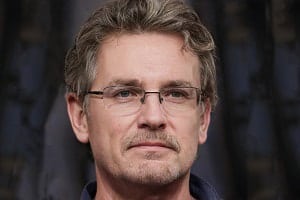 "I am James Harvey – founder of Boating Basics Online. It is established with the drive to help out first-time boaters, which are those desiring to explore their way through the water. So if you are new to boating, start from here with me. "