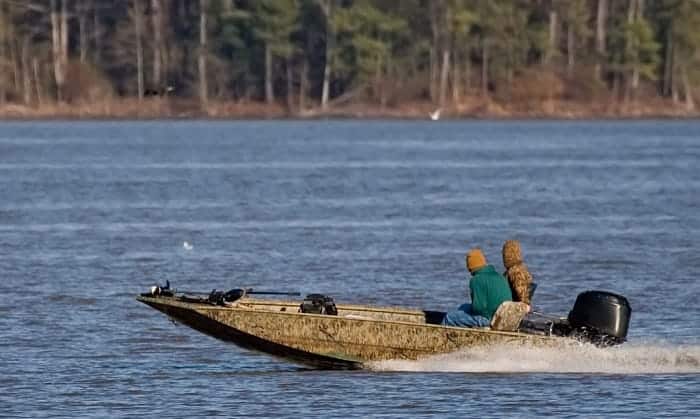 You may be one of the enthusiasts who prepare their boats before duck hunting season. Aside from the necessary pieces of equipment, do you also care for its appearance? You do for sure, so you'll recognize the need of getting the best duck boat paint to give more than aesthetic appeal. To know more of the important features, here's a guide to help you decide:
Camouflage finish: The ideal paint should give the camouflage effect, which is essential when going on duck hunting. It will help you to be one with the environment and move stealthily while hunting.
Protection from outdoor elements: Moreover, it will also protect your boat's hull from outdoor elements. You'll be able to form a flat finish that is resistant to water and harsh weather conditions. It can withstand rust, corrosion, chemicals, abrasion, and other harmful elements. Even when your boat is in storage, it's very useful since it acts as protection apart from the cover.
Can fix minor issues: Furthermore, a great duck boat paint can fix dents, cracks, and other minor damages. Indeed, it provides the needed covering to make your duck boat look more presentable.
Long-lasting finish: Reliable boat paints should create a long-lasting finish that won't just peel off in a short time. The coating should remain as it is even though you regularly go hunting sprees. It shouldn't be scratched easily from inevitable bumps.
Easy application and quick-drying: You have a part to play in coating your boat, but somehow, it should be easy to apply for both novices and professionals. Hence, it's manageable to create an even and smooth result. It's also great if it dries quickly and it's something impatient boaters would like.
This review will present to you excellent paints for your dock boat. Check each of them so you can choose the one that can cater to your needs.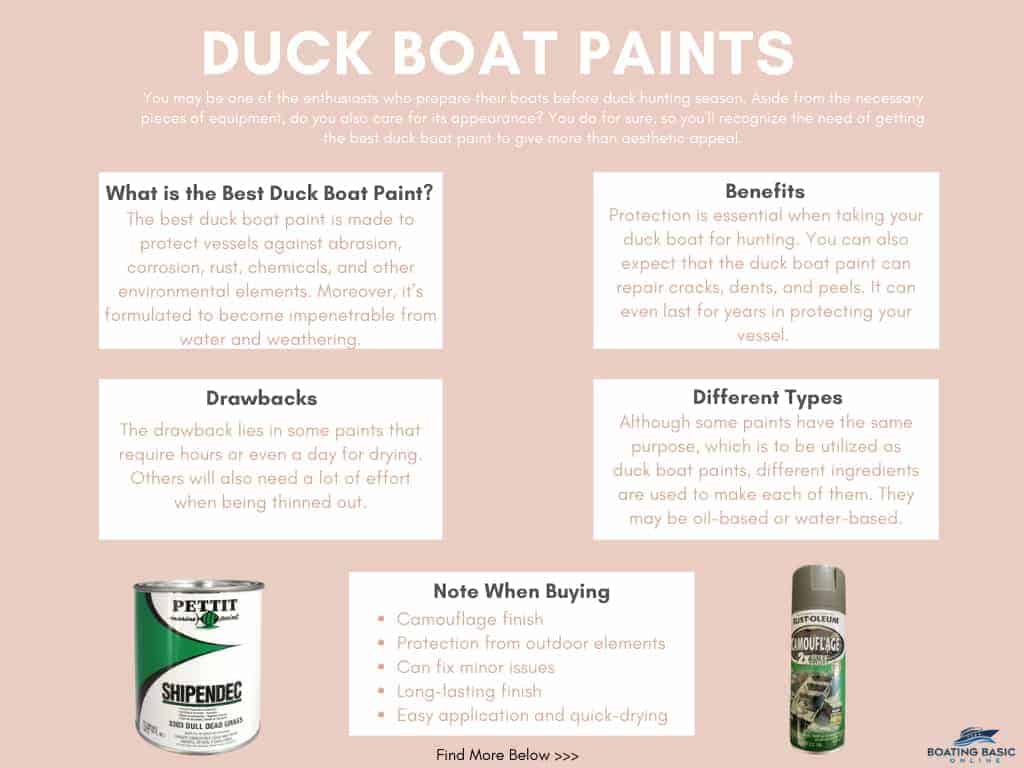 ---
Rust-Oleum 207005 Paint
Gives a glossy finish
Resistance to outdoor elements
Dries up like a hardened plastic
---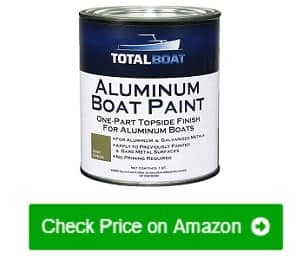 TotalBoat 511784 Paint
Can fill in rough spots
Withstands wear and tear
Easy but convenient application
---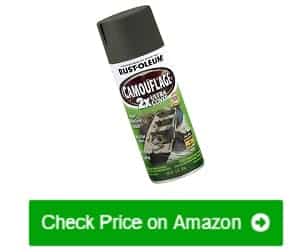 Rust-Oleum 279175 Paint
Covers a lot of footage
Camouflage effect for hunting
Brings out consistent coverage
---
Best Duck Boat Paint Reviews
1. Rust-Oleum 207005 Marine Topside Paint
If ever there's a contest for a DIY painting job, I'll join together with this marine paint. The finish is awesome, so I use it on many things like duck boat, aluminum boat, canoe, car, and a lot more. It does not always have to be expensive to produce an excellent coating as this is affordable.
After removing the old paint off my duck boat, I used a primer before I applied two coatings. Two hours of drying time was given to every layer. I was impressed that it can cover minor scratches and cracks. It spreads properly with the help of a paint roller, but I used a brush to reach some areas.
When this paint dries up, it's similar to a hardened plastic with the resilience to last. That's why it stays shiny on my boat for up to 6 years. Since I like a glossy finish, this paint suits my taste. It's durable due to its resistance to UV rays and extreme weather conditions. Corrosion, rust, mold, and mildew can't win over this paint. This means that it won't easily wear off despite frequent hunting.
The only downside of using this paint is that it's hard to make it come off my skin. I even dispose of all the things that I used for painting as it seems impossible to clean them up. Due to this circumstance, it's better to use a disposable tray during application.
What We Like
Produces excellent coating but still affordable
Can cover minor scratches and cracks
Dries up like a hardened plastic
Gives a glossy finish
With resistance to outdoor elements (UV rays, extreme weather conditions, mold, mildew, rust, and corrosion)
Won't easily wear off despite frequent hunting and can last for years
What We Don't Like
Hard to come off from skin and other objects
The shine from its finish doesn't vanish in a short while. I can go hunting without worrying about getting my boat harmed. Therefore, I can only focus on going after the target animals.
2. TotalBoat 511784 Aluminum Boat Paint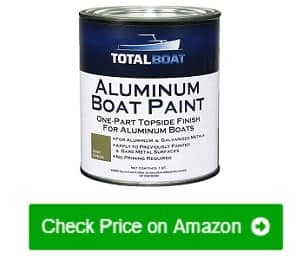 A duck boat paint job is easy because of this product! It's all because of its wonderful self-leveling properties. Applying is a piece of cake and no brush marks can be seen. I was able to reach even the hard-to-reach sections. Moreover, it filled in rough spots to my delight. I like the outcome of applying this paint as the color looks pretty good!
I chose army green to make my boat blend with the fishing environment. Other available colors are earth brown, khaki, black, white, and light gray. It's the perfect paint for duck boats, hunting boats, hunting blinds, aluminum canoes, pontoons, dinghies, and more.
I thinned it out with 20% water and I did two coatings to achieve that nice color with the help of a brush. There's no need to use thinner. You may also administer it through a sprayer or a roller. To my surprise, the first coating dried so fast but looked blotchy. I was relieved after the second coating due to its flawless appearance. Since it has a low odor, I don't need to go through a dreadful experience when applying this paint.
The finish of this paint is promising, so you can use it to give old vessels a brand new look. I like how it doesn't chip, peel, nor fade. It's simply awesome as it will be fine whether it's above the waterline or underwater. Thus, it can surely withstand the wear and tear of hunting expeditions.
What We Like
Easy but convenient application due to its self-leveling properties
Can fill in rough spots
Has fine colors that can blend with the hunting environment
Improves the appearance of old vessels
Can be used above the waterline or underwater
Withstands wear and tear of hunting expeditions
What We Don't Like
The first coating can look blotchy
To paint duck boats and aluminum boats, I don't have to find another brand. I'll stay with TotalBoat as it doesn't require much labor, but the effect is superb!
3. Rust-Oleum 279175 Specialty Spray Paint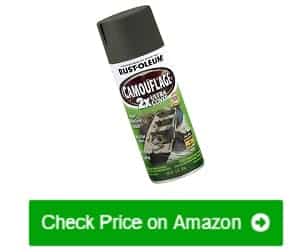 I first saw the finish of this paint on my friend's jeep. The dark green hue that looks like olive drab when dried turns it into an army jeep. The idea that it's going to be perfect on my duck boat immediately popped into my mind from the moment I saw it.
I'm glad that it wasn't a disappointment since it covers a lot of footage and it's quick-drying. Others even use it to paint an archery bow, rifle, box, and other objects since it can adhere to metal, wood, and plastic.
With its camouflage effect, it makes my duck boat unify with nature. It's just right that it has a matte or ultra-flat finish. Non-reflective paint like this is the best option for hunting. I can say that it helped me roam the lake undetected by prey. Hence, hunting becomes productive, which gives me happiness in return.
The product description is not a bluff as this paint is dry to the touch in just a matter of twenty minutes. This is a 12-ounce, light paint can that can cover up to 24 square feet. It's amazing because it doubles the capacity of other brands. I don't have to deal with drips, so the application goes smoothly.
I love how it stays unscratched even though I regularly use my boat for hunting. This paint doesn't easily give in to the water, grass, and other outdoor elements. Thus, I don't need to repaint my duck boat after several years. Spraying this paint brings out consistent coverage.
What We Like
Covers a lot of footage
Quick-drying on metal, wood, and plastic
With camouflage effect that is useful for hunting
Remains unscratched even though the boat is used regularly
Brings out consistent coverage with no drips
What We Don't Like
The dark green color is more of olive drab
Painting duck boats becomes successful when I use this product. I can avoid excessive and uneven application and drips. To my delight, a nice, consistent finish comes up.
4. Majic Paints 8–0850–2 Camouflage Paint
Who doesn't want to get good paint with a fantastic color? Among the duck boat paint colors that I purchased, this one stands out because of its fine quality. I like the flat green finish as it gives a camouflage look to my duck boat. It's what I need to make hunting productive. You can't blame me if I've already used many cans of this paint for my aluminum boat and fiberglass canoe. Indeed, it's a terrific product!
I just used a power washer to clean my duck boat and other vessels. It pleases me as this paint holds well even though primer was not applied on the surface. Instead, it establishes a sturdy bond to counter harsh weather and environment. Thereby, I can be at ease using my duck boat frequently since this paint protects it from outside elements.
This paint should be mixed with mineral spirits in the ratio of 4:1. It's light, so it can create an even and wide coverage.
You have to know some application tips to gain the desired result. If you choose to apply it by spraying, a distance of 10 to 16 inches from the surface should be practiced. So, it won't turn fuzzy and rough. I did some light sanding before I put the last coating. As for drying, a few days are needed to let it solidify completely.
What We Like
In fantastic color and fine quality
Gives a camouflage look that makes hunting productive
May not need a primer
Forms a sturdy bond to protect the surface
Light so it can create an even and wide coverage
What We Don't Like
Should know some application tips to gain the desired result
My desire to give my duck boat a camouflage color is fulfilled by this paint. That's why I won't trade it for any other paints. I think I'll have it for lifetime use.
5. Sea Hawk AH7033GL Aluminum Boat Paint
The green color of this paint becomes like an olive drab after drying. It's the color that makes you bond with nature. Hence, you won't easily be spotted by your target. I can say that it helps me to have a catch every time I go hunting. As I've observed, it's a fantastic camo cover in fall.
I can attest to this product's durability due to the small accident that happened to my duck boat. It was when I came across a boat ramp and suddenly hit the corner with a significant impact. Only the number decals have been scratched and the paint underneath it remains unaffected. With this happening, its toughness doesn't have to be questioned.
What's impressive about this paint is it's capable of covering up previous paint. Thus, you won't spend time and effort just removing the old coating. Just imagine the convenience when skipping this process!
It gives my duck boat a satin finish. I appreciate it because I think that the flat one is not appealing at all. One can of this boat paint is more than enough for my 12-foot aluminum dock boat. I noticed its thickness, which is a sign of its ability to provide protection when stirring it. This process is always essential before application.
Based on my experience, spraying is the best way to apply this paint. I used a mask because of its strong smell. Since this paint can get hot when exposed to direct sunlight, I don't use it on seats. All in all, it works for keeping my duck boat not detectable by animals.
What We Like
The green color creates a camo cover for hunting
Durable and doesn't get scratched easily
Can just cover previous paint
Gives a satin finish
Thick enough to create a protective coating
What We Don't Like
Has a strong smell
Finish gets hot when exposed to direct sunlight
It works better than an aluminum boat camo paint kit in terms of camo appearance and toughness. I can't think of any better option when I need to paint my duck boat.
6. TotalBoat Alumipaint Pontoon Boat Bottom Paint
Since I've been disappointed by several paints, I decided to find a good anti-fouling paint. This one has made me happy and grateful as it's the kind of paint I've been looking for. My duck boat is covered by a layer that can resist corrosion. It does work as an anti-fouling because it continuously bares fresh biocide for delivering maximum protection.
Although my boat roams over various kinds of water, I'm not threatened by any damage. This is all thanks to this product. The formulation is mainly formulated for aluminum hulls and below the waterline use making it perfect for my duck boat. Hence, when it comes to protecting the hull, this is a terrific duck boat paint kit!
Before application, I thoroughly cleaned the aluminum surface so there won't be a residue that can hinder a smooth layer. I applied two coatings on the bare aluminum. The first layer was given two hours to dry before doing another one. Some may need a longer time for drying. You can use a roller, brush, or spray gun when applying this paint.
There's nothing I can complain about the protection that this aluminum boat paint provides. It makes hunting fruitful and convenient as well since my boat doesn't get damaged easily.
I salute its formula that is free of copper as well as its black shade. For hunting, I prefer dark color because it's not catchy to animals. Hence, I can sneak on them and effortlessly have big-game hunting.
What We Like
An anti-fouling paint
Can resist corrosion based on its delivery of maximum protection
Can be applied in various ways
Free of copper formula
In a dark color that's not catchy to animals
What We Don't Like
Drying time may take more than two hours to some
There's nothing I can complain about the protection that this aluminum
boat paint
provides. It makes hunting fruitful and convenient as well since my boat doesn't get damaged easily.
7. DURALUX M737 – 1 Marine Paint
Using this DURALUX marine paint is rewarding. It's not only an ideal duck boat paint but it's also great for other vessels. Just imagine the 1.5-liter can is enough for 3 Jon boats. I've known some individuals who used it for pools, bathrooms, walkways, and other stuff.
There are about a dozen colors, but my top picks for camouflage are green shades. I'm okay with the slight sheen on its finish. With these qualities, I can surely hunt undetected to catch some game easily. This is truly a reliable DURALUX duck boat paint.
What's more, what to expect from this paint is its toughness. Unfortunately, bumping onto the dock bumpers can't be avoided. However, it's not a big deal because it doesn't chip or peel off easily. Then, it can also handle some steam and underwater use. Hence, it's usually used as bottom paint. It's safe to say that it's lasting and durable because it has proven to survive various situations.
I was fascinated that a primer isn't necessary, so it saves me from doing more tasks. The application is not challenging as it has good coverage. It goes a long way, even though I applied two coatings on my 14-foot duck boat. This is a thick paint, so it needs to be thinned out with the help of xylene.
Once it's thinned out, it slides smoothly with a roller. It exudes bad fumes so it's advisable to work on a ventilated area when handling this paint.
What We Like
Can be used in various vessels and things
Can create camouflage effect and slight sheen
Has toughness to counter the impact from bumping
Fine with steam and underwater use
Lasting and durable coverage
Primer may not be needed
This is a great bottom paint so you don't have to worry about bumping your boat into something solid. It can protect your boat even though it stays in the water for a long time.
8. Hunters Specialties 003-quart-8 Liquid Paint
This product is camo paint for aluminum boats, but it's suitable for duck boats too. It's available in two colors which are olive drab and mud brown. With these hues, you'll surely conform to nature. You may also mix them to create a combination akin to Redleg camo. This arrangement will make you not obvious to the creatures that you aim to capture. Therefore, hunting will be a success!
Only a little bit of thinner is needed before application. However, mixing requires an electric drill. A single layer of this paint is sufficient for my duck boat. I used a roller or you can also apply it through spraying. It dries quickly when the temperature is around 100 degrees Fahrenheit. Sunlight can quicken the drying period. So, if it's possible, you should do the painting job on a sunny day.
It has a thick texture, but it can still have good coverage. The color is what I've expected when it becomes dry. I think it's a special product as a single coating can carry out an amazing camo finish. No wonder that it's a favorite of most hunters, including myself.
The finish is hardy but some circumstances can be destructive, just like when there was a steel ladder that kept rubbing on my boat's front all night. But I just repainted the chipped part to my relief, and the damage was nowhere to be seen. The hull looks perfect like when I first painted it.
What We Like
With hues that let you conform with nature
A single layer of this paint is enough for covering a duck boat
Dries quickly under the sunlight and high temperature
Has a good coverage of camo finish
Easy to fix chipped part with the same paint
What We Don't Like
Requires an electric drill for mixing
The camo finish from this paint stands out among the rest. It's what every hunter sought. I also like that it can be fixed easily when it's damaged. So far, I don't need to do it as I'm always careful with my duck boat.
9. Pettit Paint 3303Q Shipendec
I only have praises for this paint as I've been using it for so many years. The consistency of its quality never ceases. I trust it in taking care of my duck boat as I often go hunting in all seasons except winter. Its abilities are similar to what you can see in the Parker duck boat paint reviews.
The paint color is dull, dead grass, which creates the precise camo finish that every hunter wants. I need to blend with nature so my presence won't be known to the animals while hunting with my duck boat. I couldn't find any better paint than this when it comes to the camouflage effect. It doesn't only excel in color but with its covering properties and glossy finish as well.
It was originally made for wood, but it has shown compatibility with fiberglass and metal, which is used in building my duck boat. It can be painted directly to an enamel coating. If the old paint is made of enamel, you don't need to spend time getting rid of them.
A brush is the best tool when applying this paint. By all means, you can use a roller and a spray too. It all depends on your preference. If the vessel is not too big like my 16-foot duck boat, spraying is fine.
Even though it's an all-time favorite, it's affordable. You have to get the precise thinner to use for this paint and what you have to purchase separately is the thinner 120 or 121.
What We Like
Consistent in maintaining good quality
Gives a precise camo finish with gloss
Excellent covering properties
Can be used on metal, fiberglass, and wood
Can be directly applied to the enamel
An affordable, all-time favorite
What We Don't Like
Needs to buy exact thinner 120 or 121 separately
You can't just let go of the product that never fails to prove its worth. It's the best camo finish for me with some gloss. Hunting is always fun because of the looks it gives to my duck boat.
Factors To Consider When Choosing Duck Boat Paint
The different types of duck boat paint
Although some paints have the same purpose, which is to be utilized as duck boat paints, different ingredients are used to make each of them. They may be oil-based or water-based.
But the best part is that both beginners and professionals can use either of them. Variations of colors, sizes, as well as prices, should be expected. But these differences will allow you to get the most suitable one not just for your boat but also for your budget.
You'll find some paints that are quick drying. Some are recognized as safe to the environment and even when pets and kids are around. Some paints are exceptionally good at providing protection. They can counter abrasion, rust, corrosion, toxic elements, harsh chemicals, and bad weather conditions.
Some manufacturers boost the adhesion of their duck boat paints. Thus, the finish of these paints doesn't easily flake, chip, or crack. They usually don't have a strong odor. It means it won't stir up allergies and irritate the sensitive nose. You'll be delighted to find some paints that will give your duck boat a stunning finish.
A few brands would allow direct application over the old layer of paint. But in most cases, you need to clean up and prepare the boat for painting. A primer or sanding will be required. Even though the paint has excellent quality, it won't matter if the surface is not clean and free from any debris.
Benefits and drawbacks
Protection is essential when taking your duck boat for hunting. Outside elements can cause damage which won't prevail if you've painted your boat with a dependable product. Camouflage cover that can be created from this paint is important for hunting. It also gives your boat an outrageous and hardy appearance.
You can also expect that the duck boat paint can repair cracks, dents, and peels. It can even last for years in protecting your vessel. The drawback lies in some paints that require hours or even a day for drying. Others will also need a lot of effort when being thinned out.
What Is The Best Duck Boat Paint
The top-rated duck boat paint is made to protect vessels against abrasion, corrosion, rust, chemicals, and other environmental elements. Moreover, it's formulated to become impenetrable from water and weathering. It allows you to create a long-lasting camouflage coating. You may apply it on other vessels besides duck boats.
What Color Should I Paint My Duck Boat
The right colors for a duck boat are brown, dark green, and black. You may apply it over a light shade if you want to create a pattern and depth. Never stick with just one light color.
How Do You Paint A Fiberglass Duck Boat
Even though you don't have the artistic aptitude and skill, you can still apply the duck boat paint and achieve the desired result. As an owner, it's normal that your main concern is to be careful when handling it. Since it's DIY, here are the steps on how to paint a duck boat to guarantee that you won't cause any harm:
To ensure that the paint will adhere to the fiberglass, scuff the surface with 150 grit paper. Primer is not needed on this project.
Wash off the vessel to get rid of any small particles. You have to rub-down the surface with at least 90% alcohol to ensure cleanliness. Acetone is another substance that you can use. Evaporation happens quickly in this step.
Stencil on the patterns and then, you can start painting. You may use a paint roller, paint gun, and foam brush for tight areas. Two layers should be applied in most cases.
Let it dry as per the manufacturer's instructions.
Conclusion
Every product presented in this review has its special features that may favor your needs and preference. They are reputable brands that worked hard in producing these quality paints. Differences among these paints are an advantage on the buyer's side to cater to everyone's demands. Hence, you'll get the best duck boat paint for you.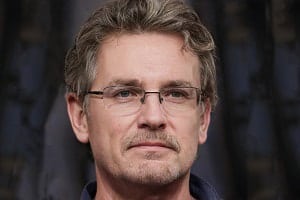 "I am James Harvey – founder of Boating Basics Online. It is established with the drive to help out first-time boaters, which are those desiring to explore their way through the water. So if you are new to boating, start from here with me. "