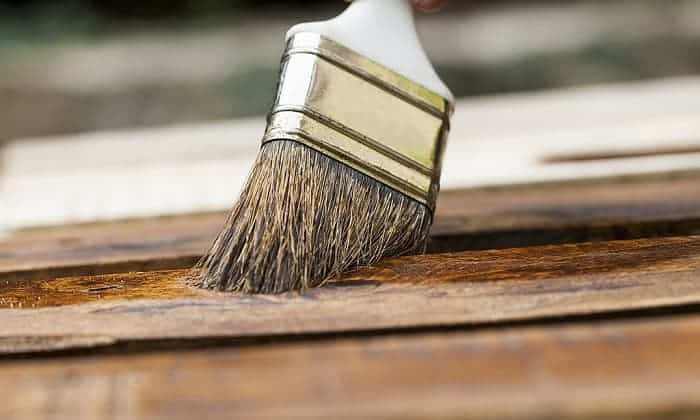 No thanks to harsh elements like wind, rains, and extreme heat and cold, any boat is bound to show signs of wear and tear over time. Nowhere is this depreciation more obvious than in the paint coatings on our vessel, on the decks we regularly trudge. What's good is that there's always a remedy for a beaten up deck that's becoming unsightly and deteriorating. There's nothing that the best boat deck paint can't polish up in no time. The icing on the cake is that these coats do more than beautify a boat. Some naturally impart non-skid perks that would make any Navy sailor green with envy. Others add years to your boat's life by making it waterproof and dustproof. A few marine deck paints can even deliver all these things altogether, as proven by this review and buying guide.
---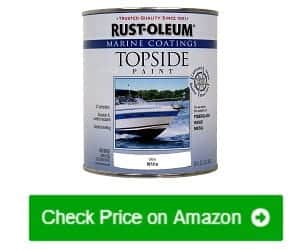 Rust-Oleum 206999 Paint
Decent traction
Good self-leveling
Outstanding protection
---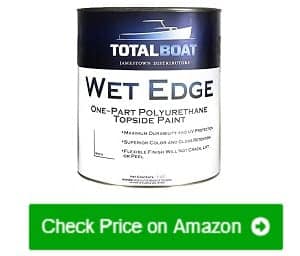 TotalBoat Marine Paint
Very easy to apply
Decent drying time
High-gloss and marine-grade
---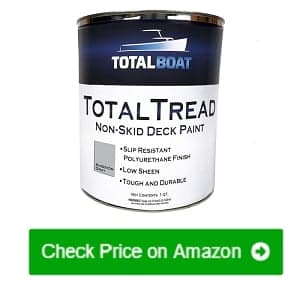 KiwiGrip KG10171R Coating
Notably durable
Excellent non-skid
No undesirable odor
---
Best Boat Deck Paint Reviews
1. Rust-Oleum 206999 Marine Topside Paint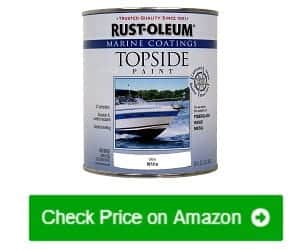 This paint is difficult to beat even by some of the products listed here. It delivers everything I look for in deck paint for boats, from durability and speed of drying to ease of use and adhesion. This one can astound anyone who has given most boat deck paints a try but ended up with short-lived finishes. One of my Jon boats whose decks I painted with this 5 years ago is still going strong. Sure, it has faded a bit and could use a fresh layer any time, but I can't say the same for other brands. Protection and durability go together in my book. This paint wins in both. I've exposed my boat to the whole nine yards of abuse over those 5 years, and all I'll say is that it gave little ground against sun and moisture damage. It's a breeze to apply. Any roller will do for the majority of the coverage, and I use a $2 brush to perform the required touchups. It self-fills quite nicely as a bonus. It also offers slip resistance to a degree, but there's not as much traction as a purpose-built non-slip boat deck paint.
One thing I don't like is the strong smell. I wish Rust-Oleum, considering its status as a go-to brand, would take the time to tone it down. Good thing I know a hack or two to keep it from overwhelming my nose, namely adding vanilla extract.
What We Like
Excellent durability
Outstanding protection
Good self-leveling
Decent traction
This paint is on a whole new level when it comes to durability. I'm willing to bet you'll find it hard to choose any other brand once you give this a try if that factor is your priority.
2. TotalBoat Wet Edge Marine Topside Paint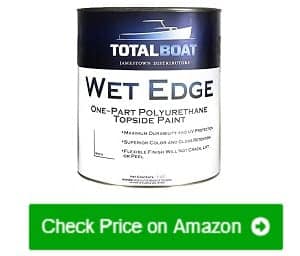 Wet Edge lasts a long time, flows like butter, and keeps for a long time. I'm going to go ahead and say that I love applying this paint. I can't get enough of how smoothly it flows, and you don't need a whole can of thinner to get it to that consistency. I use the recommended thinner and get an eye-catching finish every time. It self-levels, too, and if you know me I can't get enough of paint that manages this. I stick to recommendations of applying thin coats, normally three coats in total. I found that I don't need an assistant for tipping because, again, it's so easy to apply. I would even go so far as to say that it's made me "addicted" to painting boat decks and hulls, taking every chance I get to freshen up a vessel or two. I use a primer if the previous paint has worn out. But if that's not the case and the paint's still solid, I discovered that it still provides excellent coverage even without a primer. It takes less than a day to dry in most applications in optimal weather. It's the kind of dry that I know won't mess up once I plant my feet on it. The brand recommends xylene as a thinner, and that's a downer for me because it's not always available where I live. I also appear to be struggling to find stocks of this paint even on online shopping platforms nowadays.
As for durability, the longest a single application managed before it started wearing out substantially was two years on one of my fishing boats. That's decent with other paints' durability considered. I can safely say it imparts the ideal protective and long-lasting advantages of high-gloss, marine-grade paint with those things in mind.
What We Like
Very easy to apply and manage
Decent drying time and durability
Doesn't need a primer if a solid layer of paint is present
High-gloss and marine-grade
What We Don't Like
Recommends xylene as thinner
Limited availability
As a boater yourself, you probably can't ask for more from a boat floor paint.
3. TotalBoat TotalTread Non-Skid Deck Paint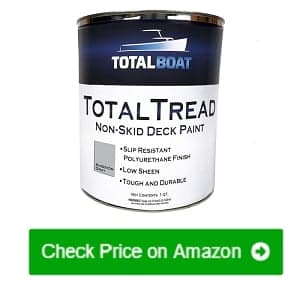 A breeze to use and offers excellent traction, TotalTread guarantees a smoother finish and lasts for a long while when properly applied. I love this paint's combination of benefits, as I said above. It's not hard to manage and use. I always pair it with a proper marine primer prior to application, and oftentimes, I only need to apply two coats to get the results that I want. It imparts a smoother finish than most non-skid varieties I use. I reckon it's because it uses finer sand than others. It's more comfortable for barefoot walking, that much I'm certain, though I rarely do so. Also, take note that its non-skid perk is no less great despite the said facts. It's a balanced type of traction, not too sharp. As for complaints, it takes around two days for me to be confident that the paint has sufficiently dried and convinced that I can put full pressure on it. I'm also not too sure that it should cost as much as it does, considering the alternatives. Still, it heads this list for the simple reason that it's a solid choice for me and many boaters.
Sometimes, I use marine-ready varnish like the Gleam 2 from the same brand. It puts the cherry on top by boosting the aesthetic appeal and durability further. This setup has shown the best longevity for my 32-foot sailboat's deck and cockpit, which is still showing minimal signs of damage after 3 years.
What We Like
Easy to use
Smoother finish
Proven durability
Great traction
What We Don't Like
Takes a while to dry
A little expensive
This product exemplifies the qualities of a good marine decking paint. It may not be excellent per se, but it's above average in most marine applications.
4. KiwiGrip KG10171R Non-Skid Coating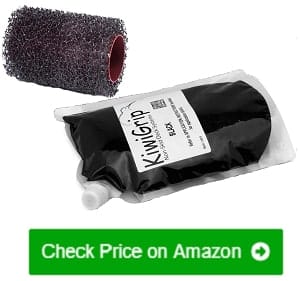 KiwiGrip reviews have lauded this boat deck coating as the best paint for boat decks. I agree to a certain degree, especially if I'm going to compare its non-skid magic to other brands. To be completely honest, this product had me scratching my head when I learned that it doesn't use sand or any other filler that paints usually add to impart a non-skid benefit. I was a doubter at the start and only tried out the cheapest and smallest container that came in. Well, long story short, it blew me away the moment I learned how it does its magic. It's because it's so easy to apply AND you get outstanding traction from the finish. Do take note that I make it a point to sand any surface I'm applying it on first. Sometimes, I also use acetone to great results. Overall, you don't need to take too much prep time to apply it properly. However small its coverage, the roller that it comes with undoubtedly deserves as much praise because it produces the kind of texture that results in great traction every time. It's grippy traction minus the harsh, all-too-sharp texture of most non-skid finishes. Unlike other paints, it doesn't stink up the workplace or storage shed, either. As for durability, I have a center console whose deck still looks close to good as new after 2 years. I don't always subject it to torrential rains and heavy sunlight, though. Even so, it's still a miracle it maintained its finish in my opinion.
For the amount that you get for every gallon, I find it quite expensive. On the whole, I feel that every bottle doesn't feel enough, making me think KiwiGrip coverage almost always falls short. This is why I suggest you buy more than what you're anticipating.
What We Like
Excellent non-skid
Very easy to apply
Comes with a roller for optimal application every time
No undesirable odor
Notably durable
What We Don't Like
Expensive
Relatively small amount of paint in every container
I agree that this product deserves to be grouped among the best with all its benefits considered.
5. Rust-Oleum 207009 Marine Anti-Slip Additive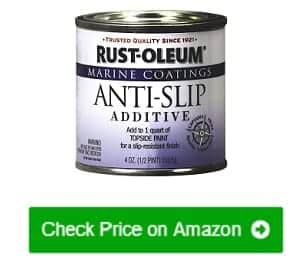 If your deck paint doesn't have the skid resistance you want, you can always have a way out of that common rut with this additive. This is the additive that I won't mind using on my boat decks, bathroom floors, and venues where accidents, life-threatening or otherwise, are more likely to occur. It imparts the kind of grip you would expect boats in the Navy would have, as long as you apply it properly. Incidentally, it's quite easy to apply. It's not choosy with the paint it works with. In fact, as long as it's suitable, I make it a point to mix it with my other deck paints to just give them the kind of traction I can trust, especially if the seas get rough. I've gotten consistent results in the anti-slip feature even if I sometimes use less than what the brand recommends to add. It pairs well with the brand's Topside marine paint, but I also tend to use it on other paint brands because it doesn't really limit itself to the brand's catalog. It's not hard to use and mix at all, a quart of paint will do. It self-levels nicely, and I get consistent results with a roller, spray, or brush.
I don't know whether it contributes much to durability, but since it's UV resistant, I'm betting it does add to overall longevity. Almost any vessel I apply this to didn't need a repaint for at least 3 years, especially if I use Rust-Oleum's marine paint. My only real qualm is that, for an additive, it costs quite a lot of cash.
What We Like
Excellent slip resistance
Easy to use with most paints
Adds an extra layer of protection to boats
Delivers great results even with minimal amounts
Do I trust this paint with my life? In all likelihood, I won't mind doing so because its grip remains unrivaled by even some of the best paint for boat floors featured here.
6. Durabak 18 Textured Non-Slip Coating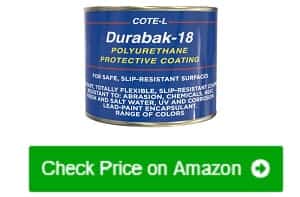 The Textured version of the Durabak 18 serves as the better non-slip deck paint for boats than the Smooth variety. Though pricey, I always get the durability and grip I want. I once painted this, on a Jeep and not on a boat deck, when it was close to 101 degrees Fahrenheit outside. It still adhered well and cured excellently after a day in the shade. Sure, I most probably won't be doing that again, but I wished to highlight this product's adaptability in that regard; it's bound to exceed your expectations. For boat decks, I've applied it on a few fiberglass, wood, and metal surfaces to great results. It comes ready to be used after opening every can. Of course, I often do the sanding, use a primer like a xylene if available, and other preparations if necessary, but the said aspect does save me loads of time. That last aspect, plus the fact that it comes in a variety of attractive colors, convinces me that I'm getting my money's worth despite the relatively high price of each quart. For one, I often don't have to cover the finish with a better-looking topcoat.
As for durability, I can say for certain that it lives up to its name. The textured version works better in boats because I think it has a superior waterproof feature, besides the grippy slip resistance. It keeps me at ease even when the deck gets all wet, especially during trips when there are unexpected showers and the occasional head seas. It appears all-around UV stable enough but I can't comment much when it comes to boat decks.
What We Like
Delivers way more than what it promises
Adaptable to most deck surfaces
Ready to use and easy to apply
Multiple attractive color options
Very durable
If you're looking for a fiberglass boat deck paint that's all about quality protection, style, and safety, you better check this product out.
7. KILZ L394811 Over Armor Smooth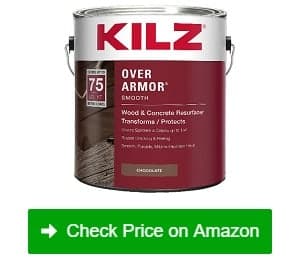 Over Armor's Smooth version is a steal for every gallon, especially if you have to work with a wooden boat deck. It's attractive, has good coverage per coat, superb adhesion, and great durability. I like the light brown, peanut butter-like finish of this. It's more pleasing to my eyes than the chocolate-brown finish. It's a little hard to manage, and I need to do the basic prep work every time. But once you get the right consistency, it's going to stick for good and wows me with its superior coverage that can beat the others featured here. I often rely on this budget-friendly paint when I need to restore decks that have peeled and cracked. I painted this on the teak deck of my center console 3 years ago. It's still looking good besides a few peels here and there. That's what convinced me it deserves a spot here. Do take note that this is a very thick paint, too thick to my liking. I often have to thin it out with water to get to the consistency so I won't struggle to spread it. It takes time and that's one of the main downsides. Considering the price, I wasn't that surprised. Still, it's not a problem that doesn't have a ready solution, so it's a minor issue to me at best.
One other thing, while it has a bit of texture and traction, the Smooth version of this brand isn't that slip-resistant. As a result, I often purchase a cheap anti-slip additive to mix it with to make up for that. That way, I still manage to keep the overall expenses down.
What We Like
Budget-friendly
Attractive finish
Long-lasting coats
Superior coverage
What We Don't Like
Not that slip-resistant
Needs to be thinned well
This marine paint for wood decks makes your efforts well worth it. You only need to know how to properly use this boat deck paint on a budget.
8. Liquid Rubber Smooth Polyurethane Coating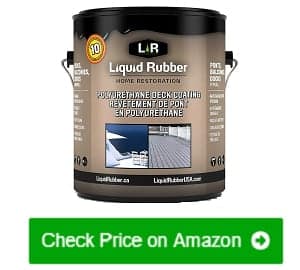 This coating can fool anyone who has handled coatings and stains before. In a very good way, I must add. It doesn't advertise itself as a non-slip coating but this is actually one of the few Smooth coatings I've tried that doesn't feel slippery at all when wet. I was pleasantly surprised to learn this, so I've been liberally applying it to most of my boat decks ever since. Sure, it's not as strong as other naturally non-slip paints out there. Even if that's the case, I never use an additive to get the grip I'm aiming for whenever I use this. I can readily compare it to other brands I've tried and there are more than a handful that pales next to it, especially if we're going to consider durability. I can't say much about how it manages to keep the elements in check, but I think the coatings that last for 3 or more years speak for themselves. I love the nuances in color options. I've tried out a number of them over the years and found the greys and browns to be the most ideal for my boat decks. A one-gallon can is not exactly cheap, but for the quality, this should be obvious. It's worth every penny, though.This paint almost always guarantees that it's better than the paint you last used on your deck.
I don't mind applying it with either a spray, brush, or roller because it's that convenient. No mixing is required, though obligatory sanding is warranted in most applications. It's relatively thick, to the point that it doesn't drip but delivers smooth flow when applied; the perfect consistency, in my opinion.
What We Like
Decent traction
Comes in many attractive colors
Above-average durability
Easy to prep and use
Well worth the money
This paint almost always guarantees that it's better than the paint you last used on your deck.
9. TUFF Coat UT-100 Non-Skid Coating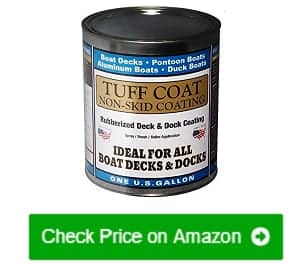 TUFF Coat is a heady mix of durability, aesthetics, environment-friendliness, and marine-grade slip prevention. This coating's claim that it is "extremely durable" caught my fancy from the get-go. I like brands that make bold statements and am more than willing to test their claims. Well, I'm glad I did because this is probably one of the few coatings here that I would never have second thoughts using on any kind of boat deck. It looks and feels great and safe when stepped on. In addition, this paint doesn't have the harsh texture you normally associate with non-skid coatings. I attribute this to the rubber, which you need to make sure is mixed well with the paint to ensure optimal coatings. The former tends to stay at the bottom of the can, after all. The options for boat deck paint colors are excellent to boot. I prefer the chocolate-looking finish it provides because it does well to hide the stains that we usually get when we're out boating and fishing in muddy waters. Though it provides a potent non-skid grip, it's actually not a pain to clean with a regular garden hose. Stains come right off in the first blast.
It stays fresh for a long time. The longest it has gone without convincing to apply a fresh batch was 5 years on one of my old sailboats. Despite being the toughie that it is, it's water-based so it's both good for us and the environment. I wish it would lower its price a bit, though, because it's probably one of the most expensive paints here.
What We Like
Superb durability
Great-looking finish
Superb color options
Easy to clean
Non-hazardous to health and environment
This is for people who want safer, in more ways than one, and more heavy-duty paint for their vessels.
10. KILZ Over Armor Textured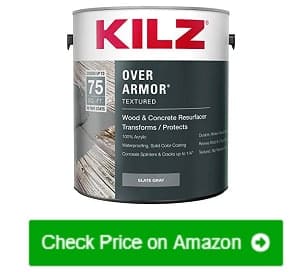 Over Armor Textured is the more complete, marine-ready option in the KILZ boat deck paint catalog. Is my favoritism for this brand beginning to show? I'm not really being biased, though. If I'm going to ensure excellent coverage and durability Over Armor, why not go all the way and make it more slip-resistant and provide better protection against bad weather? Yes, the Textured version is far more expensive but if I mix a non-skid additive with the Smooth, I think the price difference evens out to a certain degree. The non-slip feature of the Textured is fantastic and consistent, though, making it hard to ignore altogether. It still feels smooth, too, even when you walk barefoot on it. This very first coating still looks great after 2 years, so I'm satisfied with the general durability. It more than makes up for the effort and time it asks from you. I've subjected that center console's deck to hours of sun and moisture during that span of time with minimal cleanups. Take note that I applied only one coat, and it dried remarkably quickly. I did clean the surface thoroughly first.
I may have to agree with some of the reviewers who complain that it's a bit hard to get the hang of, much less apply. It feels like mud and overall can be a pain to brush. It took me more than an hour to get the coverage I was aiming for when I first tried it out in an area of around 50 square feet.
What We Like
Excellent traction
Satisfactory durability
Feels smooth
Performs well with one coat
Quick-drying
What We Don't Like
More costly than the Smooth version
More difficult to apply than other paints
If you're a hardcore boater who tends to subject your vessel to a beating every now and then, you can't ask for a better coat to apply on your deck.
11. INSL-X SU031009A-01 Sure Step Coating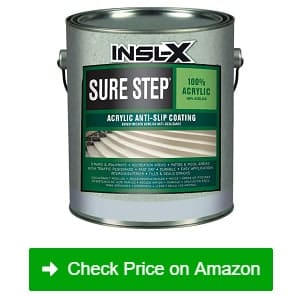 This premium paint delivers your money's worth by imparting strong traction and keeps for a long time. I like the consistency of this paint. It's thick like rubber but won't leave you tired to your bones the moment you roll or brush it. It takes some effort to stir, but not much to complain about. Plus, I won't trade this paint's excellent coverage for the world. I usually don't need excessive amounts of it to cover the areas I'm working on, and it dries fast and feels hard and thick once it does. I've tried more than a handful of paints that claim to be non-skid before. More often than not, the majority of them aren't able to achieve the kind of texture or traction I can be confident in; usually, I had to add more coatings than was recommended. This one is an exception in that it imparts the right traction with two layers every time. No slips and falls to note since application. I said it keeps for a long time because my current Jon boat's aluminum still sports its smooth finish 2 and a half years after the initial application. It's not exactly UV resistant so I made it a point to refrain from letting it take in too much of the sun's rays, especially if the temperatures are on the high side. Other than that, I believe its waterproof and abrasion protection deserves a thumb's up.
Another thing I don't particularly like is the sharp odor. It's the kind of smell that compels you to wear a mask even if you've handled hundreds of paint products before.
What We Like
Excellent coverage
Amazing traction
Lasts for a long time
Dries fast
What We Don't Like
A bit expensive
Strong odor
Value for money sums up what this paint is all about. Anyone looking for mid-range paint with high-end perks would benefit a lot from it.
12. Evercoat 853 Skid-No-More Rubberized Coating
This marine non-skid deck paint is tough in more ways than one. It can be tough to handle, but it won't leave you disappointed in the durability department. Moreover, it's one of the few that can do well on both metal and wood surfaces. I use this on most of the aluminum and wood decks of my own sailboat and the pontoon that my brother owns. To me, it lasted longer in the aluminum deck; it's been close to 4 years and it still looks good. It peeled in certain parts, but a day of sanding remedied it before long. On wood decks, the most that I've got out of it is 2 years before I reapplied a fresh layer, but that's just my experience. Speaking of application, it's quite a puzzle to apply properly the first time I tried it out. I need to stress the word "properly" because you have to make sure its grits are distributed evenly. I didn't get the results I want (i.e. the right leveling) with the squeegee recommendation so I used a mud knife instead. It leveled out better with the knife and it stuck like glue with the standard Rust-Oleum primer I used. I like the relative affordability of every can as well. For what I always get out of it, it's a bonafide bang for my buck. Even so, I wish it would come in basic black and white colors, and for the available hues to at least be more attractive. Nothing a more eye-catching top coat won't remedy before long, though.
With the grit evenly distributed, I can feel the traction better. I've tried using a paintbrush, which also works well, but I think it's easier to achieve the right grit distribution with the knife. Two coats will suffice.
What We Like
Versatile on most surfaces
Proven durability
Strong adhesion
Great value for money
What We Don't Like
Quite difficult to manage
Unattractive colors
I can safely say I won't be choosing any other coating if practical benefits are all I'm aiming for in my boat decks.
Factors To Consider When Choosing Boat Deck Paint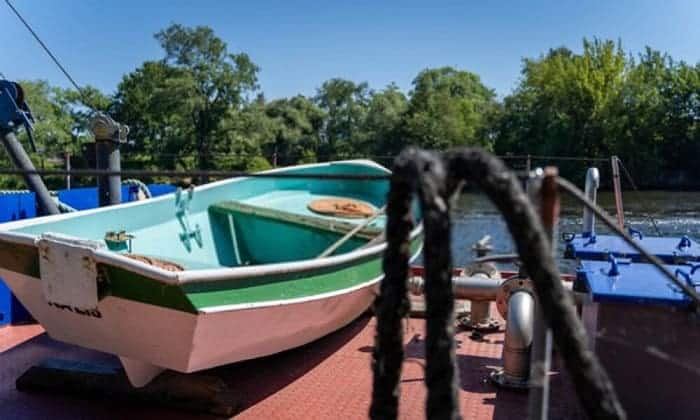 I suggest you don't steer away too much from these vital criteria when making your decision.
Slip Resistance and Water Protection
The safest choice is always a paint that offers anti-slip because you need to be confident that you won't slip or fall regardless of how much your deck gets wet. Not all anti-slip paints and additives are slip-resistant and vice versa. However, getting any of the two would always be a good step in the right direction. Waterproof paint not only tends to stay on longer but is easier to clean, too.
Paints that are UV resistant can resist most weather conditions and can handle the pressure of regular foot traffic and abrasions are what you should aim for if you want coats to last. Epoxy boat floor paint tends to be a safe option for this, but as my list above proves, you should also give other kinds of paint a try, even water-based ones.
Your boat's deck is often the one area of your vessel where you can flaunt your style. The colors you choose can either make or break that factor for you. If you want coatings that can hide the dirt and grime, then I suggest you choose darker ones. As much as possible, don't let the color for boat decks depart too much from its overall theme.
What Is The Best Boat Deck Paint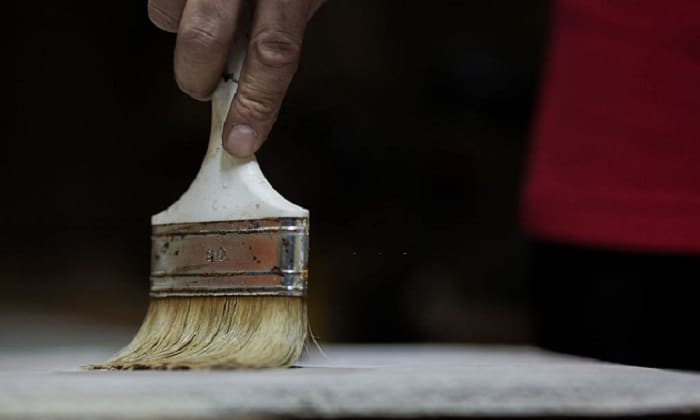 You'll see a lot of reviews and feedback raining praises on household brands like KiwiGrip, Rust-Oleum, and TotalBoat for a good reason. Their products exemplify the best qualities of paint for boat decks. However, I simply can't ignore my positive experiences with KILZ, Tuff, Durabak, and the other brands mentioned here. They excel in key areas that I normally can't do without in my boat paints, namely, slip resistance and durability.
How Should I Prepare My Boat Before Painting
Oftentimes, the paint products themselves would give you detailed instructions about how to prepare your boat to achieve optimal results. In most cases, I've discovered that it's best to stick to these instructions. Otherwise, it's always best to sand surfaces prior to application, especially if you're doing a repaint and have to remove flaky stains and coats. It's standard practice to make sure the surface is spick-and-span clean before you apply any paint product on it.
How Do You Paint A Fiberglass Boat Deck
Besides a few unique steps you need to take, it's not that much different from painting wood or metal surfaces actually. Make sure you keep the fiberglass clean and dry before applying any kind of paint. Let it dry in a place where it won't be subject to further moisture or dirt. An important step you shouldn't forget is to mask off the area you intend to paint. You can use a suitable painter's tape for this to make sure the final finish won't have irregular co. Paint for fiberglass boat decks usually requires a primer, but not always. Only use it if the specific paint product calls for it. With the area dried and masked off, you can now begin painting. After you're done, you can now remove the tape and from there, it's a waiting game till the coat you applied dries completely.
Is Anti-Slip Decking Paint Any Good
Yes, there's no shortage of paints and additives that give the traction you want in your deck surfaces. However, not all of them last long and may need regular application over time. Some are so easy to apply that you won't mind rolling a fresh layer should the previous coatings begin losing their grip. https://youtu.be/CFi3KRFSw_Y
Conclusion
The best boat deck paint can give you that much-needed Zen-like peace when out boating, fishing, or cruising. Why? Because you won't have to worry about slips, falls, and a worn-out deck once you apply it. The products I've highlighted here can, more or less, help you attain that as long as you pinpoint the best ones for your purposes.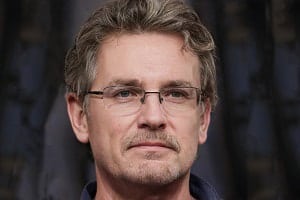 "I am James Harvey – founder of Boating Basics Online. It is established with the drive to help out first-time boaters, which are those desiring to explore their way through the water. So if you are new to boating, start from here with me. "