If you want to enjoy a relaxing and fun sailing experience without troubles, you'll need to keep your boat in the best possible condition. One of the things that you have to pay attention to is fading and flaking paint. The ultimate solution for this is the best boat paint in the market today. Here's a guide for you on how to identify the right paint:
Based on Your Boat's Material: You don't have to rely on a certain type of boat paint to match all kinds of boats. Bear in mind that different materials can be used in building a boat. Thus, identifying what your boat is made of is important to get started with the paint job. It can be aluminum, wood, and fiberglass.
For example, fiberglass boats need tough urethane paint to give a glossy finish or acrylic latex that adheres well to the said material without blistering and cracking. Moreover, there's also marine paint for wood and aluminum.
The Paint's Composition: Although several marine paints can render the highest shine or the most desired result, you have to be aware of its composition. The number of chemicals in these paints can be toxic and pose health risks upon exposure. Be aware of the content if it's safe or not. A respirator mask can help you get away from it though. You can also opt for eco-friendly and less toxic boat paints.
The Boat Parts that You'll Paint: When painting the exterior of your craft, the best paint for boats is something that can withstand long water exposure. Antifouling paint is mainly formulated for below the waterline use. You'll see an indication on the label if it's antifouling or suitable for below the waterline application.
You may think that there's a ton of important factors that you have to consider when buying boat paint. Don't lose hope as this review has sorted out the most outstanding boat paints.
---
Rust-Oleum 206999 Marine Paint
Has outstanding gloss retention
Spreads easily on the surface
Has long-lasting UV protection
---
TotalBoat 511784 Aluminum Boat Paint
Easy to use with various tools
Smoothens and dries out in no time
Can easily clean the painted surface
---
DURALUX M720-1 Marine Paint
Doesn't flake or chip easily
Can restore old aluminum boats
Creates camouflage finish for hunting
---
Best Boat Paint Reviews
1. Rust-Oleum 206999 Marine Topside Paint
Because of this marine paint, it didn't cost me a lot to freshen up the look of an old fiberglass boat. No one can tell that a boat is an aged one as it has outstanding gloss retention. Apart from fiberglass, it can also create an even and smooth finish on metal and wood. I'm in awe of its beauty and elegance.
I was reluctant at first to use this topside paint for the boat hull due to the indication of use below the waterline. Some helpful information could be found in forums and marine topside paint reviews though. It's fine if your boat only contacts with water when in use and it's being trailered later on. Luckily, it suits me well because those are part of my routine when handling my boat.
I sand and apply mineral spirits between coatings for an awesome outcome. It's self-leveling too, so it's not hard to lay it out on the surface. You can either use the usual brush or foam brush. Only its strong smell bothers me, and this compels me to wear a respirator mask during application. But generally, this Rust-Oleum paint gives fantastic results from the roll and tip method.
This paint is also useful covering rusty gas meter pipes, and it turns out splendidly. It's available in various colors and the battleship gray is approved by the gas company. The colors are similar to Awlgrip boat paint.
Last but not least, this boat paint is UV resistant, so it gives me the confidence to sail all summer long. That's why I receive compliments from other boaters because of the fresh looks of my boat.
What We Like
Has outstanding gloss retention
Creates even and smooth surface on fiberglass, metal, and wood
Spreads easily on the surface due to self-leveling property
Works well with the roll and tip method
Used on covering rusty pipes
Has long-lasting UV protection
Topside painting is never this good without this paint! Aside from reviving the appearance of old boats, you'll be able to maintain the best look of a newly bought vessel. This brand always doesn't disappoint.
2. TotalBoat 511784 Aluminum Boat Paint
Whether it's for the maintenance of your boat or refurbishing an old one, this marine paint is the best choice for aluminum. The low-sheen coat from it is not only captivating but lasts for a long time. I can attest that it has a resistant finish against UV rays, corrosion, abrasion, and harmful chemicals.
This is the only paint for aluminum boats that is easy to use. The previous paints are quite thick and hard to work on. I sometimes use an electric paint sprayer, and I don't have problems with clogging. Another applicator option is a good-quality foam roller.
My aluminum boat is sandblasted before I apply several layers to create a nice finish. I do it to ensure that the paint holds well. Don't be dismayed when you see that the first layer is blotchy. I usually apply three coatings to achieve the desired result. The waiting time for it to dry doesn't test my patience as brush marks become smooth (if you use a brush) in no time.
Algae inevitably develops when the boat stays in the water. Astonishingly, I just wiped them off my boat's hull. Cleaning up is easy with soap and water as well. It doesn't take much of my time since dirt comes off right away. I also like the camouflage finish that you can make from some of the available colors. The best part is that the layer of this paint doesn't chip, fade, or peel.
What We Like
The best choice for maintenance or refurbishing an old aluminum boat
Resistant against UV rays, corrosion, abrasion, and harmful chemicals
Easy to use with various tools
Smoothens and dries out in no time
Can easily clean the painted surface
Creates camouflage and low sheen finish that doesn't chip, fade, or peel
What We Don't Like
The first coat may appear blotchy
This is the best boat paint for aluminum boats as it gives a low-sheen finish as well as protection from harmful elements. Due to its satisfactory result, I can't say anything bad about it.
3. DURALUX M720-1 Marine Paint
The main thing I like about this product is its cost-efficiency. Imagine how a 1.5L of this marine paint can cover three boats! It can be done because a small amount of this substance can go a long way. It's a vinyl-type paint that suits aluminum boats the most. Some people use it in pools due to its plastic-like coat.
Since I don't want flashy paint, I'm glad that it creates just a slight sheen. It never fails to give my aluminum boat a brand new look. Even a 40-year old canoe was restored in its former glory. Aside from aesthetics, I can create a durable finish as it doesn't flake or chip even though the boat bumped against dock bumpers a couple of times.
Expect that vinyl-type paint like this is pretty thick. You can use a brush or a roller but not a sprayer as it's sticky. It's self-leveling and the coverage is satisfactory. In addition, I haven't come across issues with sagging or running to both vertical and horizontal surfaces.
Applying it thinly is fine, and you can obtain the sought-after finish after two layers. Light sander and lacquer thinner are some of the things that you may need. But you can just pass on the primer without ruining the lasting effect.
My pontoon needs to be undetected when hunting. Camouflage finish is one advantage of using this marine paint. With the
duck boat
drab, dead grass green, and prague green, you'll conceal your hunting vessels without exhausting your effort.
What We Like
Cost-efficient as a little amount of paint can go a long way
Can restore old aluminum boats
Doesn't flake or chip easily
Doesn't sag or on vertical and horizontal surfaces
No need for a primer for a lasting effect
Creates camouflage finish for hunting
What We Don't Like
Too thick to be in a sprayer
With all the benefits that I've gained from this DURALUX marine paint, this excels among the marine boat paints in the market today. Economically, it won't rob you of your money as it's cost-efficient.
4. TotalBoat TotalTread Non-Skid Deck Paint
This deck paint consists of one part polyurethane that seems to have the strength of two-part polyurethane paint. Having this on my deck and cockpit is a brilliant idea because it guarantees secure footing for everyone on board. It can happen as it forms a rubberized texture but is not abrasive at all. Furthermore, the possibility of slipping is minimized.
To achieve the expected result, I started with stirring the paint with the help of a drill for 5 minutes. I thinned it out and used a nap roller to spread it properly. Don't forget to wear gloves as this substance is so hard to remove without the strength of mineral spirits. While there are only four color options, they're tintable with Totalboat wet edge boat topside paint.
Upon seeing the first coat, I know that I need to apply it for the second time. Indeed, applying two coats does the trick. My 21-foot bay boat turned into a well-groomed woman with its low sheen finish! Surface preparation is crucial to obtain the finish that promises durability. From what I've observed, it doesn't easily fade or peel.
But the drying time can test the patience of boat owners. It's still tacky after 48 hours. By all means, it dries quickly when you place the boat under the sun.
The versatility of this paint is wonderful as it can be applied on metal, aluminum, fiberglass, and even surfaces with the existing paint. Moreover, it can be utilized as wooden boat paint. Aside from decks, it's great on stairs, gunwale, hatches, swim platforms, floors, concretes, and patios.
What We Like
Forms a rubberized texture for secure footing
Not abrasive
Spreads well when applied
Tintable with Totalboat wet edge topside paint
Low sheen finish that doesn't easily fade or peel
Versatile as it can be on different materials and boat parts
What We Don't Like
Hard to remove from your skin
The main purpose of using this deck paint is safety. The non-skid finish with rubberized texture assures you of minimizing accidents on board. I like how it's not abrasive and it meets my expectations.
5. Seahawk Aluma Hawk Jon Boat Green
I was lost in searching for the right marine paint for metal and aluminum boats. Relief came to me when I discovered this paint. Thanks to its corrosion inhibitors, I don't have to worry about damages that can untimely depreciate my Jon boat and pontoon.
I'm impressed with the durable finish of this paint. The coverage is amazing too! A can of this Aluma Hawk paint is not fully consumed for a 10-foot Jon boat. It's worth every penny because its application goes well, like I'm spreading peanut butter on the toast. More so, I tried using a sprayer gun and things went well as expected.
Another thing to love about it is that you don't need a primer. Although there's no indication of being antifouling paint, it can be used above or below the waterline. I only need to make a mixture of 50-50 paint and MEK. Take note of this so you can lay it out on the surface without issues. Stirring the paint can be a challenge, but just take your time and you'll get the right texture.
If you have a faded boat, improve its looks by applying this paint. The first coat may seem unappealing, but with the second coating, I'm satisfied with the outcome. It gives a flat finish which is what I prefer when I go hunting with my Jon boat. The color is the needed shade to blend with the surroundings and conceal from the prey.
What We Like
Has corrosion inhibitors
With an impressive durable finish
Worth buying due to the amazing coverage
No need for primer
Can be used above or below the waterline
Great color for hunting
What We Don't Like
Stirring this paint is challenging
What sets this paint apart from its counterparts is its durable finish. Anglers like me worry about corrosion and rust, but I got over it since I started using it. I like how it helps me fill my hunting adventures with plenty of catch.
6. Interlux YBB379/1 Fiberglass Bottomkote Paint
I've been using Interlux boat paints for 25 years, and I think this is an improvised version of Interlux 779. I can vouch for how trustworthy this company is. This bottom paint delivers several advantages that I'm grateful for. With the formulation of dual resin technology, the finish that it creates is durable and will surely last for a long time.
This spreads well so I can say that it's worth spending for. To my delight, this is a quick-drying paint. You can launch your boat the same day you do the boat painting job. It won't freak out impatient boat owners who need to be back to the waters in the soonest time.
Since it has the characteristic of ablative paint, you can't expect high gloss from it. Slow polishing action will impress you in keeping the surface clean. Because of this ability, unwanted paint build-ups are discarded. Continuous use of your boat also means unstoppable smoothening action. This function makes it fuel-efficient in exchange for trouble-free maneuvering of your boat.
I can't deny the protection coming from this paint due to its ablative-like ability. Thus, it can both withstand salt water, fresh water, and even brackish one. There are many antifouling paints out there, but this one is authentic for sure. It's not only suitable as paint for fiberglass boat hulls,but it also adheres to wood and primed metal surfaces. Unfortunately, it's not suitable for aluminum hulls.
What We Like
Durable and long-lasting finish
Spreads well and quick-drying
Has slow polishing action to remove unwanted build-ups
Smoothens the hull with continuous use and fuel-efficient
Withstand different kinds of water
Can be on various surfaces
What We Don't Like
Not for those who like high gloss finish
Not suitable on aluminum hulls
This works great as antifouling paint due to its properties similar to ablative paint. It's much better than other bottom paints as it lasts longer by getting rid of unwanted build-ups and smoothening the hull.
7. Rust-Oleum 207012 Marine Flat Boat Paint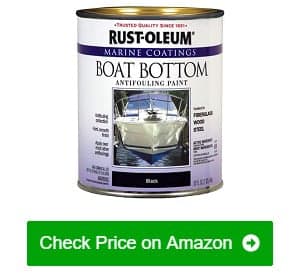 I checked several antifouling paints and I made the right decision in picking this one. It's the paint for the boat bottom, especially if you let your boat stay in the water for days. The finish of this bottom paint doesn't come off easily despite bumping onto trailer bunks. The credit goes to the hard and smooth layer that it creates.
It's been on my boat for over a year now and it has survived all the seasons. Slime and barnacles are at the bottom of my boat after a week of being stationed in the water. It's not a big issue as I can scrape them with so much ease. It's also reliable when it comes to protection, as it resists UV damage, moisture, mildew, and salt. Hence, it won't be budged when exposed to either fresh or saltwater.
My brother thanked me because this has fixed the bottom of his sailboat that is damaged by beaching. It can mend oopsie and flaws on the boat's bottom. Moreover, this is not only a marine paint for fiberglass boats. It can be on bare wood or with existing paint, bare metal or rusted ones, decks, walkways, and more.
Application is easy as it slides on the surface well. I only struggle a bit when stirring the paint. To make it less complicated, I use a beater so the paint is mixed well. Some also use it as a pumice base paint that matches latex and oil-based paints.
What We Like
Has a hard and smooth finish that doesn't easily come off
Can survive all seasons
Slime and barnacles can be easily scraped
Protects the boat from UV damage, moisture, mildew, and salt
Fine with either fresh or saltwater
Can be used to mend damaged on the bottom of the vessels
What We Don't Like
Mixing or stirring the paint can be challenging without any tool
This bottom paint can do repairs and provide protection when staying in the water for a long duration. Due to its antifouling properties, the hard finish won't give in to any destruction present underwater.
8. Interlux Y4359/QT Brightside Polyurethane Paint
Boat painting is much easier and productive because of this one part polyurethane paint. I don't have to incorporate the tedious roll and tip method. Just by rolling, I can get a hard and high gloss finish. Although I use brushes for application, the coat looks like it's done through spraying as the leveling is awesome.
Despite the properties that guarantee straightforward application, I have to do my part in preparations. Sanding is needed, but I missed some spots once. This paint saved me by covering the flaws. Furthermore, it goes smoothly whether you put it on a vertical or horizontal surface. It's not only easy and quick to apply paint, but drying time is also awesome since it would only take a few seconds.
You may do a rolling and tipping method. However, it's essential to use marine brushing fluid. This additional liquid can adjust to humidity, temperature, and painting style. I usually make two layers to achieve the finish that I love. It's almost the same with the gloss of a gel coat or something like a bright white light. In regards to aesthetics, you'll enjoy choosing from fiberglass boat paint colors due to the several available shades.
It's great on fiberglass and wood. Aside from watercraft, some use it on RVs and porches. The great looks that it grants are for real as well as the protection against abrasion and staining. It has also shown resistance against grease and oil. Although there are some bits of dirt, I can get rid of them easily. Thus, the upkeep is effortless and it allows me to save time.
What We Like
Hard and high gloss finish that covers flaws
Straightforward application and quick drying time
Goes smoothly whether on a horizontal or vertical surface
With gloss like gel coat or bright white light
Has protection against abrasion and staining
Resistant against grease and oil for easy cleaning
What We Don't Like
The roll and tip method may be tedious
The finish that is similar to gel coat is not only for aesthetic improvement but to protect your boat from harmful elements that dwell within the marine environment.
9. TUFF Coat UT-100 Black-Gallon
There are textured particles in the formula of this non-skid paint. It's ideal for decks and floors to prevent slipping and accidents. Besides keeping everyone safe, it also protects surfaces from getting damaged.
However, many boat owners find it useful in hunting, fishing, and bow fishing. In my case, I usually go fishing over a dozen times. Dirty foot traffic, jugs, bait, and fish make my boat messy. I'm glad that I chose the black color, so the stain won't be too conspicuous. Cleaning by scrub and water is done with ease as well. I sometimes just use a hose to get rid of the dirt and no negative effects have emerged.
The extreme durability of this paint is not to be doubted. Once it's dried, I can't scratch it with a screwdriver. The texture is nice and it doesn't get hot in an instant. Hence, I don't wonder why it's resistant to UV rays and harsh chemicals. I've seen how it's not easily degraded by wear and tear of frequent use.
As you can see, there's a lot to gain from this paint. That's why several coats and steps that are required to complete the durable finish are worth it. Primer is always needed to ensure that it holds on the surface. I always use a drill mixer to allow the rubber to integrate properly. This method also ensures that I can apply the paint evenly.
Aside from being the ideal paint for wood boats and aluminum pontoons, it can make fiberglass vessels look great.
What We Like
Non-skid to prevent slipping and accidents
Cleaning dirt and mess is undemanding
With extreme durability
Has a nice texture that doesn't instantly get hot
Resistance against UV rays and harsh chemicals
What We Don't Like
A primer is always needed for a better hold
Although it's time-consuming to apply this substance, I can't complain. Among marine paints for fiberglass boats, aluminum pontoons, and wooden boats, this one creates the most durable layer that protects my boat.
10. Pettit 3237Q EZ-Poxy Paint
Even without incorporating the tipping method, I was able to give a nice coat to my boat. The electric blue hue dries up like a gel coat layer due to its superior gloss retention. I'm so fond of it because it improves my boat's appearance.
Some of my friends even suspect me of being so attentive with my boat's paint like I do application twice a year. They're just being exaggerated as they can't help but be amazed to see the gloss consistency. The superb appearance is maintained due to advanced ultraviolet filters in this paint.
To gain this result, the manufacturer has added silicone to the formula. Thus, it's easy to apply while establishing the glossy effect. This topside boat paint can also form a coat that protects your boat from damaging elements and weather changes. I know that the ads are not bluffing due to the polyurethane in them.
I even can't believe it with my eyes that the gloss remains unchanged and lasts for a long time. Thus, it exceeded my expectations. Even without incorporating the tipping method, I was able to give a nice coat to my boat. It sets right after every brush stroke. The process is straightforward, and I enjoy watching it being laid out on the surface. Painting with this one part of polyurethane is not a hard task but fun instead!
To finish the necessary paint job on the 15-foot boat, I only used up half of the can. So, it's economical, but I just need to take some time cleaning some mess after I'm done.
What We Like
Has superior gloss retention that improves a boat's appearance
Protection from damaging elements and weather changes
The glossy, gel coat layer lasts for a long time
Brushing this paint is so easy even without the tipping method
Economical as it can go a long way
People can't help but be in awe of the glossy body of my boat. I'm a satisfied customer since I don't have to spend that much and I don't have a hard time during application. It's one of the greatest among numerous topside paints.
11. US Marine Products 250 Antifouling Bottom Paint
It's sometimes a long process to look for the ideal bottom or underside paint. Not to mention that there's a wide array of selection in the market. I'm glad that I gave this paint a shot, and I wasn't wrong as it takes care of my 18-foot boat very well.
The full-season ablative properties of this product got me covered. Furthermore, I don't have to worry about barnacles, algae, hydroids, and saltwater. These things won't have permanent residence on the boat bottom. I like the ablative polishing that it does. Even with continuous exposure to water, paint build-up won't trouble me. You can depend on it to resolve low to moderate fouling conditions.
I've also found out that it's both hardy in fresh and saltwater. When all of these abilities are summed up, they can be described as universal or international boat paint. It can be on every carefully prepared bottom except aluminum. Aside from its toughness and durability, I can always obtain a smooth finish that resists abrasion.
The application is straightforward and I just apply it thinly on the bottom. I can gain ablative polishing from a thin layer that I've created. It adheres to sanded surfaces well. In addition, it's fine to use it above epoxy primer or ablative bottom paint, which has a selection of marine paint colors for boats. Unlike this one, you should stick with the black color. But it's fine with me as it's a color that doesn't easily get dirty.
What We Like
Has full-season ablative properties
Barnacles, algae, hydroids, and saltwater can't harm the bottom
Does ablative polishing to dismiss paint build-up and low to moderating fouling conditions
Hardy in fresh and saltwater
A universal boat paint that can be applied with ease
In black dirty to not easily catch dirt
My boat's underside is protected by this amazing, universal antifouling paint. I can avoid spending a hefty amount on repairs as long as I do maintenance with this paint.
Factors To Consider When Choosing Boat Paint
Different Types of Boat Paint
In a DIY paint job, you have to collect the things that you need on your own. It's better that you have everything on hand before starting. You have to head out to boat supply stores or hardware stores to purchase marine supplies. The main concern that you may have is the type of paint that you need to use. Here are the varieties to choose from:
Every inexperienced painter of boats should know that this is one of the outstanding paints in the market. You'll find it at a low price, but it's not as glossy as other types.
One part polyurethanes and enamel paints
These paints are well-known for their durability and resistance to outdoor elements. Application is a breeze and investing in them won't cost you much money.
Two-part polyurethane paint
It has a reputation for being built-to-last paint. It's a combination of incredible durability and a lasting glossy effect.
Boat paint for fiberglass
Three kinds of paint suit fiberglass boats. First is urethane that has a large chemical content. Thus, you need to wear proper protective equipment during the application. It's not water-based, but it's allotted for projects that receive a lot of beating. It's due to its ability to repel chipping, wear and tear, and possible damages. A glossy finish comes along with its excellent performance.
The second option is acrylic latex as it can stick on the fiberglass well. Cracked and blistering can't take it down. It can even hold up steadfastly from the weight of cleaning. It's water-based and eco-friendly, so using this will not bring discomfort and inconvenience. This paint is great for both indoor and outdoor use.
Last but not least, a mixture of acrylic resin and urethane is perfect for fiberglass too. It's also characterized as acrylic and water-based polyurethane. Many boaters know this because of its terrific adhesive properties. What makes it favorable on the user side is that you may not clean the fiberglass before application.
The toughness of this mixture is amazing. It can even stick on dusty spots and old, existing paint.
The ideal bottom paint depends on how you utilize and store your vessel. Although you've used multi-season paint, you still need to double-check if you need to do some touch-ups every year. Going pro-environment is through using copper-free paint. Nevertheless, you may need one with copper if you sail all year round along a rugged marine environment.
Benefits of Using Boat Paint
The absolute benefit that you can get from boat paints is the avoidance of pricey repairs or buying a new boat. Utilizing reliable paint is one way of taking care of your boat. It's a significant maintenance item that can block possible damages in advance. It's a fact that boats are expensive investments. Hence, you can't just disregard the importance of keeping its optimum performance and prolonging its life span.
The clean and impressive appearance of painted boats is not only for aesthetics. It's also a layer that protects the surface from abrasion, toxic elements, and instant fading. Saltwater can be harsh, while the marine environment can sometimes be in bad condition that can harm boats. Additionally, boat paints can also counter rust, corrosion, and scratches.
Do You Need Special Paint For A Boat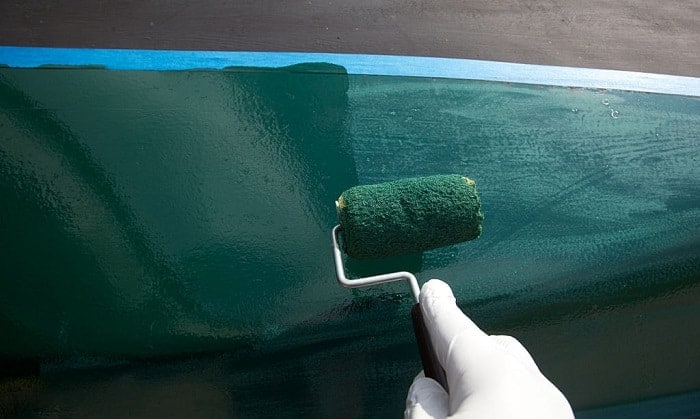 The word 'special' is not the specific word for your boat's needs. As mentioned above, different types of the best boat paints are made for various purposes. For example, non-skid paint with the textured compound is your choice if you wish to have a non-slip surface for decks and floors.
How To Prepare Your Boat Before Painting It
To ensure that you can obtain the best result, here are some simple instructions in preparing your boat before painting:
You have to clean your boat thoroughly. Sand, dirt, and any type of waste should be eliminated. You may think that it's clean once your boat is taken out of the water but there's more than that. The correct way of cleaning your boat requires rags, scrapers, and a high-pressure hose. With these tools and your dedication, your boat will be dirt-free.
Some pieces of hardware need to be taken out of the boat before you begin cleaning. Be smart to identify the things that you need to remove. With the right judgment, you won't create undesirable damages or cracks. As for the objects that can't be lifted, cover them with painter's tape to keep them clean.
Marine solvent and rough sponges can help you remove the waxy coat on the vessel. These things can get rid of even the stubborn spots or loose paint. It's vital that you thoroughly remove it before painting.
Preparation is also subject to the necessary repairs. Fill any dent, knock, or deterioration before the painting job. This is intended to free the final finish from lapses and holes. A marine-grade epoxy is an item that will help you accomplish this task.
Sanding is essentially done most of the time. 20-grit sandpaper, finishing sander, and random-orbit sander are the things that you need to come up with a smooth finish. Every inch should be sanded properly. This process ensures that the paint binds well and an even layer is formed.
Should I Paint Or Gelcoat My Boat
The paint used on boats is urethane formulated, which means it's specifically made for boats and yachts. Marine paints come in different colors, so you can choose what you prefer. Bottom paint is known to be an expensive option, but it protects the underside well. Once the hull is painted, it becomes resistant to peeling and cracking.
However, marine paint is not chemically stable compared to gelcoat. This implies that painted surfaces are more vulnerable to chipping. Preparations are essential before laying out the paint. These steps will enable you to gain a smooth, even, and glossy finish. Even though there are some things to do, they're easy. Thus, it's always in DIY painting jobs.
Despite the unbeatable durability of gelcoat, you have to know that it's labor-intensive. A lot of sanding is required to obtain the sought-after gloss because you have to go through multiple coatings. With these facts, paint is easier to work with despite necessary preparations. On the other hand, you have to look out for demanding repairs and refinishing of the gel coat.
All in all, gelcoat can last for two decades and paint can serve you for up to 10 years. Many boat owners settle for marine paint because the needed preparations are more manageable and less laborious than gel coats.
Can I Use Spray Paint On Fiberglass Boat
Fiberglass is non-porous, which means that it's not compatible with spray paint. Nonetheless, you can do it by taking some techniques. Note that it can't be done directly like when you spray it on wood. The fiberglass surface should be conditioned so the paint won't peel off right away. Aside from aiming for a smooth finish, you have to make sure that no dripping, running, and sagging will take place.
You can begin with the usual preparation which is cleaning your boat. Dish soap and water can help you with it. Allow it to dry before you abrade the surface using a palm sander with 400-grit sandpaper. Then wipe the debris down with a tack cloth. The next step is lightly applying a primer to the fiberglass. Don't apply it generously at a time. The right course of action is by misting to avoid any flaw in the result.
Let the primer sit for four hours. When it's dry, you can spray acrylic paint in the same way that you apply the primer.
Conclusion
Based on what this review tells you, there are several factors that you have to think about before you can bet the best boat paint for you and your boat. You'll no longer be in hot water as long as you know what to find. Picking the right boat paint will give you the chance to improve the aesthetics of your boat and build protection from different elements out there. A smooth, durable finish also makes sailing safe and fun!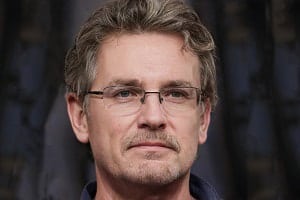 "I am James Harvey – founder of Boating Basics Online. It is established with the drive to help out first-time boaters, which are those desiring to explore their way through the water. So if you are new to boating, start from here with me. "