There is much more to maintaining your boat than keeping it clean and protected from the elements. It also needs a lot of care whenever you are loading or unloading it into a trailer. This is where trailer bunks come in. The best carpet for boat trailer bunks provides a smooth surface for your boat to easily slide on and off.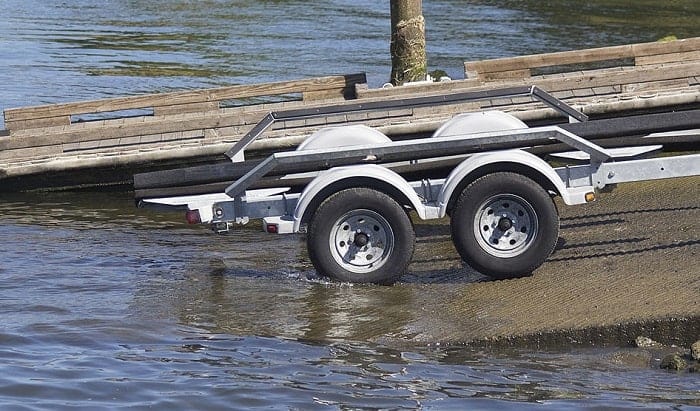 As you can imagine, replacing your worn-out carpet on your trailer bunk is a critical part of proper maintenance. I did some research as I needed to replace my bunk carpet and put together all my findings to help anyone else who wants to find the best carpet for trailer bunks.
This article will talk about the top 14 carpets for boat trailers, and then I'll share some guide on how to select the best carpet.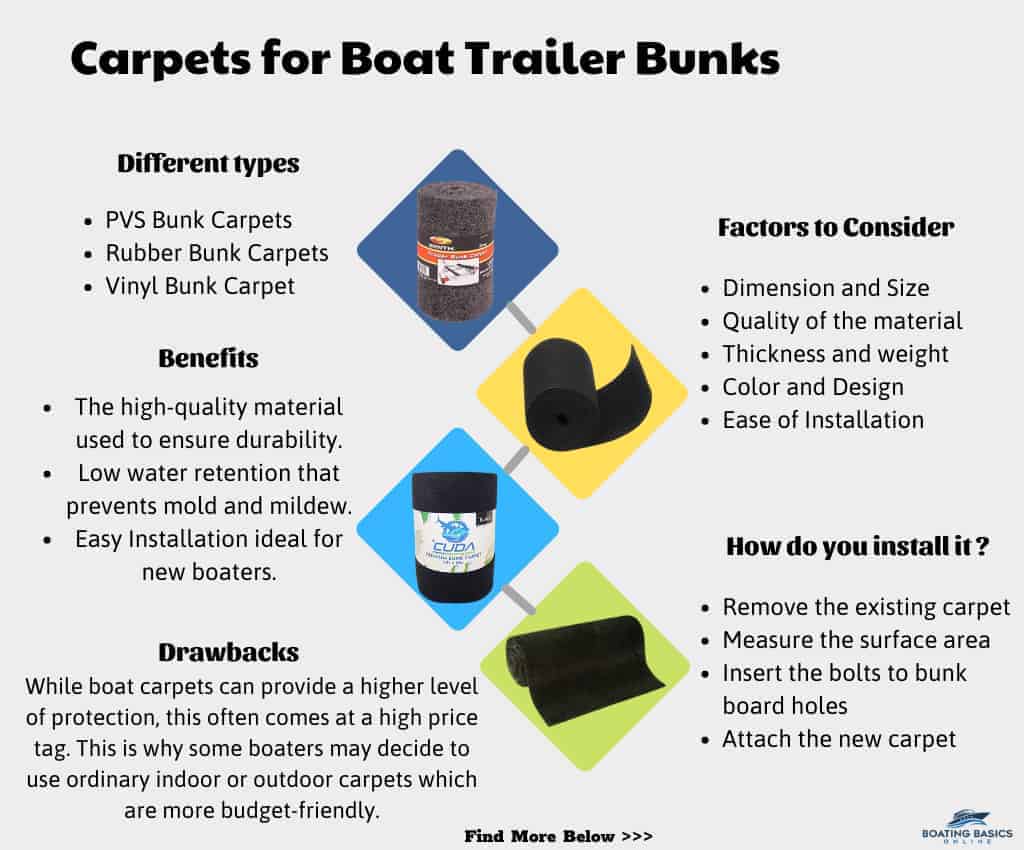 ---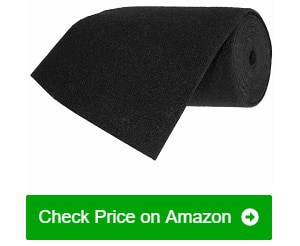 Attwood Trailer Bunk
Allow for a custom fit
Built with water retention
Flexible and easy to install
---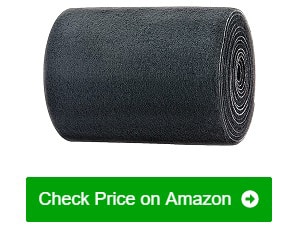 SeaSense Bunk Carpet-Charcoal
Easy to install
UV and water resistance
Acrylic backing for easy grip
---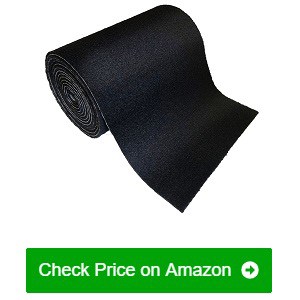 Carpet by the Foote
UV stabilizers
Easy to install
Highly durable
---
Best Carpet for Boat Trailer Bunks Reviews
1. Attwood Trailer Bunk Padding 11246-1 model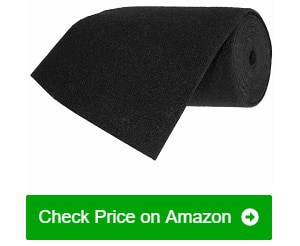 Attwood Corporation is one of the leading manufacturers of bunker carpet, and as expected, this carpet is made of the best materials.
The bunk padding is from premium polypropylene, allowing it to withstand cold, sun rays, and other harsh conditions. Polypropylene is also known for its durability, so we are guaranteed it won't break or tear amid harsh environments.
Another feature I admired about this product is the acrylic backing which allows plenty of grip for loading or unloading the boat. This will remove the chances of slipping.
This boat trailer bunk carpet is flexible, so installation can be done without any help. In addition, you can use stainless steel staples to prevent rust and make installation even faster. And since it is not too thick, you won't need to worry about folding edges during installation or getting the wrong measurements since you can get a custom fit.
I am not alone when I say that this carpet has amazing water retention, which is critical to preventing your bunks from aging. Thus, the carpet is also safe from mold or other issues related to excess moisture.
The only downside with the trailer bunk carpet is its price tag which is relatively high compared to other products.
What We Like
Designed to survive the harsh marine environment
The acrylic backing provides plenty of grip for loading or unloading
Allow for a custom fit to get the exact dimensions
Flexible and easy to install using steel staples
Built with water retention that protects from mold
What We Don't Like
More expensive than other carpets
Surely, this is a good choice for anyone looking to upgrade the boat trailer carpet to a more durable brand. It is flexible, easy to install, and designed to withstand the harsh marine environment.
2. SeaSense 12 in x 12 Ft Bunk Carpet-Charcoal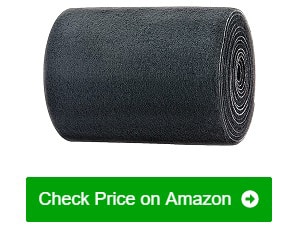 This is yet another carpet that makes the list as a high-quality marine bunk carpeting. The SeaSense boat trailer carpet is both durable and affordable.
Like other marine bunk carpets, the carpet is made from polypropylene which is known for as a material that can endure harsh environments. The material also dries quickly, and can withstand exposure to extreme heat.
Another unique feature is that the carpet is static-free so installation is much faster and safer. In addition, it is fray resistant so you can cut without worrying about destroying the material. You can easily use staples or apply an adhesive for convenient installation. Because the carpet is light, we can easily install it by ourselves.
The acrylic backing ensures we have a reliable grip when installing and a slip-resistant carpet once installed. The material also makes cutting easy for users to create a perfect fit for the boat.
The only qualm I have with this carpet is its lack of options regarding color, which is only black.
What We Like
It is among the few affordable bunk board carpet
Made from marine polypropylene for UV and water resistance
Easy to install since it is static-free and not prone to fraying
User friendly with an acrylic backing for easy grip
What We Don't Like
Only comes in one color which may not match all trailer bunks
Summing it up, this product provides all the essential functions of a marine carpet for trailer bunks while staying on the affordable side. It is easy to install and usable as padding and carpet for boats.
3. Carpet by the Foote Boat Trailer Bunk Carpet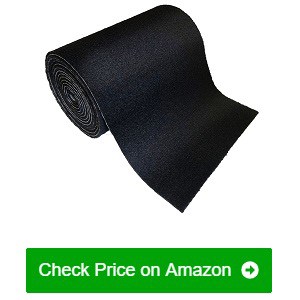 For buyers that expect a lot of foot traffic on the trailer bunk, this carpet by the Foot could be on their list of options. It is designed to withstand inevitable impact while loading and launching the boat.
One of the impressive features of this marine carpet for a boat trailer is its perfect durability for boat enthusiasts in and out of their boats. The high-quality polypropylene makes it able to withstand depreciation while reducing water retention.
When replacing carpet on boat trailer bunks, getting a color that matches your aesthetics is critical. This carpet comes in different colors, and we can even contact the manufacturer and ask for a sample. This way, we are 100% sure of how the carpet will look on our trailer.
Despite its thickness and weight, it is easy to install even for beginner boaaters. I was expecting a bulky carpet like this to be challenging to handle, but with the right tools, it was straightforward.
Another critical feature is necessary UV protection, especially if we choose a dark color prone to fading. The carpet is UV stabilized, which ensures it efficiently repels harmful UV rays and prevents fading.
I noticed this trailer bunk carpet alternative is prone to fraying, so I need to be extra careful when cutting.
What We Like
Highly durable to resist impact from foot traffic
Marine-quality polypropylene to withstand harsh environments
Available in different colors to match your boat aesthetics
Easy to install despite thickness and weight
Has UV stabilizers which protects from fading from UV exposure
What We Don't Like
Edges may be prone to fraying if not cut carefully
Without a doubt, this is a good option for trailer bunk carpet replacement. It's durable, easy to install, and available in different colors to match any trailer.
4. Tie Down Engineering Bunk Board Carpet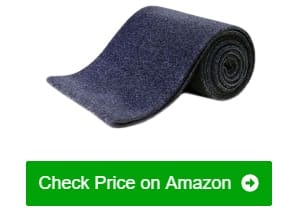 Tie-Down Engineering is one of the best options if you want to upgrade old carpets. It has impressive functionality and comes at an affordable price.
Unlike other carpets that require you to make multiple cuts to fit a larger surface, this boat lift bunk carpet is 11 by 12 feet long. Such width is wide enough for most purposes and sizes and ensures that your carpet fits into the bunks perfectly.
For new boaters, they will especially love the innovative backing that makes it easy to install. With this backing, installation is effortless and quick, even for first-timers. This backing is also effective in preventing slippage when loading and unloading the boat.
Compared to other carpets, I can say that this carpet is much more resistant to fraying. You can easily cut it into a custom size without worrying about destroying the edges. Such a fray-resistant feature also means that it will last longer.
Additionally, no matter the weather condition, the carpet protects your boat trailer. Other issues like mold are also covered with this all-weather carpet.
Since the product has all the main features of a quality carpet for boat trailer runners, it is much thinner than expected.
What We Like
Larger width reduces the number of cuts required for installation
Features smart backing, which makes installation a breeze
Much more resistant to fraying compared to other products
Resists impacts due to drastic weather conditions
Stops issues like mold, mildew with its water-resistance qualities
Overall,
this boat carpet
is a good investment if we are after an affordable boat trailer carpet replacement that is easy to install and durable.
5. Lancer Trailer Bunk Carpet (Black)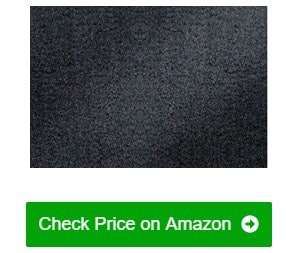 This is known as one of the versatile bunk carpets available in the market and is an excellent item to transform the look of an old boat bunk.
I admire this carpet because it has various color choices which compliment my boat nicely. The color options won't disappoint for boaters who love to have everything matching- from burgundy, blue-black, grey and black.
The carpet is quite heavy in weight, measuring 20oz, which is pretty heavy duty. Hence, it is usable for indoor and outdoor use. Boaters who constantly load and unload their boats will especially appreciate this feature.
Another feature that I also find helpful is that it is resistant to ravelling. This is probably because the carpet is resistant to extreme heat which means it won't unravel anytime soon. This quality also makes installation effortless.
The superior rubber backing that comes along with the carpet is also impressive. Even after exposure to rain or after a wash, the carpet will dry easily, not letting moisture seep in. Its moisture-resistant feature also prevents mildew.
Although the carpet is heavy-duty, I was impressed at how easy it was to cut. Considering its size, it is pliable, and you can easily install it on your own.
If there is one thing I disliked, it is that it is only available in one size. I also noticed some fraying on the edges.
What We Like
Available in a variety of colors to match your boat's aesthetics
Heavy-duty carpet weighing 20oz for extra durability
Ravel resistance making installation and maintenance easier
Features a rubber backing that is moisture resistant
Pliable and easy to cut for easy installation
What We Don't Like
Only available in one size
Frays along the edges
This carpet can quickly revive your broken or worn-out trailer bunk since it comes in a wide selection of colors. Its heavy-duty material is also a good feature for boat trailers that are used regularly.
6. Value Carpets Trailer Bunk Carpet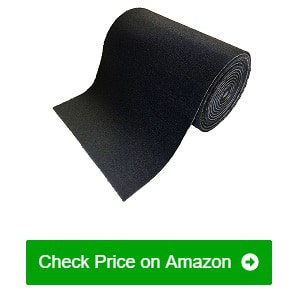 This is a low-maintenance bunk carpet that is a convenient alternative if boaters don't want to spend time cleaning.
Although the carpet is designed to be an automotive carpet, it can also do a boat trailer carpet. Don't let its affordable price fool you! It can efficiently protect the boat hull and ensure the boats' safety.
Made from 100$ BCF polypropylene, the carpet is designed to stand the test of time. Additionally, it has UV stabilization, so it won't wear out anytime soon even with extended sun exposure. Also, of course, like any other polypropylene carpet, it is resistant to mold and mildew.
I especially appreciate the user-friendly nature of this product which makes installation hassle-free. You won't need to refurbish your trailer bunks, and after installation, your bunk will look brand new.
The versatility of the carpet is also impressive. Users can purchase it in bulk and use it for multiple purposes, both indoor and outdoor, saving a lot of money. This feature is unique since most boat trailer carpets are only helpful for the trailer, so any excess will waste.
However, this product is on the thin side compared to other carpets and cannot be considered a heavy-duty carpet.
What We Like
Low-maintenance and easy to clean
Affordable price compared to competitors
Resistant to mold, mildew, sun exposure, and other environmental damages
User-friendly and easy installation process
It offers versatility and can be utilized as an indoor or outdoor carpet
What We Don't Like
Not a heavy-duty carpet and thinner than other brands
Generally speaking, the carpet is a good product if you are looking for an alternative boat trailer with carpeted bunk boards. It performs reasonably well and can be used for other purposes.
7. BoatCarpetSales Charcoal Bunk Carpet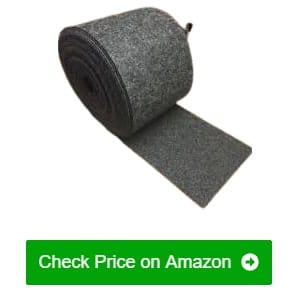 This carpet is from the BoatCarpetSales that provides ample coverage for most boats because of its ideal measurements.
Whether you are a new or expert boater, the heavy-duty material of this carpet is sure to impress. I liked the material used, which is 100% PET polyester. Unlike other mats, this material is designed to fit on your boat trailer seamlessly, so it looks like it was initially there.
Also, this marine-grade carpet is non-allergenic by nature, making it a good option for boaters who are sensitive to chemicals. They can rest assured that their kids are safe when playing on the board, too.
Notably, the carpet also offers the essential must-haves of any boat carpet, is UV stabilized to minimize fading, and is resistant to mold or mildew. Thus, it provides long-lasting use that will spare boaters from having to seek replacement too soon.
Another unique spec is its thermal bond backing which contributes to its durability and helps with water retention. You can easily use the carpet in any season without worrying because it is also weather resistant.
One thing I dislike is that it only comes in charcoal which may not match all boat interiors.
What We Like
Made from heavy-duty 100 % PET polyester
Designed to fit on your boat trailer seamlessly
Non-allergenic by nature, ideal for sensitive boaters
Resistant to fading, mold, and mildew
Has thermal bond backing for reduced water retention
What We Don't Like
Only available in a single charcoal color
To sum things up, this charcoal bunk carpet has all the features of an 18″ bunk carpet and is also ideal for anyone sensitive to chemicals or other materials. It is also weather resistant because of its thermal backing.
8. Carpet by the Foote Overton's Boat Trailer Bunk Carpet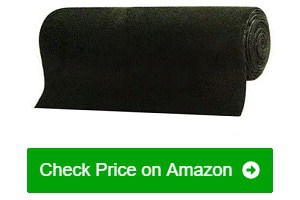 Another classic boat trailer bunk carpet makes an excellent entry-level bunk carpet. The material used is high tensile polyolefin resin thick enough to protect any boat hull.
I liked that the manufacturers designed this carpet to be used explicitly for boat trailer carpeted bunk boards. Its durable material is for standing up to harsh environments and weather changes, making it ideal if the trailer bunk with frequent use.
Although the carpet only comes in black, it is resistant to extreme discoloration. So, it offers all the neccessary features for anyone looking for a new rug to replace a worn-out bunk. In detail, the carpet is moisture-resistant, has UV stabilization, and can stand harsh environments.
In terms of sizing, the carpet is quite versatile and available in different sizes including 4″ x 12′, 8″ x 18′, and 12″ x 12′. This diversity is very useful in installation since we won't need to make several cuts and risk fraying. I used the carpet for the side buffers in my boat, and it was a perfect size.
The carpet is also very affordable, and with a single purchase, I can cover two 8-foot bunk boards without requiring an additional rug. Considering the price, it is quite a bargain. Its height is about 3/16″ pile which may be on the thinner side, but it does the job just fine.
I also contacted the manufacturers and required a sample before I went ahead with the purchase. However, I would only recommend the carpet for small projects since it is not that heavy-duty.
What We Like
Specifically designed to fit in boat trailer bunks
Resistant to extreme discoloration and usable in all weather conditions
Equipped with mold and mildew resistance
Available in different sizes for easy installation
Affordable price for the amount of material
Sample available upon request from the manufacturer
What We Don't Like
Not a heavy-duty carpet and only ideal for smaller projects
The Overton's boat trailer bunk carpet is something to consider to get the bang for the buck. It offers all the critical features of a trailer carpet and has multiple sizes to choose from.
9. Cuda Powersports trailer Bunk Carpet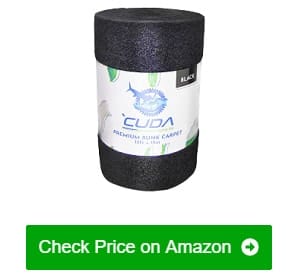 This Cuda trailer carpet is unique in terms of versatility. You can use the rug for various applications, including Jet Skis, trailers, lifts, and boats.
The carpet has a thicker pile height and strong backing to protect your trailer from damage. Its superior bunk padding also ensures that your hull is safe from scratches while loading or unloading your boat.
I also loved the size of the carpet, which is much broader and longer than most carpets. At 13′ x 12″, I had no problem covering my bunk, which drastically shortened installation time. I even had excess material that I plan to use for my other boat accessories.
Despite its thickness, I was surprised at how flexible it stayed during installation. It is so pliable; cutting is easy, and even one person can complete the installation.
In terms of functionality, it is resistant to all weather conditions and has UV stabilization to prevent fading. In addition, it resists odor and gas or oil spills, making it low maintenance.Its zero-water retention also ensures that mold and mildew won't grow.
On the downside, I noticed that the measurements weren't so accurate, and instead of 12 inches wide, it was only 11.5 inches.
What We Like
Versatile and can be used in both indoor and outdoor applications
Features high pile height for extra durability
Longer and wider than most carpets
Flexible and easy to cut during installation
Resistant to gas, odor, and oil spills for easy maintenance
Zero water retention that prevents mold and mildew growth
What We Don't Like
Measurements not so accurate
In summary, this carpet's most noticeable feature is its length and width that is more than average carpets. It is also low maintenance resistant to spills from oil and gas.
10. Syntec Industries Bunk Carpet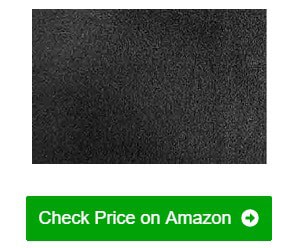 The size of this carpet makes it the correct width for covering for 2 x 4 trailer bunk without leaving any gaps. It is also designed to simplify maintenance so you can focus on your boat.
Syntec has been in the carpet business for decades, so it's no surprise that many boat enthusiasts hail their carpets. The material used is a high quality designed to last for years to come. In addition, the rug has a flat pile, so it fits snuggly into any trailer hull.
Another feature I like about this carpet is that it uses adhesive to attach, unlike other mats that require steel staplers. With a sticky, I am sure that the rug will stick well on the hull no matter how much movement happens on top.
Since the carpet is not as bulky as its competitors, it is also helpful for other indoor or outdoor applications. For example, if you find yourself with extra material, you could use it on your truck or other boat accessories.
It is also resistant to moisture and can withstand harsh environmental conditions, including extreme sunlight. When it comes to maintenance, the olefin material is known to be easy to clean.
I am a bit disappointed that it is only available in traditional black, which may not go well with boaters who want to upgrade their trailer appearance.
What We Like
Ideal size for covering bunks without leaving gaps
Uses high-quality offline material for extra durability
Easy to install using adhesive
Lightweight and ideal for other applications
Resistant to moisture to withstand harsh weather conditions
Requires little maintenance and is easy to clean
What We Don't Like
Only available in color black
Boaters looking for a versatile carpet that you can use for various applications will appreciate the 100 feet long carpet. Along with durability, it is easy to install and requires little maintenance.
11. LOSTRONAUT Boat Trailer Bunk Carpet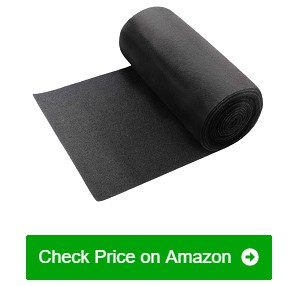 This carpet uses contractor-grade material and can be used for other marine trailer accessories such as jet skis.
One of the outstanding features is its innovative rainwater collection system that ensures minimal water retention. As a result, even when exposed to water for long periods, the carpet stays dry and intact.
New boaters will also appreciate the easy-to-follow installation kit designed for all DIY enthusiasts. The carpet can cover bunk boards from sizes 2 x4″ or 2 x 6″ with or without roller guides. Since the rug is thinner than most, it is easy to handle without help.
Besides being water-resistant, it is also UV stabilized and has scratch protectant features, so it doesn't get scratched from prolonged use. With a pile height of 5/32, the bunk carpet easily slides into your trailer with minimal effort.
One add-on I appreciated was the floating keychain that comes with every purchase meant to keep your boat keys safe from the water. In case of damages, the product has a 30-day return policy and a 12-month warranty.
Considering the thinness of the carpet, it may not be as durable as other carpets. The roll is thin and prone to tears.
What We Like
Made from contractor grade material for durability
Features an innovative rainwear collection system to minimize water retention
Comes with an easy-to-follow instruction kit for DIY application
Thin pile height that helps with installation
A floating key chain to keep keys as a freebie
Includes a 30-day return policy and a 12-month warranty
What We Don't Like
Thinner than most carpets and not ideal for heavy-duty use
The trailer bunk carpet by Lostronaut is a practical solution that is easy to install. It is also water-resistant and has a reasonable return policy and warranty.
12. CE Smith Trailer Roll Carpet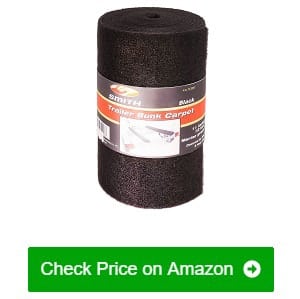 The CE Smith bunk carpet is thick and robust and a suitable replacement for a damaged bunker carpet. Notably, the heavy-duty quality ensures it can survive harsh marine environments.
A unique feature that I like is the breathable material from PET polyester. Such breathability means it can quickly dry after loading and unloading your boat.
Mold and mildew are also nothing to worry about since it is very water-resistant. The FDA and other safety agencies also approve the material as "safe for contact."
The carpet has a durable backing to deteriorate when exposed to heavy foot traffic or harsh weather. Weighing 20oz, the bunk carpet is able to sustain a severe impact without tears or abrasions. This backing also makes it resistant to both cold and hot weather or wind.
Compared to other carpets, this marine-grade option is loved by most boaters because of its thickness. You will need stainless staples to attach the rug to your trailer, but once it's attached, it can last years.
If you are worried about difficulty cutting the material, the good news is that it is available in different sizes, including 100-foot rolls.
One of the things I don't like is that delivery takes much longer than usual. This is because it is shipped directly from the supplier instead of using third-party markets.
What We Like
Heavy-duty material that can survive harsh environments
Made from PET polyester, which is breathable and dries quickly
Approved by the FDA and other agencies as safe for contact
Weighs 20oz to sustain heavy foot traffic
Available in different sizes, including 100 ft rolls
What We Don't Like
Delivery may take longer than usual
In a nutshell, this is a high-quality carpet that has kept its reputation for years. Boaters appreciate it for its durability and resistance to moisture, ensuring it can stand the test of time.
13. Fulton Trailer Bunk carpet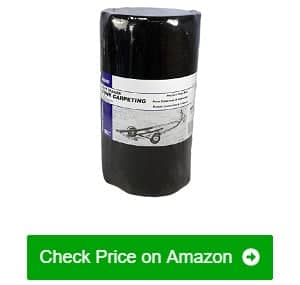 Fulton is known as one of the manufacturers of reliable marine equipment and accessories, so their carpets do not disappoint.
This high-quality carpet is constructed from superior-grade material, which ensures a longer shelf life. In truth, it can handle extreme traffic and harsh weather conditions, which is necessary if you use your boat regularly. Boaters also don't need to worry about fading as the carpet can withstand extreme sun exposure.
I also liked that the material is slippery, so it slides in nicely whenever I load my boat. This easy-to-handle quality is also handy during installation, and I quickly attached the carpet to my trailer with ease.
Although the carpet only comes in black, this can be advantageous and reduces the need for constant cleaning. The chic black color helps retain the aesthetic of the interior while protecting our boards and hull. Once the carpet is in, it remains to look new, making it economical in terms of maintenance.
Another impressive thing is that it is not as expensive as you would expect considering its quality. So anyone can get the same features and quality for a lower cost which is ideal if they are on a budget.
One thing I noticed is that it works best on wood bunk floor beds and may not be suited for other materials. Also, the carpet is a little challenging to cut.
What We Like
Made from superior grade material for longer shelf life
Designed to handle extreme traffic and harsh conditions
Slippery material enabling easy loading and hassle-free installation
Available in chic black, which retains the boat aesthetics
Affordable price without compromising quality
What We Don't Like
Best suited for wood bunk floor beds
Challenging to cut
Overall, this trailer bunk carpet is an excellent alternative to other expensive options while maintaining high quality. It is also easy to install and maintain.
14. Lancer Boat Trailer Carpet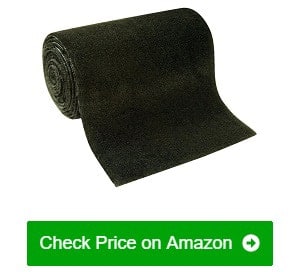 Finding a high-quality universal bunk carpet can be challenging, but this boat trailer bunk carpet from Lancer meets the challenge. The budget-friendly reliable carpet is economical but still does the job.
One of the impressive features of this carpet is that it is resistant to ravelling. Unlike other boat carpets that begin to unravel upon installation, this carpet remains nice and flat over time. We can worry less about fraying when cutting.
Even if you are constantly loading your boat, this carpet will remain intact, thanks to the sturdy material. Your bunks are also saved from premature wear and tear because it can endure difficult marine environments.
Like other 24″ bunk carpets, it is resistant to mold and mildew as it allows less water retention. Because of the rubber insulation, installation is easier since it prevents slippage.
Another thing I appreciate about this carpet by Lancer is its multiple colors available, including blue-black, burgundy, and midnight to match your boat aesthetics. Its fade-resisting qualities also mean your colors will stay vibrant even after extreme sun exposure.
On the downside, I find this marine carpet for boat trailers is not as thick as most marine carpets which could affect its sturdiness. It would only be a good opinion if you load your boat seldomly.
What We Like
Economical bunk carpet that offers basic functionality
Ravel and fray resistant and remain intact over time
Prevents mold because of little water retention
Available in attractive color options: blue-black, burgundy, and midnight
What We Don't Like
Not as thick as other marine carpets which might compromise durability
As a whole, this is a good option for if you are after a less expensive alternative that is easy to install and both functional and beautiful.
What To Know Before Buying Carpets For Boat Trailer Bunks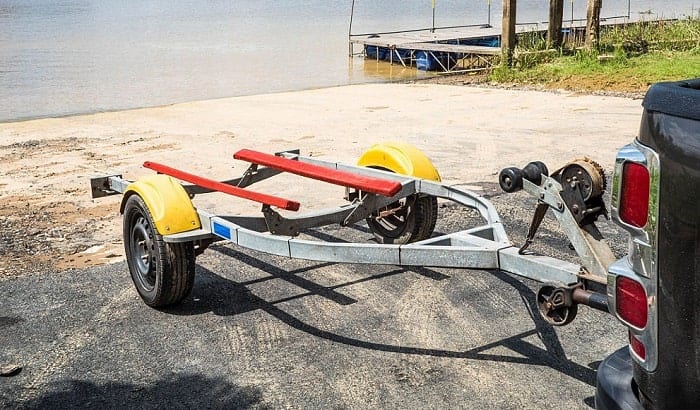 The best carpets for boat trailer bunks allow a smooth surface that allows your boat to slide onto the trailer easily. Aside from protecting your boat from scratches, it also protects your hull when you are not using it or when you are towing it. This guide will talk about how boat carpets work, the different types of carpets, the pros and cons of using a boat carpet, and what to consider before purchasing one.
How Boat Carpets for Trailer Boats Work
Unlike indoor carpets often used for aesthetics, boat carpets for trailer bunks can cover the boards of the trailer. The purpose of doing this is to provide a flat surface for the boat to slide on whenever you load or launch it. Without a carpet, your boat is more likely to get scratched or damaged in some other way.
Another difference with a boat carpet is that it is designed to carry heavy impacts from foot traffic. For boat owners who use their boats regularly, a durable boat carpet is critical to maintaining the hull's integrity.
The material used for boat trailer bunks carpets ensures that your hull is protected from harsh elements, which increases the shelf life of your trailer bunk. In addition, since the carpets also come in different colors, they can enhance the appearance of your trailer.
The different types of Boat Trailer Bunk Carpets
Boat carpets for boat trailer bunks are designed to protect boat hulls from harsh elements. Still, there are different types of carpets that you need to consider.
PVS bunk carpets are known for its moisture repelling quality, thereby rendering your hull mold and mildew resistant. Boat owners who want to invest in a durable mat will appreciate this type of heavy-duty carpet. Of course, its quality comes with a hefty price, and it is not ideal for extreme sun exposure.
This category includes all boat carpets that feature a rubber backing to aid with installation. This rubber backing also ensures that your hull is safe from scratches and other damages. In terms of price, this is a more affordable type of carpet.
Vinyl carpets are probably one of the more popular rugs for new boat owners because of their easy installation. On top of its easy installation, the mats are ideal for extreme sun exposure.
Pros and Cons of Using a Carpet for Boat Trailer Bunks
Although boat carpets are one of the most reliable solutions for boat trailer bunks, they are not the only options available. For this reason, we must understand the benefits and the drawbacks of using this solution for boat trailers.
Benefits
The high-quality material used to ensure durability
Most carpets used for trailer bunks are made from high-quality materials such as Polypropylene or Polyester, which prevent wear and tear. These materials are also designed to endure harsh marine environments such as sun exposure and rain.
Low water retention that prevents mold and mildew
Breathability is one of the standard features in many boat carpets, and because of this quality, the carpets dry faster. This way, you won't need to worry about mold or mildew, which often contribute to short shelf life.
Easy Installation ideal for new boaters
Installing a carpet for boat trailer bunks is often straightforward and only requires adhesive or staples. The rubber backing also means that you can easily attach the rug to the bunk boards without worrying about slipping.
Drawbacks
More expensive than traditional carpets
While boat carpets can provide a higher level of protection, this often comes at a high price tag. This is why some boaters may decide to use ordinary indoor or outdoor carpets which are more budget-friendly.
Things to Consider when Purchasing a Carpet for Boat Trailer Bunks
Now that we understand all the options we have when selecting the best product for your boat trailer, let's take a closer look at some of the features of boat carpets. Each brand may offer different features, which may make selecting daunting. However, if you know which elements are essential, the tasks are much more manageable.
Here are some of the critical features to look for in the best carpet for boat trailer bunks:
Since each brand offers different sizing options, you want to make sure that the size you select matches the area of your trailer bunk. Often, boat owners make mistakes in sizing and end up with a shortage of material. Another thing to consider is that some products may be.5 inches less than advertised, so you always want to make an allowance for such discrepancies.
The lifespan of your boat carpet largely depends on the quality of the material used. High-quality materials also offer a higher level of protection against UV rays, water, and scratches. Ideally, the product should have an efficient bottom backing to aid in moisture retention. Of course, the higher the quality, the more you can expect to pay.
Although some boat owners prefer thinner material that is easier to handle, the truth is, the thicker the material, the more resistant it is to wear and tear. However, remember that hic capes often cost more than thinner counterparts.
Although this may not be on top of your list, it is nevertheless an essential factor to consider, especially if you replace a worn-out carpet. When your carpet's color matches the details of your boat, like the seat or hull, your overall aesthetics improve. To help you decide, many manufactures will send a sample for comparison.
Depending on the type of carpet you select, installation can either be a one-man-show or require extra hands. Factors such as the thickness and type of material used can affect the ease of the installation process. Ideally, you want a carpet that you can install with marine glue or stainless-steel staplers.
Along with these critical features, you want to make sure that you select a carpet from the trusted brands. Since not every brand works for everyone, it is vital to know some of the top manufacturers in the industry. These include Attwood, SeaSense, CE Smith, Tie Down Engineering, and Carpet by Foote.
Why Do You Need a Carpet for Trailer Bunks
You need a carpet for trailer bunks to ensure that your bunk is protected from the harsh marine environment. Without a rug, your hull is prone to wear and tear. Here is a rundown of some of the reasons why you ought to consider getting a carpet for your trailer bunk:
Boat carpets can give your hull a new appearance, and you can select a color that matches your boat. This is a great way to upgrade your boat trailer without spending too much.
High-quality boat carpets feature a rubber backing that provides an adequate surface grip. This non-slip material keeps you safe as you load and unload your boat.
Carpets are easy to install and remove, so keeping your trailer clean is hassle-free. You may only need to clean the boat carpet a few times a month, and your trailer will still look brand new.
How To Pick The Right Size Of The Carpet
The secret to choosing the right size of the carpet is first to measure the area that you need to cover. Once you have an estimate, you will have a better idea of the size and quantity you need. Then, when purchasing, make sure to select the right size and make room for adjustment. When buying a boat carpet, it is always best to have more material than you need rather than to lack.
What Are Marine Bunk Carpets Made Of
The most common material used in manufacturing boat carpets is marine-grade polyester and polypropylene. Among the two, polypropylene is the most popular because it provides excellent hull protection when loading. In addition, this material offers UV protection and is water-resistant to ensure safety from mold and mildew. Polypropylene fibers are similar to rubber and are bound together with PVB (polyvinyl).
Polyester, on the other hand, is known for being stain-resistant. This material can also survive harsh marine environments and also protects from sun and rain.
How Do You Install A Boat Trailer Bunk Carpet
Although each manufacturer will provide the best procedure to install their boat carpet, there are general guidelines that you can follow.
Remove the existing carpet- This may involve unbolting the bunk board and getting rid of any glue or debris. You also want to clean the area thoroughly before proceeding.
Measure the surface area- This is one of the most critical steps in replacing your boat carpet, so try and be as accurate as possible. You may use a tape measure or ruler to get the length of the surface.
Insert the bolts to bunk board holes- this is an essential step that ensures that your carpet does not get scratched when you roll it on your trailer bunk.
Attach the new carpet- depending on the type of carpet you purchase, you may decide to use staple or adhesive to attach it to the board. If you choose to use glue, make sure it is high-quality and water adhesive. For the staple method, you need to carefully position the carpet on edge to ensure you have enough space to secure it.
How Do You Clean And Care For A Boat Trailer Bunk Carpet
Even if you purchase a high-quality carpet, proper maintenance is essential for your investment to be worth it. Contrary to popular belief, maintaining your carpet is very straightforward as long you do it regularly.
Here are a few tips to help you maintain your boat trailer bunk carpet
Remove loose dirt and dust on the carpet's surface with a vacuum.
Prepare a cleaning solution. This can either be store-bought or you can make one yourself using a mixture of dishwashing soap and vinegar.
Wet the carpet thoroughly using a hose and make sure the whole rug is saturated
Apply your cleaner methodically section by section.
Use a soft brush, work each section starting at the front of your trailer moving backward.
Rinse the carpet while scrubbing to get rid of loose dirt
Fluff the carpet with a brush and let it dry in a shady area.
You may be thinking of using a pressure nozzle to make the job faster, but this will only damage the carpet fibers. In addition, such pressure washes may damage the glue bond.
How Can I Make Boat Trailer Bunks Slippery
There are different ways you can make your trailer bunks slippery, so it is easy to load and unload your boat to the trailer without worrying about scratches. Some boat owners prefer to use silicone sprays to apply to your carpet after it is unloaded from the trailer.
Another option is to use bunk slicks. These slicks look like plastic and can be fastened to your boat bunks when loading to make them more slippery. The slicks also provide a barrier between your boat and trailer, which helps prevent scratches.
Bunk glides can also work for you, and the good thing with this option is that you can make them yourself. Many prefer to use a PVC trim board or some old starboard material. If you have any marine-grade scrap lying around, this is an excellent way to put it to use.
Where To Buy Boat Carpet
Finding the best trailer bunk carpet to fit your need is critical if you want to protect the hull from damage. However, where you choose to purchase your carpet is also as important. It is always best to buy from a reliable supplier with a wide range of selections and positive customer reviews.
Numerous suppliers are available in the market, such as West Marine, Lowes, and Cabela's. However, if you want a fast solution, Amazon is a good option. They have a wide range of boat carpet solutions that can fit your unique needs, including carpets from brands like SeaSense, Fulton, and Tie Down Engineering.
Conclusion
Choosing the best carpet for boat trailer bunks will improve the aesthetics of your boards and offer essential protection from the marine environment. Make sure you take all the features into account, know the right size you need, and understand how to maintain your carpet, so it lasts for years.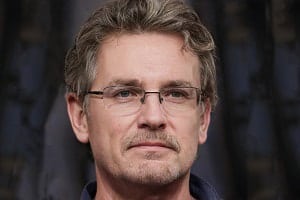 "I am James Harvey – founder of Boating Basics Online. It is established with the drive to help out first-time boaters, which are those desiring to explore their way through the water. So if you are new to boating, start from here with me. "