Choosing the best boat carpet for your boat is not easy. From the color to size and design, there are a million things to consider. You want something durable, looks nice, and of course, fits your budget. But with all the choices out there, how do you make a wise decision?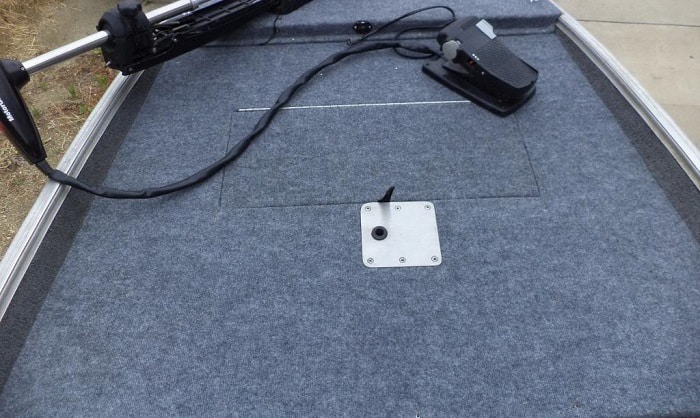 Don't worry! I've been there. I know precisely how frustrating searching for the best marine carpet can be. So, I have put together a comprehensive guide to help you find a carpet that will match your canvas, seat piping, or fabric. First, I'll share with you my top picks, and then we'll talk about some tips to remember when selecting boat rugs.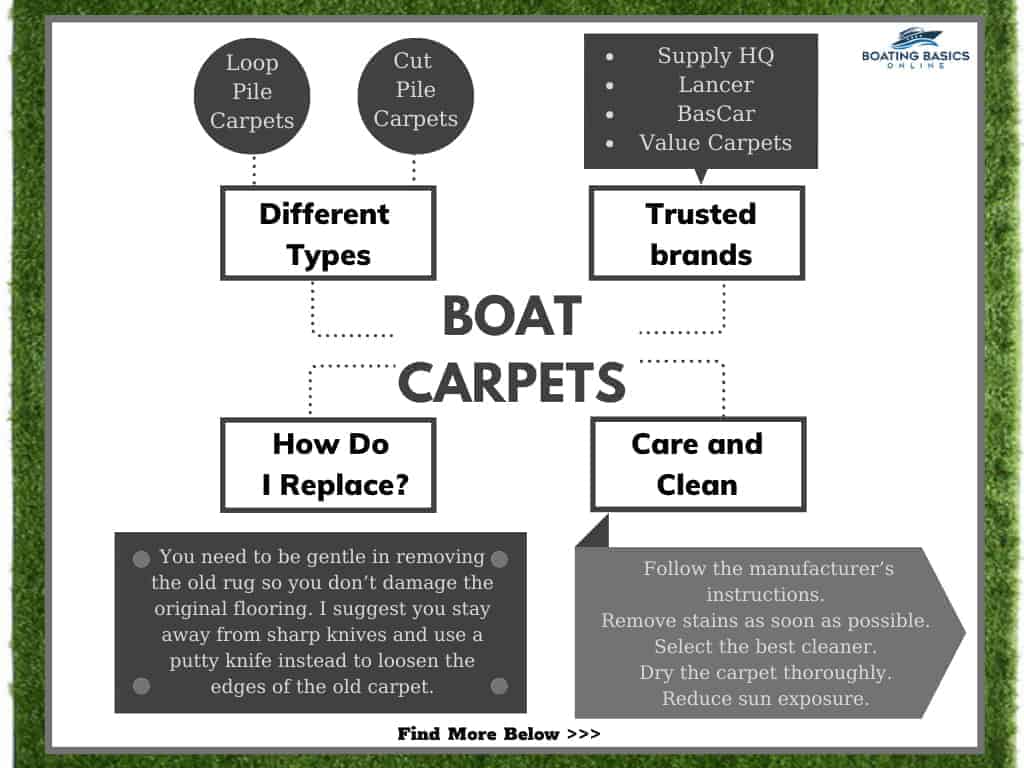 ---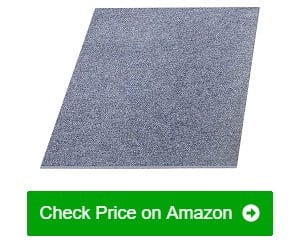 Happy Buy Marine Carpet
Easy to clean
Uses TPR waterproof backing
Comes in classic plain colors
---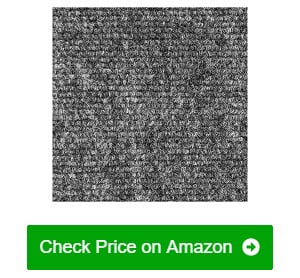 House, Home and More Indoor Carpet
Resistant to mold or mildew
Easy to clean and dry
Lightweight material
---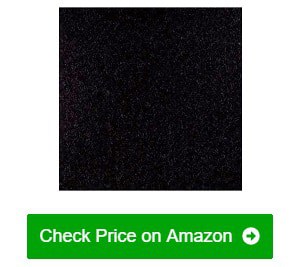 Marine Carpeting Boat Carpet
Lightweight
UV stabilization
Variety of colors
---
Best Boat Carpet Reviews
1. Happy Buy Blue 6 x 18 Marine Carpet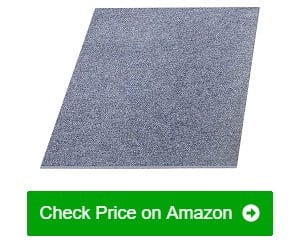 Anyone with young kids will appreciate the Happy Buy Blue Marine Carpet because of its anti-slide surface. The carpet has a 4.5 mm low pile height, which ensures there are no bumps, thus minimizes tripping or sliding. Whether you are walking with shoes or barefoot, the carpet offers ample traction giving you peace of mind.
Another feature I love is the classic colors. The rug comes in blue, brown, black, and grey, which will match almost any aesthetic you have in your interior. The design is pretty simple without any patterns, so if you look for a traditional look, this is a good option. If you choose the color blue, you get a modern, fresh look perfect for your deck.
The rubber-backed marine carpet is made of waterproof TPR backing to prevent water penetration, so you can worry less about water seeping into the floors. If you plan to install the carpet on your boat, this waterproofing can be a life-saver protecting your floors from moisture.
Like many carpets on my list, this outdoor carpet is also easy to clean with a vacuum or simply sweepping. For stubborn stains, a rug or carpet cleaner will quickly get the job done, and if you have kids, easy cleaning is one of the features to look for!
In terms of installation, the rug can easily be tailored into different size and shape pieces with scissors without any fuzz for the fade. All DIY enthusiasts will love how easy it is to install- cut the desired size and roll it out on the floor.
However, if you are on a tight budget, you may find this option a little pricey.
What We Like
Has 4.5 mm low pile anti-slide surface
Comes in classic plain colors: blue, brown, black, and grey
Uses TPR waterproof backing
Easy to clean with a vacuum or simply by sweeping
Customizable into smaller sizes and shapes without fuzz for the fade
What We Don't Like
Costs you a little more than some competing carpets
Overall, this marine carpet is best for those with kids to minimize slipping and tripping as much as possible.
2. House, Home and More Indoor Carpet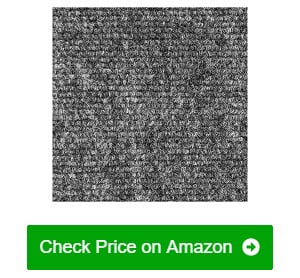 The first product is polyester-based making it ideal if you have kids and expect a lot of stains. Polyester is easy to clean and is resistant to mold or mildew.
Cleaning the carpet is also a breeze and you can simply sweep, vacuum, or use a carpet cleaner and then air dry it. Since it is quite thin, you can get it cleaned and dried within the day which is ideal for busy folks like me.
One of the things that caught my eye was its thin, light material which is unique for marine carpeting. You can easily install it yourself since it is easy to work with and doesn't curl when cut.
Aside from easy installation, the rubber marine backing makes it non-slip which is extremely important when selecting a boat carpet. I especially liked the ribbed texture which gave it extra traction. I even tried using it in the bathroom and it worked perfectly which brings me to my next point: versatility.
You can use this carpet for your patio, bathroom, garage, or anywhere you need coverage. The nice concrete-like grey color makes it a good solution for covering up stained floors. You can even cut smaller pieces and use them as outdoor entrance mats.
One issue with this carpet is that there is a slight color difference which makes the carpet look light blue under the sun. If getting the exact color is very important to you, make sure you consider this.
What We Like
Resistant to mold or mildew
Allows easy cleaning and quick drying
Thin lightweight material for easy installation
Uses rubber backing and ribbed texture making it non-slip
Can be used for patio, garage, and bathroom
Easy to clean and dry
What We Don't Like
Has a slight color variation
Overall, the product is a good option if you are looking for an easy to install boat carpet that you can use for other purposes as well.
3. Marine Carpeting 8 x 20 Boat Carpet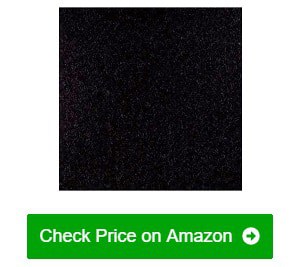 This product is one of the best boat carpet replacement options out there. It is relatively lightweight, making it an ideal Do It Yourself option for an instant refresh. I was also impressed with the wide range of colors available, including red, sandstone, silver blue, teal, hunter green, navy, black, and charcoal. Whatever your boat interior is, you can match it perfectly!
One of the unique features of this outdoor marine carpet is its UV-stabilization construction making it stain-resistant and durable. This exceptional protection from UV rays makes it ideal for use as a pontoon or bass boat carpet. Even after years of use, the colors remain bright, so you won't have to replace them anytime soon.
Installation is also easy with the help of the manufacturer's installation manual. I must say the manual was not only helpful but even entertaining! You won't need to hire extra help for installation, and one or two people can do it.
Another feature that impressed me was how comfortable the carpet was even when walking bare feet. The underfoot cushioning is exceptional! Even on a hot day, you can walk barefoot on this mat that stays cool. This is not common among other carpets that have a rather rough, uncomfortable surface.
One thing I noticed is that the colors are darker than what appears in the photos. Thankfully, you can order a sample before purchasing, so you make sure you get the right color scheme.
What We Like
Lightweight for easy installation
Wide range of colors: sandstone, silver blue, teal, hunter green, navy,…
Easily cuts without assistance and features comprehensive installation manual
Comes in a variety of colors to match the interior
Uses UV stabilization, so colors don't fade
Comfortable and cool underfoot cushioning
What We Don't Like
Slightly darker color than advertised
In a nutshell, the Marine Carpeting 8 x 20 Boat Carpet is one of the best carpet replacement options because it is lightweight and easy to cut. The UV stabilized construction also makes it a good contender for the best boat carpeting options out there.
4. Bascar Pontoon Boat Carpet 32 oz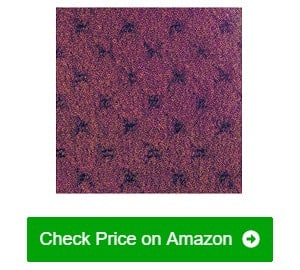 If you are looking for a pontoon boat carpet, then this next product might be for you. The Bascar Pontoon Boat Carpet uses superior, marine-grade materials for a quality glue-down application. This cabin product is proof that you don't need a huge budget to get decent quality.
A great thing about this outdoor marine carpet is that it comes in various colors including, burgundy, jasmine, granite, and sand. This is ideal if you want to make sure you find a carpet that matches your boats' interior. Since it is a glue-down type carpet, finding the perfect color is critical.
I also love how it doesn't move about and stays on the floor thanks to the rubber backing that works great on different floor materials. If you have an inflatable boat deck, you also have the option to use contact cement instead of glue to secure the carpet.
If you love freebies, then this is a great option for you. Upon purchase, you also get a carpet knife, extra blades, and a manual which makes cutting much easier. The manual also tells you the recommended adhesive so there is no need to find another solution.
Fitting the carpet was a lot easier than expected thanks to the installation manual included in the purchase. As long as you follow the instructions, you won't have to worry about spending time flattening out the wrinkles.
On the downside, I found that the carpet was much lighter than the advertised weight of 32 ounces.
What We Like
Uses marine-grade materials
Comes in different colors: burgundy, jasmine, granite, and sand
Has rubber backing for better traction
Purchase includes carpet knife, extra blades, and a manual
Works on an inflatable boat deck
No wrinkles for a flat appearance
What We Don't Like
Weight seems lighter than advertised
The BasCar Pontoon Boat Carpet offers high quality for a reasonable price. I was impressed that the rubber backing even adheres to inflatable decks and installation is fast.
5. House, Home, and More 6' x 10' Carpet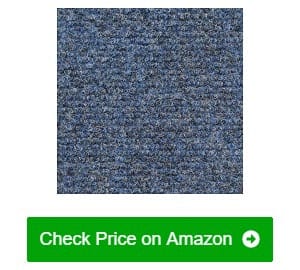 Although this product is not exactly an outdoor carpet for boats, it has all the features that make a good boat rug. For a very reasonable price, you get a carpet made of olefin fibers that resist mildew, stains, and moisture in any environment.
One of the things that impressed me about this versatile carpet is how easy it is to work with. Even without any experience, its thin, lightweight material makes installation quick and effortless. The icing on the cake is that the edges are not bound, giving you the highest level of versatility.
Whether you want to use the carpet for your patio, deck, sunroom, basement, or boat, this multifunctional carpet will do the job. It keeps its shape after exposure to harsh environments and is also fade-resistant, thanks to the UV-protected fibers.
Another feature I appreciated is the design of the edges. Unlike other carpets that easily fray, the House Home and More carpet have inbound designed edges that won't fray. It lays down flat without the need for adhesives. Plus, all the joints fall together with the help of a two-sided tape. Its ability to lay flat also reduces the risk of tripping, which I have experienced with other carpets.
The only issue I have with this product is that it is far thinner than most marine-grade carpets, which might reduce its lifespan.
What We Like
Resistant to moisture, mildew, and stains
Affordable for those on a tight budget
Straightforward installation even for first-timers
Fade-resistant, ideal for use outdoors
Edges not prone to fraying
Lies flat on the floor with two-side tapes
What We Don't Like
Thinner than most carpets
Without a doubt, the House, Home, and More carpet are one of the best options if you are looking for a cheap boat carpet for multiple locations. The edges are designed to be fray-resistant, which is critical for durability.
6. Bry-Tech 96" Aqua Turf Outdoor Carpet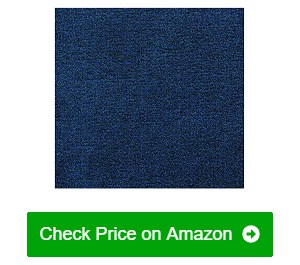 If you are looking for an affordable carpet that maintains high quality for a long time, this is the best bass boat carpet for you. Don't let its price fool you! It is packed with loads of features, making it a strong contender for any indoor or outdoor location.
Among other things, I admire this carpet because it is one of the few that are 100% Olefin. Olefin is one of the highly recommended materials because it is both fade and stain-resistance.
Another great advantage of a pure olefin carpet is that it is moisture- resistant, making it a good choice for boats, basements, and other areas that get damp. Even with extreme sunlight exposure for prolonged periods, the material keeps its true color.
As an olefin carpet, it also resembles an expensive wool carpet and comes in different styles and colors. You can choose from black, indigo, teal, sunset, sand, royal blue, and many more! If a stunning appearance is what you are after, this is one of the best marine carpets for boats.
Another impressive feature is the latex backing which is resistant to water, gas, and oil, ensuring durability for the years to come. Compared to other materials, latex is known to help hold fibers together and improve pile anchorage, increasing the product's life.
It is also worth noting that the carpet has a "non-pilling" ability to ensure that it doesn't fuzz or form balls on the top. You are guaranteed that the rug will continue looking new and neat for years to come.
I noticed that there are visible stitches on the edges. And if these stitches are pulled, the fabric may disintegrate.
What We Like
Affordable price range
Made from 100% Olefin making it stain and fade resistant
Water-resistant material for boats, basements, and other damp areas
Comes in a wide range of color variations
Latex backing resistant to water, gas, and oil
Prevents pilling for a neat appearance
What We Don't Like
Stitches hanging on the edges that require cutting
From the fade and stain resistant feature to the non-pilling feature, there are many reasons why this is an excellent
7. CHURERHINING EVA Boat Carpet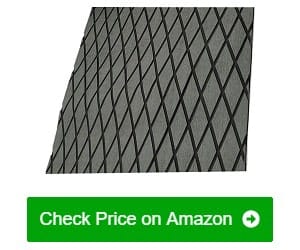 If there is one thing that caught my eye with this product, it is the unique cross rectangle pattern. Unlike regular marine carpeting options in plain colors, this product has unique diamond-like patterns.
With this carpet, you can instantly upgrade the interior design of your boat. Another advantage of this diamond design is that you cannot tell that you used multiple pieces, making it look neater.
Design aside, the textured nature of this marine carpet provides a higher level of traction. The rug uses non-skid EVA foam with cross-seam lines minimizing the risk of slipping when wet.
Also, the fibers on the carpet stay cool even under the sun, so you can comfortably walk barefoot even after extreme exposure.
I also appreciate the peel-and-stick backing for effortless installation. All you have to do is clean the area, remove all dirt, oil, or wax, cut the desired size, and finally, peel off the layer to expose the adhesive side. Aside from ease of cutting, the carpet can keep its form and shape long after the installation.
The adhesive is strong enough to stick but still easy to move around and replace if necessary. If you are looking for a replacement boat carpet for an aluminum boat, the adhesive backing is strong and sticky enough to use without additional glue.
Although I do admire the peel-and-stick backing idea, unfortunately, it is not enough for most applications. You will still need to use glue, especially if you are installing it on a pontoon boat.
What We Like
Unique and stylish diamond pattern design
Uses non-skid EVA foam with cross-seam lines minimizing slipping when wet
Stays cool under sun exposure
Straightforward installation process
Not prone to deformation
The adhesive backing is strong enough for aluminum boats
What We Don't Like
Requires additional adhesive to install on a pontton boat
The diamond pattern of this product is a sure selling point if you want your carpet to stand out. Other than aesthetics, the pattern ensures excellent traction and makes cutting easier.
8. BasCar 28-oz Pontoon Boat Carpet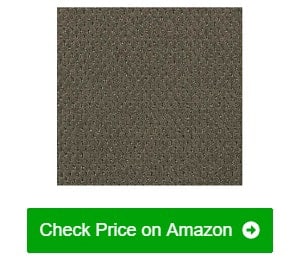 Looking for boat carpet replacement options? You can't go wrong with the BasCar Pontoon Boat Carpet. Not only is it available in four traditional colors, but it also has exceptional rubber backing for ensured traction. The carpet deserves to make the list of the best replacement carpet options.
I especially liked how this carpet is soft and flexible, making installation a breeze because it has a rubber backing. Its flexibility also means you won't need to struggle to make it lay flat on different shaped floors since it easily bends on the sides and contours to the floor's shape.
If you own an aluminum boat, this pontoon boat carpet is perfect for installing. You can easily cut it to suit your size requirements using the free knife that comes with the purchase. Remember, though, to cut very carefully to prevent fraying and future disintegration.
Honestly, this is one of the few carpets where what you see is what you get. This is probably because you can request free samples before purchase by emailing their customer representative. Simply provide your name, address, and color, and you'll get a sample delivered.
One disadvantage I found with the product is that it is susceptible to frays if you don't cut carefully. The threads can unravel into the carpet leaving an unsightly blank streak.
What We Like
Exceptional rubber backing for ensured traction
Soft and flexible to form a flat surface on
Includes a carpet knife and blade for easy tailoring
Offers free sample to verify colors
What We Don't Like
Threads might unravel if not cut carefully
This rubber-backed flexible boat carpet is ideal for pontoon boats with flat surfaces rather than bass boats with many curves and contours. Its flexibility allows you to install it on different surfaces with ease.
9. Lancer Boat Trailer Bunk Carpet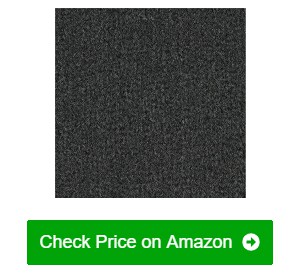 When it comes to finding a budget-friendly yet reliable carpet for your trailer bunk, there are many issues to consider. Thankfully, this product is economical and sun-resistant, ensuring that your hulls remain shiny and free from scratches.
Whether you are a new or seasoned boat owner, this propylene UV stabilized carpet can endure harsh weather conditions. Since your boat will likely be on and off your bunk trailer, you need a rug resistant to wear and tear. And luckily, this product delivers such service for you to worry less about it frying or unraveling over time.
Installation-wise, I would recommend that you use ½ inch molar stables if you are attaching to wood and heavy cable stables for thicker portions. Since the carpet is quite a hick, you'll need to attach it securely with stables to ensure a strong bite.
Another vital feature I especially appreciate is the durable rubber backing which makes attaching it to bunk boards easy. Even if you install it yourself, the result will look professional.
The rubber backing also ensures minimal water retention, so no matter how exposed the carpet is, it is safe from mildew and mold.
There are also different color choices that you can select to match your aesthetic preferences: blue, burgundy, black, midnight, and black. And, of course, the color is fade-resistance, so you won't have to worry about it looking crappy anytime soon.
However, compared to other premium marine carpets, this carpet seems to be less durable. If you load and unload your boat regularly, it may not be the best option.
What We Like
UV stabilized carpet can endure harsh weather conditions
Fray and unravel resistant for easy installation
Equipped with rubber backing for minimal water retention
Resistant to mildew and mold
Comes in four color options with a fade-resistant feature
What We Don't Like
Less durable compared to similar products
To conclude, this bunk carpet is a good option if your boat is loaded and unloaded only a few times a year. This affordable alternative is easy to install and offers essential protection from moisture, mold, and mildew.
10. iCustomRug Outdoor Carpet
For those who are fans of natural, green rugs that mimic green grass, this is an excellent product to consider. Although green may not be ideal for a boat rug, it makes the perfect solution for outdoor areas like patios, decks, or sunrooms. Besides, it also comes in grey and brown, which are both widely-used colors for boat carpets.
Unlike most rugs with a black backing, this unique mat has a nice whitish back that looks clean and less messy. The backing serves the function of keeping traction and helps keep the fabric together so it doesn't crumble.
Even though it comes folded in half and rolled in plastic, the folds disappear within a few hours, so you have a nice flat finish. Installing the carpet is easy with basic boat carpet kits, and since there is no binding, you may cut the rug into custom sizes.
The product goes beyond aesthetics and is also resistant to most acids, alkalis, and salts. Even after it gets wet, the carpet easily dries, making maintenance easy.
You also don't have to worry about the rug getting hot under the sun's heat since it keeps cool and feels like natural grass under the feet.
If there is one thing I didn't like, it doesn't have a thick marine rubber backing, which might be an issue if you intend to place the carpet on a surface that constantly gets wet.
What We Like
Comes in three colors: green, grey, and brown
Unique white felt-like backing for a clean look
Fold-resistant with good traction
Easy to tailor and install to have a nice and flat surface
Resistant to acids, alkalis, and salts
Quick to dry for easy maintenance
Nice grass-like feel, and resistant to sun heat
What We Don't Like
The backing is not made of marine rubber
Generally, if you are looking for an affordable outdoor carpet that does the job, this is a good option. It is easy to cut and install, lays flat on the surface, and is resistant to stains.
11. Bry-Tech 72" Aqua Turf Carpet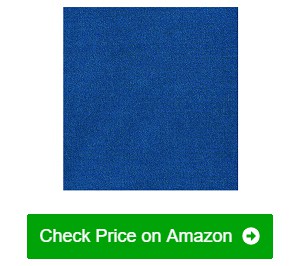 Like its counterparts, this carpet is known for its superiority in terms of comfort and durability. Able to withstand the constant moisture and dampness that is inevitable on a boat deck, the carpet is worth mentioning.
Despite its resilience to wear and tear, the Aqua Turf Carpet still maintains a reasonable price making it an affordable marine carpet for bass boats.
One of the reasons this carpet is so inexpensive is its synthetic material, polypropylene or olefin. Although best suited for low-traffic areas, the rug still offers good durability.
I also liked the stain resistance quality that comes with an olefin carpet. Since the material is dyed during production, there are no areas for stains to attach themselves, and fibers are extremely stain resistant. Even bleaching the carpet would not affect its color!
Additionally, the fiber is fade-resistant despite exposure to sunbeams. Along with that, the carpet is also static resistant, making it non-conductive.
The carpet's quick-drying and mold-resisting qualities also make it a good option for use in basements and other areas prone to mold. Since the product also has low water retention, it quickly dries when wet, which is necessary, especially if you live in rainy Canada.
One of this product's downsides is that it might disintegrate if the stitches on its edges are pulled. So, you want to be mindful of this issue if you have an active and playful pet.
What We Like
An affordable carpet that is resilient to wear and tear
Withstands moisture and dampness
Olefin material dyed during production makes it stain and fade resistant
Non-static to prevent being conductive
Comes with quick-drying and mold-resistant qualities
What We Don't Like
Stitches along the edge prone to fraying
There are many reasons why this product is a wise Jon boat carpet choice. Aside from its resistance to stains, the carpet is quick-drying and non-static.
12. Industrial Supply HQ Marine Carpet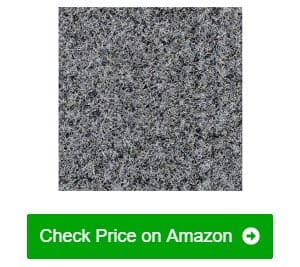 There is no end to the praise this product is getting over the internet, take a closer look to see why. The manufacturers did their best to construct a custom boat carpet that would withstand harsh environments and look fantastic.
I must say, the solid latex rubber backing that holds the fibers together is one of my favorite features. There are small cracks at the back of the carpet that are visible once you bend it, allowing water to pass through the fibers instead of seeping in. This feature also makes adhesion easier, ensuring a secure attachment.
Installation is also reasonably straightforward, and even with one extra hand, you can get the job done in a few hours. The product also comes with a detailed instruction manual so even first-timers can do a professional-looking job.
Customizing the carpet is also very easy as long as you make sure not to cut against the grain. If you are installing it on a floor with curves, the carpet easily wraps around uneven surfaces for a flat finish.
Aside from its smooth installation process, cleaning is easy, and a vacuum or broom can do the job. For deep cleaning, a carpet cleaner is ideal, so you don't need a lot of effort to maintain your rug. Thanks to the cracks at the back, moisture quickly evaporates for quick drying.
One thing to watch out for during installation is potential bleeding, especially if you use too much adhesive. The small cracks at the back could absorb the glue and mess your carpet if you are not careful.
What We Like
Solid latex rubber backing holds fibbers to withstand harsh conditions
Easy to cut and install with scissors
Installs smoothly, even on a floor with curves
Comes with detailed instructions
Effortless cleaning and maintenance with a vacuum or a broom
Features back cracks for better evaporation
What We Don't Like
Glue may bleed on the back if not careful
This pontoon carpet has a solid latex rubber backing with small cracks to reduce water retention while holding the fabrics together.
13. House, Home, and More 6' x 30' Carpet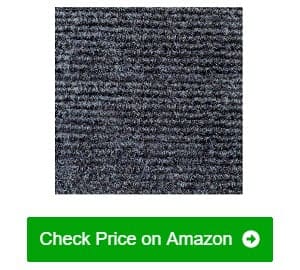 This carpet is a good option for those who don't want to spend extra time sticking the glue on the floor. Weighing 32 pounds, it is ideal for both indoor and outdoor use without the need for messy adhesives. The heavy-weight material allows it to sit firmly in place so you can save yourself the mess of working with glues.
Another great feature I must mention is its six-inch width which is perfect if you have a large area to cover. The polyester fibers share the same benefits as other boat carpets, including resistance to stains and mildew. The UV-protected carpet also has rubber marine backing to ensure it maintains its color despite sun exposure.
The best boat carpets not only provide traction but also look good and improve aesthetics. This is another reason why I love this product from House, Home, and More.
Aside from the ribbed surface, which creates a rough texture, the carpet is also very appealing in its nautical blue shade. If you are worried that the color won't match your interior, you can always get a swatch of the material by sending a direct message before purchase.
In terms of safety, the carpet has a low-pile height, minimizing the risk of tripping and other accidents. If you are replacing a boat carpet, a shorter pile height also makes cleaning much easier.
If there is one thing I don't like about this carpet, it would be that its rubber back is thinner than I expected.
What We Like
Heavy-duty doesn't require adhesive
Can withstand weather conditions
Resistant to mold, mildew, and stains
Low pile height for reduced risk of tripping
The ribbed surface with nautical blue shade
UV protected to maintain color
What We Don't Like
Rubber backing thinner than expected
This is an ideal indoor and outdoor carpet that stays in place even without adhesives. So if you are looking for something easy to install but still provides the essential functions, I would recommend it.
14. BoatCarpetSales Cutpile Boat Carpet
This is one of the Cutpile boat carpet options that is popular because of its marine-grade quality. Many boat manufacturers who make the deck or bass boats have tested this carpet extensively, which says a lot about the quality of the products.
I love the polypropylene material known for its durability. This characteristic is essential if you plan to install this in an area with a reasonable amount of foot traffic.
Another advantage of polypropylene is that it is stain resistant, so you don't have to worry about constant cleaning. You will find most boat carpet outlets prefer polypropylene compared to other materials.
Like other marine-grade carpets, this rug is resilient to molds and mildew, which means it is hydrophobic or water-resistant. This is a very convenient feature because all it takes is a breeze or heat from the sun to dry out a water droplet.
Another impressive feature is its UV resistance that ensures you can leave it exposed to the sun for extended periods without worrying about colors fading.
On top of this, the carpet has a rubber backing which allows for easy glue-down application making it perfect for all outdoor uses other than boats.
Cost-wise, I would say that the product does meet all the quality standards without blowing a hole in your wallet. It is much more affordable compared to other carpets made of polypropylene.
The only downside I see with the product is that it is not resistant to oil stains since it is polypropylene-based. Oil stains are very hard to remove, especially if they have already been set.
What We Like
Polypropylene material for durable use
Stain-resistant for breezy maintenance
Hydrophobic or water-resistant carpet that resists molds and mildew
UV stabilized for little color fading
Features A rubber backing for easy glue-down application
Affordable compared to other polypropylene carpets
What We Don't Like
Not easy to remove oil-based stains
I would highly recommend this product if you plan to install it in an area with high foot traffic. The polypropylene material is durable, resistant to wear and tear, and fading.
15. Patron Upholstery Liner Carpet
This is probably one of the most versatile carpets I have come across, ideal if you want something to use in multiple locations. You can use the carpet on your RV, boat, truck, car, and speaker! And with the traditional grey theme, the product will indeed look great wherever you install it.
Since the product is versatile, it has a non-woven fabric that will not unravel. You can cut the carpet into any size and shape, and it will still lie flat wherever it is installed. The material is so flexible that it is usable for truck liners and amp racks which may have complex shapes.
When it comes to durability, the Patron Upholstery liner does not disappoint. It is resistant to stain, mold, mildew and can stand up to heavy use. Another unique feature I appreciate is its resistance to gas, oil, and salt, making it ideal for areas used frequently.
The material used for the carpet is dyed polypropylene which is known for its durability and color resistance. The material is also resistant to sunlight for minimal fading over time.
Beyond that, according to some buyers, this one is a bit thinner than they expected. But I do not deem this such a big downside because the carpet's durability is sufficient.
What We Like
Versatile product to use on RV, boat, truck, car, and speaker
Classic grey color to blend well with various spaces
Non-woven fabric that doesn't unravel
Resistant to stain, mold, and mildew
Gas, oil, and salt resistant
Doesn't fade with sunlight exposure
What We Don't Like
The carpet might be thinner than desired
Overall, I would recommend this liner for those looking for a versatile product. Its classic grey color makes it the perfect solution for boats, RV cars, and speakers. On top of that, it is durable, stain-resistant, and easy to install.
What To Know Before Buying Boat Carpets
Although a boat carpet serves the same purpose as any other carpet, it is different in the sense that it needs to withstand harsh environments, including UV rays, and saltwater. You must decide based on the type of boat you own, how often you use it, and the kind of conditions the carpet will be exposed to. There are two main types of boat carpets:
Different Types of Boat Carpets
These carpets are known for their exceptional durability and are ideal if you expect heavy foot traffic. The fibers of these rugs are designed in a loop form which creates a tightly woven surface. The only disadvantage of loop pile carpets is that they can easily be torn with a sharp object.
These are a more common type of boat carpet. Cut pile carpets have longer and looser fibers which make them ideal for comfort. These rugs' looped fibers are clipped in half, so only the ends connect to the backing, increasing comfort when walking.
Both loop pile carpets and cut pile carpets can either be glue down or snap-in type. If you select a glue-down carpet, you need special adhesive to glue the carpet down. Installation of this type of carpet is more complicated and usually only preferred by owners of smaller boats.
The snap-in type of carpet is easier to install, especially if you own a large boat. Usually, you only need screws and a snap tool to secure the rug to the floor. Another advantage is since it is non-permanent, it is easier to replace compared to glue-down carpets.
How to select a Boat Carpet
Now that I have shared some of the best products in the market today, you need to know some factors to consider to make the best decision. So here are some of the standard features that would affect your purchase.
Traction or slip resistance is one of the essential features of a marine boat carpet. The last thing you want is an accident because of a slippery carpet. The material used in the carpet backing will determine how slip-resistant it is. Vinyl and rubber are some of the most common materials, and the thicker the backing, the more slip-resistant.
Mold and Mildew resistance
A carpet that lacks this feature is useless in protecting your boat from rust and molds. Although most boat rugs claim to be mold and mildew resistant, different materials affect the product's price and efficacy, not to mention maintenance. More expensive carpets require less maintenance and use high-quality materials.
Ease of installation is another thing to consider, especially if you plan to install the carpet with minimal help. Quality boat carpet manufacturers have comprehensive manuals and necessary tools like knives or cutters to help you get the job done without professional help.
This is among the most critical aspects of selecting the right carpet for your boat. Polypropylene is the most common material which is resistant to mold, mildew, moisture, and stains. Although you can find carpets made using polyester yarn, these are often costly.
I suggest you have a few colors in mind before you start looking at your options. Remember that you may be faced with choosing whether to stick to the ideal color and sacrifice one feature or to get an alternate color with all the features. As much as possible, try and get a sample from the manufacturers so you can see how it looks before purchasing.
Since purchasing a boat carpet does require spending a reasonable amount of money, it would be best if you found a product that comes with useful inclusions. For example, if you get a knife and blade or even adhesive, you won't need to purchase them separately. Also, make sure that you get a detailed installation guide, especially if you plan on installing it yourself.
Tips to Install a Boat Carpet
Installing a boat carpet can easily be done without professional help as long as you follow the manuals. Although the steps may vary depending on the product, here is a basic guide to help you get the job done:
Remove the old carpet. As mentioned, you need to be careful when doing this and make sure there are no traces of adhesives left on the floor before proceeding to the next step.
Repair any damage. Now that your floor is visible, it is the perfect time to repair any cracks and holes before covering it up with your new carpet.
Get the correct measurements. Use these measurements to determine the best way to cut your new rug to achieve the best result. You may need to position the carpet on the floor and make sure it fits before cutting it.
Add adhesive if using glue-down mats. Once you have the right size for the section, apply the adhesive evenly and glue the carpet down.
Flatten the surface. Before the glue dries, make sure to use a heavy object or roller to flatten the surface and get rid of any wrinkles.
Tips for Care and Maintenance
The degree of care and maintenance required depends on the type of material used in your carpet. However, you can take some basic measures to ensure that your carpet maintains its functionality and appearance.
Follow the manufacturer's instructions. Upon purchase of your carpet, make sure to note the recommended frequency and method for cleaning. This may include sweeping, vacuuming, or using cleaners.
Remove stains as soon as possible. Do not wait to deal with spills or other stains. The longer they stay, the harder they will be to remove so make it a point to deal with such problems immediately.
Select the best cleaner. Again, this will depend on the manufacturers' guidelines but generally, stick to gentle cleansers and avoid harsh bleaches.
Dry the carpet thoroughly. After every wash, make sure that the carpet is dried well before stepping on it. A damp rug will have a foul smell that may be difficult to remove.
Reduce sun exposure. Even if your carpet has UV-resistant material, make sure to dock strategically, especially when docking for long periods.
Who Makes The Best Boat Carpets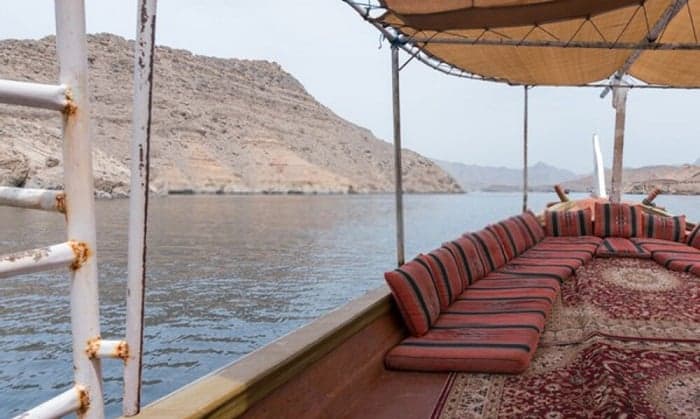 Some of the top boat carpet brands include Industrial Supply HQ, Lancer, BasCar, and Value Carpets. However, you may notice I included other brands like Bry Tech, House, Home, and More and Happy in my list. This is because the popular brands are quite expensive, so it's always good to know your options.
Is Marine Carpet Waterproof
Although all marine carpet is water-resistant, the degree of how much it absorbs water will vary from product to product. You may find a product that isn't 100% waterproof but still has a low water retention rate. Although it doesn't repel moisture as much, it dries fast, preventing rotting, mold, and mildew.
How Do I Replace My Boat Carpet
Replacing a boat carpet isn't as easy as it seems. You need to be gentle in removing the old rug so you don't damage the original flooring. I suggest you stay away from sharp knives and use a putty knife instead to loosen the edges of the old carpet.
Once you have removed the old rug, make sure to remove as much of the adhesive on the floor. You can use sandpaper, lacquer thinner, or even floor cleaners to get the job done.
Can You Use An Outdoor Carpet Instead Of A Marine Carpet
Yes, an outdoor carpet is a good alternative for a marine carpet, especially if you are on a budget or want to purchase in bulk and use it in other areas of your home.
However, remember that outdoor carpets may not be as resistant to moisture, stain, and fading as marine carpets. You may have to take a closer look at its backing and material to make sure it is durable enough for use on your boat.
Where Can I Buy A Boat Carpet
There are high-quality boat carpets in your neighborhood hardware store or other stores that sell boat accessories. For more convenience, though, I recommend purchasing one online on websites like Amazon, Home Depot, and Boat Carpet Central. Aside from convenience, you can usually find huge discounts if you are lucky!
Conclusion
Selecting the best boat carpet is an easy way to elevate your boat floors' safety and aesthetics. I hope my recommendations above will help you make the best decision possible.
Remember to take time to study all your alternatives, read reviews, and ask for a sample before making up your mind. If you note all the critical features, you can narrow down your option and make the right choice.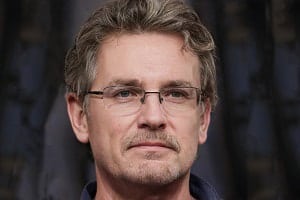 "I am James Harvey – founder of Boating Basics Online. It is established with the drive to help out first-time boaters, which are those desiring to explore their way through the water. So if you are new to boating, start from here with me. "