There is no better way to increase the lifespan of our boat carpet than regular maintenance. The best boat carpet cleaner removes stubborn stains and dirt, leaving our carpet looking brand new. Many of us may feel that cleaning the boat carpet is a hassle, but the task turns out to be easy and even enjoyable with the best marine carpet cleaner.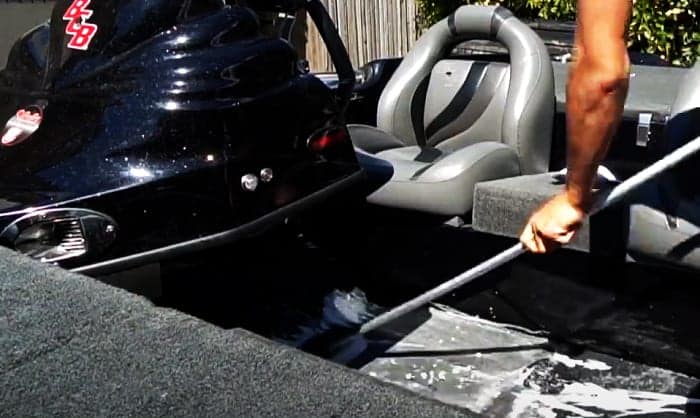 I know how difficult it is to find the right product. And since I went through a lot of trial and error myself, I thought to share my findings with you. So, here are the top 15 marine carpet cleaning products in my opinion.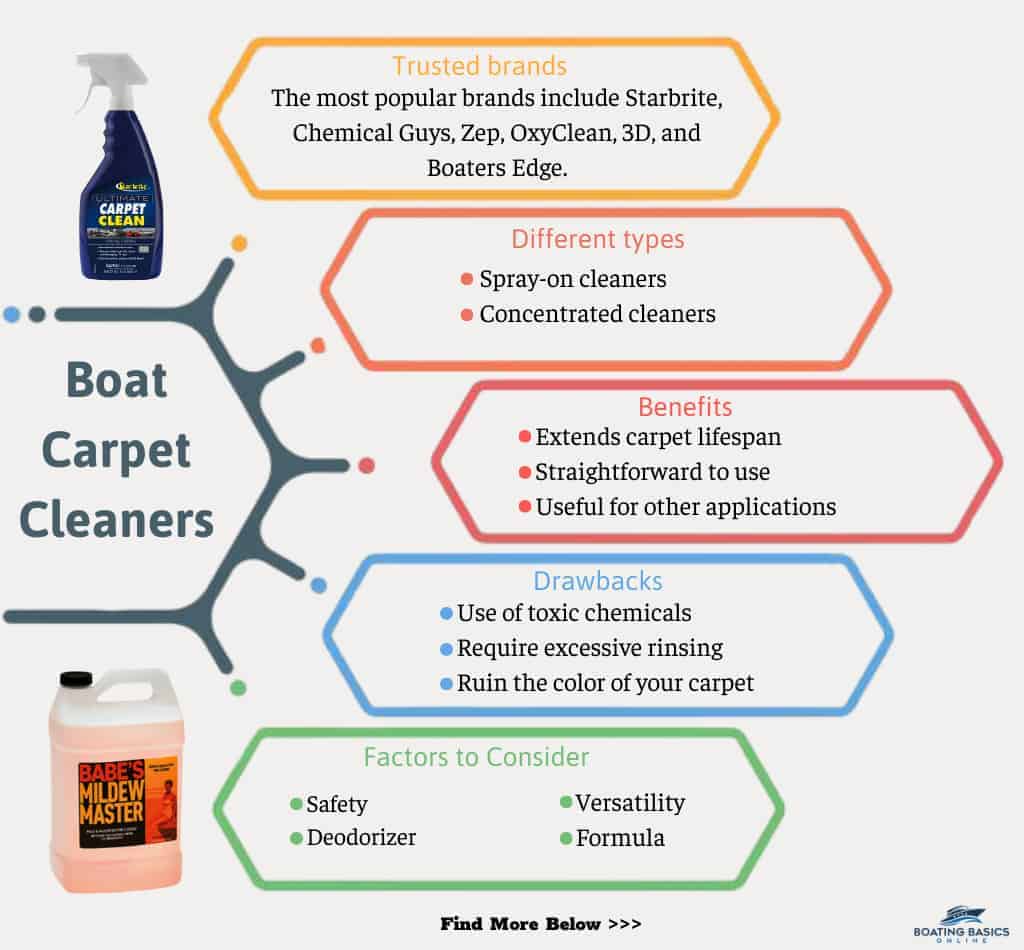 ---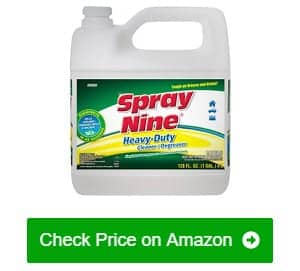 Spray Nine 26801 Cleaner/Degreaser
Dirt-repellent formula
Removes grease and grime
Free from chlorinated solvents
---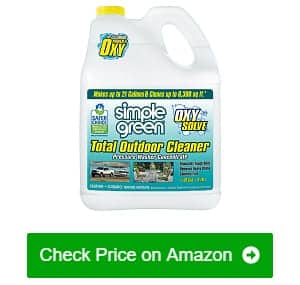 Simple Green Ozy Solve Outdoor Cleaner
Eco-friendly product
Multi-purpose function
Fast-acting ingredient formulated
---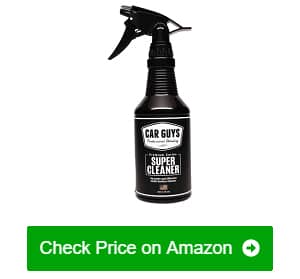 CarGuys 18 oz All-Purpose Cleaner
Hassle-free application
Offers one microfiber towel
Easy to use with ergonomic handle
---
Best Boat Carpet Cleaner Reviews
1. Spray Nine 26801 Cleaner/Degreaser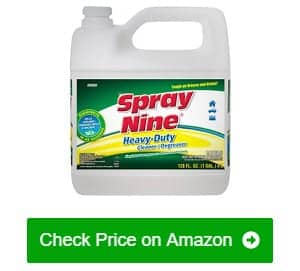 This is another carpet cleaner manufactured by Spray Nine that specializes in removing tough stains like grease. It also acts as a boat carpet deodorizer leaving your carpets smelling fresh.
Unlike other cleaning products that use chlorinated solvents in their ingredients, this carpet cleaner sands apart since it is free from these harmful substances. In truth, the cleaner is VOC compliant, which means it does not also contain petroleum known to irritate the eyes, skin, or airways.
This product uses a 'triple threat' formula that cleans, de-greases, and disinfects surfaces in cleaning. It can even kill up to 99.9% of germs, making it ideal for keeping carpets free from algae or mold that often cause health issues.
Thanks to the safety of the products' ingredients, cleaning old houses or hard-to-reach areas inside the home is also a good option. Many users have used the cleaner to successfully eliminate pest droppings inside their home without damaging the finishes.
Another thing I love about the product is that it is formulated to weaken the ability of soil to cling to surfaces. This means I can enjoy a cleaner surface for longer, which reduces the frequency of cleaning.
One thing I have against the cleaner is that it has a relatively strong smell for me. So, for boaters who are sensitive to odors, this is something to keep in mind.
What We Like
Acts as cleaner, degreaser, and deororizer
Free from chlorinated solvents and VOC compliant
Kills up to 99.9% of germs preventing health issues
Removes grease and grime and other tough stains with ease
Reduces frequency of cleaning with dirt-repellent formula
What We Don't Like
It has a strong smell that may cause irritation
This is yet another product that comes in a large gallon packaging that will last a long time. It offers the basic cleansing features with the addition of being VOC compliant.
2. Simple Green Ozy Solve Outdoor Cleaner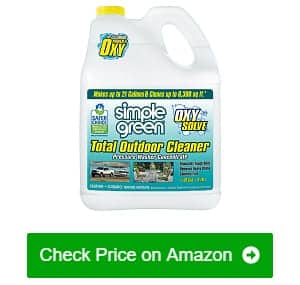 The beauty of this product is that boaters can use it for both manual cleaning and pressure wash cleaning.
I love the 1-gallon size it comes in, making me feel like I'm getting the most out of my money. With such a vast stock, you can forget about visiting your hardware store for a long time. For buyers who only plan to simply green on boat carpet, the gallon can make up to 21 gallons of carpet cleaner to last ages after dilution.
For all those who are fans of eco-friendly products, this cleaner is non-toxic even when ingested orally, perfect for those who have kids or pets. Another fantastic thing is that it is biodegradable, so I can enjoy peace of mind knowing I am not harming any marine life when I use the cleaner. It also meets the U.S EPA's Safer Choice Program.
Aside from its eco-friendliness, the cleaner is multi-purpose. I can attach it to my pressure washer nozzle and clean concrete pathways, cars, walls, decks, and other hard surfaces. The active ingredient, peroxide, is fast-acting and can loosen filth within minutes of contact with the surface.
On the downside, when I planned on cleaning ski boat carpets manually, it took quite a long time to remove stains since it is designed to be used with pressure washes.
What We Like
Can make up to 21 gallons of cleaner when diluted
An eco-friendly product that won't harm plants or marine life
Biodegradable and passes U.S EPA Safer Choice Program
A multi-purpose function which you can use for other outdoor applications
Forumlated with a fast-acting ingredient – peroxide
What We Don't Like
Ideal for power washing and not manual cleaning
In general, this is one of the special eco-friendly, biodegradable carpet cleaners in the market nowadays. It uses non-toxic ingredients that clean without causing any harm. However, the product works best with a pressure washer.
3. CarGuys 18 oz All-Purpose Cleaner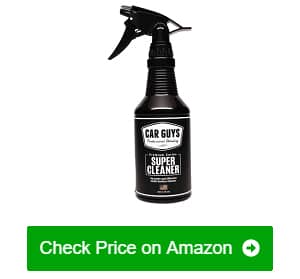 This is another carpet cleaner that boasts the ability to be a 'one-solution that specializes in cleaning leather viny carpets and upholstery plastic rubber.
First off, I must point out the unique nanotechnology used by the cleaner to remove dirt at a molecular level. It works efficiently on various surfaces: metals, carpet, rubber, cloth, plastic, vinyl, level, finished wood, and carpet. Such a multi-purpose ability is quite impressive.
I also appreciate how easy it is to use. Once you spray directly on the surface, you don't need to rinse off with water but instead wipe the product off with a microfiber towel. For those who want to spend as little time as possible cleaning, this feature is worth noting.
Unlike other spray bottles that were difficult to use and caused my hand to hurt, the design of the spray bottle is ergonomic. You don't have to stress about possible spilling with its wide base. The handle is also easy to hold and adjustable.
I liked that the company offers a full refund if you are not satisfied with their product. This is not something you see with most carpet cleaners. Also, buyers get a microfiber towel with each purchase.
However, some reports of staining on some car seats have been reported, probably because of its potency. It is best to test it out on a small portion before deciding to use it on your whole interior.
What We Like
Uses nanotechnology to remove dirt at a molecular level
A hassle-free application that does not require rinsing
Easy to use with ergonomic handle
Offers full refund if doesn't work as intended
Offers one microfiber towel for each purchase
What We Don't Like
Very potent and may cause stains on some fabrics
For a leaning bass boat carpet interior cleaner, this product is a good option. It is versatile and can be used on all kinds of surfaces except glass.
4. Spray Nine 32 oz Marine Cleaner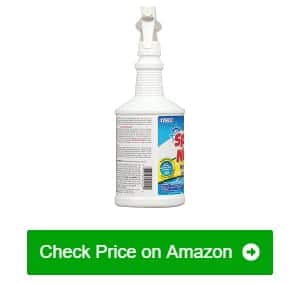 When it comes to cleaning bass boat carpets or vinyl carpets, the marine cleaner by Spray Nine is one of the most popular in the market. The cleanser is ideal for use on more challenging surfaces that traditional carpet cleaners may not handle.
The first thing that impressed me about this cleaner is that it acts as a disinfectant. The agent can also wash away stubborn algae and scum, which are the bane of every boater. You can also say goodbye to mold and mildew thanks to this powerful cleaner.
For more stubborn stains like dirt, oil, grease, and grime, this product also shines. I used it for cleaning boat carpets above and below the deck, and it worked fine on these non-porous surfaces. I believe it is a good alternative to hydrochloric acid, which removes hard stains without any abrasives.
Since the product works on different surfaces, it is pretty versatile. We can use it for carpet on boat trailer bunks, boat covers, camping equipment, trailers, fiberglass, bait buckets, and sporting equipment.
Some boaters have even used the spray to remove print-off labels or paint items, which means it is quite a strong cleaner. For this reason, it would be best to try it on a small part of the carpet before spraying a lot since it could cause discoloration.
What We Like
Acts as a disinfectant, getting rid of germs and bacteria
Removes mold, mildew, and algae
Gets rid of oil and grease stains
Good alternative to hydrochloric acid, as it removes hard stains without abrasives
Ideal for multiple uses, both indoor and outdoor
What We Don't Like
Strong bleaching abilities that could cause discoloration
Overall, for anyone searching for the best boat carpet cleaner mildew cannot stand a chance against, this is a good option. It has antibacterial properties which leave surfaces clean and bacteria-free.
5. Boat Juice 32 oz Interior Cleaner
Designed to clean interior upholstery, including carpets, this cleaner by Boat Juice is a good deal for getting rid of odors and stains on the boat interior.
What impressed me the most about this product is that it doubles as a cleaner and UV protectant. If you wonder how to clean boat cabin carpets, so they continue to look brand new, sun protection is critical. This cleaner adds a layer of security, which reduces the chances of discoloration.
Another good thing is that it is effective on different surfaces, including carpet, plastic, foam flooring, vinyl, and upholstery. So for the owner of a smaller boat, a single spray bottle will be enough to clean the interior plus other areas like their car, RV, or motorcycle. I like such versatility.
Unlike other cleaners that use bleach, this product is bleach-free, making it safe for the environment. Its lack of harsh cleansing ingredients also gives it a delightful smell that I like. It is very gentle on the hands, and I had no trouble wiping it off with a microfiber towel.
I also appreciate that the company sent me two microfiber towels along with my purchase. These towels are perfect for wiping the cleaner off and, in my opinion, are an excellent incentive.
I noticed that it might not be as effective in cleaning hard stains, as it requires thoroughly polishing, probably due to its lack of hard cleaning ingredients.
What We Like
Has UV protectant abilities to protect from sun exposure
Effective on multiple surfaces like vinyl, plastic, and foam boarding
Eco-friendly without any harmful bleaches
A nice-smelling odor leaving your carpet fresh
Comes with microfiber towels to use in cleaning
What We Don't Like
Require thorough and strong polishing to get rid of hard stains
I must say this is probably one of the
best boat carpet cleaner
s I have tried. It is ideal for basic cleaning and has UV protective properties.
6. 303 Products Marine Multi-Surface Cleaner
This is one of the safe products to use for your entire boat from bow to stern. The ingredients used do not harm the boat, which makes it quite versatile.
I like the fact that it is an all-purpose cleaner that you can use for the entire boat. If any boater is like me, who is not a fan of having too many cleaning products, this is a good option. The product is usable on vehicle interiors, covers, upholstery, and any other vinyl, plastic and rubber surfaces.
It is also worthy to note that 303 products do not use toxic chemicals, detergents, soap, or ammonia in their products. This makes it one of the few eco-friendly options available in the market.
Another unique feature is that it can be either full-strength or undiluted, unlike other cleaners that don't offer this option. So, when handling a stubborn stain, we can use its full strength or dilute it for regular dirt. This attributie also means the product will last longer.
I also noticed that there is no residue after using the product on metal and aluminum. This is a common issue with other cleaners that leave streaks or a white powder-like residue after use. I had no such problems with this product.
However, for boaters who want something specifically designed for boat carpets, this may not be an ideal choice.
What We Like
An all-purpose cleaner usable on multiple surfaces: vinyl, plastics, rubbers,..
Safe from harmful chemicals like ammonia
Usable at full strength or diluted
Leaves no residue on metals and aluminum
What We Don't Like
Not designed for boat carpet, so may lack efficiency
Although this product is not specifically designed to clean carpets, it is an excellent multi-purpose cleaner for all-around the house and boat.
7. Star Brite 22 oz Spray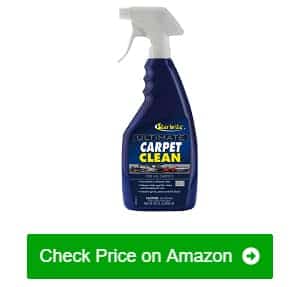 This easy-to-use carpet cleaner is ideal for all kinds of carpets, including heavy-duty ones with high foot traffic. This is among the famous yacht carpet cleaning products, as it erases from stubborn stains like grease to regular dirt.
One of the features worth mentioning is that the cleaner does not stain or discolor the wood if you accidentally spray it on the boat deck. Such a mild yet powerful cleaner is ideal, so you don't need to worry too much about spreading directly on your carpet when cleaning.
I also love its odor-removing abilities. The formula is designed to remove any strong smells on your carpet with a single spray. Whether you are cleaning pontoon boat carpets or even the carpet of your SUV, the powerful formula can also protect your carpet from UV rays. This is thanks to its PTEF polymers that create a layer on the mat for extra protection.
I always appreciate easy-to-use products, and this spray does not disappoint. I do not have to dilute it with water, and the spray bottle is ready to use. Application is also easy, and all I need to do is spray on the area I want to clean, scrub it gently and rinse afterward.
Another fun feature is the foam it creates after a single application. The lather formed is so thick and works to soften the stubborn dirt. Besides, cleaning the carpet can become an excellent activity to do with my kids with so much foam.
The foaming action, however, has a downside- it makes rinsing more difficult. Unlike other boat carpet cleaning products, you may need to spend more time removing the suds.
What We Like
A gentle formula that does not discolor boards or dark carpets
Removes all odor with a single application
Versatile for indoor and outdoor applications
Features an anti UV ray protection with its PTEF polymers
Easy-to-use and does not require dilution
Creates thick lather and foam, which makes cleaning easier
What We Don't Like
The amount of foam may make rinsing more difficult
In summary, a spray cleaner is an excellent option for spot cleaning. Aside from its user-friendly nature, the cleanser also has powerful odor-blocking abilities and protects from UV rays.
8. Chemical Guys Foaming Fabric Cleaner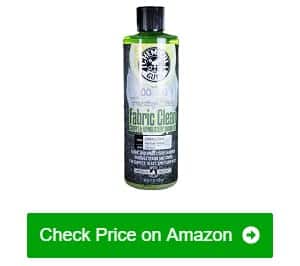 This is yet another option available when looking for boat carpet cleaning products, especially if boaters are looking for something budget-friendly.
For one, the cleaner is exceptionally economical thanks to its high concentration formula. The manufacturers recommend diluting the product with 20 parts of water so a single drop can go a long way. We can also adjust the concentration depending on the stain.
Another feature I enjoyed is its foaming formula. As its name implies, the cleaner creates many suds, softening surface dirt and making it easier to remove. I feel like my carpet is getting clean when I see loads of suds forming.
I also like the deodorizing abilities that it offers. Not only does it remove existing odors, but it has a fresh scent that helps keep the boat carpet smelling good for a long time. The company uses a patented odor elimination enzyme that actively destroys microbes that cause odor, eliminating odors from their source.
The finish of the cleaner after use is also noteworthy. Unlike other cleaners that leave carpets feeling damp, this cleaner is detergent-free and low moisture, so your carpet is left with no residue. Surprisingly, all we need is a microfiber towel to wipe out the cleaner, no need for rinsing with water.
A minor issue is that the concentrated formula may not be ideal for all boaters. Diluting the product may take extra time, plus we'll need to transfer it to a spray bottle.
What We Like
High concentration formula which is budget-friendly
Foaming action to remove dirt easily
Uses odor elimination enzyme to get rid of odors permanently
Easy to use and does not require rinsing with water
What We Don't Like
Diluting the product and transferring it may be time-consuming
As far as budget-friendly cleaning products go, the highly concentrated formula of this cleaner is impressive. Aside from cleaning, it also removes odors from the source, leaving carpets smelling fresh.
9. Star Brite Ultimate Pontoon Deck Cleaner
This product is specially designed for decks, carpets, and types of vinyl and can remove common stains from grease to dirt.
I love this cleaner because it also acts as a protectant against UV damage, ensuring the carpets keep their color after use. In fact, I noticed that the color of my carpet was slightly brighter after the cleaning, which was impressive. This is possible because its formula contains protective polymers which lessen the damage to UV rays.
Like other carpet cleaning products, the cleaner also has a chelating agent, which prevents the formation of scum. The formula used loosens the dirt from the bottom upon contact, making it easier to remove and leave a residue.
Since the product is designed to be used near water, I also appreciate that it is safe from toxic chemicals and will not harm marine life. Therefore, I can use it nearby or even on the water, knowing that it is eco-friendly.
Talking about the application, the cleaner comes in a very user-friendly squirt bottle. Once you apply the product to the surface, you need to wait for at least a minute before scrubbing and rinsing off.
The only downside to this cleaner is that it is not formulated for heavy-duty use, so if you want to get rid of hard stains, it may not be strong enough.
What We Like
Removes common stains like grease and dirt
Uses protective polymers to protect against UV rays
Features chelating agents which help remove dirt easily
Safe from toxins and will not harm marine life
Comes in a squirt bottle that is easy to apply
What We Don't Like
Not an ideal choice for heavy-duty cleaning
Overall, this is a mild cleaning product that is eco-friendly and ideal for regular cleaning. It also has protective abilities ensuring that the boat carpet stays safe from the sun's rays.
10. Concrobium Mold Control Cleaner
Unlike other products that only get rid of mold and clean the surface, this cleaner goes a step further. Its mold control formula destroys the entire mold spore leaving nothing to regrow. This is a long-term solution to mold issues.
Since the cleaner is formulated for safe indoor uses, it is free from harmful chemical agents. With this purchase, I do not have to worry about exiting the home while the cleaner works its magic. In my opinion, such an eco-friendly approach makes it a good contender in this list.
The liquid can be applied differently, from using a cold fogger or spraying directly and cleaning with a cloth or brush. This is another feature I find useful. For example, if we want to use it in hard-to-reach areas, we can use an aerosol and switch to cloth for other regions.
Since I am susceptible to harsh odors, I was amazed by this odorless cleaner. It leaves a neutral smell that replaces the musky scent often related to mold and mildew.
On the other hand, the product is formulated for effective utilization on hard non-porous surfaces like wood, concrete, and drywall.
Yet, this product costs me a bit more than other cleaners I have tried for boat carpets. But its potent and versatile formula is worth the investment.
What We Like
Uses formula that destroys mold spores to prevent regrowth
Free from harmful chemicals and safe for indoor use
Can be applied using aerosol for hard-to-reach areas
Neutral odor which replaces muskiness from molds
What We Don't Like
Costs a bit more than other cleaners
As far as all-purpose mold cleaners go, this is a unique product that gets to the root of the issue, destroying mold spores and preventing regrowth.
11. GP66 Green Miracle Cleaner
Although not necessarily a carpet cleaner, the GP99 claims to remove dirt from over 1000 surfaces, including carpet. Thus, it is a handy one-do-it-all solution.
The NSF approves this water-based cleaner for food surfaces which guarantees its safety as a product. It is also free from bleach and phosphates, making it ideal for use on the water so you can put your mind at ease that no marine life will be affected.
Another thing I like is that it is an all-around cleaner. I tried it on kitchen surfaces like ovens and doors and on my boat hull with the same results. So, for anyone who needs a one-solution product to use anywhere, this is one of the highest-rated out there.
Best of all, I could use the product as much as I wanted without worrying about a concentrated cleaner smell. This odorless cleaner doesn't require any set time to get rid of the odor.
It is also noteworthy that the cleaner is certified as "Compact by Design," which means its formula is to reduce carbon emission reductions.
Furthermore, the bottle design also makes shipping easier. I always feel good about using a product that doesn't add to environmental issues.
I don't particularly appreciate that it is not strong enough to eliminate harsh stains on my carpet.
What We Like
Versatile and cleans up to 1000 surfaces
Free from chemicals and other harmful toxins
A versatile product for household and boat uses
Odorless and safe to use in large quantities
Has a compact design that reduces carbon emission
What We Don't Like
May not be that effective in removing harsh carpet stains
This is a unique product for use all over the home since it cleans multiple surfaces easily without harming the environment by using harmful bleaches.
12. Aero Cosmetics 16oz Interior Cleaner
This interior cleaner can handle most of our cleaning needs, whether our boat seats, carpet, or upholstery. Such a wide range of applications makes it an affordable carpet cleaner.
If there is one thing that sets this product apart from other cleaners, it's the aviation-grade quality of the product. The cleaner meets the standards required for an interior cleaner of the Airbus 60-00-002 and Boeing D6-712M cleaner. Considering the high standard required to pass as an aircraft cleaner, there is no doubt of its efficacy.
Another thing I like is that although the cleaner is versatile, it still works great on different surfaces. You can use it on carpets, seats, and upholstering, and even on materials such as leather. In addition, using a multi-cleaner dramatically reduces the number of cleaning products we need.
In terms of safety, the cleaner does not have any alcohol in its list of ingredients, and it is also ammonia-free. So we won't need to worry about eye or skin irritation when using it, plus it is safe for aquatic life. The product is also biodegradable, which I love.
Applying this cleaner is straightforward since it comes ready to use with no need for dilution. All I need to do is apply the liquid to stains and then wipe it off with a cloth. I don't even need to rinse off the product with water-something that usually takes a lot of time.
The only area where I feel the product is lacking is that it does not work well as a boat carpet deodorizer. It will leave your carpet clean but not necessarily smelling fresh.
What We Like
An affordable cleaners for various purposes
A high-quality cleaner that passed aviation standards
Safe to use on different types of material and surfaces
Alcohol and ammonia free so they won't cause irritation
Ready to use without the need for dilution
What We Don't Like
Does not work as a deodorizer
All in all, this is a powerful boat carpet cleaner that uses a potent aviation-grade formula that guarantees quality. It is also safe for the skin and environment and is easy to use straight from the container.
13. Babe's Boat Care Products Mildew Cleaner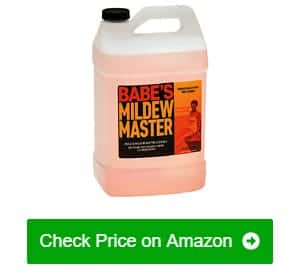 This final cleaner is an ideal choice for boaters who have a severe mold and mildew problem and are looking for a budget-friendly alternative.
I find it remarkable about this cleaner that instead of using bleach, it combines enzymes and peroxides to get rid of mold and mildew. These two components are practical and also environmentally safe for marine life. I always appreciate companies that keep the environment in mind.
Since it is a bleach-free cleaner, it is also safe to use on dark-colored surfaces. If the boat has a dark theme, boaters need to avoid harsh chemicals that may cause discoloration. This mild formula is a good solution.
The formula also has a gentle and almost indistinguishable odor which is always ideal if you are particular with scents. We can easily spray our boat with the fragrance of our choice and not worry about the cleaner masking the odor.
Although the cleaner targets mold and mildew, it also works well in removing tough stains stuck in crevices. We can use it on vinyl, neoprene, and other surfaces that need a thorough clean. I love the versatility the product offers.
The only issue I found about the cleaner is that it is not as effective as removing grease and other oil-based stains. It is specifically created to work on general stains like spills and mold.
What We Like
Uses environmentally safe ingredients: enzymes and peroxides
Keeps carpets vibrant colors and safe for dark surfaces
Odorless ideal for those sensitive to smell
Usable on multiple surfaces: vinyl, neoprene, etc
What We Don't Like
It is not effective in removing grease stains
Generally, the product is a good candidate for the top mold and mildew removers in the market. It has a pleasant neutral odor and uses a formula that is safe for the environment.
14. Boaters Edge Mold and Mildew Stain Remover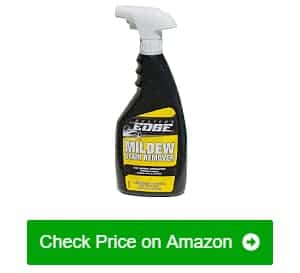 One of the secrets to how to protect boat carpets is to get rid of mold and mildew. This product focuses on mold removal, which gives it an edge in the world of cleaners.
The first feature that impressed me is the alkaline formula which targets mold and mildew stains easily. If we have a huge mold problem or want to clean the interior of a boat that hasn't been used for years, a product like this is worth considering. Compared to other cleaners, it targets stubborn stains lifting ground-in dirt to the surface so we can wipe it away quickly.
Another thing I noticed is that the product can be used for multiple applications, whether indoor or outdoor. From wood to concrete to roofs and other upholstery, the spray works well with almost any surface. This is all without harming the stitching or threads on fabrics.
Considering that it is one of the popular starbrite boat carpet cleaners in the market, you can be sure of its quality. Star Brite has been manufacturing cleaners since the 1970s, so they are reliable. In addition, this particular cleaner includes surfactants that remove grease and grime upon contact.
When it comes to user-friendliness, I love the nice black bottle with an easy-to-use nozzle. All I have to do is spray, scrub lightly and rinse off.
One thing to remember is that boaters should not use it on painted surfaces. The product may be too harsh to be used on surfaces like canvas.
What We Like
Able to remove mold and mildew easily
Safe for use on multiple surfaces, including concrete and upholstery
Made by a legitimate company, Star Brite
Uses surfactant, which removes grease and grime
Easy to use nozzle and spray
What We Don't Like
Unsafe for use on painted surfaces and can cause damage
In a nutshell, this carpet cleaner is a good idea if boaters have a severe mold problem on the upholstery. It uses buffered bleach to remove such stains and chelating agents to lift ground dirt.
15. 3M Mildew Stain Remover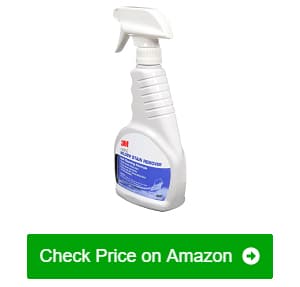 I must say that this is one of the products that can get rid of mold stains from old carpets or other surfaces. It is a good option for those who are after a strong product that gets the job done.
The most noticeable feature is that it uses a beach-based formula which can be very effective for removing stains. The formula also helps upholstery return to its original color by removing even the darkest, oldest stains.
Also, the cleaner has an ergonomic spray bottle with grooves for your fingers, making spraying a breeze. After spraying on the targeted area, you need to wait for five minutes and gently scrub with a soft brush.
To ensure that the surface is protected from mold in the long term, the company also offers a marine mildew block that prevents mold growth. I appreciate this since cleaning once often does not get rid of the source of the problem.
Since mold can appear in all kinds of areas, I also tried the product on car seats and other upholstery around the house with excellent results. Thus, it is indeed an all-around mold remover.
On the downside, the product dries relatively fast, so it is ideal for use under the shade. If the product dries before it is rinsed, it cannot do its job, and stains will remain.
What We Like
Removes mold and mildew stains with a single application
A beach-based formula, effective for removing stains and revive carpet colors
Can be purchased with a marine mildew block for lasting protection
An ergonomic spray bottle that is easy to use
Effective on different surfaces
What We Don't Like
May dry before rinsing if used in direct sunlight
Considering the prevalence of mold on boat interiors, this cleaner would make an excellent addition to boat cleaning supplies. It is multi-purpose and removes stubborn mold stains easily.
What To Know Before Buying Boat Carpet Cleaners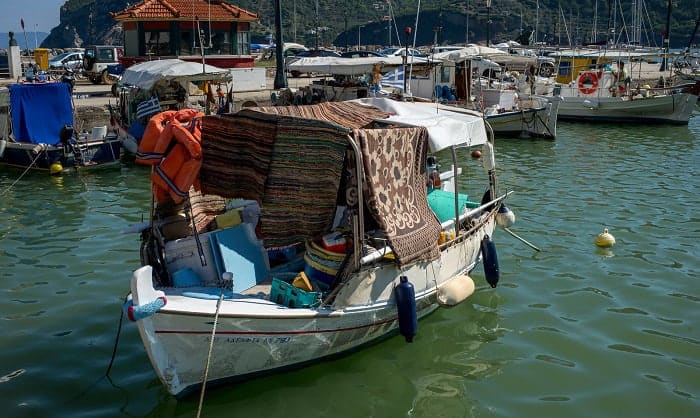 Since boat cleaners come in different shapes and sizes, it is wise to know what to look for in a boat cleaner. Here are some of the most important things to consider when buying a boat cleaner:
Safety
Some boat cleaners use harsh chemicals in an attempt to remove stubborn stains. Although this may be effective, it could cause eye and skin irritations. For example, hydrochloric acid, ammonium hydroxide, and ammonium chloride are common ingredients that may irritate.
Although it is possible to use protective items like gloves in cleaning, you may opt for an eco-friendly option. In this case, look for products that are biodegradable, non-toxic, and marine safe. You may need to do a little research to make sure, but the effort will be worth it.
Deodorizer
Usually, accumulated dirt and mold cause a foul smell to build upon your carpet. In this case, you need a cleaner that has odor elimination features. Look at the ingredients for anything like essential oils or chemicals that combat odor.
However, if you are sensitive to fragrances, you could opt for an odorless cleaner and use a freshener of your choice afterward. This way, you get clean carpets without worrying about strong odors.
Versatility
You want a product that you can use for other parts of your boat or car as much as possible. Ensure that the cleaner works well with the surfaces you intend to clean, whether upholstery, leather, or delicate fabrics.
Some cleaners also have additional features such as UV protection which will protect your carpet from discoloration. Always make sure to read the label carefully to know which surfaces you can use the cleaner on.
Formula
The formula used in the product is one of the most important factors to consider when selecting a cleaner. It is wise to take time to understand how the product works and the ingredients used. Remember that some are more concentrated than others and will need dilution before application.
Depending on your preference, you can choose a formula for direct application. These cleaners often come in a spray-on bottle for easy use. Or else, you could go for a concentrated cleaner which may last longer.
The different types of Boat Carpet Cleaners
With all the different products available on the market, categorizing boat carpet cleaners is quite tricky. Some target grease, while others are formulated to get rid of mold and mildew stains. Some cleaners are all-around cleaners and are for a variety of applications.
Despite these differences, carpet cleaners can be safely categorized into two:
Spray-on cleaners
Also known as direct application cleaners, these products are easy to use. They often come in spray-on or squirt-type bottles, allowing you to apply the product directly on the surface. Direct application cleaners are a good idea if you don't want the extra task of diluting. However, they won't last as long as concentrated cleaners.
Concentrated cleaners
The beauty of concentrated cleaners is that they can last longer and cover a larger surface area. This cleaner is a good option if you have a large area to clean or want the best deal for your money. Despite being economical, these cleaners require dilution, which adds an extra step to your cleaning.
Benefits and drawbacks of Using Carpet Cleaners
Every boat owner should be equipped with an effective cleaner for their boat interior, and it is for aesthetic and hygiene purposes. Yet, while carpet cleaners are the go-to solution for most boat owners, it is advisable to understand the benefits and drawbacks of using these cleaners.
Extends carpet lifespan – boat cleaners are designed to eliminate dirt and other problems like mold, preserving the carpets' fibers. Since boat carpets are pretty costly, it is in your best interests to take good care of them so they can last for years. Carpet cleaners help you do just that.
Straightforward to use – most boat carpet cleaners come in easy-to-use spray bottles that allow you to get rid of stains with minimum effort. Even if you opt for concentrated cleaners that require diluting, you won't need to scrub or exert too much effort.
Useful for other applications – while marine carpet cleaners work best on carpets, they can also be used for other areas, including your home and car. This versatility makes them a worthwhile investment.
Use of toxic chemicals depending on the product; some cleaners use harmful ingredients like bleach and ammonia, which may irritate. Although the simple solution is to wear gloves, these toxic chemicals may also be harmful to pets and marine life.
Require excessive rinsing– while most yacht carpet cleaning products only need you to wipe off the cleaner with a microfiber towel, some require rinsing with water. If you are not careful, you may find yourself spending a lot of time trying to get rid of suds from the cleaner.
Ruin the color of your carpet– some cleaners are so potent that they will cause discoloration when left for extended periods. To be safe, always test the cleaner on a small, unseen portion of your carpet first.
Who Makes The Best Boat Carpet Cleaners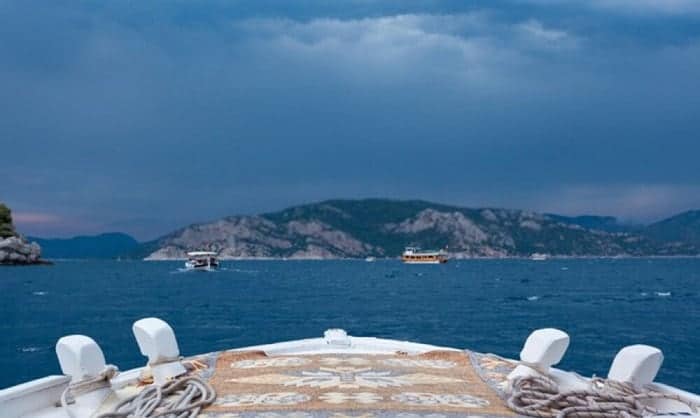 With all the brands out there, this is a challenging question to answer. Also, each has their own opinion based on their experiences with a product. However, the most popular brands include Starbrite, Chemical Guys, Zep, OxyClean, 3D, and Boaters Edge. If you want a reliable cleaner from a manufacturer that has been in the business for years, I would recommend these brands.
How To Clean Boat Carpet
There is no right or wrong way to clean a boat carpet. However, here is a process recommended by seasoned boaters:
Park your boat on a slight slope
If possible, attach the boat to a tow vehicle on a slight slope. This is a simple trick to make sure the water drains through the floor while you are washing. Also, remember to unplug the drain plug so water doesn't accumulate.
For a concentrated cleaner, dilute the cleaner with the recommended amount of water. If you are using a direct application cleaner, you need to make sure it is within reach and ready to start working.
Remove loose dirt with a vacuum.
Vacuuming loose dirt first helps prepare the surface for deep cleaning. This step also helps reduce the amount of cleaner you require.
Even if you are confident that the cleaner won't discolor your carpet, it is always best to be safe. Find a spot on your carpet to test and wait for a few minutes before proceeding.
Some cleaners require that you soak the carpet before application, while others recommend spraying directly on the stains. Whatever the case, make sure you follow the company's instructions for optimal results.
Will A Carpet Cleaner Damage The Natural Color Of My Carpet
This depends a lot on the ingredients and how well you followed instructions. For example, there is a higher chance of discoloration if you leave the cleaner on for longer than suggested. Also, dark-colored carpet may be prone to discoloration, mainly if the product's formula includes chemicals like bleaches.
One of the ways you can prevent damage is to test a small portion before application. It is also helpful to read customer reviews which often include incidences of discoloration if this is the case.
Are Boat Carpeting Cleaners Safe To Use
Generally, boat carpeting cleaners are safe as long as they are used as directed. In terms of skin irritation, you can always wear gloves and eyewear to be safe. However, it is up to you to choose a non-toxic and safe formula for the marine environment.
Choosing an eco-friendly cleaner means you can wash your carpet near a body of water and even let pets and kids join you.
Can You Pressure Wash Boat Carpets
Some boat owners use pressure washes to clean their carpets, while others advise against it. I believe it is all about how well you know your carpet and the settings you use for the power wash. Older carpets that have become dry and brittle could get seriously damaged with the pressure from the nozzle. On the other hand, newer, flexible mats may do fine.
What you should not do at all costs is take your boat carpet to the car wash. Car washes use very high-pressure settings that will hurt your carpet. If you own a pressure washer, just make sure you stick to the low settings and only use this alternative when necessary.
Where To Buy Boat Carpet Cleaner
This all depends on your personal preference. Most hardware stores stock popular boat carpet cleaning products for you to choose from. However, not all brands may be in stock, so your local hardware may not be the best option if you are looking for something specific.
One of the most convenient options is to purchase online. There are loads of eCommerce websites like Amazon and Walmart that offer a wide range of cleaners. Another perk of shopping online is that you can compare prices from different stores and review other customer's experiences with the product.
Conclusion
Selecting the best boat carpet cleaner does not have to be a daunting task. With the information in this article, you have to find a cleaner that will remove all those stubborn stains. Finding the perfect cleanser for your carpet will make your boat more appealing and ensure your rug stands the test of time.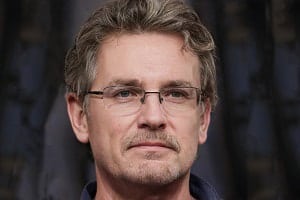 "I am James Harvey – founder of Boating Basics Online. It is established with the drive to help out first-time boaters, which are those desiring to explore their way through the water. So if you are new to boating, start from here with me. "