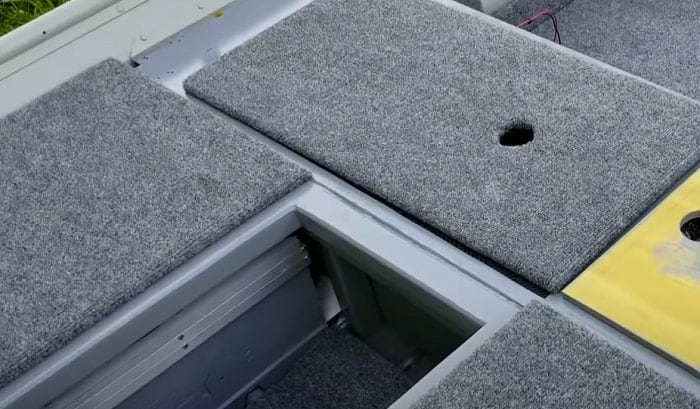 Usually, bass boats are for fishing. Adding carpets to vessels is a trend practiced by American boaters. That's why bass boats are still carpeted despite being used as fishing boats. Do you think it's impractical? You may be thinking of fish blood that can make the carpet filthy and messy.
Regarding this concern, you only need to get the right carpet that can outlast exposure to the marine environment and other outdoor factors. Here are the key features that you have to take note of before buying one:
Resistance against outdoor elements: As long as you get the best bass boat carpet, it's not a burden to get the floor covered. It should combat UV rays, gas, oil, mold, mildew, and stain. Resistance against these things is crucial as fishing activities can bring chaos to your boat.
Marine-grade and tough material: Choose water-resistant carpets. They are the ones with closed-cell foam surfaces or with marine-grade rubber. You better check the material if it's tough enough to face the consequences of marine use and fishing. If the carpet can't easily submit to damages, it means durability. It is something that a bass boat owner would appreciate. Cleaning and maintenance would extend its longevity too.
The right thickness for comfort: A bass boat carpet supposedly receives a lot of traffic. So, the thin one is not a wise choice. Comfort is another concern and can be provided by a bass boat carpet with the right thickness.
Easy removal and installation: Of course, a time will come that you need to change it. It will happen earlier if you don't keep it tidy after sailing. In this matter, it's wise to choose the carpet that can be easily removed and installed.
It's not hard to find a bass boat carpet replacement kit in the market. You may go for a standard marine carpet that has the above mentioned features. Use hatches or fitting lids when you put the carpet replacement on older crafts.
To save you time and effort, this review has shortlisted the suitable carpet for your bass boat. They don't only vary in colors but with features too. Read on to learn more.
---
Marine Carpeting Boat Carpet
Good quality
Thick but not hard to cut
Plush with awesome texture
---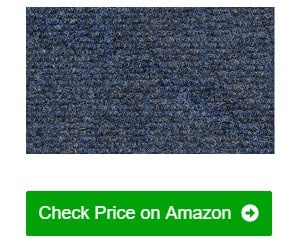 House, Home, and More Carpet
Durable
Can be cleaned with ease
Resist various outdoor elements
---
RestorePontoon/ BoatCarpetCentral
UV resistance
Three-year warranty
Thick, non-flammable
---
Best Bass Boat Carpet Reviews
1. Marine Carpeting Do-It-Yourself Boat Carpet
This carpet has a lot to offer from quality to comfort. There's nothing to complain about the material used for it. It's polypropylene that guarantees durability and resistance from stain. The quality of this carpet is great while it can give my boat a nice look. Not to mention, there's an array of shades and sizes to choose from. With these options, I was to get the one that suits my bass boat.
It's plush so every time I step on it, footprints are like being embossed on it. The texture is astounding as it feels good on my feet. Some of my pals even told me that this carpet makes them feel like they're stepping on a red carpet. Yes, it's thick, but it's not hard to cut.
Installation went pretty well with the help of a manual that comes along with every purchase. Reading it is quite entertaining as it has some dash of Southern humor. I also read tech advice that can help me when placing it on my boat. A carpet knife and some blades are included in the package too. These tools are helpful as I don't need to change blades if I use a boxcutter.
It can lay flat on the floor of my bass boat with no folds and wrinkles. I added a washer head to make it stay in place instead of glue. Although I have to add hardware, l can still say that cutting and installing this carpet are smooth sailings.
What We Like
Offers good quality and comfort
Durability and has resistance from stain
Plush with awesome texture
Thick but not hard to cut
Uncomplicated installation with the help of manual and carpet knife
Doesn't tend to fold and get wrinkly
What We Don't Like
May need to change blades if using other cutters
Overall, this is unique from other bass boat carpet kits. It doesn't only provide quality carpet, but also further assistance through a manual and knife, paving the way to convenient installation.
2. House, Home, and More Indoor, Outdoor Carpet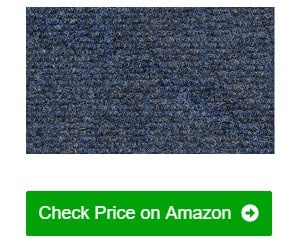 It's hard to not appreciate the attractive color of this carpet. But apart from it, there are numerous things that I like about it. I've had it on my boat for almost a year now, and it's always exposed to the sun and rain. So far, it doesn't have a worn-out look. Due to its rubber backing grips, water doesn't stagnate but instead drains through it. These parts also make this carpet lay flat on any surface.
The carpet is composed of polyester fibers that resist intense UV rays, weathering, stains, and fading. With these abilities, it simply shows durability. Therefore, I know it will be for long-term use. To extend its life, I always clean it after sailing. I'm happy that cleaning can be done with so much ease. You can air dry, sweep, vacuum, or hose it off.
The thickness is a quarter-inch but it's just fine because of its ribbed structure, which promotes traction. Thus, it's comfy whenever I step on it. Slippage is minimized since it has a nice texture. Also, this is not just a marine carpet. You can use it indoors for your basement or sunroom. The quality of this item and the comfort that it offers are hard to beat!
The edges of this carpet are unbound but don't fray at all. I used a pair of scissors to cut excess parts and a utility knife will do too. Installation is easy to handle. In no time, this vibrant blue carpet looked stunning in my bass boat. I could never thank it enough for how it improves my boat's appearance.
What We Like
Durable as it doesn't wear out despite being exposed to the sun and rain
With rubber back grips to let the water drain and the carpet stays in its place
Made of polyester fibers that can resist various outdoor elements
Can be cleaned and maintained with ease
Promotes traction for comfort and prevention of slippage
The vibrant blue color improves the boat's appearance
This carpet doesn't only have wonderful features but also impressive durability that is worth your money's value. You can also find it inside my house as it's not solely for marine use based on the comfort that it offers.
3. RestorePontoon / BoatCarpetCentral Marine Outdoor Bass
I thought it was hard to find the marine carpet for bass boats. It was my third attempt when I bought this one. I'm happy that I found this carpet as its service is not temporary. Due to its good quality and thickness, it stays for a decent period. It bears features that are important for marine use.
Since it has a rubber back, you can rely on its resistance against UV rays, tangles, and fading. I'm glad to know that it's non-flammable too! As it's a big disaster if there's a big fire onboard. With these characteristics, it will surely last long. Because of its durability, a three-year warranty is just reasonable.
I also like the color selections, and blue is the right fit for my bass boat. The shade is vivid and similar to the ocean's color. There are different colors so you can choose the one that you prefer. My boat seems to receive an upgrade as this carpet can establish a brand new look.
With its outstanding quality, there's no need to doubt when choosing this as a
bass boat carpet replacement
. Being designed for glue-down applications, I was able to place it on my boat's floor without much trouble. Note that you have to use a pair of scissors or shears when cutting it. Using a razor cutter is a big no as fraying can occur.
What We Like
Thick, non-flammable, and with good quality
Has resistance against UV rays, tangles, and fading
Durable with a three-year warranty
Creates a brand new look
Designed for glue-down application for trouble-free installation
What We Don't Like
Fraying can occur when using a razor cutter
There are many things that I like about this carpet, such as thickness, quality, color, and easy installation. It's worth every penny, and I think it's a wise buy. I even use it for my other vessels.
4. RestorePontoon / BoatCarpetCentral Boat Carpet
There are many reasons why I can say that this is the best marine carpet for the bass boat. After I installed it on the floor, I felt satisfied as it looked wonderful. I think it made my bass boat look cleaner. It's foamed on and with light synthetic rubber, it only needs glue for installation.
It has good quality but doesn't cost a lot of money. Hence, it's not a loss for the manufacturer to offer a three-year warranty. Apart from improving the aesthetic of my bass boat, I like that it's durable and can resist mold, mildew, UV rays, tangles, and fading. Furthermore, it's non-flammable so there's an assurance for boaters like me.
Since installation is a breeze, you don't have to think too much before getting it as a DIY recarpeting bass boat. With various colors, you can pick the most suitable one for your boat. The result is incredible! It may even look better than the original carpet of your boat.
I only wish that it comes with a cutting tool. I had to make a few attempts before realizing that scissors are the right tool to use. When I had the blades to do the cutting job, I was worried with all the fraying that took place. It's pliable, and I also find it easy to clean. There's no doubt it would last long since I can maintain it without any problem.
What We Like
Makes the boat look good and cleaner
Easy installation by gluing
With high quality, three-year warranty, and resistance to harmful elements
Non-flammable so it won't catch fire
Can look like the original carpet of your boat
Pliable, so cleaning and maintenance are easy
What We Don't Like
Should have been better if it includes a cutting tool
It may take time but once you finish installing this carpet, you'll tell yourself that it's worth the effort. Adding this to your boat is one affordable way of improving the aesthetics of your boat.
5. RestorePontoon / BoatCarpetCentral Boat Carpet Lt Gray
I don't need to go over expensive bass tracker carpet kits as it's not necessary to spend a lot of money just to get a high quality carpet. This one suits my budget and is perfect for my project of replacing the previous carpet that easily gets damaged. I'm not an expert with carpets but I was able to pull the installation off. The process is so easy and it gave me excellent results.
Although it comes at a low price, the quality soars up high. With its resistance against moisture, mildew, UV rays, and speedy fading, I know it will serve me for a long time. It's not to be doubted as the three-year warranty is the absolute proof. Moreover, you can use it indoors or in other vessels.
I'm amazed at how pliable this carpet is because it makes cleaning and installation straightforward. Extending its life span needs maintenance and I don't have a hard time with it. I cut it using scissors before I placed it on the floor of my bass boat. To my relief, no fraying and tangling occured. It's also safe in a vessel because it's non-flammable.
Even though the rubber back can impede slippage and bunching, it's still best to glue it down. I thought that this is like a Syntec bass boat carpet but it's a lighter gray and a bit bluish. I'm not complaining as the description says light gray. Anyway, I like this color and it suits my bass boat.
What We Like
At a low price but with high quality
Has resistance against moisture, mildew, UV rays, and speedy fading
Provides three-year warranty
Straightforward cleaning and installation that can be done by beginners
Non-flammable with rubber back to impeded slippage and bunching
Every side of this carpet is great for marine use! It has the much-needed resistance to fight off damaging outdoor elements. I love that I don't have to spend a lot to avail a good quality carpet.
6. Sparta Carpets Cutpile Boat Carpet Charcoal
I applaud the quality and comfort that this carpet offers. My bass boat can sometimes get messy. So, a durable carpet like this is what I need to not easily give in to damage. The effects of marine use can't be taken lightly, especially when there are harmful elements like UV rays, moisture, and saltwater. Do not fret because this carpet is capable of countering them as a specially designed outdoor product.
It's also fire retardant, so it supports onboard safety. Comfort is also one of the strengths of this carpet. I can step on it barefoot without feeling any discomfort. You can't expect me and my crew to wear footwear all the time on board. Thus, this feature is incredibly important.
Moving on with the installation, it needs to be glued down to stay in place. A strong wind comes from time to time and you shouldn't allow it to be blown away. To respond to this concern, you have to be particular with the adhesive that you use. It should be solvent-based. I used a notched trowel to spread it at the back of the carpet as well. After laying it out on the floor, I pressed a roller all over it to ensure adherence.
I think installation was accomplished with ease as this carpet is pliable. Moreover, I can say that polypropylene is a great material for making carpets. The comfort and convenience that I've experienced support this thought well.
What We Like
Durable as it can withstand UV rays, moisture, saltwater, and other harsh elements
Fire retardant and designed for outdoor use
Promises comfort so it's fine to walk barefoot on it
Pliable and made as glued-down for easy bass boat carpet installation
What We Don't Like
Should get a particular adhesive for installation
I love how comfy this carpet is as I prefer to put nothing on my feet when fishing with my bass boat. It also makes fishing moments more enjoyable. What's best is that this carpet holds up well despite the activities I have on the waters.
7. RestorePontoon / BoatCarpetCentral Boat Carpet Midnight
I saw this first on my brother's pontoon and he gave me the assurance that it's a great item. How thankful I am for the information he shared as this is indeed a terrific carpet! You may also have it on any part of the vessel whether indoors and outdoors.
This is an affordable carpet but it's dependable for seasonal use. Since it's trouble-free to mold and cut, any rookie will be able to install it on a boat like the way I did. I can prove it as my experience with this carpet is satisfactory. It's not an exaggeration to say that the quality is similar to expensive marine carpets.
With the three-year warranty offered, I'm not surprised that it can endure harsh elements. I like how resistant it is against UV rays, fading, tangles, quick fading, mold, and mildew. Thus, I'm pretty sure that it can withstand the test of time and even frequent fishing adventures!
I like that it can also contribute to safety measures because it's non-flammable. The thought of a big fire in the middle of the ocean is horrifying. I can see that it's pliable and this is the reason why cleaning and installation are both easy. So, I don't have a hard time maintaining its cleanliness. I do it regularly to prolong its life span.
Its rubber back needs to have adhesive to stay in place. For strengthened installation, I also added Velcro wraps. It's fine with me to buy extra things just to ensure the proper installation of the bass boat carpet. You'll never know when strong winds hit.
What We Like
Affordable but dependable
Trouble-free to mold and cut
With quality similar to its expensive counterparts
Has three-year warranty
Durable, non-flammable, and can withstand harsh elements
Pliable for easy cleaning and installation
This carpet lets me realize that a quality product doesn't always have to be expensive. The things that I have to do with it are easy and convenient. It doesn't give me a hard time but instead, an orderly atmosphere in my bass boat.
8. Marine Carpeting 1996 Bass Boat Pre-cut Carpet
I don't need to look so hard among the many marine carpets in the market. There's no need to doubt buying this one as it's intentionally made for bass boats. It's a 20 oz bass boat carpet that is pre-cut to properly match the specifications of my boat. A carpet knife, spare blades, and instruction manual are also included if adjustments are necessary. Thus, you have everything you need in this kit.
It's composed of marine-grade fiber that went through the dyeing process. Turning it into a dyed form encapsulated resistance against UV rays, stain, mold, and mildew. Hence, it's undeniably for outdoor use.
There are several hues that you can choose from. As for me, I like the teal color. You'll surely find one that you think will look good on your bass boat. There's a lot of advantages when having this carpet. The cuts are 2 to 3 inches bigger than the final cut. This opens the chances for customization, and I didn't have problems fitting them on the entire floor length.
Just like with carpets with rubber backs, installation is done by gluing it down. I was able to finish it with ease since it's simple and I can read everything I need to know in the manual. This booklet also shows the grain direction of the carpet, which is good because I didn't get lost when putting the pieces together. My final output doesn't look weird as the grains are in harmony. But it needs patience to cover the whole floor.
What We Like
Pre-cut bass boat carpet to match boat's specifications
Includes carpet knife, spare blades, and instruction manual
Has resistance against UV rays, stain, mold, and mildew
Cuts are 2 to 3 inches bigger than the final cut
Can be customized to fit the entire floor
Manual shows the grain's direction
What We Don't Like
Needs to be patient when covering the whole floor with this carpet
When you need a carpet for your boat, ones with pre-cuts are the best choice. It allows customization based on the needed coverage as well.
9. RestorePontoon / BoatCarpetCentral Boat Carpet Red
This is the carpet that I need for my bass boat. The color is attractive and you should expect to see the shade of wine or burgundy. Of course, it can offer more than just aesthetic appeal. The quality is also great! I say so because of its resistance against mold, mildew, and UV rays. Since it proves to be hardy, I know it will stay with me for a long time. Even the manufacturer is confident to provide a 3-year warranty.
The rubber back of this carpet is also advantageous on the part of the user. I only need glue to make it stable on the floor. There's no need to buy any snap-in parts as a reliable adhesive will. You may also request for a custom size, which is similar to the service of Ranger bass boat carpet.
The carpet also becomes pliable due to the rubber back. Moreover, this feature makes it tangle and fading resistant. It's easy to clean and install too. Thus, it relieves me from exerting a lot of effort when I clean it after fishing. I always worry about safety on board, so I feel secure knowing that it doesn't catch fire easily.
It can't be denied that this works well on bass boats. What's to rejoice about is the possibility to use it indoors. You may find people who put it in their patios. In addition, you're free to place it in any section of different types of boat. It will be fine on the deck, pontoon, or a Bayliner.
What We Like
In attractive color
With great quality due to resistance against mold, mildew, and UV rays
Proves to be hardy with a three-year warranty
Can request for custom size
Pliable so no quick fading or tangles
Easy to clean and install
What We Don't Like
Not exactly red, more of wine or burgundy
I like the color and quality of this carpet. Maintaining its clean state is not laborious as I do not have to do it regularly. It's also great that requests for custom sizes are available.
Factors To Consider When Choosing Bass Boat Carpet
Types of Bass Boat Carpet
This type of marine carpet is exceptionally durable. It's what you need when there's a lot of foot traffic, which usually happens in a bass boat. Expect a tightly woven surface from this carpet as the fibers come together in a loop form. The only thing you have to watch out for is sharp objects as they can be easily pierced.
It's more common than the previous type. Due to looser and longer fibers, it's a source of comfort. If you look at it closely, you'll find that the looped fibers are clipped into halves. This pattern caused the ends to connect with the backing. Hence, it makes you feel comfortable when walking on it.
Both of these types can be glued down or snapped in during installation. Having a glue-down carpet requires a special adhesive for the carpet. It's best for those who have a small bass boat. The installation can sometimes be complicated but it's manageable. On the other hand, snap-ins are easier to install. But they are more suitable for large boats. Snap tools and screws are necessary to secure these on the floor.
Snap-ins are not as permanent as glue-downs. This fact makes the former easier to install.
Benefits
Bass fishing usually takes up the whole day. You would stand, shuffle, step, or lean on the carpet during this period. Kneeling is sometimes required when lipping a large bass out of the water. Due to various positions when fishing, a softer and comfortable carpet is desirable
Carpets can reduce sound. When going fishing, the last thing you want to do is create noise that can spook fish. Some species like bass have good hearing. Instead of attracting them, you may shoo them away. So, it's great to have a carpet to lessen noise.
It's the most critical reason why carpets are added on bass boats. This vessel has a flat surface and just a small portion of the guard railing. The structure increases the chances of falling overboard. It's an item for your safety while fishing. You can be careful but accidents do happen.
Drawbacks
Dropping slimy fish with some blood is a common scenario when going fishing on your bass boat. The carpet becomes dirty and you may find it difficult to clean. This fishing composite will make the carpet crusty, stiff, and downright gross over time. It's best to clean it regularly with shampoo.
Small particles like sand can get stuck on the carpet. When they get dry, they may be blown into someone's face or worse, eyes. It can happen when the boat is speeding across the water. Heat can also be an issue. However, it's best to choose dark-colored carpets that are in black, charcoal, or blue. These hues absorb heat and stepping on the carpet won't be as comfortable as you've imagined.
What Is The Best Carpet For A Bass Boat
Reality speaks that any boat can be a bass boat. Generally, bass boats have flatbed with a large outboard motor. Some of them have a low-lip railing and trolling motor. These features compel anglers to add carpet. Comfort, steady footing, and cancellation of noise are the benefits that a carpet can offer.
The best carpet for a bass boat should also be of high quality and sturdy against UV rays, mold, mildew, and other harmful factors. It should also be removed and installed easily.
How Many Ounces Of Carpet Do I Need For The Bass Boat
You may have this question in your mind 'What oz carpet for a bass boat?' 20 oz bass boat carpets are awesome as it's plush and nice. The only thing that you have to mind if you use it are the lids. This is an upgrade from the 16 oz that was used in the past.
How Do You Replace Carpet On A Bass Boat
Before you put a new carpet on your bass boat or your boat trailer bunks, you have to remove the old one with care. Do it slowly so you won't damage the flooring. Use a putty knife to unfasten the edges. You also have to remove the adhesive that was previously used together with the old carpet. To make the flooring flawless before replacement, rely on lacquer thinner, sandpaper, and floor cleaners.
Conclusion
Putting a carpet on a bass boat is not just out of whim. It's for comfort and to prevent slippage. Moreover, it minimizes the noise that can alarm fish. That's why you have to be keen on getting the best bass boat carpet. It's either an outdoor or marine carpet that can counter the effects of outdoor elements. In this way, it assures you that it will last for a long period.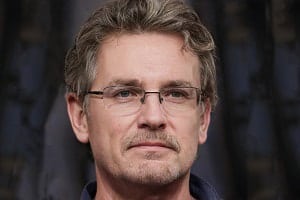 "I am James Harvey – founder of Boating Basics Online. It is established with the drive to help out first-time boaters, which are those desiring to explore their way through the water. So if you are new to boating, start from here with me. "