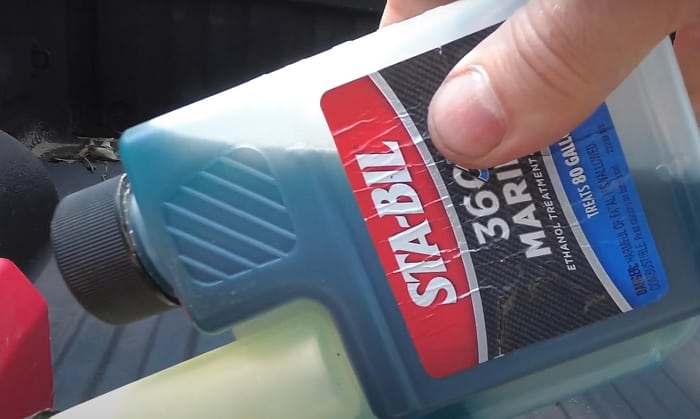 The best ethanol fuel treatment for boat boosts engine performance. You can depend on it to counter phase separation, which won't only cause trouble but danger as well. This happens because of the amount of ethanol in gas.
If you use a quality ethanol treatment for boats, you can prevent your engine from misfiring, idle low fuel longevity, or sluggish movement. Take note of the following factors so you can get one.
Works for the betterment of the engine: The main tasks of an ethanol fuel treatment for a boat are cleaning the fuel system and boosting engine performance. It also breaks down build-ups of sludge. These are the tasks of ethanol fuel treatment in overcoming phase separation.
Compatibility with a boat motor: As a boater, you have to be knowledgeable about things that you use for your boat. Just like knowing the appropriate fuel treatment for your boat motor, take some time to ask the manufacturer or customer service about it. Regarding this concern, the age of the motor should also be considered.
Duration of protection: It's best to select the fuel additive that works for a longer period, especially if it's used for engine storage. You should find a fuel treatment that can deliver protection for up to two years.
Formula: You have to choose a formula that doesn't have toxic ingredients. For example, alcohol and solvent are unnecessary. You can also refer to the label to see if the additive can damage oxygen sensors. Also, watch out for contents that are harmful when ingested or inhaled.
It won't be hard to get the right ethanol fuel treatment for your boat as long as you take note of these factors. Anyway, you don't need to look elsewhere as ideal candidates are presented in the following part. Keep reading.
---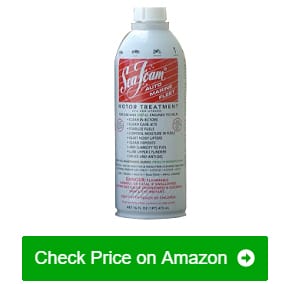 Sea Foam SF-16
An ultimate fuel system cleaner
Get rid of gunk deposits
Preventing boat engine damage
---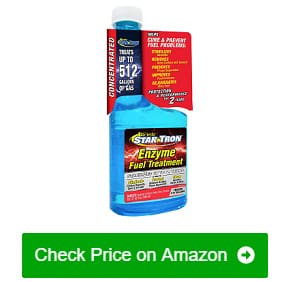 STAR BRITE Treatment
Boost power of small engines
Can preserve fuel for a long period
Cost-effective treatment
---
STA-BIL 22240 360
Effective and safe to use
Hinders water-related issues
Works on small engines
---
Top 10 Ethanol Fuel Treatment for Boat Reviews
1. Sea Foam SF-16 Motor Treatment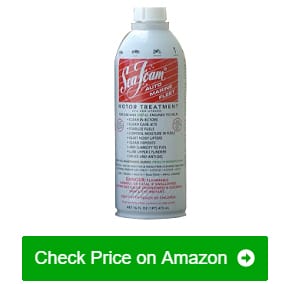 There are numerous gasoline additives for ethanol and I have to choose wisely if I don't want to waste money on mechanic fees and sensors. Aside from my boat, this is effective on my car and those with small engines, such as garden tractors, push mowers, pressure washers, and generators. I don't use the latter pieces of equipment often but this treatment keeps them in shape. This is the ultimate fuel system cleaner for me!
As I've observed, I can tell the difference between with or without Sea Foam ethanol fuel additive. My 10-year old 40 HP outboard motor began to work well after adding this substance in a matter of fifteen minutes. After pouring 7 gallons of fresh gas, the repair is not the only thing that happened but my boat also started to run smoothly. It's surely something to celebrate.
However, it's best to work with this ethanol treatment for gas in an open space as it can unleash nasty fumes and sparks. I'm not dismayed since it has a nice cleaning ability. Once you witness how it works, you'll be impressed by the way it cleans carburetor passageways and injectors. You can also depend on it to clean chamber deposits and intake valves.
I often recommend this product to people close to me. My brother said that it's a good assistant in pulling the carb out for a complete cleaning of his motorcycle's engine. It doesn't only clean gunk but it also works as a
marine fuel stabilizer
. Thus, it extends the life of my boat engine, which is not easily damaged by ethanol.
What We Like
Applicable for boats, motorcycles, cars, and small engines
An ultimate fuel system cleaner
Can make the old boat run smoothly
Can get rid of gunk deposits
A fuel stabilizer for preventing boat engine damage
What We Don't Like
Unleashes nasty fumes and sparks
I believe that cleaning the engine encourages it to work properly. This treatment has shown it to me. Apart from cleanliness, it also proves to stabilize fuel without letting ethanol damage the engine.
2. STAR BRITE Star Tron Fuel Treatment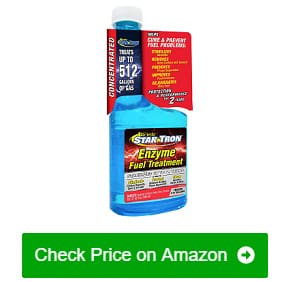 Upon my discovery that inboard tank boats are exposed to open air for the sake of safety, I came across this fuel treatment concentrate as the solution to my problems. With these fuel additives for ethanol, it's fine to mix this treatment with three-year-old gas in my boat. My craft starts and runs well even with gas by wakeboarding.
After seeing the wonderful results on my boat, I tried it on small engines. To my surprise, there seems to have been a boost in power; they can start much easier than before. Without hesitation, I utilized it on my car too. I'm delighted with the throttle response and gas mileage improvement, which means saving some gas and money.
The years of continuous use of this formula led me to find that it can be a fuel stabilizer for boat winter storage. You may also do it with objects that have a small engine. It's guaranteed that ethanol fuel issues won't persist. Also, it can clean injectors and carbs.
I was able to meet some users of this fuel treatment, and we all agree that it can preserve fuel for a long period. If you have this, it's no longer necessary to apply heat or Isoheat to take out water from the fuel. An ounce of this treatment is recommended for twenty gallons of fuel. It might be strong for old boats or equipment so you'll need to cut half of the recommended amount.
What We Like
Can be mixed with gas that is more than a year old
Boost power of small engines
Cost-effective as it delivers gas mileage improvement
An efficient fuel stabilizer for winterization
Can preserve fuel for a long period
Doesn't necessitate heat when taking out water from the fuel
What We Don't Like
The recommended mixture can be too strong for old boats or equipment
There are many reasons why I'm loyal to this product. It boosts the power of small engines and preserves fuel in the long run. A cost-effective treatment like this is attractive, especially since it can fight issues that are caused by ethanol.
3. STA-BIL 22240 360 Marine Ethanol Treatment
After reading the Stabil ethanol treatment review, I was determined to get this product. It's not a wrong move as my boat runs more smoothly after using it. I was thrilled to find that it can deliver a lot of benefits. Hindering water-related issues in injectors is one of them.
I add an ounce of this ethanol treatment to every 10 gallons of fuel in my 125-gallon fuel tank. This habit ensures that my boat engine maintains its top performance. Based on my friend's testimony, it's also an additive for small engines to avoid problems with ethanol. Thus, you can have it on the leaf blower, lawnmower, and equipment with small engines.
I must clarify that this is way different from its red variant as it's more effective and safer to use. Apart from hindering phase separation, it also prevents corrosion. In addition, it works as an engine decarb.
Since I started using this marine ethanol, there's no need to worry about fuel system storage even with the presence of humidity and severe weather changes. While the engine is not in use, cleaning of the fuel system takes place. This process takes care of the vst tank, injectors, and fuel rails.
With these effects, it's guaranteed that no engine damage will occur. It's also perfect for engines that are rarely put to use. All in all, it's worth buying this effective ethanol treatment. The only drawback is that you need to be careful with measuring the amount. Only a squeeze container can grant the convenience of measurement.
What We Like
Hinders water-related issues
Works on small engines
Effective and safe to use
Hinders phase separation and corrosion
Puts up with humidity and severe weather changes
For engine storage and the ones that are rarely put to use
Weather and temperature can interfere with fuel treatment, but this 360 fuel treatment can handle them well. Even in storage, I don't fear that
my boat engine
may need repair later on. I have faith in this formula every time I add fuel to my boat and small engines.
4. STAR BRITE Star Tron Enzyme Fuel Treatment Concentrate
I'm grateful to the store clerk that recommended this fuel treatment to me. This has an enzyme that can break deposits caused by ethanol. It gives me so much relief since it makes pull-starting my outboard motor so easy. Due to its ability to break down clogs and stabilize fuel, it resolves my problem.
After it demonstrated awesome effects on my boat, I didn't think twice to use it on bicycles, lawnmowers, and generators. Even though the gas stays in their tanks for a year or more, ethanol usually found in gas doesn't have a chance of creating damages. I added it to 4-month old gas, and it works as expected.
It does take out water from gas when an engine is not used for a long time. Consequently, it's a great stabilizer of full tanks for winter storage. I also use this on the snowblower stored for the whole summer. Furthermore, it protects engines exposed to saltwater. No ethanol separation has ever occurred since I stick with it.
There are lots of wonderful stories about this product. I was able to avoid issues with foul crystallization that may form on the filter or carbs. Overtreating can't happen so adverse effects are not bound to happen. The only thing that dismayed me is that it doesn't do much about the car's lineage. Anyway, I'll always use it as a fuel treatment for my boat.
What We Like
Can break down deposits
Easy startup of the outboard motor even if it's clogged or stuck
Can be mixed with gas that stays in the tank for a year or more
Great for long-term storage
Protects engine exposed to saltwater
Doesn't allow ethanol separation
What We Don't Like
Doesn't do much about a car's lineage
Stabilizing fuel in your outboard motor is not a problem if you use this as treatment. Other problems like deposits are also prevented.
5. STA-BIL 22275 360 Protection Ethanol Treatment
This is a dependable ethanol remover so it ensures that you don't need to spend on engine repairs. I'd suggest that it's a must for those who have tanks filled with gasoline that won't be used after 30 days. You ought to know that ethanol destroys gasoline for 30 days, but with this fuel stabilizer, it can be stopped.
This formula is a step up from the one that I used for small engines. I've been using it for four years to change fuel at every end of the season. Thanks to it, in the winter, water separation caused by ethanol-blended gas is no longer a problem. Aside from keeping the gas clean, my boat engine also has zero carb issues. Hence, long-term storage won't end up with troubles and conflicts.
You'll know that it stabilizes fuel excellently because the tank and lines don't get rusty. The injectors or the entire fuel system don't corrode as well. It also works for small engines and even eliminates the sound coming from the cylinder ones. So, you don't have to hesitate to have it on a snowblower, mowing trucks, and other lawn equipment.
Those who deal with a carbureted engine find it consistent in keeping the gas clean. Ethanol can damage rubber, but this stabilizer can protect it. I can't say anything bad about this product. I just wish that they're straightforward in the mixture. The label should have indicated that the whole bottle, which is 4 oz, is good for 5 gallons of fuel.
What We Like
Ideal for gasoline users
Gets rid of issues created by ethanol
Good for long-term storage as it keeps the gas clean
Stops the development of rust and corrosion
Eliminates noise from small, cylindrical engines
Protects rubber parts from ethanol damage
What We Don't Like
Better to have straightforward instruction on the label
I don't need to waste money on engine repairs as this fuel stabilizer got me covered. It gives me peace of mind as it keeps the gas clean and my engine protected even when in storage.
6. K-100 K100-G MG Fuel Treatment & Additive
I've used many gas fuel additives, but this one simply rocks! When phase separation occurs, water usually goes to the bottom of the gas tank. However, this fuel treatment doesn't allow it because it breaks the large water particles in the first place. Not all additives can do this trick so I can't help but be fascinated.
Believe it or not, it activates my 115 HP Mercury outboard boat engine that was idle for two years. I thought I would have to be burdened with more than 20 gallons of old gas and pay for a costly dealership. But I don't need these procedures that require hundreds of dollars because of this K-100's wonderful abilities. A single bottle can completely get rid of the old gas. From then on, I use it for my outboard motor.
It has unbelievable abilities in cleaning your engine and taking out water from the gas. Problems brought by ethanol have no chance to emerge and smooth engine operations are guaranteed. Corrosion doesn't happen on my carb since I always use this.
I can attest that it's also an efficient fuel treatment for small engines with 10% alcohol. I use it to successfully drain the old gas from idle snow throwers and lawnmowers so the small engine can work well. All these benefits can be obtained if you follow the recommended mixture. So, check the instructions and be spared from disappointment.
What We Like
Breaks large water particles in the gas tank
Can activate an outboard motor that is idle for years
Can clean and help you drain old gas
Hinders ethanol problems from emerging for smooth engine operation
Prevents corrosion
An efficient fuel treatment for small engines
What We Don't Like
Results can only be obtained by following recommended mixture
This fuel treatment is worth every penny, and it makes me avoid other costly procedures when preparing an engine that is stored for a long time.
7. Lucas Oil 10576 Safeguard Ethanol Fuel Conditioner Green
This saves me from the ill effects of ethanol phase separation. It prevents the water released by ethanol to mix with the gas. That's why my family has been using it for a decade. It helps me a lot in maintaining the good condition of my boat's engine. Also, it proves to be effective with household items. Thus, it's one of my best purchases.
I've never experienced my engine running roughly because this solution promises smooth operation.I'm not bothered by the presence of ethanol since various parts in the engine are protected like rubber gaskets, fuel lines, fuel pumps, and carburetors. Furthermore, it's an awesome injector cleaner.
My wife is fond of this product as there are no hindrances when the mowing season comes. We can empty the mower's tank with ease thanks to this fuel conditioner. Even after a long time of storage, there's no sputtering from my lawnmower. Just don't expect it to help with a cold because it can wear the engine a bit.
With the connection of taking care of engine parts, it saves the fuel system from being damaged by ethanol since all kinds of gas have this substance. No fuel system failures and leaks have stressed me. Aside from boat and lawnmower, you can utilize it on lawn tractors, edgers, and even old-model cars. It can treat any gas, even the ones that have been stagnant for a year or more.
What We Like
Counter the ill effects of ethanol phase separation
Helps maintain the good condition of boat's engine
Protects and clean engine parts
Give power to the engine that has been in storage for a long time
Makes fuel systems efficient
Can treat gas that has been stagnant for a year or more
What We Don't Like
Doesn't help with cold start
I owe this fuel conditioner a lot as it saved me from trouble and spending more money. Salute to the satisfactory results it brings! I think it's the best among the rest.
8. B3C Fuel Solutions 2-008-9 Ethanol Fuel Treatment
When my new neighbor who is a mechanic saw me working on the pinging sound of my lawnmower, he recommended this fuel treatment that puts an end to engine problems. After witnessing its wonders, I have all the reason to let it take care of my boat's engine. I'm not bothered with rough idle, sputtering, and inability to start any longer.
Buying this fuel treatment saves me a lot of money than going through carb rebuilds. Cold starts are a piece of cake with it since I sometimes check the engine in winterization. I also settle for the cold start when turning on my lawn mower after winter storage.
This is a remarkable function that not all fuel treatments can offer. It's helpful in times of emergency like when I need to turn on the generator during winter. I also have to commend it as a fuel system cleaner. It eliminates carbs caused by ethanol. Sadly, it can't fix the issues that arise from rusting and dirt. But it's meant to prevent these unwanted things.
Based on my experience, this is the appropriate fuel additive for 2 stroke outboards. The outboard gets better with continuous use. I can't thank it enough for boating idles smoothly and running at full-throttle without issues. You should try it if your boat engine is not running at its top performance. With all its terrific effects, it's no wonder that mechanic and repair shops use it.
What We Like
Puts an end to engine problems
Tolerates cold start
A great fuel system cleaner that can eliminate carb build-up
For 2 stroke outboards which gets better with continuous use
Makes boats idle smoothly and run at full-throttle without issues
What We Don't Like
Can't fix the issues that arise from rusting and dirt
I love how I can go for a cold start. The boat can go smoothly and run at its highest speed because of this. So, I'm a happy sailor!
9. CRC 06141 STOR & GO Ethanol Fuel Treatment
It's not only suitable for two-stroke outboards as it's used by many as a fuel additive for 4 stroke outboard. Regardless of the type of outboard motor, it will prove to you that it's the fuel treatment and stabilizer that can fight the harm caused by ethanol. Boat owners like me are concerned about ethanol since it's in every type of gas.
The best way to overcome ethanol is by using this product. There are various adverse effects, but it can be managed by this treatment that's compatible with E-10 fuel recommended for marine use. It can eliminate the phase separation that every boat owner dreads.
I'm amazed at how it leaves the fuel system clean while it fights off corrosion. These functions ensure the engine can perform excellent performance. So, I'm not bothered when starting up my boat as this plays a big role in engine maintenance. It's just right to say that it stabilizes fuel to restore power. In connection with this, you can utilize it on engines that have been in storage for a long time.
Apart from being the admirable ethanol gas treatment for boats, you can use it on other water vessels and jet skis. It's also fine to use it with other things like snowmobiles, ATVs, and power sports equipment. Moreover, it's effective on lawnmowers, weed eaters, snowblowers, and other outdoor items. My friends from Europe would like to try this but unfortunately, it's not available in some countries.
What We Like
Fights the harmful effects of ethanol
Can eliminate phase separation
Cleans the fuel system and fights off corrosion
Stabilizes fuel to restore engine power for excellent performance
Can be used on an engine that's from a long-time storage
Effective in watercraft and various kinds of equipment
What We Don't Like
Not available in some countries
All I can say is that this fuel treatment does the job. It stabilizes the fuel and allows the engine to work at its best. You'll like it as much as I do because it can help you with different kinds of engines.
10. Lucas LUC10013 Fuel Treatment
I call this fuel additive for ethanol gasoline a 'mechanic in a bottle'. The improvements in boats, vehicles, and equipment are undeniable. Even though it promotes itself as an injector cleaner and fuel conditioner, you'll be in awe to uncover other results.
It's made for both gasoline and diesel engines. Even so, it's a blend of great additives, slick oil, and detergent action to assist the engine for maximum efficiency. Although it increases power, there's less fuel consumption. The most noteworthy effect of this formula is the acceleration of my boat. I think it increases the horsepower, and the engine runs smoothly at the same time.
The promotion of speed also applies to cars. Although my boat and car age each day, they continue to run like brand new. What the manufacturer says about this product is true. The engine becomes noticeably cleaner than before and this fuel treatment even lubricates its upper end. Since it can clean properly, no unwanted noise can be heard from my car anymore. Start-up issues also disappear.
The highlight of using this formula is dissolving heavy carbon deposits around the cylindrical head and intake valve. Accordingly, I've never met any issues caused by ethanol. Most people have mentioned the same thing in Lucas ethanol fuel treatment reviews. You can let it reach inaccessible areas for cleaning.
Despite its efficiency, I don't have trouble using it except when I accidentally rub my hand with the formula on the car's carpet. Due to its oil or lubricant content, it's difficult to clean up.
What We Like
With great additives to maximize engine efficiency
Less fuel consumption
Builds up acceleration as the engine runs smoothly
Even your boat and car age, they run like brand new
Has excellent cleaning ability
Wards off issues caused by ethanol
What We Don't Like
Difficult to clean up when adheres on some surfaces
Acceleration is enticing if you crave speed. This ethanol additive to gasoline and diesel engines does it for you as it maintains the good condition of your engine. Furthermore, its cleaning ability is stupendous!
Factors To Consider When Choosing Ethanol Fuel Treatments For Boat
Types of ethanol fuel treatment based on additives
Here are some additives that can help a lot in treating ethanol gas:
Conventional fuel storage – With this gas additive for ethanol, the storage period of the fuel is extended. It can't happen with regular gasoline, but this additive doesn't ensure separation.
Ethanol fuel storage – This additive has the same ability as conventional fuel storage. Nonetheless, it can only deliver limited improvement of E-10 phase stability.
For restoration – The name is misleading since this doesn't work for restoration. Instead, it hinders separation and restores separated fuel.
These are different marine fuel additives that quality fuel treatments combine with. You can tell the excellent marine fuel stabilizer vs regular type apart based on their effects.
Benefits of using ethanol fuel treatment
Can prolong fuel's lifespan – You don't need to drain the fuel from your tank when placed in long-term storage. The fuel stabilizer will preserve its quality as time goes by.
Cutting down emissions – It's known that smoke, soot, and other emissions are hazardous to humans and the environment. These things can be minimized through a clean fuel system made possible by a fuel stabilizer.
Lubricates engine parts – Contamination and friction can deteriorate many engine parts such as carburetors and engine lines. A stabilizer can make the engine function smoothly as it can be a form of lubrication.
Blocks water and moisture – When the engine remains inactive for a long time, water and moisture accumulation is unavoidable. A fuel stabilizer can stop this from happening while minimizing the formation of rust and corrosion.
Enhancing fuel efficiency – Fuel treatment wipes off emission and enhances combustion for fuel-efficiency. Every drop of fuel is put into good use, and the boat's mileage increases as well. When the engine runs smoothly, the fuel consumption is minimized without a decrease in power.
Is Ethanol Gas Bad For Boats
Marine engines are designed to handle ethanol gas or E-10 bears 10% ethanol. It's recognized as a superior marine fuel because it can maintain low levels of water and keep the system dry. However, it's necessary to treat it if not used within a few weeks. It's a must if an engine is set aside for winterization or long-term storage.
When the fuel is under storage, it tends to oxidize or become sour. The next thing that happens is absorbing water from condensation. The water capacity held by ethanol turns low when there's a low temperature.
Thus, phase separation mostly occurs in winter, and it's known to damage engines and motors, including the ones in boats and crafts. To reverse this, you have to fill your tank with fuel and add a recommended dose of stabilizer.
Does Fuel Stabilizer Prevent Ethanol Damage
Yes, it does. As mentioned, damages on the boat engine are from phase separation. But fuel stabilizers can counter them by prolonging their life span and functions. It also protects against sludge, corrosion, rust, and other contaminants that impede engine performance.
How Much Additive Do I Need To Remove Ethanol From Gas
An excess amount of additives doesn't pose harm in most cases. But it's best to follow the recommendation of the manufacturer on the label or product description. If the suggestion is to use an ounce, there's no difference in the effects if you add more. Always check the recommendation before using; extra additives may bring adverse effects in some cases.
What Is The Most Trusted Ethanol Fuel Treatment For Small Engines
The most trusted ethanol fuel treatments for small engines are STA-BIL, Sea Foam, STAR BRITE, Lucas, B3C, and CRC.
Summary
Your boat engine is the reason why you have a wonderful sailing experience. So, buying the best ethanol fuel treatment for boat is necessary. Spending on this solution saves you from spending more money for repairs of broken engines. It's a must when your boat engine is placed in winterization or long-term storage. The fuel treatment keeps the fuel fresh while it prohibits damages that are caused by ethanol.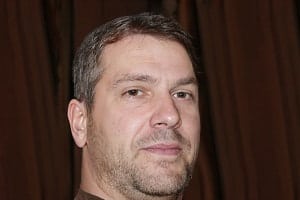 "My intention from the first day establishing Boating Basics Online is to provide as much help as possible for boaters who want to experience a first safe and convenient trip. So feel free to join us and share your beautiful journeys to the sea!"