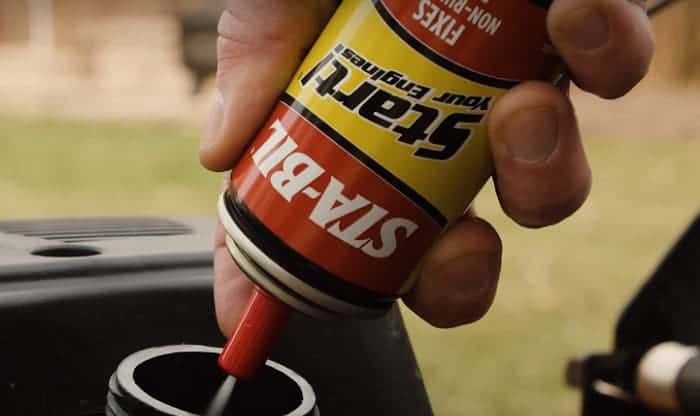 It's no accident that fuel additives are synonymous with fuel treatments. Once paired with the right type of fuel and engine, these concoctions become no less than power drinks and sprays for most various vehicles and motor-run equipment. I can say the same for the best fuel additive for 2-stroke outboards.
From a smoother-running, quieter engine to fuel efficiency, I gain so many benefits from every product I use for these types of outboards. No carbon buildups and other ethanol issues to worry about. I enjoy immense cost-savings, too.
Am I too bold to readily assume that you want the same benefits for your 2-stroke outboard? Either way, taking the time to read this best 2 stroke fuel additive review could be a win-win for you. After all, I've tried them all to great success.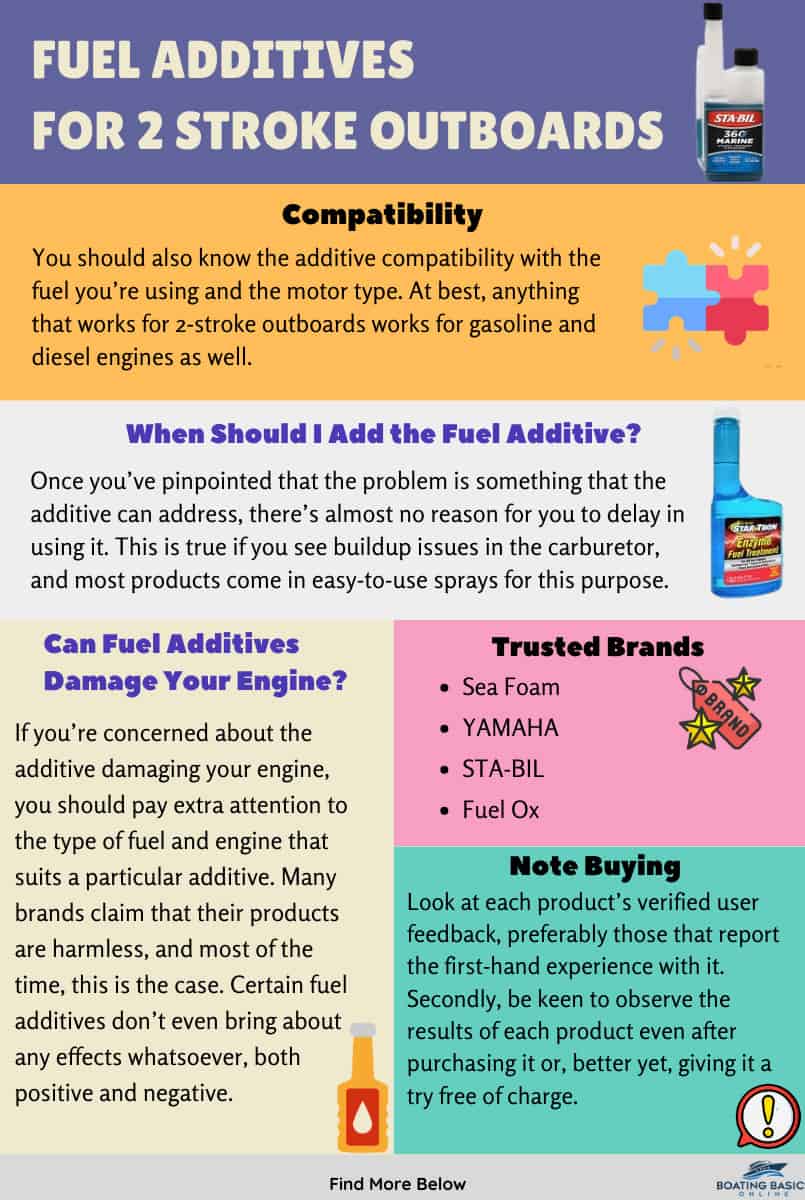 ---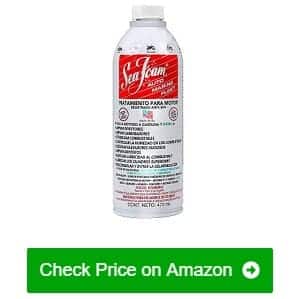 Sea Foam SF-16
Works well with most engines
Quick fixing
Uncomplicated usage
---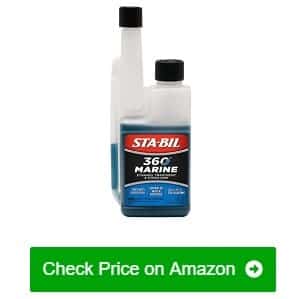 STA-BIL 22240
Solves most ethanol problems
Cleans the entire fuel system
Decarbonizer motors as well
---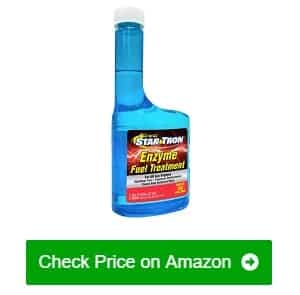 Star Tron Enzyme Fuel Treatment
Proven to boost mileage
Work with most outboard engines
Ideal for stabilizing fuel
Best Fuel Additive For 2-Stroke Outboards Reviews
1. Sea Foam SF-16 Motor Treatment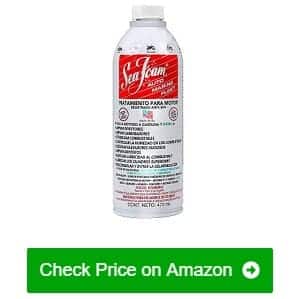 What could be a better product to start this list than this classic, tried-and-tested engine cleaner? I use Sea Foam when doing shock treatments for my 2-stroke outboards and whisking away those pesky ethanol buildups in no time.
I can confidently say that I always save more, in the long run, thanks to this trusty additive. Like good old medicine, the right mix keeps most engine troubles away. Idling issues take a backseat and no-sweat starts are guaranteed. It's not hard to see the vast difference it makes, especially if you've tried out other motor treatment as I have.
I like how the bottle design makes pouring easy and doesn't result in spilling, unlike others out there. I can say the same for how uncomplicated its overall usage. Simply measure the right amount to mix with your fuel, and you're good to go.
Any carbon buildup I see in my motors doesn't last long thanks to the shock treatments I do with this product. This additive is the ultimate cleaner for me, especially as it once helped me take care of an idling issue I suddenly had with my fishing boat. With the right fuel injector cleaner and 4 ounces of this solution, the engine was running as good as new after a couple of hours.
I'll always bet on this product for the reasons said above. If the manufacturer decides to dip the price a bit, I'd love it since it's downright expensive than other brands. Still, I'm glad I don't have to use it monthly, anyway.
What We Like
Works well with most engines, 2 stroke outboards included
Quick fixing than opting for repairs and replacements right away
No-nonsense, uncomplicated usage
Great additive for doing shock treatments
Sea Foam outboard 2-stroke is a match made in heaven for anyone who wants to take care of engine troubles and save loads on repairs in the long run.
2. STA-BIL 22240 Marine Fuel Stabilizer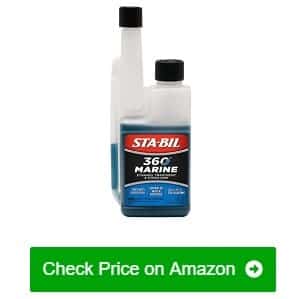 Another go-to fuel stabilizer for boat engines, STA-BIL has attained a solid reputation for keeping fuel fresh for most boat motors, 2-stroke outboards included.
It didn't take long for me to discover that this stabilizer works effectively. For instance, when I do not use my boat for a long time, this treatment protects my engine from rust and corrosion damage caused by moisture. Considering the money I save when keeping my boats' fuel viable, I'm thankful this product lets me do just that with its stellar phase separation.
As for ethanol problems, it's almost always a quick knockout victory for most cases. I know it can solve the issue right away as long as it's related to the said chemical, underscoring its reliability.
While I can't say exactly how it keeps the parts of my boats' fuel system clean. I think the fact that I've yet to encounter any corrosion in my injectors, rails, and tank is already a good sign of its protective capability. It hits two or even three birds with one stone by decarbonizing the engine as well.
Last but not least, this product works better in stabilizing fuel if the engine remains undisturbed for a long time. So in case you intend to keep your boats idle while maintaining their fuel, then this one will shine for you in no time.
What We Like
Great stabilizer for long-time boat fuel storage
Solves most ethanol problems
Cleans the entire fuel system
Decarbonizer motors as well
What We Don't Like
Only works best if you plan to keep boats idle for a long time
Despite its limitations, this is a 2-stroke carb cleaner fuel additive that I'll never do without for its multi-pronged solutions.
3. STAR BRITE Star Tron Enzyme Fuel Treatment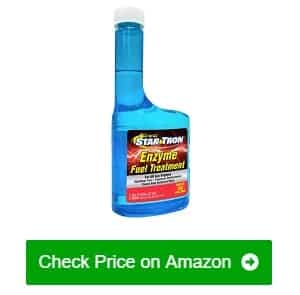 This product serves as a complete boat fuel additive because it delivers a mix of advantages that I rarely get from other outboard fuel additives I use.
When STA-BIL fails to deliver the results I want in my smaller 2-stroke outboards, I'm glad I'll always have a reliable alternative in the form of this product. In fact, I use it for most of my 2-stroke and 4-stroke outboards since its benefits extend to most outboards regardless of brand.
It helps me pull-start my outboards smoothly. I attribute this mostly to its stellar cleaning and buildup-removing abilities. The engines' performance is so much powered up as smoothened overall. It also boosts most of my boats' mileage by an average of 2.5MPG, which is nothing to shrug off.
Another aspect I like is that it's ideal for long-time fuel storage. I'd say if you want to store any applicable fuel in the tank for more than a year, I suggest you opt for this first before anything else. My engines never displayed any signs of fuel degradation as long as they're being fed this additive.
The brand could improve its bottle design. It would be a massive help if they can give me a great, easy way to pour and measure this additive, as I tend to go over the recommended measurements. I'm glad it hasn't resulted in any overtreating problems.
What We Like
Could solve certain persistent engine problems
Proven to boost mileage
Versatile enough to work with most outboard engines
Ideal for stabilizing fuel for more than a year
What We Don't Like
Could use a bottle design improvement for better pouring and measurement
If you want an additive that covers plenty of ground, especially when addressing common outboard issues; in that case, I could not name a better recommendation than this product.
4. YAMAHA ACC-RNGFR-PL-12 Yamalube Ring-Free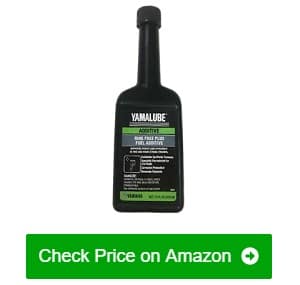 YAMAHA fuel additives outboards arguably have Yamalube Ring-Free as the brand's best representative. Plain and simple, it's a YAMAHA lube made to address ethanol, carbon, and performance issues in YAMAHA motors.
I use this additive on all YAMAHA outboards I own, whether 2-stroke and 4-stroke. Why bother looking elsewhere if the creator itself is already offering the ideal option? I can say "ideal" without any reservation whatsoever, considering the number of years I've used this mix on my YAMAHA 2-stroke outboards.
It's not all about keeping ethanol and carbon issues at bay; two essential things are managed extremely well for outboards of this brand. Rather, it's also about the significant boosts it imparts to the motor's overall performance.
I couldn't name a better example than my 80HP 2-stroke outboard, which suddenly showed signs of decreasing top speed. I simply followed the brand's recommendations and instructions to a tee, and the boat was back in tip-top shape before long. The engine sounds healthy again, no different from the first time I bought said fishing boat nine years ago.
Compared to Sea Foam, it's relatively easier to get this product. It's available in plenty of local auto shops, besides on Amazon, of course. I admit that it's a little expensive. However, since I only need to use an once for every ten gallons of fuel and don't need to use it again until I refuel my boat, I can safely say it's well worth the extra bucks. This saves me a trip to the mechanic, too.
What We Like
Works amazingly on all YAMAHA outboards
Decarbonizer and addresses fuel issues well
Boosts engine performance and top speed
Readily available in most auto shops
Well worth the price
What We Don't Like
Costs higher than other additives
I don't look for any other marine fuel additive if any of my outboard motors made by brand act up. It's a prime example that it's almost always better to choose and prioritize brand additives specifically formulated for their own engines.
5. Start Your Engines! 21214 Revitalizes Fuel System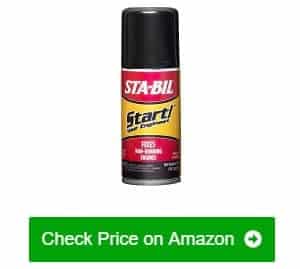 Another solid offering from a recognized brand, Start Your Engines! is basically STA-BIL in spray form. It has a slightly different way of getting things done, but the results are the same.
I gave this a try because I know what this brand can deliver. It's not so much the usual STA-BIL stabilizer, which usually works best for larger engines. Rather, it functions more as a cleaner and, as its name readily implies, a great engine booster for 2-stroke and 4-stroke engines and even virtually anything with a small motor.
I'm glad my trust in this brand paid off because it worked as advertised. I tested it out on one engine with fuel that's 3 months old, and the sputtering issue disappeared after 20 minutes of boating. I recommend using it on a fresh batch of gas for optimal effect, though.
It clears up any gum buildup that may form in any small-engine fuel system. I more than welcome the perk of simply being able to pour it in the tank to get the results that I want. A couple of squirts or sprays on the carburetor could get your engine up and running smoothly in minutes.
It's not that costly, considering what I get from a single bottle. With the possibility of using it on other equipment in my home, I think it's well worth the price besides its other obvious benefits.
It can't handle seriously plugged-up carburetors that well. That's the only concern I can think about, even though I'm well aware that it's no miracle solution.
What We Like
Specially formulated for 2-stroke and 4-stroke small motors
Easy to use
Boosts engine starts
Cleans carburetors well
Cost-effective
What We Don't Like
Doesn't work well on serious carburetor issues
This 2-stroke fuel system cleaner exemplifies the wondrous things you can expect from outstanding fuel additives.
6. YAMAHA ACCRNGFRPL32 Ring Free Plus Fuel Additive
The Ring Free Plus readily connotes leveling up. As a result, superior results are exactly what you can expect from this fuel additive for YAMAHA outboard motors.
While the original Ring Free is potent enough, I found that its Plus version provides a more comprehensive solution to most outboard problems. It's a great ethanol buster, which is something I'll always appreciate since I seldom have ethanol-free gas where I live. Even if I use zero-ethanol fuel, I'm all too hesitant to dismiss this additive's overall protective effects and other benefits on my 2-stroke outboards.
After all, besides forgoing ethanol treatments altogether, it aids in the active prevention of issues that arise from the said chemical, too. I've made my calculations, and I can safely say that this product had spared me from shelling out thrice the usual expenses I had.
Since most outboards benefit a lot from shock treatments, I don't miss out on doing it to my engines with the help of this additive. Only a few fuel additives for outboard motors can deliver the same results in my 2-stroke YAMAHA outboards as this one. However, when it comes to the price, this treatment is pretty expensive compared to other brands. Typically, I have to pay double to get this product.
What We Like
Specially created for YAMAHA outboards
An overall complete additive
Helps you save more in the long run
Great for doing shock treatments
For a more thorough additive that's a perfect fit for any outboard produced by this brand, you don't need to look further than this product.
7. QuickSilver 8M0058681 Fuel System Cleaner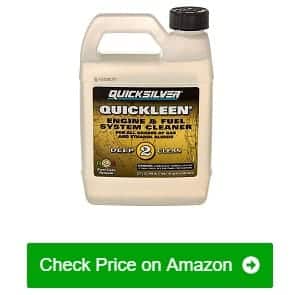 Quite contrary to its brand name, QuickSilver isn't at all mercurial and remains consistent in its results. But, come to think of it, it's how quickly it can deliver those results that probably counts more.
The moment I tried this out on my fishing boat's 40HP 2-stroke Mercury outboard, I became a fan almost instantly. My boat had been showing the usual signs of ethanol issues, as evidenced by a sputtering and rough motor. Luckily, the problem subsided the very day I fed it with this additive.
I can confirm that it works for most gasoline grades as I've tried out on basically every boat gasoline brand available and even the higher-ethanol blends out there. I can tell the stark difference it makes when I apply it to the latter. Smoother, quieter rides almost any boater craves for when doing hour-long or more cruising or fishing.
Moreover, it earns my checkmark in preventive maintenance. Simply because I never encountered any more of these issues in my Mercury outboard after I regularly started using this 2-stroke engine cleaner on the carbuterator.
With all things considered, this product delivers good value due to its versatility and consistency. It doesn't limit itself to Mercury outboards. There is one minor thing I wish the brand would improve, which is the bottle's design, as I've had a handful of spills from it already because of the poor mouth and cap designs.
What We Like
Made for 2-stroke gas engines
Works for all gasoline grades
Protects engines from ethanol issues
Good value for money
What We Don't Like
Has poorly designed for pouring
Tends to leak since the cap can't be screwed tightly
This boat fuel additive's weaknesses are overwhelmingly overshadowed by its myriad benefits and qualities.
8. STAR BRITE 095616 Ring Clean+ Fuel Additive
Versatile and backed by boat experts and critics alike, this version of Star Tron has been lauded for its potent ability to clear even the most serious buildups and keep them away for good.
I witnessed first-hand the outstanding ability of this product to remove buildups in 2-stroke engines when a fishing buddy of mine used it on his boat's outboards. When he opened the top of the piston and peered inside, we saw that the carbon buildup was already serious. The boat was already misfiring and frequently stalling back then, and took a long time to accelerate.
After we applied this additive, we already started seeing the difference a few days after. The boat suddenly began to start butter-smooth with no misfires whatsoever. More importantly, we saw a significant decrease in the buildup after two weeks.
While I seldom had troubles with buildups in my years of boating, I think that's a noteworthy quality. Furthermore, this additive keeps those buildups from returning as my friend never encountered the same issue ever since he started to use it regularly.
For me, I can attest that it advanced my boat's MPG by at least 3 points. I also notice a substantial boost in acceleration. These two will always be hallmarks of great fuel efficiency for me. This is one of the few products that help me achieve them in basically all small outboards I own, regardless of brand.
It could use a better cap design, though. I've had a few leaks in the past as a result of the cap not screwing tightly, especially when I bring it along with me.
What We Like
Outstanding remover of buildups
Aids in keeping boat motors perform at their best
Boosts MPG
Improves acceleration
Versatile
What We Don't Like
Cap doesn't screw tightly
If you're aiming for the best in marine fuel treatments, this should be a no-brainer choice.
9. QuickSilver 858080Q03 Internal Engine Cleaner
This fuel system cleaner for 2-stroke outboard engines remains a fundamental part of my marine tools arsenal for its amazing carburetor cleaning capabilities. It's designed for most boat outboards, making it an all-purpose choice.
I rely mostly on Quicksilver for most of my cleanups, and I'll just say that this additive is an impressive product. It can fix a carburetor up as good as new as long as carbon buildup is the issue. Besides, it puts the finishing touch by keeping the problem from coming back. Its benefits have been proved by a product's protective capability when I use it to fog the engine for winter storage.
Almost any outboard-powered boat that shows the tell-tale signs of rough-riding and surfing even after a complete outboard overhaul should be considered for a spray bath courtesy of this product. It cleans thoroughly because it has a way of getting into every crevice and nook and cranny of your carburetor when it foams up. As a result, I've had loads of outboards that ran smoothly in no time the moment I applied it.
I like that it isn't particular to any brand of 2-stroke outboard. I've tried this out on Mercury, Evinrude, and Nissan outboards, and got the same positive results you can expect from solid fuel cleaners. I hope the brand would improve their packaging, though, as I've had a total of three online orders where I've gotten leaks or a broken nozzle that I had no other choice but to return.
What We Like
Convenient spray can design
Thorough carburetor cleaner
Protects engines from buildups
Ideal for most 2-stroke outboards
What We Don't Like
Poor packaging has led to leaks and a broken nozzle
Anyone who wants a more thorough, spick-and-span cleanup of outboard fuel systems should opt for this product.
10. The Fuel Ox Marine Complete Fuel Treatment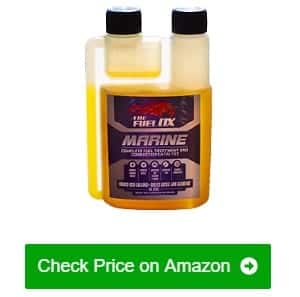 The Fuel Ox's complete fuel treatment has been proved as exclusively made for marine use and 2-stroke outboard engines.
I get more mileage out of any boat I apply this to, and that's all the evidence I need to convince me that this brand's fuel economy claim is not all flash and sizzle. I'm glad I gave it a try, considering the other reliable products I'm already using that can fulfill the same purpose. If they happen to be unavailable, then this one serves as a dependable alternative.
I love the fact that it functions as a complete solution that not only removes buildups and performs phase separation well but also offers lasting protection. I think this product is the most cost-effective on this list for these reasons.
It may seem expensive for the amount that you get in every bottle. However, take note that this concentrated additive actually treats 80 gallons of fuel for every 1 ounce. That's still cost-effective in the long run, especially if I consider the better fuel efficiency and economy I get from this solution. This rings true for my gas- and diesel-powered engines.
And did I mention that currently, my decades-old 40HP fishing boat achieves its top speed quicker after I started using this additive on it? I don't know about you, but making an old favorite run like new is nothing short of a boater's victory for me.
Even though this product is good, there is one minor thing I want to share with you. When I tested it out on an 8-month-long boating hiatus, I got less than desirable results compared to the former.
What We Like
Addresses buildups well
Excellent phase separation
Protects outboards with regular use
Boosts boat engine's performance, even older ones
Cost-effective in the long run
What We Don't Like
Average fuel stabilizing compared to others
In the end, this fuel treatment is all about making your outboard more efficient and resistant to buildups. And, to me, that almost always means hundreds and thousands of dollars saved over time.
Factors To Consider When Choosing Fuel Additive For 2 Stroke Outboards
Before even considering what is the best fuel additive for 2-stroke outboards, know that there are many brands out in the market that often make false statements about their product's benefits. Some are just too good to be true and poorly deliver the results they promise.
This is why the best advice I can give is to look at each product's verified user feedback, preferably those that report the first-hand experience with it. Secondly, be keen to observe the results of each product even after purchasing it or, better yet, giving it a try free of charge if the opportunity presents itself.
For example, how exactly did your boat perform before you used a Lucas fuel treatment in outboards on it? Did you notice any improvements or promises delivered?
Always be mindful of the purpose you'll be using the additive for. If you need a 2-stroke fuel stabilizer, it's best to get to know exactly what a specific product can do for your outboard because not every product can cover every engine issue. For example, a specific Lucas fuel treatment in 2-stroke motors may be able to address misfires or idling but may not necessarily lead to a boost in engine performance or more mileage.
If you mean to protect your fuel for a long time of storage or over the winter, be aware of how a specific product performs in that regard. All the better if the brand can candidly state that it's winter-friendly and has the feedback to back it up.
You should also know the additive's compatibility with the fuel you're using and the motor type. At best, anything that works for 2-stroke outboards works for gasoline and diesel engines as well.
As for the user side of things, using an additive easily is always a plus. I always commend products that limit making pouring or spraying and measuring less of a hassle. I can say the same for those that keep their caps sealed tight after every use.
What Is The Best Fuel Additive For 2 Stroke Outboard?
If we're going to consider brand reputation among boaters over the years, then Sea Foam, YAMAHA, STA-BIL, and Fuel Ox already tick this fundamental checkbox. Sea Foam is versatile and works well for most small engines while STA-BIL, despite being ideal for larger engines, delivers unmatched long-term fuel stabilizing.
YAMAHA works wonders on pretty much any 2-stroke outboard that bears its name. The Fuel Ox, on the other hand, has actually been a go-to brand by none other than the United States Navy for decades. It's versatile not only in its benefits but the types of fuel it can handle.
However, I can say the same for the other brands featured here, especially those designed for marine engines or 2-stroke outboards specifically. I don't mind recommending them all for the concrete results and positive experiences I got from them.
Can Fuel Additives Damage Your Engine?
Many brands claim that their products are harmless, and most of the time, this is the case. Certain fuel additives don't even bring about any effects whatsoever, both positive and negative, which are definitely products you should steer clear of.
Either way, if you're concerned about the additive damaging your engine, you should pay extra attention to the type of fuel and engine that suits a particular additive. Most well-recognized brands are transparent enough with this information so take note of them before trying out a product. But, considering the long time I've been using additives, I certainly haven't lost sleep over it.
When Should I Add The Fuel Additive?
Once you've pinpointed that the problem is something that the additive can address, there's almost no reason for you to delay in using it. This is true if you see buildup issues in the carburetor, and most products come in easy-to-use sprays for this purpose.
As for the proper order of using it as a protective treatment or stabilizer, before you begin, it's always best to use a new batch of fuel on your tank before applying the additive. Add the additive first before filling up your tank with your usual gas.
Conclusion
I hope that you finally know how fuel additives work for boat motors with the review I've outlined here. The best fuel additive for 2-stroke outboards, first and foremost, is never just all talk and no walk. It delivers, and it should do so consistently and efficiently with every use. Hence, you can get immense cost-savings and a continuous satisfactory boating experience as a direct result. Besides, you also can refer to marine antifreeze to keep your boat motor always running.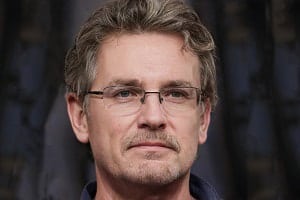 "I am James Harvey – founder of Boating Basics Online. It is established with the drive to help out first-time boaters, which are those desiring to explore their way through the water. So if you are new to boating, start from here with me. "