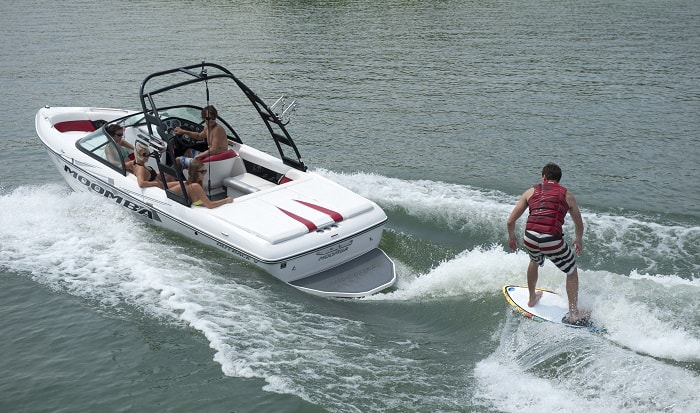 Besides the passionate discussions of whether inboard, outboard, or inboard/outboards are better choices, there's another that's just as lively: V-Drive vs Direct Drive towboats.
A V-Drive tends to be better for wakeboarding, has more storage space, and is more versatile, making it a good family boat. On the other hand, the old-school Direct Drive (or DD) is just as well-loved for its easy maintenance and handling, ability to create a world-class ski wake, power efficiency, and beginner-friendliness.
Continue reading to know how each one functions and for a more detailed explanation of their advantages and differences.
What Is Direct Drive?
"What is a direct drive boat?" has been asked by first-time boaters over the years, and rightly so, since it's a classic. Inboard motors may already have numerous competition nowadays, but direct drives maintain continuous patronage because of the perks I mentioned above.
Here are a direct drive's main qualities:
The engine, with the shaft facing aft, sits in the middle of the boat and has a straight drivetrain from the shaft to the prop slanting downward. This results in better energy efficiency.
The engine's position plays a vital role in heightening any skiing experience. For one, it anchors the boat to the water, often directly above the tracking fins, so you can maintain a consistent line.
The system relies largely on rudders for steering.
It's able to maintain stability by having the majority of the boat's weight dead center.
What Is V-Drive?
A V-Drive boat's versatility and specialized design make it a crowd favorite among wakeboarders and casual boaters alike.
Here's a summary of a V-drive's characteristics:
The motor, with a bow-facing shaft, is installed farther back at the stern.
It's called such because the drivetrain forms a V shape from shaft to prop.
It's often covered to create a sundeck with compartments at the back where people can sit, fish, lounge, and sometimes even stow items – hence, the extra space.
Wakeboarders love V-drives so much because of the way it's designed to keep most of the weight at the stern. This specialized aspect allows it to create coveted extra-large wakes that make the activity doubly exhilarating.
Since it's an inboard, it also uses rudders for steering.
How Do the Two Differ?
Direct drives and V-drives, considering their designs, are deemed as true inboards. Vessels that integrate them are often regarded as towboats, but not all. If you look at a diagram juxtaposing the two and observe how they are commonly designed, though, you'll immediately see the glaring differences.
The most obvious is where their engines are positioned as I've mentioned in their respective qualities.
Their motors are set in such a way that their shafts face the opposite direction of each other.
V-drives offer more opportunities to perform different activities onboard than direct drives.
Oftentimes, V-drives are better for wakeboarding because of the huge wakes they can produce, while direct drives produce the smaller ones that are more suitable for water skiing.
Whether either one is better than the other in aesthetics is entirely subjective. Nowadays, boat manufacturers also impart their own touch on their respective vessels, leading to more variability in style.
Pros and Cons of Direct Drive
Pros
One of the most energy-efficient options.
Far less complicated to operate than almost all motor systems.
Easier to service. It only takes a few minutes to remove a PCM direct drive boat transmission, as this video demonstrates for example:
The prop's position is safer compared to, let's say, a sterndrive where there's a high risk of swimmers getting injured by it while boarding the vessel.
Great for skiing.
Cons
The direct drive shaft is a pain to drive in reverse compared to an I/O's directional thrust.
The engine's position makes it eat up space in the cabin, resulting in limited seating and movement while on board.
Zero trimming capability.
Pros and Cons of V-Drive
Pros
With how it's designed and performs, a V-drive transmission fits the wakeboarding experience to a tee.
More reliable and less complicated to operate than some outboards and I/Os.
While it may be harder to maintain than a direct drive, it's designed to be less problematic when it comes to repairs. Many users attest to not having to do regular maintenance on their ZF V-drive
V-drive motors deliver horsepower to the propellers more efficiently than some motor systems.
You can't have enough space to work in almost any vessel and V-drives offer more of it, especially amidships.
Cons
V-Drive props also make it difficult to drive in reverse.
The fact that they create more drag proves that V-drive problems are no different from the ones most inboards have.
Despite the additional space, V-drive components found below deck (e.g. the muffler and transmission) take up precious real estate. This isn't an issue with a sterndrive.
The shaft's V angle isn't optimal, meaning its setup results in excess power loss not present in other motor systems.
Tends to burn more fuel than sterndrives.
Can't be trimmed, too.
Conclusion
Given the similarities and varying advantages and disadvantages of both motor systems, there's no clear winner in the V-drive vs direct drive battle. Ultimately, either one can stand out if you use each one for the purposes and water activities they shine the most in.
Will you settle for the more versatile and wakeboarding-friendly V-drive or the more straightforward and power-saving direct drive? That's a question that can only be answered correctly once you digest all the information I shared here.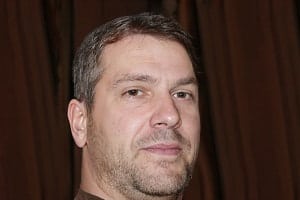 "My intention from the first day establishing Boating Basics Online is to provide as much help as possible for boaters who want to experience a first safe and convenient trip. So feel free to join us and share your beautiful journeys to the sea!"