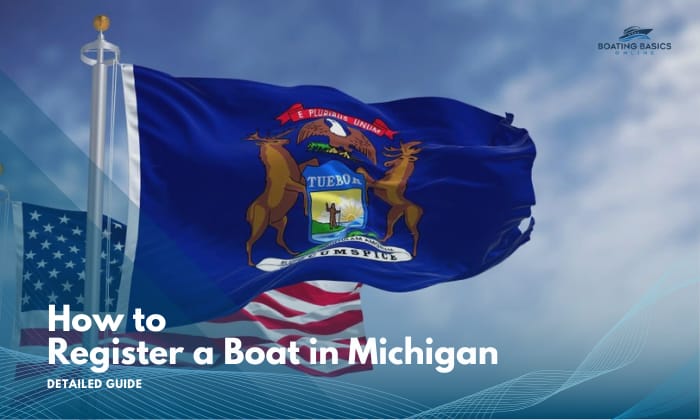 So, you finally got your hands on a vessel. Sweet! Now, only one more obstacle is in your way, which you can smoothly overcome if you simply find the time to learn how to register a boat in Michigan.
This guide explains all the steps for the relatively easy registration process in the state. It shares workarounds for hurdles like having no title, buying a boat that hasn't been registered, or trying to register it as a non-Michigander.
Things to Prepare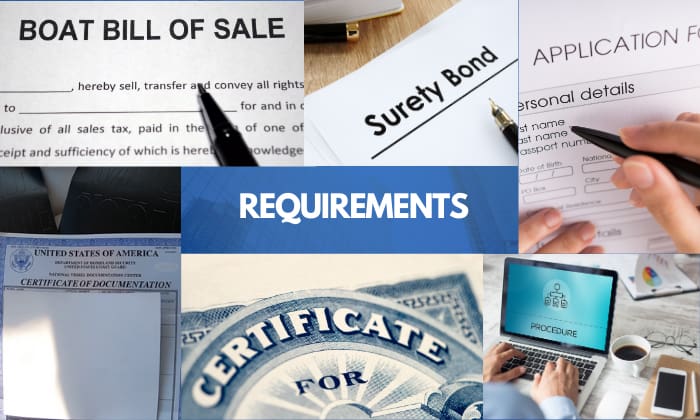 As in most types of boat registrations, you'll need to provide proof of ownership and identification documents. State authorities make it clear that you need to acquire only "one or more" of these requirements. In short, you don't have to get them all.
Bill of sale
Title (if the boat has to be titled)
Manufacturer's Certificate of Origin (MCO)
Seller's former registration certificate for the watercraft signed by him or her (if registering a used vessel)
Self-certification procedure (for boats costing $2,500 or less)
Surety bond (for vessels worth $2,500 or more)
Certificate of Documentation from the USCG
You'll also need to bring your ID to the registration office.
If you want to get your vessel documented by the US Coast Guard and get the last document on the list, you can go to this site to learn the requirements and exact steps: U.S. Coast Guard Vessel Documentation.
Michigan Boat Registration Requirements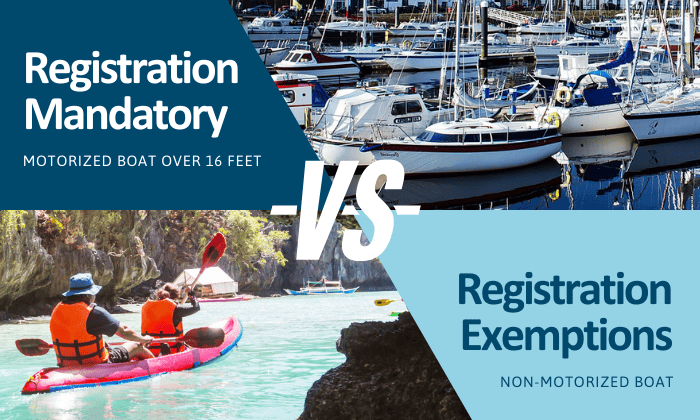 You need to pay attention to specificities to figure out whether you need to register your boat or not.
All motorized, sail-propelled, and hand-powered boats 16 feet or longer are required to be registered.
Boat title requirements of the state make it clear that boats over 20 feet AND vessels with permanent motors need to be titled.
Registration exemptions
Boats 16 feet or shorter, oar- and paddle-driven, and owned privately.
Non-motorized kayaks, canoes, rafts, sailboards, swim floats, and surfboards, no matter the size, and owned privately.
Boats registered in another state that are used in MI's waterways for up to 60 days
Steps to Register a Boat in Michigan
It's safe to say that boat registration in The Great Lakes State is simpler than in other areas. Most boat-related registrations and renewal of registration go through the Secretary of State.
1. Secure all the requirements you prefer to submit as proof of ownership.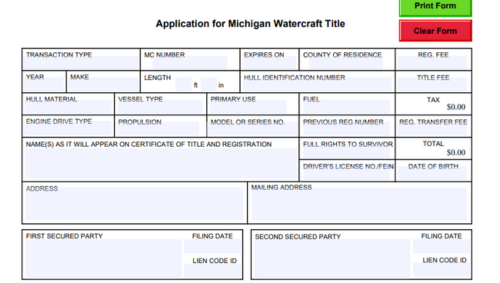 Most boats bought brand-new from a dealer will come with a bill of sale and Manufacturer's Certificate of Origin. You won't have much trouble gathering all the essential requirements, in short.
Just make sure that the bill of sale contains the year and make, HIN, seller's name and address, as well as that of the buyer's (i.e. your own name and address).
If your vessel needs to be titled, you need to fill out form WR-11L to complete the application for Michigan watercraft title. Here's a direct link to the said registration form:
Transactions involving used vessels can get complicated if the seller didn't register the boat or it has been bought without a title or bill of sale. No worries, I have a couple of solutions for them in the succeeding sections below.
2. Schedule an office visit then submit all the documents you gathered.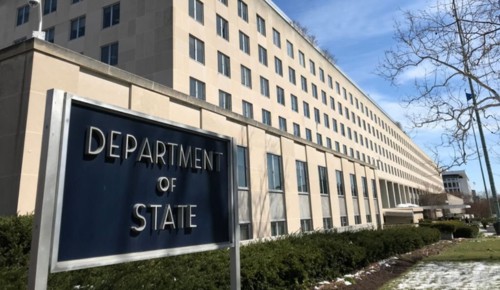 Once you get your hands on all the requirements, you can now schedule an appointment at the Secretary of State's office near you or any branch of your choosing. You can go to this link to do that now:
All first-time registrations have to be done in person. From here on, it's all a matter of waiting to get your registration certificate along with the unique decal for your boat – that is, assuming your vessel's application for registration was approved.
If you ever need to renew boat registration, you can do so entirely online from Michigan's official government website.
Incidentally, if you ever find the need to do a Michigan watercraft registration lookup, just remember that the MC number that is issued for your boat is printed on its registration certificate.
How to Solve the Usual Registration Issues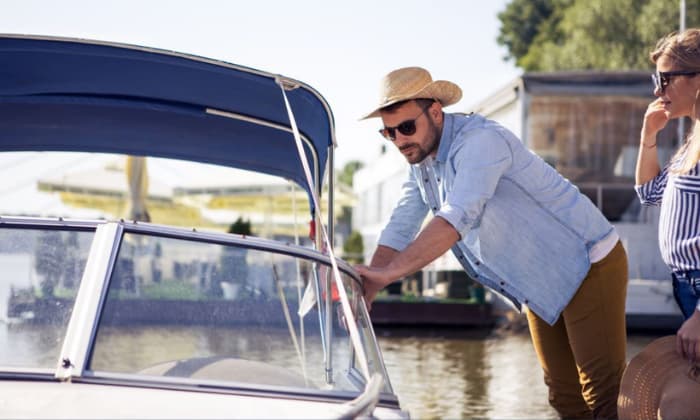 These are what you can try doing to get over the bumps if you want to register a vessel for the first time or transfer boat registration and can't supply a bill of sale or title:
If registering an old watercraft with no title or one that has never been registered, you can try getting the hull ID (HIN) and take a photo of the vessel. The hull identification numbers are always on a vessel's transom.
If the boat's not yet in your name and you don't have its bill of sale, you have no other choice but to contact the seller to get it from them. You both need to create your own bill of sale, which should be signed by both you and the owner.
If the original owner can no longer provide a title, you'll need to ask him or her to accompany you to the Secretary of State's office to complete the boat's registration in your name and effectively transfer the ownership to you.
Registering a Boat in Michigan as a Non-Resident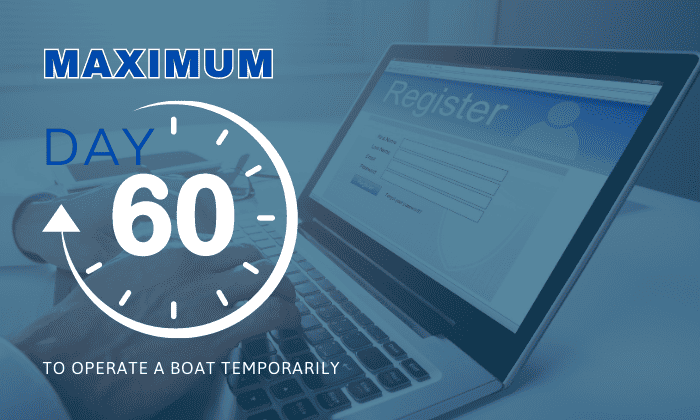 When you find yourself facing this problem, first, take note of the fact that you can operate a boat temporarily in the state for up to 60 days.
Once that period's up, you have no other choice but to register the boat in Michigan or return to your home state to use it. So, it's really just a matter of waiting for the 60-day exemption to expire.
Other than that, there's no other concrete solution to this other than to ask the Secretary of State for the proper steps you can take.
Registering a Homemade Boat
If you ever want to register a homemade boat in Michigan, know that you're extremely lucky to be living in this state. Be sure to take these steps:
Visit a local Secretary of State office and say you want to register your boat.
Declare the materials you used to build it.
Pay the corresponding fee and tax for it.
Michigan Boat Registration Fees and Taxes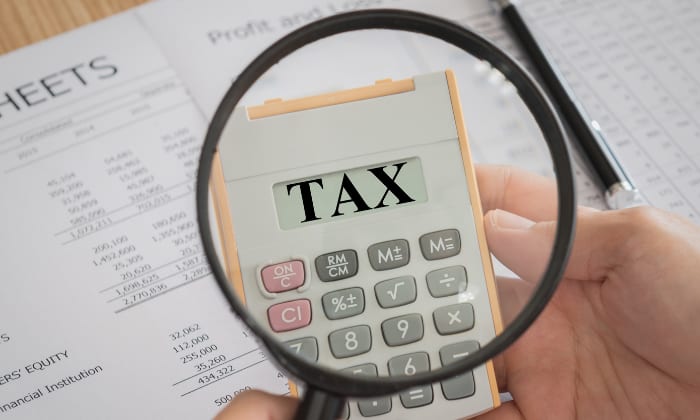 The overall registration cost is determined by the size and type of the vessel. There's also a static 6% sales tax charged upon registration – unless exempted.
In the table below, I've listed the base fees for registering your privately-owned vessel with a validity of three (3) years.
| | |
| --- | --- |
| Vessel Size/Type | Registration Fee |
| Non-motorized sailboat or hand-powered boat 16 ft and above | $9 |
| Motor-run canoe (regardless of size) | $14 |
| Pontoon boats (all sizes) | $23 |
| 12 ft or shorter motorboats | $14 |
| 12 ft or longer but < 16ft motorboats | $17 |
| 16 ft or longer but < 21 ft motorboats | $42 |
| 21 ft or longer but < 28 ft motorboats | $115 |
| 28 ft or longer but < 35 ft motorboats | $168 |
| 35 ft or longer but < 42 ft motorboats | $244 |
| 42 ft or longer but < 50 ft motorboats | $280 |
| 50 ft+ motor boats | $448 |
Conclusion
Just remember these pointers on how to register a boat in Michigan, and you won't have a hard time like all the other folks out there who aren't familiar with workarounds. Registering in this state is definitely a breeze overall, so don't worry too much that you may end up not operating your boat in its waters.
With that in mind, don't forget that it's just as important to get a boaters license in Michigan. Have fun boating out there!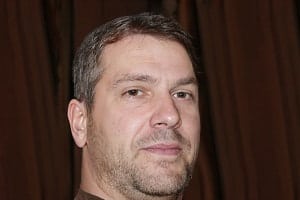 "My intention from the first day establishing Boating Basics Online is to provide as much help as possible for boaters who want to experience a first safe and convenient trip. So feel free to join us and share your beautiful journeys to the sea!"