There's something innately romantic about sailing to Europe. Think about arriving at the vibrant port of Barcelona or Venice's Stazione Marittima then immersing yourself in their rich culture. Deep down, it's everyone's dream.
How long does it take to get to Europe by boat? The Queen Mary 2's transatlantic voyage takes 7 days if you're considering a cruise. Cargo ship travel takes at least 10 days. Sailing takes 4 weeks at most, but more if you stop at various ports.
Travel Time Based on Boat Type
Traditionally, most people only have three options to choose from if they want to take a boat to Europe: via a cruise ship, sailboat or yacht, or cargo ship.
Sadly, the pandemic knocked the third option from that list, and that's the case until January or February 2024 for most freighter companies.
You can check out this site yourself to confirm that there are no transatlantic voyages available for freighters: https://www.cargoshipvoyages.com/, which often take one to two weeks to complete the trip.
10 days is the minimum for cargo ships to complete a transatlantic journey, while others may take twice that time.
That leaves us with just two:
1. Cruise Ship
If you want to take a ship from the USA to Europe, the good news is you won't run out of options to choose from with the numerous transatlantic cruises available.
Just head over to Sea Scanner to check out and schedule any voyage you're interested in: https://www.seascanner.com/cruises-transatlantic-from-usa-g5-v57?erw=1&is_river=0&rund=0
These listings readily tell you how long each voyage will take and all the stops it will be making (if there are any) along the way.
While I did say that the Queen Mary 2 takes seven days to complete its one-way crossing, there are other times when it takes twice that because it makes numerous stops.
Other ships even take as long as 46 nights to finish the trip. Don't be surprised by lengthy travel times, because these are the ones that usually involve the most stops – allowing you to visit a lot of European cities without flying.
Plus, you get to enjoy luxurious amenities and entertainment.
2. Sailboat or Yacht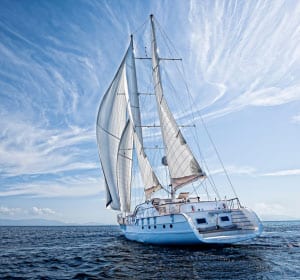 A transatlantic sailing may take close to a month on average if not another week or two more. Overall boat travel time will always be determined by your port of departure and speed.
Here are some sample voyages I came up with using a sea distance calculator. Each shows how long sailing from the United States to Europe will take with an average of 7 knots:
New York to Port d'Yvoire, France – Takes a little over 27 days.
Cape Florida Anchorage to King's Lynn Port, UK – Takes 30 days.
Galveston, Texas to Barcelona, Spain – May take 36 ½ days.
Almost any boat from the US to Europe will capitalize on the headwinds north of the Azores-Bermuda High. This is why you can expect to add more days if, for example, you're departing from a southern state like Texas, as you'll still have to head north a bit.
Don't be surprised if you have to shell out more money than expected for a 7-day cruise. As a reference, one trip for three people cost around $4,000. Obviously, this isn't exactly the most economical approach compared to the rest of your options.
Travel Time Based on Route
"Route" in this case means the usual planned itineraries of most cruises available at present. I've included cruises and ferry services within Europe as well, so you'll have a more all-around reference of your travel options once you arrive on the continent.
1. Transatlantic cruises
Other than the Queen Mary 2, here are other currently running cruises for your reference.
| | |
| --- | --- |
| Cruise Name | Travel Duration |
| Norwegian Getaway (Orlando to Lisbon) | 12 days |
| MS Zuiderdam (Boston to Rotterdam) | 17 days |
| MS Artania (Miami to Bremerhaven) | 26 days |
| Sky Princess (Fort Lauderdale to Southampton) | 30 days |
| Sirena (Miami to Santa Cruz, Tenerife) | 14 days |
2. Mediterranean cruises
| | |
| --- | --- |
| Cruise Name | Travel Time |
| Celebrity Edge (Italy, France, and Spain) | 7 nights |
| Norwegian Epic (Greece and Italy) | 11 nights |
| Marina (Multiple Mediterranean Countries) | 14 nights |
| Celebrity Equinox (Spanish Cities) | 10 nights |
| Celebrity Beyond (Italy, Turkey, and Greece) | 11 nights |
3. European ferry travel times
There are a few ferry options available at present that travel between European countries and cities. They mostly take only hours to complete.
| | |
| --- | --- |
| Route (Round Trip) | Travel Time |
| Brindisi, Italy to Vlora, Albania | 8 hours |
| Brindisi, Italy to Sami, Kefalonia | 18 hours and 30 minutes |
Factors Affecting Travel Time by Boat
Distance/Route – Longer distances between the ports of arrival and departure naturally mean lengthier travel time.
Boat Type – This normally dictates the top speed of the vessel and its overall performance and efficiency, usually based on the engine power and condition. For example, cruise ships manage an average of 20 knots, while cruising sailboats tend to hover at only 7 knots.
Weather Conditions – This is especially true if you're sailing. If the headwinds are on your side, you'll be able to shorten the travel time. Of course, it's the opposite if they aren't present (or worse, working against you) or you encounter storms along the way.
Stops and Detours – Any ports you stop at, particularly if you decide to make a detour toward the exotic ports of Africa, will inevitably delay your arrival in Europe.
Considerations for Boat Travel to Europe
Regardless of whether you decide to go by cruise ship or sailboat, these are the facts worth remembering:
Every time you decide to travel by ship to Europe from the USA, prepare to shell out more money compared to traveling in the more conventional way (i.e. flying).
Even if you manage to score a trip to Europe by freighter, you likely won't be able to save money with it nowadays. Gone are the days when it was cheaper because shipping companies now charge for what's called "working passage", which is comparatively more expensive than getting to the continent by flying.
When sailing, know that these types of voyages have to be carefully planned and are best left to the most seasoned boaters, assuming you'll be skippering your ship yourself.
You'll also need to find the right crew and stock up on provisions with the entire length of the journey in mind.
Skippering also requires a deep knowledge of the safest routes of the Atlantic, which ranks as the second most dangerous ocean in the world. To make matters worse, the weather tends to be more volatile when crossing from West to East.
Comparing Plane and Boat Travel
Below are the facts that my research has yielded when comparing flying to boating or sailing to Europe.
Both are statistically safe ways to travel.
Ultimately, taking an airplane remains the fastest and cheapest way.
For example, a nonstop flight from New York to London may only take 7 hours and set you back by at least $870.
You may also have limited scheduling flexibility on cruise ships compared to airplanes.
Passenger ships to Europe do make up for their longer travel times with their private rooms, more spacious interiors, a plethora of restaurant options, and onboard entertainment activities, to cite a few.
Cruises also place more value on the journey rather than the destination, as proven by the multiple stops they make. Just think of the myriad of scenic views of coastlines and ports you can marvel at – and, of course, the different cities you can explore!
Frequently Asked Questions
Benefits of Traveling to Europe by Boat
Every time you travel to Europe by boat, you'll be able to enjoy most of the perks that a cruise ship has to offer. They're basically floating cities where you can socialize, take part in various fun activities, or do most anything you normally do while on land.
Of course, once you reach European shores, you'll get to take part in tours or do the exploration yourself. And, as far as most European countries go, you'll likely be overwhelmed (in a very positive way, I stress) by the various cultural, geographical, and societal marvels you'll come across.
Can I bring my car or pets on a boat trip to Europe?
It depends on the cruise liner. The Queen Mary 2 is known to be a pet-friendly cruise ship. It's best to confirm this with your prospective cruise option.As for cars, there are no transatlantic cruise ships that allow car transport. Car ferries only operate within Europe, but I assume you're coming from abroad.
Conclusion
To sum up the answer to "How long does it take to get to Europe by boat?", the time varies a lot because of the major factors shared here.
However, if we're going to only consider the average times of all boats, it's between 7 days to 4 weeks. Variables may lengthen or shorten the travel time, so don't expect to always complete this trip in exactly the same duration.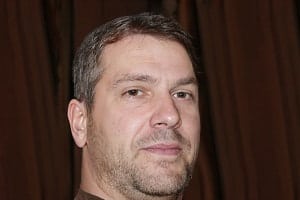 "My intention from the first day establishing Boating Basics Online is to provide as much help as possible for boaters who want to experience a first safe and convenient trip. So feel free to join us and share your beautiful journeys to the sea!"