I'm not ashamed to admit that I'm one of those boaters/recreational wake surfers who can't help but gawk at the sight of a sick vessel or two. I felt as much when I checked out ATX 22 and 24 a few years ago, and I immediately wondered, "Who makes ATX boats?"
Satisfying my curiosity, I soon found out that they were made by the same boat builders as Tige surf boats. Essentially, they're made by ATX Surf Boats, which is the younger sister brand of Tige Boats Inc. It only launched its models in 2019.
Who and Where Are ATX Boats Made?
To confirm, they are made by ATX Surf boats. However, it branches off from Tige Boats Inc., which is owned by Charlie Pigeon, who still acts as CEO of the two brands.
What does ATX stand for? Notably, this question ties in with another one: "Where are Tige boats made?" These boats derive their name from the place where their manufacturing facilities are: Abilene, Texas and Austin, which is also in Texas.
As such, TIGE wakeboard boats and ATX surf boats will always be associated with each other, since the same answer to "Who builds ATX boats?" also applies if we switch ATX to Tige. The fact that they share the same factory is crystal-clear proof.
Overview of TIGE Boats
Given their connection, knowing Tige Boats Inc. more intimately is the way to go.
Overall, it's a company that likes to take the entire process of boat design and manufacturing into its own hands. Or, in this case, Charlie Pigeon's hands, who has helmed the innovation- and community-centric company since its founding.
Charlie started his own ski boat company in 1991 after gaining heaps of experience working for other builders. Tige started in California, but it only took three years for it to make the move to Texas, where it could reach its target market better while enjoying lower taxes.
Of course, the move proved successful, as it didn't take long for Tige to become known for its entry-level and high-end boats. It also became a well-respected innovator in the maritime industry and wake surf boat manufacturers, thanks to technologies like TAPS (Tige Adjustable Performance System).
TAPS revolutionized how riders could adjust the boat's wave and wake based on the intensity they wanted. Even now, the company continues to hone the TAPS technology (now the TAPS 3T) to deliver more versatility and fun to the wakeboarding and wake surfing experience.
There's no better sign of success and growth than expansion. This is why when the company introduced the ATX wake boat brand as a more "entry-level Tige" in 2019, it's safe to say that it had already reached unprecedented heights. And, it's still growing as I speak.
What Features Set an ATX Boat Apart?
I can't blame people who have since fallen in love with ATX boats. By no means is it a perfect boat brand, but we can't ignore the fact that they deliver plenty of bang for your buck, which is why ATX tends to stand out among other wake surf boat brands.
For one, despite being the budget-friendlier version, the ATX boat accessories included in most models are similar to Tige's. The difference is marginal – for instance, you'll only get fewer analog controls or a smaller touch screen in an ATX boat.
Most first-time boat owners don't mind that. This is why I feel the ATX vs Tige debate gets a little too overblown – both are great value-for-money brands!
Based on my own experience with these boats and the consensus of people in the wake industry, here's why ATX boats are the bomb:
1. Outstanding overall experience
Almost all the boats are praised for their superior handling, riding experience, and comfort compared to other brands in the same price range. I've ridden the ATX 22 Type-S and the ATX 24, and I can say the same.
2. Superb wake- and wave-making performance
Praise has been rained on its wave-making ability, to the point that it has put a few household names like Axis to shame when it comes to this aspect.
Wake surfers have the design to thank mostly for it. Each ATX boat is made with wake surfing in mind with its military-grade hydraulic actuators.
For example, the Convex V Hull and TAPS 3T deserve to take center stage, in particular when producing the kind of wakes and waves you can't expect that much from other brands.
3. Type-e tower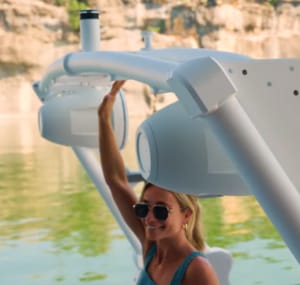 This is an average-sized tower at best, not as tall as Axis's. Even so, it manages to deliver with its no-nonsense functionality.
You don't have to manually lower or raise it, for one, as all that can be done with a push of a button. It also takes only 7 seconds to fully lower or raise.
4. Go system™
Another exclusive feature that boosts ease of use, this technology pretty much saves everyone's time. I mean, how many minutes or even hours do we spend trying to get the right wake-surfing setup?
With the Go system™, you only need to choose whether you're skiing, wakeboarding, or surfing; press the 'Go' button, and the fun already starts. With its user-friendly design, there's no need to go through lengthy instructions to figure out how the system works.
It also allows you to customize your settings via the touchscreen display. In short, it's a wonderful mix of ease of use and better control over getting the perfect wake that fits your style of riding like a glove.
5. Generous with floor space and accessories
Tige boats don't skimp in passenger capacity, and neither do ATX's vessels. Sure, there may be more spacious boats from other brands out there, but an 18-seater like the ATX 24 Type-S doesn't exactly leave you wanting for more, does it?
Of course, there are also the bells and whistles. I think any avid wake surfer can't ask for more if they get their own surf biminis, thrusters for smooth maneuvering, quick-release fender cleats, handy storage, keyless ignition, and transom remotes, among others.
Should you be interested to know specific models, then I recommend watching on YouTube for first-hand reviews.
How Much Do ATX Boats Cost?
The average ATX boat price sits at around $115,000, regardless of condition. That being said, you'll be able to find used ATX boats on sites like BoatTrader and YachtWorld that mostly cost below $100,000. Newer models don't usually sell for less than $130,000.
I highly suggest you visit those websites yourself so you'll be able to see real-time figures.
Conclusion
To wrap up our little company investigation as to who makes ATX boats, it's none other than Tige Boats Inc. under the ATX Surf boats brand. It's a company that has carved its own niche in the wakeboarding, skiing, and wake surfing industry due to its dedication to its customers and passion for taking the said activities to greater heights.
---
Read more: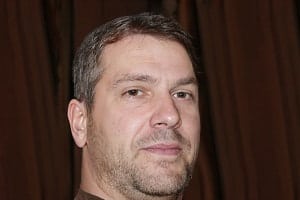 "My intention from the first day establishing Boating Basics Online is to provide as much help as possible for boaters who want to experience a first safe and convenient trip. So feel free to join us and share your beautiful journeys to the sea!"