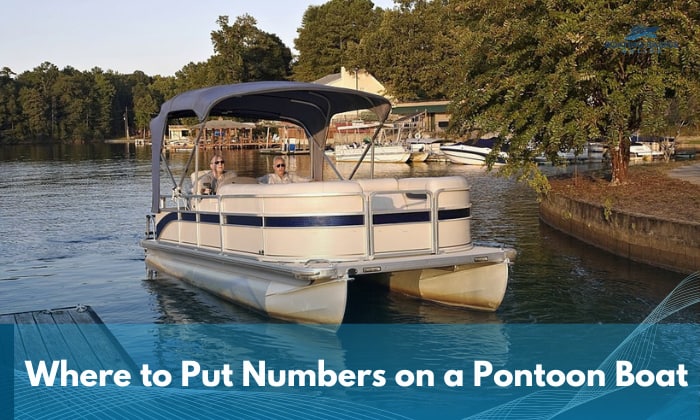 A lot of first-time boaters approach me with common questions and concerns. "Where to put numbers on a pontoon boat?" is one of the more often-asked queries whose answers I'd like to share more permanently through this post for everyone's convenience.
The common guideline is to put them on both sides of the bow or the forward part of the vessel. The HIN (Hull Identification Number) can be displayed on a plate or stamped on the transom's starboard side. Confirm this by checking the boat registration laws in your specific state.
Read on to know more about correct pontoon registration numbers placement.
Where to Put Registration Numbers on a Pontoon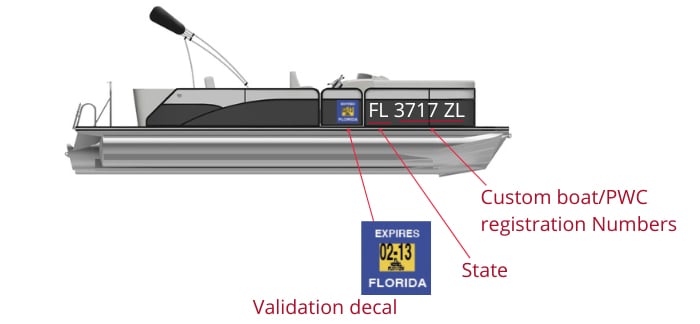 Based on my thorough research of every state's guidelines pertaining to pontoon boat registration numbers, I've arrived at the following summary:
You need to confirm whether you have to put the numbers on or register your vessel in the first place. Some states give a pass to boats documented by the Coast Guard or vessels spanning less than a certain size, are non-motorized, or registered in another country, for example.
On the whole, there's really not much difference when it comes to Ohio boat registration numbers and Florida boat registration numbers requirements, or most states. The gist is that they must be displayed in the parts said above, must be readily visible, and always be above the waterline.
Most states require you to put registration sticker on pontoon boat. If without a sticker, you can use paint instead. What's important is to ensure the correct location of boat registration numbers.
For these registration digits, they should be on the bow's two sides, and the HIN is to be displayed in the exact spot on the transom said above. If the question, "Where do I put my registration sticker on my boat?" has been lingering on your mind, there's your answer.
Note: Some states may require the registration number to be in line with the validation decal and no more than six inches apart.
Meaning of Numbers on a Pontoon Boat
Registration numbers on a pontoon boat are accompanied by letters and hyphens, depending on the state they're registered in. It's pretty straightforward, really: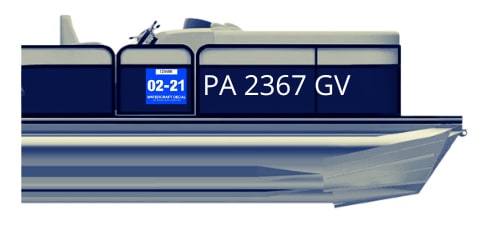 The first two letters are the abbreviation of the state where the vessel was put on record. For example, if it's a Pennsylvania or PA boat, it may have a registration number such as: PA 2367 GV or PA-2367-GV.
The succeeding series of numbers and letters are randomly assigned.
As for the HIN, the first three letters stand for the manufacturer's ID code. It's then followed by the serial code, month and year of production, and the year the model was released.
Here's how the HIN pontoon boat lettering typically forms:
The ID code and serial number are random.
The production month is represented by a letter and arranged in alphabetical order. For example, since "J" is the tenth letter of the alphabet, then your boat will be assigned that letter if its month of production is October.
The HIN would end in 18 if the vessel was manufactured in 2018.
How to Put Numbers on a Pontoon Boat
I'm assuming you've already got your boat license numbers and are ready to put them in place. If not, be sure to get your registration numbers on deck boat or ask the dealer you bought it from to take care of it for you (although they should automatically do the task).
Before putting the numbers on, make sure you do these preliminary steps first and heed these tips:
Confirm which numbers go on the side of a boat, based on what I've already reiterated here.
Clean the exact spot where you'll be putting the numbers, especially if you'll be using paint.
Use a large enough font with a color that contrasts the hull's paint so that the letters and digits stand out easily. Use block letters.
The numbers must at least be 3 inches in size (better if bigger). This applies to pretty much all states, whether it's MC number requirements or AZ regulations you have in mind.
You can choose between using hyphens or spaces to separate the values that will form the registration number.
Once you've marked and cleaned your pontoon boat registration number location, you can now start placing the numbers by following these steps:
To make your life as easy as possible, I suggest you just go to your local sign place and ask them to make boat decals for you. Trust me, this will only spare you from trying to keep the individual numbers and letters aligned.

Put some painter's tape above the portion where you'll be putting the number. This is so you can easily keep it aligned. Then, wet the spot where you'll be putting on the decals.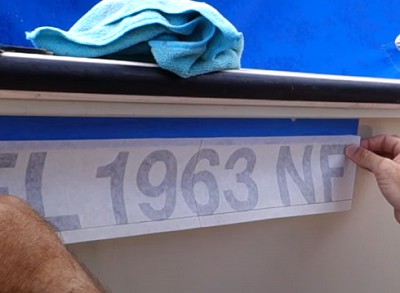 Finished? You can now remove the decal's backing. Just carefully pull it apart, no need to rush.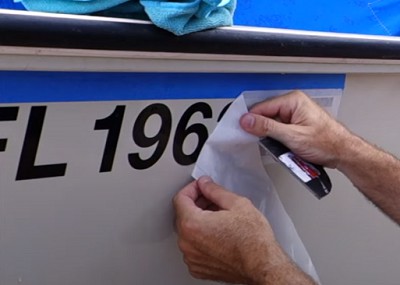 Once you get it off, carefully put the sticker's adhesive side on the spot you've assigned for it. Use a scraper on the backer to straighten uneven spots and get rid of any bubbling.
Now, remove the backer or liner. Again, do it slowly, so you won't end up misaligning the letters on your Ohio boat registration stickers (assuming you're Ohioan), or worse, scraping some of it off.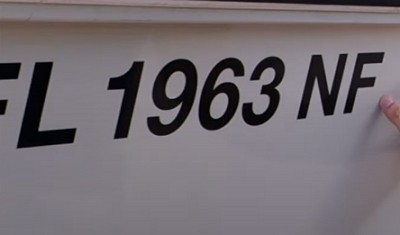 The numbers must not be obstructed by anything, so that means you should refrain from putting other stickers next to them or writing and painting over them.
The Registration Number and Boat's Hull Identification Number: What is the Difference?
Registration numbers serve as the boat's license plate. It's what's used to look for boats easily, such as when people do a boat MC number lookup, for instance. It's assigned by the state government for owner identification, boating law enforcement, and ensuring overall safety.
On the other hand, the hull number on a pontoon boat or other vessels is more of a means to identify and keep track of the vehicle. It's assigned by the manufacturer for warranty and history tracking purposes (i.e. pontoon serial number lookup).
Take note that the VIN number on a pontoon boat is the same number as the HIN. There's no VIN in boats technically, since the HIN serves its purpose.
Conclusion
I hope I've supplied all the answers you need to your question, "Where to put numbers on a pontoon boat?"
To summarize, these numbers pertain to the registration code and HIN, which have specific areas on the vessel they need to be placed. These basic guidelines are complemented by other specifications that you should mind every time you buy a new vessel.
Most states encourage putting these numbers on boats because they help in tracking. This is especially true when doing boat registration numbers lookup and when enforcing the rules inherent in maritime travel, among other important functions.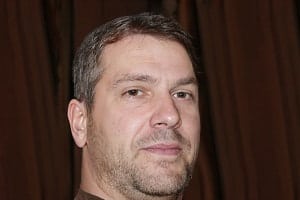 "My intention from the first day establishing Boating Basics Online is to provide as much help as possible for boaters who want to experience a first safe and convenient trip. So feel free to join us and share your beautiful journeys to the sea!"