Painting a sailboat hull not only lets you save money, but it can also be quite gratifying. Plus, learning how to paint a sailboat can be likened to taking that one important step of truly claiming your vessel as your own. I mean, they're our darlings, right?
This simple guide teaches you how to paint the hull of a boat, including a sailboat's. Overall, it's not hard to grasp – just a bit tiring, and plenty of waiting is involved.
Prepare the Following
Primer (epoxy recommended) and hardener
Sandpaper (80-grit, 220-grit, and 400 grit)
Cleaning cloth
Masking tape
Brush
Roller (or paint sprayer)
Paint tray
Sponge
Boat soap
PPEs such as gloves, a coat, and a respirator
Choose a workspace with good ventilation to avoid exposing yourself to fumes, which have many detrimental but highly avoidable side effects. Painting the boat on its trailer on a clear, dry day and positioning it so the paint won't get direct sunlight exposure are ideal.
Practical Steps for Painting a Sailboat
This guide works well for fresh paint jobs and even if you're repainting the boat.
Step 1. Give the sailboat a thorough cleaning.
Any dirt, debris, and grease should be taken care of in any sailboat paint job. Check for debris and algae clinging to the hull and the sailboat deck, and just use the brush and cloth to get it off.
Double-check parts of the keel because mud and seaweed tend to stick to it the most. If there are barnacles present, you may have to power wash them or any stubborn green stuff you encounter.
Dip the sponge in a mix of boat soap and water, then start scrubbing any stains. Afterward, give the sailboat a good rinse. Wait for it to dry.
Step 2. Start sanding the hull's surface.
Put on your respirator and coat. Use an 80-grit or 100-grit to roughen the surface and remove any lingering trace of old paint by scrubbing in circular motions.
Then, grab the 220-grit to smoothen the surface more. That said, an 80-grit or 40-grit paired with a sander will do just as well, based on my experience every time I repaint a fiberglass boat.
You'd want the surface to be as even and smooth as possible before applying the first coat.
Step 3. Prepare the primer, then apply it.
The epoxy primer helps to ensure that the paint will adhere well, too, so I recommend you don't skip it. Epoxy also acts as a good sealant and prevents cracking and rust.
Before you apply it, put some masking tape over the areas of the hull that you don't want the coats to go over. It will ensure even coats, too.
Every epoxy primer and hardener combination is different in one way or another. As such, follow what the manufacturer recommends when mixing. Be mindful of how quickly the mixture hardens.
Once you're done with that step, use the roller to apply even coats of it over the whole surface of the hull. Depending on the size of your boat, this may take a while and can be tiring, so I suggest you ask for help.
Done? It's time to wait a day to apply another layer. The next day, you can either apply another coat of primer (up to 4 coats is great) or proceed to the painting part.
Step 4. Prepare the paint, then start applying the topcoat and antifouling coat.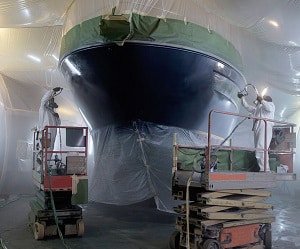 Mix the paints according to the instructions.
You need to make sure the primer has dried before painting. I suggest two layers of topcoat followed by two equal coats of antifouling paint. But you can also skip to the antifouling paint immediately – your boat, your choice.
Be sure to pick a good marine-grade paint like TotalBoat's Alumipaint AF or Interlux's Fiberglass Bottomkote Aqua. Better yet, you can just head to your local marine shop and ask for recommendations (trust me, they know their sailboat paint best).
We're not exactly doing something artsy here, like making an easy sailboat painting with acrylics. You want coats that can take a beating, so choose marine grade only.
Once you're ready to work, use a roller or a sprayer to apply the paint. Personally, I'd suggest the latter choice because if you spray paint a boat, you'll get a sleeker, more attractive finish, although it requires some skills.
Therefore, if you've never handled a sprayer, the best way to paint a boat would be with a roller. Here are some tips to ensure the best results:
Pour the paint into the t
Slightly dampen the roller with clean water.
Lightly dip the roller into the paint so that no more than half of it is submerged.
Run the roller on the paint tray's ramp a few times to evenly distribute the pigment.
Run the roller from the top to the bottom of the hull. Make sure you apply even pressure as you do so. Remember: the strokes should be parallel and uniform; under no circumstance should you change the stroke to a different pattern.
Use a paintbrush to access cavities and holes on the hull that your roller can't reach.
Apply the suggested number of coats for each type of paint, taking care to sand with the 400-grit or higher with each However, make sure you confirm that it's recommended by the paint's manufacturer.
The Importance of Painting Your Sailboat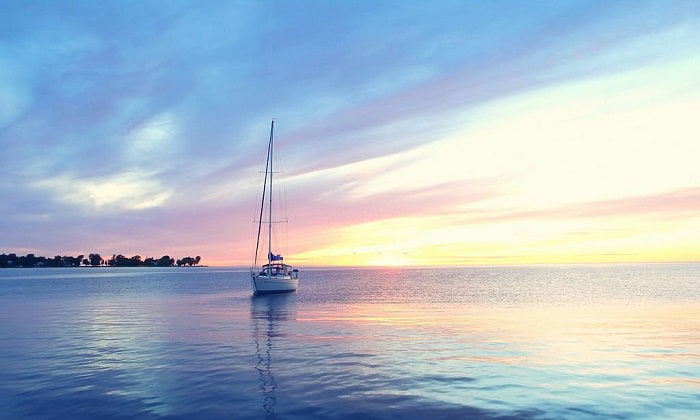 The first is aesthetics. How can your gaze possibly not be arrested by an exquisitely painted sailboat sailing in the distance? It's an automatic postcard image.
Secondly but just as important (if not more), you're protecting your baby from damage, barnacles, rot, and other nasty things, extending its life and boosting its value.
It exercises your creativity. Try out some sailboat paint schemes available on sites like Pinterest, and you'll know what I'm talking about.
I've certainly tried one or two of these ideas myself, but not on a skiff and jon boat that I made from scratch. My wife and buddies were positively mesmerized.
Much like how videos on YouTube showing easy boat acrylic painting puts my mind at ease, I can say the same for when I'm painting sailboat hulls.
A lot of my friends who love to sail, fish, and paint sailboats on canvas say the same since they're often more than willing to stop by and lend a helping hand during my paint days. We exchange sailboat painting ideas occasionally, and they like the method I've shared here.
As such, painting boats can be a way to relax your mind and help you connect with like-minded people. You may also learn helpful tips regarding sailing and boat maintenance along the way.
How Often Do I Need to Paint My Sailboat?
You need to paint your boat every year if you let it sit in the water all the time and the vessel shows signs of degradation.
That said, if you paint your sailboat with high-quality products, such as marine-grade paint, the coating can last for as long as 10 years, especially if you're extra careful with your boat and have proper storage for it.
Some Best Paints to Use for a Sailboat
Besides the two brands I mentioned above, you can also try antifouling paints by Rust-Oleum. I just rotated between TotalBoat, Rust-Oleum, and Interlux because these three provided the best results among the sailboat paints I tested.
Rust-Oleum's Topside Paint paired with the brand's fiberglass primer work well with fiberglass hulls. But I can say the same for TotalBoat's Topside Paint. To me, it's really just whichever of the three is available on my local marine shop's shelf. Besides choosing the right paint, you may also ask yourself how much it costs to paint a boat. Is it worth it? Check out this article to get the answer!
Safety Tips for Painting
If you follow most of the preliminary preparatory steps I've shared here, you will be keeping yourself safe from start to finish.
Wear the PPEs I said above every time you're sanding and applying epoxy and paint on the surface.
Read any warning labels on the paint and other chemicals you use, like acetone for drying the paint quickly. Handle it with care always.
Learn how to dispose of your paint properly. It'd be even better if you learned how to recycle it.
Beware of accidents that may happen while you're doing the cleaning and prep work. I mean, I've hit my head on a sailboat mast while doing them, so I reckon the chance of such misfortunes happening isn't zero, even on a paint job.
Conclusion
To recap everything I've said regarding how to paint a sailboat:
Position your boat in a good workplace.
Clean and sand its hull well using boat soap and water and sandpaper.
Apply 4 coats of the primer, 2 coats of the topcoat, then 2 antifouling coats, or skip to the antifouling paint coat immediately.
Decide how you're going to apply the paint based on the finish you want and your skill in using each tool.
We wish you the best of luck with your painting project. If you want to share your results with us, feel free to reach out via the comment below.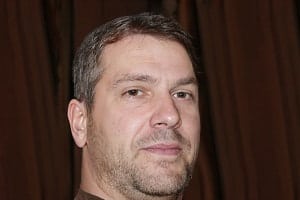 "My intention from the first day establishing Boating Basics Online is to provide as much help as possible for boaters who want to experience a first safe and convenient trip. So feel free to join us and share your beautiful journeys to the sea!"