Aside from the thrilling experience that riding a boat can offer, there are times that you need to work on something. Just like when you come across dusky conditions. It may not be safe if you can't see clearly. The best marine LED light bar is what you need in low visibility. You can get it by being attentive with the following features:
Light Quality: The light quality is a fundamental feature that you have to look at when buying a marine LED spotlight bar. Lumens, wattage, and light color temperature make up for the light's brightness. You may check the light ratings to ensure that you're getting a quality one.
Housing and Waterproof Properties: The marine environment can be harsh and because of it, the LED light bar on boats should be protected. Look for the one that is encased in durable and tough housing. This part will ensure you of its longevity. As expected, marine accessories like a light bar will often be exposed to seawater. A waterproof casing is what would make it withstand outdoor elements.
Without waterproof properties, you'll likely see condensation on the lenses. When it happens, you'll find lights that will no longer serve you. It's also vital that a waterproof casing can withstand corrosion and rust, which are caused by a high level of salt and moisture or liquid. This thing can be provided by aluminum and some special coating.
Compatibility with Your Vessel: When it comes to the voltage systems of marine crafts, they range from six to thirty volts. Commonly, you'll find boat lights in twelve to twenty-four volts. It will be easy to find 12V waterproof light bars. The right wiring harness needs to be secured for these lights to work.
You made the right choice of taking some time to read this review as it's filled with efficient and reliable LED light bars for boats.
---
Nilight NI06A-72W LED Light Bar
Wide coverage
Extreme brightness
Long-term service
---
NAOEVO 13 LED Light Bar
With blinding brightness
High IP68 waterproof rating
Comes with adjustable brackets
---
EXZEIT Waterproof LED Boat Lights
Easy to handle wiring
With undefeated quality
Provides sufficient illumination
---
Top 8 Marine LED Light Bar Reviews
1. Nilight NI06A-72W Spot Flood Combo LED Light Bar
This boat light bar is super bright and it helps me get through foggy areas and winter evenings. I thought it was battery-operated but I'm glad that it can be wired. Despite its extreme brightness, it doesn't blow up fuses. The scope of its illumination is superb. I can tilt it a bit if I want to pull off a full view of a specific area.
I think this is the part that this light bar excels among other competitors. There are mounting brackets that you can slide and adjust. So it is very convenient as I can set the light output that I prefer. More so, I can have it in any direction that I like. Therefore, I'm content with the visibility that it can create.
I placed two of these light bars in my duck hunting boat and I don't have problems finding my way in the dark. Since its brightness has a wide coverage, I didn't hesitate to use it as a trailer light. Luckily, my idea worked out. It can be in different applications as many use it on vehicles, lawnmowers, and snowblowers. Hence, you can do chores even when it gets dark.
Its various usages only prove that it's waterproof, dustproof, and quakeproof. These abilities exist because of the aluminum alloy casing, which can also dissipate heat easily. With these features, I don't doubt its long-term service. I can't say that it's a downside to apply silicone on the edges of its lenses. As someone who doesn't want something being compromised, I did it to ensure that the lights are safe.
What We Like
With extreme brightness but doesn't blow up fuses
Has mounting brackets for adjustment on the light output
The light has a wide coverage
Can be in different applications
Waterproof, dustproof, and quakeproof
For long-term service
What We Don't Like
Applying silicone on the edges of its lenses
It's a big advantage to be able to focus this LED boat light bar on the part that needs lighting. The mounting bracket is a big plus! Indeed, they're efficient duck boat light bars.
2. NAOEVO 13 LED Light Bar
It feels like I have a personal sun because of this light bar on the boat at night. You may think it's an exaggeration, but this product illuminates my boat well. It somehow looks like a disco light from the '70s. Once you get to see it, it's almost blinding as the effects combine spotlight and floodlight. Thus, I can say that it's the brightest LED light bar for boats.
I don't have to be reluctant to pass through foggy areas and face the pitch darkness when fishing at night. Its brightness creates a daylight atmosphere. What's more amusing is that it can survive snowy, rainy, and stormy days. The waterproof properties of this light are not to be underestimated. It receives a high IP68 rating as it's inside die-cast aluminum housing.
There are two of these light bars in my boat and I sometimes let them submerge for hours. Nothing bad happened to them, so I can testify that they're waterproof. Moreover, this light has 10 cooling fins to dissipate the heat. Still, it's not recommended to let it sit under the sun for a long time, especially when the rain has just passed.
Aside from being solid, it has brackets that can be adjusted around 45 degrees. This allows every user to change the direction of the light beam. All of the benefits can be achieved through an uncomplicated installation. So, you can see this light bar as headlights in many vehicles. They're great on long-distance trips.
What We Like
Combination of spotlight and floodlight
With blinding brightness
Can survive various kinds of weather
With a high IP68 waterproof rating and aluminum housing
With 10 cooling fins for heat dissipation
Comes with adjustable brackets
What We Don't Like
Not recommended to be under the sun for a long time
The brightness coming from this light is exceptional! It turns darkness into daylight and it's like magic. Reality is told, it's just the quality craft of the manufacturer to let boaters sail at night.
3. EXZEIT Waterproof LED Boat Lights
There may be some lights that look like this pair of LED marine lights bars. But this one has proven its worth which makes it stand out from the rest. It's one of the outstanding items that I bought because of its brightness. It works wonderfully as dock lights thanks to its sufficient illumination. I'm astounded at how it increases visibility!
A pair of these affordable lights can illuminate my whole deck boat and pontoon. My friend who also used it is satisfied with how the whole cockpit of his boat is lit up. For this reason, sailing at night is no longer restricted. You'll be happy to use these as floodlights as they reduce the current draw. These are the brightest ones that I've ever found! The quality is undefeated.
What's amazing is that they've been exposed to ice, snow, hail, rain, and even heavy torrential rain. Still, they're here, continuing to serve me. It's easy to understand why these lights are also on heavy-duty vehicles. Using them on vessels is uncomplicated as they're waterproof. I feel relieved that I can't see any moisture or water inside the lights.
The wiring and connections in the installation are a piece of cake. Unfortunately, the U-shaped mounting bracket is not stainless. It's powder-coated or just painted. I needed to make modifications, but it's fine with me. I'm willing to dedicate extra effort to gaining this awesome brightness from these lights. Once you have the right hardware, you can wrap up the installation in just several minutes.
What We Like
Provides sufficient illumination to increase visibility
With undefeated quality
Remains in service despite exposure to various kinds of weather
Also used on heavy-duty vehicles
Waterproof; no moisture or water inside the lights
Easy to handle wiring
What We Don't Like
Modifications on mounting hardware
This boat LED light bar is everything I could for. It's not costly , but it can render long-term service. Due to its sufficient brightness, it can fulfill the needs of its users.
4. YITAMOTOR CTWLWL-0115 White Curved LED Light
There are many reasons to love this light besides the lifetime warranty and 30-day risk-free money-back guarantee. I'm impressed with its curved aluminum body with a dual row of white light just like what's popular in Australia. It's truly well-built not just by its appearance but based on its abilities too.
It lights up well on my 24-foot boat as I chase tuna in the dark. Thus, I can trust this in the night or early morning fishing and docking at any marina. My fellow anglers are also happy with this item. Once, I was in awe to see the formation of a white wall against the fog.
Its brightness, like the sun, can make every boater happy because it's a reliable light source. You can trust it to guide you and help you avoid peril in the sea, and even on the road.
That's why it's used as a driving light, fog light, and emergency light. Apart from durable construction, I can testify that it's truly waterproof. This light has faced the rain and storm a couple of times and it didn't give up. Additionally, it's dust-resistant, anti-explosion, and quakeproof.
I can't exactly say that I have to commend myself for doing the installation as it has a very firm fixation. It can be a LED light bar on a boat T-top after adding some white PVC trim molding. The wiring harness doesn't come with the purchase, but I prefer it this way. It gives me a chance to choose the wires suited to my vessel's electric system.
What We Like
Comes with a lifetime warranty and a 30-day risk-free money-back guarantee
Well-built with its curved aluminum body
A reliable light source with adequate brightness
Can be in various applications
Waterproof, dust resistant, anti-explosion, and quakeproof
Has very firm fixation
What We Don't Like
Unavailable wiring harness
I like its appearance and brightness which make night fishing possible. It's a marine LED light bar white illumination that works as waterproof. Thereby, I don't have to worry about prolonged exposure to seawater and rain.
5. AutoFeel LED Light Bar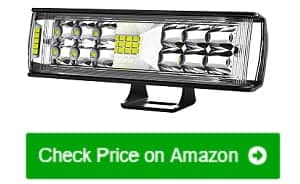 I like the amount of brightness that comes from this light bar! The massive flood pattern is effective in lighting up the dark for high visibility. You'll be seeing it shooting its illumination on both sides. This light seems not to know limitations. Although there's a massive spread of light, my eyes feel comfortable. The white lighting is not harsh for the eyesight.
With this pair of light bars, I experience broad daylight despite heavy rain. It simply means that you can't doubt its high waterproof rating. When I laid my eyes on these lights, I knew that it's well-built and suitable for marine use. Just the sight of the aluminum alloy housing with black paint gives me the idea of its sturdiness. I can tell it's durable because of the shatterproof optic lenses.
As a user, I don't have to worry too much about harsh weather conditions. I sometimes get caught in bad weather and this light is unprotected. To my delight, it remains tough despite harmful elements. I think I won't need to claim the one-year warranty.
This light is used in many ways. In my case, I have a pair of these in my engine room. But you may place it everywhere in your boat. You can do it since it has many roles in vehicles, such as being a rock light, reverse light, and backlight. I was even astonished that it's used on flag poles and many more. Just take note that it's typically for high beams.
What We Like
Massive light flood pattern
Produces white lighting that is comfortable for the eyes
Has a high waterproof rating
Durable and well-built for marine use
Has one-year warranty
Used in many ways
Due to the plentiful illumination coming from this light, I can sail in the dark. The construction is excellent as it makes this light bar ready for the marine environment.
6. EXZEIT Waterproof LED Boat Lights
The LED chips of this boat light are terrific because they can deliver a broad scope of brightness. I have these lights on my boat as well as my trailer. All of them incredibly give the bright white light. They're way better than the fog lights that I used before. The 150 degrees illumination that the ads say is for real. Night fishing is safe and productive all at the same time.
I also use these lights before the sun rises and they make me visible all the time. It's just right that they are in various kinds of vehicles. With the abilities of these lights, driving at night won't put you in danger. I agree with the comments in the hull truth forum that it's an incredible floodlight.
I salute its durability because of its aluminum housing and stainless steel hardware. These lights conquer the test and beating of marine surroundings. I haven't worried about rust and corrosion since I started using them. This only shows the tremendous waterproof properties which lead to a long lifespan. The manufacturer made this well and the replacement is even guaranteed within two years.
Installation is a breeze as it fits my light bar boat mount. The fact that the hardware holds up well gives me peace of mind. Everything went well after installation. I only noticed that these lights hum or slightly whine, but it's barely noticeable. It's not a big deal as it doesn't bother me that much.
What We Like
Delivers broad scope of brightness
Capable of 150 degrees illumination
In various kinds of vehicles
Waterproof and durable due to its aluminum housing and stainless steel hardware
Offers guarantee replacement within two years
What We Don't Like
Does hum or slightly whine
The scope of illumination of this light is useful both at night and dawn. This is a quality light that can be with me for a long time.
7. AUXMOTEC Led Boat Lights 36W White
Following the positive feedback on light bar supply reviews, I have this light on both my bow and stern. I promoted this light bar in my area and my fellow boaters also bought them after seeing how bright my fishing boat and pontoons are at night. A few of them even put a couple of these lights in every direction of their vessels. Some kept on saying that it's the top-rated LED light bar for a duck boat.
This light bar can get you through the darkness as there are 120 degrees light beams. Fishing and hunting at night won't be a struggle. Aside from different kinds of watercraft, it also suits various vehicles. You can't just ignore how useful its broad brightness is wherever you go and whatever you do.
The two-year warranty says a lot about its quality which is why the manufacturer is confident to make such an offer. I know that the aluminum alloy housing extends its life due to several functions. It doesn't only have heat dissipation, but it proves to be waterproof, quakeproof, dustproof, and non-corrosive. Therefore, you don't have to worry about exposing it to seawater and bad weather conditions.
I know many people who are happy to have these lights as part of their restoration plan. When it lights up, the brand new look of their boats is enhanced. I share the same sentiment with them. That's why I don't mind buying wire, fuse, and switch separately because the brightness coming from this light bar meets my needs.
What We Like
Has 120 degrees light beam
Can be used in various vessels and vehicles
Creates broad brightness
Offers two-year warranty
Waterproof, quakeproof, dustproof, and non-corrosive
Great for boat restoration
What We Don't Like
Wire, fuse, and switch are bought separately
Finding the functional light bar is no longer a problem. Those who are on the lookout for duck boat light bar housing can take it easy as this can be permanent and serve you for a long time.
8. EXZEIT 22-Inch LED Light Bar
To be able to go fishing and hunting at night, there should be a light that will show you the way. Much relief was gained when I found this light bar from EXZEIT. Such bad luck that I had to try some light bars before it. Some of them provided the necessary brightness, but they didn't last long. I was tempted to buy the expensive Black Oak LED light bar. Still, I saved hundreds of dollars because of this product.
With a decent price, I can get an ample amount of brightness from this 22-inch light bar. I don't have to grope in the dark because I can see the surroundings as my boat roams the water. It assures me that I don't have to dread collisions and unwanted events.
Apart from its valuable brightness, it's committed to long-term service due to its aluminum housing. Its durability is also supplemented by stainless steel mounting brackets. Once installed properly, it stays in place. The whole body of this light bar can hold out against a harsh environment. Also, I don't have to deal with corrosion as it has a tough cover.
The durability of this low-profile marine LED light bar is backed up with a one-year replacement warranty. But I think I won't need to claim it as I've never encountered quality issues. All I have is praises for this product, including the installation process. I just bought a relay harness to connect it to the power source.
What We Like
Gives an ample amount of brightness
Committed to long-term service
Durable with its aluminum housing and stainless steel bracket
Holds out against harsh environment and corrosion
Has one-year replacement warranty
What We Don't Like
Need to buy a relay harness
I'm thankful for this light bar as I was able to skip spending hundreds of dollars for Black Oak lights. Although this is not expensive, the quality and brightness are spectacular. Because of it, night fishing is always fun!
Factors To Consider When Choosing Marine LED Light Bars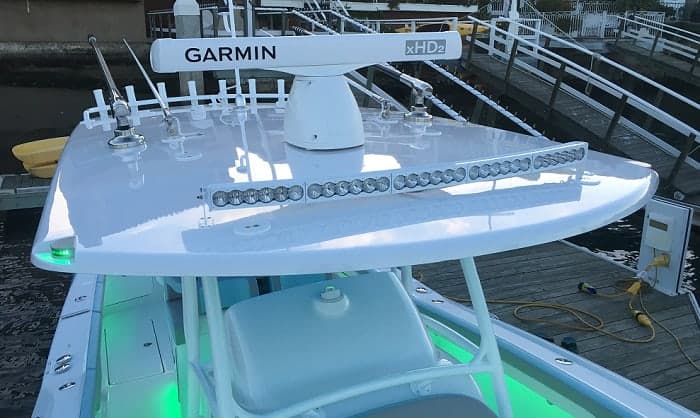 There are various types of marine LED light bars and you should know them to pick the one that suits your application the most.
It can deliver supreme illumination which is useful for navigating the sea even if the surrounding is misty and dusky. This light bar is usually situated around the cabin or on the stern. The length is typically about 50 inches.
This type of light bar creates a distinct form of brightness which is advantageous to all users. It has a dual purpose. If there's a need to illuminate a broad area, you can have it as a floodlight. When the light needs to be concentrated at a certain point, spotlight mode can be applied. Due to its flexibility, it's commonly used by boaters.
Deck and Compartment Light
You'll find this tiny light in a round shape and it's ideal for limited spaces like bunks, compartments, and cabins. So, you can't just mount it anywhere.
Some may misconstrue the real nature of strip light. It's waterproof and versatile which means that it's acceptable for marine use. The biggest advantage of this item is installing them at any length. Moreover, you can place them everywhere you may need them.
Another thing you'll like about it is the color variations such as red, yellow, green, and blue. They can flash and dim as well. You can surely create a cool vibe in your boat with these strip lights.
Benefits of Using Marine LED Light Bar
The first thing that may come to your mind about the benefits of using a marine LED light bar is the exhilarating experience of sailing in the dark. Undeniably, it improves visibility. But there's a lot more to know:
Some LED light bars have an improvised structure. They are curved and with this ergonomic design, they can fit perfectly in some sections of your boat or vehicle.
Night vision becomes better when you have quality light bars. You'll be able to see or discern what's ahead of you even though it is dark. Furthermore, you won't be guessing what you're approaching as you have a clear view. This happens due to the broad coverage of the light bar.
LED lights including the light bar are encased in durable and heavy-duty housing. You can depend on its resistance against dust and water. They maintain their toughness for a long time. It means that you can continuously use them without issues. It's also the reason why different vehicles have LED light bars.
Which Marine LED Light Bar Is The Brightest
EXZEIT, Nilight, NAOEVO, YITAMOTOR, AutoFeel, and AUXMOTEC light bars are the brightest in the market. It's the reason why they are featured in this review.
How Many Watts Is A Good Boat LED Light Bar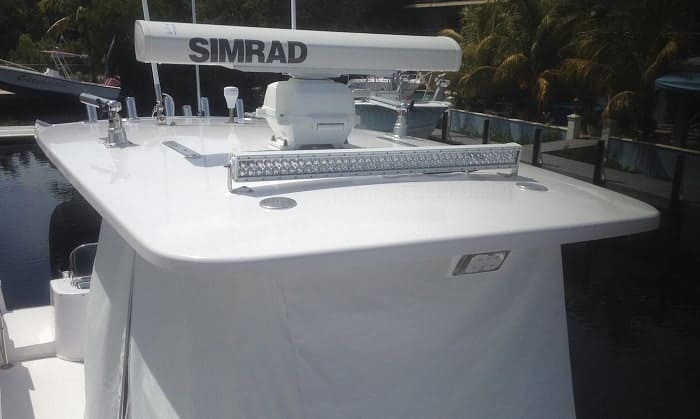 Since there are different LED light bars, the necessary watts also vary. Doing the math will help you find the necessary watts for your light bars. The formula is multiplying the wattage of the LEDs inside the light by the quantity of the bulbs. The light is brighter with higher watts. But it's not absolute as lumen contributes to the level of brightness.
How To Install A LED Light Bar On A Boat
Installation of a LED light bar on a boat is based on the manufacturer's guide. Since there are various types and brands, differences are to be expected. The boat owner should know the electrical system of the vessel. Skills or background in the electrical system are the things that can make the establishment of the LED light bar come through.
Where To Buy A Marine LED Light Bar
Be wise and buy a marine LED light bar from reputable deals to ensure that you can get replacements, returns, and refunds. You may look for it in the local stores but searching the web for better options and more deals should be considered. But make sure you get into trusted websites.
You can also splurge on free shipping and other freebies given by online sellers if you buy a certain amount of product or pay such an amount.
Conclusion
As you go through every product, you can now select the best marine LED light bar for you. It's the one that matches the style that you prefer and your requirements. So, spending time reading this review is worthwhile. You won't find yourself in regret later on as you're happy with your purchase.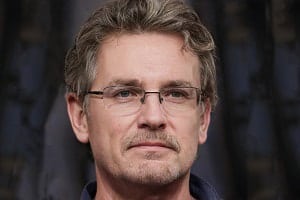 "I am James Harvey – founder of Boating Basics Online. It is established with the drive to help out first-time boaters, which are those desiring to explore their way through the water. So if you are new to boating, start from here with me. "