Visibility is crucial when you go fishing or hunting at night because of safety concerns. With regards to this, the best Jon boat lights are a must-have. They can be in white, blue, red, and green hues. These color variations can enhance your boat's aesthetics but they're primarily navigation aids. You'll be safe and won't be in trouble with authorities.
To purchase the effective Jon boat light kit, look for these features:
Adherence with Marine Regulations
Marine regulations vary from place to place so make sure you're aware of them wherever you choose to sail. The navigation lights for your Jon boat should have a mile or two distance visibility for the approval of the Coast Guard. It simply means that your Jon boat should remain in view in the said distance. This way, collisions in low visibility are prevented.
The electrical system in water vessels including Jon boats usually has 12V to 24V. 12V Jon boat LED lights are commonly used. The portable or mini type is ideal with EMI or Electromagnetic Interference for the sake of efficiency and safety. You should also check its different uses.
EMI promotes power efficiency and depends on the purpose of utilization. If you wish to save power, go for LEDs that have a high lumen from every watt. Even though the lumen is high in a LeD, less energy is consumed. This kind of light is also efficient in delivering the brightness you need to get through dark and foggy areas.
Check the waterproof rating of the lights that you're eyeing. It should be IP65, IP67, or IP68 so the light can be submerged in water for half an hour. IP67 is fine with meter deep water and the IP68 can survive a meter and a half. Once a light has this ability, it can withstand water splashes and rainfall. It's just right that you get waterproof navigation lights for Jon boats.
Waterproofing can happen if there's a durable housing composed of anodized aluminum, silicone seal, or thermoplastic. Once marine lights have these essential factors, you can rely on them. Don't look any further as they are as follows.
---
Nilight 60001F-B LED Pods
Can last for years
Wide range of applications
Outstanding in carrying out flood
---
Shangyuan Boat Navigation Lights
One-year warranty
With essential hardware
Attract fishes but not insects
---
Seapoon Pontoon Boat Light
Eye-catcher blue lights
Can be cut every two inches
Free several clips and screws
---
Top 7 Jon Boat Light Reviews
1. Nilight 60001F-B LED Pods
The light cap of this item is outstanding in carrying out flood and spot beams. There's a wide scope of illumination coming from these lights so I can see the incoming traffic. It's like seeing a noon-day sun! The mounting brackets will allow you to point the light in the direction that you like. Based on my experience, these don't only shine through the dark but also in foggy mornings. They have endured rain and even storms.
Take my words as a satisfied user. You can depend on its durability as these lights can last for years. The housing of these lights is waterproof with an IP67 rating, which means they can be submerged for thirty minutes. They're also dustproof, rustproof, and anti-corrosive. Thus, you won't worry too much about water exposure as the construction won't corrode.
Due to their robust structure, these light pods are not only suitable for Jon boats and other vessels. They are also installed on vehicles, tractors, snowblowers, and many more. You may use it in your backyard, garden, or other places that need lighting. As for me, a pair of these lights in my Jon boat makes a difference for safety and night activities.
Even the hardware parts that come with these lights are tough. To achieve its waterproofing feature, take time to tighten the Allen screws. I did it and the lights stayed dry and functional without issues. It's just my friend had issues with the side bolts as they're shorter for his application. So, he bought longer ones and he was able to finish installing them.
What We Like
Outstanding in carrying out flood and spot beams
With mounting brackets that allow you to point the light in your preferred direction
Can last for years
Waterproof, dustproof, rustproof, and anti-corrosive
In a wide range of applications
What We Don't Like
The side bolts may be too short for some applications
I'm impressed with the light beam coming from these lights while I can control where they face. I get my money's worth as they can serve me for years.
These affordable lights make my Jon boat look spectacular at night. Its brightness is not only for showing off but also for navigating in the dark. I can see everything around me whenever I go night fishing or hunting. The functionality of these lights on small boats is dependable. Thus, apart from Jon boats, you can use them on kayaks, canoes, dinghies, and others.
The illumination of these light strips also attracts fish. At first, I was worried about the green light, which is known to attract bugs. But with these lights, it didn't happen, and it brought so much relief.
They are LED lights so they are energy savers. I must say that they're dependable for marine use as they're waterproof. In my point of view, this is the most important feature of boat lights. You're given assurance that it can withstand frequent use and exposure to water. They're also dustproof and shockproof.
Though they're small, you can rely on their sturdiness as there's a one-year warranty. You're even allowed to seek a replacement if you find damages in your purchase after delivery.
Essential hardware is included in the package. Installation is pretty simple and I only needed to make the mounting holes a tad larger. The screws can penetrate through half an inch of wood. Just a reminder: be careful with the nuts as they're too small and you might lose them. Take note that you can only install these lights on flat surfaces.
What We Like
Can make Jon boats look spectacular at night
Has brightness for navigation, hunting, fishing, and safety
Attract fishes but not insects
Energy saver, waterproof, dustproof, and shockproof
Sturdy with a one-year warranty
With essential hardware
What We Don't Like
Only to be installed on flat surfaces
I'll stick with these navigation lights for life. They don't cost a lot and serve as expected. Aside from their brightness, there are more benefits that I can gain from them whenever I'm out in the waters.
3. Seapoon Pontoon Boat Light
These are great Jon boat navigation lights as they're not too bright but offer the right level of light intensity. They exceed my expectations of using strip lights. I even received compliments when I turned them on at night. My Jon boat glows up wonderfully with these blue-colored lights. They're eye-catchers and good for navigation or making others aware of my presence.
Aside from being lights on Jon boats, you can use them as deck lights, gunwale lights, interior lights, courtesy lights, center console lights, and a lot more! I love that I can cut this strip light every two inches. Hence, it can fit on any designated area for a neat result. You don't have to worry as cutting won't interrupt its functionality. There are ten pieces of LEDs every five-meter strip light.
Due to the LEDs, this strip light is an energy-saver. On the other hand, I take my Jon boat to lakes and rivers with these lights. They work properly in the marine environment. I have peace of mind as they have an IP65 waterproof rating. Based on their components, they are deemed safe for the environment. There will be no guilt in using this product.
Simple installation makes me feel at ease. Several clips and screws are also included in the package. You may or may not use them but I still did. The adhesion on the back of the light strips is fine but I couldn't be careless about setting them up. I applied glue at its back to ensure that the lights will stick well. In this matter, you can also use marine epoxy.
What We Like
Not too bright as there's a right level of intensity
Eye-catcher blue lights
Can be in different parts of a vessel
Can be cut every two inches for a neat result
Energy saver, waterproof, and safe for the environment
Free several clips and screws
What We Don't Like
Needs to apply glue or marine epoxy at its back to ensure surface adherence
I'm satisfied with these strip lights as they look awesome with the right level of brightness. Thus, I can be alert in avoiding troubles or accidents. I feel secure when I hang out at the lake or river.
4. Shoreline Marine All-round Fold Down Stern Light
I first saw this product from my friend's boat. It's ideal for small boats like Jon boats, kayaks, and canoes. There's plenty of light coming from it and I never thought that a stern light could have this brightness.
I use it as Jon boat running lights and they save me from making the Coast guard unhappy. It emits enough brightness to maintain safety on the waters. As a responsible boat owner, I can't just ignore the regulations of the local authority. Night fishing ends up well for me with their help. I can tie lures effortlessly too!
The price and quality of this light are both favorable to boaters. With continuous use, I can attest that it has high-impact construction. It's just what you want from a light that is exposed to the marine environment. Its aluminum shaft and ABS plastic base are sturdy. The longevity is guaranteed since it's well-made.
I'm pleased with its fold-down application as I can keep it safe during the day and when not in use. This type of stern light was usually 2 feet tall in the past and it was inconvenient. Good thing that it has the appropriate length.
Installation is smooth sailing as the necessary parts are provided. There's even a template to prevent the drill from slipping and damaging the light. The windshield base is easy to mount. I don't have issues with every step but my sister did. I don't know why she wished that it had two holes rather than three.
What We Like
Ideal for small boats
Bright and plenty of light for local regulations
Has high-impact construction for longevity
Fold-down application
Has the appropriate length
With a template to prevent a drill from slipping and damaging the light
What We Don't Like
Has three holes that may bother some users
Its brightness is not the only thing that makes this light useful. That's why I can say a lot of good things about it. It meets the local regulations and I like the fold-down application for safekeeping.
Since I started using these strip lights, I no longer worry about not being seen when sailing at night. I installed them on my Jon boat as navigation lights and my presence is known even from a distance. These are much better than the ones that I had before as they're brighter. The brightness can go as far as 4 miles. They walk me through sailing carefully and avoiding collisions.
The one-year warranty is proof that these are well-built and durable. This offer from the manufacturer is proof that they did well in creating quality products. Moreover, the IP67 waterproof rating makes them suitable for marine use. The bodies consist of superior quality silicone shells just right for lasting use. You can have them in various vessels as courtesy lights, running lights, deck lights, interior lights, and more.
You're free to place them in any section, even the areas where you need to wrap it up. I wrapped them on some sides and this action didn't halt the strip lights from working. Many people complimented the appearance of my boat when the dark falls as the green and red colors are striking. This effect can be credited to their brightness.
Before installation, you have to apply the alcohol on the surface. It's to ensure the adherence of the lights. This process is super easy and I finished it without trouble. I simply splice the lights' wires into the existing ones in my Jon boat. Lastly, I completed the installation with marine-grade silicone or marine sealant.
What We Like
Its brightness can go as far as 4 miles
With one-year warranty
Well-built, durable, and waterproof
Can be in various vessels and applications
With striking colors
Super easy installation
What We Don't Like
Cleaning the surface with alcohol and finishing with marine silicone or sealant
All in all, the brightness of these strip lights makes my Jon boat visible and stunning even from afar. They are also strong enough to withstand water, and you can rely on their long-term service.
Since they can run with batteries, these are the perfect lights for small fishing boats without an electrical system. All you need is three pieces of AAA batteries to make them work. The lights won't just go off as these can work for many hours as they're LEDs. I usually use them the whole night until early morning and they're still on.
Therefore, I don't have to be stressed in thinking about Jon boat lighting ideas. I'm glad that I made the right decision in using these Attwood mount lights. They're super bright in the dark to guide you in your fishing or hunting journey. However, they're not visible in the morning. It's not something to be worried about as I use them as navigation lights at night.
This Jon boat navigation light kit is favorable to me as I can permanently install its parts, such as bow light, stern light, and telescoping pole. I prefer this mount-type over the clamp one. It comes with adhesive pads, which are dependable when it comes to adherence, as well as screws for the security of mounting.
Moreover, I adore its frame and construction made for marine use. The lights are sealed in a shatter-proof polycarbonate lens and shock-proof housing. What a relief that I don't need to deal with hard wire lights. I was able to mount every part in no time then the lights simply started working. Detachment when not in use is uncomplicated as I do it every time I go home.
What We Like
Perfect for small fishing boats without an electrical system
Powered with batteries and can last for hours
Super bright in the dark
A mount-type light that adheres on the surface
With construction made for marine use
Doesn't have to deal with hard wire lights and uncomplicated detachment
What We Don't Like
Not visible in the morning
It's not a mistake to choose this mounted Jon boat light setup as it sticks well on the surface and detachment can be done any time I want. The brightness from these lights keeps me safe when doing water activities at night.
A light bar on Jon boat is not always the requirement for navigation lights. These tiny LED lights can make a difference too. The set includes two white lights, one green light, and one red light. My Jon boat is highly visible even at a distance. When you press the power button, a fast flash comes up. You can make the lights steady by pressing the button thrice.
These cute lights are hooked on the rails located on each side of the bow. I'm comforted as I don't have to spend a lot of time working on wires for installation. In regards to this feature, this involves onboard safety as there are no touchy lighting wires that would act up any time. It's better to prevent being at risk than being sorry. You may attach them on paddles or masts, stern, and some tools.
The size is convenient and the lights are very bright. Using them is hassle-free and is a way of keeping harbor patrol away because they can work as great navigational lights. The brightness is beneficial in many situations like being my guide when I catch squid at night. When leaving the dock before sunrise, they illuminate the way.
These lights can be operated through batteries. That's why you don't have to deal with wires. But be careful when replacing fresh batteries as you might tear its silicone sleeve. I think it's all because of the size as the casings are tough, water-resistant, and crafted for the marine environment.
All in all, the brightness of these strip lights makes my Jon boat visible and stunning even from afar. They are also strong enough to withstand water, and you can rely on their long-term service.
What We Like
High visible even at a distance
No need to work on wires for installation as the light is battery-operated
Can be attached to various parts of the boat
Convenient and hassle-free to use
Covered with a silicone sleeve that is water-resistant and suitable for the marine environment
What We Don't Like
Need to be careful to not tear the silicone sleeve during a battery replacement
Even though these lights are small, they can deliver gigantic effects for the navigation of Jon boats. Safety onboard and securely maneuvering your boat are guaranteed. I love that I don't have to be burdened with Jon boat light bar mount for installation.
Factors to Consider When Choosing Jon Boat Lights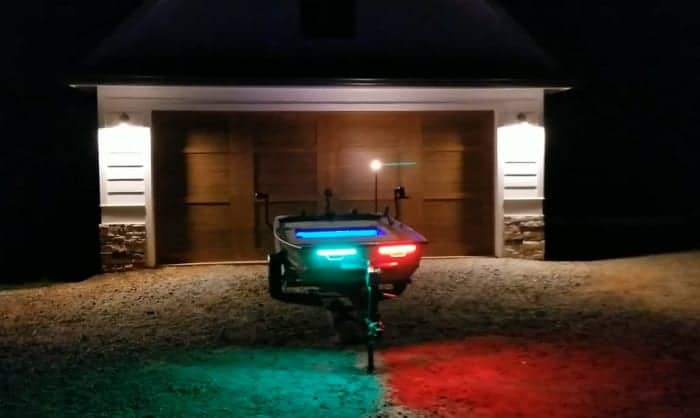 Types
Usually, Jon boat lights are connected with electrical wires. But you may also buy LED lights that are powered by batteries. You have to be particular about their roles in lighting up your Jon boat, such as stern lights, bow lights, transom lights, and sidelights.
To not waste money and feel disappointed, pick top quality lights like the LEDs as they're proven to emit enough brightness, save energy, and last long. They're not like other types of light that need to be replaced often.
Jon boat lights are referred to as aluminum boat lights and they must be properly installed. Using them is not only for your sake but for those you will meet when sailing. Here are the other benefits that you can gain from them:
Legal Safety
Jon boat lights are required by the law to prevent accidents and collisions. Thus, be aware of the important details because regulations vary in every area. You have to be responsible to display the proper navigation lights to avoid penalties.
Safety of the Jon Boat
Boat lights are the means of communication between sailing vessels. Jon boat lights are created to guarantee the safety of your boat and the nearby craft. The colors of these lights are to show other boaters your position and vice versa. You'll be able to determine the direction the vessel is going. With the right knowledge, you can avoid colliding with each other.
These lights are also a tool to let your presence known even from a distance. So, the other boat will be careful with their movements. Additionally, others will be able to recognize the size of your Jon boat. It can happen if you mount the lights in the appropriate places.
The Safety of the Crew
The safety of the crew or the people on board is also a concern. Interior lighting of the Jon boat needs to be set up correctly. Make sure the light is sufficient for everyone to see, even the ones with poor eyesight. Navigation is not the only thing you have to prioritize.
Having enough lights inside your Jon boat will prevent everyone from tripping or sliding. Getting someone injured is the last thing that you want to happen in your Jon boat.
Aesthetics Improvement
Boat lights improve the aesthetics of your Jon boat. Customization is always possible in the interiors. You'll surely receive compliments but you have to make sure that improvements won't get in the way of the function of the navigation lights.
Drawback
Nothing's perfect and Jon boat lights are no exceptions. Aside from the money you spend to own them, some amount is needed for maintenance. The cost is high if there are various lights in your Jon boat.
Are Lights Required On A Jon Boat
There are lighting regulations for Jon boats and you must comply with them. The required navigation lights are expected to work between sunset and sunrise as well as during bad weather conditions when fog, haze, and rain exist. This is imposed for \ boaters to appropriately respond to low light conditions and restricted visibility.
However, vessels that don't have engines will be fine with an electric torch. You must have the appropriate items to stop collisions from happening. If your Jon boat doesn't have an engine, you should have a functional electric torch to notify other vessels of your presence. Those with engines are expected to have lights that are similar to other vessels.
You can either place Jon boat lights on the exterior or interior for decorations. Placing them on the exterior side is helpful when you go fishing and indulging in other night activities in the water. There are regulations to ensure that you and those you meet on the waters are safe.
What Lights Do I Need On My Jon Boat
The first vital thing when getting lights for your Jon boat is the electrical wiring connected to a 12V battery. This is for a permanent lighting fixture. An electrical plan is important to protect your lights from the water. You may also opt for rechargeable lights for convenience.
Wired or battery-operated, LEDs are the best option. They are bright enough, energy-saving, and long-lasting. Other types of light need regular replacement, consume more energy, and require maximum maintenance. Thus, LEDs are not only popular in the marine industry but with others too and even in households.
How Do You Add Lights To A Jon Boat
Your Jon boat lights can be wired or with batteries. When they're the latter, you can simply mount them with screws and adhesive. The ones with wires are permanently installed. It can be an easy process but somehow tricky. When doing it, you don't need to hire a professional if you have basic wiring knowledge.
Usually, two-wire connections are what you need. Manufacturers are considerate enough to provide instructions for the installation. If it's not provided, here are the basic steps to follow and:
You have to know the power supply that can activate your navigation lights. Correct voltage should be utilized.
After distinguishing the power supply, look for the wires attached to the lights. The red wire is positive while the black one is negative. In some lights, red is referred to as the hot wires and black is the ground.
When connecting it to the power source, you won't have a hard time as you'll only need to match the colors.
These steps can also be applied if you want to commit to a DIY boat navigation lights project.
What Is The Best LED Light Color For Fishing
White and green LEDs lights can attract fish. No wonder that they are present in most fishing needs. These colors allow boat anglers to cherish a wonderful atmosphere in a quiet evening or night.
When fishing, it's vital that your Jon boat lights are waterproof with the essential lumen count in creating the necessary brightness. These features are not only essential for navigation but for fishing too.
Moreover, don't hesitate to invest in lights that are up to the standard of marine use with cool brightness. They should be able to form a good coverage and serve you for a decent period.
Newbies will surely love white and green lights to help them with their fishing adventures. It's recommended to attach them to the exterior of the boat to not invite insects inside your Jon boat.
Conclusion
When you frequently go hunting or fishing in the dark or low visibility, you need to prepare the best Jon boat lights. You can trust the ones presented in this review as they're of premium quality. They are lights that are designed for navigation and marine use. If you have one of them, hassle-free and safe adventures with your Jon boat can always happen. You will also not catch the attention of the authorities.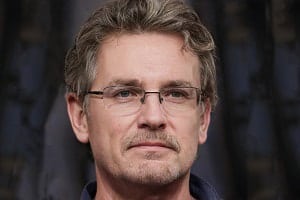 "I am James Harvey – founder of Boating Basics Online. It is established with the drive to help out first-time boaters, which are those desiring to explore their way through the water. So if you are new to boating, start from here with me. "