"How wide is a boat trailer?" comes to mind when finding smart ways to clear boat movements into the water. Decide on the widest boat you can trailer with the right length and width of boat trailer you desire by reading the solid tips from boat owners from this tutorial, specifically:
Essential considerations for boat trailer length and width, and
Primary steps in choosing the right boat trailer dimensions.
Read these reviews of the standard boat trailer width for easy and faster boat trailer movement, and follow the respective boat towing laws by state for a more enhanced boat-towing experience.
Essential Considerations to Answer, "W

idth of Boat Trailer

"
1. The Boat's Intended Use
Deciding on the width of a boat trailer depends on your intent, regulations, and on other essential information you've got. Ensure you have these factors about the maximum boat trailer width and some state-specific practice of using boat trailers.
Secure these factors to know how and where you can use your boat trailer and tow it hassle-free and state-specific. Getting the average boat trailer width and other information helps define your intent to adhere to each state law. The boat trailer dimensions, particularly width and length vary upon the boat's purpose.
The boat's intended uses include:
Inshore and offshore boating or fishing
Deep sea boating or fishing
Bay boating
Pleasure boating or water cruising
Water sports
Wildlife hunting
Wider and oversized loads, and
Other boating-related and boat-towing or hauling activities.
Use these elements to effectively guide your decisions in finding a perfect marine trailer choice.
2. Typical Size Of A Boat
The average width of a boat matters in knowing the typical boat trailer sizes for enhanced towing trips. Know that it ranges about 8 feet wide for smaller boats or any marine vessel under 20 feet in length.
Each of the boat's intended use affects boat sizes and helps secure the suitable boat trailer width. When going for freshwater fishing or hunting, consider having compact boats. You can have a smaller boat trailer with a width of 7 feet by having a 12 foot long pontoon boat.
Larger boats beyond 20 foot long are the best choice to load more weights, especially for bay boating. Larger boats can ease towing and maneuvering on congested bay and fit to use on open and calm waters.
Always measure from the bow eye through to the transom section's drain plug to ensure the right boat trailer. Exclude extensions like swimboards, bow pulpits, and overboard platforms for correct measurements.
3. Boat Care Maintenance and Storage
Maintaining and storing your boat needs constant and regular servicing intervals by boat owners and professionals. The overall boat upkeep matters on the reliability of the boat trailer and the servicing and storage areas.
Boat maintenance seems easy in all seasons but is a serious consideration for most boaters. It influences the selection of a right boat trailer, especially the cost of maintenance and storage. Either you get new outdoor storage for your boat, stay on the boat trailer at the garage, or follow these options:
Wrap your boat and trailered boat. Various cover or wrap-around materials are available in the stores near you or via online markets.
Store boats in the water for long extended periods like during winters. This is more convenient but has risks. Dry indoor storage is the best alternative in this case.
Go for dry docking or indoor boat storage in the off-boating season, like in the winter. It reduces the risks and damages to boat hulls and boat trailers and extends lifespan.
4. Laws and Regulations For Boat Trailers
Ensure you have enough information on state-specific laws and regulations when going down the road with your boat trailer. You can get the legal towing width for boats from your state transportation department.
Make this part of your diligence along with the intended use of your trailer and boat. Note certain differences of these laws applicable to the private use of boat trailers. Research such guidance information to tow your boat hassle-free.
Pay attention to your boat trailer weight and length specifications or capacities. These include trailer width, length, brakes, lights, speed limits, flatbed or load sizes, need for escorts, and travel schedules.
Primary Steps in Choosing Boat Trailer Dimensions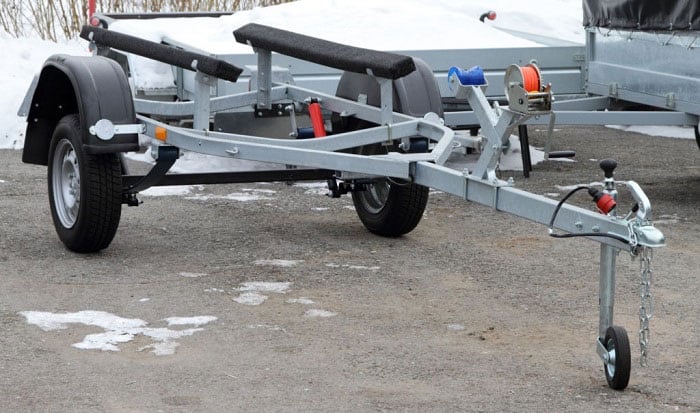 Step 1. Measure your boat length and weight
The proper length and weight of your boat need to be measured and are essential to your trailer capacity. Consider the wet-weight and dry-weight of your boat for the proper weight capacity of your trailer and its right width.
Take responsibility by measuring the difference in "wet" weight from the published dry weight of your boat trailer. The "dry" weight is the boat weight minus the engine, equipment, fuel, and accessories like batteries for accurate trailer dimensions.
Step 2. Choose among a Bunk or Roller Trailer
Choose whether a bunk or a roller trailer fits your towing width needs. Just carefully decide on their benefits and drawbacks.
The bunk trailers have simpler designs, dimensions, less mechanism and maintenance. Deals best in maximum tide and ramp conditions though parts are vulnerable to damage in saline environments. Ensure its running gears, hubs, brakes, axles, and springs are not submerged below waterlines.
The roller trailers work in low tides and shallow waters though expensive. Though costly in maintenance, running parts are not immersed in fresh or saltwater and are thus, less likely to be damaged.
Step 3. Learn the rules when you trail-tow your boat
Know the width of your boat trailer to learn your travel considerations for your boat trailer and avoid risks. Some boaters plan ahead to avoid disasters, others go for impromptu travel schedules.
Take time on basic rules when towing your boat on an optimal boat trailer width for optimal convenience. Plan ahead when transporting your boat either during or before and after business hours for ease of schedules. Coordinate ahead of schedule, including maintenance servicing, oil changing, lifting-off from slip-holders or racks, storage dock, and lodging into waters.
Check this YouTube Video by Lazy Locations to know more about how to find the right boat trailer dimensions.
Conclusion
Learning the essentials from this tutorial, you should be able to answer "How wide is a boat trailer?" These simplified tips aim to give you the information you need in securing smoother and faster boating movements.
Depending on the purpose and budget goal in mind, you can make use of these buying guides. I bet these factors and steps ease your boat trailer selection. Customize your trailer capacity and get your perfect marine craft. Set out for new adventures no matter the haul and boating plan.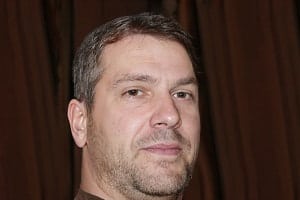 "My intention from the first day establishing Boating Basics Online is to provide as much help as possible for boaters who want to experience a first safe and convenient trip. So feel free to join us and share your beautiful journeys to the sea!"