It's not a surprise that many boat owners tend to ask me, "How much does a 17 foot boat weigh?" online or offline. After all, 17 feet is a fairly common boat size for popular vessels like center consoles, fishing boats, sailboats, etc.
You can't expect a static number when answering this because boat weight doesn't relate to its size alone. Hull material, purpose/type, and what's onboard (e.g., additional gear, accessories, and amenities) must also be considered.
Barring all these factors, the average weight of a boat of this length is around 1,150 to roughly 2,220 pounds.
How Much Does a 17-foot Boat Weigh?
A common 17-foot boat should weigh a little over 1,100 to 2,220 pounds. However, I have to make it clear that boats of lighter materials, especially aluminum, may fall below the established range.
On the whole, you can't get a great answer to "how heavy is a boat?" if you won't dive into the factors highlighted above. Let's start with how common materials like fiberglass and aluminum affect it.
How Material Affects Boat Weight
Certain materials are automatically considered heavier or lighter than most. Boat builders often live with the consequences of choosing heavier materials due to their other positives, like durability and water displacement.
Here's what you can expect from various common materials as far as the topic of boat weight goes:
1. Aluminum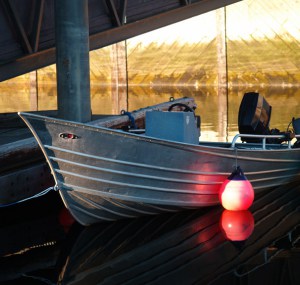 Aluminum has the ready advantage of being lighter than fiberglass and steel. How light A 17-foot aluminum boat weight is around 1,200 pounds on average. That said, a simple fishing watercraft with small motors might only tip the scale at 475 to 900 pounds.
The material makes it easier to load and launch the vessel and contributes directly to smoother rides. The downside is that you can expect a 17 ft aluminum boat to be more expensive just because the material itself is costly.
2. Fiberglass
Fiberglass readily gets the "hefty" label. Still, boat builders can't get enough of it because it can take a beating.
Moreover, it's not like they can't use its weight to their advantage by making vessels more able to withstand the wind, for example. That results in a stabler boat overall.
The average weight of a 17-foot fiberglass boat is around 2,300 pounds.
3. Carbon fiber
Carbon fiber can be lighter than fiberglass by 20% or more, meaning 17-foot boats made of this material would weigh roughly 1,840 pounds. Even so, carbon fiber can rival fiberglass' strength. The problem is they conduct electricity and are not exactly easy on the wallet.
4. Wood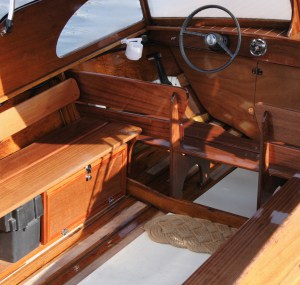 Good, old wooden boats remain darlings of the boating world because they're light as a feather (compared to all other materials here). In fact, a 17-foot boat can be up to 1,000 pounds lighter than a fiberglass vessel of the same size.
They have the best strength and stiffness-to-weight ratio in my book. The icing on the cake is that they also tend to be the cheapest.
Type and Purpose Play Pivotal Roles, Too
Most boats within the same categories typically have a smaller weight difference – but not always because, again, material figures a lot, as well as the other factors mentioned.
For example, let's take a look at these 17-foot center console options available on Boat Trader, all of which are made of fiberglass:
| | |
| --- | --- |
| Center Console | Dry Weight |
| 2023 Key West 1720 | 1,150 lbs. |
| 2022 Key West 179 FS | 1,459 lbs. |
| 1996 Boston Whaler Outrage 17 | 1,700 lbs. |
That's still quite a variation, despite having the same length and material. At best, expect most 17ft boats to overlap in their weight figures, regardless of their type.
Now, let's compare them to different types of 17-footers made purely of aluminum. And, I assure you, you'll see just how light aluminum is compared to fiberglass.
I'll prove this in the tables I've prepared below that outline the different weights of specific models of aluminum jon boats, deep-V boats, bass boats, etc.
1. 17-foot jon boats weight
Those who like to fish and boat in shallow waters favor aluminum jon boats. You'll also readily see the toughness of the material, as you continue to use them regularly.
A jon boat of this length and made of aluminum can be 50% lighter than the center consoles above, as proven by this table. For instance, compare the Lund boat in the table below to the 2022 Key West 179 FS center console table.
| | |
| --- | --- |
| Jon Boat | Weight |
| 2023 SeaArk Mud Runner 170 | 610 lbs. |
| 2023 Tracker Grizzly 1754 SC | 885 lbs. |
| 1760 Crestliner Retriever SC | 890 lbs. |
| 2023 Lund 1760 Predator SS | 787 lbs. |
| 2023 Havoc MSTC 1753 | 851 lbs. |
2. 17-foot deep-V boats weight
Boats with deep-V hulls offer much-needed versatility for maneuvering choppier waters and most weather and water conditions. They're ubiquitous in brands like Lowe, which is known for its state-of-the-art aluminum welds.
| | |
| --- | --- |
| Deep-V Hull Boat | Weight |
| Lowe FISHING MACHINE 1775 | 1,317 lbs. |
| Lowe WV 1670 (16-footer) | 820 lbs. |
| Ranger VS1782SC ANGLER | 1,680 lbs. |
| Tracker PRO GUIDE™ V-175 WT | 1,525 lbs. |
| Crestline 1672 OUTREACH (16-footer) | 325 lbs. |
3. 17-foot bass boat weight
Bass anglers attribute their success to the ever-reliable bass boats that they have. Their vessels get them through most obstacles and water conditions to get to the sweet fishing spots. Any Alumacraft boat is particularly favored for its stability and capacious storage for fishing gear.
Let's see how your standard 17 ft fishing boat made of aluminum fares in the battle of weights. At best, the 17-foot aluminum bass boat is omnipresent in the market.
| | |
| --- | --- |
| Bass Boat | Weight |
| 2015 Alumacraft 175 PROWLER | 895 lbs. |
| 2023 Alumacraft 175 COMPETITOR FSX | 1,375 lbs. |
| 2017 Crestliner 1750 Bass Hawk | 1,499 lbs. |
| 2023 Lowe STINGER 178 | 1,447 lbs |
| 2023 PRO TEAM 175 TF® | 970 lbs. |
4. 17-foot pontoon boat weight
Pontoons bring jolly, good fun, relaxation, and luxury, whether it's a cruising or fishing holiday.
| | |
| --- | --- |
| Pontoon Boat | Weight |
| 2023 SunChaser Vista 16 LR | 1,275 lbs. |
| 2017 Berkshire 17CL | 1,420 lbs. |
| 2023 Tahoe Sport Cruise | 1,350 lbs. |
| 2023 Avalon Venture Cruise | 1,350 lbs. |
| 2020 CYPRESS CAY PONTOONS C 171 | 1,605 lbs. |
The tables above prove that, even when considering types and materials, we can only ever rely on weight ranges when answering the main question.
Summing Up the Average Weights Per Boat Type
Considering the real-world figures I've listed above, I've arrived at the following averages for 17-foot aluminum boats specifically:
Dry Weight, Gear and Fuel Weight, Trailer Weight, Gross Trailer Weight, Etc.
When talking about boat weight, we can't complete the topic without discussing the different weight ratings below:
Gross Trailer Weight (GTW)
Gross Vehicular Weight Rating (GVWR)
Gross Combined Weight Rating (GCWR)
Gross Axle Weight Rating (GAWR)
Gear and Fuel Weight
Dry Weight
You need to be able to distinguish all these to safely tow your boat, as well as carry the safest amount of passengers and items.
For instance, do you need to add the weight of a 17-foot boat trailer that you use to tow your equally 17 ft Sea Nymph boat? Absolutely, because you'll likely need to calculate the total weight of your towing setup to ensure your safety on the road.
Remember these ratings, as they'll help clear up your boat towing troubles.
| | |
| --- | --- |
| Weight Rating | Meaning |
| Gross Trailer Weight | Trailer's total weight plus its cargo |
| Gross Combined Weight Rating | Maximum carrying capacity of a vehicle along with the trailer's – vehicle weight, trailer weight, cargo, passengers, and fuel |
| Gross Vehicular Weight Rating | Maximum carrying capacity of a vehicle only – vehicle weight, cargo, fuel, and passengers |
| Gross Axle Weight Rating | Maximum carrying capacity of each axle – passengers, cargo, and trailer |
Besides the four "Grosses" above, here are three other parameters you need to be looking at:
Dry weight – refers to the "natural" weight of the boat that doesn't include accessories, fuel, liquids, and equipment. Refer to the weight figures and ranges above to gain a good inkling of the average dry weight of boats this long.
Gear and fuel weight – corresponds to the total weight of gear and fuel added to the boat's dry weight.
The gear weight will vary depending on how much you load onto the boat, whereas the fuel's heft is determined by your tank size. To be clear, every gallon of fuel should tip the scale at 8.4 pounds.
Trailer weight – reflects how much the trailer weighs. A single-axle aluminum one is roughly around 425 pounds.
If you find all the jargon above too confusing, you can use an online boat weight calculator to help you come to the correct figure.
Other Tips for Towing Boats
First and foremost, inspect the trailer thoroughly for any malfunctioning parts.
Aim for even weight distribution between the boat and trailer.
Give yourself enough stopping distance when braking.
Don't rush—never drive faster than 60-70 mph.
Be mindful of your boat's height when driving through areas with low clearance.
Train yourself to back up your trailer properly
Match your boat with the trailer it needs and deserves.
Conclusion
Based on the inputs above, there are plenty of variations to the answer to "How much does a 17 foot boat weigh?" Even if that's the case, there's a clear range (1,150 to 2200 lbs), and that's the best reference. Aluminum jon boats are the exceptions to the rule.
Whether you own a Proline boat, Lund, or any brand, we can't deny that most well-known manufacturers share the same weight range. With all things considered, you always need to be mindful of your boat's weight every time you head out with it on your next fishing road trip.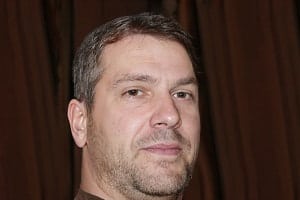 "My intention from the first day establishing Boating Basics Online is to provide as much help as possible for boaters who want to experience a first safe and convenient trip. So feel free to join us and share your beautiful journeys to the sea!"