Although pontoons are known as slow-moving vessels, they're still used when fishing and doing some watersports like water skiing. But, how fast can pontoon boats go? The average two-tube pontoon has a speed of 18 to 25 miles per hour or equivalent to 28 to 40 km per hour.
You may not be impressed with this speed, but it makes some watersports and water activities productive. It guarantees fun and leisure! Nonetheless, there's good news as you can increase the speed of your pontoon in some ways, which are shown in this article. You'll also learn more about pontoon boat max speed.
Some Pontoons and Their Speed
Here's a pontoon boat speed chart for reference.
| | | |
| --- | --- | --- |
| Model and size | Horsepower | Speed Rate |
| Sun Tracker Bass Buggy (16 ft) | 40 | 15 |
| Sun Tracker Bass Buggy (18 ft) | 75 | 21 |
| Sweetwater 2086 (20 ft) | 50 | 15 |
| Sweetwater 2086 (20 ft) | 90 | 24 |
| Quest 820 Lanai Tri (20 ft) | 115 | 34 |
| Ultra 202 Fish and Cruise (20 ft) | 115 | 27 |
| Sweetwater 2386 (23 ft) | 115 | 25 |
| Manitou Encore SHP 373 Tri (23 ft) | 250 | 45 |
| Bennington 21 SLX (21 ft) | 135 | 38 |
| South Bay 224RS LE 25 (24 ft) | 115 | 25 |
| Xcursion 255RFX Tri (24 ft) | 115 | 27 |
| Xcursion 255RFX Tri (27 ft) | 250 | 41 |
| Bennington RLI Tri (22 ft) | 150 | 38 |
| Sylvan Mirage 8520 C&F (21 ft) | 150 | 39 |
| Manitou Oasis (22 ft) | 150 | 36 |
| JC Marine 25 Neptoon Tri (25 ft) | 150 | 41 |
| JC Marine 25 Neptoon Tri (25 ft) | 250 | 33 |
The Right Speed for You
You're here because you are concerned about how fast the pontoon boat can go. Do you just crave speed? Somehow, you know the necessary speed for your preferred activity. I hope you're not just carelessly thinking about amplifying speed with no reason at all.
A valid reason for thinking about speed upgrade is your apprehension about the necessary rate to pull a kid on the tube or a skier. You will be surprised that you don't need that much speed, for example: inflatable tubes with children in ages from 4 to 6 years old – 5 to 10 miles per hour or wakeboarding – 13 to 18 miles per hour
When it comes to watersports, the average requirement is 22 miles per hour. But if this list of rates is not sufficient for your intention, the need to level up is undeniable. Make sure that the speed increase is not just a whim so it's the right move to get a big motor. Also, you won't end up with a bargain of a slow pontoon.
You may come across a salesman who will offer you affordable pontoons but it only comes with the smallest motor. Since you know everything about pontoon speed from this article, you won't just be attracted to low prices. You'll be saved from ending up with regret and dissatisfaction with your purchase.
Horsepower and the Speed Rate of an Engine
How fast do pontoon boats go? Boats together with their engines can be compared with a new car as these things can easily lose their value when used excessively. To gain more knowledge about this matter, here are different capabilities of the engine as shown in HP or horsepower.
The speed rate of 50 HP is from 15 to 18 mph. It's what you need when you give some people a tour and let the children go tubing. You can expect this capability from an average pontoon that can cost $15,000 to $20,000. It's smart to include additional expenses such as insurance, gas, storage, repairs, and other miscellaneous expenses that can be around $600.
The pontoon can go around 22 miles per hour. This is ideally for pulling kids when tubing and kneeboarding. The prices range from $27,000 to $32,000 based on their size. Expect additional cost from maintenance which can be $900 per year.
Pontoons that can go 115 HP are suitable for you if you have teens or older children. They can also function well for sports that cause an adrenaline rush since the speed rate is 22 to 25 miles per hour. The price can be $28,000 or $29,000 along with maintenance of $1,000 or $1,500.
With the increase in speed, there's also an increase in maneuverability as the pontoon can move up to 30 mph. The price varies from $28,000 to $32,000 plus the maintenance that would charge you around $2,000.
If you have this motor, you'll find general maneuvers, docking, and navigating through a headwind a piece of cake. It guarantees safety, especially if you travel with several passengers.
The speed rate can reach up to 32 or 35 miles per hour. The price range is within $26,000 to $33,000 while the maintenance may cost $2,500 to $2,800 yearly.
This horsepower can produce a speed of 39 to 40 miles per hour. Maneuverability is easily achieved despite several passengers being on board. It's a set-up that guarantees safety.
Pontoons with this engine power may be sold for $30,000 if they're older models. There's a price increase on luxury items which can cost $70,000. You'll also need to spend on maintenance so the top speed will remain as it is. $3,200 or more is the usual charge for it.
Factors That Have an Impact on Your Pontoon's Speed
Aside from engine power, other factors have an impact on the speed of your pontoon.
Everything onboard, including the passengers, constitutes the load that is carried by your pontoon. Easing the weight can increase the boat's speed. Therefore, only take the necessary things with you when cruising.
The price for maintenance is included in the previous part as it's vital for the boat's speed. There's a massive impact on your boat's overall speed and performance if it's in good condition.
Take care of it regularly and you have to ensure that the bottom part is also clean. You may add an aluminum sheet at the pontoon's underside to lessen the drag that is brought by water splash and wind. This is a helpful process called under-skinning. Doing it will make a difference as your pontoon glides smoothly and fast.
Algae, corrosion, and dirt deposits can slow down your pontoon. To prevent this from happening, you need to lie low on letting it stay in the water for a long period. Regular washing is another way. Corrosion is mainly caused by saltwater and it can also affect wiring in your boat. I would like to recommend STAR BRITE Ultimate Aluminum Cleaner & Restorer to keep your pontoon in good shape.
The bimini top or sunshade that you add to your pontoon can hinder the increase in speed. However, it only happens when it's super windy due to wind resistance. There will be no adverse effects if it's a normal day.
You may wonder why your pontoon is not working properly. You better check your propeller as it can hamper your boat from achieving the top speed if it's stuck.
What You Can Do to Improve the Speed of Your Pontoon Boat
Switching or adding one more engine
There's no doubt that the pontoon's power will double up with a second engine. Once the horsepower goes up, the speed and performance also improve. You can do this if your needs ask for it. Take note of the above guidelines.
You may also opt to switch to a more powerful engine. As mentioned, pontoon motors can range from 50 HP to 300 HP or more. Just be ready to spend more but it's not a waste of money as you can get what you expect from it. You'll be able to obtain the speed that you need! When upgrading your engine, you should check first with your local safety standards if you'll be allowed or not.
Trimming your engine is a way to lift your engine to the ideal performance. You'll need a hydraulic motor to lift the engine's nose out of the water to give way to speed enhancement.
Avoid sailing on a full tank
For the nth time, weight can make your pontoon slack. It's best to have a medium load rather than reach maximum capacity. The weight of a full tank adds up to the load. So, it's advisable to fill only half of the fuel tank. You'll surely notice the decrease in the drag when you're in the water.
The need to go faster due to the activities that you engage in can be done by upgrading your propeller. There are various kinds of props and you can choose one that suits your needs.
There's a prop with a different pitch that can make you go faster. It's perfect for pulling tubes but you'll notice that it can't help you achieve the optimal speed. Props with three or four blades have pros and cons. You can further research this or ask for some advice from a reputable dealer.
Wrapping It Up Real Fast
With the discussions about engine and speed rate, you now have an answer for 'How fast can pontoon boats go?'. Don't just assume the speed you need for the usual water activities you enjoy. Kindly refer to the guidelines presented by this article. The ways to increase the speed of your pontoon can be easy as long as you know the requirement.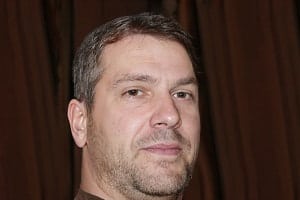 "My intention from the first day establishing Boating Basics Online is to provide as much help as possible for boaters who want to experience a first safe and convenient trip. So feel free to join us and share your beautiful journeys to the sea!"