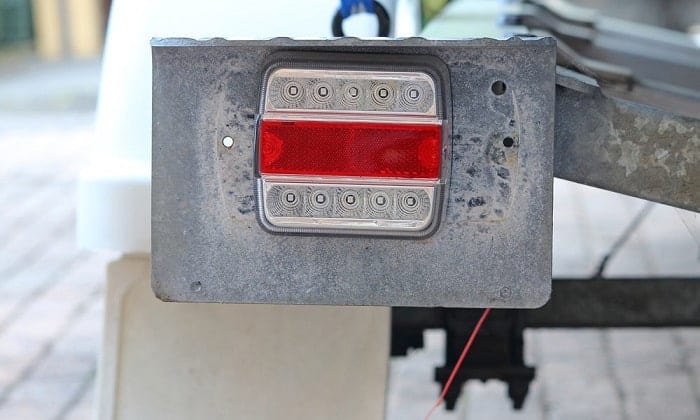 Boat trailer lights are important to have. But they are not exactly easy to purchase, simply because of the sheer number of options available in the market.
So, turn to this buying guide first before you make the final purchasing decision. It will save you from being lured by false ads, marketing, and neat packaging. To ensure that you get the best boat trailer lights, be particular of the following features:
Choose LED Lights Over Conventional Lights
No wonder why LEDs are in the spotlight of most industries, including the marine sector. The LED boat trailer lights are superior to incandescent lights in several ways. They're not prone to overheating due to the good heating distribution when in use. Hence, safety and durability are established.
LED lights generate cool, ultra-bright light,attracting many users. They enhance visibility which conventional lights fail to do. Also, they're waterproof and easy to protect. All in all, they're energy-efficient and cost-efficient. So, make sure you get yourself a LED boat trailer lights kit.
Appropriate Fixture Shape and Mounting Hardware
Trailer lights come in various shapes and sizes. So, be mindful of if your product of choice fits your boat's existing inlet or niches. Check the compatibility of the product to your trailer before making a purchase. It's also great if you get ones with marine-grade hardware and wiring. It will be to your advantage to fasten in any section and transfer whenever needed.
Now that you have an idea of what to look for, you can check out our top picks for the right boat trailer lights below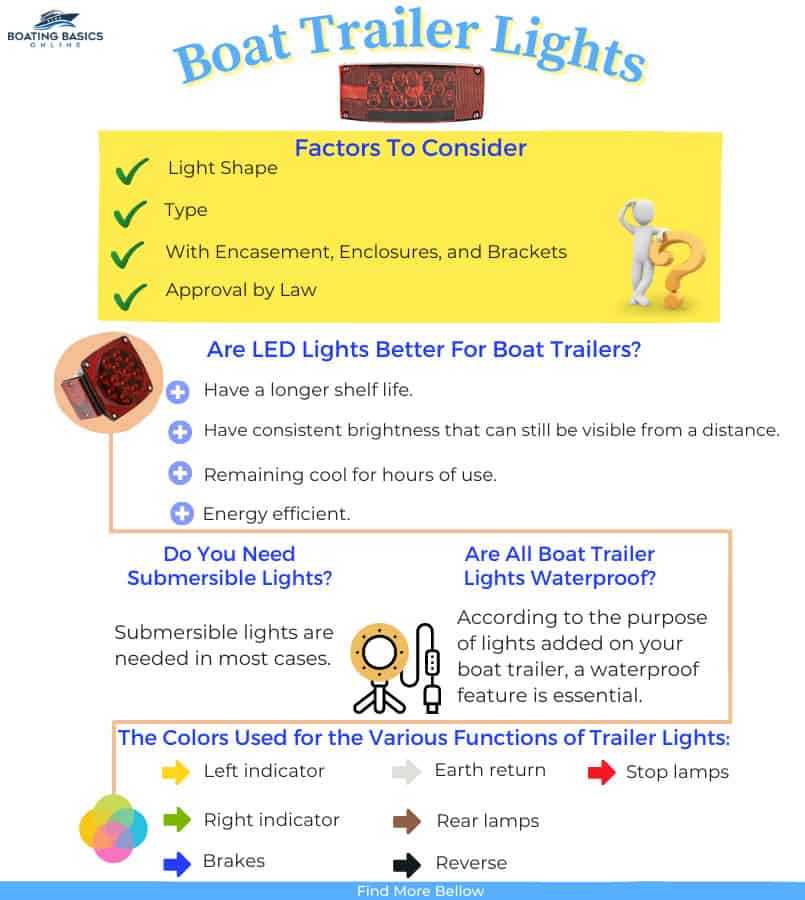 ---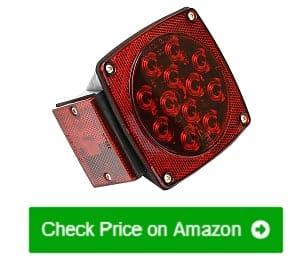 MAXXHAUL 70205
DOT standards
Waterproof
With tight lenses
---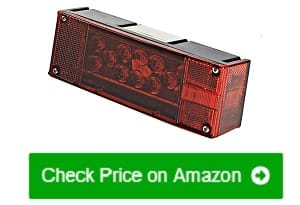 Wellmax Trailer Lights
Compliant with DOT standards
Acrylic lens
Energy efficient
---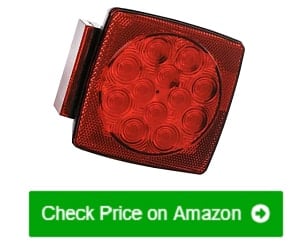 CZC Auto 8542079007
Super bright for high visibility
No flickering
Approval of DOT
---
Top 12 Boat Trailer Light Reviews
1. MAXXHAUL 70205 Submersible Trailer Light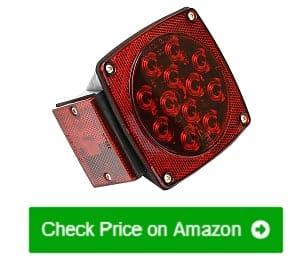 I was amazed that I can get amber clearance lights, tail and turn signal lights, and wiring harnesses at an affordable price. The lights are so bright and they're perfect for my boat trailer. It's not a hard decision to choose this boat trailer light kit because it's DOT approved. There's no doubt that it's legal to use on the highway.
This is indeed waterproof and submersible since I immersed the lights a couple of times every month. They usually stay in the water for several hours and I'm joyful as there's no leak or any other issue. I'm even planning to use this kit on my snowmobile trailer as well. I can't help but patronize functional lights that don't cost much.
I realized a lot of things during installation. Since the lenses are so tight, there's no need for a silicone gasket. The wiring looks like a small gauge but it's originally made of copper. It won't be an issue anyway as LED lights draw a low amount of energy. To my surprise, this copper wiring holds up well in saltwater. The other pieces of hardware have high quality too.
In all honesty, installation is uncomplicated but it takes time. I did some work on the wire splice and nuts and I don't mind just to secure and put everything in order. It's essential to solder and seal the connections. Once the lights are properly installed, my trailer has the much-needed brightness.
What We Like
Bright lights at an affordable price
DOT approved for legal use on the highway
Waterproof and submersible
With tight lenses
Has copper wiring that holds up well in saltwater
Comes with quality pieces of hardware
What We Don't Like
Need to solder and seal connections during installation
Whether I travel on my boat or place my trailer in the water, these lights don't give me any problems. I only put my trust in this submersible trailer lights because of their quality and approval from the authorities.
2. Wellmax 12V LED Trailer Lights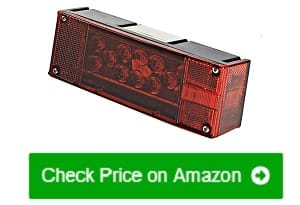 Nothing from my previous trailer lights can surpass the abilities of Wellmax 12V. They're so bright and out of the capabilities of halogen lights. Getting them as upgrades will be one of the wisest decisions that you'll ever make. There are trailer tail lights and signal lights that are fit for trailers over 80 inches wide.
The most wonderful part of these lights is the acrylic lens. It's what makes them the most favorite submersible boat trailer lights. This protects not only the lights but also the circuit. Nothing can stop you from using them even within inclement weather. To conclude, they're tough and durable lights.
I'm glad to know that these waterproof trailer lights are compliant with DOT standards. You are assured of their visibility, reliability, and durability. I feel safe when using them. They lower the chances of physical injury and property damage. Apart from not needing to replace them after a short time, I save some bucks from power consumption. I can always rely on the energy efficiency of these quality LED boat lights.
I spent less than an hour finishing the installation. First, I started cutting off the bolts of my old lights. Then, I had to set up new housing for it and I needed large washers to give way to its bolts. No drilling is necessary. I only need to solder the wires to keep them protected from water.
What We Like
Bright trailer tail light and signal light
For trailers over 80 inches wide
Acrylic lens to make lights waterproof and submersible
Tough and durable even used within inclement weather
Compliant to DOT standards
Energy efficient
What We Don't Like
Some may need other kinds of hardware for installation
I don't have to worry about damaging these lights when traveling and even getting into the water. They're trustworthy as they're tough and DOT compliant.
3. CZC Auto 8542079007 Submersible Trailer Light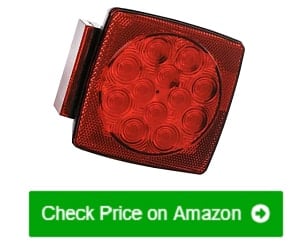 The lights and wires in this kit are thicker than the LED trailer lights I have used before. I now have terrific taillights and an amber side marker on the front corners. However, you may also use them as license plate lights or stop, turn, and rear lights. A superb copper wiring harness is also included. Although I installed a bolt on the trailer frame and crimped a ring terminal, I haven't come across any flickering or grounding issues.
Every user will need different kinds of hardware to complete the installation. It depends on where you attach these LED trailer tail lights. As long as you have the needed materials, you can work without interruptions. But be aware that the instructions are mixed up. The connection of the brown wire starts at the marker up to the harness. In the case of white ground wire, it should be from the marker to the trailer.
These are not only LED lights for boat trailers but they can also be on a utility trailer, snowmobile, truck, and more. They are just right for the trailers and vehicles below 80-inch wide. The casing is made out of advanced sealing and welding technology to produce waterproof and submersible lights. I couldn't see any gaps as these submersible LED trailer lights are completely sealed.
Apart from proof of reliability, these are super bright LED trailer lights for high visibility! This explains why they are approved by DOT. It's valid evidence of their durability, and they are deemed useful and functional in the long run.
Since the manufacturer is confident of their product, a one-year warranty for quality-related issues is provided. Also, every customer can avail of a 30-day money-back guarantee if necessary.
What We Like
Includes copper wiring harness
No flickering or grounding issue
Can be on a utility trailer, snowmobile, truck, and more
Waterproof and submersible as the lights are completely sealed
Super bright for high visibility and approval of DOT
With a one-year warranty and 30-day money-back guarantee
What We Don't Like
Mixed-up installation instructions
This kit is unique among its peers. The waterproof construction is reliable due to the unabridged sealing. So, I'm not reluctant to submerge my boat trailer in the water.
4. Partsam 4332989291 Waterproof Trailer Light
Look for versatility and this LED trailer light will deliver it to you. It can be in the universal application as you're free to place it not only on boat trailers but also on utility trailers, snowmobiles, dump trucks, buses, and other heavy-duty vehicles. Some boaters even use this to upgrade their boat lights.
This pair of square trailer lights is a combination of stop turn tail marker lights and reflector curb side. Aside from being tail marker lights, they can be sorted out as a side marker light, turn signal light, taillight, stop light, side reflex reflector, rear reflex reflector, or license plate illuminator.
I do not only appreciate the numerous functions it provides but also its extreme brightness. The reflectors are incredible. This ability results in high visibility that is essential for safe transporting of my boat.
I would also like to confirm that it's a waterproof trailer light. It's completely sealed with an acrylic lens that won't allow water to seep through. The circuit is protected as well for my relief! This pair of LED trailer lights are heavy-duty as they can withstand bad weather conditions even in the coldest period.
I'm not an electrician but I can still correctly install the lights. Just take note of the three wires and the one white, ground wire. Bolt the latter to the light's grey wire after connecting it with the brown wire. The red and the green wires are on the passenger's side. On the other hand, the yellow one should be situated on the driver's side. Be particular with the color and the positions or you'll be confused.
What We Like
Has universal application and numerous functions
Can be used for upgrading boat lights
Has extreme brightness for safety
With incredible reflectors
Waterproof as it's completely sealed even the circuit
Heavy-duty and can withstand harsh weather conditions
What We Don't Like
Some get confused with the colored wires
The extreme brightness from this light assures me of safety and makes my trailer do its job well. I feel lucky to avail of its long-term service any time that I need it.
5. Kohree New LED Submersible Trailer Light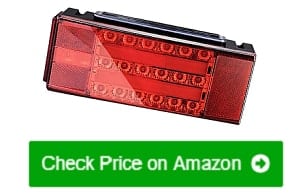 This rectangular LED trailer light kit is awesome! First and foremost, it has everything that I need like amber side markers, reflectors, a bunch of wires, and a license plate bracket or holder. You'll surely love the free studs that can fit into various hole patterns.
Some don't need reverse lights because of the functions of the side markers. The lights in this kit have the right brightness without glare. They can give signals whenever you turn, reverse, or step on a brake. So, motorists behind you will respond correctly and timely.
This rectangular trailer light is built to last with a sonically sealed body and epoxy encase electronics. It's also undeniably submersible due to its IP68 waterproof rating. I would like to confirm this as I've never had a problem with water intrusion. Furthermore, I don't worry about other possible damages caused by dust, dirt, sand, snow, and bad weather conditions.
I think it's favorable to boaters that the diodes are soldered on the circuit board. This design hinders shock and vibration that can happen with boat traveling. It gives you a guarantee that the lights won't come off easily while the trailer is in motion.
Everything is just right for my 20-foot trailer and I also find installation straightforward. Sadly, it's different in my friend's case. He needed to ground the wire to the back of the trailer. I think it's because he did the installation for boat trailer replacement lights. The wires in the kit are not enough as he had to ground every wire on the frame.
What We Like
Has studs that fit into various hole patterns
Bright without glare
Built to last
Sealed and encase for IP68 waterproof rating
Hinders shock and vibration
What We Don't Like
The wire in the kit may not be enough for some users
These LED submersible trailer lights can be for new boat trailers or replacements. They are designed to last and work efficiently as trailer lights. I don't have any regrets about buying them.
6. ONLINE LED 8542088531 Trailer Light Bar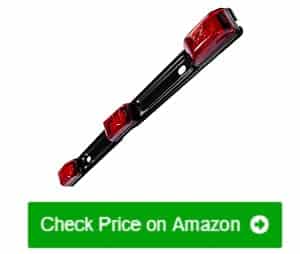 I bought this trailer light to maximize visibility and placed it in the middle of the taillights. It pleases me because it looks as it is in photos and it works as expected as well. Thus, I wasn't disappointed with my purchase. I think this is a must-buy when you own a trailer that is 80-inch wide or more for safe travel.
This is an efficient marine trailer light but doesn't cost thousands of dollars. The price range doesn't always guarantee high quality. In the past, I bought one that cost more than this but it only allowed water to reach the lights. It even came to the point that a short circuit occurred.
Note that there's a top and bottom part on this trailer light bar to experience the IP67 rating. Notch the top part and turn it over when mounting. The role of the bottom part is to drain water from the light and trailer frame. With proper set-up, your light will be waterproof and submersible.
Since it's a source of an immense amount of light, the reflective lens is naturally DOT certified. You won't be pursued by the authorities as this goes well with rules and regulations. To establish a solid construction, the black bracket is made of stainless steel. Approvingly, stainless steel hardware also comes for free. All in all, the parts of this light are chosen for long-term use.
This can be a great replacement for your old or inefficient light. I can't complain about anything but I just wish that the metal channel is deeper for the wires. But it doesn't matter as I tuck them with a glue gun. It's not a bad thing at all and I'd rather call it an optional improvement.
What We Like
Maximizes visibility for safe travel
The bottom part drains the water
IP67 rating, waterproof and submersible
Has DOT certified reflective lens
Stainless steel construction and hardware
For long term use
What We Don't Like
Could have been better with a deeper metal channel for wires
I like how this is created to block water as water contact is inevitable when using boat trailers. Due to its illumination, I feel safe whenever I travel on my boat, even at night. It keeps me away from troubles too.
7. CZC Auto 8542119439 Rectangular Trailer Lights
I'm safe from being scammed because these low-profile trailer lights are all LEDs. It has great value for the money. I submerged them countless times in the water but I've never had to deal with leakage. The IP68 waterproof boat trailer lights are wonderful! This is made possible by marvelous welding and sealing technology.
The illumination coming from these lights offer high visibility which makes them compliant with DOT standards. They can easily be spotted even from afar. Aside from being waterproof, these lights endure damaging outdoor elements. Despite the distance, I always go to my favorite lake and they knock on some wood at times. But they remain as bright as ever.
Every customer can avail of the one-year warranty and 30-day money-back guarantee. They prove to be multi-functional trailer lights that outlast the test of time and water. When it comes to its content, you won't only get a running or stop light, turn signal indicator, trailer lighting, and license plate illuminator. There are wires, a bag of hardware, and a wiring diagram as well.
To complete the installation, you have to put it over a bracket or plate by accessing the back. My trailer has old spacers that keep the lights level with it. Before I proceed with the installation, I spent some time on creative engineering and I was able to iron things out to make these lights work.
What We Like
Waterproof and no leakage
Gives off high visibility and is easily spotted from afar
Compliant to DOT standards
Can endure damaging outdoor elements
Has one-year warranty and 30-day money-back guarantee
Multi-functional trailer lights with hardware and wiring diagram
What We Don't Like
Some need to be creative to complete the installation
Trailer lighting is effective and trouble-free because of these lights. Due to their extreme brightness and waterproof ability, these are the right LED trailer lights for me.
8. LINKITOM New Submersible LED Trailer Light
With three rows of lights under its lens, these are super bright boat trailer LED lights. I must say that they're the improvised version that satisfies users like me. This illumination guarantees my safety and the vessel's protection, especially when traveling at night with my boat trailer. I also like how it shines during the day.
A policeman followed me for miles once and he found nothing wrong with my boat trailer lights. Anyway, they're DOT-compliant not just because of adequate brightness but also because of corrosion-resistance. I'm in the safe zone as they go well with the road regulations of the state where I live in.
These clearance lights and stop, turn, taillights are survivors of multiple underwater plunges. The casing is not only tight but it also has a drain hole. Just make sure that you install the LED taillights with the drain hole downwards. IP68 rating proves that they're waterproof and submersible, freeing me of worries of damages. Instead, I'm assured of its durability.
These lights can also be left or right-turn signal lights due to their different light patterns. Moreover, they are widely used besides boat trailers. You may have them on heavy-duty vehicles as long as the width is not over 80 inches. They're easy to install even though adjustments are needed. In my case, I need a longer harness for the trailer of my 24-feet boat.
What We Like
Super bright even during the day
DOT compliant with anti-corrosion lamp shade
In tight casing with a drain hole for durability
IP68 waterproof rating
Has different light patterns and wide application
Easy to install
What We Don't Like
Longer harness for larger boat trailers
With these amazing LED lights, I don't need constant replacements and adjustments to make the interior parts work. They didn't give me problems with the installation and operation.
9. Nilight TL-20 Submersible Kit Low Profile
I had broken boat trailer tail lights and I bought this kit for replacement. Upon opening the package, I was surprised and happy at the same time as everything is packed neatly to prevent damage during transport. Besides getting tail lights, you can also utilize them as a side marker light, turn or brake light, and license plate light. One thing is for sure, extreme brightness is gained in every application.
Essential installation parts are included in a single purchase. I also received a 25-foot wiring harness and different kinds of stainless steel hardware. However, I used my butt splice connectors. Installation went smoothly and I finished in half an hour. Instructions are provided regarding wiring connecting and routing as well as picking the right hardware.
I think it's important to add heat shrink splices to counter saltwater and accumulation of grease over time. Anyway, these lights and their circuit board are sealed in a waterproof casing. There's also water drainage to boost protection. You won't be at risk of the short circuit even though you submerge these lights in the water. This also means long service without the need to replace your trailer lights often.
The numbers of diodes in these lights allow them to give off optimal brightness. So, you can travel safely even if it's dark. In addition, you may also avoid accidents as your surroundings are well lit. Consequently, I put confidence in these lights as they are approved by DOT.
What We Like
Neatly packed to prevent damages
Multi-functional and in wide application
With essential parts and instructions for installation
Sealed in waterproof casing with water drainage
Can render long service
Gives of optimal brightness approved by DOT
What We Don't Like
Shouldn't skip using heat shrink splices
These are the right waterproof LED boat trailer lights for me due to their optimal brightness and reliable casing. As a result, I don't have to limit myself from taking my boat trailer at night and into the water.
10. iBrightstar 8542089223 IP68 Trailer Light
I think it's a blessing in disguise that the old boat trailer lights were smashed. Boat trailer lights reviews helped me find this effective kit. The brightness is superb and I don't have to put up with dimmed lights any longer. They give me the liberty to transport my boat on a trailer and the authorities won't go after me.
They are flashers which means that they can be boat trailer side marker lights but not turn lights. There's a license illuminator that you can place on the left too. Due to its universal application, this kit is not exclusive to boat trailers but you can attach the lights on heavy-duty vehicles and other kinds of trailers. They usually fit on trailers with a width that's shorter than 80 inches.
This is a product of ultrasonic welding technology and it receives the waterproof rating IP68. Unexpected bad weather can't stop me from hauling my boat. Since I have these lights, I don't hesitate to let them dive into the water. They've been with me after a long period despite exposure to harsh weather conditions and dipping into the water. Therefore, I approve of its longevity.
Installation is so easy. I drilled a hole in the middle of the bracket to give way to the wires. As for the wires, I soldered and sealed them with silicone. There's a rubber pad that you can use as a template when working on the boat trailer lights wiring.
What We Like
Has superb brightness
Great side marker lights and license illuminator
Has universal application
IP68 waterproof rating
Longevity despite exposure to harsh weather and water
Easy installation with a rubber pad for wiring template
I never thought that gaining brightness from LED lights will only require easy installation. The illumination is far from low light and a notch more intense than high brightness.
11. Prolineppi Submersible Boat Trailer Lights
The super diodes inside these lights are incredible! They're bright and crisp. Wonderfully, the brightness is even visible in broad daylight. Due to the plenty of light, they can be in a wide application; you can turn them into stop, turn, tail lights. The kit also includes a license plate illuminator. Thanks to them, I can legally haul my boat with the trailer.
Each light is contained in a polycarbonate housing. This makes a difference because the lights become waterproof and submersible. They're all protected from harmful outdoor factors. Even more, they can cope up with temperature changes.
With this, submerging the lights into the water doesn't have a damaging effect. Throughout my boating experience, I can say that these are the top-rated LED submersible trailer lights. Leakage and short circuits don't bother me at all. Only lights built with quality materials can give you this convenience.
There are three wires that you have to deal with. But still, I was able to finish everything with ease. However, some people need additional hardware. With multiple bolt locations, rest assured, you can install these lights on different kinds of trailers.
Thus, it's recommended not just for new trailers but also for old trailers as great replacements. Once you see how they work, you'll realize that you made an upgrade for your boat trailer.
What We Like
Bright and crisp with super diodes
Brightness is visible in broad daylight
In wide application
Waterproof and submersible
Weather-resistant and can cope up with temperature changes
Has multiple bolt locations to allow installation on different trailers
What We Don't Like
Some people need additional hardware
Thanks to these submersible lights. I can travel and get into the water with my boat trailer. I like how there's no limitation as they make trailering convenient and comfortable.
12. Blazer International C6285 Trailer Light
These 12V trailer lights look great on my boat trailer. However, they're also deemed suitable for motorcycle trailers, snowmobiles, and any type of utility. The lights in this kit can be used as a stop, turn, tail lights. I was able to get a corrosion-resistant license plate bracket, 4-way wiring harness, hardware, and trilingual installation instructions.
As you can see, this kit has everything I need to fulfill legal requirements. DOT confirms that the lights reach is up to par. So, I won't be in trouble and can be safe when trailering my boat.
At first, I couldn't understand the role of the 'Bell Jar' principle in its product description. But upon witnessing how tough these lights are, I was able to absorb the goals of the manufacturer. The design inhibits water or any tiny particles from getting into the bulb or socket. There's no need to add a gasket that will only eventually rot and leak.
This casing is surely long-lasting and dependable. What I only need to do from time to time is replace the incandescent lights. The appropriate replacement is bulb #1157 or #194. I don't mind at all as it's not as hard as dealing with wires. The casing stays as it is because it's durable. It's also the reason why these lights are waterproof but not entirely submersible.
What We Like
Suitable for other kinds of trailers and vehicles
A complete trailer light kit with installation instructions
Fulfills the standard set by the DOT
With tough casing that inhibits water and tiny particles in getting into the bulb and socket
The long-lasting and dependable casing doesn't need modifications
No need to deal with wires when replacing the lights
I feel comfortable using these incandescent lights because I don't have to go through complicated wiring procedures every time replacement is necessary.
Factors To Consider When Choosing Boat Trailer Lights
Boat trailer lights have different shapes and types. Hence, light kits vary in functionalities. There are several important factors to consider when shopping for boat trailer lights, besides the two mentioned earlier in the beginning. Make sure you spare time to give thought to each and every one of them before purchasing. They are as follows:
Light Shape
The appropriate light shape is determined based on your needs. Rectangular shape and low-profile lights are the best options for boat trailer lights. The low-profile lights are not prone to bump signage posts, curbs, and other obstructions along the road.
Type
There are several types of trailer lights. There are tail lights, stop lights, and turn signal lights. You may also need boat trailer running lights. They may be presented in separate modules. Nonetheless, some manufacturers offer them in one model. Then, you can place them in the right place whether it's on the right or the left. It will depend on the function of the lights.
Premium brands usually include clearance lights, license plate lights, signal warning lights or back-up lights, and tail or stop lights.
With Encasement, Enclosures, and Brackets
The protective coating is important in boat trailer lights as they're for outside installation and use. It simply means that it's always exposed to exterior and natural elements. Aside from short circuits and a limited life span, the uncovered lighting fixture can cause disastrous consequences. An airtight case and seal can make them waterproof and submersible. Therefore, mishaps and accidents can be avoided.
Rugged trailer lights are the ideal option as they can counter the wear and tear of frequent use. Once the lighting fixture and hardware are combined for tough construction, natural factors can't knock them down easily. Eventually, you'll get your money's worth due to its durability.
Approval by Law
In most places, boat trailer lights are required by law. To adhere to the regulations, buy ones that went through the evaluation and capacity testing. With these processes, safe transportation and convenient travel are guaranteed. Taillights, stop lights, reflectors, and turn signal lights are required. It's practical to buy the top-tier trailer light kit that has everything.
A certification from the US Department of Tourism is reliable proof that a trailer light is compliant with requirements. Some may be expensive but they are worth every penny due to their high quality, durability, and high visibility. They will surely improve your driving and boating experience.
Are LED Lights Better For Boat Trailers
Other types of boat trailer lights can have similar brightness and performance with LEDs. But there are some advantages when you select the latter. LED lights have a longer shelf life. They have consistent brightness that can still be visible from a distance as long as they are secured in their casing.
LED lights are not likely to overheat, remaining cool for hours of use. They also prove to be energy efficient which is improbable with incandescent lights.
Do You Need Submersible Lights For The Boat Trailer
Given the usage of a boat trailer, submersible lights are needed in most cases. Although they're designed as waterproof, you still have to check the label or the description of the item. You have to make sure that the lights are described as submersible so no damages will occur.
If there's no indication of being submersible, you better keep the lights away from water and other forms of liquid. Regarding this matter, you have to get a kit that contains encased lights. With the right cover, the wires are also protected. The encasement has drain holes so water won't stay inside it when the lights are not submerged or used.
Are All Boat Trailer Lights Waterproof
According to the purpose of lights added on your boat trailer, a waterproof feature is essential. Since you can't always tell if you'll face fresh or saltwater, it is better if the lights are also submersible. Waterproofing the lights establishes protection with a casing that is anti-corrosion and rust-resistant.
The wiring needs to be protected too. You may cover it with liquid electrical tape in termination and nearby areas except for the wire leads. To protect bulbs, use dielectric grease.
How Do You Wire A LED Light Trailer
A tow vehicle is a stable workplace when wiring LED lights on your trailer. You can start placing the wiring harness on the trailer's side or frame with the help of cable ties. Remove 1cm insulation from the wires. When you finish mounting the lights, you can connect their wires to the harness.
In general, these are the colors used for the various functions of trailer lights:
Left indicator – yellow
Right indicator – green
Brakes – blue
Earth return – white
Rear lamps (clearance and side markers) – brown
Reverse – black
Stop lamps – red
Once all the wires are set, you can test if the lights are working by connecting the trailer plug to the socket of a tow vehicle. After seeing they all function well, you can seal them with electrical tape.
Should I Unplug Trailer Lights When Launching A Boat
When you use LED trailer lights, they burn cool while being sealed. You don't have to unplug them. However, it's a different story when they're connected with the brakes. If you unplug them, the brakes will be off too. In the case of incandescent lights, you always have to unplug them when launching your boat. But don't forget to plug them back when leaving the ramp.
Conclusion
Since trailer lights come in various types, shapes, and lighting performances, knowing more about leading brands will help you figure out what you exactly need. You'll know that they're the best boat trailer lights for you if they bear the features that keep you safe and meet the standard of your local regulations. Taking time to read this review pays off by making the right purchase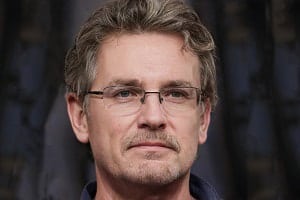 "I am James Harvey – founder of Boating Basics Online. It is established with the drive to help out first-time boaters, which are those desiring to explore their way through the water. So if you are new to boating, start from here with me. "