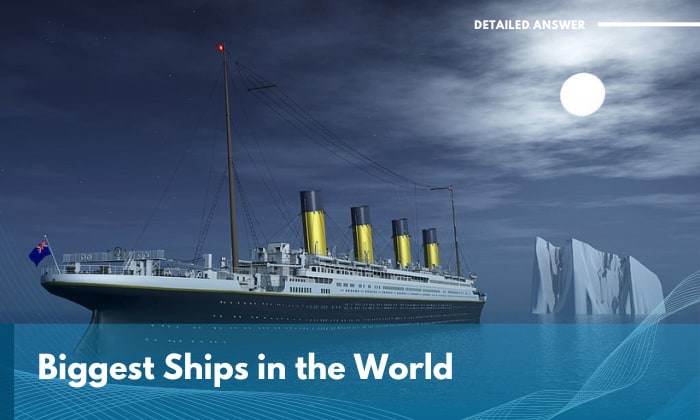 It's hard not to marvel at something huge from a distance but a gigantic ship at sea is a sight to behold. Many think the Titanic as the biggest ship in history but its dimensions pale in comparison to those of modern ships let alone the biggest one.
Among the most gigantic ships in the world, the Ever-A class stands out for its length while the Pioneering Spirit's gross tonnage easily takes the cake. Here are some of the biggest ships in the world and what makes each of them unique.
Table for Largest Ship in the World by Type
Name
Service Year
Gross Ton
Length
Width
Draft
Ever Alot
(container)
2022
236,228
1312ft / 400m
202ft / 61.5m
55.77ft / 17m
Pioneering Spirit
(construction)
2016
403,342
1253ft / 383m
407ft / 124m
89ft / 27.12m
Wonder of the Seas
(passenger)
2022
235,600
1188ft / 362m
215ft / 65m
30ft / 9m
USS Gerald R Ford
(military)
2017
112,000
1106ft / 337m
253ft / 76.8m
39ft / 12m
SSCV Sleipnir
(crane)
2019
273,000
721ft / 220m
334.6ft / 102m
12m to 32m
MS Ore Brasil
(carrier)
2011
199,631
1187ft / 362m
213ft / 65m
75.45ft / 23m
Seawise Giant
1979 to 2010
260,941
1504ft / 458.45m
225 ft / 68.6m
80.74 ft / 24.61m
USS Enterprise
1961 to 2017
94,000
1123ft / 342m
257ft / 78.4m
39ft / 12m
Current Largest Ships
I remember the feeling of awe I felt the first time I saw a big boat and could only imagine how amazing it would be to behold the largest boat in the world. My younger self could never have imagined the magnitude of a ship, let alone the biggest.
This list will cover the biggest boat or ship for specific classifications such as the largest cruise ship or carrier vessel. This way we won't end up with a list full of nothing but one type of ship.
For this list, we will cover ships in the more traditional definition meaning they need to have a means of self-propulsion. Certain bigger structures such as the 1600-foot Prelude FLNG are not included because of their inability to move on their own.
1. Ever Alot (Ever-A Class)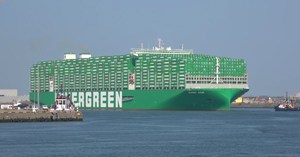 The Ever Alot is one of the Ever A-class ships and is currently the biggest container ship in the world. Its sister ship, the Ever Ace, held the record previously in addition to being the longest ship in the world but was overtaken in June 2022.
Looking at its length of around 1312 feet (400 meters), you will find other container ships of comparable length such as the Triumph class and MSC class which are both also at 1312 feet in length.
The Ever A-class's tonnage and beam measurement break the tie. Its 202-foot beam and over 235,000 gross tonnages surpass any other 400m class, earning it the title of the largest container ship. Currently, its route includes both Europe and Asia.
2. Pioneering Spirit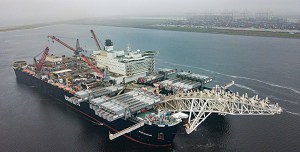 This is the biggest construction ship as well as the largest catamaran. Taking the manufacturer 4 years to build, It's designed for both the installation and removal of gas and oil platforms while also taking on pipeline laying.
Entering service in 2016, it can lift weights of up to 48000 tons which greatly reduces the amount of time needed in setting up and decommissioning platforms. It can lift whole platforms using its cranes and place or remove them from placements in the sea.
Some of its most notable projects include the removal of Shell's 24000-ton platform and the fastest single lift installation in Norway.
This 2.6 billion Euro ship is 1253 feet long and 407 feet wide. Most notable is its 403342 gross tonnage, which is bigger than any other vessel, making this the heaviest ship.
3. Wonder of the Seas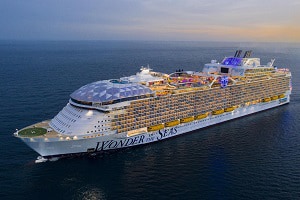 This 1188'x10' cruise ship is currently the largest passenger ship in the world and can house over 7000 passengers along with over 2200-strong crew. While its 173-foot height loses out to the tallest ship in the world, the 525-foot-tall Golden Horizon; it gives no other concessions.
Guest accommodations include a suite with its own deck. Guest rooms, if you can call it that, are sectioned into areas akin to communities totaling 8 neighborhoods and have different establishments such as restaurants, music halls, and fitness centers.
With the vast number of attractions and facilities, the Wonder of the Seas resembles a city more than it does a ship. As for how much you can find aboard this vessel, its gross tonnage of 236,858 speaks for itself.
4. USS Gerald R Ford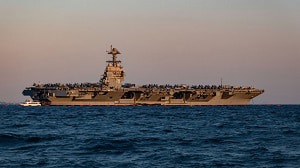 The USS Gerald R Ford holds the record for the biggest military ship currently in service at 1092 feet long, 256 feet wide, and a displacement ton of 112,000. It was commissioned in 2017.
It is currently the largest military ship after taking the title from the USS Enterprise (CVN-65) and is the first of a new class of aircraft carriers. These ships represent the future of US military power, and the USS Gerald R Ford is tasked with spearheading this change.
It is known to be capable of carrying 75 aircraft, including the notoriously bulky Lockheed Martin F-35, along with a crew of around 4500. Interestingly, a new USS Enterprise (CVN-80) belonging to the Gerald R Ford class is expected to complete construction in 2028.
5. SSCV Sleipnir
Named after the fastest horse with eight legs in Norse mythology, the SSCV Sleipnir is the current largest crane ship in the world. It takes on installation and decommissioning work as well as heavy lifting duties for offshore gas and oil facilities.
The Sleipnir is designed to be semi-submersible, which helps it perform subsea work. The vessel also hosts several modern features, such as LNG-fueling and a new type of silicon-based anti-fouling. A crew of 400 can also be housed comfortably in personal quarters on board.
The vessel has two cranes, each capable of lifting 10,000-ton loads which can also be used in tandem for more power. Being submersible leaves it with a variable draft of 12 to 32 meters.
While it is smaller compared to Titanic at just 721 feet, its 273,700 gross tonnage is exceeded only by the Pioneering Spirit, which holds the record for the highest GT. It runs 334.6 feet wide and reaches a speed of 12 knots.
6. MS Ore Brasil
The ship formerly known as the Vale Brasil is the first one constructed among seven similar large vessels for dry bulk transport. This ore carrier ship succeeded MS Berge Stahl as the biggest bulk carrier.
This ship was built by Daewoo Group, and it entered service in 2011. Since then, it's been tasked with transporting iron ores from Brazil to different locations in Asia, such as China. It's so heavy that its passage is limited to specific channels in Europe and China.
It is tasked with transporting iron ores from Brazil to different locations in Asia, such as China. South Korea's Daewoo built it and entered service in 2011; it is so heavy that its passage is limited to specific channels in Europe and China. Its average speed is around 15 knots.
At 1188 feet long and 231 feet wide, this ship is not as long as a few others on our list, but these measurements are misleading. It's actually a true heavyweight when all loaded up, considering its gross tonnage of 199,631, deadweight of over 400,000 tons, and 65-foot draft.
What is the Largest Ship Ever Built?
At 1504 feet long and 225 feet wide, the Seawise Giant is the biggest ship in history, but it was decommissioned in 2010 after 30 years of service.
This record-holding vessel had a gross tonnage of 260,941 and weighed 564,000 tons. It was so big that it was not able to pass through some of the world's most important passages, such as the Suez Canal and the English Channel.
It was originally built in Japan by Sumitomo Industries in 1974 and was completed in 1979. The ship sank due to a missile attack in 1988 but was recovered and repaired afterward. It was renamed Happy Giant and was kept in service for 21 more years.
The then world's largest vessel changed names six times, and it was named Mont for its final voyage for ship-breaking in India. It took 18000 laborers to dismantle it over a year.
Frequently Asked Questions
What is the difference between a ship's gross tonnage and its deadweight?
A ship's gross tonnage refers to its total weight, while its deadweight expresses the capacity of cargo that it can load. Deadweight is a common point of emphasis for cargo and transport vessels.
Did the Titanic ever hold the record for the biggest ship?
The Titanic, with a length of 882.9 feet, did become the largest ship on 31 March 1912. However, it was only longer than the previous record holder – the RMS Olympic – by a mere 0.4 foot.
Unfortunately, it also held the record for the biggest disaster at sea, with its sinking resulting in over 1500 deaths.
Conclusion
Now you know about some of the biggest ships in the world. It is certainly impressive to think that ships can rival the tallest buildings in size, but as we can see with the Seawise Giant, size comes with its own challenges.
What do you think about these ships? Are you at all impressed? Do you think it's time for the world to see a much bigger ship? Tell us your thoughts in the comments section below.
Remember to boat safely.
Read more: List of biggest crab boats in the world.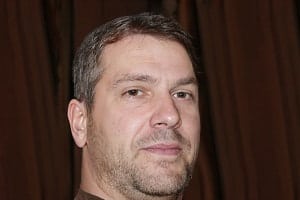 "My intention from the first day establishing Boating Basics Online is to provide as much help as possible for boaters who want to experience a first safe and convenient trip. So feel free to join us and share your beautiful journeys to the sea!"