Pontoon boats are open to full customization but you may wonder if you can do it with its furniture. Of course, you can in regards to your comfort. It's a good investment as you need it whether you use your pontoon for leisure or fishing.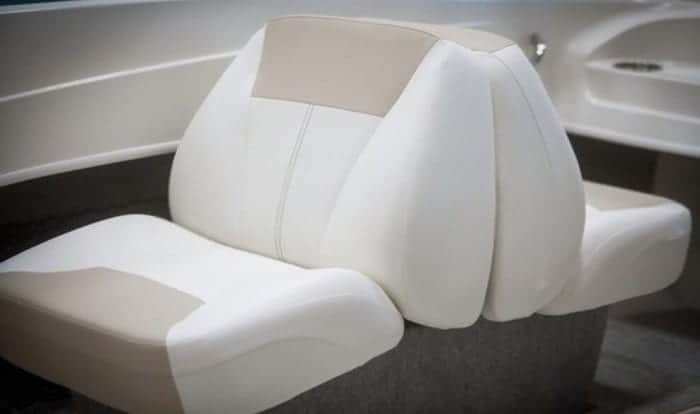 Buyers want the best pontoon seats because of quality, comfort, and their bad experiences with other products. Some may have bought a product that easily wears out and others are not happy with their hard pontoon seats. There are various styles and designs to meet your needs and demands. They range from economy to lounge seating.
You'll find pontoon seats from low to high price too. But, you shouldn't focus on the price tag. Rather, check the different features of the following top picks to find the one that suits you.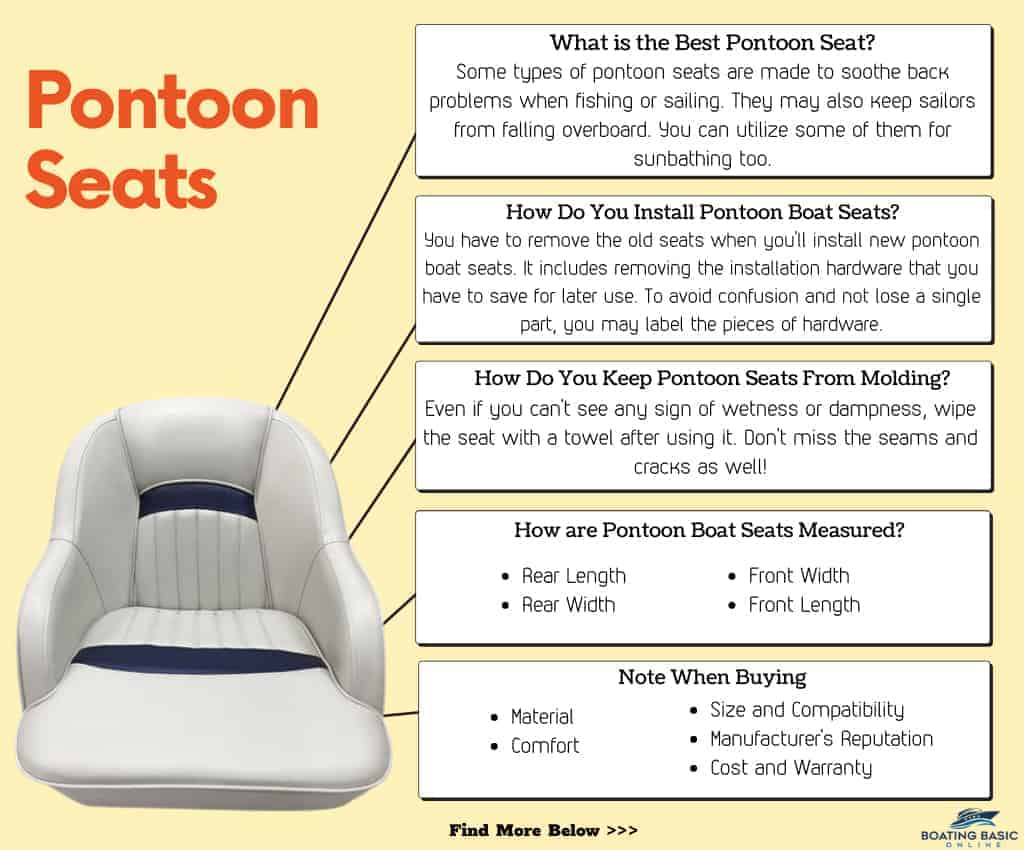 ---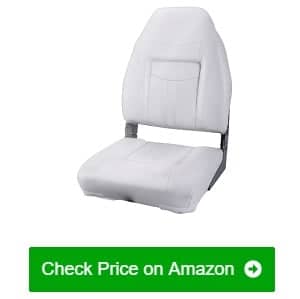 NORTHCAPTAIN Boat Seat
Has ample space to move
Foam is not too soft or firm
Can soothe an aching back
---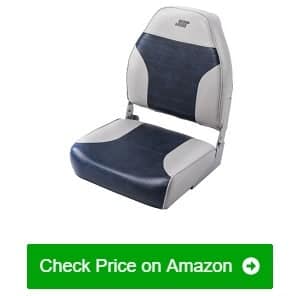 Wise 8WD588
Sturdy and durable
Can be mounted on a swivel
Can be folded when not in us
---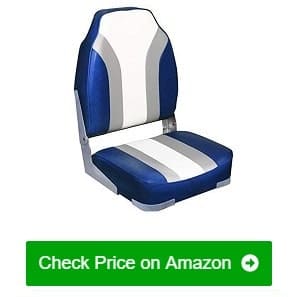 Leader Accessories Boat Seat
With a great appearance
Higher back and padding
Has tough stitch pattern
---
Best Pontoon Seat Reviews
1. NORTHCAPTAIN S1 Deluxe High Back Folding Boat Seat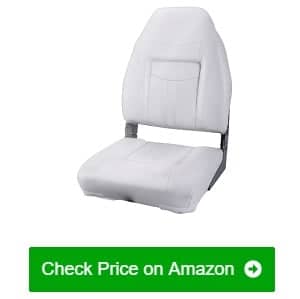 Among the seats for pontoon boats, this folding boat with a high back is the perfect fit for my 14-foot pontoon. I bought the one with a bullet-style back with white and blue colors. But, you can choose something different from mine's because there are more than a dozen color options. Some have a bullet-style back and the others have the curved one.
Since it worked well with my pontoon, I also put it on my sailboat's bow. Whenever I go fishing, I can comfortably sit on it. Thus, I don't go home exhausted. The comfort it offers starts with the foam padding that is not too soft nor firm. It's just enough to soothe an aching back. There's also ample space for me on both sides because of its generous depth and width.
It's also durable with its aluminum hinges, plastic seat frame, and marine-grade vinyl. Although you may sometimes notice that it flexes, it can still bear individuals who are 200 to 300 pounds. Furthermore, nothing bad will happen to it even if it's exposed to the sun for a long time.
The hinges allow you to fold this seat so you can save space. Mounting screws are included in every purchase and the necessary bolts are of the standard 5" x 5" pattern. I must also talk about this seat's impressive flexibility. You can use it not only on pontoons but on ice shelters,
bass boat
,
Jon boat
, and other water vessels too.
What We Like
Available in more than a dozen colors and two styles
Foam is not too soft or firm for comfort
Can soothe an aching back
Has ample space to move
Durable as it can withstand the sun and the test of time
Can bear individual around 200 to 300 pounds
I don't need the used pontoon boat seats now that I have this seat that makes me feel at home thanks to its delivery of comfort. Everyone can buy this as it suits all water vessels.
2. Wise 8WD588 Deluxe High-Back Seat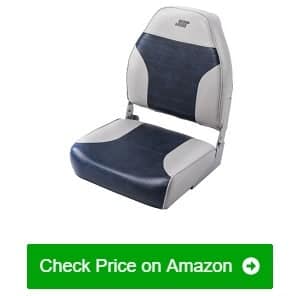 I spend a lot of time on the waters and I have a bad back, so this high-back seat is the most suitable one for me. As a big guy, I can attest to its sturdiness as it's consistent in holding my weight up. The affordable price is a plus due to its durability and features.
The high-back seat is supportive while the cushion is substantially firm for all-day comfort. Backaches can't stop me from enjoying the waters! It's built to last as it has a plastic seal to keep out moisture.
A vinyl covering is charged with inhibitors against mildew and harsh sunlight. Thus, the nice looks of this seat are preserved. Seven colors are available for you to choose to enhance the appearance of your pontoon.
Those who are over regular weight like me shouldn't be hesitant in using this. I could be spending hours sitting on this when fishing but the plastic molded frame doesn't give up on my weight. It's much better than wood as it doesn't rot.
I've installed it on a swivel but you can have it on a pedestal too. However, it's not recommended to place it on inflatables. It's too high and it's not applicable on windy days. The 4 pieces of screws needed for mounting are conveniently included. It can be folded when not in use and the cushion and backrest are securely held together by a strap.
What We Like
Sturdy and durable for an affordable price
High-back seat for all the comfort and ease backaches
Has nice looks that are preserved by the UV, mildew, and moisture inhibitors
Holds up well when carrying heavy individuals
Can be mounted on a swivel and pedestal
Can be folded when not in us
This is the perfect high-back seat for a pontoon. I can sit on it the whole day without being bothered by a backache.
3. Leader Accessories High Back Fishing Folding Boat Seat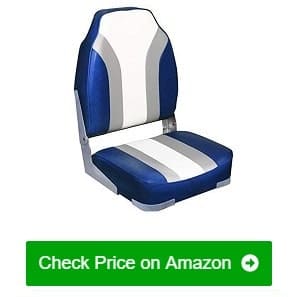 I love how this boat seat maintains its appearance despite exposure to rain and sun. With various colors, you will surely find one that suits your taste. It excels among front pontoon seats in terms of its looks alone. With a higher back, you'll surely be comfortable while sailing with your pontoon. It's the part that I always want for my seat.
A friend of mine who usually hosts tours bought six of these folding boat seats for his pontoon told me that it's way better than a traditional pit-group boat seating as the passengers can move in any way they want.
I think it works like the Overton's pontoon seats that have back-to-back designs in this situation. So, it made the tour successful as passengers can view sideways to see all the wonderful sights. Hence, it's not only suitable for front seats.
I've been using this for a long time but the compression foam padding is still firm. It's an indication of ultimate and consistent comfort. The stitch pattern is also tough and no tearing can be seen until now. It preserves its looks because the vinyl covering is resistant to UV rays.
I like the anodized aluminum hinges too as they hold well together. It may flex at times but it can still accommodate my 220-pound uncle well. Installation is not demanding because you'll only need the 5" x 5" mounting bolt pattern to easily mount it.
What We Like
With a great appearance and many color options
A good appearance can be maintained despite exposure to rain and sun
Higher back and padding that stays firm for comfort
Way better than a traditional pit-group boat seating
Has tough stitch pattern to prevent tearing
I think the appearance and comfort of this folding seat are unbeatable! I like the high back so much and I honestly think you can't get a better product than this.
4. Wise 8WD95 Deluxe Series Pontoon Bench Seat
This 28-inch long bench fits the base that's already on my pontoon. I was surprised by its excellent quality despite its affordable price. It's dependable because it has a 5-year warranty for both frame and upholstery. Finding an incredible one among several replacement pontoon seats makes me feel lucky!
I love its light-colored with two-colored stripes because it improves my pontoon's appearance. There are five color combinations that you can choose from. They all have sleek designs like Toonmate pontoon seats.
When it comes to comfort, I admire this seat. Thus, it proves that its compression foam padding is excellent. Relaxing on my pontoon helps me to recharge from my busy life. It has the right softness and I don't feel like I'm going to drown in it.
The vinyl cover is great for marine use as it's treated to counter UV rays and block mold and mildew formation. The aesthetic appeal won't matter if the surface easily gives in to harsh elements. So, the coverage is important to make this bench last long.
When not in use, I can just lift the cushion to lean on the back seat. So, it won't catch any dirt or stain. In my case, I don't need to buy the base as it's fine with the 27-inch based on my pontoon. Other users may need to buy it separately.
What We Like
Has excellent quality at an affordable price
Has a 5-year warranty for frame and upholstery
Has a nice appearance
Comfortable and with the right softness
Counters UV rays and formation of mold and mildew
Has hinge-lift design for storage
What We Don't Like
Some may need to buy the base
I like the sofa-like texture on this bench. It has the right surface that makes me feel good without the drowning effect.
5. Seamander Boat Captain Pontoon Bucket Seat
I think I made the right decision in getting this seat among the pontoon boat seats for sale to replace an old captain seat. It looks like the previous one I had but much better.
The construction and design can please every user. I like that I can adjust the seat to the height that's comfortable for me. You can also put it in a low seating if you want.
Due to possible adjustments, everyone can sit comfortably on it. I'm 5'4" and my husband is 6'2". We both love this seat as it can be set-up to conform with our preference. The seat slides back and forth smoothly so I don't have any problem when using it. It doesn't feel wobbly either.
Since this seat has marine-grade vinyl covering, I know it won't quickly fade even though it's exposed to sunlight most of the time. To look fresh and extend its optimum condition, I always spare time for its maintenance.
This seat has a molded frame that makes it stay in its place even with continuous use. It's rotational and made of hard plastic. Hence, it doesn't give me trouble.
Installation is pretty straightforward as I just need to use free hardware. Some may need longer bolts for the base, but it's not a big deal as you can always buy the common USS thread everywhere. Once you have the right hardware, you can install it in no time.
What We Like
Construction and design can please every user
Height adjustment for comfort and to accommodate everyone
Not wobbly and smoothly slides back and forth
Has marine-grade vinyl covering to block sunlight
Has a molded, rotational frame to make it stay in place
Pretty straightforward installation
What We Don't Like
Some users may need long bolts
Everyone can be comfortable on this seat due to its height adjustment. It will surely last as long as you use it with care.
6. Wise 8WD125FF-1011 Deluxe Series Pontoon Seat
Wise is known to produce pontoon seats that are the favorites of many boaters like me. I like this flip-flop seat the most because I can put the backrest into two different positions. I sometimes feel strained when I'm in the same sitting position for hours but the anodized aluminum arms make this seat comfortable.
You'll only get the cushion so you need to purchase the special base for the deluxe series separately. I don't mind spending some extra cash as I'm satisfied with this product. It comes with a storage box where I can put some marine gear as well.
The special base also helps me maintain my pontoon in its good condition because of the rain holes or channels inside it. Thus, my pontoon's flooring is not prone to damage. I no longer worry about the water that might get in the pontoon. Moreover, it's an ideal pontoon replacement seat if you have a base that's similar to its size.
After installing it in my pontoon, I don't need to spend more. Aside from reliable parts, a 6-year warranty for the frame is offered and three years for the upholstery.
To boost the comfort that it provides, there's a high-compressed foam padding that is stuffed in its contoured cushion. The vinyl covering is marine-grade with UV and mildew inhibitors. They are the parts that make this pontoon seat durable. I think it's also the reason why the manufacturer is confidently providing a warranty.
What We Like
Backrest can be in two, different positions for comfort
Won't be strained even if sitting for hours
7-year warranty for frame and 3-year warranty for upholstery
Durable because of its reliable cushion and covering
What We Don't Like
Need to buy the special base
This product can continue to serve you for years so it's a wise decision to get this for your pontoon or even as pontoon boat replacement seats. It's an investment that's worth every penny.
4. MSC Bucket Pontoon Boat Seat
Just the sight of this bucket seat promises ultimate comfort. After using it for the first time, I know for sure that my judgment is not out of despair. I fully enjoy my time at the river and lake with my pontoon because I am able to rest with this boat seat at the end of the day. Whenever I feel tired during boating, I can also sit back to recharge.
I can compare this to the well-known Sun Tracker pontoon seats in the market as they're both well-balanced. This seat is not inclined to become wobbly even though it has a molded rotational frame. I don't need to tilt or move my head sideways if I want to look at something on both sides. I will never have to worry about suffering from stiff necks. I can just maneuver the seat to the left or right!
The foam padding also contributes to how comfortable this seat is. It consists of a firm and soft foam to provide support as well. No parts require fixing even though I've been using this for more than a year. Double stitching, marine-grade vinyl cover, and UV-resistant installation hardware are carefully combined to toughen this bucket seat.
I also like resting my hands and lower arms on its armchair. Unfortunately, with its seating width of 19.5 inches, heavy individuals may not fit in it. I chose the yellow and white one as it reminds me of a sunny day. But, there are other color choices. You can easily mount it on a pedestal or any mounting surface.
What We Like
Provides ultimate comfort and support
Well-balanced with molded rotational frame
Moves to the left or right
Durable with several parts that toughen this seat
Can easily mount on a pedestal and other mounting surfaces
What We Don't Like
Heavy individuals may not fit in it because of the armchair
I like the color and structure of this bucket seat. With this item's rotational base, I don't need to stand up when sitting comfortably just to see what's on my side.
5. Wise Premier Series Pontoon Bench Seat
This is the bench seat that I could ever ask for! I didn't expect that the quality would be this good for the price. Thanks to Wise Premier, I can have one of the most premium pontoon boat seats without spending a lot. I chose the one with dark red from four available colors.
This bench seat provides remarkable comfort because the seat's back and the bases are composed of high-density polyethylene. Moreover, it can bear any weight. I don't only sit on it, I can also comfortably stretch and lay my legs on it! Staying in the same sitting position makes me feel constrained so I have to make some modifications.
This pontoon seat doesn't yield to outdoor elements like UV rays and harsh weather conditions. It doesn't get damaged even though I usually spend the whole day under the sun. The credit goes to its heavy-duty vinyl covering that stops mildew from forming. Just so you know, there's a 5-year warranty for its frame and a 3-year warranty for the upholstery.
Therefore, the special base for this premier series is worth the money. It's been with me for years and nothing has changed. I know it will be on my pontoon until I grow old because it's durable.
There are two hinges so you can open the cushion towards you. Then, you can also see a storage box as a part of the special base. You have the liberty to use it as replacement pontoon boat seat cushions and skip buying the base if you want.
What We Like
In premium quality but doesn't cost a lot
Provides remarkable comfort
Doesn't yield to outdoor elements and harsh weather conditions
6-year warranty for its frame and 3-year warranty for the upholstery
A storage box in its special base
Durable so it can last for years
What We Don't Like
Needs to purchase the special base
This premium pontoon seat allows me to rest in comfortable positions. Even though I spend more, I know that it's worth it because it will last for years.
6. Deckmate Classic Right Pontoon Lean Back Seats
These seats help me do an amazing job in decorating my pontoon. I love its ivory and teal colors as it gives a great impact in terms of aesthetics. There's also another color option which is a combination of gray, red, and charcoal.
Lying on my pontoon is such an amazing feeling thanks to this lean-back pontoon seat from Deckmate. It feels good to lay down on its cushion that is filled with mixed dense and soft foams.
I know that this product is built to last. There is a vinyl covering added for UV resistance so it won't fade despite long-time exposure to the sun. There's no single tear since I've bought it because of its impressive double stitching of polyester thread, which can withstand harsh sunlight and mildew.
The base of this seat amuses me because it has enclosed storage, toe kicks, and drain channels. It helps me save space as it gives me a compartment to keep my pontoon stuff.
When sitting, I can let my feet rest on the toe-kicks. My pontoon is not at risk of getting damaged with the help of drain channels on this seat that's responsible for disposing of water coming onboard. All of these features are the same as one of the Overton pontoon boat seats and Veada pontoon seats. But, I think this one is much better because of its lean-back seat.
I don't have complaints about this product. Instead, I'm overwhelmed by its transferable three-year warranty when there are some defects on the seats upon arrival.
What We Like
Good for decorating pontoons with the availability of 2 color combinations
Comfort from its lean-back seat and cushion with soft and dense foams
Can withstand UV and mildew
Can either lie down on it and sit while resting your feet on the toe-kicks
What We Don't Like
The base has enclosed storage and drain channels
Aside from its appearance, this pontoon seat gives a lot of benefits when it comes to comfort and protection for my pontoon. Thus, I can't find any cons.
10. DeckMate Classic Pontoon Corner Seats
The quality of this pontoon corner seat is unprecedented. I couldn't help but admire DeckMate for doing a good job with this product. Whenever I need to sit down, I just sit on it and lay both arms on the top of the backrest.
There's a 23-inch deep cushion that is built with dense and soft foam. This combination aims to provide comfort and support for the user's weight. Thus, it can be used by everyone. I like that there's no wooden part so it won't be prone to rotting. The cushion frame and seat base are made of high-impact plastic, so you can rely on their toughness.
With the aforementioned parts, this corner seat will last for sure. The vinyl covering is also sturdy as it has resistance against sunlight and mildew. You can count on it as it has a 3-year warranty to replace any defective seat. It's even 100% transferable to the next owner if you sell your boat.
I find the drain channels on the seat base impressive. Water would get in, won't collect into a puddle or soak the carpet and deck. Hence, the flooring won't be damaged.
I have this on the two corners of my pontoon and I don't have to deal with water accumulation! At first, my idea is to make it an L-shaped seat but it's not possible because of its structure.
What We Like
With dense and soft foam for comfort and support for user's weight
Has high impact plastic frame and seat base that aren't prone to rotting
The vinyl covering has resistance against sunlight and mildew
Has a transferable 3-year warranty for defective seat
Has a drain channel on the base to not damage the flooring
What We Don't Like
Can't be transformed into L-shaped seat set
The quality of this corner seat is tantamount to luxury pontoon furniture. It's a great addition to my pontoon as it's up for long-term service.
11. Wise 8WD120LS Deluxe Series Pontoon Bucket Seat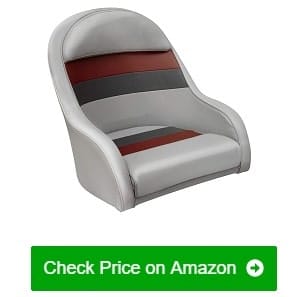 I absolutely loveWise pontoon seats, especially this bucket style seat. It fits my pontoon well and it's so comfortable due to its contoured padding design. The top of the back part is a bit protruded so that I can rest my head on it. Needless to say, it offers immense relaxation. I would close my eyes and listen to the river's trickles when sitting on this bucket seat.
It has a 16.5-inch sitting depth, 24.25-inch width, and 23-inch height. This size suits me perfectly. There are three color combinations that you can choose from. You can expect that the colors won't quickly fade because there is a marine-grade vinyl enveloped around the padding for resistance against UV rays and mildew. Thus, it's always ready to bask under the sun.
The state-of-the-art, high-impact-plastic frame is reliable. So, you won't worry when slumping on this seat. Installation is also a breeze as there is a universal mounting plate and injected molded frame. Hence, you don't have to look high and low for the necessary parts.
Since this product is well-made, it comes with a 5-year warranty for the frame and a 3-year warranty for upholstery. I maintain it well so I don't think it will be necessary. The only disadvantage that I can see about this seat is that the cushion doesn't come off, so cleaning takes more tim
What We Like
So comfortable due to its contoured padding design
Has a part to rest your head on
Covered by marine-grade vinyl to resist UV rays and mildew
Reliable support from the high-impact plastic frame
With universal mounting plate for easy installation
5-year warranty for the frame and 3-year warranty for upholstery
What We Don't Like
Cushion can't be removed so cleaning needs more time
Wise is one of the most reputable pontoon boat seat manufacturers. This bucket seat doesn't disappoint me when it comes to comfort and quality. It's one of the reasons why hanging out at the river is enticing.
12. DeckMate Premium Pontoon Boat Seats
I'm happy about getting pontoon lounge seats from DeckMate as it's a combination of quality and favorable price. After properly placing them on my pontoon, I was in awe of its aesthetic appeal. This appearance is not the only thing that is long-lasting but also its structure. These are the ideal qualities that I expect from pontoon seats.
The plush pillow seats have double topstitching and marine-grade vinyl for covering. Both of them are treated to resist UV rays and mildew. Hence, I can't see any signs of tearing and rotting because of these parts.
The design of these pontoon boat seats is not only for self-preservation. It's also made for taking care of my pontoon as there are molded drain channels on the seat base. Water doesn't usually pile up on the floor, which means damages are not encouraged in my pontoon.
I also like the lifetime warranty for frames and the 3-year warranty for upholstery. It's proof that it's a reliable product. Surprisingly, these warranties are transferable. If you sell your pontoon and these seats are still on it, the new owner can still avail them.
This seat features a combination of dense and soft foam padding, so having this at the back of my pontoon allows passengers to feel comfortable. That's why many of my friends like hanging out in my pontoon!
What We Like
Nice appearance is long-lasting
Not prone to tearing and rotting
Doesn't allow water to pile up on the pontoon's floor
Has transferable lifetime warranty for frames and a 3-year warranty for upholstery
What We Don't Like
Contains dense and soft foam padding for comfort
I can't think of any disadvantages in using these Deckmate pontoon seats. All the people who have given it a try on my pontoon would agree as well.
Factors To Consider When Choosing Pontoon Seat
This buying guide is important so you'll be able to get the appropriate pontoon seat.
Material
This is the most vital factor as it allows you to determine the quality and longevity of your pontoon seats. Be wise and get the ones that are made from materials with superior quality.
Since they're typically disclosed to outdoor elements and even extreme weather conditions, it is critical that they are able to endure and stay firm. The mounting hardware should also be durable. This part is linked with craftsmanship which is significant to consider.
Comfort
You can find firm or soft pontoons seats in the market. To pick the right one for you, think about your preference and the duration that you will stay on the waters. Be particular about the padding and cushion to make sure that it appropriately responds to your needs.
Size and Compatibility
The size is the main basis when picking a pontoon seat that is compatible with your pontoon. The measurement of the seat should match the area that it will be mounted or placed. You should also be sure that you can install it with ease. Set up the mounting hardware first to avoid altering the seating configuration.
Manufacturer's Reputation
Trying to save some money by buying cheaper products is not always a smart decision. You may not notice it but you're just ignoring the importance of comfort, quality, and durability. If it happens, a time will come that you need to spend more to replace the seats.
Researching the manufacturer's reputation can help you with this matter. You can check how long a company has been operating and the consumer's rating as proof that it produces quality pontoon seats.
Cost and Warranty
Just because a pontoon seat is pricey, it doesn't always mean that it's the right choice. Some affordable options may be better than the expensive ones. Also, it's best to know the perks and warranty that come along with a certain product.
What Is The Best Pontoon Seat
Pontoon seats were just made of wood at first. As time went by, upgrades were done to offer comfort to the boaters. It came to a point that they're commonly padded and enveloped with vinyl. They're made with distinct sizes, shapes, and quality. Some are made as discount seats while others are molded to be premium.
Some pontoon seats are designed for DIY installation. Others are specially created for comfortable steering. Seats for decks or interior parts share the same purpose of providing comfort during long hours of stay in the pontoon.
Some types of pontoon seats are made to soothe back problems when fishing or sailing. They may also keep sailors from falling overboard. You can utilize some of them for sunbathing too.
How Do You Install Pontoon Boat Seats
Naturally, you have to remove the old seats when you'll install new pontoon boat seats. It includes removing the installation hardware that you have to save for later use. To avoid confusion and not lose a single part, you may label the pieces of hardware.
If you want to retain a cushion or backrest, detach the seat after you remove either of the two. Pontoon seats are usually mounted on a pedestal or the swivel pedestal. However, some can be directly attached to the pontoon's flooring.
How Do You Keep Pontoon Seats From Molding
Keeping pontoon seats from molding is a part of maintenance. Even if you can't see any sign of wetness or dampness, wipe the seat with a towel after using it. Don't miss the seams and cracks as well!
It's also important to keep an eye on the pontoon seats even though they're in storage. Molds can spring up during the time that you least expect it. It's better to prevent it from growing rather than having to get rid of it later.
How Are Pontoon Boat Seats Measured
To properly install pontoon boat seats, measuring their dimensions is essential. To do this, you will have to closely examine the layout. The pontoon's rail is the best guide in obtaining accurate measurements. It also gives you an idea of the amount of available seating space. Hence, you'll have a precise estimation.
This process is not complicated if you do the following steps:
Rear Length
You'll have to start with the rail's interior and proceed to the rear width. It goes all the way through the middle gate found on both sides of a pontoon.
Rear Width
You can discover the available space for the pontoon seats or the furniture set when finding the rear width. This part will also help you determine how to arrange the furniture pieces at the rear section of the pontoon. You would start measuring in the inside of the rail on one side and continue through to the opposite areas.
Front Width
There are two, separate measurements of the seat's dimension as the pontoon's gate is located in the front. You'll start with measuring the front width of the right side from the inside of the rail up to the closest corner of the gate's right side. Then, you take the same steps on the left side.
Front Length
Measuring commences from the beginning of the center gate nearby the front of the pontoon up to the rail. It continues until the front width. Pay attention to the support bracing that is bound to the rails as it may have an incorrect measurement. This would be a big concern because it can disrupt the installation process.
Spare time to double-check all the measurements that you've obtained. So, you can avoid ordering the wrong seat size.
Conclusion
Focus on the essential factors that can fulfill your boating needs. Then, it will be easy for you to figure out what the best pontoon seats are. You'll surely find one that suits your needs and preferences among the top picks in this review. All of them are known for comfort, quality, and durability, making every pontoon trip fun and adventurous without any aches and tiresome setbacks.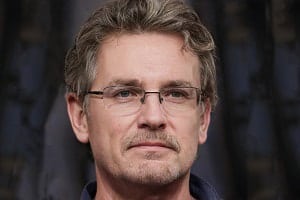 "I am James Harvey – founder of Boating Basics Online. It is established with the drive to help out first-time boaters, which are those desiring to explore their way through the water. So if you are new to boating, start from here with me. "