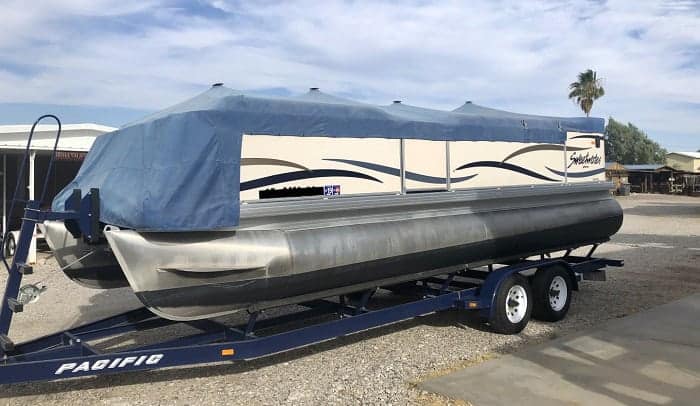 A pontoon boat is not only valuable because you've invested in it. You simply can't deny the fun times that you've shared with loved ones in this vessel. To continue creating wonderful memories, you need to take care of it. One way of doing it is by getting the best pontoon boat cover.
Day after day, your pontoon boat lives through a series of weather and temperature changes. A cover can hamper the wear and tear caused by outdoor elements that shorten the lifespan of your pontoon.
There are various pontoon models and some need a custom cover. In this aspect, you better go over the pontoon covers in this review. Evaluate their features and you'll surely find the most suitable for your pontoon as they're all excellent!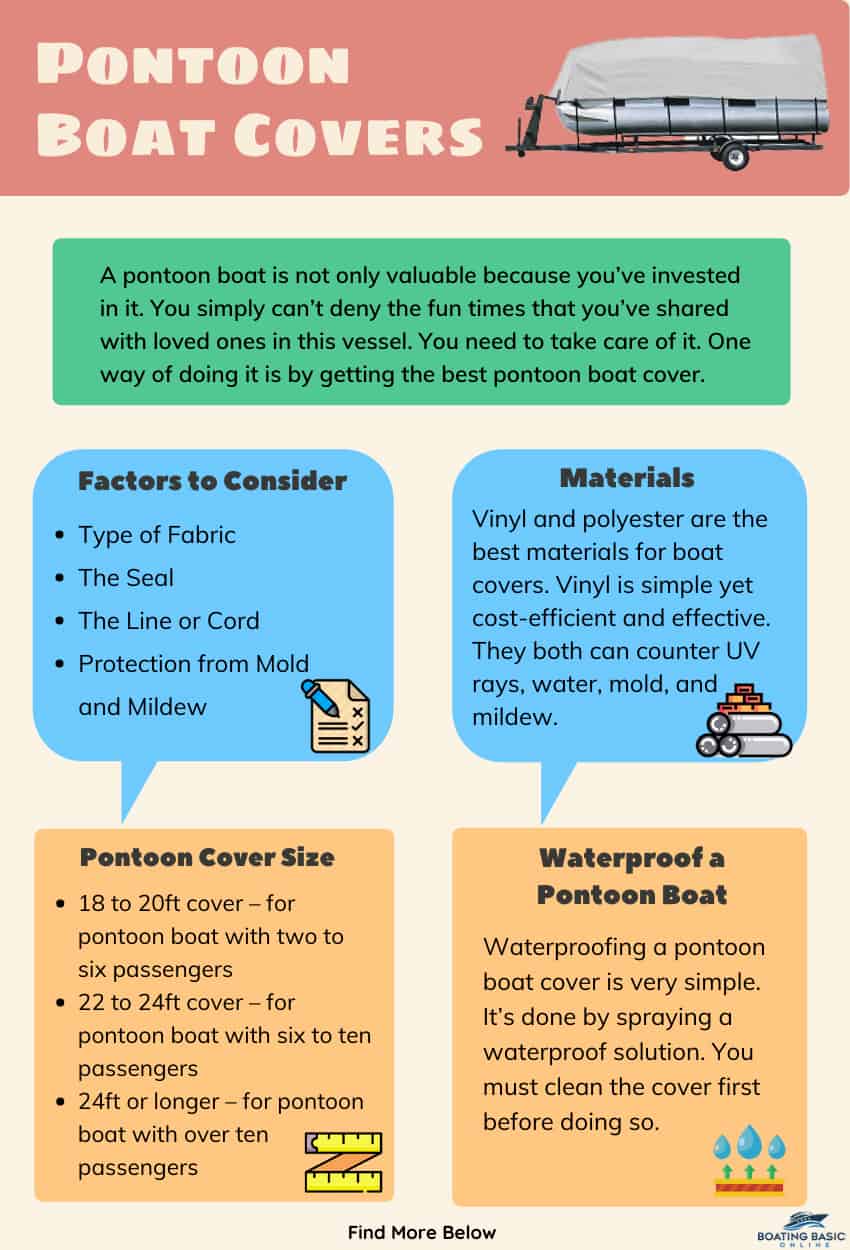 ---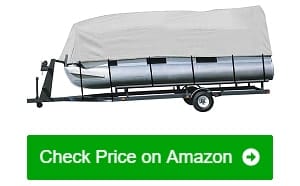 iCOVER PBCOVER Pontoon Boat Cover
Adjustable straps
Quality sewing, double layers
Easy installation
---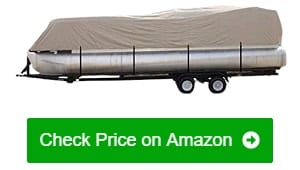 Vortex Canvas Pontoon
Waterproof
5-year warranty
Withstands storm
---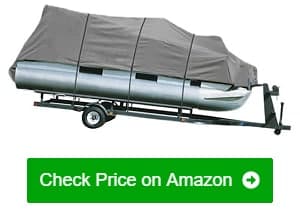 North East Harbor Pontoon Cover
Budget friendly
Waterproof and breathable
Well-made stitches
---
Best Pontoon Boat Cover Reviews
1. iCOVER PBCOVER Trailerable Pontoon Boat Cover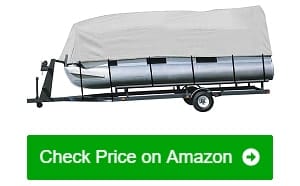 What sets this product among other pontoon covers is its solid construction. Also, the quality of sewing around the double layers of marine grade polyester canvas is strong and reliable. Hence, it can stretch without getting ripped apart despite water pooling.
When there's a lot of rain and my 24-foot party barge is on the trailer, I just lower the bow to let the water run down to the front. Moreover, its durability can be seen on how it gets through summer heat without any damage. Since it covers the whole length of my pontoon with an elastic shock cord hem, it doesn't flip even though there's a strong wind. With these benefits, you can't blame me for patronizing this pontoon cover!
Adjustable straps with plastic buckles are included in the package. You'll need them to tighten and secure the cover. Installation and removal of these parts are easy as well. Anyway, instructions are provided.
A pole system is important for every boat cover because it helps you avoid water from accumulating on the cover. This is not just a 24 ft pontoon boat cover as it also fits pontoons that are 25 to 28-foot long and with a beam width up to 102 inches.
Even though I bought a separate cover for the pontoon's motor, I'm still pleased with this item as it can be a trailerable boat cover. There's no need to return it and claim the 100% money-back guarantee. I owe it big time for protecting my pontoon all year round.
What We Like
In solid construction with quality sewing and double layers of marine-grade polyester
Durable under summer heat and rain
Doesn't flip when there's a strong wind
With adjustable straps for tightening
Easy installation with quick-release straps
Offers 100% money-back guarantee
What We Don't Like
Need to buy cover for pontoon's motor
Durability is the main thing that I seek from pontoon covers on water, wind, and sun exposure. I'm glad I found it as it matches my preference.
2. Vortex New Beige Ultra Canvas Pontoon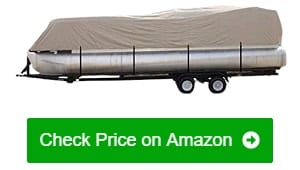 This is not the first time that I bought a Vortex cover. The previous one lasted for years. Getting this item ensures the victory of your pontoon in battling weather changes. You can't underestimate the toughness of the 5-year marine, 600D canvas together with the 5-year warranty. It's a heavy-duty woven fabric that can serve you in the long run.
I decided to make a tent-like support system for this pontoon cover to ensure that water won't be collected on its surface. Even if it happens, it remains firm. The water doesn't seep through it. At the same time, moisture doesn't form on your pontoon.
Storms or high winds of winter can't take this cover down. It's one of those pontoon boat covers with an elastic hem or bottom circumference. Thus, you can foretell that it's clingy on the vessel's body. I'm not into custom pontoon covers, and with this one, my pontoon is well-covered with the help of a couple of straps. I think a duty shock cord hem is redundant when added to it.
I use it for my 18-foot G3 suncatcher and the fitting is great even with the presence of an outboard motor. Although the collapsed bimini top hinders it from going all the way down the toon, it's not a problem. Rest assured that the vessel is well-protected. Sun rays, leaves, and small debris can't easily get through it.
What We Like
Has toughness that can bear weather changes
With 5-year warranty
Resists water and blocks the formation of moisture
Withstands storm and winter's high wind
With elastic hems and straps to make it clingy to the pontoon
Doesn't let sun rays, leaves, and small debris get through it
What We Don't Like
Can't go all the way down due to the bimini top
What makes it shine among the number of canvas pontoon boat covers is its rigid construction. As a result, it's not only valuable for the long run but in fighting the harm caused by extreme weather conditions.
3. North East Harbor Waterproof Pontoon Cover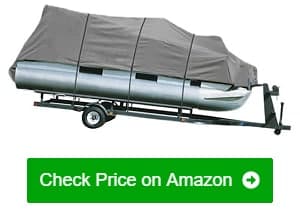 This product is one of the best buys that I made among other covers. I got a waterproof pontoon boat cover with decent quality at a low price. It's just my luck when I picked it from the list of pontoon tarps. Nonetheless, it gives me relief as it keeps my pontoon boat safe. I thought at first that it's a Yescom cover, but this one is much better.
I don't have to spend a lot on shrink-wrapping in winter because this is one of the efficient snap-on pontoon boat covers. I saved some bucks since this 600D polyester cover is simply awesome in protecting against the snow. In addition, it's water-resistant and breathable. Still, it's best to add a pole system under it to prevent water pooling and possible cuts on the cover.
It can also counter heavy rain and direct sunlight. That's why my wife and I put it together on our 21-foot pontoon. Still, you should better not do it on a windy day as it may fumble. The stitches are well-made and the straps for this cover, in my case, have to go through under the trailer. So it sometimes depends on the boat's design.
This cover hangs down on the side, but it doesn't have extra for the front and back parts. Thus, it leads me to conclude that it won't be pretty much for pontoons that are 23 to 24 feet long.
What We Like
Sold at low cost but with decent quality
Waterproof and breathable
Protect against snow, heavy rainfall, and direct sunlight
With well-made stitches
What We Don't Like
It may not be enough for pontoons that are 23 to 24 feet long
I like that I don't have to spend too much on protecting my pontoon, especially in winter. I'm fortunate to have found this product as it assures me in keeping my pontoon secured.
4. Pyle PCVHP442 Universal Boat Storage Cover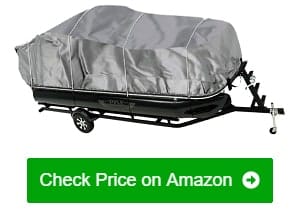 What I look for in a cover is lasting protection which this pontoon cover offers. Finding it among the trailerable pontoon boat covers makes me feel fortunate. I can sail in different areas as I can drive my pontoon with it. To my delight, it has the necessary features like the strap system with an integrated buckle for trailering. These parts and the elastic edges are also intended for easy fitting.
This boat cover snugly fits on my 25-foot pontoon. Thus, I don't need to have an automatic pontoon boat cover because this one gives the much needed protection. It's also suitable for pontoons with a length of up to 28 feet. When it comes to safekeeping, you can turn it into its portable form to be placed inside the free storage bag.
You'll also find several D rings and a rope to tie around the cover. However, it could have been better if the rings are either made from galvanized metal or aluminum.
Rain frequently comes to my area but I still place my pontoon outdoors. Since it's composed of polyester hurricane fabric, it gives off all-weather protection. Rain can't get into it and ruin your pontoon. I left a drill inside the vessel and when the rain stopped, it was laying there bone dry. In addition, you can count on its durability so you get your money's worth.
What We Like
Provides lasting protection as it's durable
Easy and snug fit on pontoons up to 28 feet long
Turns into a portable form for safekeeping
Gives off all-weather protection
Maintains everything inside it dry
What We Don't Like
D rings could have been better if either made from galvanized metal or aluminum
The snug fit of this cover is simply fascinating as it faces extreme weather conditions. I like it a lot and I can find none like it from other pontoon covers with snaps.
5. Classic Accessories 20-028-090801-00 Pontoon Boat Cover
When it comes to boat cover, I only depend on Classic Accessories StormPro. I like how this one fits nicely on my 24-foot tracker fun barge. Being made with 100% polyester, it keeps both my toon's exterior and interior safe from damages!
The top and bottom strap are fantastic as I put it from the middle and they go all the way through the front until the back. Thus, this pontoon boat covered with snaps has nowhere to escape even if there's a strong wind blowing. They also warrant tightness so pooling can be eliminated. Snowy winter won't be destructive to your pontoon because of this setup.
The all-weather protection is superb! It can compete with various snap-on pontoon covers with its rugged form that provides maximum protection.
This cover is universally used but to be precise, it's great for pontoons that are 25 to 28 feet long and with a beam width up to 96 inches. Putting this on a pontoon with the ideal size will let you achieve the tight and custom fit. Apart from straps, the elastic cord and adjustable transom flap are also responsible for putting this cover in place.
I can turn it into its portable form to keep in a free bag for safekeeping. Things went well when I started using it. However, I noticed that it fades a bit under the sun. It doesn't bother me as this change doesn't get in the way of protecting my pontoon.
What We Like
Keeps pontoon interior and exterior safe from damages
Can be tightly placed on the pontoon
Provides all weather protection
Comes with elastic cord and adjustable transom flap for better tight and custom fit
What We Don't Like
Fades a bit under the sun
The all-weather protection coming from this pontoon cover is outstanding. So I won't need to look for a better one. I'm confident that I store my vessel well outside since I have it.
6. North East Harbor Waterproof Pontoon Cover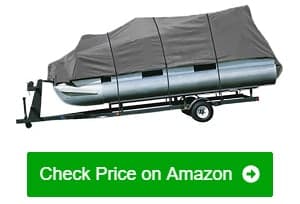 I was skeptical at first with this cover. Its price is relatively lower than most pontoon covers, even though it looks like the well-known Sun Tracker pontoon boat covers. Due to its trailerable straps, I'm pleased with how it fits and protects my pontoon. It seems to have a custom fit on my 18-foot pontoon as it's recommended for vessels with a length of 17 to 19 feet.
This pontoon cover doesn't disappoint since it's composed of 600D polyester. This type of material is waterproof and breathable fabric. Therefore, no moisture can persist and it's immune to rain or other kinds of liquid. I added a pole support system as what is usually done on boat covers for pontoon boats.
In the presence of blowing wind, it stays in the right position with the shock cord hem and tie-down cords. Outdoor storage of my pontoon is done under oak trees. I'm delighted that leaves don't get into my boat. Some users talked about fading with frequent exposure to the hot sun. It's not a complaint because its protective ability is not discarded. However, I didn't see mine fading as it's under the shade of the trees.
Putting the trailer straps is easy since they're part of the QuikSnap system. Therefore, it's not only good for trailering but also for a pontoon boat mooring cover. Last but not the least, a storage bag is free for every purchase.
What We Like
Sold at a relatively low price
Fits and protects pontoons that are 17 to 19 feet long
Made of waterproof and breathable fabric
With shock cord hem and tie-down cords to not give in to blowing winds
Good for trailering and mooring
With QuikSnap system to easily add straps
What We Don't Like
May fade after frequent exposure to the sun
This pontoon boat cover is great for small pontoons and is used for trailering and mooring. You'll be in awe of its snug fit just like I did. On top of all the advantages, you don't have to spend a lot of money.
7. RVMasking Upgraded Trailerable Pontoon Boat Cover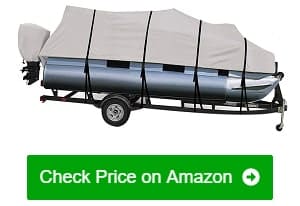 When I found this pontoon boat cover, I knew in a heartbeat that I don't need to waste time going over custom pontoon boat covers with snaps. My main concern is to cover my pontoon, including its outboard motor. So I don't have to get a customized cover like the pacific blue MSC trailerable pontoon boat cover.
Fitness is not a problem with the help of elastic hem and reinforcements for the front and rear sections of the boat. This part makes it remain stable when high winds blow. It's clingy on my 16-foot buggy pontoon, even though it's recommended for those with a length of 21 to 24 feet and a beam width of 102 inches.
An idea came into my mind. You have to make sure that your boat is a bit smaller than the recommended size so everything will be satisfactory. Anyhow, I like how it's trouble-free to put it on. A storage bag is also included in the package.
I think this stands out among other covers because of 800D used in fabric coating technology. So, the durability and protection are doubled compared to the 400D or 600D thanks to its fabric coating technology. In addition, the cover's thickness and heavy stitches are signs of high quality. So, its 3-year warranty makes sense.
A heavy rain, even a downpour, cannot create a mess as it's water-resistant. The webbing seam under it creates a waterproof strip to get rid of seepage. Thus, the entire boat and things inside it are also protected from snow, dust, UV rays, and scratches.
What We Like
Comes with a motor cover
Fits well so it remains stable when there's high wind
Trouble-free to put on
More durable and provides more protection
With high quality and 3-year warranty
Water resistant and can block snow, dust, UV rays, and scratches
What We Don't Like
To have a satisfactory result, your boat should be a bit smaller than the recommended size
I can't complain about anything about this product as it keeps my pontoon protected all the time. So I don't need any other pontoon boat covers for the water ability.
8. Vortex New Blue Pontoon or Deck Boat Cover
The long search for the right 24-foot pontoon boat cover came to an end when I bought this Vortex cover. What made me satisfied is that it has a lot of room to spare for the engine and some boat accessories. It became more interesting when I found out that this is perfect for mooring and highway travel.
I applaud how weather resistant it is. Since it's made of polyurethane with double PU coating, it's water and UV-resistant all at the same time. Also, moisture won't form in the boat as the water vapor can permeate.
I can't help but compare this Vortex cover to other pontoon boat covers. What I discovered is that it's a quarter thicker than those with 150D or 300D. It's heavier too so two people should put this on. I don't mind since this material is made to last for years and the 5-year warranty is guaranteed.
During windy days, I don't need to panic as it holds well on my pontoon. The elastic band and the number of straps are awesome in holding out against the wind. These parts make it better than its look-alike Aqua armor pontoon cover, which has straps that easily snap.
This Vortex cover can also be one of the dependable pontoon mooring covers. But I wish that there's a mechanism to enable it to attach to the Playpen's sides when mooring.
What We Like
Has a lot of room to spare for the engine and some boat accessories
Perfect for mooring and highway travel
Protects pontoon from different kinds of weather
UV-resistant, water-resistant and doesn't allow moisture to form
Thicker and heavy duty with a 5-year warranty
Holds well during windy days
What We Don't Like
Better to have a mechanism to attach it to the Playpen's sides when mooring
This pontoon boat cover is a heavy-duty pontoon cover with a 5-year warranty that deserves the value of your money. Other covers rarely provide the same guarantee.
9. WFLNHB Boat Cover Waterproof Trailerable
I like this cover for my pontoon for several reasons. First of all, I prefer cotton canvas, the material used in making this product. Secondly, the ultra-thick cotton lining is designed to block dirt, pollen, and stain from emerging. So with this layer of protection, I couldn't ask for more.
Rain may fall and the hot sun rises but my boat remains protected. I also witnessed how it survives the cold winter days. These things sum up its abilities in resisting possible damages from outdoor elements. Therefore, this cover is simply amazing!
I don't find any reason why I can't entrust the security of my pontoon to it. It stays unstirred even when a strong wind blows. The credit goes to its stretchy hem and double-stitched seams.
Furthermore, an ample amount of support is also given by its quick-release buckles and strap system. These parts pave the way to easy installation and detaching of cover as well. That's why they can be called trailer straps when this cover participates in towing.
I've been using this for months now but I can't see any sign of shrinking and stretching. A retractable pontoon boat cover is what I want the most and thanks to WFLNHB for creating this. It fits 21 to 24-foot pontoons with beam width up to 102 inches. I like the free bag for storage. However, the clips should be improved as they seem breakable.
What We Like
Can block dirt, pollen, and stain
Keeps my boat protected from outdoor elements
Can't be stirred by the wind
With buckles and straps for easy installation and towing
Doesn't shrink or stretch
What We Don't Like
Clips should be made better
I like that this pontoon boat cover keeps protecting my pontoon but it doesn't shrink. Thus, I felt lucky to have found it.
10. labworkauto Heavy Duty Pontoon Boat Cover
UV rays can be too harsh in summer. So I aimed to buy a UV-resistant protective cover for my new pontoon boat. A lot of products claim to be the best pontoon boat covers on the market. However, I think this is the one that fits the bill in resisting the scorching heat in my area.
It's great for facing harsh UV rays because this protective cover has two layers. An aluminum film occupies the outer layer while there's a thick cotton lining inside. I care about my pontoon so I get different covers for the hot and cold season. Thus, I get this specifically for hot weather.
This cover is only out every summer and I'm impressed by its resistance against strong light. Despite prolonged exposure, it doesn't shrink or stretch. The five rolls of straps are more than what I need for my 18-foot pontoon. I like that they can be quickly released and easily put on. Since I only use it in the summer, a free bag is a great item for safekeeping. It must be done to preserve the optimum condition of this cover.
Pontoon boats with a length of 17 to 20 feet and with a width of up to 96 inches can have this cover. The fit is wonderful because of double stitched seams and elasticized hem.
What We Like
Best for summer use
With two layers so it can face the harsh UV rays
Has resistance against strong light
Doesn't shrink or stretch
Has a wonderful fit
What We Don't Like
Not for long term storage
I'm happy that this has been with me for two summers now. With two protective layers, I know my pontoon won't be fried under it.
11. Transhield Pontoon Storage Boat Cover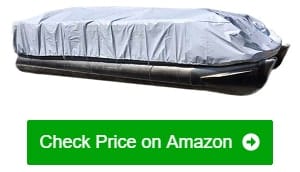 I have a 25-foot pontoon boat and this 26-foot long cover holds onto it like a custom cover. Still, installation doesn't give me a hard time as adjustments can be done. The multiple tie-down straps for every side and heavy-duty shock cord or rope make it easy to put on this cover. It also means that I can easily take it off from my pontoon.
There's no wonder why this is the ideal candidate for long-term storage. It's created with three layers of fabric to prevent wear and tear from continuous usage! These layers are akin to shrink wrap that my pontoon needs during winter. The good looks are maintained even when it's used as a protection for a long time. It can resist rain like a high-water resistant coating. No liquid can penetrate through it.
Furthermore, it won't be harmed even under the hot sun. You don't have to worry about windy days since there's a ratchet to put it down low around the pontoon. It can be considered a pontoon snap on a mooring cover too.
It has air vents that can wick away moisture. Hence, I'm not pestered by any mold and mildew. The benefits from using this cover are overwhelming. Claiming the offered 30-day refund will never be an option for me. However, my friend wasn't able to put it all the way down as his boat has an electric bimini top. Luckily, it still delivers protection for outdoor storage.
What We Like
Adjustments can be one with the straps for easy installation and removing
Ideal for long term storage with a 30-day refund
Acts as a shrink wrap for winter
Works like water resistant cover
Has a ratchet to put it down low to counter the wind
With air vents to prevent mold and mildew formation
What We Don't Like
Can't cover all the way down if the boat has a bimini top
I don't have to take action for my pontoon boat covered by a custom boat cover as long as I have this product. It's like I'm using the custom-made Bennington pontoon boat covers with snaps.
12. MOTOOS Heavy Duty Boat Cover
You can protect your boat by using this affordable cover for outdoor storage. 6ooD Oxford fabric with PVC coating establishes sun protection and waterproof surface. Thus, my pontoon boat remains undamaged under summer heat or heavy rain.
This cover is trustworthy in being protective as it doesn't give way to scratches and dust. Although it has faced various kinds of weather, it still looks nice. I must say that it's at a competitive price for its excellent quality.
The recommended use of this product is for vessels with a length of 21 to 24 feet and beam up to 102 inches wide. A tight fit was achieved for my 24-foot pontoon because of the elastic hem sewed around the double-stitched seams.
Eight rolls of straps are included and they're more than what I need for my pontoon. There are quick-release buckles too. Thus, it's a breeze to install and remove this cover. The only thing that bothers me is the presence of pinholes on the underside. I resolved it quickly as nothing a duct tape can fix. A bag intended for safekeeping comes for free so it's convenient to carry it around.
What We Like
Establishes sun protection and waterproof surface
Doesn't give way to scratches and dust
Has a competitive price for its excellent quality
Acts like weather resistant cover
Creates tight fit
Easy to install and remove
What We Don't Like
The pinholes on the underside
I can't thank this cover enough as it's consistent in protecting my pontoon since it's a weather-resistant cover. It gives back the value of my money.
Factors To Consider When Choosing Pontoon Boat Cover
As you can see, there are too many pontoon boat covers on the market currently. Thus, it is crucial for you to know the main factors when selecting the right pontoon boat cover to protect your boat. Here are the things that you have to keep in mind before the purchase.
The covers that are suitable for most pontoon boats are made of nylon and polyester. Using the latter is to protect against UV rays and other hazardous elements that can damage the boat's structure.
Other incredible materials are Oxford fabric, canvas, or cotton lining. Some of them have a double PU coating designed for enhancing the protective layer. Once you know the material, you can tell if the pontoon cover will last or not. Proper maintenance is another thing that you have to be concerned about. You have to clean the cover when the storage period is over.
The cover's edges should be sewn to ensure that a single particle can't get past the cover. This feature is a must for a water-resistant cover. Also, it offers additional enforcement for possible wear and tear.
There are pontoon covers with heavy-duty elastic cord, which is quite unbreakable. It also helps to distribute the load of a pontoon evenly. You may find some covers with stretchy cord as well and they are usually on the budget side.
Protection from Mold and Mildew
Pontoon covers must have air vents to wick away moisture. Some have it on the rear side and others have dual air vents. They are the parts that guarantee that mold and mildew won't develop on your vessel.
What Is The Best Material For Boat Covers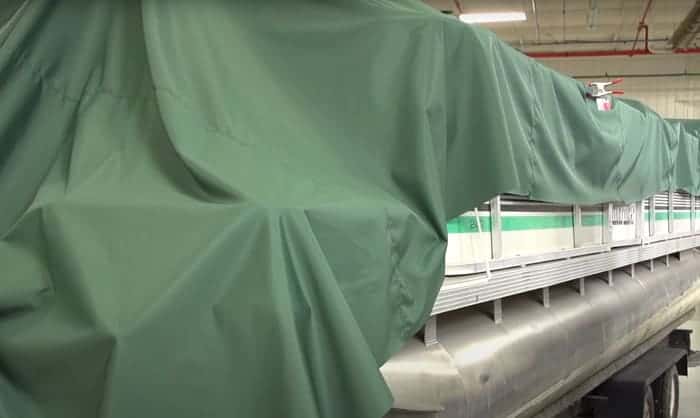 Vinyl and polyester are the best materials for boat covers. Vinyl is simple yet cost-efficient and effective. Coated marine and laminated marine are the vinyl that is used for boat covers. They both can counter UV rays, water, mold, and mildew. However, the protection from laminated marine vinyl may not last long.
On the other hand, polyester is known to be hard against UV rays and exterior hazards. Canvas is also good as it's rip and water resistant.
What Size Pontoon Cover Do You Need
Aftermarket covers are custom-made. But you don't need a custom cover if you're particular about the right size of pontoon cover. The matter on this part is its fitness on your pontoon. Here are some details to guide you:
18 to 20ft cover – for pontoon boat with two to six passengers
22 to 24ft cover – for pontoon boat with six to ten passengers
24ft or longer – for pontoon boat with over ten passengers
How Do You Waterproof A Pontoon Boat Cover
Waterproofing a pontoon boat cover is very simple. It's done by spraying a waterproof solution. You must clean the cover first before doing so.
Conclusion
This review has guided you through the best pontoon boat covers and how to get them. Be reminded that you should get the one that suits your preference and fits your pontoon. Budget is another consideration and the good thing is that you'll find an affordable and effective one. Your pontoon still needs protection even if it's in storage.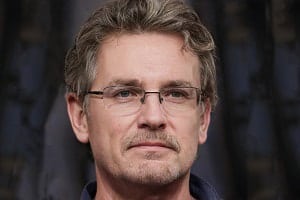 "I am James Harvey – founder of Boating Basics Online. It is established with the drive to help out first-time boaters, which are those desiring to explore their way through the water. So if you are new to boating, start from here with me. "