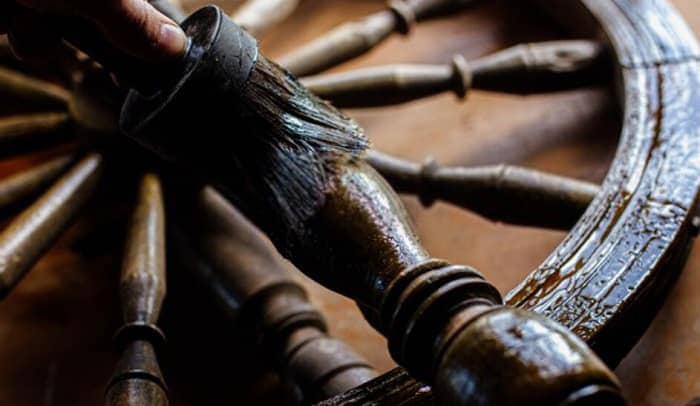 Let's face it, we don't give as much credit to the almost perfect combination of boats and varnishes. After all, vessels aren't exactly cheap. They aren't immune to deterioration as well. If there's one solid way for you to preserve the life of your investment and even take her beauty up a notch, wouldn't you seize it?
For my part, I can wholeheartedly say that these varnishes are great investments, especially if we're talking about the best marine varnish. These concoctions go beyond their practical benefits, lending anything made of wood with a nice finish that only unlocks and magnifies their natural exquisiteness.
I can say as much for the products I've featured here. They have given me noteworthy, if not outstanding, results that make the others I've tried in my more than ten years of boating and fishing pale in comparison.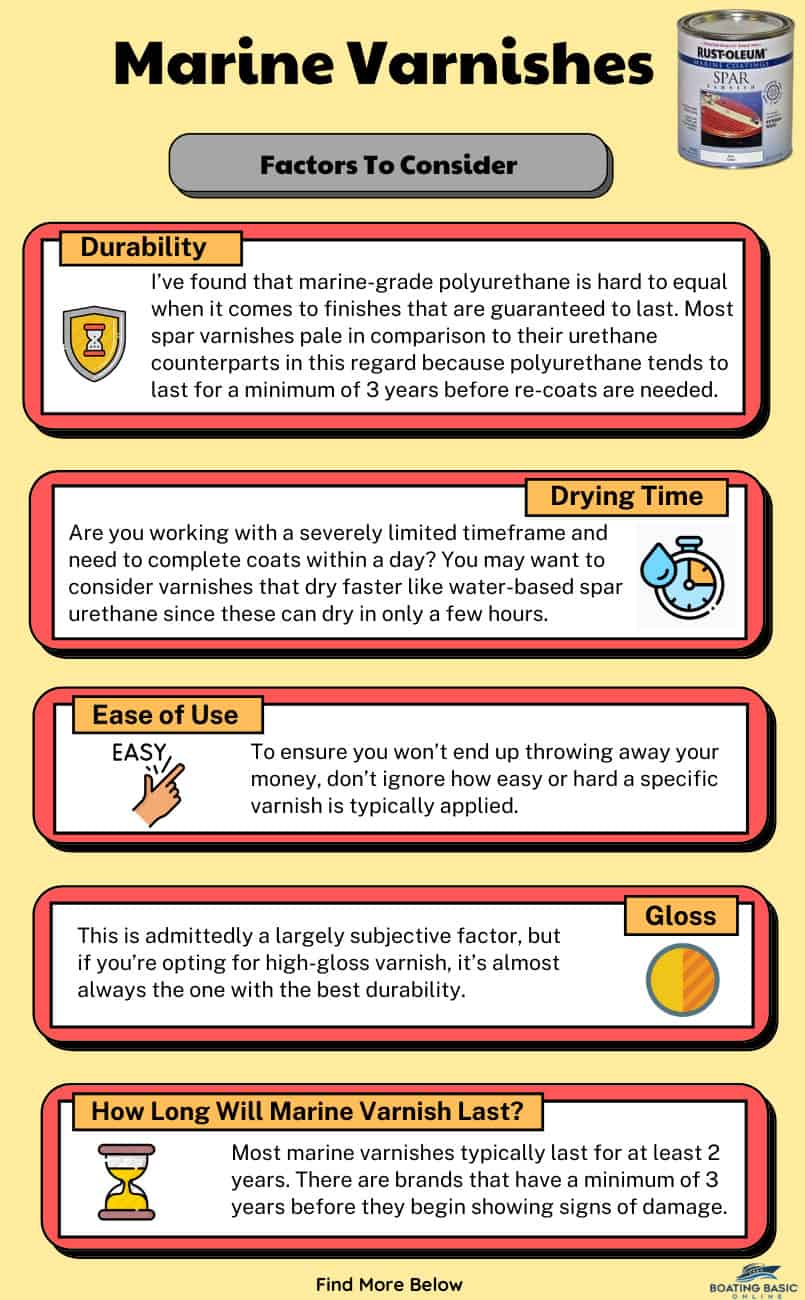 ---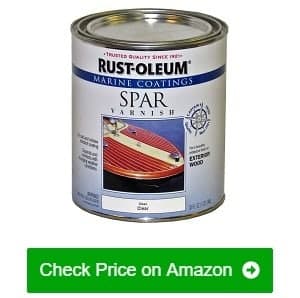 Rust-Oleum 207008
Great finish
Easy to use
Great value for money
---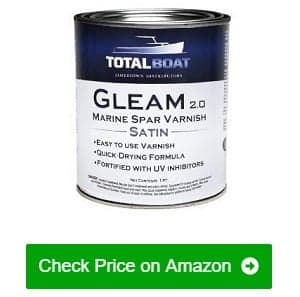 TotalBoat Marine Varnish
Superb satin finish
High gloss protection
Very versatile varnish
---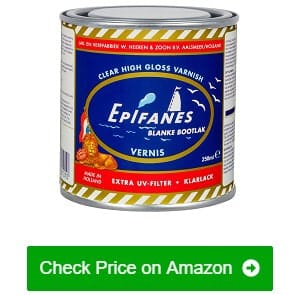 Epifanes Clear Varnish
Easy to apply
Excellent UV protection
Great value for money
---
Best Marine Varnish Reviews
1. Rust-Oleum 207008 Marine Spar Varnish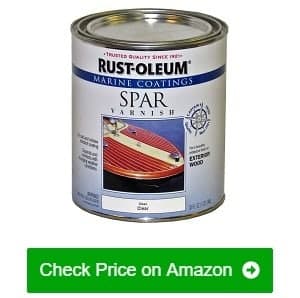 If I'm going for all-around reliability and protection from sun and moisture damage, I'd choose this varnish in a heartbeat.
This is my go-to varnish for anything wood found in my sailboat. Whether it's furniture or railing or sometimes even the bow, I often get the kind of maintainability I want every time I use this. The finish is no less attractive and only gets glittery over time in a number of my past applications.
Thinned up to around 30%, it dries quickly enough to apply multiple coats in a day. Sometimes I go for as low as 20%, down to even 5%. It's because thinning too much does tend to backfire and lead to the varnish taking a long time to dry. It's easy to use with everything considered.
If you want the best results, I've found that using a fresh foam brush with every coat would result in optimal smoothness. It may seem like a waste, buying multiple brushes, but the results are unrivaled, to say the least. I've had applications that lasted for a good 3 years before I needed to refinish them.
With everything taken into account, I think this delivers the best value for money. It's actually more affordable than others in the market. It does have one glaring downside: it only lasts for a few months when stored. I'd consider it a miracle if you can still use it after 4 months from the first usage.
What We Like
Excellent UV and water protection
Great finish
Easy to use
More affordable but with high-end results
Great value for money
This varnish brings out the natural beauty of wood without compromising protection. That alone allows it to stand on its own pedestal.
2. TotalBoat Gleam Marine Spar Varnish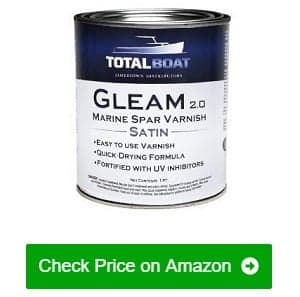 This varnish smoothly combines ease of use, beautiful finishes, and above-average durability. The winning formula for successful marine finishes for wood, in short.
This varnish is versatile in that it leaves plenty of routes open for you to take. For one, I like that they give you plenty of freedom when choosing the shine you want. It's also available in different sizes, so I always get to buy only the proportions I deem fit for a specific project.
I have to be partial to the satin finish, though, since it delivers the exquisite luster I like to see in my indoor boat furniture and fixtures like railings. However, I always make sure to apply a high-gloss varnish if I'm working on anything that has to be exposed to the sun for long hours. That being said, I like that this product gives you both satin and gloss options.
I make sure to apply the high-gloss varnish as a topcoat, and I've gotten excellent results, mostly 1 to 2 years of unblemished finishes, with this practice. Sometimes, it's shorter than that, especially on wooden areas that are more exposed to the elements. Yet, it's protection you normally expect and can get from high-gloss varnish. In addition, it's a varnish that's also noticeably on the thin side, so I kind of get that it wears away faster than thicker varieties.
As for actual application, I love that it evens out even if I rush it on any surface. So 3 coats are my standard with sanding, usually with 180-grit sandpaper, between every coat. Very beginner-friendly but would make you look like a master finisher with consistent results.
What We Like
Very versatile varnish
Superb satin finish
High gloss protection
Uncomplicated to apply
Has multiple sheen and size options
The best marine spar varnish should be as versatile as possible and provide myriad bonuses. The fact this product meets both criteria makes it well worth a top contender for that title.
3. Epifanes CV.500 Clear Varnish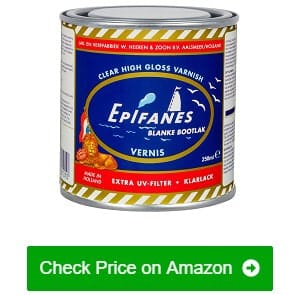 Another safe option, Epifanes marine spar varnish is anything but average with its status as a crowd favorite. Expect superior finish and durability if you choose this.
This varnish easily earns a spot here, considering its unchanging and undeniably positive reputation among boaters. Simply put, it's hard to fault because of the wonderful results it can bring. The shiny, attractive gloss that has the Epifanes trademark is rarely surpassed by other marine-grade varnishes in my opinion.
What's equally neat is that it's not difficult to apply. You don't really need to sand it with every coat, unlike the majority of other brands out there, but I still suggest you do it, especially in the later coatings. I recommend using marine spirits as a thinner with a 2:1 ratio, and take the time to pour it through a strainer to guarantee a smooth finish. At best, you'll have to set 5 to 7 days of gradual coating to get the kind of attractive finish you want; and I mean capital-A attractive.
As in other great exterior varnishes, this product is an example to follow when imparting UV protection. At least, that's what I think is primarily responsible for the excellent finish and the overall durability. I use this as much on my sailboat's wood portions above the waterline and furniture as well as furnishings in my home, and the finish often lasts for 2 years on average.
As for complaints, it takes a while to work with it as I mentioned. It's also something that you'll want to use in a single application as it doesn't do that well sitting on a shelf for a long time. However, I can't complain since I get good value for money based on the top-quality results I get when applying it as an all-around varnish for wood.
What We Like
Amazing shine and finish
Excellent UV protection
Easy to apply
Great value for money
What We Don't Like
Takes a while to dry
Short shelf life
There may not be a thing such as the perfect marine varnish for wood, but to me, this is the closest we can get to one.
4. McCloskey 7509 Man O'War Spar Marine Varnish
McCloskey's Man O'War spar varnish is durable, to an almost no-brainer degree. It's what I buy if I want to get the best out of what spar varnish offers to the average boater.
Despite its relatively hard finish, spar varnish tends to wear out faster than urethane. It's a natural thing, so I won't bother to list it as a con. You can't mimic the deep amber tint, caramelization, and versatility of good old spar varnish, and this brand delivers no less than that trio of perks.
If I'm going to name a worthy brand representative of spar varnishes, I'd promptly pick this one. It adheres excellently to any kind of wood, so I generously slather any wooden fixture in my boat with this once I get a hold of a bottle.
While it's easy to use, you'd better be prepared to invest time working with this varnish. I use mineral spirits for thinning, and I make sure to apply thin coats, starting from the middle, using a mini roller and a brush, mohair and ox hair respectively. I sand in between coats, and overall it takes time since it dries slowly.
The durability stems a lot from the outstanding UV protection. My sailboat's wooden bow that has this finish has been battered by rain a good number of times already, and it's still holding up after a year since the initial application. Since it's effortless to apply, I just sand and recoat every once in a while.
One other downside I noticed is that I seem to be finding less and less of this in local stores and even online.
What We Like
Outstanding UV protection
Easy to use
Adheres to most types of wood
Classic, eye-catching spar varnish finish
What We Don't Like
Slow-drying
Limited availability
Sometimes, it's hard to top the old-fashioned because they are rarely mimicked by the new stuff. This has been a constant presence in marine spar varnish reviews for that reason and a host of others I've detailed above.
5. TotalBoat 482869 Lust Marine Varnish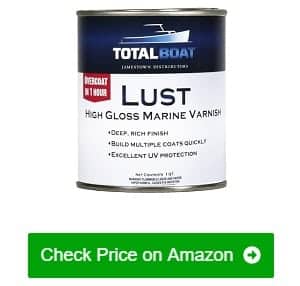 TotalBoat is a household name in the marine industry as far as paints and varnishes go. This is the brand's best offering if we're going to consider fundamental factors like durability, shine, and value for money.
I need to stress outright that this varnish is extra thick, almost honey-like. If you don't thin it out to at least 50%, you'll only end up grappling with it to less than desirable results. It's not exactly beginner-friendly with that considered, but it does pay off since you get optimal protection and the kind of shine any boat owner would be proud of.
Speaking of the finish, it begins to shine through once you hit the one-year mark. At least, that's what I get from most of the vessels and furniture I apply it to. I can say that it's smooth sailing once you take the time to know the right consistency.
I often use a roller and apply 5 coats then do a recoat after 2 hours in a whole day. Ideally, the last two coats should only be thinned by about 10% only. It might get tricky applying it then but, trust me, you'll get the hang of it.
I get the results I want within a day or two — or more at times during less than optimal humidities and temperatures. Even so, that's obviously quicker than handling traditional varnish, which takes weeks to settle. I do acknowledge the thinner's role in helping with the drying time.
However, this aspect can be double-edged at times since I've had a number of one-gallon cans that dried completely and rendered impossible to use after only around 6 months since opening. This is why I sometimes opt to buy only the smaller varieties if available.
What We Like
Excellent shine and finish
Proven durability
Becomes easy to use with practice
Quick-drying
If you want the age-old spar varnish look and maintenance for your boat, this marine-grade varnish delivers it if you only take the time to get the hang of it.
6. Epifanes WFM.500 Wood Finish Matte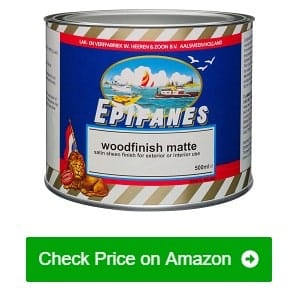 If we're talking about top-of-the-line, marine-grade durability, this one deserves to be called the best marine wood finish.
This is my favorite to use on teak because of its proven waterproof capabilities and the fact that its satin finish has just the right amount of sheen, for me, at least. It brings out the beauty of the teak and almost any wood I apply it to, for that matter, and this is coming from someone who has tried numerous marine-grade varnish before. I've had furniture that managed to maintain its finish for an impressive 5 years with the help of this varnish.
It's a bit of a challenge to apply. It actually flows well enough as it is, and I rarely have to thin it with every application. However, you have to make sure that you apply it evenly with every coat and oftentimes as quickly as possible. Once I get patchy and bubbly results, that's the only time I thin it, and I sand after the first coat, totaling up to 3 coats on average. It will dry more slowly if I thin it, though.
With the price, finish, and durability in mind, I can't name another brand that ticks those three essential checkboxes as well as this product. You need to know the right times to apply every coat, as well as optimal humidity, to get amazing results. The fact that it has proven to last for more than the usual limit of 3 years makes me think this has the best protection against UV damage and moisture, making it well worth the already reasonable price tag.
What We Like
Excellent durability
Nice satin finish
Flows smoothly without thinning
Brings out the beauty of the wood extremely well
Fairly cost-effective
Considering my experience with this product, I won't hesitate to name it the best marine varnish for teak.
7. Minwax 63200444 Helmsman Spar Urethane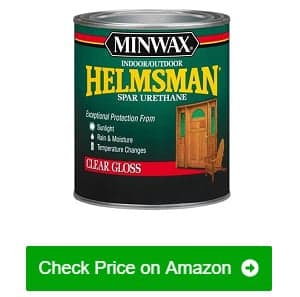 Though not marine-grade, Minwax has proven to be just as durable as many products with that label. It's very easy to use and delivers just the right amount of shine.
I often use this on my sailboat's furniture, and if left with no other options, even the wooden exterior of the hull and bow. It goes well with canoes, but I only tend to apply it on the ribs, rudder, and planking. While not marine-grade, it's great for outdoor furniture, and, to me, that's always a good sign of heavy-duty UV protection.
If I want to reinforce the protection, I only need to apply more layers, 4 coats at most but not less than 2. I've only used it on oak-made fixtures, though, and I get the longevity and finish I want with that kind of simple setup. The varnish lasts up to 1 to 2 years before recoating becomes necessary, with minor peeling only appearing after a year based on my experience.
I like that they give you plenty of options with regards to sheen and container sizes. I prefer satin for my interior furniture. I once made the mistake of not mixing it well and got a result that's almost similar to high gloss. To avoid this, you need to make sure you mix it for a good 5 minutes and scrape the sides and bottoms of the can as you do so. This guarantees the soft shine you're aiming for.
I often pair this with
water-based paint
to extend its life. It's not a pain to apply since it works well with a standard sprayer. I only stick to instructions on how to thin and go from there. It dries remarkably fast because, on average, I can apply 3 coats in no more than 2 hours.
What We Like
Easy to use
Plenty of sheen and size options
Decent durability
Dries quickly
I like this as a marine varnish spray. It can get me the results that I want minus the usual stress involved.
8. Interlux IVA316/QT Cetol Natural Teak Varnish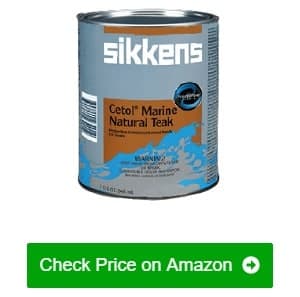 This varnish earns my thumbs up with the kind of inimitable finish it can deliver and its relatively easy application.
This has since become my favorite varnish on teak fixtures when I tried it out 2 years ago. This is because of the immense difference it makes in the way it lends my pulpit or anything made of teak with a sophisticated, good-as-new finish. It's not overly glossy, which I attribute to the "natural teak" claim, and only darkens the wood a tad so it will still maintain its natural hues.
I'm glad it didn't cause any yellowing, and after my second application, I can still say the same. It has a runny consistency that merits forgoing thinning on the first coat. I like to use a brush when applying it to have better control over coverage, which is great enough as it is, and all I can say is that I'll apply this to my boat's bow and rails the moment they start showing signs of wear.
Nonetheless, it would be pushing it to say that it's as durable as the other varnishes here. It only took a year before my bow showed signs of peels and cracks. However, after I applied a single maintenance coat on the entire thing, I found that it limited or delayed the damage since I've yet to see signs again after doing a recoating. That being said, I suggest applying a fresh layer at least once a year to make the most out of this marine varnish for boats.
That's not exactly an attractive prospect to face yearly, considering the more expensive price tag. But for the way it can
bring the best out of teaks
and the other options available on the market, it's hard to let it go altogether.
What We Like
Outstanding finish
No sanding and thinning required in most cases
Good coverage
Minimal darkening
Well worth the money
If you want to snazz up the quality of anything teak-made, this marine-grade varnish for wood won't let you down!
9. McCloskey 7505 Man O' War Spar Varnish
Budget-friendly, reliable, and just as good as other solid brands, this McCluskey varnish is a must for anyone choosing to go for value for money all the way.
The fact that this varnish can give you outstanding satin finishes and superb durability without going overboard in cost should give you a ready hint why a lot of boaters are shifting to this product. When I say superb durability, I mean thick coatings that you'll be confident will last for years.
In my case, the minimum is 3 years on all my wood projects, boat bows, railings, and furniture included. You may start seeing peels and scratches here and there, as evidenced by the 7-year-old canoe that I refurbished 3 years ago. But, to me, it's still none the worse for wear and nothing a minor recoating job won't remedy.
The finish is not unlike the ones I get from the other varnishes mentioned here. It accentuates the natural color and look of the wood, and I'm saying this for redwood, teak, and light oak, which are the types I've applied it to. It dries in a day like most spar varnishes and typically doesn't need to be thinned, though sanding is ideal per coat.
Incidentally, I need to underline the fact that this varnish is one of the few that doesn't skin over in the can after you've stored what's left of it. At least, that's what I can say for most of the cans I've purchased and stored, with about a third of the can full in a year.
Much like other affordable varnishes by this brand, it's becoming increasingly hard to come across this product on local shelves and even in various online stores. That's not cool at all considering it's just as amazing as Epifanes varnishes while having a more reasonable price tag.
What We Like
Works well for most types of wood
Superior durability
Doesn't skin like other varnishes
More reasonably priced than other brands
The price to quality ratio alone makes this varnish a top pick for me. The other terrific benefits only add the proverbial cherry on top.
10. Pettit Marine Paint Flagship Varnish 2015
This rarely figures in marine varnish review posts, and that's unfortunate considering it's another top-quality marine varnish that doesn't yellow, imparts a glossy and thick appearance, and superb UV protection.
Usually, I use this as a general-purpose varnish for the teak and cedar parts and fixtures of my one and only yacht. It gives a deep-colored, thick, glossy, grainy, and smooth finish that I can't get enough of. It doesn't yellow at all, probably because of the UV additive used, at least, partly. Anyway, this is one positive quality I always like from any alkyd varnish that is done right.
I prefer to spray this one, following the 20% thinning guideline. Spraying shortens the time for full coverage. I sand lightly between coats using 220-grit sandpaper, and by and large, I only need 3 to 4 coats to get the beautiful finish I described above. It takes almost a whole day to dry, but I don't mind since I get quality results.
As for durability, I can safely say it's UV stable. I often leave a couple of chairs and tables out on the deck if the weather's great, oftentimes, for an entire day. Besides a few scratches in some parts, which aren't UV-related, they haven't peeled yet and have maintained their shininess after 2 years since application. I can say the same for the yacht's teak pulpit.
It's not particularly cheap. Honestly, the unique finish is what I'm aiming for every time I decide to purchase a can of this marine-grade lacquer. It's a step above the rest of other common alkyd varnishes out there and shouldn't at all be overlooked.
What We Like
Easy to apply
Doesn't yellow
Outstanding finish
Superb UV protection
Proven gloss retention
This would greatly benefit those who prefer marine varnish that will retain an attractive finish for at least 2 years.
11. System Three 1855S16 Marine Spar Varnish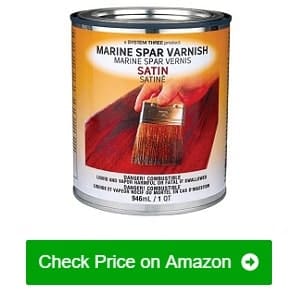 To me, this is the best boat varnish if we're only considering durability. It also earns a ready checkmark in protection and attractive finish, making it nothing short of tough to beat.
As far as durability is concerned, the longest that I've seen this last without undergoing any kind of major peeling or cracking is close to 3 and a half years. It was on my favorite canoe, which I use fairly regularly for freshwater fishing. 3 years is the maximum for any exterior wood varnish for me, and without a doubt, many boaters would say the same.
I attribute most of the longevity to the excellent water and UV protection. My canoe has borne the brunt of rain and water splashes over the years. I can say the same when I expose it to extensive sunlight exposure when I go fishing in Lake Erie. Top-tier durability in my book.
I sometimes use a thinner with this varnish, but I've found that you don't really need to thin it if you use an HVLP spray gun. Sure, it takes a while to dry and you have to be extra careful, but I'll take that any day if I get to enjoy these perks and results consistently.
I don't know about the brand's claim that it "absorbs" UV light, but it does impart a smooth and relatively attractive finish. There are better options out there in this regard, though. Even so, it comes in glossy and satin options, and if you want more shine, you can always opt for the former. In addition, it guarantees the same level of protection either way.
What We Like
Outstanding durability
Relatively attractive finish
Easy to apply with a sprayer
Comes in gloss and satin varieties
What We Don't Like
Dries slowly without a thinner
If you constantly had to grapple with weather and heat elements when trying to apply a long-lasting exterior spar varnish before, this may very well whisk away your woes for good.
12. Duralux M738-1 Spar Varnish
A true gem of a find, Duralux exceeded my expectations with its durability and versatility.
In almost any kind of marine varnish for exterior doors, durability and protection immediately go well together. This spar varnish proves it doesn't belong on the back burner by delivering both. One of my canoes that I applied this on is still going strong for more than a year, and that's a quality not a lot of products can boast of.
I've had varnish that didn't take more than a month to start peeling and cracking. That's after a fresh application, mind you, and, yes, I follow brand recommendations to a tee if I haven't discovered a better way to apply it. This varnish has kept my other canoes shiny every time so I deemed it deserves the spotlight.
Moreover, it doesn't yellow over time, unlike some clear varnish I've used before. You may argue that there's a lot of variables when it comes to varnish yellowing, like sanding and possible chemicals it can react to. I'm not sure whether this is spar polyurethane, but I'm betting it is since that's the only type of varnish I've used that doesn't give me the yellowing effect even with minimal to no sanding.
It's not at all hard to get on the wood. I even used a standard bristle brush once and still managed the smooth, not-too-glossy finish I'm aiming for. It delivers an overall satisfactory finish (i.e. what you would expect from standard clear varnish). On the other hand, it does take time to dry as I need to wait at least an entire day to apply 2 to 3 coats on my canoe and some of my boat fixtures.
What We Like
Decent durability
Satisfactory finish
Uncomplicated application
Doesn't yellow over time
This product is severely underrated if I'm going to make a marine varnish comparison. It can wow you even the most experienced boaters and finishers out there.
13. Old Masters 153617 Spar Marine Varnish
Old Masters's varnish shouldn't be overlooked for its conveniences and quality that only a few top-tier varnish brands can bravely claim they can deliver every time.
This is among the lesser-known spar varnishes that don't yellow even after a long time has passed. The canoe that I refurbished 3 years ago would prove as much, as it's still holding up well, surprisingly if I might add. To be honest, this was a second option when I bought it as I didn't have TotalBoat and McCluskey varnishes available back when I did the finishing job.
I was pleasantly surprised by how things turned out. I followed the instructions and stirred it well. It's just the right kind of thick, to the point that I don't have to thin it when applying with a brush or roller. I do have to thoroughly sand and clean the surface first, and it evens out nicely with every coating.
It dries quickly enough for me to apply a second coat in a single day, making me think it's an exception among oil-based spar varnishes. At best, I give an allowance of 8 to 10 hours before brushing the next coat. Obviously, that's a time-saving perk I'll take any day.
It doesn't produce a yellowing effect, even when applied to parts of my canoe that are regularly exposed to heat, sunlight, and the elements. That's noteworthy considering it's a clear varnish. I even have to say that the slightly weathered look it has gotten lends it a charm that most boaters would appreciate.
Overall, I like the finish. It's not overly glossy, but besides that, there's nothing notable about it. Take note that this varnish is only limited to pint-sized containers, which means you have to buy in bulk if you're going to do a big project.
What We Like
Dries quickly
Easy application
Decent durability and finish
Doesn't yellow with age
What We Don't Like
Limited to small pint-sized cans
This brand proves there's always a decent alternative out there with advantages rarely found in top brands.
Factors To Consider When Choosing Marine Varnish
Based on my experience, there are many "safe" marine varnish options out there. This only means you're likely to not run out of beginner-friendly brands and can guarantee high-quality results at the same time. Whether it's high-gloss or satin, all spar varnishes are easy to apply over new wood or previously coated surfaces. Marine varnish is also not partial to any type of wood and can accommodate those commonly found aboard or form part of a vessel, like teak, redwood, oak, etc.
However, that doesn't completely discount the need to pay attention to certain factors when making your decision. These are usually the ones I make a note of when planning to start a varnishing job.
Durability – I've found that marine-grade polyurethane is hard to equal when it comes to finishes that are guaranteed to last. Most spar varnishes pale in comparison to their urethane counterparts in this regard because polyurethane tends to last for a minimum of 3 years before re-coats are needed, based on my experience. This is why they're great options as a marine varnish for outdoor furniture.
For spar varnishes, I've had finishes that only lasted a year or even less. At best, these two offer equally potent UV protection, waterproof benefits, and even resistance to scratching.
Drying Time – Are you working with a severely limited timeframe and need to complete coats within a day? You may want to consider varnishes that dry faster like water-based spar urethane since these can dry in only a few hours. Most spar varnishes require a whole day of waiting to apply coats, assuming climate conditions are optimal.
Ease of Use – To ensure you won't end up throwing away your money, don't ignore how easy or hard a specific varnish is typically applied.
Shelf Life – It won't hurt to pay attention to how long a specific can of varnish will last while in storage.
Gloss – This is admittedly a largely subjective factor, but if you're opting for high-gloss varnish, it's almost always the one with the best durability. However, do you like your wood to be extra shiny? There are semi-gloss and satin finishes that are just as attractive, if not more, especially when used on anything wood that is below deck.
We also need to discuss the possibility of a varnish yellowing or darkening the wood that it is applied to. Sometimes, the darkening could be due to the UV additive or tint used; thus, making it unavoidable unless you opt for a different varnish brand altogether.
As for yellowing, there are ways to avoid it. I shall discuss it below, but sometimes, it's due to the actual product as well, especially if they are clear, alkyd, or oil-based. It's not an absolute thing, though, and there are products that prove to be exceptions to this rule.
What Is The Best Marine Varnish
You'll hear a lot of experienced boaters recommending brands like Epifanes, TotalBoat, McCloskey, and Rust-Oleum. I agree with them because, to me, these brands can easily meet the standards of high-quality marine varnish. Each one has qualities where they serve to shine better, and the reviews I outlined above should give you a good idea about what they are.
Nonetheless, I'm not completely discounting the other brands I included here. I daresay that they're just as good as those top-dog brands, especially in essential factors like durability and a long-lasting aesthetically appealing finish. Moreover, I find them to be valuable substitutes if any go-to brand happens to be unavailable and won't even hesitate to pick them as the main option based on certain requirements of a finishing job.
Incidentally, you may have noticed that I didn't include ease of cleaning when discussing these brands. That's because most, if not all, of them are very easy to clean for me. At least, for the almost uniform smooth finishes that I get out of them.
What Is The Difference Between Spar Varnish And Marine Barnish
There's not much, really. When boaters use the term "spar varnish", chances are, they're also automatically referring to marine varnish. You can also see this in how brands usually label their products in online stores, like Sherwin Williams marine spar varnish or TotalBoat gleam marine spar varnish, to cite a few examples. If you're using spar varnish, it's almost always marine-grade.
Both terms give the ready connotation of finishes that provide heavy-duty protection against the harsh elements usually involved when boating, fishing, and cruising. You'll find plenty of oil-based spar varnishes (i.e. tung oil, alkyd resin, etc.) that are imbued with additives that serve to accentuate the natural beauty of the wood, as well as solvents and other chemicals that promote fast drying and add UV protection.
How Do You Apply Marine Varnish To Wood
Since certain varnishes have different components or are more natural or synthetic, it's best to stick to the manufacturer's instructions when applying any kind of varnish. However, we can't deny that most projects share a few essential guidelines, such as the following:
Preparation usually entails sanding between coats. The most ideal to use for this purpose is 180 to 220-grit sandpaper or even a Scotchbrite pad will do sometimes. Take note that some varnish products can do without sanding, especially for the initial coat. But, this would still depend on whether you're applying it to a bare wooden surface or if it's been previously coated before. If it's the latter, then you'd most likely need to sand it first.
Clean the dust that forms after sanding using a clean rag. I wipe it down further with a tack rag to ensure no dust or debris would still be present the moment I start applying coats.
As for temperature and humidity, it's best to apply any kind of marine varnish if the temperatures during the entire day don't go above 80 degrees Fahrenheit. Humidity should be 50 to 60% or even slightly lower than that. I found that the smartest route to take is to be patient and wait for the right climate before going ahead with a project, especially if you know that it will take a number of days to finish.
Thinning depends a lot on the product. If it's too thick, it's often necessary to do this, even if the brand doesn't mention it in the instructions. The safest route for this is to follow a 2:1 varnish to thinner ratio. Mineral spirits are recommended.
I also recommend taking the time to strain the varnish using a paint strainer to ensure a smooth finish. Sometimes, this can make all the difference in the world in getting the kind of finish that any boater would be proud of.
As for applying coats, there are certain products that require you to start from the middle so that you can ensure an even coating. Others would caution about wiping too much, while many suggest, as is often the case in spar oil-based urethane, to make thin coats for every layer.
Bristle brushes and badger-hair brushes are often the standard tool for application. But, again, there are products that are easier to apply with a spray or roller.
How Long Will Marine Varnish Last
Most marine varnishes typically last for at least 2 years. There are brands that have a minimum of 3 years before they begin showing signs of damage. I can attest to marine varnish that keeps its shine and protection for 5 years, and I've highlighted the exact products that can achieve that.
Ultimately, if you keep its sun exposure to a minimum, you're guaranteed to extend any kind of varnish's lifespan. I've noticed that varnished fixtures and furniture in my yacht tend to last significantly longer than the ones that are exposed to sunlight extensively, regardless of the varnish's UV-protective capabilities.
Is Marine Spar Varnish Waterproof
This is almost always the case considering this type of varnish is marine-grade. Most experts attribute this to spar varnish's flexibility (i.e. its ability to expand and contract with the wood). However, equally many attribute it to the simple fact that spar varnish is mainly oil-based, allowing to wick away moisture with ease.
Conclusion
Now, do you have a good idea of what the best marine varnish brings to the table? With all things considered, the best parting advice I can give is to not hesitate to try out the options available to you. Sure, there will always be no-brainer choices, but it didn't take long for me to find out that it pays to try out other brands because they may give your boat the kind of shine or longevity you've always wanted.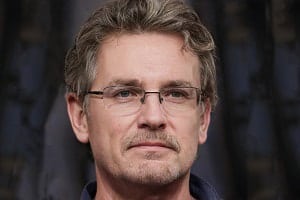 "I am James Harvey – founder of Boating Basics Online. It is established with the drive to help out first-time boaters, which are those desiring to explore their way through the water. So if you are new to boating, start from here with me. "