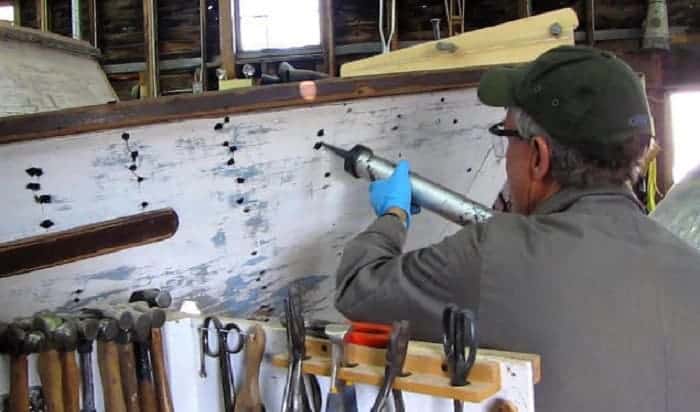 Choosing the best marine sealant and caulk products requires an in-depth familiarity of their application method, elasticity, and compatibility factors. Each marine grade sealant product, its type, and intended use can have incorrect information or be misinterpreted by boaters.
This is understandable considering a lot of them are available among underwater caulk and underwater boat sealant products. Nonetheless, considering these factors, especially the application method for each boat adhesive sealant or boat caulk is imperative.
The application method of each marine product influences whether you can use them to seal gaps, seams, and joints. Understanding how to use them determines when and whether they are applied dry, below the waterline, or submerged in water.
Also, these products differ in terms of elasticity, an essential factor for both the product and surface. The elasticity of their formulation determines the durability, which relies on the application method and holding strength against external elements. You should know that a sealant is best for spaces with frequent movements, contraction, and expansion. Caulk has a firm hold and is rigid when it dries unlike sealants that are flexible. The quality of use or application comes when a sealant provides elasticity and a caulk ensures strong bond.
Secure the product's compatibility to seal and protect your boat or its parts against dirt and the adverse marine environment. Understanding whether these products fit for all hardware parts above or below the water lines, can help you make your choice. Also, know if these solutions work for fiberglass, plastic, metal, wood, and painted boats.
Hence, it is best to secure boat maintenance products that are flexible, waterproof, and chemical resistant that balance elasticity, compatibility. and ease of application.
Searching for the factors to consider, features, buyer guide, and common questions about these marine grade caulk and sealant products is challenging. But, you can find these factors to consider on our buyer's guide to deal with issues on your boat or watercraft. Browse through the following series of reviews to choose the best underwater sealant and best marine caulk for your boat.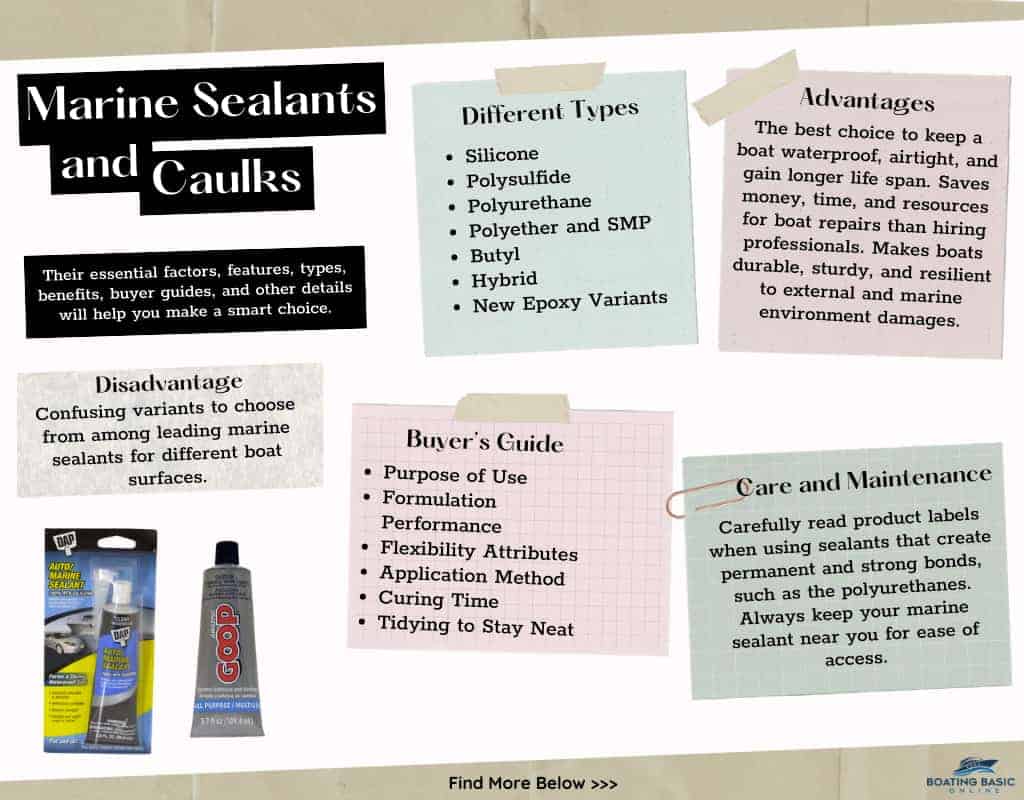 ---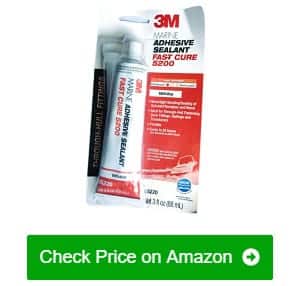 3M 3004.7747 Sealant
Fast drying tack free
Tough permanent bond
Highly strong but flexible
---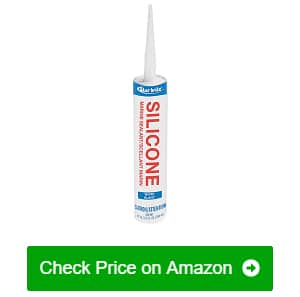 STAR BRITE Sealant
Fast drying
Easy to apply
Provide waterproof bond
---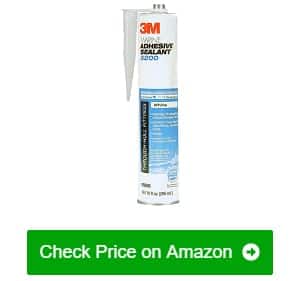 3M 5200 Sealant
Permanently seals
Resistant to movements
Extremely strong adhesive sealant
---
Best Marine Sealant and Caulk Reviews
1. 3M 3004.7747 Marine Adhesive Sealant Fast Cure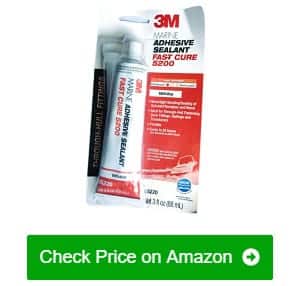 Another best selling product from 3M, this fast cure marine adhesive sealant version of 5200 is packed in a 3-ounce tube. It is a one-component and gap-filling polyurethane that has a high-strength permanent bond for aluminum, fiberglass, gelcoat, and wood surfaces.
This is one of the best fiberglass sealers formulated to cure surfaces within a day or two. Its tough polymer substance interacts with moisture providing an elastic but strong bond that withstand movements and vibrations. I like how it preserves the permanent bond despite swelling, shrinking, and contractions on the surface. It really works well in all parts of the boat, from above the water lines to underwater.
The sealant is so amazing it dries tackfree in half a day. Polyurethane sealants that have strong bonds are hard to be this flexible. I used this fast cure sealant to maintain my boat's durability for years, making it tough against extreme marine environments. I would recommend this product for sealing and caulking fiberglass boat seams, and other boat surfaces needing repair.
I believe that it provides watertight and airtight seals, preventing moisture and water elements from seeping into fixed areas. You can get the sealant in a cartridge pack for easy application with the right amount. Keeping this sealant in a cool place or freezer is necessary to prevent it from hardening. So, be sure to not overlook this after every application.
What We Like
Formulated as a fast cure version of the 3M 5200 marine adhesive sealant
Highly strong but flexible polyurethane polymer sealant
Tough permanent bond for aluminum, fiberglass, gelcoat and wood surfaces
Fast drying tackfree in half a day and quick cure within a day or two
Resilient sealant against vibrations, swelling, shrinking or contractions
What We Don't Like
Requires storing the sealant in cool place or freezer to prevent it from hardening
This marine adhesive sealant is certainly the best value of your money. It is the flexible yet tough boat sealant that you will surely love using to protect your watercraft.
2. STAR BRITE Marine Silicone Sealant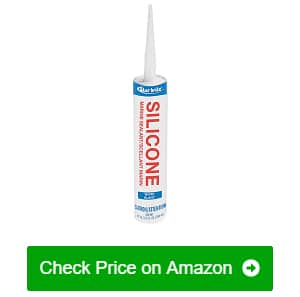 One of the top-ranks in this list is a marine silicone sealant from Star Brite. It guarantees customer satisfaction as a waterproof, airtight, and marine-grade flexible sealant for use above and below the water lines.
This marine silicone caulk is compatible with boat surfaces like aluminum, metal, fiberglass, glass, wood, and some plastics. Since it provides waterproof and airtight bonds that are easy to remove when needed on applications above and below the waterline, it is considered one of the best sealants for deck hardwares. This boat sealant remains flexible without shrinking, cracking, and discoloring even under direct sunlight, hot weather, and harsh marine environments.
Despite offering the same high quality results as other high-priced silicone sealants, this product is reasonably affordable. Applying and drying the sealant would not take long as it can dry tack-free in about an hour or so. The curing time takes a day but it has kept my boat and the sealant's color well enough for a surprise boat trip. I like its color options, which match my boat's black and white color combinations.
This does a great job repairing my boat's overboard, deck, and hull but not so much underwater. Though it works below the boat, it is not good enough when submerged in water for long periods of time. Other than this, it is the perfect adhesive sealant that boaters can rely on.
What We Like
Easy to apply, remove and bonds well on aluminum, fiberglass, glass, metal, wood and plastics
Fit for use above and below the waterline to provide waterproof and airtight bond
Best for deck hardwares and resilient for direct sunlight, weathering, or solvents
Fast drying with tack-free bond in one hour and cures within the day;
What We Don't Like
Not suitable for use underwater for long periods of submission
Putting this best marine sealant on and removing it is easy for different boat surfaces. Thus, if you are looking for something to fix dents and holes on your boat one day before a pre-planned boat trip, this is the right choice.
3. 3M 5200 Marine Adhesive Sealant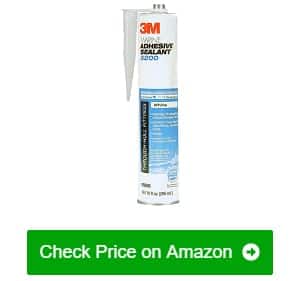 The first bestseller on our review is the 3M marine adhesive sealant that is formulated for boats and RVs. It packs a 10 fluid ounces cartridge that is easy to apply without the need of mixing.
This adhesive can fix dents, cracks, and gaps on fiberglass, metal, and wooden surfaces. It is a flexible sealant with a permanent bond, working best as a fiberglass sealer for boats. This 3M sealant is effective below the waterline and on boat hull and deck seams, fitting, housing, and portholes. I used it to repair cracks on the deck, hull and stem joints of my boat and it delivered excellent results.
The boat sealant is so strong that it remained unchanged even after a week of curing time. I am amazed by how resilient it is when left under the direct heat of the sun or underwater. I would recommend this for boaters to seal and bond their exterior and interior fixtures. Its long lasting polyurethane polymer formulation is tough and resistant to adverse weather, saltwater, and marine environments.
I can attest that this sealant works without cracking or peeling after several years of application. The sealant stays flexibly strong against movements and vibration while on the road or navigating through waters. One downside is that it has strong bonding elements that are unfit for painted or plastic surfaces. Applying it on delicate materials is not a good idea unless you strictly follow the product's label and use it with hand gloves.
What We Like
Flexible and compatible for fiberglass, metal and wood boat and RV surfaces
Extremely strong adhesive sealant for above or below waterline applications
Permanently seals and bonds exterior and interior mountings of boats and RVs
Tough polyurethane sealant that is resistant to movements, direct sunlight, weathering, and saltwater
What We Don't Like
Strong bonding elements not suitable for use on painted or plastic surfaces
This 3M fiberglass sealant is, without a doubt, a best buy. It is easy and quick to apply, so you would not want to miss it.
4. Loctite 2016891 PL Marine Fast Cure Adhesive Sealant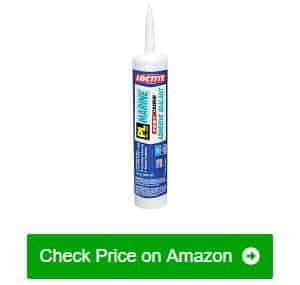 This Loctite marine adhesive sealant is a fast cure polyether with watertight and flexible seals in 24-hours setting time. Using this moisture-resistant sealant above and below water lines is safe as it can also develop shrinkage-free when cured.
I would recommend this product for boaters who search for sealants that don't discolor when exposed to direct sunlight. It does not use solvents, which prevents bubble formation and discoloration. I like how this sealant withstands the effects of freshwater, saltwater ,and other boating environments. I've used this fast-setting sealant on my deck fittings for years now.
I can attest to its reliability, especially on through-hull fastening, above the deck, and below the water line applications. What is really good about this product is its adhesion, which is as a strong marine grade caulking sealant. This is one of the sealants I have used that has a firm, watertight bond for single or multiple applications. The deck sections and leaked PVC pipes of my boat that I have fixed using this adhesive sealant are still in place.
The 10-ounce cartridge is handy and safe to carry every time I check for cracks or dents on my boat. It is also available in smaller 3-ounce packages, which you can secure to avoid having a lot of leftovers. With this strong bonding sealant, you would not want to waste any beads or suffer from splatters on your skin or hair t. So, it is best to apply it while wearing long sleeve garments, gloves, and headwear.
What We Like
Handy and easy to use 10-ounce cartridge packaging for single or multiple applications
Fast cure strong bond sealant with 24 hour setting time
Delivers a watertight, flexible bond for above or below waterline applications
Can be used to repair other materials like PVC pipes
What We Don't Like
Apply the sealant wearing protective gears (long sleeves and gloves)
Get this best marine sealant for your boat maintenance kit. This is one of the best sealants that a boater like you will surely enjoy using for single or multiple lasting applications.
5. 3M 3004.7819 Marine Adhesive Sealant Fast Cure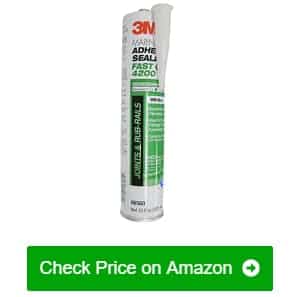 Another bestseller from 3M, the marine adhesive sealant fast cure 4200 is a flexible and semi-permanent sealant for boats and RVs. This handy product is the right choice when looking for fast curing mid-strong bonds for overboard and underwater boat repairs.
Polyurethane products stand out when choosing a life caulk vs 4200 sealants. It promises tough bonds that withstand varying marine environments. It has evidently helped me maintain my boat against external elements for several years now. Moreover, I have the option of using it on both dry and wet applications for my boat and other vehicles.
It's not a surprise that most boaters favor this 3M 4200 vs 5200 sealant for its gently strong bond and fast curing attributes. It needs no mixing and sets fast within a day allowing you to be in the water the next day. It's a flexible and strong sealant that will not peel off or crack despite movements or vibrations and prolonged use. This medium-strength adhesive sealant can be removed without damaging the bonded areas after prolonged use.
In general, I love the tough bond it provides to my fiberglass boat to cope with weathering and salt water damages. I am amazed every time I check the bonded joints and hardware as they look brand new. But, one thing that you must keep in mind is that the instructions on the packaging's label and tip section have to be strictly followed.
What We Like
Easy to apply straight without mixing and cures fast in 24 hours or less
Effectively shields bonded joints, hardwares, and other areas of boats and RVs from external elements
Highly durable polyurethane polymer formula that is weather and salt water resistant
Flexible and medium-strength bond that does not crack or peel-off on vibrations, movements and prolonged use
What We Don't Like
Can get messy when instructions for smooth applications are not followed
The 3m 4200 is the best choice for a fast moving boater like you. Getting this flexible and gently strong bonding solution is useful for your boating movements.
6. Better Boat Waterproof Marine Grade Sealant and Adhesive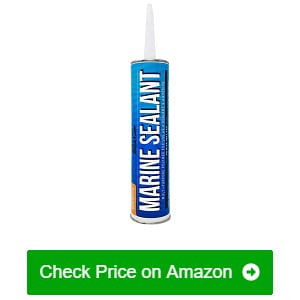 This top-rated brand, the Better Boat marine sealant and adhesive is a premium waterproof marine-grade formula for boats and RVs. It comes in a 10-ounce cartridge and has a strong adhesion suitable for below waterline applications.
Boaters highly favor this handy sealant for its reliable function of blocking leaks, fixing joints and seams of any watercraft. I believe in its waterproof features forg my boat's bottom, deck and hull, as well as portholes and wind-shields. I think it can quickly set on aluminum, metals, ceramics, fiberglass, gel coat, glass, plastic, and wood. It adheres to these boat surfaces with flexible but strong permanent bonds to withstand movements or prolonged storage.
This USA-made sealant is helpful for my boat and RVs, making them more resistant to adverse marine and weather conditions. I feel safe when using this sealant to fix my boat prior to trips on rough and fast water currents. I am amazed as I can use its bonding efficacy anytime on my boat movements to fix dents and cracks.
One more thing that I love about the exceptional quality of this marine grade product is its quick curing ability. So, if you plan to fix your boat with this sealant for continued submersion, have it cured and dry first. You can sand the bonded area to see if it's dry enough and match the color of the surface.
What We Like
Premium waterproof marine-grade sealant for boats and RVs
Highly suitable for use below waterline or submerged applications once cured and dry
Sets faster on aluminum metals, ceramics, fiberglass, plastics and wood materials
Exceptional quality that is proudly USA-made
What We Don't Like
Needs to completely cure and dry before using it for prolonged submersion to water
Whenever this sealant is with you, you are assured to fix any dents or cracks on your boat. This is one of the best products that Best Boat has provided in the market so you should not miss.
7. Sika 90919 Adhesive and Sealant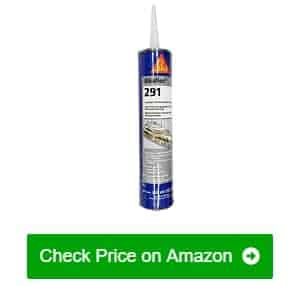 This white adhesive and sealant from Sika is a marine-grade polyurethane elastomeric product in a 10-ounce cartridge. Boat owners use this for its fast cure time and one-component formulation that delivers effective and speedy applications.
I used this effective sealant to install poles and rails on my boat that withstand harmful saltwater effects. It's a light-duty bond compatible with fiberglass, gel coats, glass, metal, and wood that you can replace after some time. This marine adhesive and sealant works better than a 3M 4000 vs 4200 sealant which is easily removed. It's soft, durable, and flexible after drying it completely, which is also a good caulk for boat interiors.
The sealant is very sticky like glue so be extra careful in applying it. It's a proudly USA-made elastomeric adhesive product that is quick to cure. It makes it easy for me when I'm in a hurry but I make sure to apply it carefully. I always use a caulk dispenser or a brush to apply the Sikaflex-291 sealant to get consistent high-quality results.
I've used it as adhesive for a polyethylene cover, which is difficult to stick together, and it lasts until now. It is also approved for use in food or water containers by the NFS. The black and white sealants are safe for potable water and even if it accidentally mixes with edibles. I will keep on ordering this product to help me carry out boat maintenance easily and quickly.
What We Like
Fast cure and effective sealant for above and below waterline applications on surfaces like fiberglass, gelcoats and many more
High-quality USA-made product that withstands harmful saltwater effect
Long lasting durability and sticky solution like glue that can stay intact for some time
Approved for potable water (black and white colors) and incidental food contact
What We Don't Like
Very sticky like glue, needs careful application to avoid mess
The adhesion of this Sika sealant makes it effective even as a light-duty bond. It offers a high-quality and durable hold that you can depend on for some time.
8. 3M MG SIL Marine Grade Silicone Sealant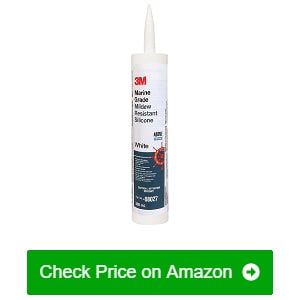 Another amazing product from 3M, the marine grade silicone sealant is formulated for boats and RVs. This silicone sealant comes in a 305-ml cartridge that is mildew resistant and effective for above waterline use.
This marine sealant is specially developed by 3M to be a tough and flexible silicone bond. It is effective for a wide range of above waterline applications for boats and RVs. The product can be applied straight from its container to the surface area that needs fixing. I love it because I do not need to mix it and thus can save more time.
I highly recommend this very versatile boat sealer that works on fiberglass, glass, metal, paint, wood and many more. Using it on your boat can help keep the watercraft look brand new and sharp. It provides a high-quality bond that is resistant to extreme temperatures, molds, mildew and prevents yellowing under UV rays.
Over time, I would say this product earned my trust, especially on how it deals with weathering and movements. Though it is an elastic sealant once cured, it lacks the necessary adhesion for use underwater. It can easily be removed or peeled off so it is not the permanent kind of bond for prolonged use. Other than this lapse, it generally works well in sealing my boat from external elements.
What We Like
Specifically formulated tough and flexible marine silicone sealant with fast curing formulation
Compatible for use with fiberglass, metal, glass, paint and other surfaces
Easy to apply straight from the cartridge requiring no more mixing
High-quality bond that is resistant to temperatures, molds, mildew, and discoloration
What We Don't Like
Not fit for use on underwater applications lacking adhesion that it can easily peel off
If you are looking for a flexible and fast cure silicone sealant, you should opt for this product. You will find it a bargain for your money given its high-quality bond to seal your boat from external elements.
9. Shoreline Marine GOOP Marine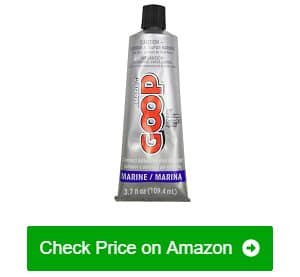 This Shoreline Marine amazing GOOP marine sealant comes in a handy 3.7-ounce cartridge with a clear adhesive and sealant solution. The product is formulated with a super strength formula to repair, seal, and bond a wide range of boat surfaces.
The amazing GOOP formula can block leaks on a variety of marine and watercraft equipment. It can seal off diving masks, rafts,air-inflated mattresses, waders, and wet suits easily right from the tube-type cartridge. It is highly resistant to stress, weathering, and UV rays so it does not have tendencies to crack or collapse. I absolutely recommend this for boaters who are searching for a super strong formula.
You can safely use it on fabric, fiberglass, glass, laminate, metal, plastic, rubber, vinyl, wood, and other materials. This is so far the most versatile marine adhesive sealant I have used to maintain my boat and marine equipment. It worked well as a single-component marine adhesive that can stand against varying environments.
I love how it seals my boat seams with a very tenacious and flexible waterproof hold. Although the label says it is a 100% clear colored solution, I found that when it cured, it turned out hazy and cloudy. Good thing, I thoroughly cleaned the area to be fixed and it almost matched the color around it after curing. I painted over the amazing Goop marine sealant and it looks like it is part of the painted finish.
What We Like
Super strength formula designed to repair, seal and bond a wide range of boat surfaces.
Compatible on a wide range of materials like fabric, glass, laminate and more
Very tenacious compared to all purpose adhesive sealants
Can withstand extreme weather and varying marine environments
What We Don't Like
Hazy or cloudy color and not 100% clear like a silicon sealant as the label says
Secure this super strong adhesive sealant to ease your boat repair, sealing, and bonding needs. Enjoy the benefits of using it without any hard issues at all to protect your boat.
10. Dap 694 Silicone Rubber Auto/ Marine Sealant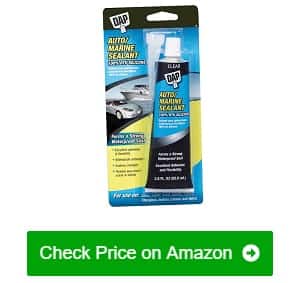 One of the bestsellers, the clear-colored silicone rubber auto/ marine sealant, is a long-lasting product manufactured in the United States. It is a 100% silicone rubber sealant and bond formula for automotive and marine repair and maintenance.
This product is easy to use, durable, and weatherproof so it will not crack or shrink under severe environments. It's a flexible formulation that resists saltwater and freshwater effects, vibration, electrical noise, power surge, and other external elements. This silicone sealant is best used as a marine-grade caulk for boats, providing you the best maintenance companion for a wide array of automotive and marine applications.
The silicone rubber sealant is highly recommended to be part of the maintenance and repair kit of boat owners. It is also popular among do-it-yourselfers or DIY-ers. This product is used to fix many automotive fittings and parts and even on some truck maintenance. I can attest to this as I've used it on my boat trailer truck with no issues at all.
I believe that it is a heavy-duty sealant that is simultaneously waterproof and weatherproof once cured. It can provide consistent adhesion for continued underwater use, so is the perfect marine sealant. You won't have to worry about it potentially cracking or peeling off after prolonged exposure to water. Just make sure to seal the container or tighten the cap after using it to prevent the sealant from hardening.
What We Like
The product is used for automotive and marine maintenance and repairs
Heavy duty sealant that provides consistent adhesion while underwater
Forms a strong waterproof seal once cured that withstand harmful saltwater effect
Excellent adhesion and flexibility that will not crack or shrink under severe external environments
What We Don't Like
Sealant can harden when the cap is not tightened or container is not sealed
Get this product to optimize your boating maintenance and save more time for the waters. Make this silicon rubber sealant your primary maintenance and repair tool for a worry-free marine navigation experience.
11. Travaco Gluvit Waterproof Epoxy Sealer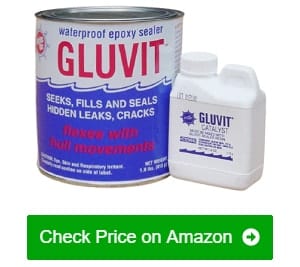 The Marine-Tex waterproof epoxy sealer by Travaco is a marine-grade formula that seeks, fills, and seals leaks and cracks. Its Gluvit barrier coating seals and protects boat hulls, cabin, and decks while it flexes with the boat movements.
This marine-grade epoxy sealant has a remarkable goodwill with most boat owners by providing them with superior curing features. It is effective on various surfaces like wood, aluminum, steel, and fiberglass parts of a boat. I love how this best marine sealer did great with aluminum boats. The epoxy sealer helped me seal-off my aged aluminum boat and made it appear brand new after a few decades.
I'm impressed by how it seals every hairline crack, pinhole, and minor dents on my aging boat. Even hidden cracks and tiny holes can not escape its superior curing and sealing features. It is highly resistant to corrosion and prevents mold and mildew buildups and other marine hazards. Its protective coating also flexes with the movements of my boat to do a complete sealing.
What amazed me is its Gluvit coat that seals and
protects the hull
, cabin, and deck of my boat. It provides superior protection for aluminum parts. The product seals the leaks from seams and rivets of aluminum, steel. and a wooden boat, making it impenetrable. Just ensure to be agile in applying the sealer as it quickly dries and hardens.
What We Like
Marine-grade waterproof epoxy sealant that fills and seals minor and hidden dents, cracks and pinholes
Seeks, fill and seal-off leaks on aluminum, steel, fiberglass, and wooden surfaces, etc
Resists corrosion and prevents mold and mildew buildup
Flexes with movements of the boat
What We Don't Like
Sealant dries quickly, requiring agile application
This marine epoxy sealer is what you need to lessen your boat maintenance efforts. It does not only repair and seal the leaks, cracks, and dents of a boat but protect it as well from marine hazards.
12. BoatLIFE 1033 Life-Calk Sealant Cartridge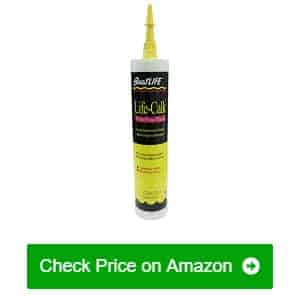 This BoatLIFE Life-Calk sealant cartridge is packed in a handy container that can be applied right away. It has a white-color long lasting solution that is designed to be a permanently flexible marine sealant.
The Life-Calk sealant can be sanded and painted for maximum shielding against the sun and other external elements. It can cure tack-free within one to three days while providing strong resistance against teak oil, diesel fuel, gasoline, and other petroleum-based fluids. This sealant can seal and protect decks and hull, hardwares, fittings, and underwater seams of a boat. You can also use it for emergency underwater repairs and damp surfaces.
It is the best for use above and below the waterline to bond fiberglass, metal, glass, and wood. Furthermore, it can withstand sunlight and does not change color. I used it on my boat deck a few years ago and it is still white until now. Once cured, it can turn into a firm but flexible rubber seal with high-quality waterproofing and adhesion.
Life seal has more silicone in it so it can be used for vehicles other than boats and watercrafts. But it's an adhesive caulk not intended for use as a marine gasket sealer. I love how this product seals wood floors, deck and hull including fiberglass items like cleats and overboard hardwares. The sealant is effective for underwater use once it cures.
What We Like
Contains more silicone that can be used for other purposes than a boat or watercraft
Does not discolor when exposed to direct sunlight over time
Best use for underwater sealing applications once completely cured and dry
Long-lasting flexible polysulfide flexible marine sealant
What We Don't Like
Not intended as a marine gasket sealer as it turns firm once cured
Make use of this polysulfide marine sealant on underwater sealing applications. Take your time and set-up properly for a long-lasting flexibility that can hold well the bonded areas of your boat.
13. Gorilla 8090001 Clear Silicone Sealant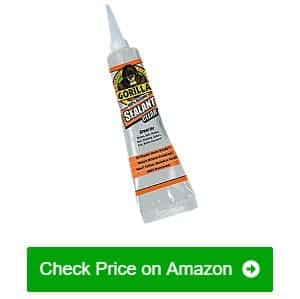 This bestseller, the Gorilla clear silicone sealant caulk is packed in a 2.8 ounce squeeze tube that works indoor and outdoor. It can work on almost everything: a boat, marine equipment, and household items making it incredibly versatile.
This product is a 100% silicone sealant that turns translucent after curing and drying. It is 100% waterproof so it works outdoors, indoors on household items, and almost everything without turning yellow, cracking, or shrinking. I used it to seal gaps and seams of my windows, floor edges, kitchen, bath, door, gutters, automobile, marine, and many more. It is mold and mildew resistant too.
The Gorilla sealant once cured is safe to touch. Hence, it can be used for food-contact surfaces like food trays, preparation areas, countertops, and canisters. It can safely seal food canisters without posing threat to food and other edible items. The sealant can incidentally come in contact with food but is considered food safe whenever it happens. So, this is something you would not have to worry about during your family boat trip.
The material is a standard silicone rubber sealant and not intended for use as adhesive. Its purpose is to fill and seal spaces, and it can easily be removed with light pressure. For a lightweight fixture, it may bond in a while but is certainly not reliable as a long-term solution. Especially on ceramics and plastic surfaces, it can peel-off.
What We Like
Incredibly flexible full silicone sealant that turns translucent clear when it cures
Waterproof, suitable and safe for indoor, outdoor, household and food-contact purpose
Mold and mildew resistant marine silicone sealant
Highly durable that will not turn yellow, crack or shrink over time
What We Don't Like
Not suitable as adhesive for long-term solution as it cannot hold spaces together
Getting this product that works well on different kinds of surfaces allows you to put together almost everything.The best sealant to seal whenever there is a need other than your boat!
14. TotalBoat Seal Marine Sealant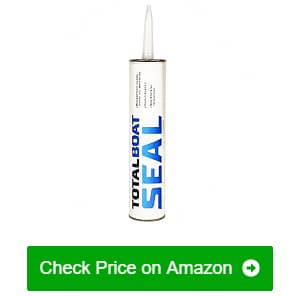 The last top-rated item on our list is this white colored TotalBoat seal marine sealant packed in a 10-ounce cartridge. It is best for boat hardwares with a fast curing elastomeric marine sealer to block and stop any leaks or cracks.
This marine sealant is UV stable so it can cure in the temperatures between-20°F to +120°F. It can be applied on a damped surface or wet sanded. It is best to be painted after curing for optimized shielding. In addition, this sealant works solidly on bedding hardware, windshields, and portholes of any boat or watercraft. The product can be applied easily using a standard caulk gun or a putty knife.
I always cautiously squeeze the substance from the tube just enough for a thin application but it often flows out non-stop. Good thing, it does not burst out to create more mess for me to clean up. To avoid this, make sure that you remove the cap slowly and squeeze the tube lightly with the cap ready near you. You can immediately put the cap back onto the container in case of incessant flows.
Aside from this drawback, the product is all good. The product can also be removed if you need to replace it after some time. Unlike other polyurethane seals that deliver permanent, hard-to-remove bonds. I love using this sealant to keep my boat sturdy, among other maintenance routines.
What We Like
Best use for boat hardware, windshields and portholes
Easy to apply using the standard caulk gun or spread it with a putty knife
Fast curing elastomeric marine sealer that seals leaks and cracks
Easy to remove when need to replace the bonded area
What We Don't Like
Careful applying the sealant straight from the container as it can get messy
This is a very efficient product that you can apply effortlessly. Its fast curing elastomeric marine sealer is one feature that should not be missed in a marine sealant.
Factors To Consider When Choosing Marine Sealant And Caulk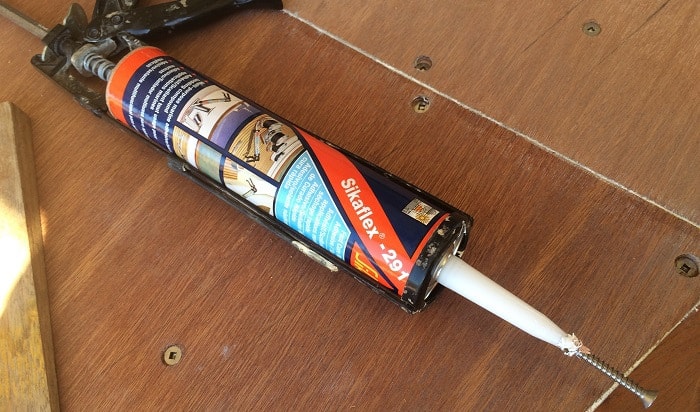 The different types of marine sealant and caulk
Silicone, polysulfide, and polyurethane are the different marine sealant types, plus polyether, butyl, hybrid, and new epoxy variants. They offer tight bonding seals and block electrical noise or power surges. Here are a few details worth knowing about.
These are synthetic polymers and primary sealants for boats. Silicones may not be the best underwater silicone sealant and not a glue but are flexible to many plastics.
Polysulfides are synthetic rubbers resistant to heat, sunlight, chemicals, fuel, and oil corrosions. They can even be used as power insulators, vibration blockers, and cosmetic seals that copes movements and contractions like a boat life caulk.
These have superior fast cures that stand out among other types. They offer the best permanent bond for above or below waterline, underwater use, or under direct sunlight.
Polyether and Silane-modified polymers (SMP) offer good adhesion, are removable, and do not discolor under sunlight with cure times similar to polyurethane.
These appear like a tape, are non-messy, and contain no adhesion like chewing gums. It's quick and easy to apply but remains for years and is hassle-free to remove when needed. They are not advised, however, for underwater boat caulking or sealing.
Hybrid combines all other elements to formulate special sealants by figuring out and strengthening the pros in the new blend. Like blending the heat-resistance of silicone with the toughness of polyurethanes to provide a better and moderate bonding strength.
These are multi-functional adhesive sealants that cure materials exposed to excessive moisture. An example is the sikaflex marine sealant, which is a non-sag type of polyurethane-based epoxy. They are the best alternatives to semi-permanent flexible blends.
Benefits and drawbacks of using a marine sealant and caulk
Marine sealants take care of a boat's life and function and have the following benefits and drawbacks:
Advantages
The best choice to keep a boat waterproof, airtight, and gain longer life span
Saves money, time, and resources for boat repairs than hiring professionals
Makes boats durable, sturdy, and resilient to external and marine environment damages.
Easy-to-use protection for a boat that is available at the nearest store or home depot.
Disadvantage
Confusing variants to choose from among leading marine sealants for different boat surfaces
Buyer's Guide for the marine sealant and caulk
The terms sealant or caulk are interchangeable but they differ on some qualities:
Know your intended purpose of using the sealant and identify which one is appropriate to which surface. Reading the sealant's label, understanding its attributes and how it works to achieve best results is important.
The sealant's overall performance depends on its formulation to provide a durable and elastic bond for the needed cure. Each product is formulated for permanent results or temporary bonds to ease future use.
Boat owners favor marine sealants that are elastic, waterproof, and airtight despite movements, contractions, expansions, vibrations, and extreme external elements. These are flexible qualities every best marine sealant and caulk should have. Serving a variety of purposes and leaving an appearance that does not brittle, discolor, or turn to yellow over time is also critical.
Users favor a sealant or caulk that is easy to apply and tighten the bond within gaps. It needs planning to ease the preparation work, application, cleaning, and compressing the seals. Be sure to clean any dirt off the surface, dry it, and mask the edges for good application.
It varies between marine caulking vs silicone and other types but it generally takes from t 5 to 7 days or 10 to 20 days. Plan your boat trips ahead to use the boat without conflicting with the curing period. However, air moisture on decks or water mists may help cure faster for polysulfide or polyurethane sealants.
Mask the edges when applying sealants and use caulking tools to remove excess beads to be tidy and appear professional. Use appropriate cleaners for a dry clean surface before and after the application to stay neat.
Care and maintenance
Apply the sealants slowly but surely on specific areas of your boat following their intended use. Carefully read product labels when using sealants that create permanent and strong bonds, such as the polyurethanes. Always keep your marine sealant near you for ease of access
What Is The Difference Between Caulk And Sealant
Though "caulk" and "sealant" are interchangeably used for filling spaces, joints, and seams, they do differ slightly. Elasticity makes each sealant different in holding up or stretching with frequent movements or external pressures. On the other hand, the caulk once dried appears more firm and inelastic than sealants to elongate the bonding effect.
Can You Use Caulk On A Boat
Boat caulking helps hardwares above the deck and serves as marine sealant below waterline. The right marine caulking sealant relieves challenging work on a boat. The silicone blends and new epoxy types work for plastic and painted surfaces and above the waterline. Polyurethanes like those listed in a 3m marine sealant chart are effective for above and below water line applications. The polysulfide caulk types on the other hand are suitable for underwater or below water lines.
How Do I Apply Marine Sealant
Applying the marine sealant depends entirely on the intended purpose and type of material to fix. For applications below or above the waterline, choose between a silicone, polyurethane, or polysulfide sealant that fits the need. Avoid the use of water-absorbing sealants for underwater applications as they are unsuitable for long periods of water submersion.
How Long Does It Take For Marine Sealant To Dry
Any marine silicone sealant can take 24 hours more or less to complete its drying and curing stages. They can be safely exposed to water, moisture, and other marine conditions of normal use after they are completely cured.
Is There A Sealant That Can Be Applied Underwater
Look for waterproof silicone sealant underwater types on these reviews. They are flexible and tough while working fine underwater, such as the loctite marine sealant vs 4200 mentioned above. They are leak-resistant below waterline sealant that you can mix and apply to cure submerged boat sections.
Conclusion
These best marine sealant and caulk products we have laid down are your optimal solutions. Their essential factors, features, types, benefits, buyer guides, and other details will help you make a smart choice. Numerous bestselling marine sealants and caulks are provided in the market for a specific purpose. Understanding their materials or properties, surface to bond, and application method influence the type of marine sealant you'll choose.
This series of reviews, however, make you diligent enough to use the right one while enjoying a quality boating time. Gain the maximum benefits of cost efficiency, tightness or elasticity of bonding results that these products can provide you. Cease the search for the marine calking formula and use this bestsellers list to ease your active life. It is your ticket for the best buy to extend your boat's lifespan.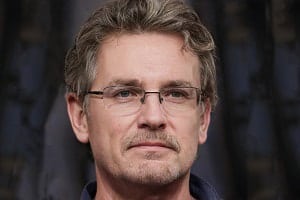 "I am James Harvey – founder of Boating Basics Online. It is established with the drive to help out first-time boaters, which are those desiring to explore their way through the water. So if you are new to boating, start from here with me. "