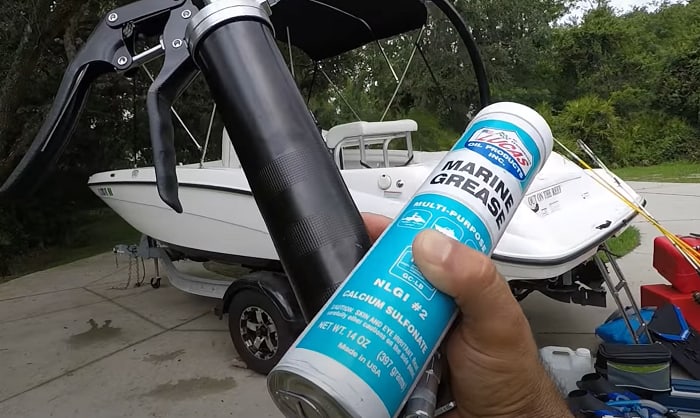 Every boat owner should try to get the best marine grease as it helps every part of the boat to function properly and deliver excellent performance. When you buy marine grease, you have to look for the following features:
Water resistance: Choose waterproof marine grease to go along with various marine applications. You'll use it on boats that are frequently exposed to water. It's a good sign if you can't easily wash it off because it's an assurance that it continues to protect in wet surroundings. This feature also makes reapplications unnecessary.
Temperature rating: The temperature rating that marine grease can bear is vital. A higher rating is important if you live in a place with a hot climate since the marine grease will easily melt when it's hot.
Viscosity: This part is about the consistency of the substance. It shouldn't be too runny or too thick as either case would be difficult to apply. The grease should be consistent and not messy.
For the sake of safety: Regarding the safety of the grease, you have to check the ingredients to see whether the formula is safe. The best grease shouldn't harm you, your boat, or water creatures.
Easy application: Apart from being effective, it's good if the grease is easy to apply. Some brands can be applied directly while others require a grease gun.
You're lucky that you're here as you don't have to search further for the most effective marine grease. Here's a list of excellent products and you'll surely find one that suits you.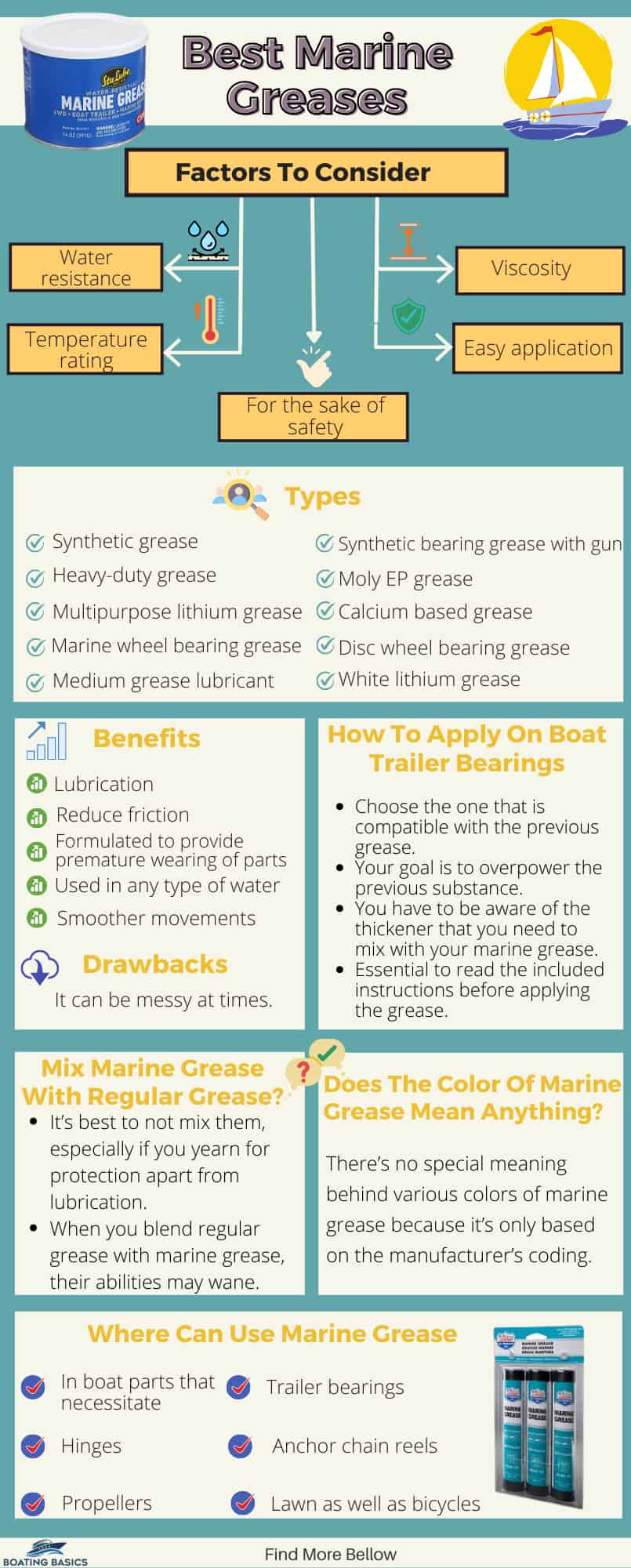 ---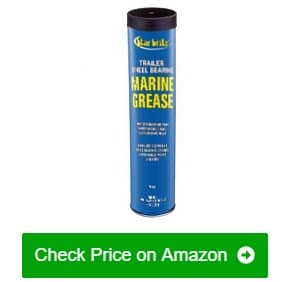 Star Brite Marine Grease
Works smoothly
Protects things from rust, corrosion
Waterproof
---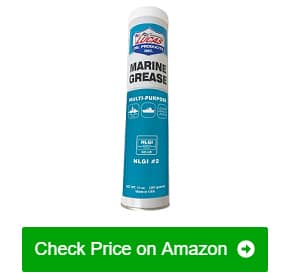 Lucas Oil LUCA10320
Waterproof lubrication
Rubber-safe
Has a sticky texture
---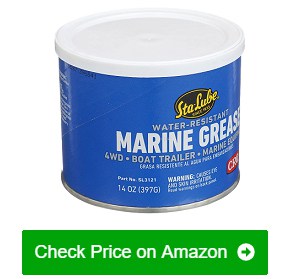 Sta-Lube SL3121
Works on old things
Provides corrosion protection
Useful in many applications
---
Top 11 Marine Grease Reviews
1. Star Brite Trailer Wheel Bearing Marine Grease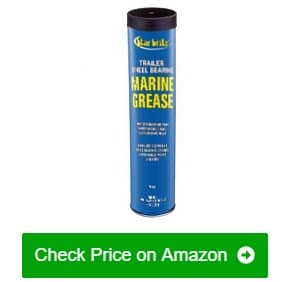 This is the top-rated wheel bearing grease to many but you can discover it yourself to be very effective in numerous things. In my case, it's helpful for the cart system I use to launch my boat. You can also utilize it on winches, water pumps, hatch hinges, pumps, and more. Wherever you use it, the staying power is consistent.
Since it lubricates the wheels of my cart system, boats that weigh from 3,000 to 6,000 pounds glide with ease. You know its maximum pressure limit based on the said weights. It works smoothly with a gravity system and even when the cart is submerged in the water for several hours. I also applied it to every contact point of a trampoline outside my house. No squeaks can be heard from it after I started applying this grease.
It protects against rust, corrosion, and water washout. Hence, it serves as a waterproof marine grease. With continuous use, it can surely handle extreme pressure and heat as it remains stable within 325 degrees Fahrenheit. It can adapt to cold weather too if the temperature drops to zero.
Note that this is lithium complex grease that you can insert into a grease gun. I like that there are two sizes: 14 oz and 3 oz. You can pick the necessary size for a big or small job. Some may have dealt with a lot of mess when applying this substance because they didn't check the arrow that directs users when setting up a new gun.
What We Like
Effective in numerous things
Use in different ways but the staying power is unchanging
Works smoothly with gravity system
Protects things from rust, corrosion, and water washout
Can handle extreme heat and pressure
Waterproof as it doesn't give in to the water
What We Don't Like
Can be messy when not properly placed in a grease gun
I recommended this Star Brite wheel bearing grease to my fellow boaters and they're thankful for it. It lessens the potential problems on marine equipment.
2. Lucas Oil LUCA10320 Marine Grease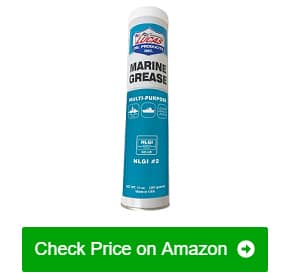 This is not only efficient in greasing everything but it also goes a long way. It holds up well and can even meet the necessary waterproofing when used on some parts of your boat like the propeller. Moreover, it has proven to be a wonderful marine wheel bearing grease. Thus, it's a must for your boat toolset. My cousin recommended this as marine grease for outboards so I got it to see for myself.
Since my grandfather started the tradition of sailing in our family, everyone uses this multipurpose grease. Believe it or not, a single tube of this Lucas oil marine grease lasts for a decade. I've seen others use it for bikes, lawnmowers, CV joints, and more. My grandmother loves to use it for the door wall.
It's impressive that it can be in a wide range of applications but still consistently efficient. Thus, my boat trailer remains undamaged despite exposure to saltwater. After applying this substance, it stays in place even if there's water.
I was thrilled after discovering that it's rubber-safe. Furthermore, it hinders corrosion and doesn't burn off. There's no doubt that it provides waterproof lubrication, and I can tell it from its sticky texture. The only thing that bothers me when using this product is that it is difficult to wash off. But I don't mind since it delivers excellent lubrication and protection.
What We Like
Provides waterproof lubrication and holds up well
Multipurpose and a single tube goes a long way
Has consistent efficiency
Remains on the surface despite exposure to saltwater
Rubber-safe doesn't burn off and hinders corrosion
Has a sticky texture
Indeed, this is multi-purpose as you can use it in various boat parts, such as boat trailer bearings, propellers, and other types of marine equipment. It doesn't only stick well but also lasts for a long time.
3. Sta-Lube SL3121 Water-Resistant Marine Grease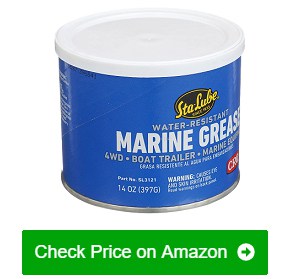 Just a skim of this marine trailer grease's ingredient list, I know that it's reliable. I wasn't wrong since it proves to be effective marine grease for wheel bearings replacement even for an old trailer. It can revive aged things thanks to its tacky and relatively thicker formula; it's even effective on my 2002 Cavalier. I think the refined oil base is awesome too.
Aside from being suitable grease for boat trailers or disk brake wheel bearings, it's good for pedal bearings, tractor wheels, and other things. I also use it to lubricate threads on a steering traveler. So, I don't have problems with loose bearing hubs. Its ability to repel water amazes me. That's why it's effective not only on boats that are always exposed to water but with bikes as well.
I can attest that it's an aluminum complex grease that can withstand saltwater. It's common knowledge that non-stainless, non-aluminum, or low-grade metal parts can get damaged by salt. Thus, with annual application of this grease, my saltwater boat axles are well-maintained. You can trust the corrosion protection that this grease provides.
Its toughness is not only for different kinds of marine environments but also with varying severe weather conditions. You only need to apply it once a year, so it is quite cost-effective. I also found out that it's suitable as drum wheel bearing grease, which is useful when your car usually goes fast.
I said a lot of good things about this product and you may find some comments online that talk ill about it. I think they didn't mix it up to obtain the desired result. I used a popsicle stick to blend the formula so I was able to obtain the wonderful effects.
What We Like
Works on old things
Useful in many applications
Can repel water and withstand saltwater
Provides corrosion protection
Tough against marine environments and severe weather conditions
What We Don't Like
Needs to be mixed first before using or else, you won't obtain the desired result
I don't need other substances in maintaining the parts of my boat, boat trailer, and boating equipment. This Sta Lube marine grease is simply amazing as I don't worry that some boat parts will become loose.
4. Quicksilver 8M0071838 Extreme NLGI 2 Marine Grease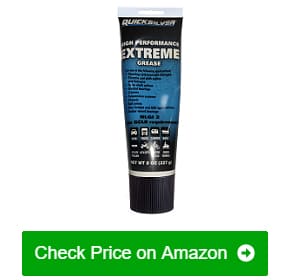 The viscosity of this marine grease is akin to hot glue. I'm grateful for this product because it helps me a lot as a DIYer. I first witnessed its wonders when I changed the water impeller. Later on, I started applying it on prop splines, lower unit splines, and boat trailer wheel bearings. So, it's what I use on removal and placement of prop.
It eliminated the noise that the boat lift was making. After two applications, it became quiet even if the pulley system was placed underwater.
The most noteworthy feature of this grease, though, is its durability. The boater who recommended this to me shared a surprising story about it. It's unbelievable that it remained intact on the splines when he removed the prop after 10 years. So, I rely on it whenever something needs greasing. I use it on a snow thrower, and I must say it's great for extreme temperatures.
Its durability can be tested in saltwater too. It's unavoidable for my boat to have some dunks in the salt for a thousand miles. But this marine bearing grease does a good job in separating the hubs. I use it every time I replace the trailer wheel bearings. I'm glad to discover that it's also effective in refurbishing an old bench grinder and floor polisher. My wife was happy when I used it on our machine washing bearings.
It's in a squeeze-in tube so messy greasing is minimized. This is synthetic marine-wheel bearing grease with a formula that doesn't break down when mingling with water.
What We Like
Perfect for DIY
For a prop, wheel bearings, and every greasing needs
Can eliminate noise on a pulley system
Has noteworthy durability
Works on refurbishing things
Doesn't break down when mingling with water
What We Don't Like
Need to apply twice in some projects
This is high-quality marine grease for me since it's effective for my boat's needs. Every penny I spent on it is not wasted. Due to its water-safe formula, it remains tough in a marine environment.
5. Lucas Oil LUCA10682 Marine Grease
I like this lube gun cartridge of marine grease a lot and this is the only one I use for my boat. This product has helped me immensely even when I sail on the sea. It's the perfect grease for an outboard motor as I apply it after every trip. Although some might say it's excessive and unnecessary, the water just separates from the steering shaft. It doesn't cause adverse effects and I just wipe off the excess amount.
This is also the right marine grease for marine trailer wheel bearing and fittings. When I first saw how it pushes away residual water, I was so delighted. Since it doesn't melt, it's effective even on severe marine operations. You can rely on how this substance sticks well then continues to hold even with the presence of water. I was surprised when it worked with the maintenance of my pneumatic air tools.
Photos may give you an idea that these are large tubes but they're mini ones. So, they're right for mini grease guns. The size of this tube is ideal for small jobs; you can discard the container after use. The only complaint that I have is it can be a bit difficult to empty. But I found my way out by using pliers to remove the ring.
Nonetheless, I've heard from other people that one pack lasts for a long time. Aside from water vessels, some people used it on vehicles like motorcycles. Additionally, it protects against corrosion and rust.
What We Like
Water can't penetrate through it
Doesn't melt and instead, pushes away residual water
Holds well on the surface
Can be used for pneumatic air tools, vehicles, and more
Ideal for small jobs
Protects against corrosion and rust
What We Don't Like
Difficult to empty and pliers are necessary to take out the ring
I think it was a wise move to read the Lucas marine grease review and land this lube gun cartridge. It's good marine grease for wheel bearings, air pneumatic tools, and more!
6. WD-40 300417 Specialist Marine-Grade Grease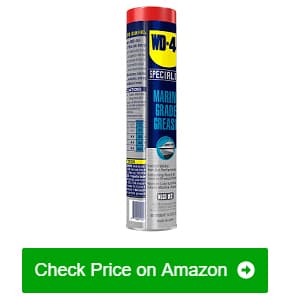 Flexibility is what sets this apart from other greases. Aside from showing its strength in cold weather, it can survive extremely high temperatures up to 620 degrees Fahrenheit. Thus, it has a high melting point. Apart from being grease for boat trailer bearings, it's applicable for other purposes. You can't go wrong greasing everything with it.
This lithium grease stopped the creaks from the metal swivel chairs in the office. Moreover, it has gotten rid of the horrible sound coming from a dual polisher. It works much better than regular grease when I fix the clothing dryer. Many depend on this for the maintenance of farming and construction equipment as well.
I'm no longer conscious of dipping my trailer into saltwater as the trailer wheel bearings are protected. Of course, it's also fine with fresh water. Furthermore, it works wonderfully for extreme marine applications. This substance stays on the surface where you put it. So, it must always be included in the toolbox for boat trailers.
It's 14 oz, but I just wish that it's available in 3 0z so it won't take up much space in the box. Putting it in a regular tiny lube gun is also a struggle. But I never have leaking issues when using this grease for boat trailers.
It's easy to use with a bigger gun because it has a light consistency. Once you see it, you'll agree with me that it runs smoothly. Even so, this characteristic is not a sign of low quality and inefficacy.
What We Like
Flexibility and tough under cold weather and high temperatures
Applicable for many purposes
For fresh or saltwater and extreme marine applications
Stays in place
No leaking issue as it runs smoothly
What We Don't Like
Putting it in a tiny gun is a struggle
Settling for this marine lithium grease is a wise decision. It's not only a boat trailer bearing grease as it can be in a wide range of applications. I like the texture since it runs smoothly and the result is simply awesome.
7. Yamalube ACC-GREAS-10-CT Marine Grease
To my amazement, this grease can make fishing or anchor chain reels look new. It sticks well on the gears without chances of slinging. Due to its versatile formula, it's resistant against freshwater and saltwater, as well as washout and corrosion. There's no problem in letting it adhere to a frictional surface, and it's not moved by vibrations once it sets.
Besides reviving reels, it can be outboard motor grease. With its specialized formulation for marine use, it delivers the proper lubrication on the lower unit. My friend also applies this on newly cleaned battery connectors on his golf cart. It's in a tube so you may not need a grease gun. One tube will last for a long time so you can keep things in good condition.
I also apply this marine grease on my dock lights that are exposed to saltwater. Due to its efficacy and protection, I think I made the right decision. It also hinders barnacle growth. It's not only multi-purpose but also capable of inhibiting the development of unwanted things.
Once you see a marine grease as tacky as this, you will surely fall in love with it! After easy usage, you'll need to spend more time and effort in taking it off your hands or other affected surfaces. Unfortunately, it can't be immediately removed by water. I'm patient when cleaning up since it's nothing compared to the protection it gives to my things.
What We Like
Can make reels look new
Sticks well on frictional surfaces without chances of slinging
Resistant against fresh or saltwater, washout, and corrosion
Not moved by vibrations
Hinders barnacle growth
Multipurpose grease in an easy-to-squeeze tube
What We Don't Like
Need more time and effort in taking off on hands
This meets my expectations in providing lubrication as well as protection from marine environments. You can use it wherever you prefer to sail. It's way better than marine lubricant spray as it's in a tube that is effortless to squeeze.
8. Liquid Wrench GR015 Marine Grease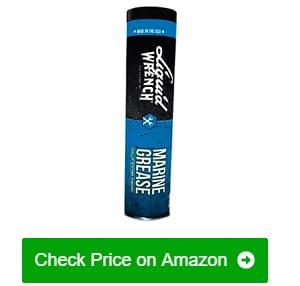 For me, this is the top-tier boat trailer grease. Due to its excellent quality, I don't need other products for the maintenance of trailer bearings and even ball bearings of my car's door. The lower drive unit U-joint on the trailer is well-lubricated to run nicely. Moreover, it's suitable for auto and truck maintenance.
After regreasing the old suspension fork on my mountain bike with Liquid Wrench marine grease, I was relieved. Hence, it gives me the idea that it's perfect for dealing with old metal components. Apart from protection, it can eliminate undesirable corrosion to bring old things back to life.
Its efficacy in maintenance and conditioning trailer and boat parts comes with protection from a harsh marine environment. So, I'm confident after the application of this calcium-based grease. Also, it's resistant against salt water, fresh water, salt air, oxidation, and atmospheric chemicals.
Without a doubt, you can depend on it as waterproof grease for bearings, disc brakes, drum brakes, anchor chains, and many more! Therefore, I coat all the boat parts exposed to water with this grease. You'll also be amazed by its high load carrying ability. My medium-sized boat just slides off from the trailer when launching.
Tons of benefits can be gained with no further complications since the grease tube fits the lube gun. I don't go through frustration before applying. However, the aftermath is a big mess. Still, it's okay with me since my trailer and boat are protected and in good condition.
What We Like
With excellent quality for lubrication
Can remove corrosion from old metal parts
Protects surface from a harsh marine environment
Resistant against salt water, fresh water, salt air, oxidation, and atmospheric chemicals
Waterproof with high load carrying ability
Fits a grease gun with no complications
This is a well-rounded grease boat trailer bearings that results in a perfect match. It can also handle old metal surfaces and protect everything from water and harmful elements. Thus, I can't ask for more.
9. Green Grease 203 Synthetic Waterproof Grease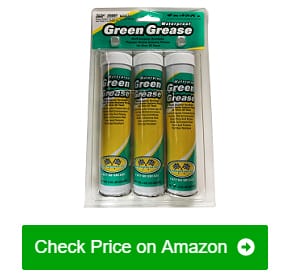 I'm so enthralled to come across this product because it has a lot of abilities. It's the outstanding marine grease for the prop shaft for me. But you have the choice to use it to lubricate other things like trailers, mowers, boats, etc.
I think its usage has no limits since others discovered it to be effective on wheel bushings and tractor linkages too. There's more to expect from it as it's helpful around the house. For example, it's useful on hose fittings and sliders on doors. I won't hesitate to turn to this whenever lubrication is needed.
When it works as a trailer wheel bearing grease, no water comes out of the housings on the boat and camper. I never look for another marine grease because no issues arise since I started using it. It's fine to dunk the trailer in the water since this is made for wet environments. Furthermore, it takes care of my boat steering linkages.
This is synthetic grease that is very tacky and thick for a technical state. Thus, it's a great lube for cars, specifically the ball joints and clutch fork. Whenever I hear something squeaking, I apply a generous amount of this to resolve the issue. It stays put where you place it and can endure extreme heat. Expect protection of wear and tear from it too.
You may use this in salt or fresh water and it has resistance against load and washout. The smell is not too intense for me but some find it stinky. No matter what, the lubrication of this grease is splendid.
What We Like
Has a lot of abilities useful in different pieces of equipment
Made for wet environment
Very tacky and thick for technical state
Can endure extreme heat, load, washout, fresh and saltwater
Protects the surface against wear and tear
It's sometimes unbelievable to think about the tons of things this grease can be associated with. You have nothing to lose when you purchase it.
10. Plews & Edelmann LubriMatic 11404 Marine Grease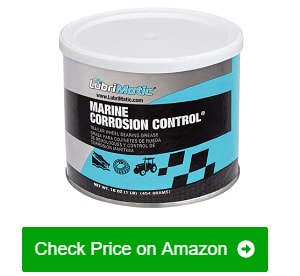 Based on its water-insoluble formula with a special calcium sulfonate complex, there's no doubt that it's suitable for the marine environment. When comparing it to lithium grease vs marine grease you can usually find, this doesn't cake up easily.
How happy I am to see its effects on my boat trailer wheel bearings. It's great on splines, lubing fittings, and ball bearings as well. Also, kudos to its corrosion protection so the metal bolts and nuts on my trailer aren't damaged. This calcium grease is better than lithium in terms of withstanding extreme heat and water intrusion. Therefore, this can deal with temperatures up to 550 degrees Fahrenheit.
Many patronize it as bike grease as it keeps the steel frame of the seat post or crank arms in good condition. I also met people who've been using it for firearms, garden equipment, motorcycles, cars, doors, and other things within the household.
I'd like to share a tip on using this grease. It adheres to synthetic elastomer bushings. This grease is sticky but easy to pack in and smooth enough to rotate. I gained a lot from using it but I just wonder about the amount of grease when opening the container. It seems that 20% is missing but it's not a complaint.
What We Like
Suitable for the marine environment and doesn't cake up easily
In a wide range of applications
Provides corrosion protection
Can withstand extreme heat and water intrusion
Adheres to synthetic elastomer bushings
Easy to pack in and smooth enough to rotate
What We Don't Like
The container is not full
I'm glad I found this exceptional product; it may look like Peak synthetic marine grease but it's much better. The wide range of use is overwhelming. I'm totally satisfied.
11. Star Brite 026214 White Lithium Grease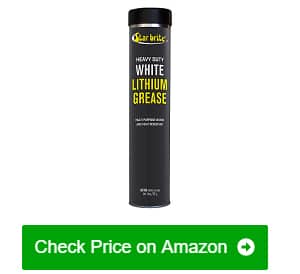 Your desire for excellence can be met by this outboard and bearing grease for boat. Aside from marine use, this white lithium grease is effective in other things like automotive, lawn equipment, and industrial machinery.
I agree that it has a penetrating ability because it can withstand heavy use and it seems that it doesn't have a maximum pressure limit. This reminds me of STP marine grease but I think it's much better.
It takes good care of all the zerk fittings in my outboard motor. Although some parts are exposed to salt water, the grease stays in place. You also don't need to worry that a washout may remove it. It can cope with low temperatures as well as something that is up to 385 degrees Fahrenheit.
If you're a fan of lithium grease, this will be your favorite as there's more to expect from it. It doesn't only resist water and all-weather conditions. In addition, it delivers protection against rust and corrosion. Therefore, the long-lasting effect of this grease allows you to take advantage of shielding your boat's metal parts.
Due to its smoothness, I realized that it reduces friction. You should also know that this grease can be applied to any type of material. Apart from bearings, I also smear it on boat trailer wheels and a Lesco spreader with plastic bushings on its shaft. Although my friend is not fond of sailing, he's happy using this on his ebike motor gears.
As you can see, it's all-around grease. There's nothing that I don't like about it. I was a bit dismayed by the dent when I bought it once. I think the packaging should be more carefully done.
What We Like
Can be used in many things
Has penetrating ability
Can withstand heavy use and low or high temperature
Has resistance against water and any weather conditions
Delivers protection against rust and corrosion and gives a long-lasting effect
Reduces friction and can be applied to any materials
What We Don't Like
Can have dents when being transported for delivery
Since it's used in various industries aside from marine use, I can say that this blue marine grease promotes mechanical stability. There's no need to wonder if it bonds with a certain material either.
Factors To Consider When Choosing Marine Grease
Different types of marine grease
Synthetic grease: It's the ideal type for vehicles and is usually produced in the US, Europe, and Japan.
Heavy-duty grease: This is perfect for large trucks, farm equipment, and industrial machinery.
Multipurpose lithium grease: This is usually used in automobile, agricultural, and industrial applications.
Marine wheel bearing grease: This is exactly what you need for marine use.
Medium grease lubricant: Low temperature is favorable for this type of lube. It's associated with the industrial setting, photographic equipment, and motor vehicles.
Synthetic bearing grease with grease gun: This grease is utilized within the household, marine settings, and motor vehicles.
Moly EP grease: This is also called all-purpose grease. It can outlast extreme pressure. Its common use is on ballpoints and U-joints.
Calcium based grease: You can depend on its waterproof ability but it's capable of surviving high temperatures.
Disc wheel bearing grease: This is suitable for a high-speed application so it's typically applied around the wheels. It can resist extremely high temperatures.
White lithium grease: Binding metal is possible with this grease. It's tough enough in blocking corrosion and moisture. This is also regarded as multipurpose.
Benefits and Drawbacks
The primary benefit that you can gain from using marine grease is lubrication. Friction is reduced so efficiency and smoother performance can be delivered.
Marine grease is also formulated to provide premature wearing of parts that frequently contact surfaces and outdoor elements. As the lubrication causes smoother movements, strain and potential damage are lessened. It can be used in any type of water, even saltwater, since it has protection against corrosion. Once the grease is on, you won't have to worry too much about water exposure.
No serious drawbacks can make you hesitant about using marine grease. It can be messy at times but if you practice careful application you won't be annoyed when you clean up.
Can I Mix Marine Grease With Regular Grease
Before deciding whether you have to mix two substances, you have to know more about marine grease vs regular grease. Both of them do the same job but marine grease leaves the surface with corrosion inhibitors. It's absorbed into materials so it sticks very well.
In the case of regular grease, it does lubricate but it gives in to washout so the surface is unprotected. Now that you know how they work, it's best to not mix them, especially if you yearn for protection apart from lubrication. When you blend regular grease with marine grease, their abilities may wane. Thus, marine grease comparison is crucial.
Does The Color Of Marine Grease Mean Anything
There's no special meaning behind various colors of marine grease because it's only based on the manufacturer's coding. Vibrant colors are used to make the grease attractive. However, some factors can change the grease color, such as thermal degradation, contamination, or oxidation.
Where Can I Use Marine Grease
Marine grease can be used in boat parts that necessitate lubrication and corrosion protection. It's recommended for parts that deal with friction most of the time. Hence, boaters put it on hinges, propellers, trailer bearings, and anchor chain reels. It's also acceptable to apply it on non-marine equipment like what you use for your lawn as well as bicycles.
How Do You Apply Marine Grease On Boat Trailer Bearings
Here are the steps on how to apply marine grease:
There are various types of marine and they're not equally made. You have to choose the one that is compatible with the previous grease, especially when you're replenishing.
There's a possibility that you may not know the exact identification of the previous grease. If you're in this situation, you need to remove the old grease. You can do it by applying a generous amount of the new grease. Your goal is to overpower the previous substance.
You have to be aware of the thickener that you need to mix with your marine grease. This information is not hard to find as the manufacturer shows it on the label.
It's also essential to read the included instructions before applying the grease. Again, the label provides them.
Conclusion
As a responsible boater, you shouldn't ignore the need to incorporate the best marine grease in the maintenance of your boat and trailer. Apart from the necessary lubrication, it provides a protective layer against corrosion. When administering marine grease, it makes the surface smooth to avoid being exposed to friction that causes damage. You also can refer more to marine fuel stabilizers or antifreeze. I make sure that they can support a lot for you and your boat.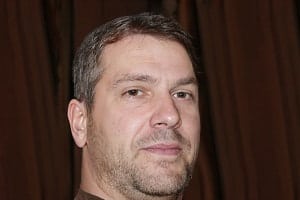 "My intention from the first day establishing Boating Basics Online is to provide as much help as possible for boaters who want to experience a first safe and convenient trip. So feel free to join us and share your beautiful journeys to the sea!"