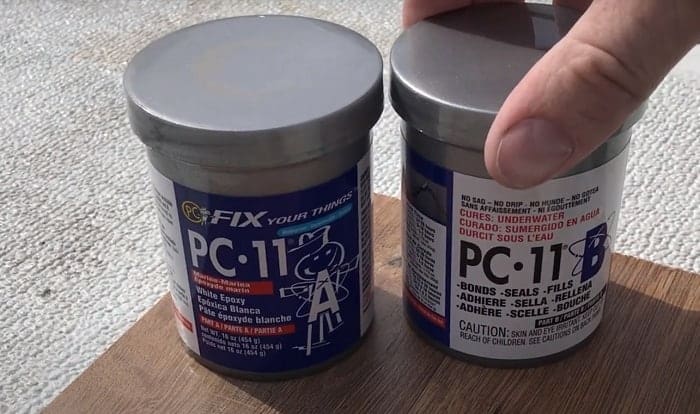 Securing a high-quality best marine epoxy product requires a thorough understanding of its attributes and the surface that needs some fixing. It can be a daunting process that this review can simplify for you to decide on your best choice. It is common among marine boat care and maintenance products. Letting you save money, effort, and time while maximizing the practical marine epoxy uses you desire for your boat.
Each marine epoxy, its types, features, and intended use can have confusing information that this post aims to ease up. Pick the top brands from these reviews and choose those with essential features like strength, flexibility, and life span. These features like resin formulations are imperative when buying a marine epoxy or a boat epoxy paint.
Strength: These are the best epoxies for underwater applications or boat surfaces exposed to UV rays for extended periods. They have casting and coating resins that withstand thermal shock, preserving surfaces and strong adhesion. These variants have UV-resistant marine grade epoxy resin that bonds permanently with solid surfaces arduous to remove.
Flexibility: The polyester-resin formulations are flexible ones that suit most surfaces and higher solids like the G/flex epoxy. There are polyurethane-resin or glue-type marine epoxies with fierce adhesion and withstand extreme conditions. These particular epoxy blends cope with movements for a definite period and are easy to remove when needed.
Life Span: Choose not only the rugged and flexible marine epoxy brands but durable ones for most boat surfaces. Choose those epoxy variants that fit to store for long periods despite extreme marine or weather conditions.
Always look for features, factors to consider, buyer guide, and common questions about each top-rated epoxy brand. Reading these objective reviews can guide you in choosing the right epoxy features and factors for your boat care.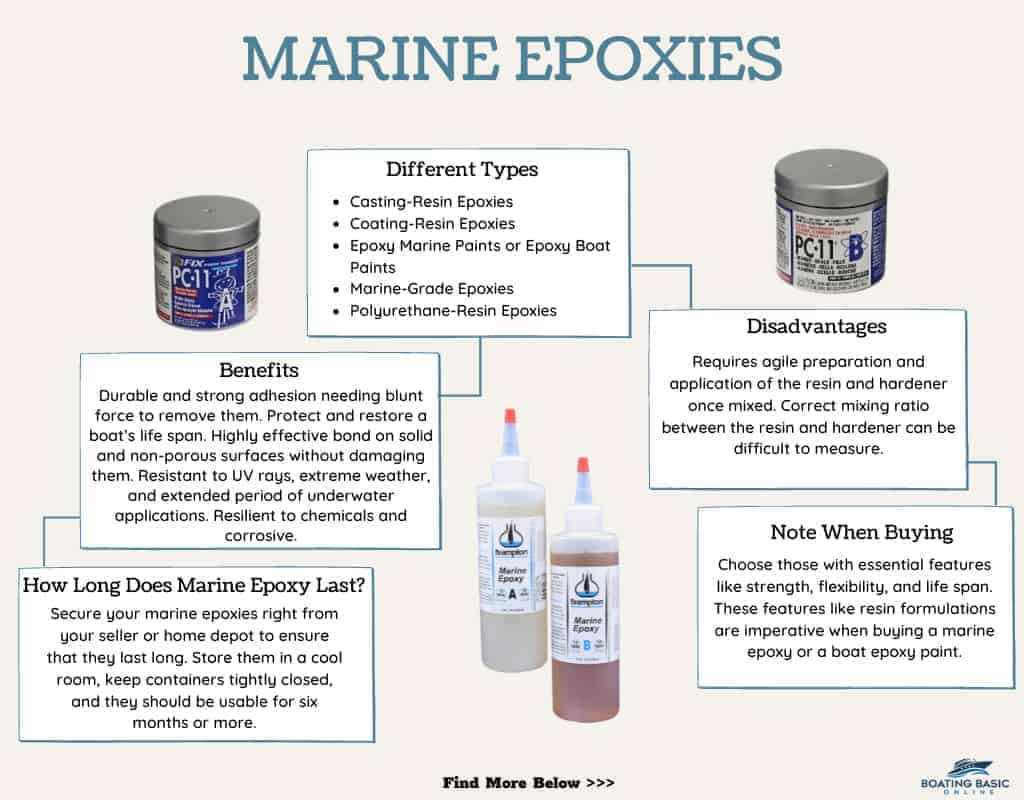 ---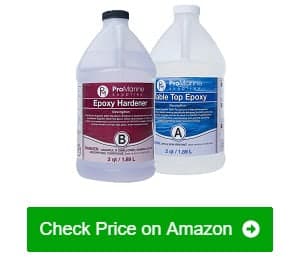 Pro Marine Epoxy Resin Kit
Specially formulated DIY
Premium crystal clear epoxy
Works best for wood boat surfaces
---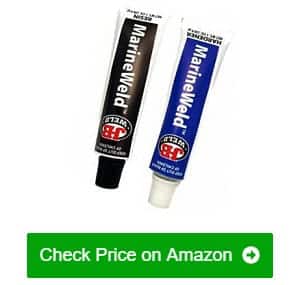 J-B Weld 8272 Marine Epoxy
Compatible for use on multiple surfaces
Well-built lasting epoxy brand
Easy to paint
---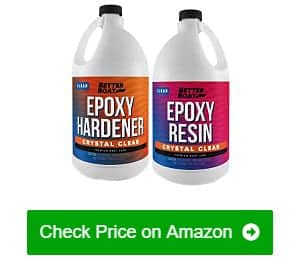 Better Boat Epoxy Kit
Great for restoring old wooden boats
Premium crystal clear epoxy product
Provides a coverage chart
---
Best Marine Epoxy Reviews
1. Pro Marine Clear Table Top Epoxy Resin Kit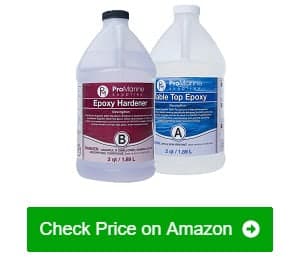 This Pro Marine brand, the clear table top epoxy resin kit provides a beautiful and versatile clear finish. It is easy to use with a 1:1 formula needing no experience to measure, mix, or seal.
The brand has clear gloss resin components that levels up for every marine, art, and home use. Boaters prefer its special formulation, which delivers a finish that has little to no bubbles.
Best for a variety of high-quality applications on materials like aluminum, ceramic, formica, laminate, stainless steel and more, this epoxy leaves a rich and vibrant coating finish on almost all surfaces, including reclaimed or restored materials.
This is a kind of a DIY but professional brand that is friendly and safe for all users. It contains an inert plastic coating finish that is VOC free. I can attest that it has FDA compliant coatings that are safe for use in all food contact surfaces. My family and I have used this for years as an efficient epoxy paint for boats and countertops without issues.
I love how it cures in 72 hours for complete hardness sufficient to resist scratches and water before reusing it. I advise applying this
product in a clean
and dust-free place for it to dry in about 14 hours. Keep it at 23 degree celsius to avoid longer time or incomplete hardness when cured.
What We Like
USA-made, VOC-free, high gloss, UV resistant and safe epoxy brand
Specially formulated DIY and Pro epoxy brand to work on any surfaces
Works best for wood boat surfaces, bar tops, table tops and more
Premium crystal clear epoxy with solid coating versatility to resist water
What We Don't Like
Takes long time with minimum 23 degree celsius temperature to completely cure
Make your surface come to life with this epoxy, considered the best boater's choice, delivering a striking rich and vibrant coat.
2. J-B Weld 8272 MarineWeld Marine Epoxy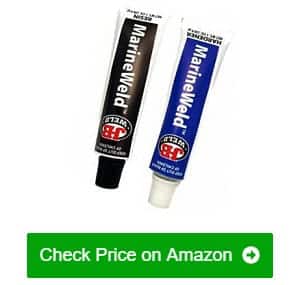 The first bestseller in our reviews is the J-B Weld MarineWeld marine epoxy packed in 2 1-oz containers. It's a highly flexible, strong, and durable marine epoxy for aluminum, fiberglass, metal, plastic, and wood surfaces.
I love this dependable brand for its long-lasting formula that helped my boat and marine DIY applications simpler. It sets in about 4-6 hours authorizing me to check the other parts of my vessel that need fixing. I have had no issues tapping, sanding, modifying, and even drilling it once it fully cures after 15-24 hours. Though I hate to wait that long, how its most plausible bond formulation works for my boat is a relief.
I attest to its adhesion strength below or above water, deck, and hull for extended periods. This heavy-duty epoxy resists chemicals, acid, petroleum, and other corrosive substances without cracking or discoloration; it works well on my car, home, outdoor, as well as ceramic, concrete, PVC, and tiles. Ensure to mix it on a 1:1 ratio for the maximum bond, protection, and restoration of your boat.
I also like the dark grey finish as it is easier to coat it with marine-grade epoxy paint. I highly recommend this two-part cold weld epoxy formulation. It is proven to work well on multiple surfaces that make any boat look new while withstanding extreme weather conditions.
What We Like
A well-built lasting epoxy brand that withstands water and extreme weather conditions
Compatible for use on multiple surfaces; including home, outdoor and other use
Best to work on a boat and marine watercraft repairs, DIY and restoration tasks
Easy to paint for best finishing results once the epoxy has completely cured
What We Don't Like
Requires longer waiting time for it to cure completely
This heavy-duty epoxy works best for any boat repair, DIY, and restoration tasks. It's what boat owners depend on for maximum quality, performance, and satisfying results.
3. Better Boat Epoxy Resin Crystal Clear Resin Kit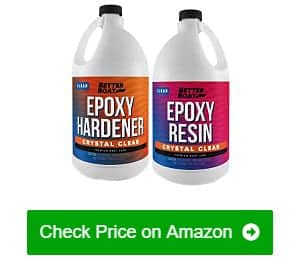 This marine-grade epoxy resin crystal clear resin kit is any boater's favorite to customize for boat care, countertops, and different artworks. Its resin and hardener blend will not only restore any boat appearance but will also protect it for the years to come.
When searching for a high-gloss finish epoxy, this product is what you look for in your boat care and other projects. Its restoration features provide a glossy coating for lamination, encapsulation, artworks, bar countertops, and tabletops. This excellent epoxy solution comes with a handy coverage chart guide, which tells you how to get the correct resin thickness. It's better to check the area of application to know the size and exact way of applying it.
This thick epoxy formula is also best for speedy setting time with less than half or a quarter of an hour. With its cured epoxy components,it can resist extreme heat of up to 120 degrees celsius. It is heat and UV-resistant so is durable for your projects to look great for a long time.
The restorative ability of this marine epoxy paint for wood transforms dull appearances into highly glossy surfaces. This USA-made epoxy is good on stained surfaces, and it will get fine results. However, it will not work on surfaces blemished with oil-based contaminants that will react with its elements. Despite this downside, I still highly recommend this product for its other well-rounded features.
What We Like
Great for restoring old aging wooden boats
USA-made premium crystal clear epoxy product suitable for various applications
Transforms dull-looking surfaces into highly crystal clear glossy finish
Provides a coverage chart to guide for correct product selection
What We Don't Like
Not effective when used on surfaces with oil-based stain
The epoxy kit is one brand boat owners consider as a one precious choice. Make it part of your boat care supplies, and you'll benefit from the beautiful look of your watercraft.
4. PC-Products 160114 PC-11 Epoxy Adhesive Paste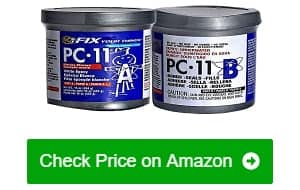 This PC-Products epoxy adhesive paste is a 2-part marine-grade brand that is highly adaptable to extreme temperatures. The off-white color epoxy goes in 2 cans with a 1 pound solution that works on various surfaces.
Most boaters consider this thick epoxy as consistent and satisfactory as its leading counterparts in the market do. Works several ways, whether parts are wet, submerged, totally underwater, dry, or areas under direct UV rays. It is astounding that this marine epoxy for wood, stone or tiles, works indoors and outdoors. Aluminum, ceramics, concrete, fiberglass, glass, metals, rubber, and many more materials are compatible and safe with this epoxy.
This heavy-duty epoxy allowed me to fix the tiniest leaks and cracks on my boat. It incredibly patches and fill holes, casting, welds, voids, hairline patterns, and seals PVC pipe leaks. The epoxy is even resistant to corrosive substances like petroleum, chemical, detergents, fuel oil, and fresh and saltwater. The epoxy's tensile hold is superb, needing a stirring tool or spatula to stir it safely and thoroughly.
You should give it a minimum of 48 hours to cure for best results even under extended water submersion. I believe its thick texture is effective but needs more time and work to prepare it for substantial work. Using it on larger tasks allows enough time for modifications and repositioning if necessary.
What We Like
Best for multiple surfaces and bonds them under UV rays, dry, wet or underwater conditions
Compatible for ceramics, concrete, fiberglass, glass, metals, rubber, woods, and many more
Works great for indoor and outdoor under extreme temperature and marine environment
Heavy duty and resistance to corrosive substances, chemical and fresh and saltwater contaminants
What We Don't Like
Takes more time and effort to prepare its thickly textured substance for larger work
This heavy-duty marine epoxy gets you covered to protect your boat above and below water. It can provide great consistency, ease, and a longer life span for your boat.
5. Loctite 1919324 Marine Epoxy
This Loctite marine epoxy product is a top-rated brand in the market in a handy 0.85-ounce syringe. It is one of the best epoxy formulations that defines convenience as its essential ability for multiple surfaces.
The product works with different materials like ceramic, concrete, fiberglass, PVC, various metals, wood, and surfaces submerged in water. I applied this Loctite brand while repainting my boat's overboard, and it showed long-lasting, sturdy, and highly resistant results. It's astonishing how it works while exposed to water, chemicals, solvents, and outdoors. Easy to sand and even possible to drill through it when needed for modification or repositioning.
I am fond of this brand because its syringe tube is easy to apply though it needs agile preparation skills. It allows handy and quick dispensing of the epoxy formulation in the correct amounts that avoid any wastes giving a proper mixture of the equal resin-hardener ratio for a rigid and secure bonding and quick finishing results. I attest to its one-time application performance that does not shrink or crack but cures to a white finish.
Just one thing, even though, ensure the cap is not missing and tightly closed after each use and before storing it. Doing it means you secure the inner fluids from drying and last for years more than other brands offer. I highly recommend it for your use as I intended to reorder this for my boat care kit.
What We Like
Easy to apply on multiple surfaces and cures faster above or underwater
Convenient packaging for handy dispensing the correct formulation amounts
Sturdy, highly resistant, and durable to damaging the effects of water, solvents, and other corrosive substances.
Provides rigid and strong bond when resin and hardener mixed properly
What We Don't Like
Must be tightly closed after each use
This Loctite marine epoxy review simplifies the best features of this product for overboard, underwater, and outdoor uses. Boaters favor this epoxy marine brand that will benefit you with its sturdy and resistant formulation.
6. TotalBoat 510822 High-Performance Epoxy Kit
This TotalBoat high-performance epoxy kit goes along with crystal clear resin and hardener suitable for boat building and repairs. It contains medium marine grade epoxy components for a faster and natural clear gloss finish on fiberglass, lamination, and various woodworks.
The non-blush epoxy kit provides easy and proper measurement of the exact ratio for a 2:1 resin-hardener mixture. It comes with a properly calibrated measuring pump for the best mixture. Safe to use with stirring sticks and mixing cups that come with the product. It works perfectly with fillers, thinners, coloring materials, and even with 2 part epoxy marine paint that I used for my boat.
I like this epoxy kit that is also safe having low volatile organic components (VOC). It is a BPA-free and low odor solution, making it more user-friendly and safer for indoor and food contact surfaces. The resin is best with inadequate viscosity elements and has a stain-free hardener for perfect curing. I can attest to its marine-grade attributes that make clear coating for the best finish.
Though the product kit comes with a calibrated pump, there is a need to provide the dispensing pump. It is a bit of a downside to complete a quicker application process. I highly recommend using this effective epoxy kit to blend with your boat and other maintenance components. Without a doubt, this non-toxic odor epoxy and straightforward solution is the best buy.
What We Like
A more flexible non-blush marine epoxy formula for boat building and repairs
Provides easy and proper measurement of 2:1 resin-hardener mixing ratio
Best finish with naturally clear gloss coat when cured
Safer BPA free, low odor, and low VOCs for indoor and food contact surfaces
What We Don't Like
Requires dispensing pump that has to implement separately
I recommend that you get this epoxy kit for your boat care maintenance routine. It will surely ease your boat building and maintenance projects.
7. PC Products 25567 PC-Marine Epoxy Putty
Another USA-made brand, this white marine grade epoxy putty from PC Products bonds to dry, wet or underwater surfaces. The kind of multi-surface epoxy for rapid and emergency repairs without the need of mixing it.
The PC-Marine brand sets in quarter of an hour and cures less than an hour making boaters fond of it. This is indeed the best marine epoxy paint fiberglass protective coating, but it also works excellently for metal, concrete, plastic, polyurethane, tile, and wood materials. I applied it easily without even mixing it.
This brand cures white and durably bonds to copper, PVC, spas, shower rooms, stock tanks and swimming pools. It puts the correct measure of 2 part resin and hardener, providing strong and flexible plumbing repairs for more modifications. Moreover, it is easy to mold and cut with bare hands requiring no application tools. Applying it up to a temperature of 120 degrees celsius is safe without cracking it.
I've been using this epoxy brand for over a decade now and it did so many flexible things for me. It works well on aquariums and organic materials without sagging or dripping, but you will have to wait for the epoxy to cure before getting the boat back on waters. Thoroughly clean the submerged area before applying it and you can enjoy your boat for many more years.
What We Like
Multi-surface white blend epoxy for rapid applications on different surfaces
USA-made heat resistant brand for dry, wet and underwater use
Sets and cures fast in about or less than half of an hour
Easy to apply straight and moldable by bare hands
What We Don't Like
Requires thorough cleaning of submerged areas for the epoxy to work best underwater
This epoxy is great for any boat repair tasks. It gets your boat covered and also works on other surfaces, making it incredibly versatile.
8. Brampton Marine Epoxy
This Brampton marine epoxy product has a strong bonding formulation that works best for boat repairs. You can fix any boat damages with this 4-ounces heavy-duty, water-proof, and weather-resistant epoxy resin and hardener.
One beauty that this epoxy brand has is that it can set in 15 minutes and harden quickly in about 30 minutes. Plugging and sealing holes or gaps on any boat is possible as it can cure while under water. I can attest how it hardens even when submerged during application. It provides watertight, and airtight protection while submerged in water and withstands damaging effects of solvents, chemicals, and corrosive substances.
This product has amazingly tough features that include weather-resistant attributes, guaranteeing that no extreme environment can negatively damage it. Your boat deck and hull is protected from UV rays and even acid rain with this product at your disposal. It does not only provide high-quality adhesion and protection, but it's also easy to use. It also comes with a squeeze container for hassle-free and quick dispensing.
You can fix and reattach fixtures like rails, poles or handles, and seal gaps on your boat to recover it. Be agile to apply it quickly as it can set and cure in about 15 to 30 minutes. Before its superb adhesion can go against your options, apply it fast. Other than this single drawback, it's a handy epoxy that works underwater.
What We Like
Heavy-duty and fast-curing epoxy brand that can fix leaks or cracks immediately
Effective for use on underwater applications
Highly resistant to weather, water, solvents and corrosive substances when fully cured
Provides airtight and watertight seal for any hole or gap on a boat
What We Don't Like
Requires agile application to complete the best finishing results before it hardens
This marine epoxy provides quick and long lasting remedies for your marine projects. You will surely like how it's tough features work for every boat maintenance task.
9. WEST SYSTEM 205A-BUNDLE Epoxy Resin Bundle
The West System epoxy resin is a bundle of 105A epoxy resin, 205A fast hardener, and 3 mini dispensing pumps. It works well for concrete, fiberglass, metal, and wood boat surfaces with its clear, low viscous, and moisture resistant formulation.
Ideal for boat building and repairing to prevent damages from collision, aging, and forces of nature, this epoxy also works for home improvements and repairs, especially for staircases and wall mountings, among other interior materials.
I like how it restored my old wooden kayak, guitar, and other woodcraft, proving its versatility. It made application easier and even more durable than the polyester resin I've used before.
This epoxy can cure in any temperature and can last long. It does not shrink, nor does it have a strong odor. So, it is safe to say that it is harmless to use, unlike polyester or vinylester resins. I recommend you use this pale yellow liquid epoxy solution to ensure a hard and lasting cure. No other products offer superior bonding and protection like this.
Aside from its high price tag, this epoxy solution is a neat bundle option. The only thing that you should note is that you have to ensure the dispensing pumps fit. Sometimes, they come bigger than the containers. But it's not a downside as these are easy to cut to make them work as needed.
What We Like
Highly suitable for concrete, fiberglass, metal and wood boat surfaces
Has clear, low viscosity and moisture resistant formulation.
User-friendly with no strong odor and harmless to use
Fits for home improvements among other interior repairs
What We Don't Like
Bit pricey for an investment compared to its counterparts in the market
Getthis highly reliable epoxy formulation for your various marine needs. Applying its low-viscosity resins gives you enough high strength solid bonding protection for your boat.
10. Aquaseal Table Top Marine Epoxy Resin
This top-rated product from Aquaseal is designed as a marine epoxy resin for table tops, countertops, and boats. The kit comes with 2 gallons of 2-part epoxy resin and hardener that produces a very thick formulation.
This durable epoxy is highly resistant to corrosive substances like chemicals, rust, salt, and hard water. So, it is safe to use it on almost all types of surfaces, both indoors and outdoors. What I'm also fond of is its ease of use and non-irritable odor that makes it more user-friendly.
The premium kit is highly durable and perfect for a variety of tasks. You can use it on most surfaces like aluminum, fiberglass, fabrics, lead, steel, and wood. Additionally, it comes with measuring cups and application tools. You will surely enjoy its strongand UV-resistant cure, delivering an impressive finish, especially on floors and table tops.
Though this epoxy works like its counterparts, it may take a long time to cure in colder temperatures. On average, it cures around 30 minutes or less, but stirring thoroughly, it can speed up the process. Another point that you should keep in mind is to always ensure that the containers are tightly closed after each use to prevent any leakages during storage.
What We Like
Very thick, strong and UV resistant marine grade epoxy resin for an impressive finish
Has durability that can withstand chemicals, rust, salt, water and other corrosive substances
Excellent results when used for fiberglass, metal and wood
Safe for all type of surfaces in indoor and outdoor use
What We Don't Like
Thick substance that requires more stirring to do and a warmer temperature
Add this to your boat care supplies and you will surely thank me for getting more navigation time on the waters.
11. Pro Marine 5:1 Boat Epoxy Kit
The final bestseller is the total penetrating marine grade polyester resin – Pro Marine boat epoxy kit. It's a USA-manufactured epoxy, withstanding extreme environments and can be used to strengthen a range of surfaces.
It is one of the best epoxy products I have used that bonds with aluminum, fabrics, fiberglass, fabrics, lead, bare steel, and wood surfaces. The high-quality bond of this epoxy has solid adhesion that is easy to sand without chipping, cracking, or shrinking it. The kit comes with pre-calibrated pumps for proper measurement and mixture so that you do not have to worry about any unpleasant odor.
This epoxy resin's strong viscosity is vital for any boat providing great bonding, fairing, coating, and reinforcing. It cures hard as rock after 6 hours on warmer temperatures and about 10 hours on colder conditions. I like how it works solidly for marine purposes, which the product is intended for use. It helped me repair the costly dents on my boat and vehicles.
This epoxy resin can be poured or applied using spreaders, paint brushes, rollers, or syringes. Be sure to take more time stirring the blend in warm temperatures before applying to achieve the most desirable curing. It's a great option among marine epoxy vs regular ones that can provide you with the best results you need. I would surely reorder both the quarts and gallon size choices that come with pumps and calibration instructions.
What We Like
High-strength viscosity and solid adhesion that leaves hard rock cure
USA-made and tested for most marine projects and withstand extreme conditions
Best for use with aluminum, fiberglass, fabrics, steel, lead, and wood surfaces
Cures hard and faster when applied on warmer conditions
What We Don't Like
High viscosity needing more stirring, warmer temperature and longer working time
The application ratio and strength of this pro marine epoxy is what every boater should not miss. Use this strong marine-grade epoxy to enjoy a lasting repair for your marine vessels.
Factors To Consider When Choosing Marine Epoxy
Ensure that there are marine epoxy resins and hardeners in your chosen epoxy product. To do this, learn about the different types, benefits, and drawbacks below.
The different types of marine epoxy
Sort the marine epoxy types as we have classified below:
Casting-Resin Epoxies are thinner than the others, so they effectively fits small spaces or gaps. However, they need a longer curing time, cast molds, and often come with complicated mixing ratios.
Coating-Resin Epoxies have thicker texture, cure quickly, and coat small or vast surfaces like furniture gaps. These are easier to mix, can seal and bond surfaces, and work best on deck and surfboard applications.
Epoxy Marine Paints or Epoxy Boat Paints are fit for exterior applications and for enhancing aesthetics. They are water and weather resistant, and compatible with marine epoxy primers.
Marine-Grade Epoxies resist damages from UV rays, discoloration, and last for longer periods. They are reliable as adhesive in building boats and manufacturing fiberglass as well as sealing small areas.
Polyester-Resin Epoxies resist weather, contain unsaturated synthetic components, and are best for underwater, building boats, and repairing plastic surfaces.
Polyurethane-Resin Epoxies are in liquid form, synthetic, highly versatile, and easy to bend for a range of
Benefits and drawbacks of marine epoxy
Advantages
Durable and strong adhesion needing blunt force to remove them
Protect and restore a boat's life span like the marine epoxy clear sealants
Highly effective bond on solid and non-porous surfaces without damaging them
Resistant to UV rays, extreme weather, and extended period of underwater applications
Resilient to chemicals and corrosive substances once they fully cured or set
Disadvantages
Requires agile preparation and application of the resin and hardener once mixed
Correct mixing ratio between the resin and hardener can be difficult to measure.
Is Epoxy Paint Good For Boats
Painting your boat with marine epoxy paints is a good habit that you should have. Using a marine epoxy paint for boats extends their life while making them appear great.
How Do You Apply Marine Epoxy
Marine epoxies are designed for exterior applications in extreme environments. Clean the surface, sand the clear marine epoxy for ease of painting, and complete with a finishing wipe.
Can You Paint Over Marine Epoxy
Apply an epoxy marine paint or coat a paint over marine epoxy after each boat maintenance task for best finish. Most marine epoxies are not only good as coating finish but are also effective paint primers.
How Long Does Marine Epoxy Last
Secure your marine epoxies right from your seller or home depot to ensure that they last long. Store them in a cool room, keep containers tightly closed, and they should be usable for six months or more.
Conclusion
Searching for the best marine epoxy to do some repairs on your boat and other marine watercraft requires in-depth consideration. We bet this review has shown you the options to take on different marine grade epoxy that you can depend on. These independent reviews make it easier to deal with different pain points and surface materials for your boat's maintenance.
Other than the features these reviews highlight, consider the special factors like formulation that withstands and cures underwater and more to decide what kind of epoxy meets your needs.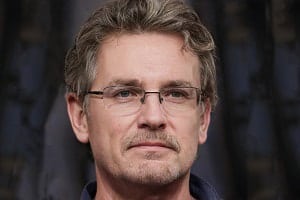 "I am James Harvey – founder of Boating Basics Online. It is established with the drive to help out first-time boaters, which are those desiring to explore their way through the water. So if you are new to boating, start from here with me. "