The best marine coolers remain the gold standard of most coolers precisely because they're built with harsh elements in mind. When people mention a boat ice chest, you know it's made to last. With marine-grade coolers, you don't even have to own a boat to take your outdoor cooling endeavors up a notch.
Being all tough doesn't mean you get excellent performance from every marine cooler, though. If you really want to make the most out of your purchase, it won't hurt to know the essential factors that influence a cooler's performance.
Who says center console coolers are all alike? Once you look at these factors, you'll know that every product is different:
Ice Retention Capability – You want to be looking at components that ensure the cold air remains as long as possible to keep your food, drinks, and catch of the day fresh. I find ice boxes with features like an ultratherm insulated body and/or lid do well in this criterion.
Capacity – I'm going to assume you're like me and can't have enough space to stow snacks and drinks when boating, camping, or fishing. In my experience, a 54-quart size is adequate for most applications.
However, this still hinges on the cooler's design. Do your best to find the right balance between your boat's capacity and your usual storage requirements.
Durability – Roto molded coolers are well-known for their hardy builds. Resistant stainless steel lids and straps not only make lugging your box around more manageable but also serve as hallmarks of rust resistance and overall longevity. Can it guarantee a certain degree of UV protection? Any product that does, earns a checkmark for me.
These will always be the Big 3 criteria for the best boat cooler to me. By no means do I limit my purchasing decisions to them, though. If you want to know what they are, I've included them in the Buying Guide section that comes after my cooler reviews.
---
Igloo Marine Ultra Cooler
Feels durable overall
Stainless steel components
Above-average storage capacity
---
YETI Tundra 65 Cooler
Easy to clean
Well worth the price
Can handle extreme heat well
---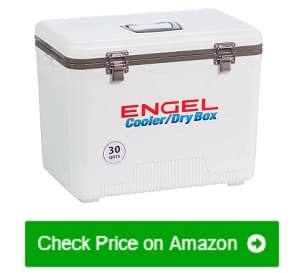 Engel Dry Box Cooler
Solid durability
Great accessory tray
Decent short-term cooling
---
Best Marine Cooler Reviews
1. Igloo Marine Ultra Cooler
Igloo boat coolers' strengths are all too apparent in this product. Budget-friendly, capacious, and hard-wearing, not a lot of products can have all three of these coveted qualities.
This is one of my recent acquisitions. I like how cheap it is, which is something you can expect from this brand. It's not a perfect brand, and I've had friends who became Coleman diehards when this brand failed them. But I admit this recent release moves the needle in the former's favor.
I chose the 54-quart one with a total capacity of 51 liters because it gives a roomy impression at first glance and, true enough, I always manage to squeeze in a can of Budweiser or two (or sometimes even three!) when I'm out for the usual dinks and lunkers during a fishing weekend.
I know that I can't say much about the durability yet since it's a recent acquisition. However, compared to other coolers I've owned that are made by this brand, this one is on a whole new level. They didn't skimp on the materials used, particularly the rust resistant stainless steel components. That, to me, is remarkable since this brand tends to let me down with its design, especially the handles.
I have qualms about the average ice retention. It's a decent marine cooler, but I don't feel like the supposedly insulated lid and body contribute much to keeping cold air inside. To get better ice retention before a fishing trip, I often have to fill it up with ice chunks the night before and top it with an insulated bag. This way, it keeps food cold for 3 to 4 days depending on the temperatures outside.
What We Like
Relatively budget-friendly price
Stainless steel components
Feels durable overall
Above-average storage capacity
What We Don't Like
Ice retention pales in comparison to the best in the market
Make no mistake, this product is a solid rust resistant cooler as a whole. With its perks in mind, I won't exchange it for some of my older iceboxes by this brand.
2. YETI Tundra 65 Cooler
This cooler has a fair amount of thickness, enough to readily give an impression of long-lasting construction. I'm glad I got just that plus the coveted unrivaled ice retention of Yeti marine coolers.
I'm glad I bought this when it was a fresh presence in the market years ago. It's one of the first premium boat ice chests I purchased. Back then, I was a real outdoors freak, with fishing and camping excursions a regular part of my schedule.
It accounts for the majority of my boating experience, with that fact considered. It also received the most abuse, particularly during the times when I left it in the sun for entire days. It has suffered torrential rains in that span of time up to the present, and still, it never lost its sturdiness. I'm betting it's mostly because of the roto molded construction.
What ultimately convinced me that I got way more than my money's worth is its ability to handle the heat. I'm talking about temperatures that exceed 90 degrees here, with humidities that balloon to 100%. It manages to preserve the 6 to 7 blocks of ice I put in it on average for 6 to 7 days, even in ungodly Texas weather.
It's not a pain to clean. I only have to run water on its latch and interior then use the threaded drain plug to get any kind of debris out. Nothing gets stuck in nooks and crannies as well.
You do have to put a lot of muscle when carrying it sometimes, though, especially if it's filled to maximum capacity. Filling this up to the limit is a bad idea if you're traveling alone or don't have a tool that can help you transport it.
What We Like
Outstanding thickness and durability
Easy to clean
Can handle extreme heat well
Well worth the price
What We Don't Like
Can be too heavy to lift when completely full
I can't name a better representative of this premier marine cooler brand. It's safe to say that everything you love from them can be enjoyed here. The only difference is that you get a more military-grade design that's brimming with hardiness.
3. Engel Dry Box Cooler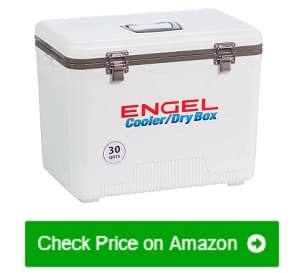 A mid-range mini ice chest with awesome bonuses, this Engel marine cooler is a good companion for short and sweet fishing and camping trips.
This one's essentially a dry box, so I wasn't that surprised when it didn't keep my ice packs frozen for an entire day when I first tried it out. But I wanted a substitute for my small Pelican cooler, one that can keep my catch fresh for an entire day, so this one met my requirements.
You can always help it out by adding more insulation on top or freezing any items you put inside it. I've gotten 2 to 3 days out of it, as long as I keep it under a shade. However, don't compare it to what the average cooler can achieve.
Considering the price, it's a bargain because of the build's overall thickness. It's tough but doesn't weigh a ton, making it a perfect day-to-day small-scale fishing icebox.
I've dropped it numerous times already but it's still holding up well=. That being said, I'm not too sure it can withstand being out in the sun for too long since it doesn't have active UV protection. To be safe, I keep it shaded as often as possible.
This is the sole marine cooler whose accompanying tray has been useful to me. It's not flimsy and ensures the contents won't touch the ice. Great for bringing along fresh food that you can cook or grill later in the day.
For a 30-quart container, I rarely feel I need more space for my ice, drinks, and fresh catch. The tray helps to keep everything organized.
What We Like
Solid durability
Great accessory tray
Decent short-term cooling
Lightweight
Adequate storage space
What We Don't Like
Not ideal for long-lasting coolness
No UV protection
Overall, this is a nice ice chest with a well-designed interior and design. To me, it fits the label of best cooler for fishing solo.
4. RTIC Hard Cooler
This RTIC marine cooler's price-to-value ratio makes it a real gem even among first-rate brands out there. It keeps ice cold for a long time and has generous breathing room for additional drinks and food, for half the price.
This has been a steady, handy cooler that I bring along in my center console when I'm out for some serious week-long fishing trips. I admit I wasn't too impressed with the 3-inch insulation claim at first. But the moment I discovered that it can hold ice for 4 to 5 days in relatively hot weather, I knew my assumptions were way off. That is, if no one's opening it constantly.
I almost always immediately use this cooler's spacious interior to gauge how much space to expect from other boxes. The 45-quart alone can beat the 60+-quart options of most brands out there. I don't know the magic behind it but I can confirm that I can pack 40 12-oz cans in it and still have plenty of space for some frozen meat and vegetables.
I was able to buy this when it was way cheaper back in the days. I've gotten way more value for money out of it than most coolers I've tried considering the ice retention alone.
Durability is not its strongest point, I admit. Mine already has dents and cracks in some parts. However, considering it's been in my possession for 5 years, that's still a plus.
I've been keeping an eye out for this good quality marine cooler for months now. Unfortunately, I always seem to miss the times when the brand restocks. This wasn't the case years back, but it just goes to show how in-demand this ice chest is. Another downside is the heavy weight, but it's not a deal breaker since it also means it can support a boat cooler seat.
What We Like
More affordable than other top-tier coolers
Remarkable ice-keeping
Adequately durable
Spacious storage
Outstanding value for money
What We Don't Like
Limited availability
Weighs a bit heavier than most
This cooler has few flaws and abundant perks. Not a lot of products can be described like that.
5. Pelican Elite Cooler
This cooler earns its elite label with a notable ice-keeping ability, useful additional features, and unrivaled durability.
This was one of the most expensive coolers I got as a gift from my mom. I didn't really need it at the time since I already have one that fulfills the same purpose. I do tend to alternate between my main tiny stainless steel cooler from the same brand and this one. It's also lightweight enough to be carried to work regularly, so there's that.
I appreciate the inclusion of a non-skid feature, considering it's underweight compared to most. You never know when a current or wave would rock your boat, and true enough, I can't recall any instance when this cooler ever displaced even when my center console became tottery.
For ice retention, I tested this box out for an entire year. Every time after the third day, 80% or more of the ice tends to melt. I almost always never have anything left if I'm dealing with hotter than normal temperatures. Still, I like that it's consistent in all the 3 years I've used it.
I like the built-in bottle openers and cup holders. It lets me pop a cold one and feel refreshed after a day of fishing or camping. The rugged design readily affirms the durability you can expect from it.
Ice chest seats for boats usually need a good cooler to fit with. I'm confident this one's made for that purpose as I have a 200-pound boating buddy who sits on it whenever the opportunity presents itself.
I wouldn't recommend this if you're aiming for more space in your fishing cooler. You can get boxes that won't break the bank for far less. The limit in capacity and the number of applications you have for it is what pulls it down a bit. After all, I'd rather lug a huge box for a week- or month-long outdoor excursion than use this.
What We Like
Consistent three-day ice retention
Great portability
Neat non-skid feature
Notable sturdiness
What We Don't Like
Designed for special, often small-scale application only
Expensive
You get what you pay for from this cooler. What it lacks in size, it makes up with solid performance common among the best boat coolers.
6. Engel ENG80 High Performance Cooler
This marine ice chest may cost thrice the average coolers in the market, but I got my money's worth with first-class durability and ice-keeping.
Let's tackle the most important strength of this marine cooler: the ice retention. I have to stress that it's only able to maintain 10-day coolness and the blocks or packs of ice you put in if the temperatures don't go above 80 degrees. Otherwise, expect the ice to melt by 40 to 50% once you reach day 5, especially if the mercury indicates 90 degrees or above.
That's still obviously way above the average. I sometimes don't even have to chill my ice cream and frozen food beforehand and still get lasting coolness. Speaking of things that last, this is actually my family's marine cooler, and we've owned it for 6 years. No amount of sunshine, blunt force, or rain has dented or weathered it, so that's another plus from me.
I do have to point out that its latches are its weakest point. I don't like the way they attached it, particularly the metal they used to connect it. I've since broken and repaired it, but for the price point, I would have appreciated it if they reinforced it.
Other perks I like are the drain that makes cleaning easy. No fuss, whatsoever, even if food and other debris make their way in there. I've also heard from a fellow camper who owns this that it's guaranteed to be bear proof. I wish I could confirm, but I'm not crossing my fingers I'll encounter a grizzly any time soon.
I can't comment much about the capacity. It's the usual amount of space you'd expect from a 75-quart. On the whole, it's satisfactory but not that noteworthy.
What We Like
Can hold ice for 10 days in mild temperatures
Built to last
Drains fast and easy to clean
Proven to be bear proof
What We Don't Like
Low-quality latches
Relatively expensive
Exceptional performance and hardiness are what drive this marine cooler to belong among the best fishing coolers.
7. Pelican 32-35Q-MC-WHT Cooler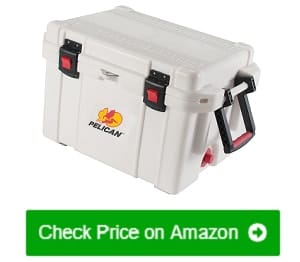 For its tiny size, you'll be surprised by how well the brand paid attention to this cooler's design and overall build. You can see this immediately in the tactical design that affirms the quality you'll get out of it.
I carry this with me when I want to go light or need a smaller vessel to get to juicy fishing spots that are hard to reach otherwise. I have a Jon boat that's the perfect fit for this, and I can even bring two of it in one trip. One's for the drinks and the other is for keeping the fish fresh.
One other gem of a quality that this box possesses is its capability to keep ice solid. I know polyurethane insulation can do wonders, but this thing of beauty truly demonstrates its strengths. I normally still have specks and chunks of ice on day 10 on fair weather, so kudos to the brand for delivering on its promises. I'm not too sure if it can manage that on blazing temperatures, though.
The handles feel firm and don't give me the impression that they'll snap when the cooler's packed full. The thick bars grip as well as the bulky clamps that hold them in place. Who doesn't want that kind of peace of mind that your cooler's handles won't snap in two every time you heave it up?
I prefer to bring along my own pan so I can separate frozen deli items like cheese and meat from the ice. I'm glad I didn't have to struggle too much with that with this small cooler.
I'd have liked to be able to have more space for more cans and snacks, though. I get that it's only 35 quarts, but if you have friends who you fish with, this one's capacity might not accommodate 10 days or more of supplies.
What We Like
Doesn't eat up deck space
Superior ice-keeping
Solid handle construction
Fits most pans' sizes
This small marine cooler performs just as well as any top-dog big marine ice boxes out there. It even beats a handful with its design.
8. Coleman 3000001846 Portable Cooler
This Coleman marine cooler offering gives plenty of value for money. It's a steal because of its durability provided by high-quality components.
This is a good example of the best marine cooler with excellent design considering the entry-level price point. It keeps its contents cold for the 3 days it promises, as long as I use the right amount of ice and cool the contents prior to placing. I would have wanted it to keep it going longer, but it's understandable given how cheap it is.
Its weight is considerably manageable even when full. I get that it's only 28 quarts, but portability is not always a guarantee even in such mini coolers. It helps that the handle is fairly comfortable to grip.
Nonetheless, I'm not too confident of how it's attached to the box. It feels precarious and might just not bear the brunt of the pulling force you exert when lifting it. Since it manages to keep its weight down, though, I think these factors balance out in the end.
The overall construction is what you'd expect from this brand. I've had this for 5 years and used to bring it on many picnics and camping trips to Yellowstone Park, with occasional fishing. Now that I think about it, it's quite a miracle that it lasted this long, though the handles are now rickety.
I'm not too sure whether the antimicrobial feature works. I do have to note that I've packed fresh meat in this cooler numerous times already. We never got food poisoning or the like, so that's probably a good sign that it works.
What We Like
Highly portable even when full
Cheaper than most
Great insulation
Antimicrobial feature
What We Don't Like
Only keeps ice up to 3 days on average
Poor handle attachment
Budget marine ice boxes don't get any better than this. I'm more than willing to overlook its flaws for the sheer amount of value.
9. Coleman 3000001845 Marine Cooler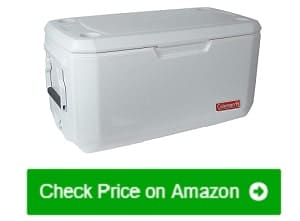 This, to me, is the best cooler for boat enthusiasts who want a container that will last. I've yet to own a more rugged cooler than this. What makes things even better is that it slays in its ability to retain ice, too!
This has been in my family's possession for close to 6 years. We've taken numerous cruises and fishing trips with it, and it has endured a handful of storms and high heat in the process. It has lost most of its outer shine already.
However, I really don't mind especially if it can make 15 to 20-lb blocks last for a week, which is my average experience with it during fair weather. That's way above the usual expectations I have with a 70-liter box.
Yes, you'll get days when it only manages 5 days, but that's still a figure that not a lot of coolers can achieve. Plus, that's normally only if you leave it out in the sun for too long!
The capacity is not as noteworthy as the other two aspects I mentioned. Even so, it's still what you would expect from an ice chest that can accommodate a family of four. I've put anything you can think of placing in a decent cooler inside this one.
We paired it with a cooler seat for our center console. I've lost count of the number of times my wife and kids, and even a couple of my heavier fishing buddies sat on it. The fact that it can manage the extra weight makes it a bonafide champ in my eyes and is a bonus perk that I'm more than willing to enjoy.
I don't remember when it started to fill with water when it rains. However, this has happened quite a few times already, and that's my only complaint.
What We Like
Superb durability
Excellent ice retention
Great storage capacity
Sturdy overall build
I've heard all the negative criticisms Coleman has received over the years. Like Igloo, it's not an infallible brand. Nonetheless, this marine cooler proves why its name is synonymous with this useful invention.
10. Igloo 6776-APRENT Marine Coolers
Large fishing coolers often have to balance capacity and ice retention, a feat not a lot of products can achieve. This one stands out among Igloo marine coolers because it manages to do just that.
It delivers what it promises, and more often than not, that's what attracts me to any product. The fact that it makes a lofty claim of making ice last for 5 days in 90-degree temperatures seals its place in this list.
The way the insulation is integrated is no joke. I've taken this with me on boating trips where temperatures reached 95 degrees, and it still managed to hold ice well and keep my snacks and beverages cold. I even went to a Big Bend with this chest, and throughout the 5-day affair, I never had to do an ice refill. It helped that I cooled the items before I stored them, though.
The 94-quart size feels more spacious than what you normally get from coolers in this size range. It's a fishing cooler that's perfect for any group trip lasting for 5 days to a week, that much I'm certain. I don't recall any instance when I felt the urge to throw in an extra snack or bottle when filling this up.
I leave this out in the sun because I feel quite confident in its UV shield. After two years, so far so good. As a whole, it doesn't feel flimsy. I even installed a boat seat cooler on it. However, I think it can't handle heavier people out there, particularly those weighing more than 200 pounds.
I'm a bit wary of the latches. I've read other users complaining about them. Mine hasn't detached yet, but to me, it's not as hardy as the coolers I've used before. Compared to others made by this brand, they don't appear to be screwed on that well.
What We Like
Proven to make ice last for 5 days in hotter than normal temperatures
Excellent capacity
Decent durability
Solid UV shield
Nevertheless, for grade-A performance and space, this product earns the best marine cooler label.
11. Cubix Camo Cooler
This mid-range cooler strikes a good balance between performance and value for money. It can keep the cold for a long time, longer than most, and charges you relatively fewer bucks for it.
This is actually my favorite cooler when it comes to keeping contents cold. What instantly caught my attention when I started using it was the way it keeps the interior cold for more than a week. That's even if most of the ice has melted already!
Naturally, I started testing its temperature over a span of 3 days using a 10-pound block of ice. Long story short, it managed less than 40 degrees on the second going to the third day.
By the end of the third day, around 50% of the ice remained but the temperatures only went slightly above 50 degrees. The way the roto-molded latches guarantee a firm seal is probably partly responsible for the cold not dissipating.
The handle is exceptional in that it's comfortable to grip and is securely fastened to the box. There's no sign of wobbling even after 2 years. Once you get the hang of heaving it up and setting it down, transporting it becomes easy.
The interior space for a 20-quart is just average. I won't bother listing it as either a pro or a con because it's just decent overall. I can fit more than 20 cans with some sizable chunks of ice. The same goes for the built-ins; I like that they're included but I seldom use them.
The robust construction is what earns my other checkmark. It's a dwarf durable cooler that you can't fault once you discover how thick and sturdy it is.
Be prepared to deal with extra weight when filling it up, though. I own the 20-quart variety, and I can definitely feel the heft compared to my tinier coolers.
What We Like
Amazing cold retention
Reasonably priced
Exceptional handles
Robust construction
Great overall design
If you want ice retention that can wow you, this one may very well be the most suitable option.
Factors To Consider When Choosing A Marine Cooler
Besides the three main factors I mentioned in the introduction, it won't hurt to pay attention to a host of other cooler features and characteristics like the ones below.
This is just an expansion on the toughness aspect. Most marine-grade roto-molded coolers made of plastic remain the gold standard for overall ruggedness. Additional bonuses imparted by the said material include keeping the total weight down and even contributing to retaining ice.
Nonetheless, not all plastic-made ice chests can handle being sat on. Take the time to confirm with the manufacturer how much weight each cooler can handle before opting for marine coolers with seats.
Extra-thick roto-molded Sportsman coolers or a few Yeti coolers serve as a primary example of what unprecedented heights coolers can achieve in terms of durability and ice retention.
When considering ice retention and capacity, know how much ice you'll need to attain the optimal ice-keeping for each cooler. I'm especially recommending this to anyone who worries they may end up with a cooler that's not going to have enough space for their items. On average, I've used plenty of coolers with a 2:1 ice to items ratio.
Even so, factors such as the insulation design, materials, and outside temperatures should always be included in the equation.
Always take note of how heavy the cooler can become once it's packed to its maximum capacity. Great if you always have a companion available on-hand to help you carry it. However, if you don't want to encounter back issues later on, I suggest you limit yourself to the weight you can handle.
I'd even recommend you start looking at marine coolers with wheels for more convenient transportation. A shoulder strap may help as well.
Is the cooler not difficult to turn over if it has to be washed? A built-in boat cooler typically has a well-designed drain that should not only make cleaning a cinch but make it possible for the cooler to be refilled with ice quickly.
This is why I suggest you don't overlook how well-draining a particular box is.
Handles, Latches, Built-Ins, and Other Extra Features
The handle, in particular, should be a point of focus. Anything that appears janky or poorly attached should be crossed out. Latches, on the other hand, should be firmly attached with stainless steel parts to ensure they're rust-resistant and durable. Those that use a freezer grade gasket lend to keeping drinks cool too.
If you like cup holders, bottle openers, and rulers, then there's no shortage of options for these perks. Just make sure you'll actually use them and that the cooler is stable enough to make it possible to get the most out of them, much like when you install any cooler seat for boat.
Can most cup holders' designs really handle rocky turbulence when you're out at sea? That's something to ponder upon. On a related note, such scenarios do underscore the value of coolers with anti-skid feet features like non-skid rubber feet as well.
The Different Types of Marine Coolers
There's not much difference in marine coolers since they belong in an entire category of coolers already. Anything that has the "marine" label connotes all-weather protection and excellent ice retention.
You may see distinctions in design, like roto molded, stainless steel coolers, but they're variations that only increase hardiness and ice-keeping.
Size can also be a defining aspect. Nonetheless, these only connote marginal differences in capacity and portability. The same can be said for a built-in low-profile cooler for boats or a marine cooler with wheels. They add unique conveniences, but they overlap in most features and general performance.
Benefits and Drawbacks of Marine Coolers
Pros
They're usually made to last.
They can be cost effective compared to portable refrigerators or central cooling systems for boats. After all, you won't be paying for electricity just to hold ice and keep your food and drink items chilled.
They're cheaper than electronic cooling systems.
Most can be effortlessly carried anywhere.
They're better than regular coolers when keeping contents cold.
Cons
Their cooling capability is limited and dictated by the integrated insulation and ice packs.
Refrigerators deliver more consistent performance compared to most coolers.
Marine Cooler Vs. Regular Cooler: What's The Difference
Marine coolers are infinitely better when it comes to fundamental factors like ice retention and durability. In my Igloo marine cooler review, you'll see that I highlighted the lengthy cold-keeping and advantages like UV protection. You won't see these perks in a regular cooler.
Anything that has them can be considered as the best marine-grade already. There may be standard ice boxes that can take a decent amount of abuse from rain. Nevertheless, I'd be surprised if a few can withstand being baked in the sun for a day and not end up getting warped as a result.
The more recent roto-molded coolers and those that use ultratherm insulation occupy the highest pedestals among iceboxes, and they're usually labeled as marine coolers.
What Size Marine Cooler Do I Need
This depends on how much weight you can carry, how long you intend to use the cooler for, items you normally need to keep chilled, and your budget.
For boaters with center consoles and other medium-sized vessels, 60-quart coolers are the most common. You'll see brands claiming 94 cans can fit inside a 60-quart cooler. Based on my experience, there are companies that get this right, and there are others that don't.
That being said, I'd be more inclined to listen to a brand that gives me an exact figure on how much space they can provide. More often than not, they're the ones that deliver what they promise. They wouldn't be so bold to make such claims otherwise. Considering my total experience buying from different brands, I can attest to this as well.
Anyone meaning to use a cooler that can fit in smaller vessels should keep dimensions in mind. A 20-quart box, for example, may still not fit in your Jon boat or kayak because it has a rectangular shape.
How Long Can The Best Marine Coolers Stay Cold
Numerous brands claim that their products can make ice last for 3 days. Yes, this is the average for a marine icebox. However, I found that I can retain ice longer in most coolers, regardless of the insulation. This applies to soft-sided coolers and any soft cooler too.
For one, I like freezing the items I can freeze beforehand. If you can add more insulation on the cooler's lid with a spray foam, then consider that too.
I'm also not too keen to ignore the remarkable ability of some brands to make their coolers retain cold. Yeti boat coolers, with the Yeti Tundra being worthy of a special mention, are a good example of this, as are the best coolers of more innovative brands like Cubix.
What Is The Best Way To Clean A Marine Cooler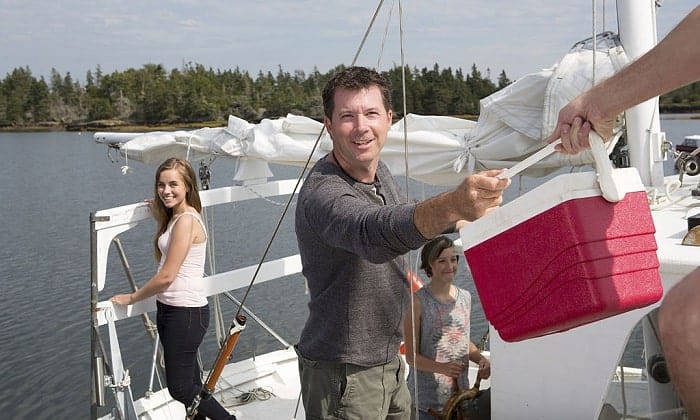 A great practice to start adapting involves prioritizing the cleaning of your cooler after you're done using it for the day. Any delay only increases the chance of leftover organic particles to become rotten and become a haven for molds. This is one good way of ensuring your cooler's longevity too.
A boating cooler with an excellent drainage system makes this job effortless for many owners. Before draining, make sure you take out all the items that you can still use. Afterwards, you can follow these steps:
Step 1. Rinse the interior with water, removing most if not all the remaining solid and liquid particles that didn't get drained.
Step 2. Use a dishwashing soap and brush to scrub the box. Rinse, then repeat the process until both the inside and outside are thoroughly cleaned. It's important to not miss any portion that may have been exposed to germs through direct physical contact.
Step 3. After this, you can air dry it. Better if it's sunny, and you can leave it out to dry.
If you're dealing with mold, you can always use a mixture of water and bleach. 1 cup of bleach to a gallon of water is a good starting point. Dab a cloth into the mixture then use it to wipe the cooler. Wait for at least 10 minutes before rinsing it and complete by wiping everything with a clean cloth.
Conclusion
The right cooler is determined by its ability to meet your cooling retention, capacity, longevity, affordability, and a host of other conveniences I included here. With a plethora of the best marine coolers you can choose from, this shouldn't be much of a struggle.
It's arguably easier to weigh your options, considering the price points of even the most high-end options out there. Most are relatively safe options for beginners, especially the products I highlighted in my marine cooler reviews.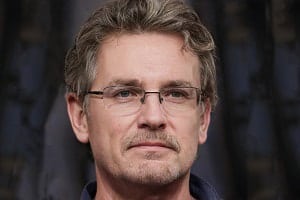 "I am James Harvey – founder of Boating Basics Online. It is established with the drive to help out first-time boaters, which are those desiring to explore their way through the water. So if you are new to boating, start from here with me. "