One of the best boat vinyl cleaner methods is dish soap and warm water. However, this approach is very time-consuming to erase elbow grease, molds, and mildews.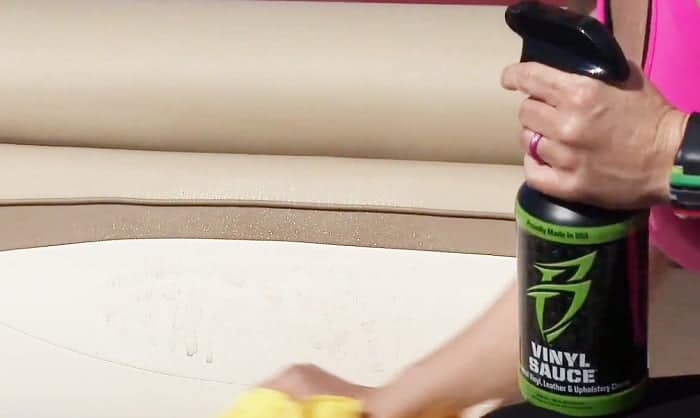 You need to know the best way to clean vinyl boat seats and other contact-surfaces of your boat!
Since the use of vinyl has become a steady product of choice for most boat owners, boaters, and mariners. You should opt for boat care products that cater to this boating material. We can assure you that they are worth the investment for your boat or recreational vessel.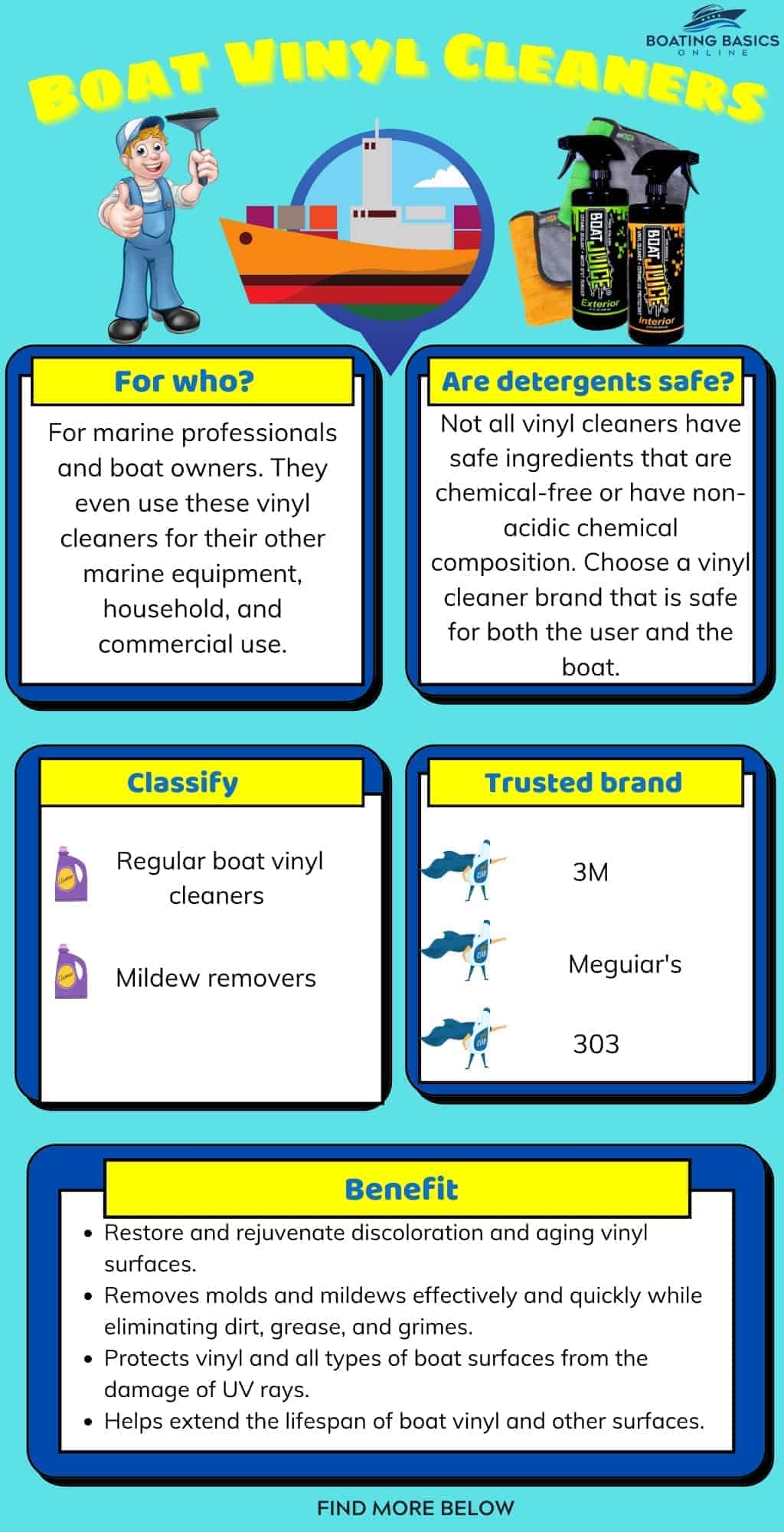 ---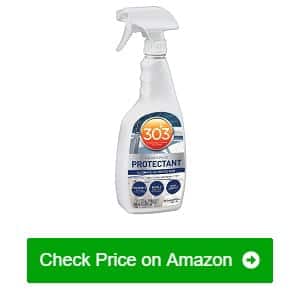 303 30350
UV protection
Restores lost color
Effective cleaner
---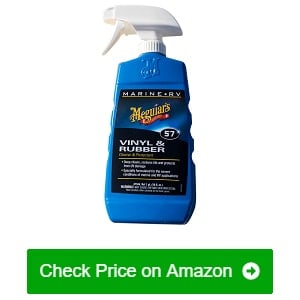 Meguiar's M5716
All-in-one product
Premium ingredients
Convenient trigger
---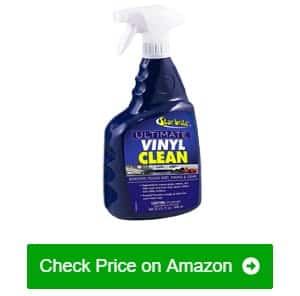 Star Brite 096232
UV protection
All-in-one cleaner
Friendly to most surfaces
---
Best Boat Vinyl Cleaner Reviews
1. 303 30350 Marine Protectant Spray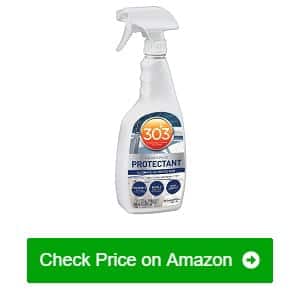 No bestseller can beat the protection and rich look offered by this 303 marine and aerospace protectant by Gold Eagle Co. An easy-to-use cleaner with ultimate UV protection for your vinyl, rubber, fiber, plexiglass, leather finish, and plastic surfaces, this 303 vinyl cleaner is buffered to ensure your boats and equipments' top-notch conditions.
It is more effective for boats, homes, and RVs than unbuffered bleach-water-based brands in terms of withstanding marine environments.
This protectant can keep your boat's seats, sails, hull, and windows clean from mildew and mold stains. Apply it onto the surface and wipe to restore color and sheen. Friendly for seat threads and stitches, it prevents them from fading due to extreme climates. I also used it to keep my inflatable boats from sticking together during storage.
Applying it evenly on my boat surfaces gets difficult and takes a long time, which I dislike. I have checked out what other boat owners say, and unanimously they have the same answer. "It is a bit tricky to have a uniform application on the boat's surfaces, that makes cleaning a bit longer. Evenly spreading it on a contact-surface prevents hours of heavy scrubbing.
I used it for my boat and gears, cleaning and restoring lost color with a dry-clear matte finish. Best on all your outdoor materials and boat surfaces for a lasting sheen. I've had a good cleaning time with all our boat seats and cushioned furniture using this protectant.
What We Like
Great for vinyl awnings, plexiglass, carbon fiber, rubber, plastics, and leather finish
Powerful UV protection against fading, cracking, and premature aging
Restores lost color with a clear matte finish and lasting sheen
Effective cleaner than unbuffered bleach-water based brands
What We Don't Like
A bit difficult for uniform application on boat's surfaces, thus extends cleaning time
Get this best marine vinyl protectant to keep your boat, water sports equipment, and outdoor gear shine in all seasons. Make it your worthwhile purchase.
2. Meguiar's M5716 Marine Vinyl Cleaner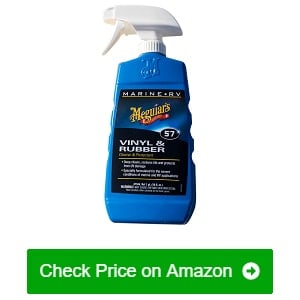 I've been using Meguiar's M5716SP cleaner and protectant for the past few years. It effectively cleans, restores, and protects my boat's vinyl and rubber surfaces. Rekindling color coats with a new rich and natural glossy look, it is even better than a 3M marine vinyl cleaner.
With premium ingredients and a specially-formulated blend, it deeply cleans and restores surfaces to a natural shiny look. It is friendly as an all-in-one product for both car and boat vinyl, seat's stitches, as well as rubber surfaces. It comes with a convenient spray trigger for easy use.
This cleaner has a complex blend that includes conditioners and UV protection qualities to prevent surfaces from getting damaged. I've never experienced any drying, fading, and/or cracking while leaving my car and boat under extremely hot, humid conditions while using this product. Plus, it does not contain bleach, which otherwise would have damaged my vinyl and rubber surfaces.
I don't like spraying it directly to surfaces to avoid over-saturation and a strong odor that is hard to handle. So, I recommend spraying it onto a towel and then wiping the surface. Make sure that you use it in a well-ventilated area and have a separate cloth handy to buff it.
What We Like
All-in-one product that can deeply clean and restore a natural sheen
Friendly for boat seat stitching and rubber surfaces as it does not contain bleach
Comes with premium ingredients to withstand severe marine environments
A convenient trigger that allows easy spraying
What We Don't Like
Spraying directly onto the surface leads to over-saturation and a strong odor
I highly recommend using this best boat vinyl cleaner and protectant specially formulated for severe marine conditions. You can use it in your car for a natural sheen and new rich look too.
3. Star Brite 096232 Vinyl Cleaner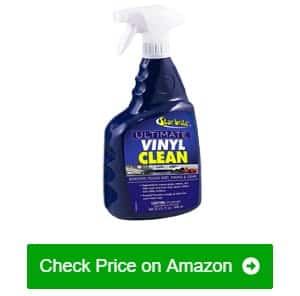 This Ultimate vinyl multi-surface cleaner by Star Brite is a bestseller for removing even the toughest dirt, stains, and grime from vinyl, plastic, rubber, and leather surfaces of boats. It provides the best multi-surface results while most products in the market limit to vinyl exteriors.
Ensure your boat surfaces against severe marine environments with this all-in-one cleaner, restorer, and protectant.
The vinyl cleaner is fit for cleaning in-ground dirt, grime, and grease from all kinds of vinyl surfaces. It only has to stay on the surface for half a minute to work its magic. I have used it several times, and I can say that it works excellently as the best boat interior cleaner.
This superb cleaner treats vinyl surfaces and solves users' dilemma of how to clean white vinyl boat seats. Just follow the instructions and put your gloves on, you are safe to use the product.
This vinyl cleaner protects my boat from dust and mildew longer than I expected. Its waterproof coating helps prevent vinyl surfaces from cracking or drying out.
I love how its UV protection shields my boat vinyl surfaces from harsh sunlight as well. Simply apply this cleaner and let it dry before buffing it off. However, for very stubborn stains, you will need to treat it more than once.
What We Like
Has UV protection to prevent harsh rays from damaging marine vinyl surfaces
Use on vinyl, plastic, rubber, leather surfaces, and white seats on marine boats
Use on car, RV, boat, seats, outdoor gears, and canopies
Friendly to vinyl as it contains no corrosive acids or cleaners
What We Don't Like
Requires repeated applications to remove stubborn stains
This Star Brite vinyl cleaner is your best choice for an all-in-one cleaning solution to revitalize your boat vinyl surfaces. You will surely feel that soft, comfortable finish of your vinyl upholstery and surfaces on your marine boat.
4. Boat Bling VS-0032 Vinyl Sauce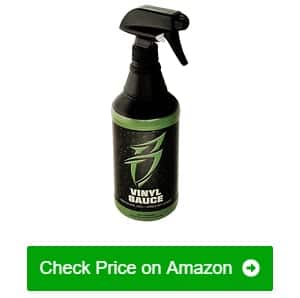 Another bestseller, the Boat Bling vinyl sauce, is perfect for automobiles, watercraft, RVs, campers, motorcycles, ATVs, and more. I think it's best to remove hard water spots, scum lines, and residue from boat vinyl, leather, and upholstery. Treat fiberglass, plastic, chrome, glass, carpet, and other surfaces with a simple spray.
This premium cleaner offers revolutionary detailing without stripping current wax and adds new wax sealants on each use. Leading boat manufacturers and owners trust it for their marine watercraft and even jet skis. Giving their boat a showroom-like look because of its effectiveness in cleaning off accumulated dirt on vinyl surfaces.
It comes in a spray bottle for boat owners to easy clean their boat seats. I like its simple, easy-to-use detailing products. You can quickly spray it to a surface, even hard-to-reach areas. Just scrub with a soft bristle brush in circular motions, wipe off with a clean towel, and you're good to go.
I also recommend using this vinyl restorer for boats because you will not have to worry about damaging your delicate vinyl and leather surfaces. It can help restore fragile surfaces that are easily damaged by other cleaners with abrasive solutions. It prevents mold and mildew, especially when leaving boats in storage for long periods as well.
What We Like
Has no abrasive components making it safe for delicate surfaces
Effective in removing accumulated dirt and stains without stripping the surface's coating
Helps prevent the buildup of molds and mildew during storage for long periods
Trusted by leading boat manufacturers and most boat owners
What We Don't Like
Not enough to remove tough and all types of stains from the surface
Overall, you can handle the toughest water stains without stripping off the surface's protective coating with this multi-purpose solution. If you need an effective cleaner for delicate vinyl surfaces, this is the one.
5. Star Brite Mold and Mildew Stain Remover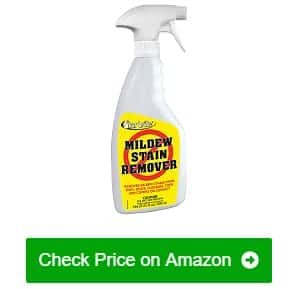 This mold and mildew stain remover by Star Brite helps you deal with exposure to extreme marine conditions, which makes boat seats and cushions prone to mold and mildew stains. Hence, you no more the worry about how to clean vinyl boat seats of mildew. This stain remover and cleaner with a high-alkaline, triple-action formula containing buffered-bleach will wipe out all mold and mildew stains.
This stain remover brand has chelating agents that lift ground-in dirt and surfactants that can cut grease and grime. It is very useful on boat carpets, getting rid of mildew and mold. Quickly remove unsightly mold and mildew stains from fiberglass, vinyl, plastic, wood, concrete, tile, and more with this. The specially buffered formula is good for vinyl upholstery or threads though designed for tough marine environments.
You need to wait until the stain disappears. I would suggest not rinsing it immediately for several rounds of application until the stain disappears completely. Make sure you rinse it thoroughly and wipe it dry to avoid degradation of the surface and stitching. I don't like applying this product repeatedly and do heavy scrubbing to remove the stain.
Overall, I like this buffered-bleach product that is better for my marine boat outdoor upholstery. I've used it on my boat and outdoor equipment acrylic fabrics, and it did not harm the threads. A more effective cleaner than other unbuffered brands. It has a professional-strength, concentrated formula for boats, homes, RVs, and is proudly made in the USA.
What We Like
Useful for marine boats, homes, and RVs under tougher marine environments
High-alkaline, triple-action, and buffered formula to remove mold and mildew stains
Using this on your boat seats or upholstery will not harm stitching or threads
Proudly made in the USA
What We Don't Like
Require repeat applications and more scrubbing for complete stain removal
Make your boat seats and cushions free from mold and mildew even with exposure to extreme marine conditions. This stain remover will ease your worries on how to clean vinyl boat seats of mildew.
6. 3M Marine 16904 Vinyl Cleaner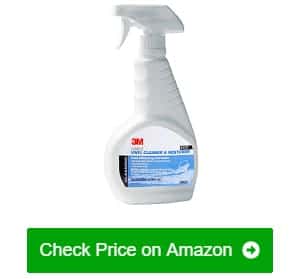 This 3M Marine vinyl cleaner and restorer is a top-rated interior care and all-purpose household cleaner. It is a great product that shines, conditions, and protects marine and household surfaces, such as vinyl, rubber, and plastic. It deeply cleans dirt and grime and restores natural sheen for an overall surface protection, leaving behind only a fresh lemon scent.
This superb 3M marine vinyl cleaner, conditioner and protector for boats can even rejuvenate rubber and plastic surfaces. I love gripping its uniquely-shaped bottle, which ensures an easy spray. Moreover, it features an effective formula with a neat one-step process for cleaning boat surfaces. Boat owners are fond of using it as their boat upholstery cleaner, finely cleaning and shining vinyl surfaces.
I am a bit wary, though, as its drawback is on restoring vinyl colors that have faded from sun bleaching. I have observed after several years of use, that it can clean but not restore, which seems misleading. Nonetheless, it is still the best cleaning product I have ever used, in terms of price and convenience.
All in all, it has helped my marine boat's vinyl. Use a soft-bristled brush to get all the dirt out of the surface and wipe it dry with a clean cloth. You need to scrub the surface as solely spraying the cleaner and wiping it off won't get you the best results. I also recommend that you clean it regularly for a softer look and prevent surfaces from cracking.
What We Like
A cleaner and restorer that rejuvenates vinyl, rubber, and plastic surfaces
Easy spray formula with one step process from a uniquely-shaped bottle
A marine vinyl cleaner and restorer with a fresh lemon scent
Boat owners love it as their best boat upholstery cleaner for new, richer sheen
What We Don't Like
Unable to restore vinyl surface colors that faded from sun bleaching.
Handle the bottle to prevent it from breaking its neck and enjoy a better cleaning and protection with this best boat upholstery cleaner. I highly recommend using this excellent cleaning product for your marine boat vinyl surfaces.
7. 303 Products 30204 Multi-Surface Cleaner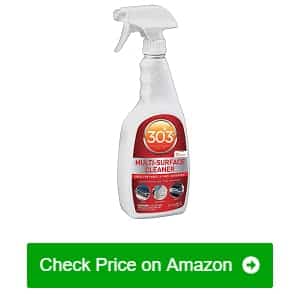 Get this 303 multi-surface cleaner for cleaning vinyl boat seats. You will surely benefit from its ultimate cleaning power that works on all water-safe surfaces and most delicate fabrics. Providing safe brightness, residue-free rinsing, and surface rejuvenation with a great lasting sheen or brightness.
I used it to clean food and drink marks from my boat's interior and galleys after a family boating. I am amazed at how this cleaner was able to remove dirt and stains even from my boat floor. I used it to clean the metal, rubber, aluminum, and wicker surfaces of my boat as well.
Clean all sections of your boat with this cleaner that is safe for your upholstery and vinyl! I like how it works to address the marine environment's damaging conditions to my boat's vinyl surfaces. It removes submerged stains within minutes and reverts discolored surfaces to almost their original finish.
You can use it for surfaces that are safe to wash or rinse with water. I like using it on greasy stains as it works great. What I'm not too fond of is when I use it on stubborn spots. I recommend that you use other 303 products that are more fit and effective as spot cleaners.
This 303 product is a premium cleaning brand made in the USA for marine boats and household cleaning. It has no harsh or caustic chemicals, which attributes to its stance as the best way to clean vinyl boat floors.
What We Like
Perfect for multi-surface cleaning needs of marine boats and households
A premium and residue-free cleaning brand made in the USA
Works on all water-safe surfaces and most delicate fabrics
No harsh, caustic, or acid chemicals can harm vinyl surfaces
What We Don't Like
Not effective on aged, stubborn, or unyielding spots
Get this multi-surface cleaner that is great for fabric and vinyl surfaces for maintaining your boat and home. Follow health safety precautions, and you'll enjoy its ultimate cleaning power and rejuvenating effect.
8. Boat Juice Cleaner Kit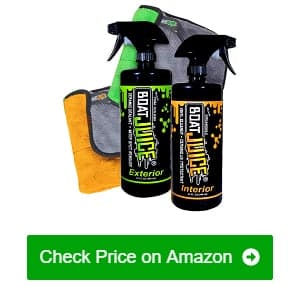 This Boat Juice cleaner kit by Detail Bros LLC comes with Ceramic SiO2 Sealant that can clean both the exterior and interior vinyl surfaces of the boat, while effectively removing water spots and deposits. Paired with microfiber towels, this is easy to use on multiple surfaces. It is a superior cleaner, spot remover, and protectant all in on.
The kit has a powerful cleaner that can even remove mineral deposits and hard water spots to give a sparkling surface while leaving a refreshing scent. It contains a high-grade polymer wax-sealant leaving your boat glossy and spot-free. You can safely clean your boat interior and exterior with the perfect balance between a cleaner and UV protectant.
You can use it safely on upholstery, carpet, plastic, and foam flooring. Cleaning your boat cannot be easier! It can quickly eliminate water spots from almost surfaces from glass, gelcoat, to brightwork. Its downside, however, is that it can't remove old stubborn yellowing stains.
Contains no acidic or caustic chemical, you can safely use this for boats, automobiles, motorcycles, RVs, and stainless kitchen appliances. I like how it quickly penetrates to remove pollutants, oils, stains, food spills, and ground-in dirt. The UV protectant also does not feel oily or slick. In the end, you will get a fresh orange creamsicle scent.
What We Like
Comes with two cleaners and a protectant plus two lint-free towels
Can easily remove hard water spots
Contains high-grade polymer wax-sealant providing a glossy feel and spot-free protection
Has a fresh scent and leaves a sparkling surface after cleaning
What We Don't Like
The cleaner is not effective in buffing-out all of the old yellowing stains
This is a product package that can quickly become your best vinyl cleaner. Use this product and leave a refreshing scent with the pleasure of use.
9. Spray Nine 26932 Marine Cleaner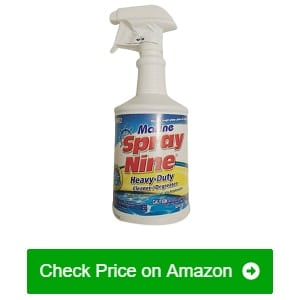 A heavy-duty brand by Permatex, this multi-purpose marine cleaner from Spray Nine can apply on carpets, RV vinyl, boat and most surfaces to make your boat look brand new. It effectively and effortlessly removes mold and mildew, bacterial odors, yellowing, hard stains,and eliminates germs.
This is the best cleaner for boat vinyl seats, hulls, fiberglass, galleys, covers, and awnings. No need for mixing with water! You just have to spray onto the surface and promptly wipe it dry. Same as I did after applying it on my boat vinyl and floors, you will get that new fresh scent. You'll love to smell it for long, expecting no sign of smelly mold and mildew smell.
I tried it on my car, and it still smells like Spray Nine. It is ideal for jet skis, RVs, personal watercrafts, life jackets, bait buckets, coolers, trailers, inflatables, camping equipment, and car upholstery. It has been rated no.1 vinyl cleaner by PowerBoat Reports and top-rated general cleaner by Practical Sailor. Undoubtedly, it is perfect for many boat cleaning applications.
Be careful as this is a powerful spray. Always wear gloves when using it. It contains strong bleach, which I don't like, as it causes discoloration that dulls my boat vinyl seats. For this, I recommend that you are quick to rinse, wipe, and dry with every application.
What We Like
A multi-purpose cleaner that disinfects and works in all decks
Eliminates germs, stains, yellowing, and bacterial odors effortlessly
Multi-awarded brand – rated no.1 vinyl cleaner and top-rated general cleaner
Saves money as it has similar efficacy as an expensive marine branded spray
What We Don't Like
Causes discoloration on vinyl cushions when applying it close to the surface
Marine Spray Nine is your perfect brand to bring on outdoor and marine travels all seasons of the year. You are set as long as you follow a safe handling procedure.
10. Better Boat Mildew Stain Remover Cleaner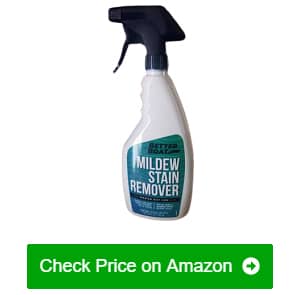 Extreme marine environments make boat seats, cushions, and floors prone to mold and mildew. Thus, the Better Boat stain remover and cleaner is what you need! A premium boat care and safe cleaner for your boat vinyl seats, fabric, cover, and floor. It works on tough mildew stains without heavy scrubbing!
I've been using this product long enough on my boat vinyl seats, floor, and carpet, following the bottle's directions. I observed that the scent is kind of a 'bleach' smell at the start, so I sprayed it on the contact surface and left it for 10 minutes. I am amazed at how stains and spots disappeared completely without scrubbing after rinsing and wiping it dry.
Give it about 15 minutes to loosen the stains and avoid discoloring your vinyl seats. It is worth the effort and time when stains and spots are gone!
Specially formulated as a stain remover for boat seats, covers, tops, and cushions to ease your worries. It comes from a family-owned American business that makes premium quality marine cleaning products in the USA.
I believe it's the best vinyl cleaner for boat seats and your RV and camper seats, canopies, and inflatables. Use it for vinyl sidings, outdoor pool, and patio furniture, and you can prevent stain formation on fabrics.
What We Like
Does not have bleach but works powerfully like bleach to remove mold
Family-owned American business committed to making premium quality cleaning products
Premium boat care and safe cleaner for vinyl seats, cushion, fabric, cover, and floor
Proudly made in the USA
What We Don't Like
The smell can be overwhelming initially, like a "bleach" sort of scent when spraying
This mildew stain remover makes me confident with its triple action power. I urge you to let it be your handy cleaner in removing mold and mildew stains and spots.
11. Boater's Edge BE1922 Mold & Mildew Stain Remover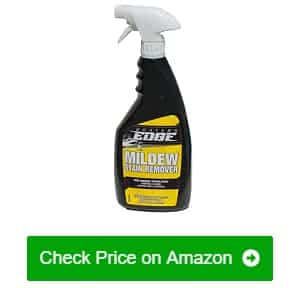 This Boater's Edge mold and mildew stain remover are best for marine upholstery, cushions, and covers. It contains buffered-bleach technology that works with a simple spray-and-wipe mechanism. To remove old stains, apply two layers, scrub, rinse and dry.
This has more effective cleaning power than unbuffered "bleach-water" based brands! Its high-alkaline and triple-action formula solution has buffered-bleach, chelating agents, and surfactants for overall cleaning of your vinyl surfaces.
Safe for marine upholstery and outdoor acrylic fabrics, and is friendly for stitches or threads, this is an unmatched product. I've seen how it works on awnings, fiberglass, wood, concrete, drywall, siding, grout, gutters, roofs, vinyl upholstery, and outdoor acrylic fabrics.
I like its strong concentrated formula for my boat, which is also good for homes, RVs, and commercial use.
This is another Star Brite product that is proudly made in the USA. Read cautions on the bottle label and test for discoloration in a discrete area before using it in a well-ventilated space.
Avoid mixing with homemade boat vinyl cleaner or other household chemicals for desirable results. It's recommended to keep the product from use by people with chronic respiratory problems or heart conditions. Also, it is not recommended for indoor fabrics and wood or paint-finished surfaces unless you plan to refinish or repaint them.
What We Like
Proven and tested buffered-bleach product by Star Brite, made in the USA
Works instantly on contact and safe for marine upholstery and outdoor acrylic fabrics
Easy to spray on contact surfaces and wipe away years of mold and mildew stains
Effective mildew stain remover and surface cleaner with high-alkaline, triple-action formula, chelating agents, and surfactants
Strong concentrated formula for boats, homes, RVs, and commercial use
What We Don't Like
Not suitable for indoor fabrics, wood, or painted surfaces
Not advised for people with heart conditions or chronic respiratory problems
This mildew stain remover is your best choice to easily remove unsightly mold and mildew stains and give your surfaces a makeover.
12. Meguiar's M180132 Marine Vinyl Protectant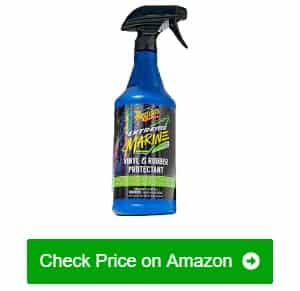 Another bestseller from Meguiar's is its marine vinyl and rubber protectant developed specifically for extreme marine conditions. Your best choice to revitalize, clean, condition, and protect rubber and vinyl.
You can simply spray and wipe to lightly clean and deliver lasting protection to your vinyl. It has UV-inhibiting agents and special conditioners that help prolong the life of vinyl and rubber surfaces in and around a marine boat.
This protectant has an advanced formula that is non-greasy and leaves a premium satin-gloss sheen. Furthermore, it contains an advanced formula that delivers lasting protection and light cleaning in one easy step. However, it is not suitable for deeper cleaning, which is its only downside.
Shake the product well and apply it on a cool surface and in the shade. Clean non-painted vinyl, rubber, and plastic surfaces but ensure that the vinyl, rubber, or plastic is dry before applying. Treat one section at a time to remove all dirt, grime, and pre-existing stains. Use a microfiber towel, spread the product thin and evenly across the surface, and buff off any excess with a separate dry towel.
I recommend this marine protectant because it is exactly as described. I use it on the canopy cover and other exterior surfaces of my boat under the sun. The exterior surfaces are exposed all day long every time I am out boating. But, with this product, I can keep the cover shiny, moist, and revitalized.I can also prevent UV damage, cracking, and drying out.
What We Like
Offers lasting protection and light cleaning in one step
Applying it on a cool surface and in the shade gives optimal results with a new rich loo
The perfect solution to revitalize, condition, and protect rubber and vinyl surfaces
What We Don't Like
Needs another product for deep cleaning
Get this best vinyl protectant and apply it to a cloth or microfiber towel and not directly to the surface, for safe use.
13. Marine 31 Mildew Remover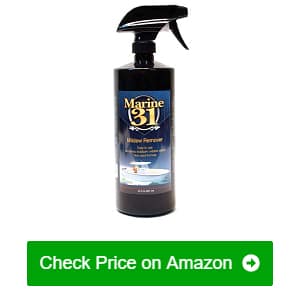 Another top-rated cleaner, the Marine 31 mildew remover, is fit for most marine surfaces. It has a unique advanced chemistry formulation to remove heavy and stubborn mildew stains without discoloring, dulling, or damaging contact surfaces. The best boat seat cleaner that gets rid of mildew stains faster than most of its counterparts!
Unlike other mildew removers I've used, it does not contain heavy bleach concentrations and harsh chemicals. I believe it's safe to use on most marine surfaces that fit this type of non-acid mildew remover. It did great on my boat vinyl seat cushions, canopies, fiberglass, gel coat, rubber fender, including my golf cart. It helps clean white vinyl boat seats despite being more costly than other similar brands and types.
I applied it directly onto my boat vinyl seat and left it for a minute to penetrate the mildew. For stubborn stains, after about 5 minutes, all are gone without scrubbing. What's more, it retains seat color and does not dry-up other vinyl surfaces on my boat. I think it removes dark streaks or heavily soiled areas on a boat if applied well.
Make sure to rinse and dry the surface promptly to avoid damage to stitches or threads. Though the bottle label says it has a non-acid formula, it's better to be safe considering its cost. Excessive use of bleach or acid chemicals is known to damage seat stitchings of vinyl upholstery. The bottle label should indicate the amount of bleach it contains for proper handling.
What We Like
Easy and safe to use for most marine and boat vinyl surfaces
Contains non-acidic formula that retains color and appearance of contact surfaces
Has uniquely advanced chemistry formulation with no heavy concentrations of bleach and other harsh chemicals
Removes stubborn mildew stains damaging seat stitchings of vinyl upholsteries
What We Don't Like
A bit pricey compared to the same product type and size
Use this mildew remover to work wonders for your boat vinyl surfaces but with extra care on your upholstery stitching for longer use.
Features To Consider When Buying A Boat Vinyl Cleaner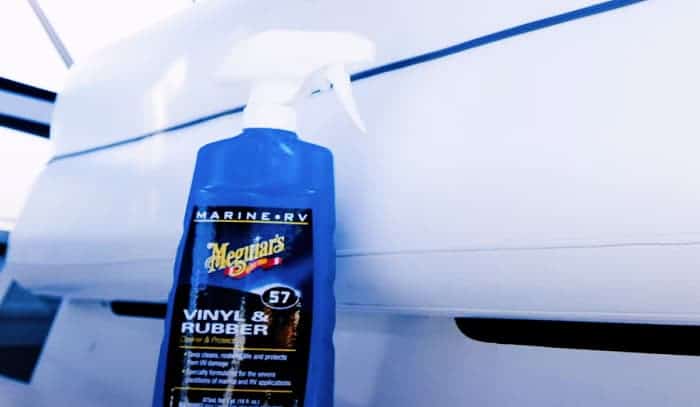 Buy based on facts and good user experience! These features will guide you in making your best choice of a vinyl cleaner for your boat.
The brand value matters and should be considered as it is often an indicator of product performance. A renowned brand will more likely complete your dirty tasks smartly. As a result, you will get your peace of mind.
Choose boat vinyl cleaners and protectants from trusted brands. Leading boat vinyl cleaner brands ensure that they have solid features to enhance your cleaning experience.
The best marine vinyl cleaner features premium ingredients for high-quality shining and protection results. Leaving your boat vinyl, rubber, and even plastic surfaces with a clean, rich, and natural sheen instead of a greasy or artificial look.
The quality of cleaning and protection may differ between brands. Know the quality of your boat vinyl cleaner product as it is critical to your boat. Your safest bet is a marine-grade boat vinyl cleaner.
Product durability comes from an active ingredient with a special formulation geared against severe conditions or harsh marine boating environments. It can maximize a cleaner's power to remove mineral deposits and water spots where dust, dirt, and mildew stains occur.
Choose a vinyl boat cleaner that can effectively and quickly remove stains, dirt, and grimes. Cleaners that come with conditioners and UV-resistant will help to reduce damage from exterior factors and prevent surfaces from drying, fading, or cracking.
Choose a vinyl cleaner that is convenient to apply on contact surfaces. Most come in bottle spray with an easy-to-squeeze trigger. Some leave a surface sheen that lasts long, and only need a follow-up dry wipe! A 2-in-1 cleaner and UV protectant also makes cleaning your boat easy.
Choose a boat vinyl cleaner that is easy to use before, during, and after the cleaning process. Simple direction for use matters, so choose the brand that has the simplest cleaning procedure.
Choose the product that leaves a nice fresh fragrance after cleaning.
A lot of brands with the same product type come with a strong overpowering odor, which brings an uncomfortable experience for you and the people who board your boat. Choose something fresh smelling, and avoid using homemade vinyl boat cleaner like vinegar-based solutions to get the job done.
Safe Ingredient Formulation
Not all vinyl cleaners have safe ingredients that are chemical-free or have non-acidic chemical composition. Some contain acid or caustic chemicals that can damage vinyl surfaces and endanger human health. Choose a vinyl cleaner brand that is safe for both the user and the boat.
Product Versatility and Flexibility
Last but not least, of all these features, consider the flexibility and versatility of a boat vinyl cleaner. Choose in terms of ability to be effective as a multi-surface marine boat cleaner. Vinyl surfaces are the primary cleaning target but consider other surfaces in the boat for maximum usability.
Select a cleaner that is versatile enough to be effective on different surfaces. Cleaning the whole area of your boat, even your home, car upholstery, furniture, and outdoor equipment is one serious and tough task.
Benefits and Drawbacks of a boat vinyl cleaner
Boat vinyl cleaners have their benefits and drawbacks:
Benefits:
Helps restore and rejuvenate discoloration and aging vinyl surfaces to make them look brand new
Removes molds and mildews effectively and quickly while eliminating dirt, grease, and grimes
Protects vinyl and all types of boat surfaces from the damage of UV rays
Helps extend the lifespan of boat vinyl and other surfaces
Easy to use application of vinyl cleaners compared to homemade vinyl solutions
Most vinyl cleaners have multi-surface action formula – as a cleaner, mildew removal, protectant, restorer – plus disinfectant features
Drawbacks:
Some marine boat vinyl cleaners can damage a surface because of its strong acid chemical formulation. These have a strong overpowering smell that causes discomfort for
Expensive if not chosen wisely
What is a boat vinyl cleaner?
Boat vinyl cleaners are specially formulated solutions to neutralize dirt, mold, mildew, as well as damages from the sun and extreme environments. Vinyl cleaners come in different formulations, and some are made to work as a 2-in-1 cleaner and protectant. Marine cleaners work to maintain, restore, and extend the vinyl's lifespan.
What is nice about vinyl cleaners nowadays, is that they are effective stain removers, dirt cleaners, and disinfectants. As simple as spraying on a contact-surface! Leaving a few minutes for the solution to work through the stain, rinsing, and wiping dry.
Who are these vinyl cleaners for?
These boat vinyl cleaners are for marine professionals and boat owners. They use vinyl cleaners to ensure proper and regular cleaning, restoration, maintenance, and protection of their boat's interior and exterior parts. They even use these vinyl cleaners for their other marine equipment, household, and commercial use.
A common use of boat vinyl cleaners is to remove stains from mildews, molds, dirt, and grime in seat cushions and upholstery fabrics. They use cleaners to prepare new boats or restore the freshness of old and aging boat parts.
Vinyl cleaners help restore and rejuvenate vinyl surfaces from discoloration because of the harsh environment, UV rays, and other aging-inducing factors. They help polish a whole new rich look and leave behind fresh scent for vinyl surfaces.
What are the types of vinyl cleaners?
You can classify them into two types – regular boat vinyl cleaners and mold and mildew removers.
The regular boat vinyl cleaners remove dust, dirt, grease, and grime on marine vinyl surfaces, with some offering protectant features to prevent the vinyl from cracking or fading. Some also offer disinfectant features to kill germs and eliminate bacterial odors.
The second type of vinyl cleaner is specially formulated for mildew stain removal. When boat interiors are wet, it becomes an ideal environment for molds and mildew to thrive. To eliminate them using standard cleaners can be quite challenging and time-consuming. But with a good mildew-specific cleaner or remover, you will only require a bit of effort and less than a few minutes.
Take note that mildew-specific cleaners penetrate more than the standard type. Also, using them frequently or excessively can backfire. Use the right amount, product, and directions when handling these cleaners, and do not opt for any random homemade vinyl cleaner for boat seats.
Care and Maintenance
Clean your boat vinyl surfaces before you apply your cleaner and protectant products. Use only marine-grade boat vinyl cleaner. Be careful not to directly apply it to the surface or fabric to avoid over saturation and spillage. Check all surfaces of your boat to apply cleaner and protectant as soon as a surface coating fades.
Follow the instruction on handling and caring for your marine cleaner product. Put the product in a safe place away from children, people with health conditions, and also prevent deterioration or damage from heat.
How Do I Protect My Boat Seats From The Sun
The best way to maintain your seats is to wash them with a marine-grade boat vinyl cleaner, or a mix of mild dish soap and warm water using a soft-bristled brush. After the seat is thoroughly dry, apply a vinyl protectant's thin coat to seal the material. Ensure to leave a layer of surface coating for sun protection.
How Does Boat Vinyl Cleaner Work
There's no definite answer to how boat vinyl cleaners work. But we can describe the way of removing dirt, stains and mildew from your boat seat or vinyl surfaces. Each boat vinyl cleaner has been specially formulated to clean, shine, remove, rejuvenate, and restore.
Your boat cleaner works in different ways, depending on the brand you use, but all come with easy-to-use features. Follow directions or user reviews on actual use and tested results. Most boat vinyl cleaners have non-acid formula or safe chemical ingredients to clean vinyl surfaces in your boat.
What Is The Best Way To Clean Vinyl Boat Seats
Clean your boat as frequently as possible to prevent molds or mildews. You can do conventional cleaning using water and mild soap to remove dust, dirt but not all molds and mildew. Or use appropriate boat vinyl cleaner brands that fit your boat's condition considering the harsh environments where you operate it.
How To Make My Vinyl Boat White Again
Aside from the vinyl cleaners that we have listed here, you can clean your boat with a homemade vinyl cleaner by a mix of 1:1 water and white vinegar. However, all vinyl manufacturers warn about using cleaners that have harsh chemicals or acidic may cause damage to the vinyl surfaces and the thread.
How Do You Get Stains Out Of Vinyl Boats
Get the stains out of your vinyl boat seats by wiping a triple-action stain remover or alcohol-based cleaner to the surface. It can eradicate mold and mildew stains from the vinyl surface of your boat seats. Use only products with non-acid cleaning ingredients and avoid using harsh cleaners containing ammonia and bleach. They can easily scrub off or sand down the vinyl material.
Who Makes The Excellent Boat Vinyl Cleaner
The front runners are Spray Nine, Star Brite, 303, 3M, and Meguiar's. Most boat owners and boat makers rave about these top brands' mildew stain remover. You may also benefit from their powerful formula combinations. It mainly depends on your preference or who you are asking of which exactly is the best maker among them.
Where Can I Buy Them
The best boat cleaners for a vinyl surface are available to the public. Popular brands like 3M, Meguiar's, and 303 provide them through home improvement depot and hardware. You can see them in the boat supply, car care, or cleaning aisle.
Buy them directly from the brands' site or other eCommerce platforms, allowing you to compare prices and features. However, you may have to wait before it arrives, considering the current shipping conditions locally or internationally.
Conclusion
Secure the safest and best boat vinyl cleaner of your choice to clean and maintain your marine boat surfaces. Select among these variants of vinyl cleaners that prominent manufacturers provide in the market.
Keep your boat vinyl surfaces clean, protected, and shiny each season of the year with this boat vinyl protectant review. Hopefully, you will get the best stain removal results!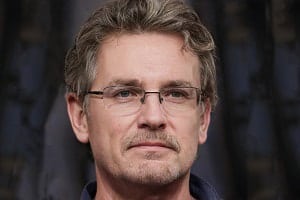 "I am James Harvey – founder of Boating Basics Online. It is established with the drive to help out first-time boaters, which are those desiring to explore their way through the water. So if you are new to boating, start from here with me. "