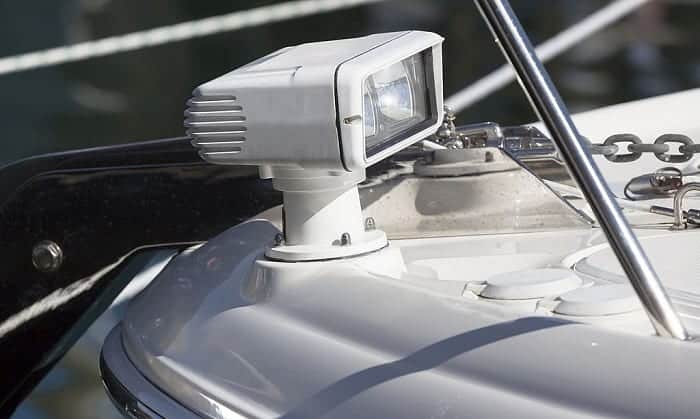 You may think that spotlights are just bulky and large flashlights or halogen bulbs that are not convenient to use in your boat. But once you have the best boat spotlights, you'll know the difference it makes for smooth sailing navigation. Here are the tips on how to identify them:
The Bulb: LED, fluorescent, halogen, and incandescent are the types of bulbs available in the market. When looking at marine spotlights, you must know their bulb capacity. LEDs are the most superior choice due to their minimal energy consumption and longer service life. They're also safe as they don't easily accumulate heat.
On the other hand, halogens have lower energy consumption but cost a lot. Fluorescent has more life, so it lasts for a decent period. You may save money on incandescent lights but they're not energy-efficient.
The Brightness: 'How many lumens?' is a question you may ask regarding your concern with the light output of the boat spotlight. You would know the level of brightness and visibility range based on lumens. Ideally, you would like to have high lumens to be able to have a bright light.
Waterproof: Since boat spotlight is intended for marine use, being waterproof is crucial. It has a big part in keeping the light functional. Accidents can happen anytime like dropping your marine spotlight all of the sudden. Even if this circumstance happens to a waterproof marine spot light, it won't malfunction.
Battery Capacity: You don't want to keep a spotlight that has run out of battery. It's such a bummer if it happens when you're sailing at night. So, better buy one with a high battery capacity. The batteries that you can find in spotlights may be rechargeable and disposable.
Dimension and Weight: Due to misconceptions, many think that spotlights for boats are bulky. If you're wise enough, you can find one that won't strain your arms. You have to choose a lightweight and comfortable piece. When you have a portable spotlight, storage won't be a problem as it won't take up a lot of space.
The Built: It's smart to choose one that is designed for rugged use. Apart from being waterproof, it should be able to withstand impacts, dents, scratches, and bumps. If a marine spotlight for boats is built to last, it can withstand bad weather conditions and harsh environments.
The importance of having quality marine accessories is acknowledged by this review. Thus, here's a list of the boat spotlights that bear these notable qualities. Take time to check every product as you'll find the right marine spotlight that can serve your purpose and fulfill your needs.
---
BUYSIGHT B743-G Spotlight
Can withstand rain and water
Has high battery capacity
Offers lifetime guarantee
---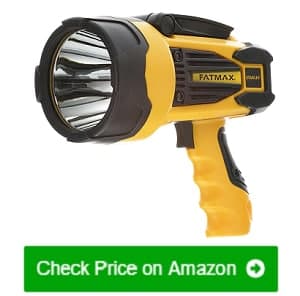 STANLEY LED Spotlight
Improves night vision
Shines throughout the long duration
Has a collapsible and pivoting stand
---
BIGSUN Rechargeable Spotlight
Three light modes
Filled with a high-energy battery
Allows you to charge mobile phone
---
Best Marine Spotlight Reviews
1. BUYSIGHT B743-G Rechargeable Spotlight
There are a lot of surprises from this affordable, rechargeable LED boat spot light. It's the brightest light that I've ever had in my possession. Based on its abilities, it's not your everyday flashlight. You can choose from two settings of strong light and weak light. On the sides, there are red and blue lights that work as warning lights. It can work as a flood light if you turn on the side light switch.
It's multi-function; thus, you can have it as a work light, lantern on campsites, and more. Being lightweight makes it perfect as a handheld spotlight. This feature makes it the best spotlight for boating; I can take it to any section of my vessel. Nonetheless, you can also just let it sit on its bracket.
Blame it on my memory as I often leave this outside after using it every night. It faced rain and water without showing frailty. Yes, I make use of its brightness even though I don't explore the nearby wild river. I even dropped it a few times. I'm glad that it didn't give up on me despite my negligence. No cracks emerged after incidents. To conclude, the aluminum alloy shell is sturdy.
I'm also impressed with the high capacity of its battery. It didn't fail in giving me the light that I need because I also keep an eye on its need to be charged. Upon seeing the lifetime guarantee offered for this product, I wasn't surprised. This Buysight rechargeable spotlight is terrific. There's only one little thing that bothers and it's the mushy button but it doesn't affect its performance at all.
What We Like
So bright with various light settings
Light; can be handheld or place on its bracket
Can withstand rain and water
Tough and not easily broken with its sturdy aluminum alloy shell
Has high battery capacity
Offers lifetime guarantee
I applaud the price, quality, and performance of this product. Thus, it's the most suitable boat spotlight for me, and I will use it in my entire lifetime.
2. STANLEY FATMAX SL10LEDS Ultra Bright LED Spotlight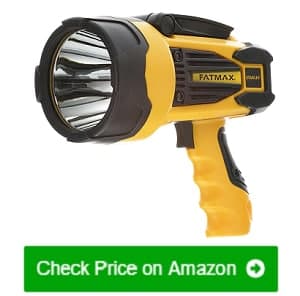 Accurate words are used in describing this spotlight for long distance as it's indeed ultra-bright. I can't help but be amazed when it beams out as far as the naked eyes can see. When I tested it in my yard, it knocked me off my feet when I saw an owl 30 yards away. Eventually, it didn't disappoint in improving my night vision every time I'm out sailing and fishing.
Despite having GPS on board, it's still necessary to have lights for eye-balling markers and buoys. Thanks to this marine LED spotlight, I can spot them even from afar and I can avoid running over narrow waters.
Due to the lithium-ion batteries, it shines for a long duration. There are charging adaptors in every purchase so I can charge it at home or in my car. I like that I can charge my phone with it when it runs out of battery.
I confirm that it has durable housing as it faced water splashes a couple of times though I'm afraid it's not submersible. Even with frequent use, it has survived a saltwater environment. It's not strenuous to use as it has an ergonomic rubber grip. Moreover, it's super easy to set the light setting as I can push the trigger while holding the pistol grip.
You may use it hands-free as it has a collapsible and pivoting stand. So, don't be surprised if you see it in camps and other outdoor activities. It's also handy as an emergency light.
What We Like
Ultra-bright with a beam that goes a long distance
Improves night vision
Shines throughout the long duration
Has durable housing so it survives water splashes and saltwater environment
With ergonomic rubber grip for comfort and easy changing of light setting
Has a collapsible and pivoting stand
I no longer reach out for a dead spotlight. The most awesome part of using this marine rechargeable spotlight is that its illumination reaches long distances.
3. BIGSUN Rechargeable Spotlight
I'm grateful for all the honest comments in marine spotlight reviews. They saved me and my chums from running aground when I was looking for the right anchoring spot. The brightness coming from this light covers a large distance with a directional beam. Hence, I can have a clear view of my surroundings and what's ahead.
There are three modes to accommodate your illumination needs. It's convenient to control it with the buttons on the grip and the side. The red light from it is gentle to the eyes. Another thing that I love about this item is that it's lightweight. The handler and holder both have a friendly user design. But it might fall off when placing it on its holder's if you fold the legs incorrectly.
When it comes to durability, this LED spotlight for boats stands out too. The strength of military-grade ABS material and aluminum alloy is impressive. So, you won't think twice about having this in your vessel. No saltwater or harmful elements can bring it down. Thus, it's just reasonable that a 360-day warranty is offered.
It contains a rechargeable lithium-ion battery that has high energy. I can attest to its capacity as this light didn't fail to work when needed. It has an AC adapter and USB charger, which allow me to charge my mobile phone as well.
What We Like
Brightness and directional beam covers a large distance
Three light modes that can be conveniently controlled
Has friendly user design
Durable for marine use with a 360-day warranty
Filled with a high-energy battery
Allows you to charge mobile phone
What We Don't Like
Might fall over when the holder's legs are not properly folded out
My tasks onboard are easier because of this spotlight. I feel secure when fishing at night as it doesn't run out of battery. There's no dread of boat collisions and accidents as well.
4. GOODSMANN 9924-H101-01 Rechargeable Spotlight
This Goodsmann submersible LED spotlight is completely waterproof. It floats with its housing that is composed of polystyrene and impact-resistant ABS material. I dropped it in the water a few times but to my relief, it's easy to retrieve together with its wrist strap. Being tough like this, it's understandable that there's a one-year warranty offered.
There's a part of me that doesn't trust rechargeable marine spotlights for boats. But this one proved me wrong due to its great battery life. I have two in my boat and I'm glad that the car and USB chargers come with every purchase for the rechargeable battery. It never disappoints me but I still keep a power bank for it.
Due to its extreme brightness, I can say that it's more than just a spotlight. You'll be impressed with the range of its irradiation distance. With immense light coming from this marine spotlight, it can light up the whole street.
There are three light modes but I have to toggle through when switching to high mode, low mode, or SOS alert mode. I think it will be much better if there's a selector so I can easily select the lighting that I prefer.
Since this is a completely waterproof spotlight and lightweight, you can take it swimming. Nonetheless, you can find it in other applications like cave exploration, camping, and hunting. Of course, this spotlight is great for fishing and hunting. There's also a sturdy stand to prop it up for hands-free usage.
What We Like
Completely waterproof and it floats
With impact-resistant housing
Offers one-year warranty
Has a great battery life
With immense brightness with three light modes
Lightweight and can be used hands-free when placed in its stand
What We Don't Like
Have to toggle in switching into a different light mode
The ads of this LED spotlight are not a bluff as it's waterproof and submersible. You'll see it with me all the time when I sail and am on my way back home at night. I'm grateful for it, and I can't say anything bad about it.
5. YIERBLUE YB-953 Rechargeable Spotlight
It's just reasonable to wish for a heavy-duty spotlight like this as there are harmful elements in the waters. But I'm amazed at how compact and lightweight it is. The housing is made of military-grade ABS material and aluminum alloy that is tough enough to counter impact and bumps.
There's no need to check the list of waterproof spotlights for boats as this one serves me well. It's trustworthy and the manufacturer is confident to offer a lifetime warranty.
The brightness that this LED light emits is not glaring so it doesn't hurt my eyes. I can say that it's 2 in 1 because of the beam distance that can be centered focus and a lightened halo that begins from the center point. Accordingly, you can have it as a safety aid in any dark moment.
The boat lights have three adaptable settings which are low, high, and a combination of red and blue. I can change the setting by pressing the buttons found on the grip. In this regard, I have a minor complaint as I need to cycle through the options by pressing a few times.
Aside from being handheld, it can sit on its tripod while I do tasks that require both hands. Although it works with rechargeable batteries, it's still dependable as it has long battery life. I understand why it works this way as there are lithium-ion batteries that are empowered by a USB charger.
What We Like
Heavy-duty but compact and lightweight
Counters impact and bumps
Comes with a lifetime warranty
2 in 1 brightness that is not glaring
Has its tripod
Long battery life
What We Don't Like
Cycling through the light modes
Being heavy-duty with gentle brightness makes this boat spotlight incredible. I no longer hesitate to sail and fish at night as its beam distance ensures safety.
6. Jabsco 60020 Series 135SL Marine Halogen Searchlight
It's not necessary to spend a thousand dollars for the replacement of a marine remote spotlight. This boat-mounted spotlight has the same ability as my 28-foot Carver in withstanding water splashes and harsh marine environments. I couldn't be happier! The housing is non-corrosive with a patented clutch mechanism to prevent damaging the motor. Therefore, it stops working when the limit is reached.
You can't expect less from a boat spotlight with a remote control like this one. Observations can't be cast aside as I've been using this for a long time. I found out that the whole unit rotates left and right. But only the internal part goes up and down. Surprisingly, it doesn't hinder its range.
I also got a 15-foot cable to connect it to the power source. My excitement of installing it is interrupted as this cable is inadequate. I wish it's longer but working on additional lines is not painstaking at all. It only took me half an hour. Rest assured that the entire process of installation was done with no sweat.
This halogen bulb is the brightest spotlight that I can use for halibut fishing after midnight. I love how it pans and tilts, paving the way to a bountiful catch. Such amazing capabilities make this marine search light suitable for moorings, locating buoys or channel markers, and many more. You may also appreciate it on RVs and other vehicles.
What We Like
Withstands water splashes and harsh marine environment in non-corrosive housing
With a patented clutch mechanism with limits to prevent motor damage
Comes with remote control for rotation in an unlimited range
No sweat installation
Gives sufficient brightness
Wide range of application
What We Don't Like
The cable should have been longer
Choosing this searchlight as a replacement for my boat is one of the best decisions that I've made. I don't need to spend a lot of money but it can aid every time I go night fishing and for the years to come.
7. MAIX Boat Spotlight
This boat mounted spotlight is so cool because it works for efficiency. It rotates around 360 degrees so it operates as multi-angle and multi-directional. You'll be amazed at how it moves up and down as well as reaches distances. This remote spotlight for boats can guide you as you sail in the dark. I feel relieved thinking that I won't crash into something that I don't see.
I know I can take advantage of this brightness in the long run as it has durable housing composed of thermoplastic material. Its resistance against oxidation and impact is for real. Furthermore, you can use this in your marine expeditions as it has an IP67 waterproof rating. Water exposure can't be avoided when sailing but I don't worry that this bulb will go off.
The base of this spotlight is compatible with my marine spotlight rail mount. Thanks to this part as there's ease of mounting. There are only two wires that I have to deal with. I'm not only pleased with the construction but also with the breezy installation that results in firm fixation. At the same time, it's not heavily constructed anyway. I only need to separately buy three pieces of #10 x 1" screws.
With the available remote control, it's easy to turn it on and off whenever needed. Many coast guards and marine police use this. As a recreational boat owner, this is the brightest spotlight for me. It's also utilized on home lighting, garden, camping, and other terrains that need adequate lighting.
What We Like
Rotates 360 degrees to reach distances
Operates as multi-angle and multi-directional
Has durable housing to resist oxidation and impact
With IP67 waterproof rating
Easy to mount
Easy to turn on and off because of the remote control
This is an excellent marine remote spotlight for me as it can rotate 360 degrees. It's an ability that I need when I go night fishing and must check things that are around my boat.
8. ZOHI ZML102 LED Super Bright Spotlight
It just makes sense to fall in love with this light. I never thought it would be super bright and the illumination goes farther than I expected. There are five light settings, which are high, medium, low, strobe, and SOS. The powerful three levels of lumens do wonders! Since you can rely on it, it's not only for boating. You may have it as your everyday flashlight or take it with you on various outdoor adventures.
I consider this as a tough guy due to its durable housing of impact-resistant plastic. I've witnessed how it remains tough in a saltwater environment, and it can't be denied that it's solidly built. After a long time of use, it proves that it's waterproof and submersible. Unfortunately, I sometimes drop it in the water, and I'm just wide-eyed to see it floating.
Hence, it doesn't break down or cease working when used all night long for crabbing or fishing. This is the only spotlight for bass boat I trust. I even have one in my car for an emergency light.
Due to its high battery capacity, it won't leave you groping in the dark. It can also function as a power bank to charge phones. Also, I like the pistol grip for comfortable handling. I don't mind carrying it for lengthy periods. I can't say anything bad about this light except for something that I did before starting to use it: the red filter is hard to remove.
What We Like
Super bright with five light options
Inside an impact-resistant, durable housing
Remains tough in a saltwater environment
Waterproof and submersible
Has high battery capacity
Has a comfortable pistol grip
What We Don't Like
Has a red filter that is hard to remove
This bass boat spotlight allows me to take it easy when I go fishing or crabbing. I won't trade this for any other light. With its unfailing abilities, I think it's my ultimate spotlight!
9. Diskap Rechargeable Spotlight
Since it met my expectations, this is the right marine handheld spotlight for me. It accompanies me when I go fishing in the evening with its brightness and strong beam. I'm not lost in the dark as its illumination guides me. Safety is not a worry anymore as I can see everything around me. I don't struggle when docking at night.
The radiant light from it can reach a distance as far as 2,600 feet. I'm happy with its scope but you should know that it doesn't work like a flood light. In my case, I appreciate its focus a lot. The main light is superb, and it can be in low and high modes. There are flashing sidelights that are in red and blue colors too. With any of these functions, the light is always prominent in hazy and foggy weather.
It doesn't falter to serve me in my whole fishing trip as it has a powerful bulb with lithium-ion rechargeable batteries. I think it's a great bonus that I can charge my gadgets with it.
A 24-month warranty is provided for this product. I consider it a short explanation of its durability, which is guaranteed by an impact-resistant housing. This is proof that it's suitable for marine use, and I can testify based on using it for a long period. It's also terrific for other applications, such as outdoor travel and emergencies.
You can use it hands-free by placing it in its foldable tripod and strap. I keep it in its free storage bag when not in use to prevent damages or scratches.
What We Like
Bright with a strong beam that can reach up to 2,600 feet
Has main light and sidelights
Prominent in hazy and foggy weather
Powerful bulb with lithium-ion batteries
Provides 24-month warranty
Free tripod and storage bag
What We Don't Like
Doesn't work as a flood light
When fishing in the dark, I sometimes need to look at something closely for distinction. As this light can reach a long way, I can see what's ahead of me. All in all, this ensures my safety all the time.
10. GOODSMANN 9212-89201-01A LED Portable Spotlight
It's smaller than a traditional handheld spotlight but it's an advantage. The size is just right for my hands. It's not tiring to carry it for a long time, especially if I need to go to different parts of my boat. As a compact spotlight, it won't be hard to store when not in use.
Despite the small size, the brightness from this rechargeable marine spotlight is great. I think it's more than a thousand lumens. It can even reach a distance that is a hundred yards away. Safety is guaranteed during night fishing while boat collisions can be prevented. It's also used for other outdoor activities.
It comes with a whistle and together with its brightness, it's useful for rescuing and emergency cases. There's a stand for hands-free use and a wrist strap to make it stick with you when you're swimming or tending other things. With the strap, you won't be scared of losing it.
My friend and I love night swimming and we use this spotlight for boating at night. It can float underwater and it illuminates the surroundings while we enjoy the cold water. So, you don't have to hesitate to buy this for your boat as it's waterproof and submersible. The sturdiness comes from its aluminum casing.
The light is never interrupted as it has a long battery life. But I just wish that the manufacturer has indicated the type of battery so I won't have to spend time looking for it.
What We Like
Compact and not tiring to carry
Used in outdoor activities like swimming, camping, and more
With brightness that goes a hundred yards away
Has a stand and wrist strap
Waterproof and submersible
Has a long battery life
What We Don't Like
No indication of the necessary battery
I'm a fan of compact things like this one as it's convenient to use but effective. I decided to buy this for my boat since there's a lot of testimony that it's waterproof and submersible in the hull truth forum.
11. Partsam Pair 102W 10200LM Marine Spotlight
Why won't I be obsessed with this spotlight? It's not one of those products that only claim to be the top-tier marine spotlights. This proves its worth mainly with its brightness. It's perfect for night fishing and hunting. Thus, FFC, CE, and RoHS certificates were given to this spotlight because of its abilities and safe parts.
The ability to rotate is essential for a spotlight and this one can turn around 180 degrees. You won't know when you'll need illumination in some directions and angles. Once the spotlight rotates, you can let it focus on a specific area.
The two-year warranty is unbelievable but once you use it, you'll understand why. The light is encapsulated in a quality lens and aluminum shell. It's similar to a stainless steel spotlight. Also, the light holders of this pair of spotlights for every purchase are reliable. They're both waterproof and made for marine use.
It is extremely weather-resistant, so it can face rainstorms and snow. As expected, it can withstand a harsh marine environment. As you can see, it has all the features that you expect from the brightest light. But it's not handheld and you have to mount it fixed on the appropriate part of your boat. You can make it work with 10V to 30V.
What We Like
Bright spotlight that receives certificates for its abilities and safe parts
Can rotate 180 degrees
Has two-year warranty
Encapsulated in quality lens and aluminum shell
Waterproof and has an extreme weather resistant
What We Don't Like
Not for boaters who prefer handheld spotlight
Since I need my spotlight permanently stationed in my boat, this favors me the most among the brightest spotlights. I like that it can shine at any angle because it can rotate. It's tough enough to be with me when I sail.
12. Brinkmann Qbeam Max Million III Spotlight
I originally purchased this marine handheld spotlight as a back-up light. Due to the supreme brightness and better beam, I didn't think twice about having this as a primary light. Moonless night can't stop me from hitting the waters. This is composed of a halogen bulb that has been a great aid in boat navigation when I go night fishing.
I never thought that a halogen can exceed LED lights as it can create light that has a wide reach. Many use this for their vehicles so they can drive safely in the dark and foggy lanes. It's also suitable for patrolling, hunting, camping, and more.
Aside from the light, the construction is awesome too. It's made of tough ABS material which can withstand rigorous use. Another reason that makes it the best handheld spotlight for boating is how comfortable it is to handle. After observing it closely, I confirmed that all the seams are tight. The lens is reliable as it's made of quality tempered glass.
Hence, it's just reasonable for the manufacturer to provide a 1-year of limited warranty. There's even a free bag for storage to prevent scratches when in storage.
I'm glad that
this can be powered with 12V
, so I don't have to worry about battery life. With the 8-foot coil cord, it's not a problem to reach the power source. But if you do need to cover a lengthier distance, you can buy an extension cable.
What We Like
Has supreme brightness and better beam or wide reach
Used in various applications
Has an awesome construction for rigorous use
Provides a 1-year limited warranty
Comes with a free storage bag
Can be connected to the power source
What We Don't Like
May need an extension cable to reach the power source and prevent getting unplugged
This is the most favorite marine handheld spotlight that I've found in terms of brightness and beam. It's built for rigorous use, and it's the reason why I don't have problems taking it with me when I go sailing and fishing at night.
Factors To Consider When Choosing Boat Spotlights
There are two types of boat spotlights:
A handheld spotlight is also called wireless. When using this, you'll need a spectacle for locking the plugin in the right position. By having this additional component, you ensure that the light is stable and protected all the time. Since there are several brands offering spotlights, anticipate size and power variations.
It can be useful in many ways as it can be taken everywhere. You'll see it in camping, hiking, and other outdoor fun. Usually, you have to aim and shoot when using it.
Installation and set-up are essential to make this type work. It's fixed after finishing the installation, so you can't lift it to be taken somewhere. During installation, you have to be careful in adding things so you can avoid hazards caused by light fittings and connections. Incorrect set-up causes a dusky light force that only brings out hazy vision.
For the trial, you can transiently install it first and try to check the illumination in the dusk. When it shows dimness, it calls for replacement. Before installation, choose the ideal area that is away from the water. Placing it in the right place will prevent accidental dropping.
Moving forward, here are the benefits and drawbacks of using a boat spotlight:
The Benefits
Provides signal when there's trouble
Allows you to check the fishing line
Can be in motion even on dusky water
Prevents boat collisions
Serves as an assistant when pulling the fish caught by its illumination
Helps you recognize rocks and other forms of obstruction
Makes it easy to find things inside your boat
Drawbacks
When using a handheld type of spotlight, you may drop or even lose it. It's commonly rechargeable so you have to be attentive that it's fully charged before taking it with you to sail.
The built-in type stays in place and doesn't have mobility. It may be less convenient to operate since it remains in the same place all the time. But still, the light's brightness is reliable.
How Many Lumens Do You Need For A Boat Spotlight
Checking the brightness of the spotlight is just like a light bar and any other kinds of light. You base it on the lumens. Take note that a high level of lumens means brighter lights. Since there are different types of light used for spotlights, specifications vary from product to product. This means different levels of brightness.
You can have a comparison between LED and halogen bulbs since they're commonly used. Know that a 65-watt LED is as bright as a 50-watt halogen. These digits are based on energy consumption as halogen draws more energy than LED. Both of these types are not only bright but can also radiate in terms of scope and direction. You'll be able to see things from afar.
Rechargeable batteries are way better than replaceable ones. The power that comes from them can deliver the brightness that you need. If you prefer LED, choose one that has 1,000 lumens or more. Professional and industrial applications required this level of brightness. For halogen, check the light output and multiply it by 15 to see if it's adequate for your needs.
Where Do You Mount A Boat Spotlight
The details of mounting the spotlight have a large impact on its functionality. It may be convenient to install on a hardtop as you can aim the illumination manually. But it can create hazy light that can hamper the skipper's ability to see. You may follow this setup but arrange it temporarily first so you will know if there will be a problem or not.
Another way of mounting a boat spotlight is placing it forward. You'll only need to be careful of the rail mounts. It may vibrate while the vessel is underway. If it happens, it is difficult for the light to aim. In this case, you may settle for deck installation instead.
How Do You Install A Boat Spotlight
When installing a boat spotlight, mounting hardware is important. The one that you'll use is based on the part of the boat you'll install. These are the usual steps to follow:
Step 1. Put a vise screw at the back of the mounting plate. You need to mark the designated place of the screws for drilling pilot holes. There should be a hole in the middle of the plate for the wires.
Step 2. To make installation easier, you can spray a bit of silicone lubricant on the mounting plate. You may also apply it on the wires for sealing and blocking water intrusion.
Step 3. Then, you can put the light on the mounting plate. Displace the gasket first before putting the screws provided for the spotlight. Tighten the screws and reposition the gasket.
Step 4. 12-volt LED spotlights for boats are common. You have to connect the wires by using a marine crimp with a heat-shrink collar. Customarily, you have to handle three wires. One end of the wires is connected to the light and the other end is with the power source or controller box. Installing a remote spotlight should end with a test using its remote control.
Are These Boat Spotlights Waterproof
Prominent brands and manufacturers produce waterproof spotlights. However, some designs are introduced as weather resistant but not completely waterproof. Whichever you buy, you have to be certain of its capabilities so you have an idea of its proper usage and how to take care of it.
How Long Does The Spotlight Last After A Full Charge
Generally, rechargeable batteries can last up to 6 hours in high power and 20 hours in a low setting. Expect it to serve for 3 hours when fully charged. You have to be particular about the lifespan of your search lights. It's common knowledge that incandescent lamps drain faster than LED lights. The type of light is another factor in getting an answer to this question.
Can I Turn On And Use The Spotlight While Being Charged
When charging a spotlight with AC or DC, you can utilize it but charging vigilance is still advised.
Conclusion
You have to be serious about picking out the best boat spotlights as it's not only for seeing things but for your safety as well. Among the ones featured in this review, you can find the one that makes you feel calm and confident when traversing the waters. Don't forget to check the best features that can make things easier for you on board. It's for you to get the most out of the money that you spent for a spotlight too.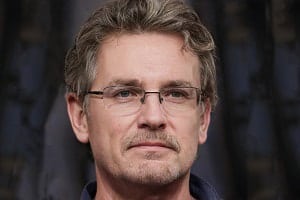 "I am James Harvey – founder of Boating Basics Online. It is established with the drive to help out first-time boaters, which are those desiring to explore their way through the water. So if you are new to boating, start from here with me. "