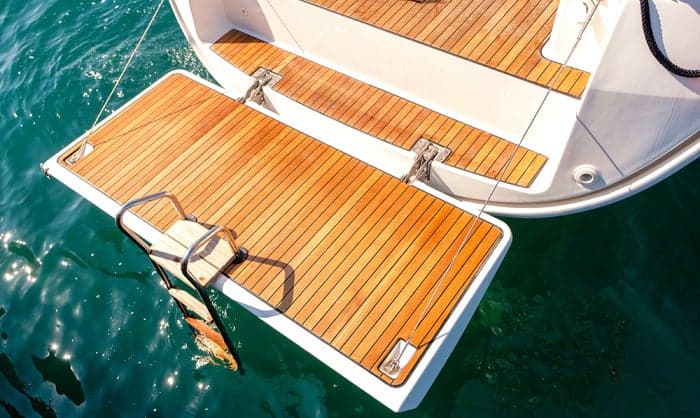 When choosing tools for your boat, you're better off choosing the best you can get, and a boat ladder is no different. Having the best boat ladder is of paramount importance as it relates to your safety.
We're going to look at the different characteristics of the best ones to determine what should matter to us depending on our needs. We'll take an even closer look at a few important points to consider, namely durability, dimensions, and utility.
Durability: Boat ladders need to have a durable construction. First, they have to withstand marine conditions, and having suitable material should address this point. 316 stainless steel is the obvious choice, though other materials could also work, such as anodized aluminum or 304 stainless steel.
316 stainless steel refers to marine-grade, while 304 stainless steel is the standard that is commonly used.
Dimensions: The right length and width are essential for a ladder. A longer ladder is helpful for use as a boat swim ladder and water activities such as scuba diving, but a long ladder is not always the best choice. You also have to consider the weight of a ladder since longer means heavier.
A 3 rung ladder may be too short as pontoon ladders, but it might just be the right length for fishing boat ladders. On the other hand, a 5 rung ladder might be good for a swim platform but might be too long as a ladder for boarding. Getting the right number of steps is also important.
Utility: Different ladders have different uses. However, some ladders have multiple functions, as boarding ladders or as dock ladders. OThers are usable for a small variety of boats and are then limited in the scope of their use.
Below we'll take a look at some of the widely used boat ladders available today. We'll discuss their strengths and the type of situation where they would be useful. We'll also cover important information in our "Buying Guide" for choosing the suitable product.
---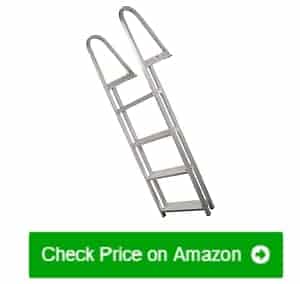 Extreme Max Pontoon Ladder
Durable heavy-duty aluminum
Square tubing frame
17 inches wide
---
Hoffen Stainless Steel Ladder
Handle 900lbs of weight
Anti-slip vinyl tread
Telescopic design
---
Amarine Made Boat Ladder
12-inch wide construction
Offers 900 lbs weight capacity
Has a very sturdy and secure frame
---
Best Boat Ladder Reviews
1. Extreme Max 3005.3380 Pontoon Ladder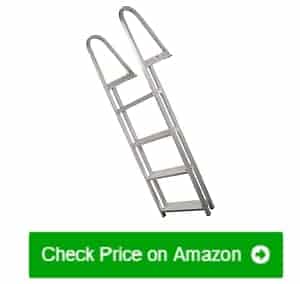 The Extreme Max Pontoon/Dock Ladder is an overall efficient ladder to have on hand. It is made of heavy-duty square-tube aluminum that gives it a solid and sturdy make. It is effortless to grip, and the steps are deep and wide enough for boarding easier. It also has a helpful yet unique mounting system.
Installing mounting clips for this ladder is very easy and straightforward. When they said it takes five minutes to install, I was skeptical. However, it is that simple. Maybe not five minutes, but not much longer than that. It also takes up limited mounting space.
Unfortunately, not all installation hardware is included though the mounting clips are. Since it uses clips, it serves as quick-release mounting brackets. At 8 lbs for the 4-step ladder, it weighs less than most removable ladders for boat.
The width of the ladder is also good. 17 inches is pretty wide for one person, and I wouldn't think it is lacking even if you had football players climbing aboard. The steps are also pretty deep, giving comfortable foot placement while climbing.
What We Like
Durable heavy-duty aluminum, resistant to harsh marine conditions
Square tubing frame gives it a sturdy build for support
17 inches wide, deep step for easy climbing
Lighter than many other ladders makes it easier to handle
The easy fitting mounting clip design makes installation and placement a breeze
What We Don't Like
They did not include mounting screws for the clips
All in all, the Extreme Max pontoon ladder offers fundamental but valuable features: a sturdy frame that is easy to climb and easier to handle due to its lighter weight.
2. Hoffen Telescopic Stainless Steel Ladder
Next on our list is a platform telescopic ladder of stainless steel made by Hoffen. This one is a 4-step mounted ladder that boasts several features in addition to a set of standard qualities for the best boat ladders.
Made of marine-grade stainless steel entirely, this telescopic ladder can hold 900lbs of weight and feels every bit capable of doing so, though I would not recommend testing it. It is 45 inches long and 10 inches wide; I'd say it has a good balance between space-saving and ease of use.
The steps on this ladder are deeper than the usual that I see on most ladders making it more comfortable to climb. At 10 inches, it's narrow enough to keep the platform clear when folded but spacious enough for two hands. Each step is also padded with anti-slip vinyl tread as a safety measure.
Installation with its hinged bracket is simple, and at 8 lbs, it's pretty easy to handle. Deploying and folding is also easy as each section is lined with nylon bushing that keeps the sliding smooth and deliberate, which also helps avoid accidental deployment.
What We Like
Nylon bushings applied to each section keeps deployment stable and smooth
Comes with a velcro strap for securing when folded
Handle 900lbs of weight with firm telescoping steps
The marine-grade stainless steel frame gives it a sturdy build
Comes with an anti-slip vinyl tread for safety
Telescopic design: sleek and stylish and space-saving
What We Don't Like
Its 10-inch width may present a problem for bigger people
This 4 step telescoping boat ladder by Hoffen is a solid choice for a boat ladder, handy for getting into and out of the water. Its nylon bushings and velcro strap give it a lot of value for the additional safety and security.
3. Amarine Made Stainless Steel Boat Ladder
This 4-step boat ladder from Amarine Made is a good-looking boat ladder that boasts a premium finish and a solid and sturdy frame made of stainless steel. Itsdurable construction feels every bit effective as its nice look.
At 45 inches, the ladder is long enough to reach into the water, making it much easier to board. Its 12-inch width is accommodating enough for most people to use it with ease as this provides enough room for both hands.
The black vinyl tread makes each step feel secure and prevents slippage. Overall, it feels very stable and safe to use. This ladder has a 900 lbs weight capacity, though I doubt most people would need such a high weight limit; it's good to know that it has a large buffer.
While installation is necessary, it is easy and simple enough that even someone without much assembly experience should install in less than an hour. The biggest problem you might run into would be that bolts are required for installing but are not included.
What immediately caught my eye is the nice polish this ladder has. It has a very nice-looking finish that I would not mind having on my boat, something I wouldn't be able to say about an aluminum ladder, though they work very well.
What We Like
Beautiful looking polish does not ruin the nice boat look
Nice telescopic design (reaching 45 inches) is space-saving
Stable enough with 12-inch wide construction
Offers 900 lbs weight capacity
Has a very sturdy and secure frame with anti-slip vinyl treads for added safety
Easy to assemble and install using a hinged bracket
What We Don't Like
Bolts needed for installation are not included though mounting screws are
This Amarine Made brand 4 step boat ladder is a good-looking ladder that works very well. While the exclusion of required bolts is concerning, it shouldn't deter you from going for this high-quality ladder.
4. RecPro Removable Boarding Boat Ladder
The 5-step removable boat ladder from RecPro looks and feels like a real heavy-duty ladder. It is wide, with deep steps, and works very well as a boat ladder for safe boarding and as a dock ladder. Also, its slight angle allows it to work well with pontoons.
Made entirely of anodized aluminum, this ladder feels secure. The 5-inch deep step this ladder has is the most comfortable step to a ladder I've come across in a long time. The secure frame holds very well, and I'm guessing the 300 lbs limit is due to it being a removable ladder.
As with most removable ladders, you can install additional mounting hardware to multiple points of your boat, and you can use it with any of those points. And, installing the mounting unit is easy, especially since everything we need for the installation comes included with the ladder.
At 76 inches long and 19 lbs, which may make it slightly difficult for smaller people to handle. However, its 18-inch width also makes it very easy to climb. This ladder is recommended for use as a boarding ladder, after all. Unfortunately, it's mostly limited for use with larger boats such as pontoons due to its size.
What We Like
Removable ladder, usable in many points with additional mounting hardware
5-inch deep step for comfortable stepping
Handle 300 lbs without collapsing
Made of heavy-duty aluminum to withstand marine conditions
All installation materials included in the package
What We Don't Like
Large and bulky size limits its use to only larger boats
All in all, the RecPro 5-Step Removable Boat Ladder looks and feels every bit as heavy as any boat ladder. Besides, it is a versatile and durable piece that withstands marine conditions well.
5. Rage Powersports Harbor Mate Boat Ladders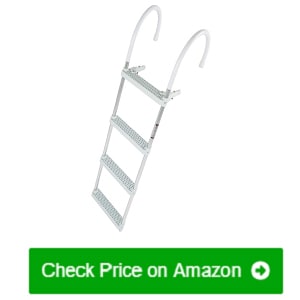 The Rage Powersports boat ladder offers a multitude of convenience features. As a gunwale hook ladder, no installation is required to use it, and its folding design allows it to be stowed much more quickly compared to removable boat ladders.
It is made up of aluminum tubes and polyethylene steps, both resistant to rust and wear by water or moisture. Polyethylene, while a plastic, is a resin that can provide a lot of strength depending on how it is produced, and these flat poly treads easily handle loads of up to 300 lbs.
These steps also have a honeycomb design giving it a high traction grip that provides extra stability that exceeds that of steel tube steps. The honeycomb polyethylene steps are also UV resistant, so they pretty much covered any weakness usually associated with plastic material.
Due to the combination of materials for this ladder, it's very light. Weighing a mere 3 lbs, it can be handled with absolute ease. The folding hooks allow for easy storage as well. I must admit I was surprised by how well this ladder turned out.
The only downside to this ladder is the fact that it is prone to some shaking. Since it is also light, it might shake more than other hook ladders. It does have support arms to help hold the ladder in place but don't expect too much.
What We Like
Durable materials, with lightweight poly steps
Very light, easy to handle, and store, yet handle 300 lbs
High traction honeycomb steps give rubber steps a run
Features UV resistant feature for marine uses
Comfortable length and width makes it easy to climb
What We Don't Like
Prone to shaking due to it being very light and its hook ladder design
This telescopic ladder from Rage Powersports solves a particular problem relating to the handling and storing ladders, especially boarding ones.
6. DasMarine Ladder Telescoping Ladder
This 3 step telescoping boat ladder by DasMarine is a practical boat ladder with platform that works in a wide variety of uses. It is also recommended for use on docks, swimming pools, or RVs; in addition to boats, including pontoons.
Since the mounting bracket is compatible with most horizontal installation bases, it would not be easy to list everything you can attach to. Installation is simple and does not require much work. It can be used as a ski boat ladder or a sailboat swim ladder.
As a 3-step ladder, this is good for use with smaller boats as using it on bigger ones may make it challenging to board from the water. Of course, it shouldn't be a problem if we have the upper body strength for it.
The ladder is made entirely from marine-grade stainless steel, which lends durability and sturdiness that does not lose out to other boat ladders. Its almost 11-inch width is pretty good in reconciling space with convenience, and the 1.5-inch deep steps are enough for a solid footing that is so important when climbing with wet feet.
Overall, this stainless steel platform telescoping boat ladder from DasMarine offers a stable ladder for a wide range of versatility that can rarely be found in 3 step boat ladders and should be given proper consideration.
What We Like
Can be installed on almost any horizontal platform base giving good versatility
Constructed using solid and durable material that withstand marine conditions
Has a telescopic and space-saving design, also comes with a retaining strap
Convenient dimensions: 11 x 1.5 inches
Everything needed for installation is included
What We Don't Like
The slip-proof plastic tread is uncomfortable to step on barefoot
The only letdown with this ladder is the plastic non slip treads I found to be a little uncomfortable. It's not a problem if I have shoes on, but since this ladder is recommended for use on a swim platform, I would think being barefoot while swimming should have been taken into account.
7. Marinebaby 4 Steps Pontoon Boat Ladder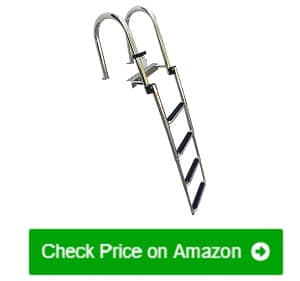 The following product is a platform telescoping boat ladder by Marinebaby, a 4 Step Pontoon Boat Ladder recommended as a swim ladder for boats. It is made entirely from marine-grade stainless steel that is all welded together, giving it an incredibly sturdy body.
It has a very nice-looking polished finish and a sleek-looking design. My favorite feature of this ladder is its tall handrails, something I do not see over-platform mounted ladders have. Its telescopic design is paired with the stability and convenience that mounted ladders have, which I always wanted to see in a boat ladder.
Installing this ladder involves more work than usual as it has more mounting points to cover, but the extra stability is evident. It can hold up to 600 lbs of weight and should have no trouble holding anyone, one at a time.
Being 16 inches wide with 2 inches deep steps makes it an easy climb boat ladder. The handrails offer such nice support that I shudder at the thought of having to go back to using boat ladders without it. Steps are also flat with a non slip tread made of rubber for safety.
It's hard to think of what's wrong with this ladder, and the closest to one is that its 600lbs capacity is lower than the usual 900lbs for mounted ladders.
What We Like
Tall handrails for extra support, easy to get on and off the boat's deck
16 inches wide with 2 inches for unrivaled comfort among over-platform ladders
The entire ladder is made of welded 316 stainless steel, suited for marine use
Offers 600 lbs capacity
Includes a strap for holding the folded ladder in place
What We Don't Like
A lower maximum weight capacity at 600lbs compared to the usual 900lbs
This Marinebaby 4 Step Pontoon Boat Ladder makes it difficult to choose another ladder if we're looking for a balance between convenience and durability for a pontoon.
8. SeaSense Rope Ladder
This boat rope ladder by SeaSense is the only such type on our list. This product is a very lightweight rope ladder. As it is made of only rope and synthetic plastic, it barely weighs 3 lbs.
Furthermore, the rope ladder requires very little space for compact storage and is very easy to handle. One recommended use for this type of ladder is as a backup, especially for bigger boats.
This ladder is something we can bring along in an emergency, on a life raft, or as a small boat ladder. It also floats on the water, making it indispensable in a boat emergency as most boat ladders would sink.
With a rope ladder like this, no installation is required. Instead, it is used by tying it to a rail or cleats. It is very easy to place and remove, so it is good to have around for emergencies.
On the downside, a rope ladder is secured only by the top rope tied to a cleat or rail. It can be shaky. While this might be a temporary solution, not having any ladder would be far worse. As a rope ladder for boat, its compatibility for elderly users cannot be compared to other ladder types.
What We Like
Ideal to have as a backup ladder solution
Lightweight and compact at 3lbs
Floats on the water as opposed to most ladders that sink
No installation is required, and easy to remove
What We Don't Like
Unstable as rope ladders usually are
A rope ladder is convenient to have, and this rope ladder by SeaSense is an excellent choice for your backup. The good quality materials enable this ladder to do the job and any rope ladder on the market.
9. Pactrade Marine 4 Steps Hook Ladder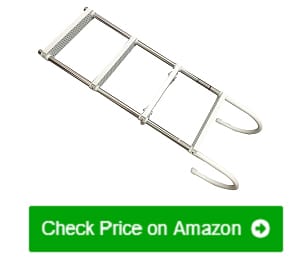 The 4 Step Hook Ladder by Pactrade Marine is a gunwale ladder that also works as a transom boat ladder. It is made of aluminum tube frames and polyethylene steps. At 46 inches long and 15 inches wide, it is rather easy and comfortable to use.
As a hook ladder, installation is not required, and the folding hooks allow for flat storage. This ladder also has support extensions to help secure it on the hull of the boat, and because they're removable, it's not a problem.
The polyethylene steps are durable enough, and while plastic is never as sturdy as steel, it does hold up to 300lbs without a hitch. The honeycomb design of the steps gives it extra grip to prevent slipping, which is better than the plastic padding that is usually quite uncomfortable.
Because of the materials used, it's easier to handle. Placing and removing it from the gunwale is never difficult, making it easy to use by almost anyone. While durability will be a point of concern, it still balances things out nicely.
What We Like
The lightweight frame makes it easy to use, handle, and store on most boats
The dimensions are generous with 15-inch width and comfortable steps
Honeycomb step design offers a secure foothold
Durable polyethylene construction, holding 300 lbs
Able to use with many boat types, as both gunwale and rear entry ladder
What We Don't Like
Less durable compared to all-steel ladders and less stable
The Pactrade Marine 4 Step Hook Ladder is a good alternative for anyone looking for an excellent alternative to heavy all-steel boat ladders. It offers many of the benefits that we look for in ladders while allowing us room to work with them without the heavy load.
10. Hoffen Telescopic Marine Drop Boat Ladder
This 3 Step Telescopic Drop Boat Ladder is in many ways similar to the 4-step Hoffen boat ladder earlier in this guide. They share many strengths and benefits, though their use varies somewhat as this 3-step ladder is recommended for smaller boats.
Installation is pretty much identical, and conditions for mounting are the same. However, as this is recommended for smaller boats, there are some subtle differences. This ladder is advisable for installation on most flat surfaces, not just platforms, and clearance is less of an issue.
It is also made entirely of marine-grade stainless steel. One key difference between this ladder and the 4-step one is the measurement. Being 3 and 4 steps, the length is expected to be different. But their widths also differ, with this 3-step ladder being 8.75 inches wide as opposed to the 4-step at 10 inches.
This adjustment in dimension is appropriate, although it does make it more challenging to use. An 8-inch handlebar presents a few problems that I would rather not have to deal with. However, for use on a small boat, the consideration is excellent as the obstruction that a longer and broader ladder would be considerable.
What We Like
A durable marine-grade stainless steel ladder
The steps are flat with non slip treads for easy and comfortable climb
Proper adjusted dimensions work well for smaller boats such as bass boats
Mountable on most flat surfaces giving extra versatility
What We Don't Like
Its 8-inch width presents a challenge in using it, especially from the water
This Hoffen 3-Step Telescopic Boat Ladder is in no way inferior to the 4-Step. Though there are many similarities, it is their strengths that are shared. As a boat ladder for smaller boats, it is a superior choice and should not be dismissed.
11. YOUNG MARINE Folding Boat Ladder
The 2 Steps Stainless Steel Drop Down Telescopic and Folding Boat Ladder from Young Marine is another small boat offering. The shortest boat ladder on our list by no means lacks in quality and features.
Its telescopic and folding design allows it to quickly flip onto the boat deck or platform. While it is recommended for smaller boats, there is no reason not to consider it for bigger boats should the need arise.
Installation is straightforward, and it works well on most horizontal platforms and even as an under platform swim ladder. It also works for non-boating use as long as the installation deck is appropriate. The package also comes with a fastening rope for keeping the folded ladder secure. It's regrettable though, that certain installation hardware was not included.
The ladder is almost 24 inches long when deployed, and around 13 inches once folded. Its 11-inch width is much more comfortable for use compared to most other small-boat ladders I've seen, with a narrower width at a mere 8 inches wide.
Its 225 lbs weight capacity is decent, and the marine-grade stainless steel frame looks more than able to handle such a load. The steps are flat and padded with a white anti-slip plastic footboard. Not that the color matters, but it's somewhat refreshing to see an alternative to the ubiquitous black padding.
What We Like
Its telescopic and folding design – excellent space saver for small boats
Versatile mounting and easy to install on most horizontal platforms
Comfortable dimensions despite being a short ladder
Anti-slip plastic footboard for extra stability
What We Don't Like
Why they did not include mounting screws is beyond me
If you're looking for a short boat ladder, especially for a smaller boat, this 2 Step Stainless Steel Telescopic and Folding Ladder by Young Marine is hard to overlook.
12. RecPro Marine Pontoon Boarding Ladder
This is a pretty unique boat ladder by RecPro as it is both a removable and a folding ladder. It provides an excellent solution to having a problem with onboard storage concerning removable ladders and does it well.
The frame of this ladder is made up of anodized stainless tubes, which ensures its ability to withstand marine environments. While the steps are plastic, they are thick and sturdy, allowing a maximum weight capacity of 300 lbs, which is standard for removable ladders. The steps are also anti-slip for safety.
The ladder also features a sliding design for stowing. To be honest, it doesn't look pretty, but since it's removable, you won't have to worry about looking at it for too long. It gets the job done, and that's all anyone looks for in the best boat ladder.
It uses a flushing mount that is easy to install, and simple enough to use. Just make sure you slide it through the gap since some people tend to think they clip on and off instead, resulting in damage to the ladder.
My only concern is that this design relies on the pontoon boat's tube support making it exclusive for pontoon boats.
What We Like
Provides a good balance between easy to handle and strong and stable
Provides a capacity of 300 lb
The removable and sliding design makes it easy to store on demand
Flush mounting is easy to install and use
The ladder is of durable construction and has anti-slip steps
What We Don't Like
For exclusive use on pontoon boats due to its pontoon tube reliant design
The RecPro 4 Step Folding Boating Ladder is a specialized boat ladder that does its job effectively and efficiently. It's a shame it is among the marine ladders that only work for pontoon boats.
What To Know Before Buying Boat Ladders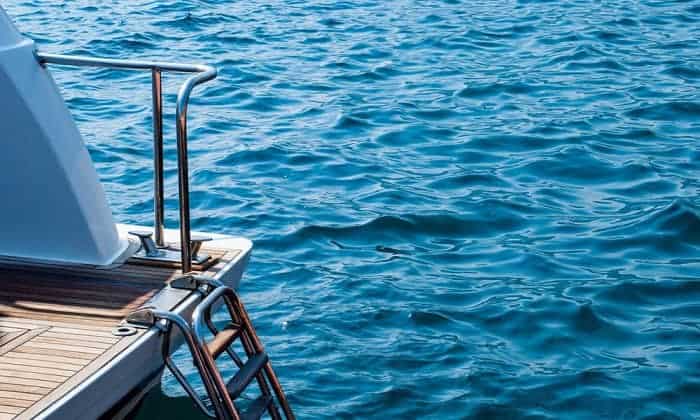 Types of Ladders
1. Mounted Ladder
These ladders are mounted to the swimming platform. Installation is usually easy but still more troublesome compared to other types due to the extra work.
These platforms are usually folding types or ones with a telescopic design. Since it is dangerous for a boat to run with a ladder creating drag in the water, folding the ladder to enable placement on the boat's platform is the solution.
Benefits:
Most stable type of ladder due to having a fixed base
Has the highest weight capacity among different ladder types
Does not take up extra storage space on the boat
Drawbacks:
Less versatility due to being fixed to a specific location
An obstruction on the swimming platform when folded
2. Gunwale Ladder or Hook Ladder
Gunwale ladders are those that need no installation and are the easiest to use. These have a pair of hooks at the top of the ladder placed over the gunwale. It has the top portion over the hull, which secures it in place for use.
This is a good choice for a ladder if you are looking for something to address multiple boat ladder needs, as ideal on any side of the boat provided that the design of your ladder matches your boat.
Most gunwale ladders can also be used as a sailboat transom ladder provided that it is not obstructed by an outboard boat engine or a trolling motor.
Benefits:
Easiest to use and minimal space needed
Able to be used only when needed and does not obstruct any area of the boat
Also commonly used for docks or as a portable boat ladder
Drawbacks:
Less stable and secure compared to mounted type
Compatibility with a boat is difficult to confirm
3. Removable Ladder
Removable ladders also require installation, but it is only the mounting base that needs to be installed. The ladder clips onto the base if it is needed and is easily removed for easy storage. Installing different mounting bases makes it possible to use in numerous locations.
These ladders usually offer the largest width and the deeper steps, both details that make it much easier to use. They're also commonly used as a rear entry ladder. Although it's usually just larger boats such as yachts or pontoons with enough space for them, they're commonly used as a sailboat ladder.
Benefits:
Able to be used in many areas with the use of additional mounting hardware
Can be wider as it does not obstruct the boat area
Very durable and stable
Drawbacks:
Not good boat ladders for elderly people and those without much strength
These tend to be the bulkiest among types of ladders and are difficult to stow
4. Rope Ladder
These ladders are of a simple design, made of rope and a few step platforms. The steps are usually made of wood or plastic. These are used by tying the top rope to a rail or to boat cleats.
Benefits:
Light and easy to store as it requires minimal space
Floats on water, usually
Very good as a backup ladder
Drawbacks:
Least durable among types of ladders
Difficult to use due to its very limited stability
Buying Guide
It can be overwhelming to choose the perfect boat ladder for your needs. There are a lot of different boat ladders with many excellent features. So how do you narrow down the list to choose the right ladder?
Step 1: Identify the most important function of your ladder
First, you need to determine which type of ladder you need, and knowing what you'll mainly be using it for will considerably narrow down the list.
Step 2: Set necessary features for the ladder
Next, identify key features you want for your ladder.
Of course, a ladder of durable construction is ideal, but you should also consider things like the space on your boat. As for the material itself, marine-grade 316 stainless steel is best, although 304 stainless steel or anodized aluminum also works well.
Another vital point to consider is the weight capacity of ladders. Most ladders would have a maximum limit of 300 lbs, but you should always be mindful of this figure. Though rare, some can have limits as low as 200.
Step 3: Check the ladder's compatibility with your boat
If you have a small boat, such as a bass boat, there is not much point in considering a bulky aluminum boat ladder, especially since those usually work only for bigger boats or used as a pontoon boat step ladder.
Small sailboats have different considerations from larger ones. The length of a ladder would be different since these sailboats would have different heights.
You should also consider the ladder's placement on a boat. Most ladders only need to be placed on a horizontal platform, but you should be mindful of obstructions as well.
How Do You Measure A Boat Ladder
The dimensions of a boat ladder that matter most are its length and its width. The length determines how deep into the water you can go or helps with easy boarding. More width makes it easier to climb since you'll have enough space for your hands.
Step depth is also important since it can help with safe boarding.
How Do You Mount A Ladder On A Bass Boat
Mounting a boat ladder on a bass boat is not very different from mounting on other boats. However, it is recommended to mount the ladder on the transom to keep the bass boat's balance.
The ladder can be placed atop the transom or at the backside of the transom itself. It is recommended to install a piece of wood as an install base for the ladder. After installing the wooden install base, proceed to install the ladder as directed by the manufacturer.
Is There a Ladder To Extend Your Boat's Ladder
Yes, there are boat ladder extensions, but using them can be risky. The capacity and durability of a ladder factor in its length and the use of extensions make it difficult to trust the figures that come with your ladder.
Do Boat Ladders Float
Rope ladders usually float, but most other ladders do not due to heavy weight. Hence, a rope ladder is ideal for emmergencies.
How Much Weight Will A Boat Ladder Hold
Weight capacity for ladders differs, although ladders of the same type usually have the same weight limit. Removable boat ladders usually have the lowest weight limit, around 300 lbs. Folding ladders, on the other hand, will usually have around 600 to 900 lbs for their limit.
Conclusion
There are many good boat ladders available today, but choosing the best boat ladder will make it easy for you to deal with your situation in a more effective way. Besides boat ladder, you also can refer to other cabin products like boat flag or boat gifts by searching on above.
Hopefully, this guide addressed your concerns in choosing the right boat ladder for you and was able to allow you to make a well-informed decision. Now, you can spend more time enjoying the summer season out on your boat.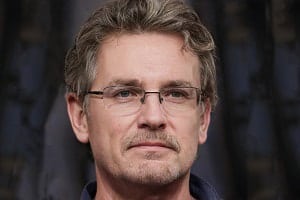 "I am James Harvey – founder of Boating Basics Online. It is established with the drive to help out first-time boaters, which are those desiring to explore their way through the water. So if you are new to boating, start from here with me. "