Have you wondered which best boat hull cleaner is effective for your marine vessel in any season of the year? You've come to the right place!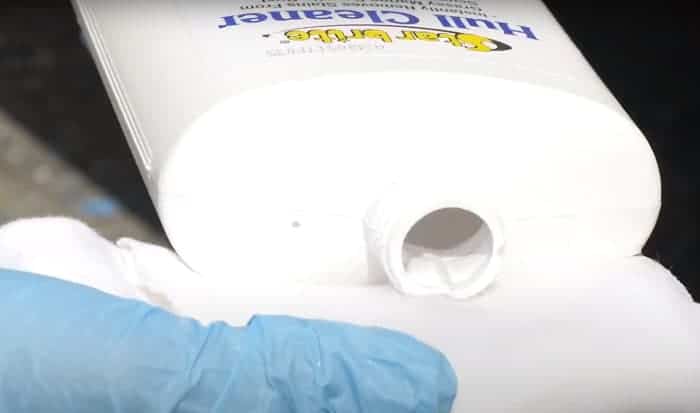 Doing hull cleaning for your boat is not just maintaining the exterior appearance of your boat but its longer lifespan. Cleaning your boat hull is done to make it impenetrable by water, thus preventing any damage to your boat's interiors.
Read our honest reviews of the best cleaners to help you in cleaning the boat hull and its other surfaces. While keeping your vanity shine by cleaning your boat and looking good, it is your essentials as a boat owner or enthusiast. Keep these considerations in mind and carefully secure your best boat cleaner from this streamlined list to match your needs.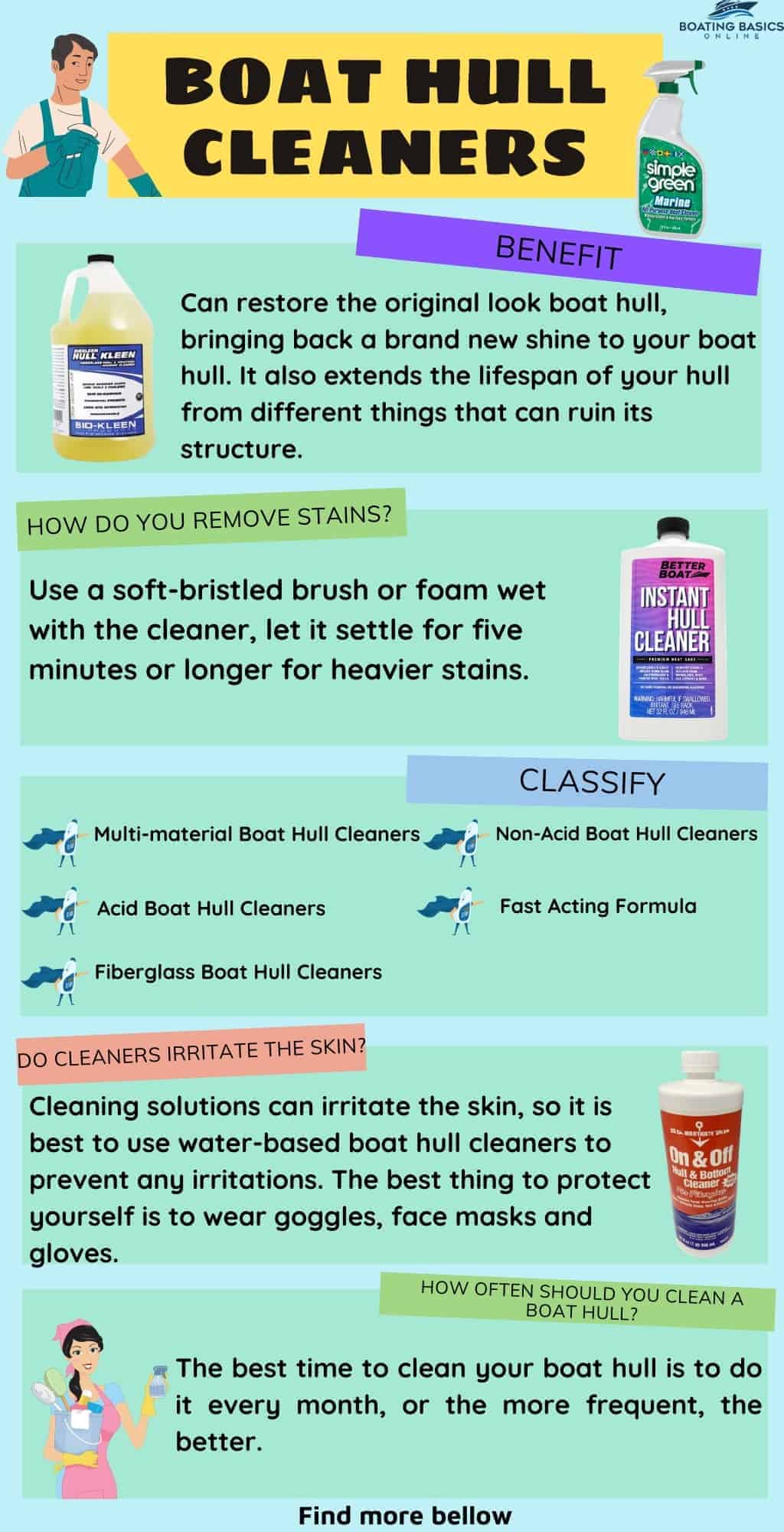 ---
STAR BRITE Instant Hull Cleaner
Removes yellowing dirt
Safe for users and surfaces
Effective for rust or leaf stains
---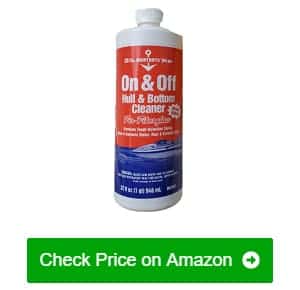 MaryKate MK2032 Cleaner
Powerful formulated
Packed lightly and handy
Works instantly and effectively
---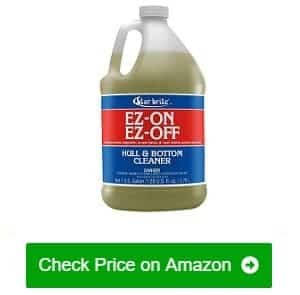 STAR BRITE Hull Cleaner
Highly reasonable price
Water-based formulation
Safe for fiberglass and paint surfaces
---
Best Boat Hull Cleaner Reviews
1. STAR BRITE Instant Hull Cleaner
Our product review's first bestseller is the STAR BRITE instant hull cleaner, packed in a 128-ounces container bottle. This hull cleaner cleans water scum lines on boat hulls effortlessly and instantly removes them, even fish blood, rust, marine growth, and more. It is also effective in removing grime, yellowing and waterline stains such as rust or leaf stains from fiberglass boat or painted surfaces.
This STAR BRITE hull cleaner is USA-made and one of those loved cleaners by boat owners for almost five decades. It contains no harmful acids, safe and easy to use as long as you follow handling instructions on the label. Ideal for preparing your hull before polishing it which I'm fond of.
The cleaner uses oxalic acid, an organic compound comprising most of its powerful formulation that complexes iron. I've been using it for several years in removing water spots. It works well in removing unsightly stains and discoloration from hull surfaces to maintain its original look. However, when it comes to tougher stains, it is ineffective.
I believed it works on light stains and yellowing, but not on heavy or tougher ingrained stains. I would not recommend using it for heavy stain build-up of your boat hull, and other exteriors.
What We Like
Effective for rusts or leaf stains on fiberglass, metal and painted surfaces
One of the best STAR BRITE products proudly made in the USA
Removes yellowing dirt, scum lines and water stains from contact surfaces
No harmful acids, safe for users and surfaces
What We Don't Like
Ineffective to remove heavy stain build-up
Grab this instant boat hull cleaner and start wiping unwanted stains out from your boat exteriors effortlessly. Enjoy the feeling that every stain and dirt are gone without scrubbing while having a great boating experience.
2. MaryKate MK2032 Cleaner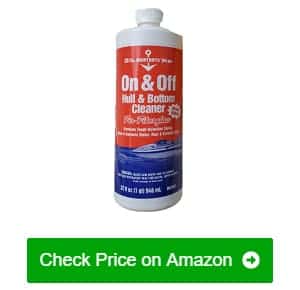 Another top-rated brand, the On and Off hull & bottom cleaner by MaryKate is handy and available in a 32-ounce bottle. I loved how this hull cleaner effectively works with its powerful formulation containing oxalic, hydrochloric and phosphoric acids. A combined powerful formula that removes rusts, heavy or tough stain build-up, and hard water sediments.
The bleaching, corrosive and dissolution effects work together for exceptional cleaning results that I've seen myself using the hull cleaner. I recommend this China-made brand for any user or on fiberglass hull surfaces. It helped me well in the fiberglass hull cleaning of my boat, effectively removing a plant or marine growth without scrubbing.
I would not suggest using this On & Off hull cleaner in metals for its acidic substance. However, using this On & Off boat cleaner for the gelcoats of my fiberglass boat is fine. Overall, I am amazed at the versatility of this boat cleaner for its high-quality effectiveness in my fiberglass boat.
Last but not least, it is packed lightly, making it handy for instant use and regular boat cleaning. My only worry is its toxic substances that are harmful to humans, and the environment. Always read the back label of the cleaner, use it in ventilated places and wear protective gears.
What We Like
Packed lightly and handy for instant use and mobility
Works instantly and effectively for light and heavy stain build-up
Powerful formulated cleaning solution for fiberglass boats
A corrosive formulation that is friendly for gel coats
This product is a best buy and worth your purchase as long as you follow instructions and warnings specified in the product label. Consider all your exterior boat problems off with this cleaner.
3. STAR BRITE EZ-On EZ-Off Hull Cleaner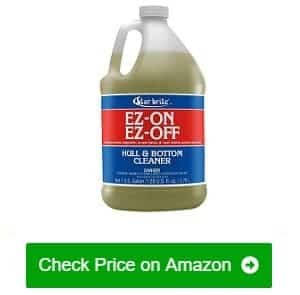 Another STAR BRITE bestseller, this hull and bottom cleaner comes in a 1-gallon container at a highly reasonable price. Safe for fiberglass, iron, wood and painted surfaces as long as directions for use are followed as indicated. It has a specially-patented buffering feature that loosens and removes marine deposits, scum lines and rust stains quickly and easily.
This cleaner can effectively deal with larger deposits, but you have to remove the boat first from water. Allowing stains and deposits on the boat to dry thoroughly for easy stain removal. Pour the product into an open container, dip a natural-bristle brush into the cleaner to damp the stains easily. Providing the best foaming action that effectively removes deposits and stains.
On heavier marine deposits, they need to be knocked-off before the application, and reapply several coats and light scrubbing. Ensure not to over apply or test in a small area first when used as metal or aluminum hull cleaner. Though this cleaner is made of a water-based formula, it is corrosive to metals. It does not threaten or harm the environment making it safer than acid-based bottom cleaning products.
Always read instructional and safety information before using the cleaner for proper handling. One downside I don't like is over spraying or spilling it because it can damage other areas or painted surfaces. If it happens, rinse any spills thoroughly until dry as it can discolor any painted surface.
What We Like
Water-based formulation that pose no threat to the environment
Best to remove heavier deposits, scum and rust stain from boat bottoms
Safe for fiberglass, iron, wood and paint surfaces
Comes in 1-gallon packaging at a highly reasonable price
What We Don't Like
Can discolor boat hull metal or painted surfaces
Make this hull and bottom cleaner as the primary component of your
boat maintenance kit
. Your highly viable cleaner works on a wide array of materials except for metals and paints.
4. Slimy Grimy Granular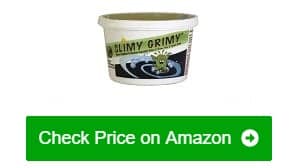 Enhance your boat hull's appearance and longer lifespan with this Slimy Grimy granular. I like applying this cleaner without working too hard. It is best applied by diluting the crystal formulation with water and spraying directly to the boat hull or bottom.
Dilute this 1-pound in 2 or 3 gallons of water and spray on the surface as a boat bottom cleaner. Removing orange oxide stains ensures the longevity of your boat's aluminum, fiberglass, wood, brick and more types of siding and exteriors. Moreover, it effectively removes brown algae and marine growth on boat hull bottoms to make it shine like a showroom.
I've been using this cleaner for years, helping me remove stains without hurting my boat exteriors' gel coat. Though not a cure-all solution, it is moderate requiring less or no efforts scrubbing my boat hull and bottom. I tried leaving the Slimy Grimy on the exterior of my boat hull overnight, and it worked well without scrubbing.
You should always spray from the bottom upwards especially in areas with iron oxide in the water to remove oxidation stains. One downside though is its crystalized formulation, needing to dissolve it in water properly. I've experienced how it can clog my sprayer or did no best results.
What We Like
Does not hurt gel coats and painted surfaces
Provides best results when sprayed directly to the surface
Make boat bottoms shine and clean like a showroom
A moderate cleaner requiring little to no scrubbing
What We Don't Like
Crystalized formulation can clog the sprayer
Enhance your boat hull's longevity by getting this cleaner brand with best results with less time and scrubbing. Grab this to enjoy the same high-quality finish that professionals do.
5. Bio-Kleen M01609 Hull Cleaner
The fiberglass & pontoon marine cleaner is another bestseller among the high-performance cleaner products by Bio-Kleen made in the USA. It comes in a 1-gallon container weighing about 5 pounds for easy and direct application to the boat hull surface. This is the best brand I have used for several years for removing discoloration on my boat hull.
I loved this cleaning product that effectively removes water spots off of my fiberglass boat and outboards. It needs you to gently scrub the area with a soft-bristled brush though, anyhow, it will work in time. It has really amazed me seeing that hard water spots are already gone after rinsing and drying it. Using it on ingrained dirt and grime needs extra effort scrubbing them though as it can take a day.
Overall, this is a great acid hull cleaner for fiberglass boats, pontoon and outboard marine motors I have ever used. It helps me achieve high-quality results in cleaning the hull of my fiberglass boat and outboard motors. Easy to use as long as you wear protective gears when handling this cleaner as it is highly-irritating to the skin.
I recommend using this cleaner with caution and handling its smelly and stingy formula when it touches your skin. So avoid using it on open areas, even near your garden grass or plants as accidentally spraying it can damage them.
What We Like
High-performance cleaner product made in the USA
Easy to use as long as you wear protective gears when handling this cleaner
Effective in cleaning and removing hard water spots
Fit to use in fiberglass boats, pontoon and outboard marine motors
What We Don't Like
Takes a lot more hours of scrubbing ingrained dirt and grime
6. Better Boat Instant Hull Cleaner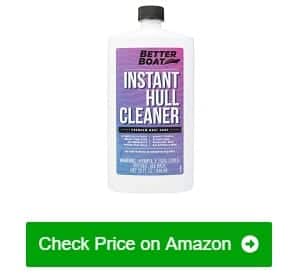 This best hull cleaner for fiberglass boats is a premium Better Boat care product packed in a 32-ounce bottle. This instant hull cleaner is specially formulated to effectively clean painted boat hull, bottom and works as a marine stain remover. You should ensure though that the area is ventilated when applying this strong cleaner.
Safe for bottom paint and will not remove the wax from your hull because of its non-harsh substance. Avoid sitting it on a painted surface for hours as it will remove the gel coat finish. Follow directions for instant use, rinse with water and keep it dry. I recommend using this cleaner to effectively deal with stains and water scum issues in various surface materials.
Indeed, water oxidation, rust stains, and saltwater accumulation are within its effective cleaning formulation. I loved how it cleaned my fiberglass boat hull, removing water spots and rust stains in the showerl. It also works strong enough to clean the boat hull with toilet bowl cleaner formula, especially bathtub enclosures for a great new look.
I used it on my boat hull to remove marine stains and it worked great. One downside though is you need to put extra effort in scraping thick algae build-ups at the boat bottom. It takes hours to remove the thick build-up but this way is much safer than using muriatic acid.
What We Like
Instant hull cleaner that is easy to apply
Highly-effective water and marine stain remover
Contains no harsh chemicals
Safe for bottom paint, gelcoat and wax
What We Don't Like
Ineffective for thick algae build-up, requiring more scraping time and effort
Get this fiberglass hull cleaner via online or in marine stores near you to start enjoying its premium benefits. This stuff will help you deal with a wide array of surface cleaning issues to see a great new look.
7. Boat Bling HS-0032 Remover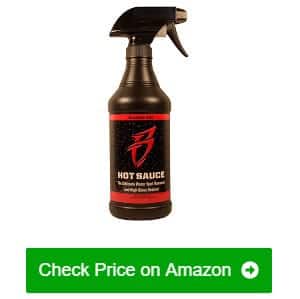 Among the top sellers in our review is the Boat Bling remover with high-gloss wax sealants. An ultimate water spot remover and high gloss sealant, packed in a 32-ounce plastic bottle sprayer for instant use. Proudly made in the USA, a fast fiberglass hull cleaner that is specially formulated for marine motors or boat hull.
Apply in mist and wipe with a microfiber towel for a streak-free and show-quality shining boat hull and exterior. You can use this easy cleaner sprayer on your boat hull after each day on the water. This Boat Bling product is not only suitable for marine vessels but works well with land-based vehicles.
These brands strive to deliver the highest-quality and provide you an easy to use hull cleaners beyond expectations in less time. I would highly recommend this premium remover to become part of your boating maintenance supplies.
Though its 32-ounce capacity is great for instant short using, it is still a constraint to deal with stubborn stains. I am a bit dismayed using it since it can't finish the cleaning in one setting. Overall, I love how it uniquely removes tough water spots without stripping wax, and leaving a streak-free shining hull instead.
What We Like
Proudly made in the USA
Specially formulated for your boat and land-based vehicles
Removes tough hard water spots without stripping wax
Apply in mist and wipe with microfiber towel for a streak-free shine
What We Don't Like
Requires more volume to handle stubborn stains
Secure this easy-to-use cleaner sprayer and use anytime on your boat hull. Enjoy its instant spray formula that works in different hull materials.
8. MaryKate MK3532 On & Off Gel Hull Cleaner
Another great MaryKate product, the On and Off Gel is best for fiberglass hulls and bottoms with 1-quart/32-ounce volume. This best fiberglass boat hull cleaner is proudly made in the USA which fits different surfaces. Providing a fast acting blue gel that clings to the hull surface with a soothing fresh scent.
Talking about its volume, its 1-quart/32-ounce will last for years. On the other hand, a fast-acting formula breaks down grease and oil for better cleaning. Though it does not remove all stains, it's a high-performance cleaner that effectively removes stubborn rust stains and scum lines.
This cleaner has hydrochloric and phosphoric acids which are harmful vapors you should not inhale. Thus, you should use gloves, a face mask and goggles when applying it. Another downside of this product is it is a bit expensive compared to other brands. As long as you are willing to invest and use protective gears, it's already a takeaway.
Overall, this hull and bottom cleaner works amazingly, which made me more fond of cleaning boat hulls each season. Power wash the boat before applying the cleaner to check for stubborn stains and if you need a brush. From there, you will know what to do next with the help of this fast boat detailer.
What We Like
Proudly made in the USA that works as instant hull and bottom cleaner
Fast-acting blue gel with a refreshing scent that clings to the surface
Effectively breaks down oil and grease
High-performance remover of stubborn rust stains and scum lines
What We Don't Like
Expensive and quite harmful
Though it has a strong and chemical-like smell, you would love how its fresh scent clings with you. Such a refreshing scent makes its application easy and worth it.
9. SEACHOICE 50-90691 Instant Hull Cleaner
This instant hull cleaner by SEACHOICE is one of the high-performance formulation boat hull cleaners on our review. It can effectively remove stains from grassy marine growth, marine deposits, rust stains and water scum lines. It is safe for use on different surfaces, though you need to take caution when using it with aluminum and metal surfaces.
The instant cleaner comes in 1-gallon packaging at a reasonably low price with a volume you can maximize for your needs. This hull cleaner offers a wider cleaning performance since its capacity to perform high-quality cleaning results similar to its expensive counterparts.
I am fond of how it provides a gel coat similar to most of the bands in this review. Cleaning the hull and bottom of your boat using this brand will be quicker and easy than before. Thus I believed this hull cleaner works beyond cleaning and stain removal.
Carefully read its warning and caution in the back panel to safety and effectively use this boat hull cleaner. I would not recommend using it without wearing the protective gears for your eyes, hands and nose. It's a downside I don't like though, it can seriously harm your health or pose a threat to life. Also, dispose properly of its contents or container following EPA law for corrosive or combustible substances.
What We Like
High-performance boat hull cleaner at a reasonably low price
High-quality cleaning results similar to its expensive counterparts
Packed in 1-gallon container suitable for a wider cleaning application
Provides a gel coat shield to boat hull surfaces
What We Don't Like
Serious harm to users when not wearing protective gears or mishandling the product
This product is what you have been looking for in case you need a reasonably priced cleaner. You can maximize using it for your wider application performance.
10. Simple Green Marine Boat Cleaner
This marine all-purpose boat hull and deck cleaner for vinyl and fiberglass surface materials from Simple Green is also a good product for you to consider. It contains a concentrated marine equipment cleaning solution with a non-abrasive and non-flammable biodegradable formula. You can safely use the cleaner on any washable surface with water, or within waterways and marine habitat.
The cleaner is proven effective in removing sticky diesel fuel, oil, grease, fish blood stain and more. Using this multi-purpose marine cleaner from your boat hull and deck surfaces can help you ease boat cleaning effortlessly. I highly recommend this versatile marine cleaning product for all watercrafts to keep a sparkling new look.
Ensure to wet the area to be cleaned with clean, ambient water, then apply this cleaning solution. Always read and follow directions for use and mixing for specific formulation and concentration to provide the best results. I have been using this boat cleaner for over 2 years, I've enjoyed its smooth applications and best finish. It's available in 1-gallon packaging and on a smaller size sprayer for handy use.
One concern about this product is it's not suitable for leather, and unpainted or unfinished wood surfaces. Other than its downside, it excellently works on my boat carpet and it's worth the best buy already.
What We Like
Concentrated marine cleaning solution for many surfaces
Non-abrasive, non-flammable and biodegradable formula
Versatile marine cleaner suitable for use in all watercrafts
Safe for use in washable areas
What We Don't Like
Not suitable for leather, and unpainted or unfinished wood surfaces
You will not regret having this all-purpose marine cleaning solution in your boat maintenance toolkit. Increase your cleaning capacity with this versatile marine cleaner to spark your boat hull surfaces' new look.
11. Bio-Kleen M01607 Acid Hull Cleaner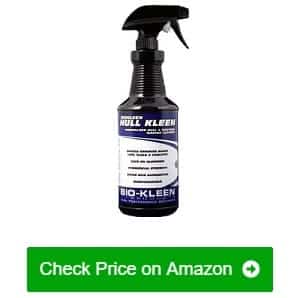 Another bestseller Biokleen product, the acid hull cleaner comes in a handy spray bottle with a 32-ounce volume capacity. An easy-to-use spray cleaning solution with a few minutes to loosen the stain. Take a little scrubbing with a soft-bristle brush, rinsing it with water and you're done with the lighter ones. For heavier build-up, leave the cleaner longer on the surface, rinse and marine deposits are all off.
Using this cleaner would benefit from fast-acting fiberglass hull cleaner features. Moreover, it is a safe, non-toxic alternative to harsh acids and chemicals. You'd love using it when it emits an aromatic, no harsh fumes or burn that clings to your boat hull.
I like how it effectively removes water lines, algae, lime scale, chalking and other problems on my boat. I believe it is safe for use with pontoons and aluminum boat hull surfaces with good outcomes. Unlike other acid-based formulas, this is the best cleaner I've got so far.
However, I am not fond of its strong smell that, for some, is intolerable. I suggest using only this strongly potent cleaner if you are in a well-ventilated area. Always wear protective gears for your eyes and nose.
What We Like
Strong and fast-acting fiberglass hull cleaner features
A safe, non-toxic alternative to harsh acids
Emits an aromatic and no harsh fumes
Effectively removes water lines, algae, scale and chalking
Getting this product that cleans in an instant would be your wisest purchasing decision. Having in on your maintenance toolkit will let you enjoy an effortless application using its handy spray bottle container.
12. ZING T10118 Professional Boat Hull Cleaner
The ZING professional boat hull cleaner comes in a 1-quart bottle containing strong remover for tough stains and build-ups. So far, this is the best non-runny formulated cleaner I've used over the years to remove debris, build-ups and water marks. A safe boat hull cleaner fiberglass that even works great in painted wood surfaces.
I personally experienced how it quickly removes or melts oil, grease, grime, lime deposits and stains from algae. It helped me well in removing ingrained dirt from my boat. I simply spray it on, wait for a couple of minutes, and wipe it dry for the best results.
I've used the cleaner to remove algae build-up in the boat hull. It has removed them right from the top of the finished surface without damaging it. In case the marine build-up is in the gel coating or paint, I don't suggest using Zing. But I would recommend Zing's high-level of effectiveness for use in tough, hard-to-remove molds, mildew and debris instead.
Read on its label and back panel for precautions and use of the cleaner safely and effectively. Wear protective eye gear and gloves every time you use this cleaner. Secure it via online or nearest seller to your location such as through a Walmart store.
What We Like
Safe on fiberglass and painted wood surfaces
High-level of effectiveness in removing stains without damaging
Suitable for tough and hard-to-remove buildup
Effective in removing grease, oil, grime, lime deposits and algae stains
What We Don't Like
Not fit to remove stains in the gel coat or paint
I would commend using this non-runny marine formula to help your boat maintenance needs. Use it to restore the original look of your fiberglass boat hull effectively.
13. Booyah Clean Instant Hull Cleaner
This powerful instant hull cleaner is manufactured by Booyah Clean and has marine-grade formulation that fits different surfaces. It is formulated to remove tough stains in one application, but it is not used to remove rust stains. It works best without diluting with water to remove water and scum lines, fish blood and stains. Spray on a sponge or direct to the dirt lines, allow sitting for two minutes and rinse with fresh water.
This instant hull cleaner complies with the EPA Safer Choice Direct Release Criteria for direct disposal into the environment, drylands, bodies of water and other waterways. So when washwater treatment or collection is not practically workable, you can release it to the environment.
I am also amazed by the versatility of its non-acidic formula on how to clean boat hull and other boat exteriors. This cleanser is safe for use on fiberglass, metal, painted and pre-wax surfaces, and other materials. But you should test it on a small area before applying it in full to ensure compatibility to the hull and surface conditions.
I tried spraying it on waterline stains, have it sit for a few minutes and rinse it off to clean the hull. Tried applying several times after that and scrubbed a little to remove the stains. The water lines and fish blood stains are completely gone but waterline stains or slime fragments are still on.
What We Like
Environmentally friendly and complies with EPA
A powerful marine-grade formulation that fits on different surfaces
Removes water and scum lines and fish blood and stains
Safe to release washwater to the environment or waterways
What We Don't Like
Ineffective when in use to remove rust stains
Secure this easy-to-use hull cleaner to remove water lines or dirt from your boat hull effortlessly. Cease your countless search and claim what this cleaner can do for you.
Factors To Consider When Choosing The Best Boat Hull Cleaner
A boat hull cleaner is specially formulated to remove dirt, stains, and other marine problems. Hence, consider these factors including the types and benefits to guide you in choosing the boat hull cleaner.
The different types of boat hull cleaners
There are plenty of hull cleaners but they do not work all the same. You have to find a fit for your boat hull and address stain deposits and dirt issues. Categorize your hull cleaners based on safety, formulation, compatibility and ease of use, which we have laid down below.
Fiberglass Boat Hull Cleaners
These one are specifically formulated for a fiberglass boat consisting of safe substances for gel coat and resin protectant of the hull material. These are strong cleaners that can make it peel, loosen sealants or crack, among other issues.
Multi-material Boat Hull Cleaners
A flexible type that works for fiberglass, aluminum, plastic, wood, and metal. An effective choice though be careful since it will not cause discoloration or corrosion to metal-based materials.
Some contain hydrochloric, oxalic, and phosphoric acids but are powerful cleaners even on the toughest stains. However, if mishandled, they can become hazards, so ensure to protect yourself.
Non-Acid Boat Hull Cleaners
A safer alternative for hull cleaners but may not be as powerful as those with acids. Great cleaners if you are looking for non-harsh on your skin, nose and eyes.
These are instant cleaners that are easy-to-use for quick cleaning and removal of dirts and stains. They are corrosive but not necessarily unsafe for users.
Benefits and drawbacks of boat hull cleaners
Here are the pros and cons of boat hull cleaners, which have more benefits than downsides.
These hull cleaners can restore the original look of your boat hull. Specifically formulated cleaners can work like magic, bringing back a brand new shine to your boat hull. It also extends the lifespan of your hull from different things that can ruin its structure.
You can save money using these cleaners instead of instantly calling an expensive professional to do the cleaning for you. Lastly, they will improve your fuel mileage. That is another way of saving money
These few drawbacks include safety aspects for humans and the environment. Avoid safety risks by wearing proper protective gears such as gloves, goggles and face masks. Clean hulls in a well-ventilated place, away from waterways or non-washable areas or within a marine habitat. Reading on the product labels and back panels would be a great guide in handling these powerful cleaners.
Always take extra care when using these cleaners especially the strong, corrosive and potently acidic substances. Or Prevent undesirable results or more harm than good. Better to always pick a marine-safe and user-friendly cleaner.
Buyers guide for choosing the best boat hull cleaner
Buying a hull cleaner isn't an easy task as there are too many overwhelming options. Make the right choice with some of the most important considerations
Determine the compatibility of the cleaner with the material of your boat hull. Most cleaners are suitable for fiberglass and will not damage even if the hull has a gelcoat. When your boat hull is made of aluminum, plastic, vinyl, or other materials, pick a cleaner that is compatible with gel coats and painted exteriors.
Get a user-friendly product in this review suitable for direct application and better than others that need dilution. Choose those that require no scrubbing and only need rinsing after leaving it on the dirt for a few minutes.
Check the formulation of ingredients and choose which cleaners are safer, but powerful for tough and thick stains. A quick response time is a good factor so get those that need not much scraping and scrubbing.
Always start with triple-safety in mind – for humans, environment and hull surface materials. Look for the label on information like marine safe, eco friendly, material compatible, biodegradable and non corrosive. You can use these cleaners without worrying about what would happen in the days to come or near future.
Care and maintenance of boat hull cleaners
Choose less volatile, less toxic and more biodegradable hull cleaners too so it would be easy to maintain and care for them. Ensuring these marine cleaners do not pose any harm to living things, work surfaces or to the environment. Read on the product labels and follow directions for safe handling and application at designated place and temperature. Use only high quality and legitimate cleaners to keep your boat hull friendly to humans and marine life.
How Do You Remove Hull Stains From A Boat
Use any hull cleaner for your boat from this review to get faster results than manually scrubbing stains with soap. Directly apply the hull cleaner in small divisions at a time, following the manufacturer's instructions on how to use it. Use a soft-bristled brush or foam wet with the cleaner, let it settle for five minutes or longer for heavier stains.
Get your washing bucket ready to rinse and wipe dry each application to avoid the possibility of withering the finish. Withering may include blisters when acidic components or chemicals stay on the hull surface much longer. Polish and wax to finish a good coat, and even do second coats to prevent ingrained stains into the hull.
What Is The Best Thing To Use To Clean A Fiberglass Boat
Using water and ordinary soap to wash and clean your fiberglass boat is the easiest step to start with. However, rinse your boat using warm and clean fresh water to get rid of excess soap. A specifically-formulated boat hull cleaning soap is good, but follow mixing directions and keep the surface rinsed and dry thereafter.
Adding a cup of bleach as a part of your homemade boat hull cleaner solution can help remove mildews too. A concentrated formulation is best to clean deeper stains like fish blood and waterline deposits in a boat hull.
How Often Should You Clean A Boat Hull
The best time to clean your boat hull is to do it every month, or the more frequent, the better. Clean your boat hull every other week and check out for the need to polish and wax during summer. Regularly clean the hull and hull bottom of your boat to prevent heavy growth build-up of plant or marine matters.
Do Cleaners Irritate The Skin
Cleaning solutions can irritate the skin, so it is best to use water-based boat hull cleaners to prevent any irritations. Protect your skin or eyes from getting irritations or any harm in case a cleaner has harsh substances like acids. The best thing to protect yourself is to wear goggles, face masks and gloves.
What Causes Stains And Dirt In A Boat Hull
A lot can cause stains and dirt in a boat hull, like water salinity, oxidation, oil/grease, among others. They can also come from the high presence of minerals, ionization and plant and marine growth. Marine growth can include algae, barnacle growth, and other marine creatures that come in contact with a boat's hull.
Conclusion
Getting the best boat hull cleaner of your choice to keep your boat hull on its original looks is tough. I'd suggest you make use of the effective variants listed in this review that boat owners loved using for years. Investing in them provides you the power to get rid of scrubbing and instead focus on navigating your boating experience.
Clean, safeguard, and polish your boat's body for any season of each year with this right boat hull cleaners' review. Claim the best results of removing marine stains using any of these best boat body cleaners you now have known!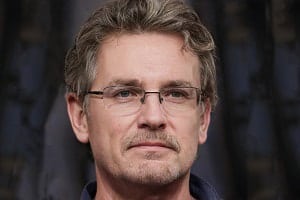 "I am James Harvey – founder of Boating Basics Online. It is established with the drive to help out first-time boaters, which are those desiring to explore their way through the water. So if you are new to boating, start from here with me. "